Last Updated on July 12, 2021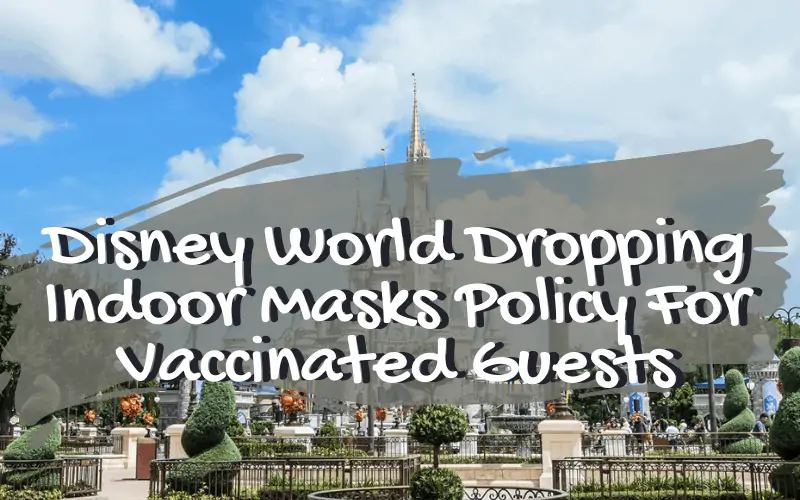 Starting June 15, 2021, fully vaccinated Disney World visitors will not be required to wear face coverings in most areas of the park. according to its website.
Face coverings will be optional for fully vaccinated Guests in most areas. Face coverings will still be required of all Guests on Disney transportation, including Disney buses, monorails and Disney Skyliner. While we will not require proof of vaccination, we expect Guests who are not fully vaccinated to continue wearing face coverings in all indoor locations, and upon entering and throughout all attractions and transportation. Guests must observe current policies on face coverings until June 15.
However, masks will still be required for Disney transportation, including buses, monorails and the Disney Skyliner aerial gondolas.
Proof of Vaccination is not required. Florida currently has a ban on businesses and government agencies in the state requiring proof of COVID-19 vaccination, so guests won't be required to show a vaccine card or passport. However, unvaccinated guests are expected to comply with the current policy.
After the CDC issued updated guidance in May that those who are vaccinated can safely cease wearing masks in most situations, many theme parks began rolling back mask mandates. Florida has since adopted this guidance in their reopening policy, which expressly allows fully vaccinated persons to remove face masks and end most social distancing.
We will be relaxing physical distancing guidelines for Guests. This will be visible in places like queues, shops, restaurants, attraction boarding, transportation and our theatres. It's important to remember that some experiences and entertainment may still be operating with limited capacity or may remain temporarily unavailable. We're not quite ready to bring back everything yet, but we are optimistic and look forward to the day when Disney pals and princesses are able to hug once again.
However, the CDC continues to recommend that people wear masks in a variety of outdoor scenarios including dining outside or during crowded outdoor events "like a live performance, parade, or sports events" if they are unvaccinated.
The relaxing of COVID policies isn't new to Disney World. As early as May 15, guests are allowed to go maskless if they choose while in outdoor common areas and at pool decks. This is a positive step to going back to 'normal' pre-pandemic vacation policies and we are optimistic that the trend will continue with increasing park capacity and everything else that was held back in the name of protecting the public.
Disney continues to strongly encouraging all guests to get vaccinated.
Your Thoughts...
Please share your thoughts in the comments or reach out on social media...We would love to hear from you.
Follow Mouse Travel Matters for Disney Parks news, the latest info and park insights, follow MTM on Twitter, Facebook, and Instagram.
You May Also Like…