Last Updated on July 22, 2021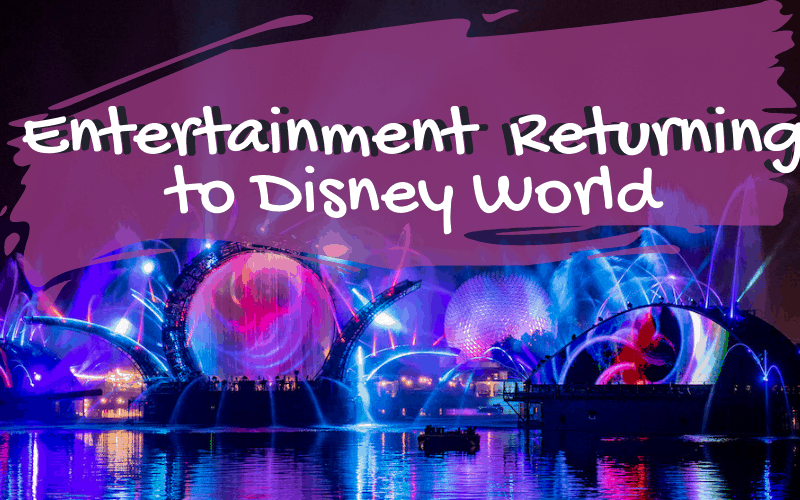 It feels like something new is being announced every day from Disney World and it's hard to keep up. New shows and the return of fan favourites is always something I like to see announced.
Shows are starting to reopen as COVID-19 Lockdowns Ease
Now that Florida has more or less removed all COVID limitations for businesses and crowds, Disney is slowly starting to bring their shows back into the parks.
Starting August 1, we'll be lighting up the night at Disney's Hollywood Studios with the return of "Wonderful World of Animation." This cinematic nighttime experience leverages projection mapping technology to transform the park's iconic Chinese Theater on a magical journey through more than 90 years of Disney animation.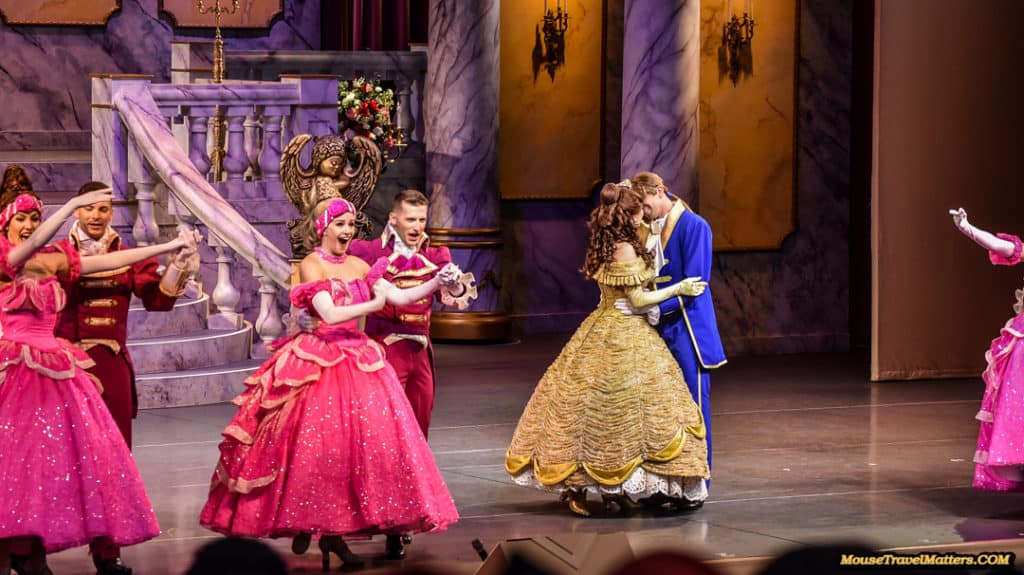 On August 15, a tale as old as time will return to Theater of the Stars on Sunset Boulevard with "Beauty and the Beast – Live on Stage." The heartwarming tale of Belle and Beast will once again swirl to life in this lush stage performance, with colourful costumes, gorgeous scenery, and the songs you know and love.
We're also excited to share that you'll soon be able to visit those monsters of comedy in Monstropolis and chat with a certain sea turtle at The Seas with Nemo & Friends. Mike Wazowski will begin welcoming humans to the Monsters, Inc. Laugh Floor at Magic Kingdom Park on August 8.
And beginning August 21, you can get your most pressing questions answered during Turtle Talk with Crush at EPCOT.
Two New Nighttime Spectaculars Arrive for Oct 1
Disney Enchantment
Beginning Oct. 1, "The World's Most Magical Celebration" honours the 50th anniversary of Walt Disney World Resort. A new nighttime spectacular, "Disney Enchantment," will help kick off the 50th-anniversary festivities when it debuts Oct. 1 at Magic Kingdom Park. Created to launch with "The World's Most Magical Celebration," this evening extravaganza will take you on a journey filled with adventure, wonder, and empowerment. Inspiring everyone to believe in magic, "Disney Enchantment" will feature music, enhanced lighting, stunning fireworks, and, for the first time, immersive projection effects that extend from Cinderella Castle down Main Street, U.S.A.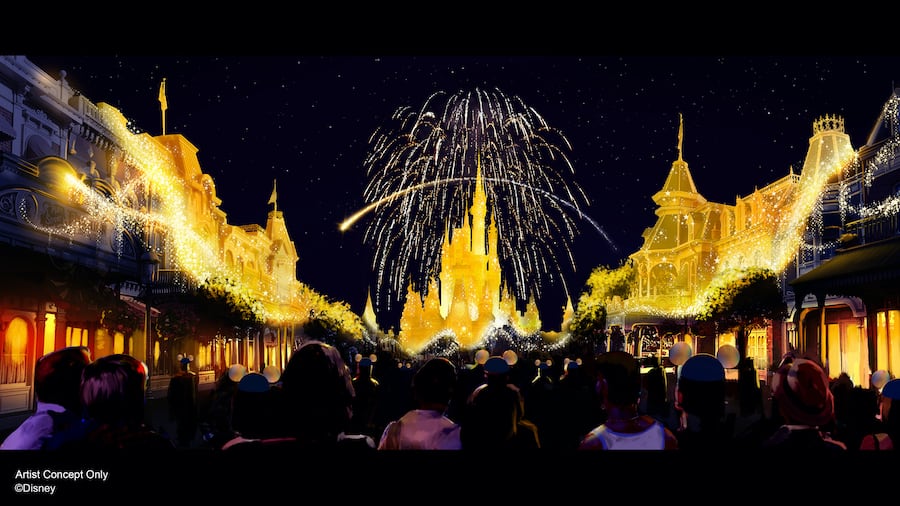 Harmonious
Joining "Disney Enchantment" on Oct. 1 will be "Harmonious" at EPCOT, one of the largest nighttime spectaculars ever created for a Disney park. This new show will bring the globe together at World Showcase Lagoon in a celebration of Disney music that inspires people worldwide. It's a grand, powerful tribute to the stories and songs that unite us, embracing new technical magic that incorporates pyrotechnics, choreographed moving fountains, lighting and media in new ways. "Harmonious" will invite you to travel the globe through new interpretations of classic Disney songs as you've never heard them before, reimagined in more than a dozen languages by a diverse group of 240 artists from around the world.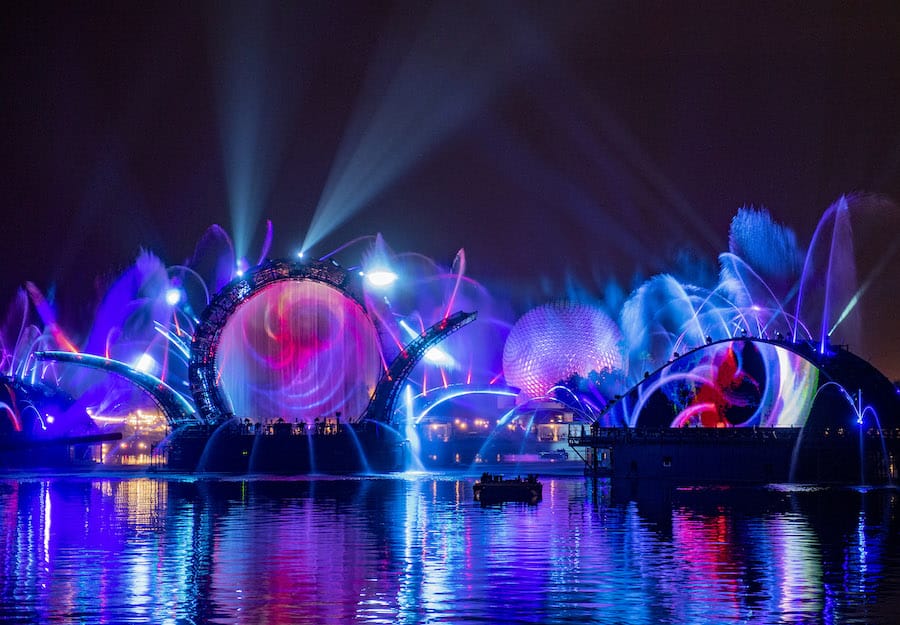 Happily Ever After Ending Permanently
As is with logic, now that a new nighttime spectacular has been announced for the Walt Disney World Anniversary at Magic Kingdom, there can't be two. So "Happily Ever After" will be retiring and leading the way for another great show to take its place.
We won't be there on opening day but we will shortly thereafter so stay tuned for images, video clips, and our general thoughts regarding the new show after we have viewed it ourselves.
Epcot Forever is no more
It's a fairly ironic title for an interim show. When Epcot Reflections of Light was cancelled a few years ago in favour of saving money while they created Epcot Harmonious, Disney decided that Epcot Forever was cheap enough to develop props for the new show, while still keeping the guests (mostly) happy with a nighttime show.
So many new things
I am very happy to see a little change coming to Disney. Personally, I love the nighttime spectaculars but after visiting every few months for years, I am ready to see something new. I can't wait to see all the new fireworks displays, listen to the music and just gush over how incredible these new shows are and the amazing things they can do with projector technology.
Your Thoughts...
Please share your thoughts in the comments or reach out on social media...We would love to hear from you.
Follow Mouse Travel Matters for Disney Parks news, the latest info and park insights, follow MTM on Twitter, Facebook, and Instagram.
You May Also Like…