Last Updated on July 23, 2021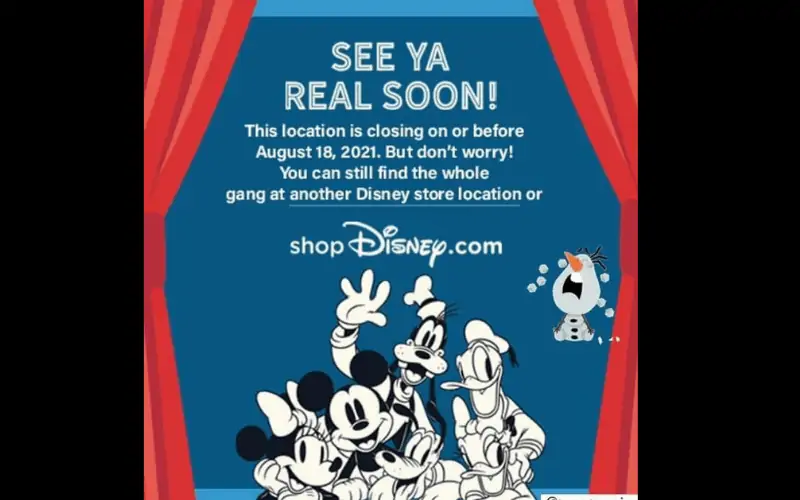 Stores across the world are closing and even Canada wasn't spared from the slaughter.
Back in April, rumours were spreading of Disney closing all of their retail locations. They were shifting all sales to ShopDisney, regardless if each country had their own version.
This post may contain affiliate links.
To which I earn a small commission, at zero cost to you!
Find more info in our
Privacy Policy
.
Shop Disney verisons
If your country is lucky enough to have its own Shop Disney version, then this isn't all bad news. At least you have a local warehouse, access to free shipping, and a lack of customs fees.
Here in Canada, we are forced to use the American version of the site. This means all sales are in USD (which can really make converting prices tricky), at least $25 to ship to your address plus the customs fees for crossing the border. A $29.99 USD stuffy suddenly turns into a $100 investment.
Pivot to Curbside?
I can't remember how often we went to the Disney Store in Ottawa, but it has essentially been closed since March 2020 with a few months open last summer between COVID waves. I won't even start to discuss my hatred for the pandemic-related closures. While many stores adapted their online shopping procedures to incorporate curbside pickup, Disney Stores went the opposite direction.
ShopDisney online is not the same beast at Disney Retail Stores. purchases at one can not be returned at the other, and there are a handful of exclusive purchases and sales that the other doesn't participate in. This makes curbside pickup nearly impossible. So unless they planned to merge the two business models, pivoting to a COVID-safe shopping experience was never going to happen under current Canadian policies.
Which stores are staying open?
Apparently being the Nations Capital has very little effect on how Disney decides if a store will remain open or not. There are a handful of stores staying open in Canada; Niagara Falls, Vaughn Mills, and Eaton Center in Toronto seem to be the only stores that have been saved from the cutting block. Even the West Edmonton Mall stores are closing; it seems the rent price is just too high to sustain it.
Although, I would question how far most Disney fans are willing to drive to get their hands on some customs-free Disney merch. I know people from Montreal and Quebec City come to Ottawa just to visit the Ottawa Disney store so…why do many cuts all at once.
According to Google, Scarborough will also remain open. I am happy to see that Times Square in New York City is remaining open, for now. We have plans to visit NYC soon-ish and it was an amazing experience 20 years ago. I can't even imagine how I will feel when I visit with actual money to spend.
You May Also Like…