Last Updated on July 21, 2021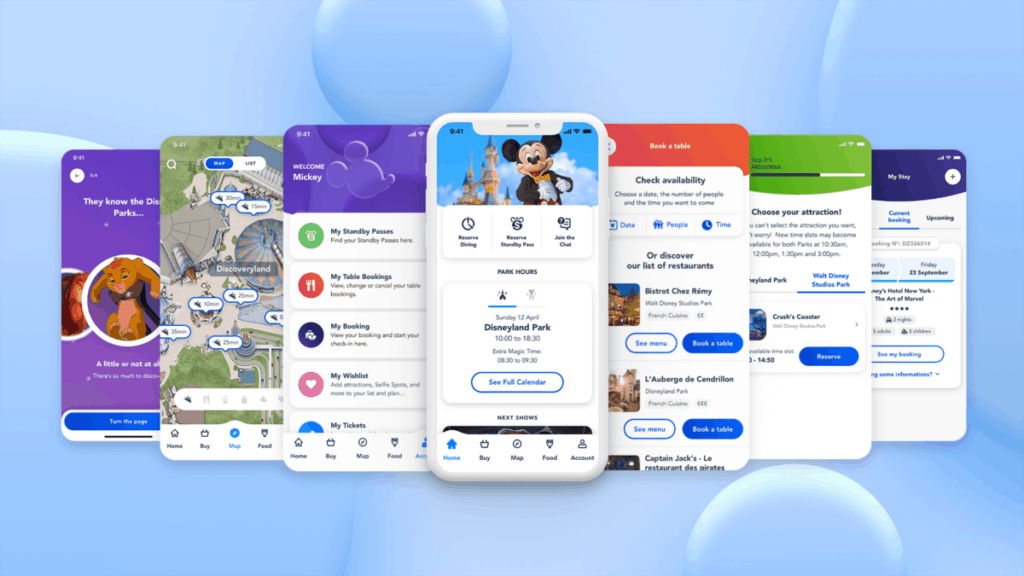 Disneyland Paris has reintroduced Standby Pass and rolled-out a theme park ride fast queue paid service called Disney Premier Access. Here's what you need to know.
Not sure what either of these programs are and how they will affect your upcoming vacation, that's ok. We got you. The future is virtual queues.
Disneyland Paris Standby Pass (Free)
Standby Pass has been reintroduced as a virtual queue replacing the traditional walk up queue.
Disneyland Paris' Standby Pass allows guests to spend part of their wait time for select attractions outside of the physical queue line, although it does not provide immediate access to an attraction. This service can be activated during certain periods of the day, subject to availability and dependent on day-to-day needs in the parks.
When activated, guests can use the Disneyland Paris App to book a time slot to enter the physical queue line of an attraction and return to stand in the queue at that time. This is exactly like Boarding Passes for Rise of the Resistance at Walt Disney World and Disneyland in California.
What is a Standby Pass?
The new Standby Pass is a free service, available via the official Disneyland Paris app. During certain periods of the day, you will need to reserve a Standby Pass to be able to join the queue for some of our most popular attractions during a specific allocated 30-minute time slot (subject to availability).
How it works?
1. Download the free Disneyland® Paris app via the App Store or Google Play.
2. Create or log in to your Disney account (available to Guests aged 18 and over).
3. Link your Park Tickets or Passes to your Disney account.
4. After entering the Parks, you'll be able to choose an attraction and reserve a Standby Pass (if Standby Pass is activated for that attraction) for each person who wishes to ride. We will allocate you the next available time slot*.
5. Arrive at the attraction entrance during your allocated 30-minute time slot and be ready to present your Standby Pass QR code.
6. Join the queue and get ready to enjoy!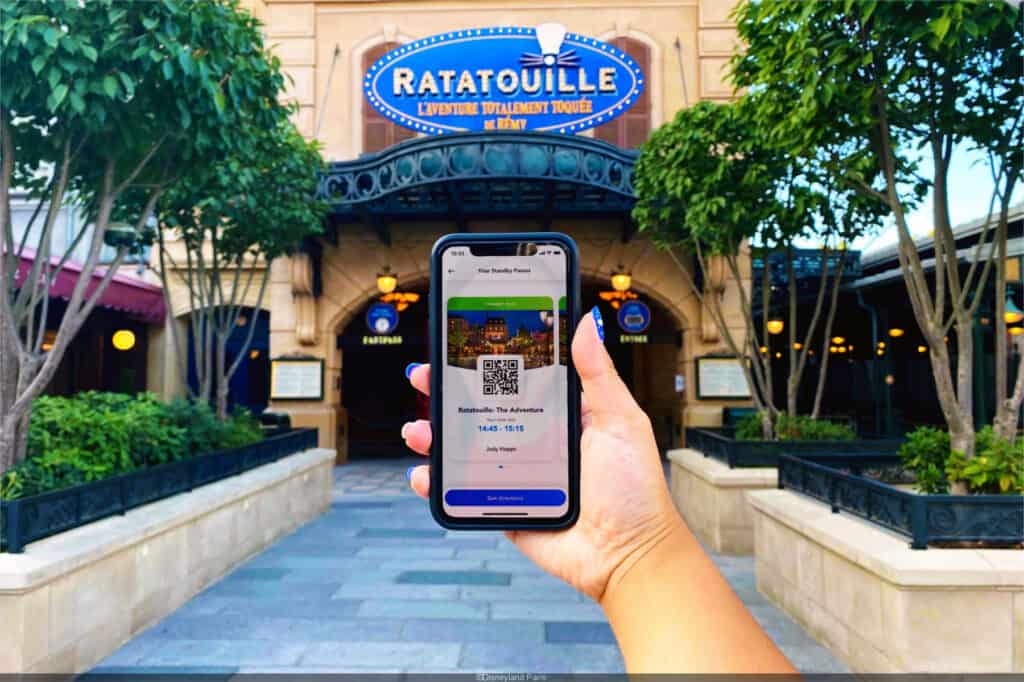 How to know if you need to reserve a Standby Pass?
Find out if the attraction you wish to ride requires a Standby Pass by consulting our official mobile app on your phone. You will also see a sign at the entrance of the attractions where Standby Pass is activated.
If Standby Pass is not activated for your chosen attraction, simply join the queue as normal!
Which Disneyland Paris attractions use standby pass?
This new service is said to be launched first for Crush's Coaster, then be extended to other popular rides such as Dumbo the Flying Elephant, Peter Pan's Flight, Big Thunder Mountain, Star Wars Hyperspace Mountain, Autopia, The Twilight Zone Tower of Terror and Ratatouille: The Adventure.
---
Disneyland Paris Disney Premier Access (PAID)
Disneyland Paris has started advertising its new service "Disney Premier Access," launching this summer (not to be confused with the Disney+ service for watching theatrical releases at home for a higher price, of the same name).
From anywhere inside the parks, guests can use the App to book an assigned time slot for select attractions, with prices at launch starting at 8€ per person per ride depending on the attraction and day of use. Guests without a smartphone can also purchase Disney Premier Access at select locations through out the parks.
By choosing Disney Premier Access, guests have the option for more flexibility in planning their day and will be able to spend even more time enjoying attractions, shows and so much more.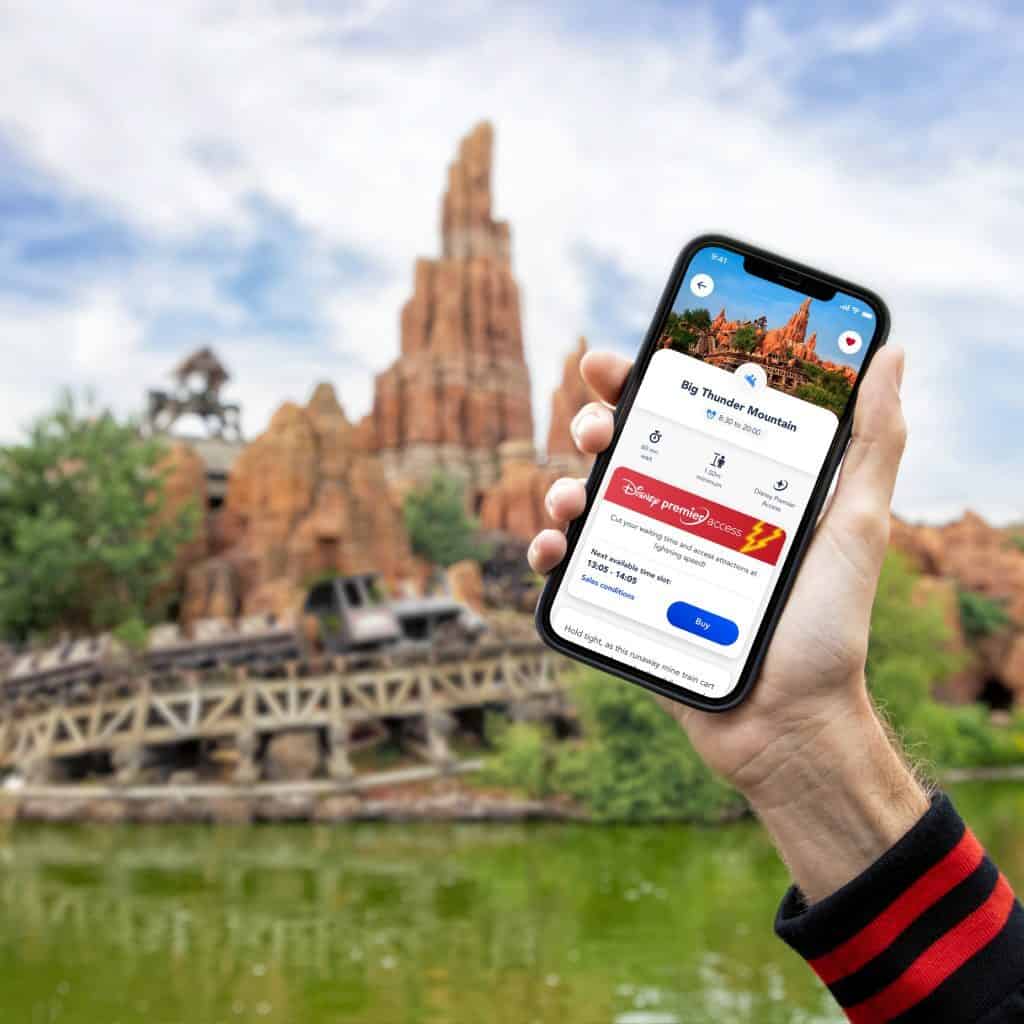 How to Buy Disney Premier Access?
Open up the official Disneyland Paris app and sign in to your Disney Account or create one.
Link your Ticket, Pass or Hotel + Tickets package to your account. Tip: do this before your visit to save time!
Once you're in the Disney Parks, choose an attraction and select the Guests that want to ride. You'll be offered a time slot, depending on availability.
After you've paid, head to the dedicated line of the attraction during your allocated time slot and present your QR codes (in the "My Disney Premier Access" section of the app).
Pricing
Pricing for Disney Premier Access will be per ride, and range from €8 to €15 depending on attraction and day of visit.
Disney Premier Access Attractions
Disney Premier Access is available for:
Big Thunder Mountain,Peter Pan's Flight
Ratatouille: L'Aventure Totalement Toquée de Rémy
Buzz Lightyear Laser Blast
Star Wars Hyperspace Mountain,
Star Tours : l'Aventure continue,
The Twilight Zone Tower of Terrorᵀᴹ
Autopia.
Note; this is essentially the same list as Standby Pass.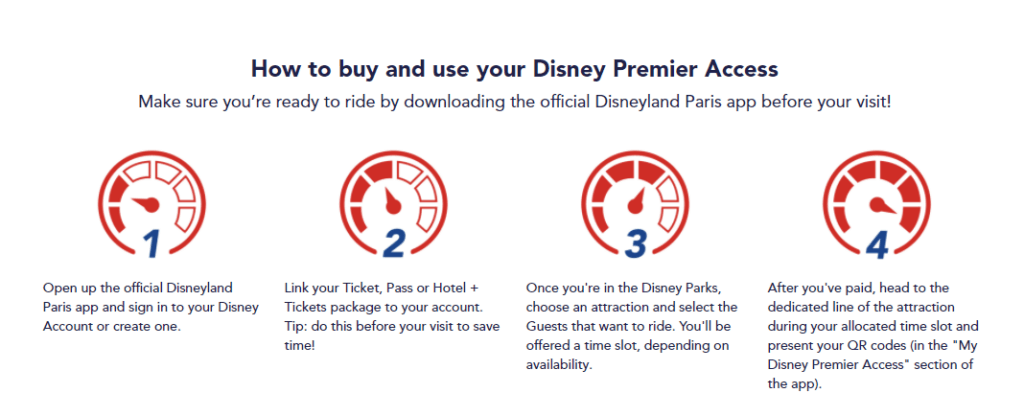 Disneyland Paris wants to make it very clear that the new Disney Premier Access is not a walk-on ride system. It is simply a pay-to-play Fastpass replacement. "Purchasing a Disney Premier Access gives you fast access to the attraction you choose, but does not guarantee immediate access."
The addition of Standby Pass and Disney Premier Access will provide alternative services for Disneyland Paris guests and the previous FASTPASS service at Disneyland Paris will not be returning.

Disneyland Paris
This is not the first time that the Disneyland Paris resort has offered pay-to-play attraction access. In 2018, Disneyland Paris introduced "Super Fastpass" and "Ultimate Fastpass," which offered front-of-line access to many of the same attractions included in Disney Premier Access. This was on a trial period only and was quickly abandoned when the Parks reopened during COVID restrictions. The new system is no longer a daily program, but a pay-per-attraction system.
This new services were announced via the Disneyland Paris press site.
Your Thoughts...
Please share your thoughts in the comments or reach out on social media...We would love to hear from you.
Follow Mouse Travel Matters for Disney Parks news, the latest info and park insights, follow MTM on Twitter, Facebook, and Instagram.
You May Also Like…