Last Updated on May 15, 2021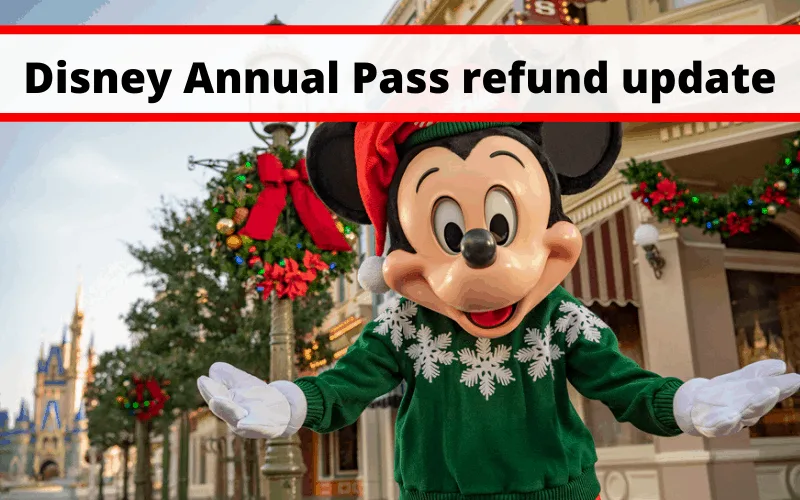 As many out of town Disney fans were quick to find out, Disney's reopening would not be as magical as it once was. Fireworks and parades cancelled for the sake of avoiding crowd-generating events, limit capacity and reduced operating hours, Disney fans want their monies worth or a refund.
While I am not here to debate the reasons behind Disney's choices or guests' choices for visiting Disney during a global pandemic for that matter. To each their own, just be safe. But I am one of the few Canadians that holds a Disney Annual Pass and can't legally cross the border to use it. I, among many other Disney fans around the world, including Americans within their own borders, don't feel safe visiting the theme parks at the time and are accepting Disney's offer to prorate a refund of our Annual Passes.
This isn't news to many, as Disney and Disney bloggers alike have been discussing this since the parks initially closed back in March, and was reignited when they opened up again in July. How is a refund processed, how much am I getting back and when will I get it back? That is a lot of money and I would rather have it in my pockets than anyone else's.
How is a refund processed
Now that refunds have started to take place, we have more information on the how and the how much.
All refunds will be processed on their original form of payment.
Gift cards
This one is a little trickier than it looks. As many other non-American bloggers out there would say, we suggested that most Canadians would benefit from purchasing many many Disney gift cards while in Canada and use these to make large and small purchases while on Disney Property. This saves on the 2.5% foreign exchange fees that many credit cards place on their clients for the privilege of using their own money outside of Canada.
While this is great on a good day, COVID is a very bad day. Disney will automatically be reimbursing those payments to Disney gift cards. It is rare that one keeps the plastic card in the house, let alone on their person, after having spent it. Disney is asking those guests to call in and make a special request to have their refunds placed on an alternative form of payment.
Canceled Credit Cards
We switched from a standard credit card to a travel credit card half way through our blogging career. This did mean, however, that there were expenses on our old, canceled card, that would later need to be refunded.
When this happens, you will have no way of knowing when and how much your credit card has been refunded. You will have to call up your bank and ask them several times per week if a refund was processed on a closed credit card.
When that amount does appear, the Bank teller will to manually link this refund to the original purchase and have it reviewed by a bank manager before the funds can be transferred to another account, like your basic banking or another credit card. This normally takes up to 5 business days to complete. That is, after you have made someone aware that funds are in the wrong account. We have personally called out local branch and confirmed the amount, only to reach the call center and they say a different number all together; a difference of several hundred dollars. He needed to refresh his screen and start again. Good thing we knew what we were asking for?
How much is the Annual Pass refund?
This 100% depends on when you bought your Annual Pass but everything is prorated so it's pretty easy to figure out.
All Annual Passes were paused on March and continued in July, with the option of canceling effective mid-August. Simply calculate how many months of active Annual Pass you had, and divide that by the price you paid.
I paid $1400 CDN and had it active for 6 months. With the exchange rate, I was refunded half that amount. Easy as pie.
The verbiage can get confusing when Disney starts talking about extension dates and effective dates. Forget all that; when you purchased the Annual Pass until March 2020, plus 1 month after opening and that's your number of active months.
When will the refund's process?
This one is a little funny. Back in September, Disney said you can expect a refund mid-late September. That date quickly came and went and Twitter was buzzing about a lack of refund.
Today if you were to read Disney's Annual Pass refund policy, they say mid-late October. This is more in line with the schedule we encountered. I feel like it took them a little longer to process that many refunds than they were expecting.
Moral of the story
If you haven't seen a refund yet, double check your original form of payment and call your local branch to see if it's waiting for someone's approval before appearing in your account.
When all else fails, give Disney a call and ask them what's up. Remember, the Cast Member you are speaking with is just another employee and doesn't have control over Disney's policy or the machines' overall ability to hold a promise. Faith, trust and pixie dust make the world go round.
You May Also Like…