Last Updated on May 11, 2022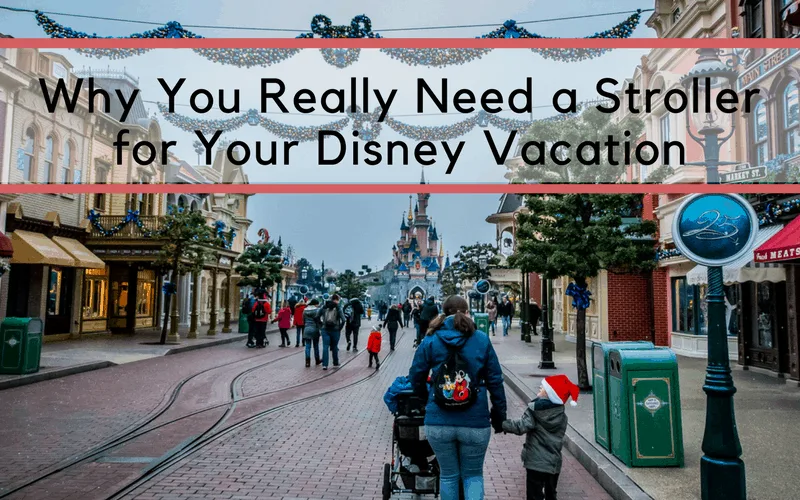 Should you bring a stroller on a Disney vacation? I have seen this question circulate across social media pretty much every day. It is a topic that has a lot of different point of views, based on time of year, the age of children, as well as the accessibility throughout the park.
Even the debate of stroller "park & ride". Just how much convenience or inconvenient will a stroller provide?
Over the past few years, I have heard conflicting tales of parents bringing their stroller, leaving it behind and various other ideas of how to accommodate their kids and their little legs. If you have never been to a Disney Park with kids, it can be difficult to judge just how your kids will respond to the excitement and epic size of the Parks.
Having successfully travelled to Disney Parks on four separate occasions, I have gained insight from my own kids and observed other parents navigate with their children.
This post may contain affiliate links.
To which I earn a small commission, at zero cost to you!
Find more info in our
Privacy Policy
.
Our Stroller Basics For Disney
There are many reasons why you shouldn't bring a stroller to Disney this includes the rare possibility of theft (the top reason). For us, the risk is greatly outweighed by the rewards, and theft is prevalent on any vacation – not just a Disney vacation. There are too many benefits to bringing a stroller to allow a little risk to deter us. And when I say little, I do mean very little, but more on that down below.
Seating
When all else fails, your kid will have the best seat in the park. A guaranteed safe place for them to park their little butts and avoid being stepped on by others. This also means they will be able to sit while they are being transported from one end of the park to the other.
Storage
While you should never leave valuables in the stroller, little things like a diaper bag can be safely stored in the basket of any stroller. Same with snack packs and coolers; no sense in bringing them onto the ride unless they are needed for the queue.
Weather Protection
During periods of less than stellar weather, or even during times of extreme heat and sun, a stroller is a perfect place to keep the kids warm/cool, and dry.
Avoid Rental Fees
At 20euro/$16 per day, plus the line to pick up a stroller, I avoid Disney stroller rentals. Plus, they don't look all that comfortable. More of that further down, but let's just say – you have already invested in a good stroller for your kids, why pay for another.
Naptime
The most important reason of all; avoid returning to the hotel for nap time. A parent would have to forfeit a significant portion of their time to return to the hotel and nap with the kids; why not stay in the park and use rider swap? Or go shopping?
If they can't sleep with all the hustle and bustle of the parks, there is always a quiet corner in every land that you can walk around and rock kids to sleep. There is no sense in leaving the park if you don't have to. Especially if you need to take the bus; folding the stroller and carrying a sleepy or sleeping child is not pleasant, especially alone.
What Kind of Stroller Do You Need?
Of the myriad strollers available for purchase, there are a specific few that will do best on a Disney vacation. While my go-to favourite is the Bob Revolution, theft does happen. I wouldn't want my $500 stroller, let alone an $1800 stroller, being lost or stolen (those exist and it has happened, see here for more details).
Check out our comparison guide of the Best Strollers for Family Travel to help you decide which stroller is best for your Disney vacation.
The perfect Disney stroller will be large enough to accommodate most children in your party; Disney can be an epic physical workout after a few days of park hopping, so if you had a well-sized stroller for the little ways it's no issue to have a 10-year-old with tired legs in there for a few minutes on your way to that favourite park lunch spot.
Your stroller should have a proper canopy for sun protection, and a well-fitted rain cover to protect from rain, wind, and snow (Disneyland Paris). Ensure the body of the stroller is able to recline for deep sleepers and a proper place for the child to rest their feet.
Dangling off the sides because they can't reach, or are too tall, for the footrest can cause leg and foot pains, and is not healthy for their pelvic bones or leg muscles.
Because Disney can get very crowded, and from personal experience, many guests are too busy looking after their own children or mindlessly taking photos, we suggest a stroller that is easy to navigate in tight corners – something that can "turn on a dime".
If there are many children in your party, we also suggest a stroller that can be pushed with one hand.
Stroller FAQ
No valuables should be left behind in your stroller, at any time, when it is not in your sight.
Mark, your stroller to make it easier to find in the crowd. This can be anything from a ribbon around the handle to a special cover or whatever else you can think of.
Kids must leave the stroller to ride the train.
The stroller must also be folded and placed in the back of the carriage.
If you plan on getting out at the same stop you entered, simply leave the stroller at the station entrance and return for it when the ride is over, especially since you will need to carry the stroller upstairs in order to reach the platform.
Disney rentals must stay in the park. If renting from one location and wishing to Park Hop, it must be returned for a voucher to get another stroller in the second park. This does not guarantee quantity, as there is a limited number of strollers available and they tend to be sold out quickly.
There are new rules regarding the size of your stroller. Check them out here, as well as a list of strollers that fit the new regulations.
Can I take strollers on Disney Buses?
All strollers must be folded before entering the shuttle buses as well. This is usually why we recommend that families with small children at Disneyland Paris either stay on site and walk back to their hotel or have a car parked on site.
Folding strollers for public transit is the law in Florida and California but strongly suggested on the other properties, as strollers take up valuable space.
How to Make your stroller stand out at Disney
There are lots of ways to brighten up your stroller and make it stand out among the crowd. Short of having a brightly coloured stroller already, here are a few suggestions of temporary add-ons that will help you locate your stroller from the bunch;
Balloons
Colourful bandana
Soft bendy flowers
Luggage Tag
Colourful rubber band
Bright duct tape
But with so little available space on pathways at Disneyland on even moderately crowded days anymore, I appreciate when other fans around me in the park decide to travel lightly and leave the bulky strollers at home – OCRegister.com
Where to Leave the Stroller at Disney
Stroller parking tends to be another hot topic in most Disney related forums. Strollers are not allowed in the queue, regardless of the strollers size or the child's unique needs. If the child uses a pushchair as a wheelchair, it needs to be specially marked by City Hall and a disability pass will be assigned. Please consult each Parks website to get a list of accessible rides and how to obtain a disability pass.
Please use stroller parking lots only. If they are left anywhere else, a cast member will have no choice but to move it to a better location. In general, a stroller will not be taken to Lost Property until after closing times, but this greatly depends on the Cast Member doing the relocation.
Cast Members do move strollers all the time. This is to free up space in the walkways and allow for more strollers to park in the specially designated areas. This is also why they do not allow stroller locks or bike locks. They have the right to cut your bike lock in order to move any strollers to where they need to be.
There have been many suggestions of simply using a bike lock to lock the wheels in place, so the stroller cannot be wheeled away by a thief, as opposed to locking the stroller to a gate or fence.
Travel Tip.
Suzi Brown, a Disneyland Resort spokeswoman, said in a statement; "patrons can lock their strollers' wheels together. Visitors, however, are forbidden from locking strollers to stationary objects."
Who needs a stroller at Disney
Often times we are asked about older children; "should I bring a stroller for my 8-year-old", or "will my 5-year-old be able to handle Disneyland Paris without a stroller?" These are great questions from parents who have never been to Disney before or at least never with their children.
Disney may be bigger than you expect and your children will end up walking much more than they have ever walked in their lives (same goes for the parents), but the excitement of it all generally keeps older children focused enough to push through.
What do we mean by that? Walking 2 km to school can seem like the end of the world, and both parent and child will be at witts end at the end of the journey from the sheer whining and complaining of it all. Even though this has been the same journey, taken every day, for the last 3 years.
Yet, 13 km at the Magic Kingdom is better than a walk in the park and that same child is able to go strong from 7 am too near midnight. How? Focus. They are focused and entertained and excited about what they are walking towards.
Additionally, you have to figure, 13km over 17 hours isn't that much. During that time, they have managed to do many rides, stood in many queues, sat for many meals, and watched many parades. They haven't been walking, or even on their feet, the entire time. There has been plenty of rest opportunities during this time.
Being prepared with good shoes, plenty of water and if necessary a dose of Tylenol for very sore legs. We do suggest, however, that guests schedule rest days if visiting the Parks for more than 5 days straight. An afternoon at the pool, or Water Park, for example, to break up the vacation and give everyone a little break. This is good for both parents and child, for the benefit of the mind and the body.
If you're still on the fence about bringing a stroller for older children, or even using one in the first place, here is a quick checklist to see if your child fits that scenario.
Overloading Your Stroller
There are many of us parents that believe our children need anything and everything immediately, and at the tip of their fingers as soon as they ask for it. We used to be those kinds of parents. We would stuff the stroller full of junk and have a bag attached to it "Just in case" the kids needed something.
It took a few years for us to realize that children don't need as much as we think they do. Most of the time, they ask for it because they know it is available or we as parents have created the need that they are now accustomed to.
Break the packrat habit and minimize your haul. Your stroller doesn't need to be a beast to fit the criteria of a Perfect Disney Stroller, it just needs to function. Our list of Disney Park Bag requirements easily fit within a drawstring bag, as we have done this 6 times now, with and without children.
It is absolutely possible to lower the number of things that we as parents are bringing around with us and subsequently have a better experience at Disney with the family. Instead of worrying about your things, relax and just enjoy the Parks.
But what about your purchases? If you are staying on property, simply have them delivered. Each Park has a different cut off time and procedure, so it is best to ask at Hotel Check-in for specific instructions, but in general, all you have to do is ask the cashier.
When you are making your purchase, before payment is processed, simply ask the cashier to have your items delivered to your hotel. Everything will be waiting for you in the hotel gift shop in the next 24 hours. Easy Peasy. If you are staying offsite, we suggest renting a locker at the start of your day and leaving all of your purchases there.

Disney Stroller Rental
Renting a stroller from any Disney Park, or even a third party rental agency, can help with the logistics of transporting such a large piece of kit to and from the airport. As mentioned before, the strollers provided by Disney themselves are not very comfortable, are expensive and are limited in quantity.
Renting a stroller at Disney World
Disney stroller rental locations are typically near the entrance of each park. Both single and double strollers are available and have two cup holders, a seatbelt and a sun shade, and they come with a complimentary name placard to help identify your stroller
How much does it cost to rent a stroller at Disney?
A single stroller rental currently costs $15 per day, and a double costs $31 per day. Buying multi-day/length of stay rental saves $2 per day for a single and $4 per day for a double. A $100 deposit is required for strollers rented at Disney Springs.
Keep in mind, stroller rentals are only available at the four main parks and Disney Springs, not at the resorts or water parks. You cannot remove strollers from the theme parks, so if you're park hopping, you will need to need to rent (and return) at each park. Hang onto your receipt, because you only need to pay once a day!
Is there a weight limit for the Disney strollers?
There are posted recommendations for the Disney strollers that the capacity of a single rental is 50 lbs. and the capacity of a double rental is 100 lbs.
What do Disney world strollers look like?
The Disney strollers are made of hard plastic. The seating area has no padding or cushioning of any kind. The Disney strollers do not recline, so if you're planning to have your child nap in the stroller, then he'll have to do so bolt upright.
The double strollers have no physical divider between the spaces for each child. It's a bench-style seat rather than a separated bucket-style seat of most non-commercial doubles. This means that two children sharing the stroller will inevitably be touching each other. Hot, sweaty, exhausted siblings touching each other – need I say more.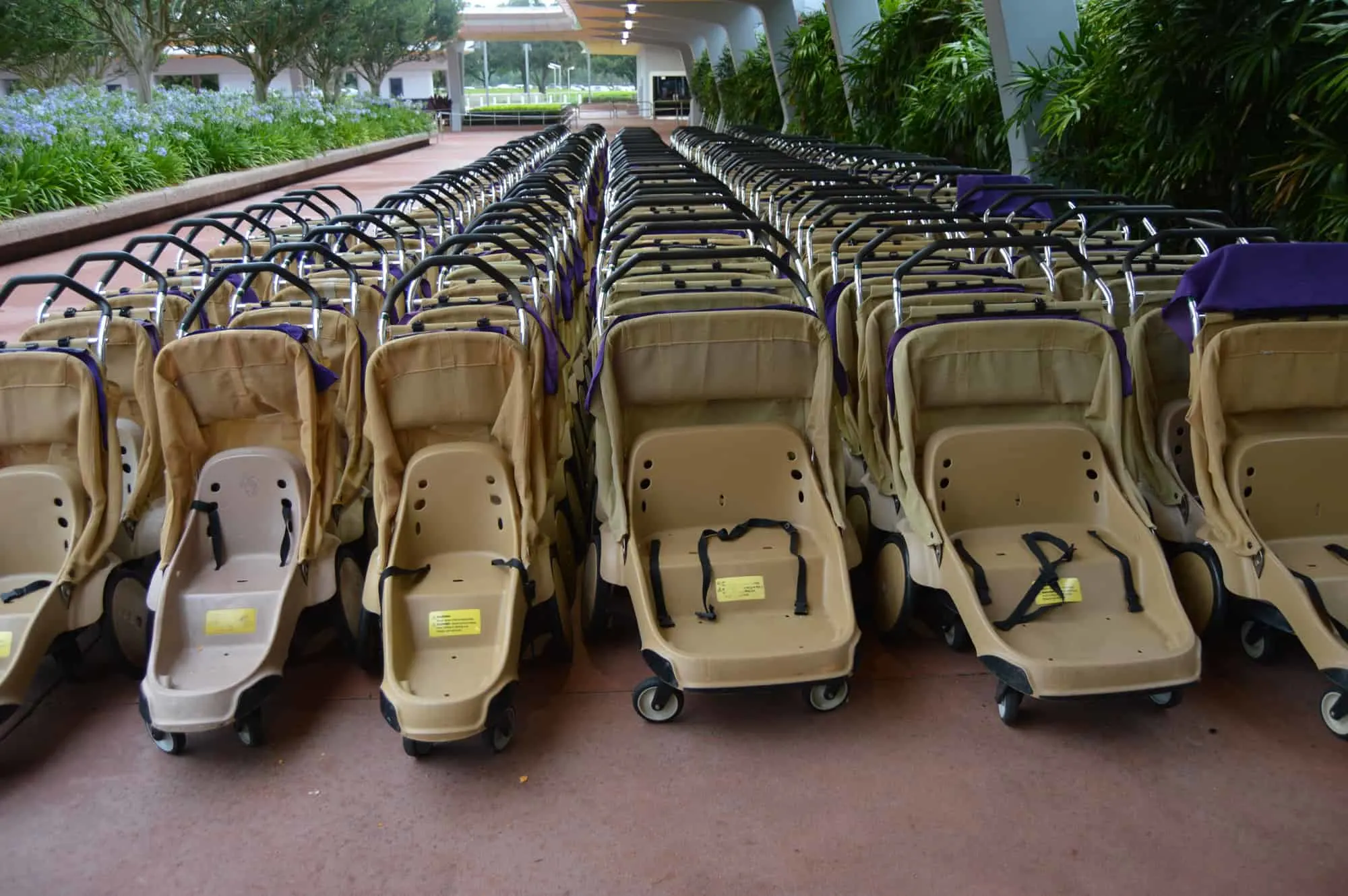 Renting from an outside stroller company in Orlando
There is another solution, however. There are many stroller rental companies within Orlando that will rent to Disney guests; Orlando strollers, Kingdom strollers, Magic strollers, Baby Wheels Orlando and Apple stroller.
They have every kind of stroller available for rent and offer very reasonable prices. They are able to deliver and pick up the stroller at most hotels and have insurance options available for purchase. Unlike traditional insurance providers, these companies have insurance that covers loss or theft within the parks, as they are uniquely familiar with how stroller parking works within the Parks.
You will be responsible for the cost of replacement for any lost or stolen stroller unless you have purchased the stroller insurance. Stroller insurance is a cost-effective way to bring peace of mind to your vacation.
Stroller Theft at Disney
Of the thousands among thousands of strollers that are brought onto the Disney properties each and every day, only a minimal number of those are stolen. "just a fraction of a percent, are affected," said Suzi Brown, a Disneyland Resort spokeswoman, in a statement:
Last summer, during a three-month span, police documents show that 21 visitors reported thefts of strollers or items from them. In five cases, just the strollers went missing.
If a stroller does go missing, check Lost Property first. Many strollers end up there after they are mistakenly taken by other visitors or get moved about. It is imperative that guests understand, valuables should never be left in strollers when not in your possession. Strollers and all baggage associated with it are not covered by insurance when left out in the open this way.
Disney also does not provide insurance claims for lost or stolen strollers, so the liability/risk falls on the guest. A few guests have made headlines when they reported their $1800 stroller was stolen, or their passports and $500 in cash was taken from their Gucci purse while they rode Haunted Mansion. Don't leave anything behind! Ever!
Best Lightweight stroller for Disney
As mentioned before, the best stroller to take to Disney is a lightweight stroller. "Lightweight" can mean many different things to different people. Yes, a lightweight stroller can mean anything from a little umbrella stroller to that fancy folding stroller that can go down to the size of your handbag.
What we are suggesting for you is something that is both lightweight for carrying (on and off public transit), easy to maneuver, comfortable for the children to rest and sleep in, as well as something that is easy on the wallet. There aren't many strollers that are able to check off all these boxes but we have managed to find a few great brands.
Best Double Stroller for Disney
Have twins or two little ones that need to nap while at Disney? There are comfortable, affordable and easy to maneuver double strollers available as well. It comes as no surprise that they are from the same brands as the single strollers; when a company knows they have a prize-winning design and price-point, it's easy to see why they would branch out into the double-stroller market.

Disney properties are huge and little legs can't take all of that walking, especially for 10 days straight. Having a strolling is a great way to keep the pace and peace.
Your Thoughts...
Please share your thoughts in the comments or reach out on social media...We would love to hear from you.
Follow Mouse Travel Matters for Disney Parks news, the latest info and park insights, follow MTM on Twitter, Facebook, and Instagram.
You May Also Like…