Last Updated on July 28, 2020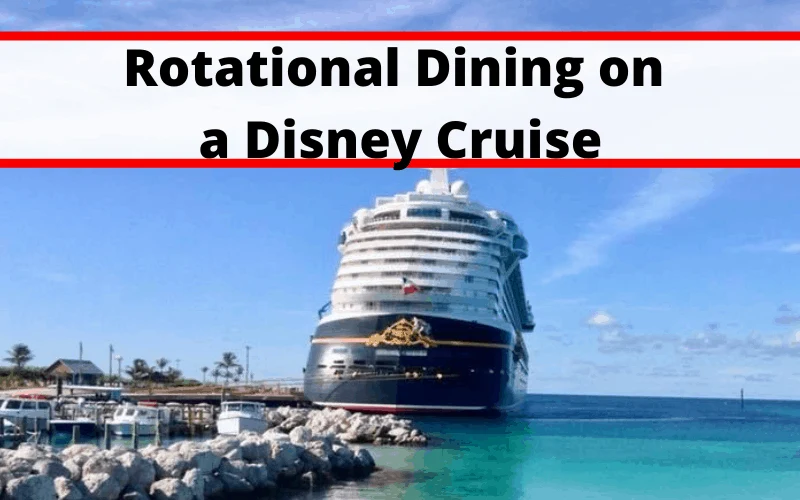 One of the highlights of sailing the seas with Disney Cruise Line are all of the incredible all-inclusive elements including in the cost of your magical voyage at sea! Chief among them are the fantastic meals you'll get to enjoy each night as part of Disney's rotational dining system.
This post may contain affiliate links.
To which I earn a small commission, at zero cost to you!
Find more info in our
Privacy Policy
.
Everything You Need to Know About Rotational Dining On Your Disney Cruise
On all of the different Disney cruise ships, there are 3 main dining rooms. Each night guests go to a different dining room but your servers come with you. There are 2 seatings for each. The first seating is at 5.45 and the second one is at 8.15. You do get the chance to pick which seating you want when you book your Disney cruise.
How will you know what night you will dine in which dining room?
Aside from choosing your seating time, guests don't know what their rotation will look like until they have checked in to the cruise and received their Key to the World card. This acts as your room key, charge card and has your dining rooms listed.
If you haven't booked your cruise and you would like more information on how to reserve activities onboard, you can click here to read my guide to the Disney Cruise Line planning guide!
Your Dining Team Rotates with You
One of the best parts of Rotational Dining is that your Server and Assistant Server stay with you for the duration of your cruise. As you move around the ship at a different restaurant per night, your Dining team follows you. This means they will remember what your preferences are and are better able to make suggestions on food and drink.
What Restaurants are Included in Rotational Dining?
The restaurants included in rotational dining are different from ship to ship. These are as follows:
Disney Dream: Animator's Palate, Enchanted Garden, and Royal Palace
Disney Fantasy: Animator's Palate, Enchanted Garden, and Royal Court
Disney Magic: Animator's Palate, Lumiere's, and Rapunzel's Royal Table
Disney Wonder: Animator's Palate, Triton's, and Tiana's Place
You May Also Like…