Last Updated on February 27, 2020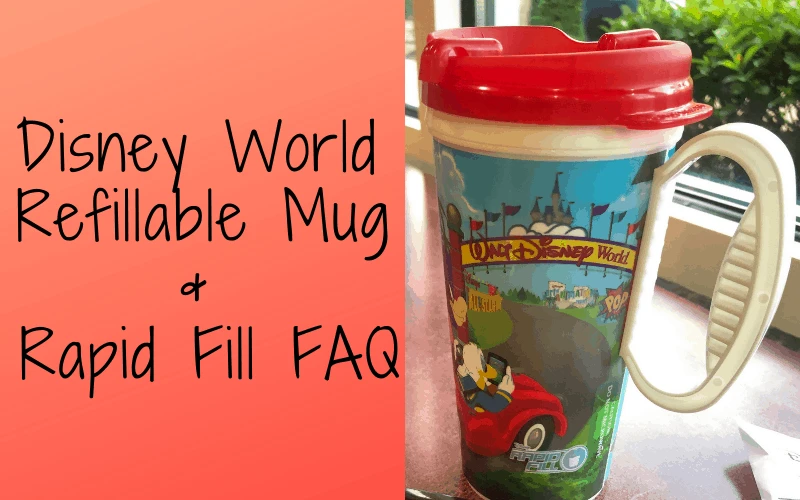 As many folks know, Disney World Resorts offer Disney Refillable Mugs for guests to purchase and use for free refills!
Walt Disney World uses refillable mugs in its resort hotels through a system known as Rapid Fill, which provides unlimited refills, with some exceptions. This Disney refillable mug guide answers whether Disney refillable mugs are worth the money.
Disney Refillable Mugs Overview
Refill Mugs are 16 oz. insulated travel coffee mugs. Guests with refill muds are entitled to "unlimited" free refills on fountain drinks, coffee, and tea from self-service beverage locations at Disney resorts for their length of stay.
The Rapid Fill program began in August 2013 and allows Disney Resort guests to buy (or receive as part of the Disney Dining Plan) a Resort mug. These mugs do have an "expiration date"; enhanced by an RFID bar code, the mugs deactivate, or cease to refill, when the designated time is over, usually the evening of checkout date.
Disney Refillable Mug FAQ
How much do they cost if I'm not on the Disney Dining Plan?
Refillable mugs are available for $ 18.99 and they are good for 14 days.
Can I use my mug while resort hopping?
Absolutely! Refill mugs are good at all participating Disney hotels.
What drinks are available for Disney Refillable Mug refills?
You can refill your mug with coffee, iced or hot tea, Cola and hot chocolate.
What beverages are not available for Disney Refillable Mug refills?
Most notably, milk and juice. Also, alcoholic beverages are not available.
Where can I buy the mugs and get refills?
Refill Mug purchases and refill stations are located in food courts, quick service locations, and pool bars at all Value/Moderate/Deluxe resorts.
Usable Only At Resorts, Not Parks.
I mean, sure, you can take them to the parks. You can, however, use your Refill Mug for requesting free ice water. Essentially using your Refill Mug as a water bottle.
Can I use my mug on my next Disney vacation?
Sorry, the RFID chip have expired by then and they currently are unable to reactive expired mugs.
What do the current mugs look like?
As of March 2019, this is the current mug design.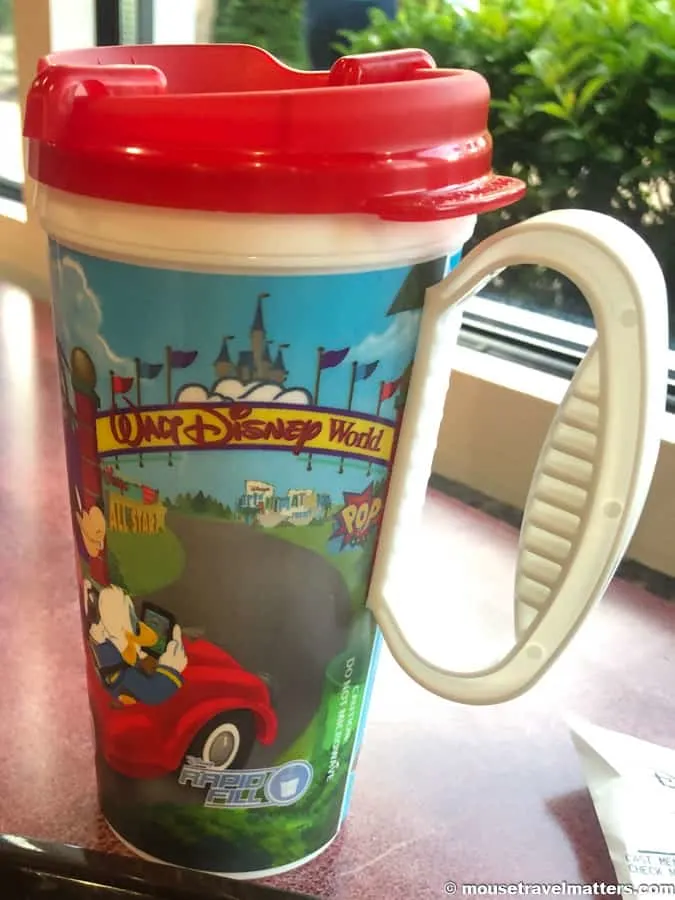 Is there a limit to how much I can refill my mug?
You have to wait 2 minutes between each full refill. This is to prevent groups from sharing a single Rapid Fill mug..
So how do I use my Rapid Fill mug with RFID bar code?
It's easy!
The mugs work when they are placed flat on the stand below the soda dispenser, which allows the machine to read the RFID chip inside the mug. The soda dispensers will let you fill your mug up one full pour, roughly 16 oz.
Once the Rapid Fill mug has reached its "fill capacity," the dispenser's screen alerts the guest with a "Fill Complete" message. Guests must then wait for 2 minutes to refill the same mug. If a guest tries to fill the mug prior to the 2 minutes "no fill" period, the screen will alert the guests to the amount of time remaining before the next refill can be dispensed.
Each self-service refillable mug location has a MUG WASH! There's a little sink right next to the dispensers that you can use to wash out your mug.
Are the Mugs microwavable and dishwasher safe?
Thanks to the RFID chip found in the bottom of the mug, they are not microwavable. The mugs are dishwasher safe though.
Is buying a Rapid Fill mug worth it?
Knowing that a soft drink costs roughly $3 and your mug costs $18.99, you will need to consume 7 mugs (on separate occasions, since you can refill a paper cup in the same sitting). A paper cup can be refilled for one hour, up to 3 times. The cup will then deactivate after one hour or 3 refills, whichever comes first. Paper cups also have a 2-minute time limit.
This also applies to Coffee and Tea. While the Moderate and Deluxe Resorts offer a 4-cup coffee pot in the room, that may not be enough for some guests. (The Value resorts do not feature a coffee pot in the room.) If you enjoy a good cuppa or tea, you may want to consider purchasing the mug.
How far from a refill station is your room located? Is your family typically in a hurry to get to the parks? Or is a leisurely walk back to your room to deposit your mug after breakfast just fine with you? Each family will have to work out the statistics to decide if purchasing a Rapid Fill mug is going to be worth it money-wise for you
If the mugs are included with the Disney Dining Plan, that's another story altogether.
Your Thoughts...
Please share your thoughts in the comments or reach out on social media...We would love to hear from you.
Follow Mouse Travel Matters for Disney Parks news, the latest info and park insights, follow MTM on Twitter, Facebook, and Instagram.
You May Also Like