Last Updated on March 9, 2022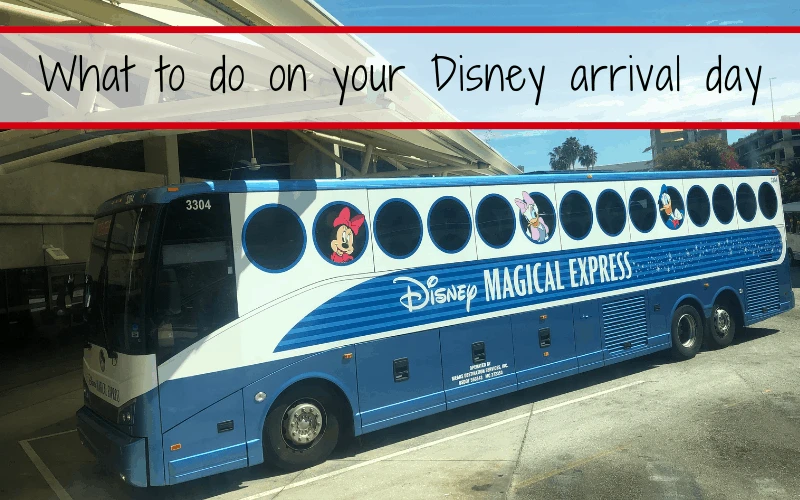 You're on your way to Walt Disney World and you have all of these plans for the parks. But what to do on your Disney World arrival day? If you arrive at 2 pm at your resort hotel what the heck are you going to do with the rest of your day?
Maybe your plane was delayed due to icing on the wings, there is massive traffic on the highway and the queue for check-in is crazy long. #TrueStory
All your plans for arrival are seemingly thrown out the window because you live by the philosophy "Failing to plan is planning to fail".
On most days, I would agree with this philosophy. I can't stand "winging it" and get increasingly frustrated when I hear horror stories of disgruntled travelers having a horrible time because they didn't plan for this and that contingency. There are Plans A-G in my back pocket and they have all been committed to memory. Except for arrival day at Walt Disney World.
Be sure to follow us on Instagram and join our Facebook group Disney World and Universal Studios
There are too many moving parts, too many things out of my control, and too much can go wrong to have any solid plans immediately following arriving at Walt Disney World.
Before Leaving the House
Confirm luggage tags and paperwork
Have USD cash on hand
Notify Bank that you are leaving the country
Arrive at the airport 2 hours before departure – 3 hours if it's a large airport.
Arrival Day at Walt Disney World
Disney's Magical Express
If you are flying into MCO and have reservations at a Disney-owned hotel, you get complimentary access to Disney's Magical Express. This shuttle departs every 20 minutes from the airport and will take you to your hotel in style.
How long will it take me to get from the airport to my hotel on Disney's Magical Express?
The first thing to remember is that it often takes a minimum of 30 minutes after the plane lands to get to the point where you're ready to leave the airport or make your way to Disney's Magical Express. Off to the Magical Express.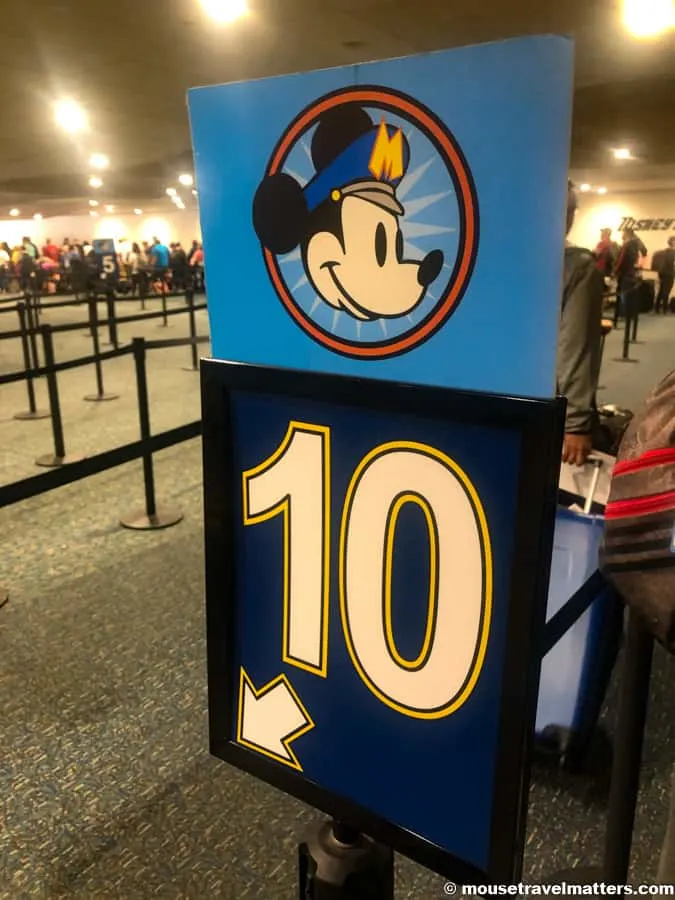 After scanning your Magicband or presenting your Disney Resort Hotel reservation to the Disney representative you are faced with about a 25-minute wait to load the next shuttle bus, plus 35 minutes on average to reach your Resort hotel.
Considering the Magical Express is known for stopping at numerous hotels during a single run, you could be looking at roughly 75 minutes total drive time.
If this seems a little much, consider that a cab ride one-way from MCO to a Disney hotel will cost you at least $70.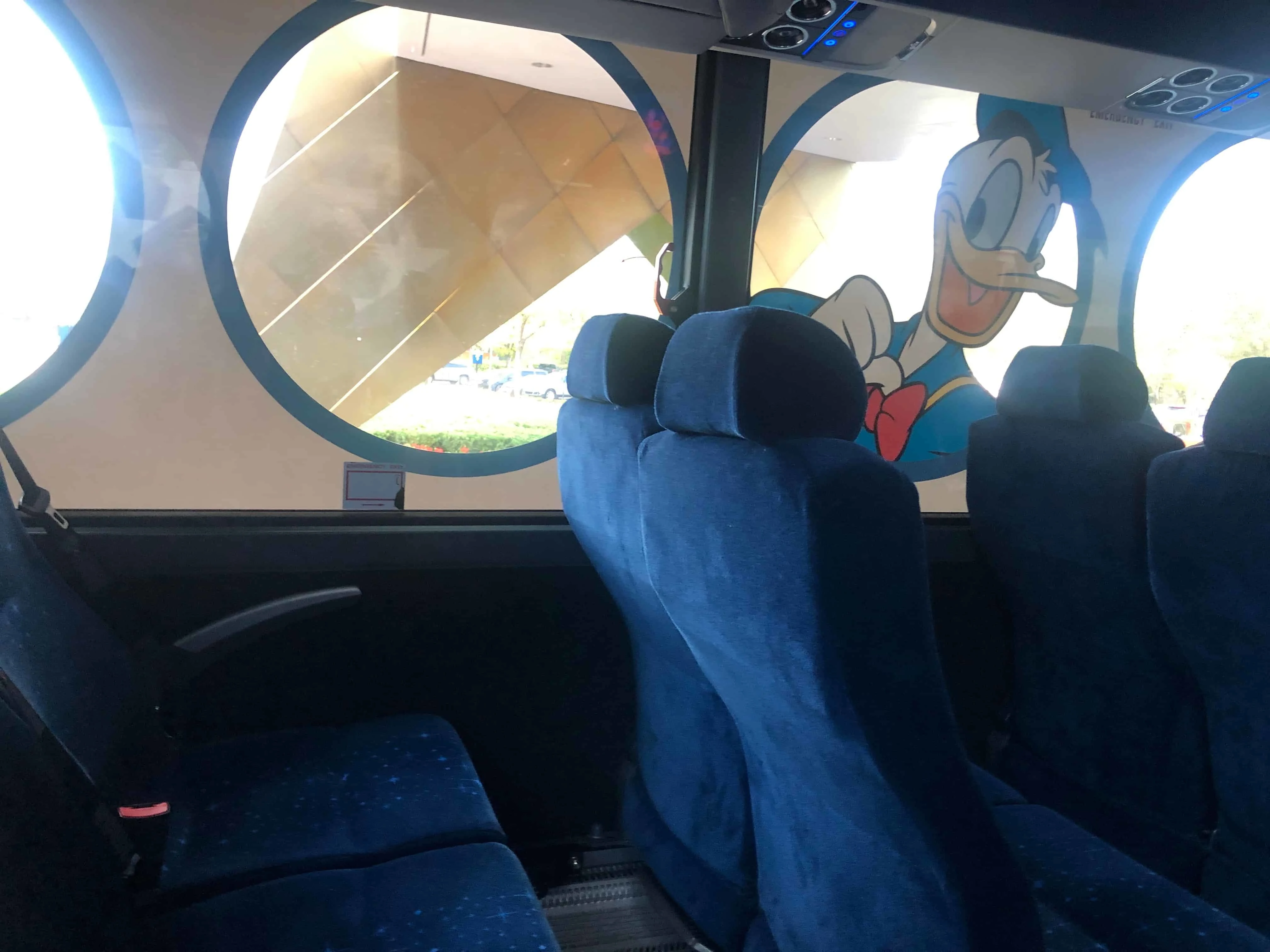 Your Disney World Hotel
What time can I check-in?
For most Disney resorts, the check-in time is 3:00 pm. The variations on this are that the Fort Wilderness campsite check-in time is 1:00 pm and the Disney Villa Resorts check-in time is 4:00 pm.
This doesn't mean you can't check in early, it just means you aren't guaranteed to have a room ready. On your Disney arrival day, you are welcome to check in early, get your Magic Bands set up and explore the area while leaving your excess luggage at Bell Services.
But really, once you check in you have all the privileges of a resort guest. You can use the hotel pools, charge merchandise, double-check room requests, get your parking pass, and so on.

Do I need to go to my hotel first thing on my arrival day?
This largely depends on your mode of transportation. The Magical Express will only drop you off at your hotel. This also gives you a chance to drop off your carry-on luggage and prepare for whatever activities you had planned for the rest of arrival day.
If, on the other hand, you are self-driving to Disney or renting a car from the airport, you are welcome to head straight to the parks. All Disney properties allow you to check in online and they will email your room number. Your Magic Bands are already set up to enter your room and linked to your entrance tickets.
The only hiccup comes from guests visiting from non-American addresses, as your Magic Bands can't be mailed to you in advance. Unless you have a pair at home that you plan on linking to your tickets before arrival, you will need to visit the Check-in Desk to retrieve your Magic Bands before heading to the parks.
What exactly happens during check-in?
You'll be asked whether you want to allow charging privileges for your party's MagicBands and if so how you'd like to secure those charges. This is when you decide if little Timmy is allowed to charge his souvenirs to your Credit Card or he can fend for himself with a Gift Card you set up for him.
The check-in clerk will give you a resort map, park maps, a WDW Times Guide, Disney Dining Plan information (if this applies to you), and other helpful information.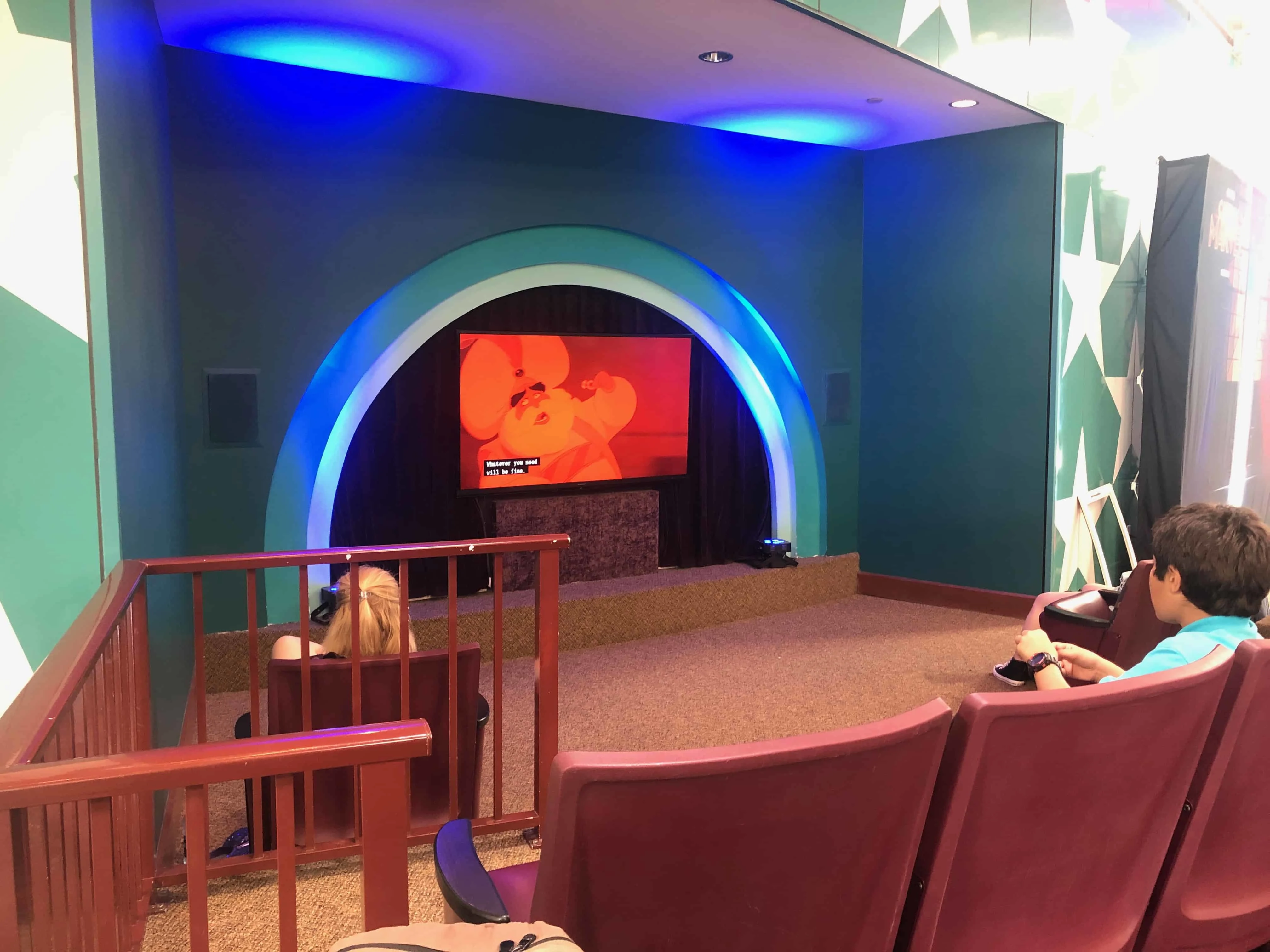 Should You Explore Your Resort
You've paid for it, why not make the most of it on arrival day. Check out everything the main hall has to offer, the pool, the grounds, take pictures, whatever you want.
Pool Day
If poolside fun is what you're looking for, and your room is not yet ready, you can use the changing facilities at the pool.
Off Park, Arrival Day Things to do
Monorail Resort Hopping
Of all the things that we love to do on Arrival day, resort hopping is my favorite. Explore the resorts, get a taste of Disney, have dinner somewhere fancy, and just relax. You may not have time to do it later so why wait until the end to explore the World.
At the Grand Floridian, children can participate in Cinderella's Princess Promenade. Kids can stroll down the Grand Floridian grand staircase and dance with her in the lobby of the hotel. Princess Promenade takes place daily at 3:30 p.m.
Miniature Golf
Disney World has two separate mini golf destinations.
Winter Summerland Miniature Golf
The first is Winter Summerland Miniature Golf where you will get to experience Christmas year-round.
Fantasia Gardens
Second, you can head over to Fantasia Gardens across from the Swan and Dolphin hotel. At this course, you can play two 18-hole miniature golf adventures based on Disney's classic animated film Fantasia.
Shopping All the Things on Arrival Day
Either at your resort or at Disney Springs Disney arrival day is a great time to shop. Taking some time to explore your merchandise options will help when you are shopping in the parks. Look know and buy later, or get your shopping out of the way early and shop til you drop.
Magic Kingdom Fireworks from Outside the Parks on Arrival Day
We recommend that you plan to enjoy the fireworks at the Magic Kingdom from inside the park at least once, your Disney arrival day is a great opportunity to catch them outside the park. There are many places to watch the Magic Kingdom fireworks outside the park.
Fireworks or a Parade on your first-night at WDW, Is it worth your time?
NOT Worth It
This depends on a few things to plan your Disney arrival day. Between the time it takes to get to the Parks from your hotel, how busy it probably already is by the time you get there in the afternoon and how tired you and your party are from traveling all day, it may not be worth it.
Worth It
However, if you are staying at Disney for a significant length of time, say 10 days, then your entrance ticket is about $10 for that extra day. Spending $10 (per person) to see the fireworks or explore late-night on your first day could be exactly what your family needs to get in the spirit of Disney.
Explore Disney's BoardWalk
Disney's Boardwalk is more than just a pier. It's full of shops, eateries and great times.
Dining
Relaxing at a fancy dinner after a day of travel is a great way to start your vacation. However, you should not make any reservation earlier than three hours after your scheduled landing time at Orlando International on arrival day. Sometimes even that is cutting it close.
Remember that nearly all table service restaurants at Walt Disney World now require a credit card hold for reservations and have a penalty charge for no-shows.
More Awesome Ideas
For even more awesome ideas, be sure to read 40 Things to do at Walt Disney World without a Ticket. In the comments below be sure to share what you and your family love to do on Disney arrival day!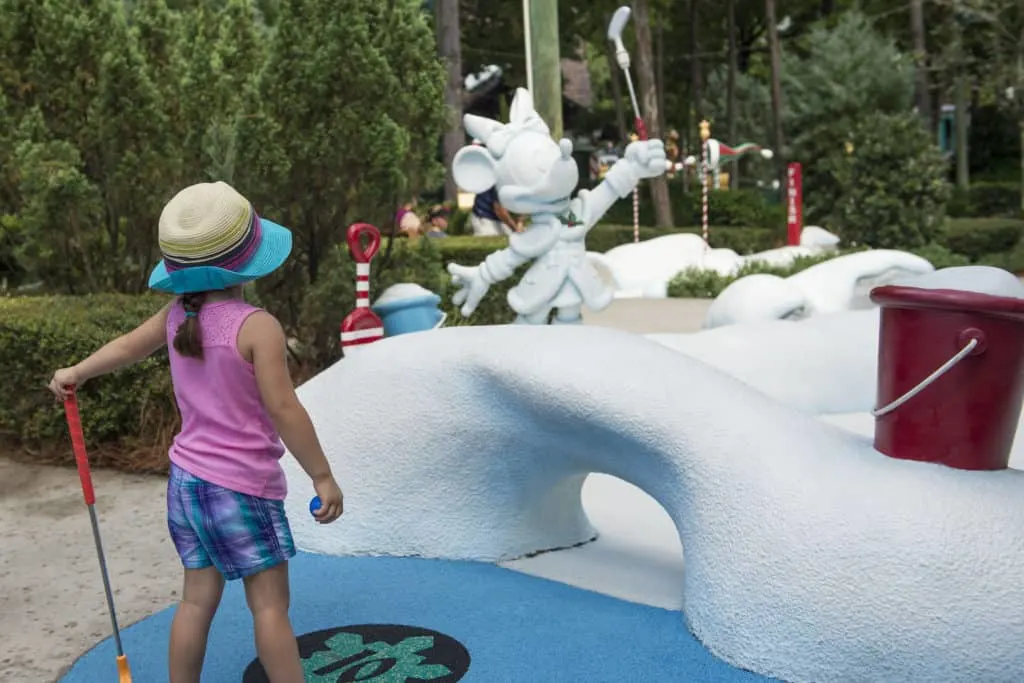 Learn Disney Bus Schedule
If you haven't done so already, your arrival day is the perfect time to study the Park Maps and bus routes. This will give everyone the heads up regarding wake-up time, boots out the door, and on their way to start the day.
Each bus to the individual Parks will have a different ride duration time, obviously. Be mindful of these duration times, as well as the expected departure time from the hotel. There are also times when you will encounter possible delays due to overcrowded buses or traffic.
There could be days when taking alternative transportation may be necessary, when you have early morning reservations, want to experience Early Morning Magic in the Parks, or simply don't have the patience to take the free buses in the morning.
For those times you will want to call ahead and reserve a Minnie Van, or schedule a ride-share such as Lyft.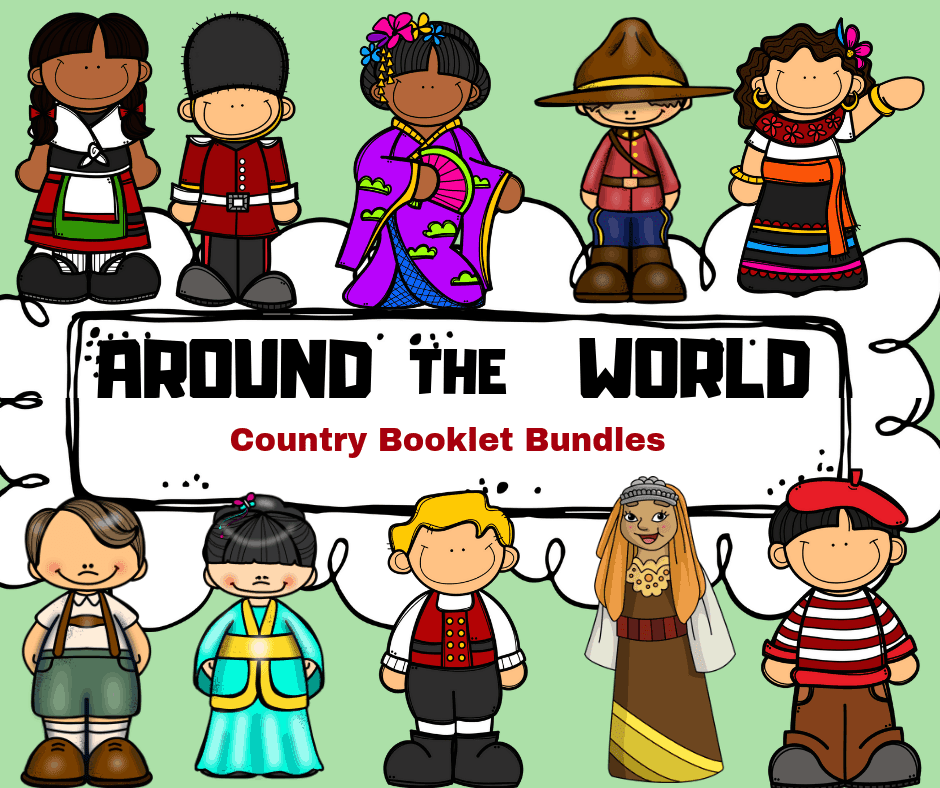 Arrival Day and Departure Day do's and don'ts
Do make full use of Bell Services and Resort Airline check-in.
On your arrival day, Do save time to get your room organized, your bags unpacked, and your park bag ready to go.
Do remember to pack your TSA-approved sunscreen and swimsuits in a carry-on. Anything that you need that day since you probably won't see your checked bag for another few hours.
Do schedule grocery, stroller, and scooter/ECV deliveries on your arrival day so you'll be ready to go on your first full day at Walt Disney World.
Do remember to book a Bounceback offer before you leave. It is a lot less sad to leave Disney World when you already have another trip to return scheduled!
Don't schedule a reservation too close to your arrival. If you are flying, we recommend not planning any reservations (either FastPass+ or dining) for any closer than 3 hours after your scheduled arrival time.
Don't try to do too much on your arrival day, especially if you have a full day of travel before you arrive.
Your Thoughts...
Please share your thoughts in the comments or reach out on social media...We would love to hear from you.
Follow Mouse Travel Matters for Disney Parks news, the latest info and park insights, follow MTM on Twitter, Facebook, and Instagram.
You May Also Like…