Last Updated on July 14, 2019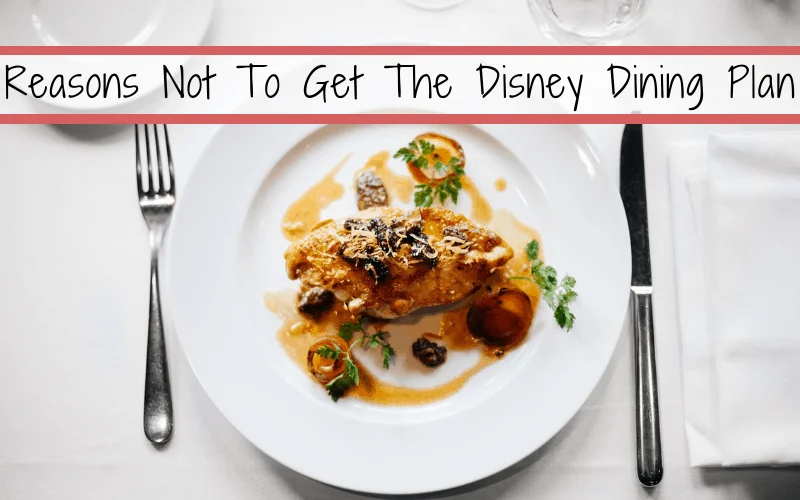 It's a product that you buy from Disney just like anything else…you have to want to use it properly. Like anything at Walt Disney World, there's a market for each offering, and it's about knowing whether or not you're able to make it work or if it's better to pay out of pocket. If you want more information about the Disney Dining Plan Ultimate Guide as a whole, check out our Disney Dining Landing page here.
This post may contain affiliate links.
To which I earn a small commission, at zero cost to you!
Find more info in our
Privacy Policy
.
You don't save enough money
If you were winning, that means Disney isn't. And Disney doesn't do anything unless they are profiting. So it is safe to say that the majority of people using the Disney Dining Plan aren't getting their money's worth. This may be by design or they haven't done the research in order to maximize their dining credits, but their way, the facts are there.
Locked in
I know that I don't need to book my Disney Dining Plan until closer to my date, so I have time to think about it, but what I don't like is needing it for everyone in my party. Disney requires guests to buy the dining plan for everyone on the reservation, even if they are in separate rooms, or have different eating habits. For example, I may intent on stuffing my face at every turn, while hubby is a light eater and grandma is trying to stick to her strict diet. Disney Dining plan is great for me, so-so for hubby and possibly a horrible idea for grandma.
Throw in some picky eaters and a few allergies and everything is out the window.
Takes up too much time
Sitting down for 90 minutes to 2 hours each meal takes a lot of time away from touring the parks. During a non-park day or arrival day, sure. But smack in the middle of your Magic Kingdom day, no thank you.
Tips not included
Disney Dining Plan doesn't mean you are able to eat for free. If you select a buffet, table service or even room service, you are still expected to tip the server. When booking your meals, don't just look at the cost savings of having the dining plan or how to maximize your credits, look at how much your tip is going to be and if you can afford that every night – on top of what you paid for the dining plan in the first place.
Too much food
There is so much food!!! In order to maximize your dining plan (there is that word again… this plan is starting to sound like a lot of homework), you will need to order the most expensive plate and get something with an appetizer. I don't know about you but when I get a salad and bread rolls before my entre, I barely have room for the entre. Then again, I just really like bread.
There is also the excessive amount of snack credits that most guests have left over at the end of their vacation. Did you hear the one about the family that had 96 snack credits left over? Crazy eh.
Honorable mention:
Dining plan has ruined ADR
Because of the Disney Dining Plan and Free Dining, many guests are reporting that they can't get a reservation at their favorite restaurants. This is due to too many people being on the Dining Plan (over 65% of Disney hotel guests); more guests are eating at the Table Service Restaurants which makes reservations harder to get. And the Free Dining promotion in November has made it even tougher.
If you want to see the other side? We have The 5 Reasons that you should get the Disney Dining Plan
Your Thoughts...
Please share your thoughts in the comments or reach out on social media...We would love to hear from you.
Follow Mouse Travel Matters for Disney Parks news, the latest info and park insights, follow MTM on Twitter, Facebook, and Instagram.
You May Also Like