Last Updated on July 26, 2020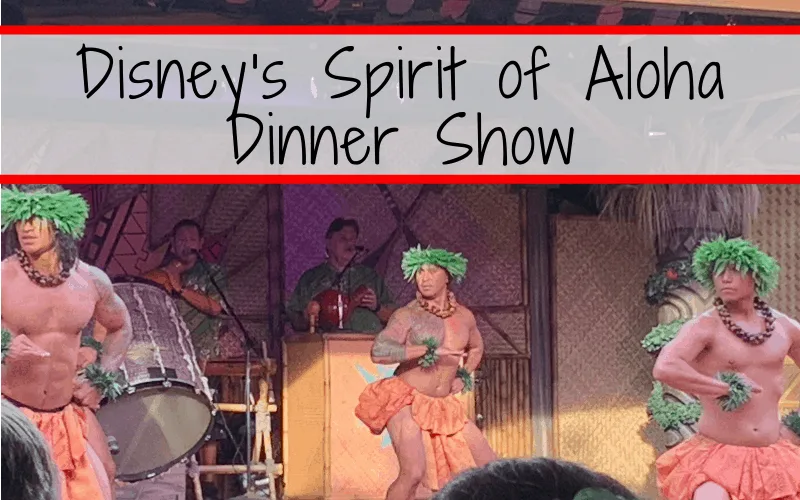 Disney's Spirit of Aloha Dinner Show at Luau Cove in Walt Disney World's Polynesian Village Resort is an incredible live show experience for everyone.
Disney's Spirit of Aloha Dinner Show is located at Disney's Polynesian Village Resort in the Luau Cove located just off the beach in a covered, open-air theatre.
The show hostess each evening is Auntie Wini, who has invited the whole neighbourhood for a celebration to welcome home one of the local girls that have been away. The storyline is a little loose and we approached the show more as a series of entertainment acts than the telling of a story.
Between the noise of all the guests around us, us trying to make small talk with our table neighbours and amongst ourselves, the storyline was a little lost but the performances were terrific and we understood that they were showing us various parts of Polynesian culture – as they are made up of many islands and thus have many different cultural traditions.
The Aloha Dinner Show features music and dances of the cultures of Tahiti, Samoa, Tonga, New Zealand, and Hawaii, which will be presented while guests dine on a feast that is inspired by the flavours of Polynesia.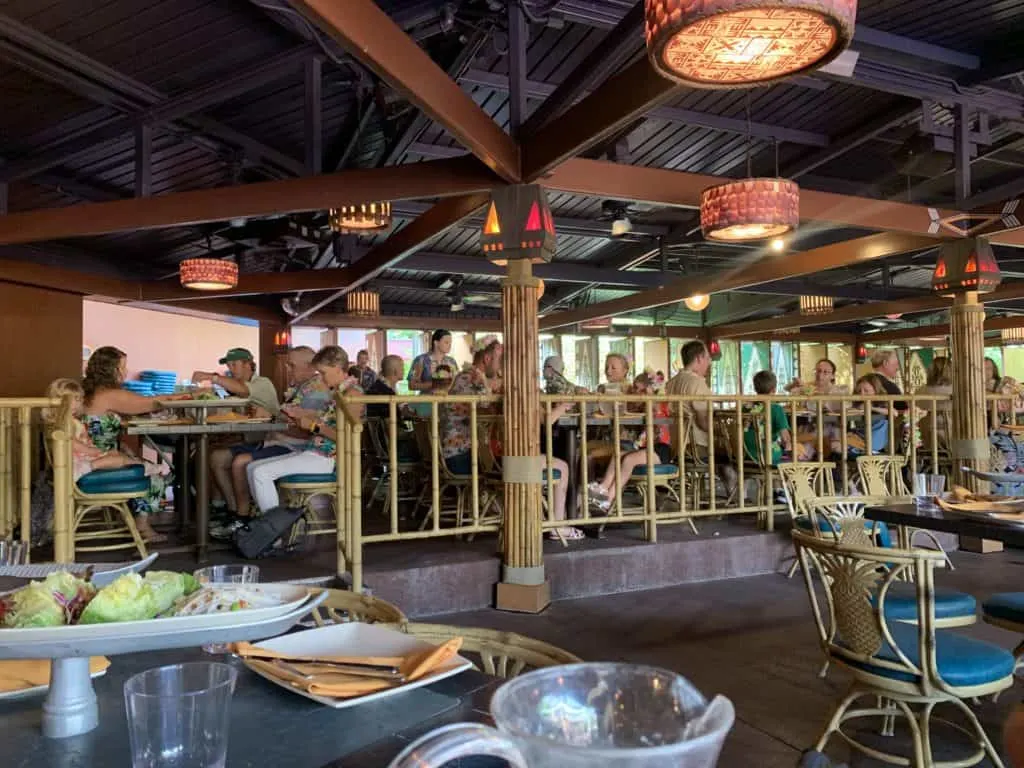 The Dress code is casual and shorts are permitted at this show.
Once the main course is on the table, the show starts to take life. There is the initial half of the show which is divided into 3 parts. First, the performers invite anyone interested to go out in front of the stage and learn to hula!
Next up in this segment of the show, they invite anyone with a birthday to come to the front of the stage and they sing a little song to them while doing a dance. Lastly, they have a slow dance for anyone in love. This takes place in conjunction with a sentimental part of the show.
The second act of the show is when the traditional Polynesian dancing begins and I have to say, it is fantastic. Dancers perform traditional dances of Tahiti, Samoa, Tonga, New Zealand and Hawaii, all with the backdrop of the band banging out the supporting music. Both the ladies and gents of the cast get involved here and it is truly a sight to behold!
To be honest, this is the one part of the night that made us really feel like we were at a traditional luau.
This post may contain affiliate links.
To which I earn a small commission, at zero cost to you!
Find more info in our
Privacy Policy
.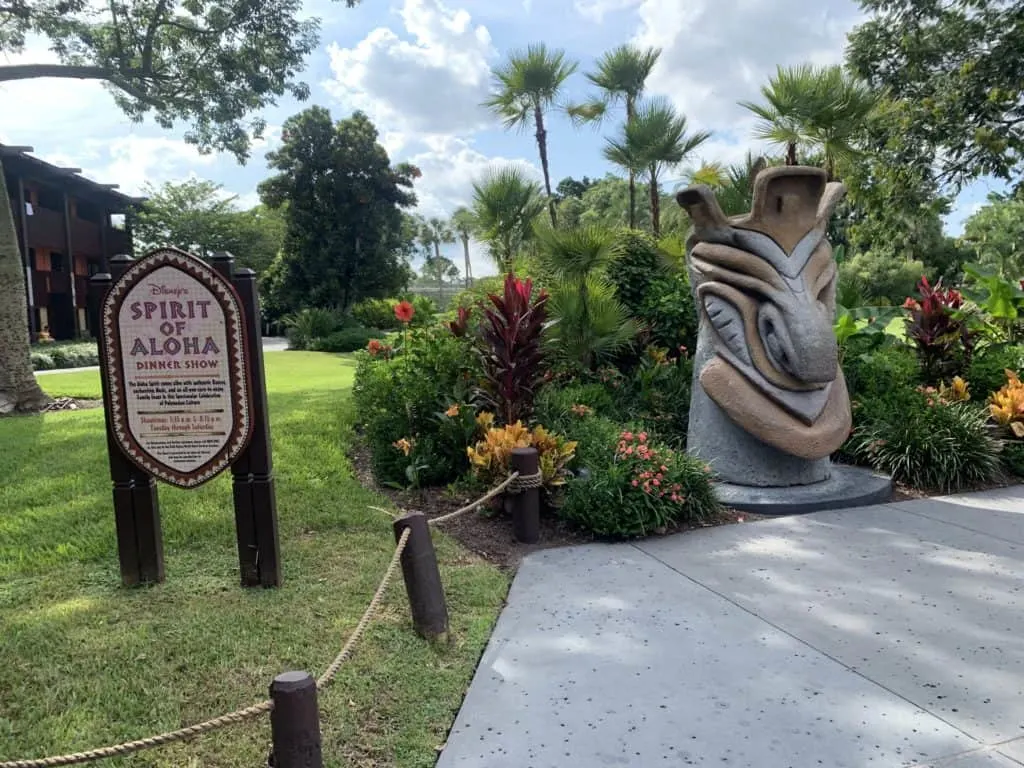 Disney's Spirit of Aloha Dinner Show will cost you two table service credits on the Disney Dining plan. At two table service credits, you may be better paying out of pocket for this, as 2 credits are hardly worth $78 per adult.
Disney's Spirit of Aloha Dinner Show Location
As we said, Disney's Spirit of Aloha Dinner Show is at the Polynesian Village Resort. It's a little difficult to find if you don't know where you are going, especially if it is dark outside. The show is held in Luau Cove, on the far western side of the resort.
You will need to check-in next to the DVC booth in the main lobby, and they will provide you with a seating ticket and a set of lays for the family. You will need this ticket to enter the seating area. The Cast Members will remind you of how to reach Luau Cove from the main lobby.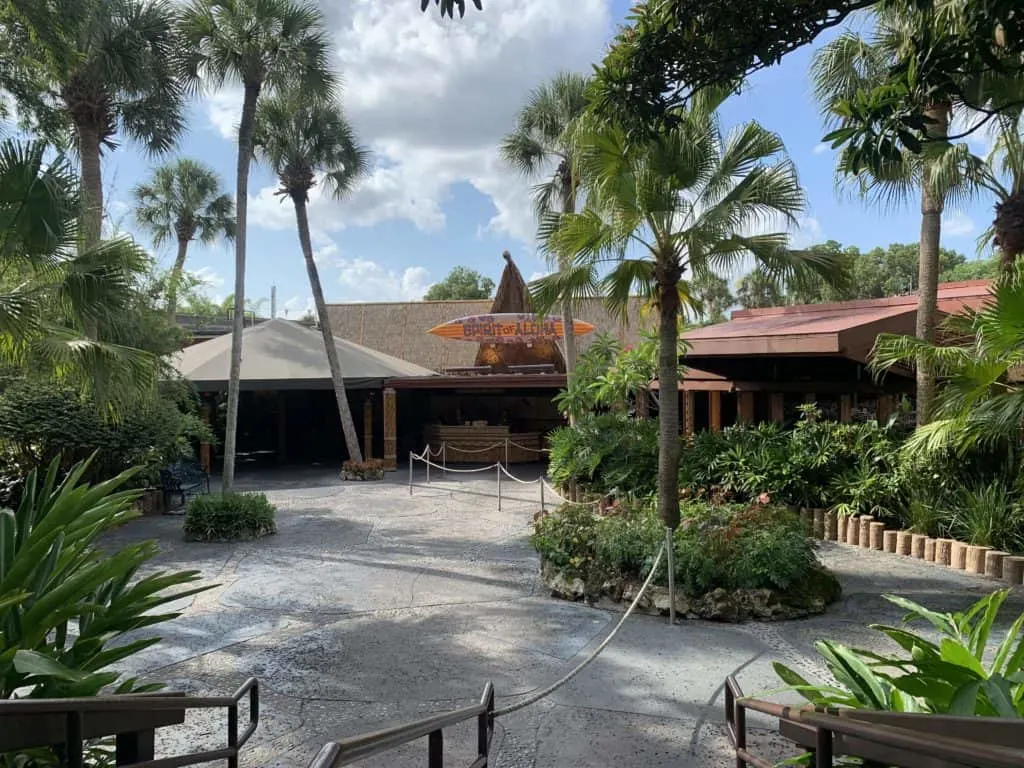 How long it the Spirit of Aloha dinner show
You might be sitting there wondering how long is the Spirit of Aloha Dinner Show. There are two shows every Tuesday through Saturday at 5:15 and 8 p.m. The shows last approximately two hours.
The 5:15 pm show means the sun is still pretty high in the sky when it comes to the fire-show, which is a little bit of a letdown. But the 8 pm show means you will miss any evening spectaculars within the Parks themselves, and the Electrical Water Pageant on Walt Disney World's Seven Seas Lagoon and Bay Lake.
The show does start promptly at these times and we recommend you check-in at least 30 minutes before the show start time.
Seating Chart for the Spirit of Aloha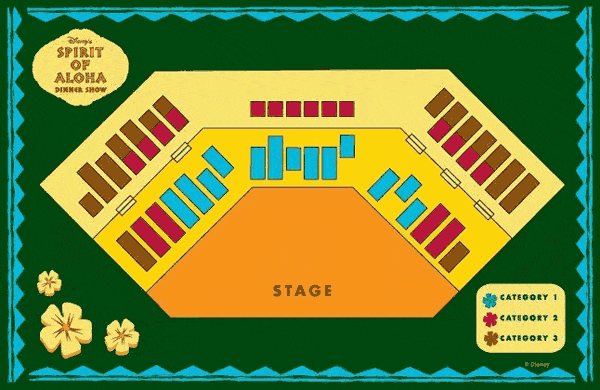 Disney's Spirit of Aloha Dinner show Price
Seating Categories
Category One
These are the best tables, the "front row" seats. Prices are $78 for adults (ages 10 and up) and $46 for children (ages 3-10).
Category Two
These tables have a good view. Prices are $74 for adults (ages 10 and up) and $44 for children (ages 3-9).
Category Three
The "cheap" seats. Views are not the best, you might have an obstructed view of the stage. Prices are $66 for adults (ages 10 and up) and $39 for children (ages 3-9).
Discounts
Sometimes discounts are available for Annual Passholders, Disney Vacation Club members or Disney Visa Cardholders.
Disney Dining Plan
The Disney Dining Plan can be used for Disney's Spirit of Aloha Dinner Show. It applies to categories 2 and 3 only.
TWO table service credits are required.
If you become discount eligible after you have made your reservation, simply inform your hostess when you are checking in. They will note it on your reservation and a server will come around during the show for you to sign the refund slip.
We purchased Annual Pass after the reservation so was refunded the 10% onto the purchasing credit card during the meal. It was all very seamless and well organized. This is clearly not the first time they have come across this situation.
Weather Cancellation
Please note that the show will only be cancelled for temperatures falling below 50 °F (10 °C).
Luau Cove Menu
The themed island feast is served family-style. If you have special dietary requests they will be honoured with 24-hour advance notice by the guest. Beverages will include bottomless beer, wine, tropical rum punch, sodas, coffee, and tea. Other alcoholic beverages may be purchased from the full bar.
Because everything was served family-style, it was an all-you-care-to-eat event. As soon as our server noticed we had eaten all the chicken, she brought us another helping of chicken, without being asked. She said it was her Polynesian upbringing that required her to keep us feed and happy.
While I am not one to turn away amazing food, it was a tad on the wasteful side considering we couldn't bring our food back to our resort and we hadn't actually expressed a desire for more food. This may be my only negative comment in this whole review.
Starters
Tropical Mixed Greens Salad with a Ginger Lime Dressing
Pineapple-Coconut Bread
Soba Noodle Salad
Fresh Sweet Pineapple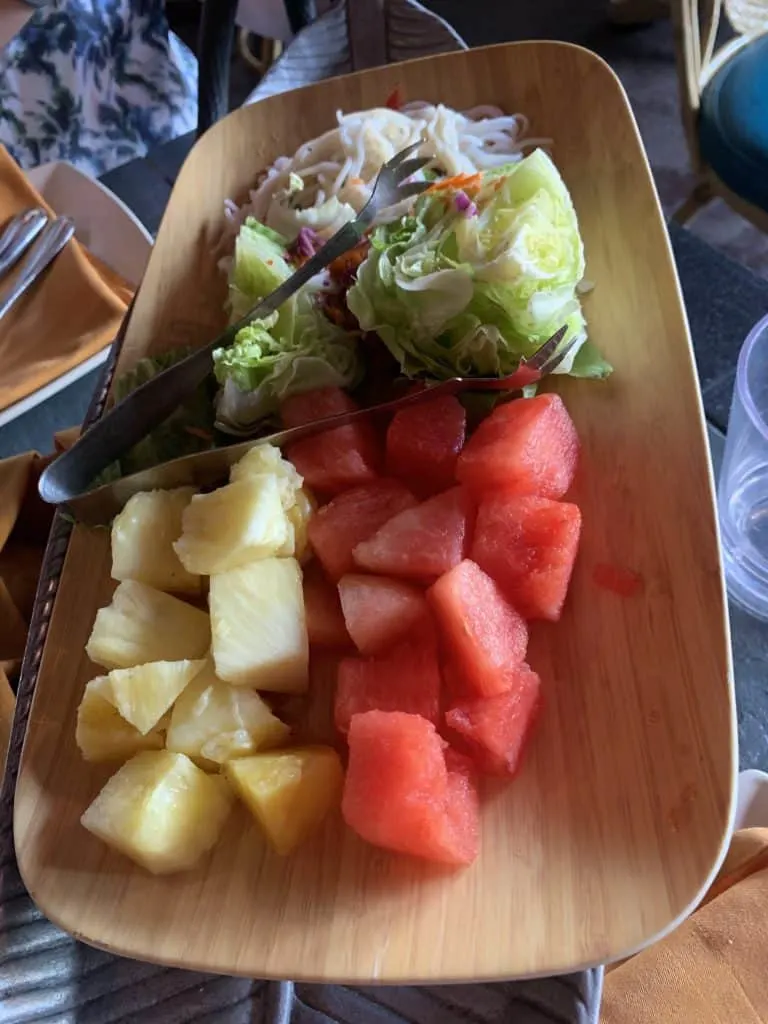 I'm not a huge fan of fruit, especially tropical fruit, but the salads were incredible. I'm pretty sure I ate the majority of this plate.
Main Course
Island Barbecued Pork Ribs
Aloha Pulled Pork
Lanai Roasted Chicken
Polynesian Rice
Fresh Seasonal Vegetables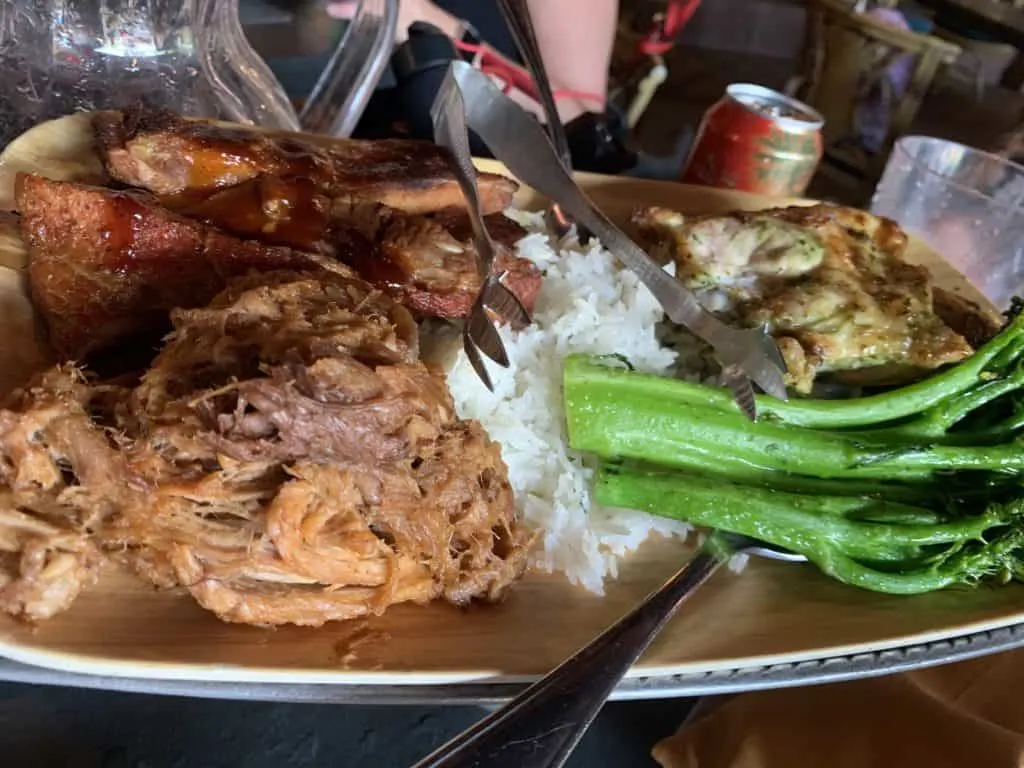 The chicken, pulled pork and ribs were all incredible. I prefer my rice Indian-style so the Polynesian rice wasn't my go-to part of this plate but everything else was amazing.
Dessert
Pineapple-Coconut Guava Cake
"Very Polynesian" chocolate cake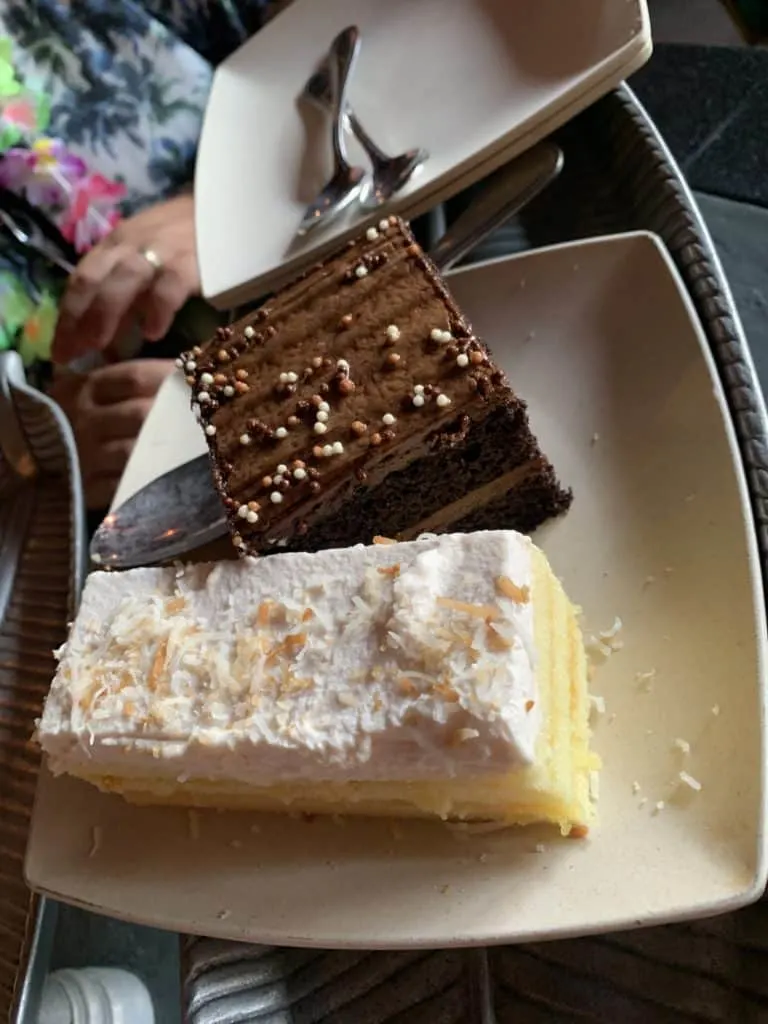 Our server joked that the chocolate cake was "super Polynesian"… I don't like pineapple or coconut so I had a field day with this cake. It was perfect.
The two young girls beside us were celebrating their 8th birthday and their first trip to Disney so the server brought them each their own slice of chocolate cake. Dad was beside himself. So much food!
Beverages
The included beverages are all you can drink. They include Coke, Diet Coke, Sprite, Tea (hot or cold), Coffee, Milk, Pink Lemonade, Bud and Bud Light Draft Beer, Cabernet Sauvignon and Chardonnay.
There are paid-for options on the second page of the menu, but when you can have bottomless wine or beer, why pay for anything else.
Note that making a drink purchase is the only way to leave a tip for your server, as you have already prepaid for this reservation. We tipped her generously for a single Kona Longboard Lager order because of this.
Reservations
Reservations can be made 90 days prior to show date by calling (407) WDW-DINE. Full payment is due at the time the reservation is made. The category 1 tables fill up first so call early for the best seats.
During the busier times of the year, this show will be sold out.
Is It Worth the Money?
This really is a tough question. I have seen so much negativity on Facebook and on Youtube that I almost cancelled our reservation. We are both very happy we didn't.
Some people just don't like the Spirit of Aloha. They deem the show antiquated and the prices unreasonable.
The meal is similar to the one that you would receive down the hall at 'Ohana, which costs $45 on its own, making the show somewhere between $15 and $27. To us, this is a terrific deal for a delightful two-hour performance.
I highly recommend the Spirit of Aloha. At a minimum, you should try it once and make up your own mind.
Our YouTube Review
Your Thoughts...
Please share your thoughts in the comments or reach out on social media...We would love to hear from you.
Follow Mouse Travel Matters for Disney Parks news, the latest info and park insights, follow MTM on Twitter, Facebook, and Instagram.
You May Also Like…
Mickey's Royal Friendship Faire Magic Kingdom
What To Do On Your Disney World Arrival Day
How Much Does A Walt Disney World Trip Cost?
Disney World Restaurants Guide