Last Updated on January 28, 2020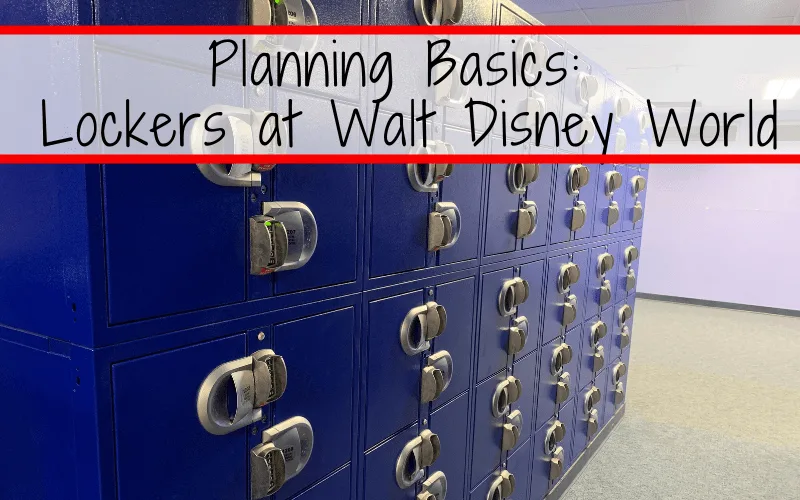 For the convenience of guests, storage lockers are available for rent at all four Walt Disney World theme parks and both water parks. Here is everything you always wanted to know about lockers.
This post may contain affiliate links.
To which I earn a small commission, at zero cost to you!
Find more info in our
Privacy Policy
.
Lockers are available on a first-come, first-served basis. They can be rented during the times that the parks are open, including during Extra Magic Hours and party times
Locker Rentals
Each Walt Disney World theme park and water park features convenient keyless lockers that can be used throughout the day for a one-time charge—so you can store your personal items with ease.
Lockers come in 3 sizes but all 3 sizes aren't available everywhere.
Standard (12.5″ x 10″ x 17″) –> $10/day
Large: (15.5″ x 13″ x 17″) –> $12/day
Extra Large/Jumbo: (17" x 22" x 26") only available at Magic Kingdom and Epcot –> $15/day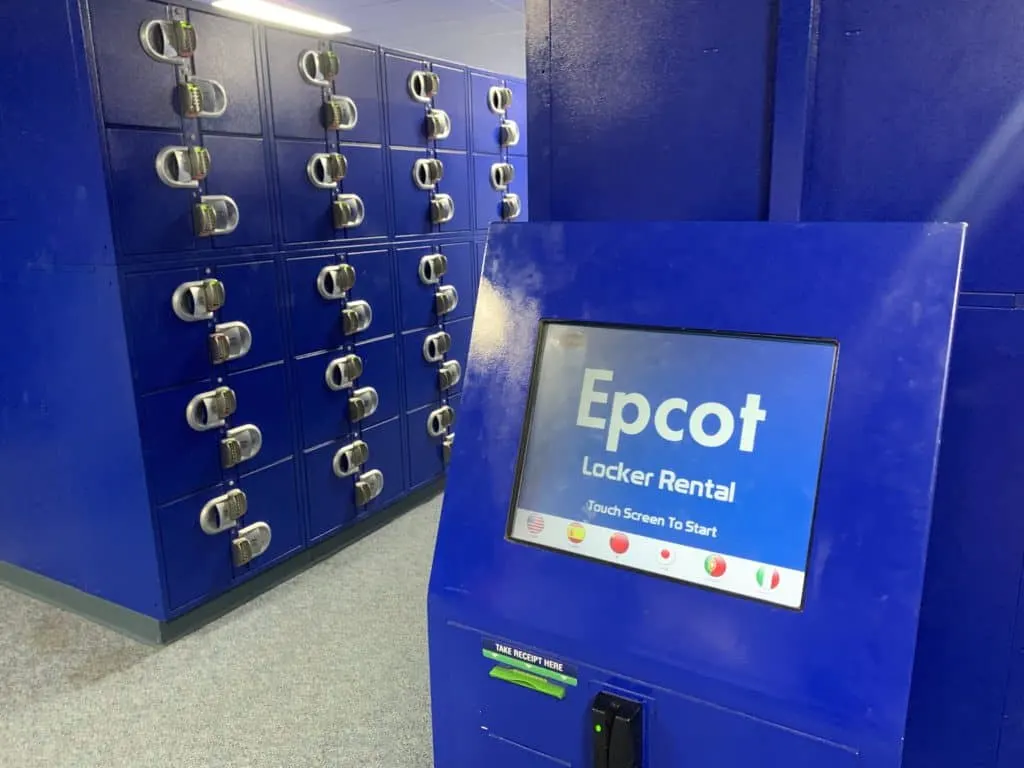 Disney World locker locations
Magic Kingdom has one location, just past the park entrance turnstiles, on the right before walking under the train station.
Epcot has two locker locations. At the front of the park, there is a locker located near the camera shop toward the right side of Spaceship Earth, as you are entering the park. At the back of the park, there are lockers at the International Gateway in World Showcase, located between England and France, coming from the Boardwalk resort area.
At Hollywood Studios, lockers are located next to Oscar's Super Service, just past the entrance turnstiles, to the right as you enter the park.
Animal Kingdom has lockers in two locations. The first is at the entrance, next to Guest Services. It is just past the entrance turnstiles, to the left as you enter the park. The second location is near Kali River Rapids. As you pass Yak & Yeti counter service going towards the attraction, they will be on the left side of the path.
At Typhoon Lagoon, there are two locker locations. One is close to the front of the park, near Crush 'n' Gusher. The other is between Typhoon Tilly's and the Shark Reef.
There are three locker locations at Blizzard Beach. The first is near the front of the park. The second is by Ski Patrol Training Camp. The third is close to Downhill Double Dipper.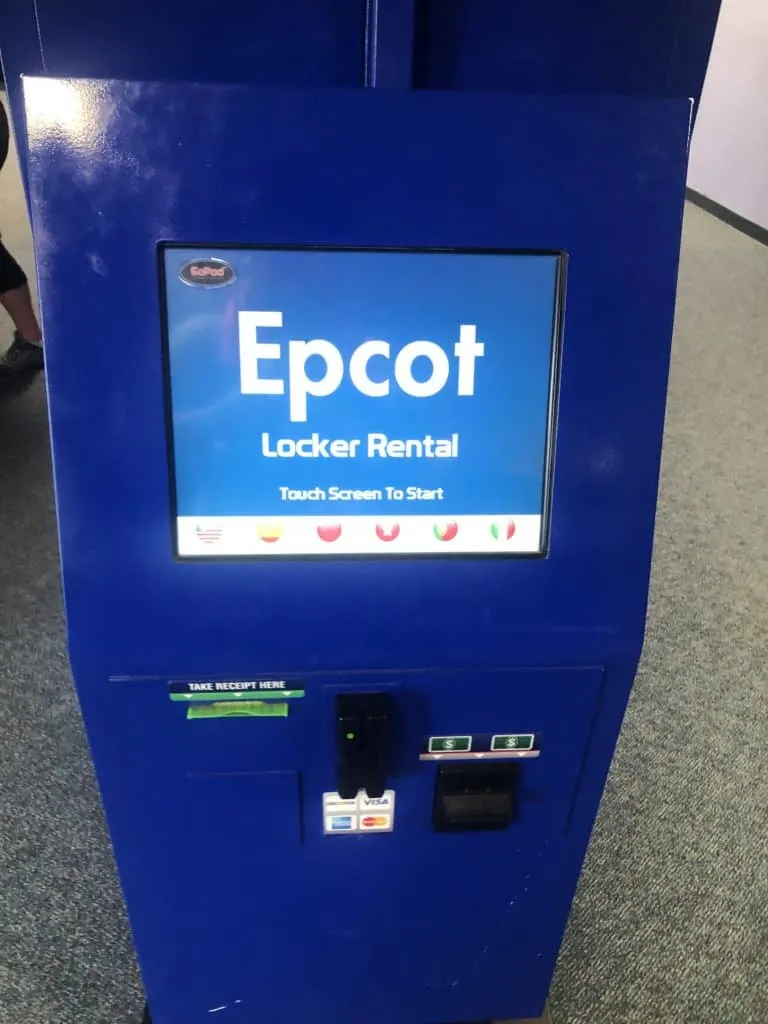 Locker Rental Tips
There are many reasons why a guest needs a locker while visiting a Disney theme park. They include but are not limited to:
Bringing a lot of snacks via cooler and don't have a stroller to lug it around with you.
Requiring a change of clothes later on in the day, or anticipating there may need a change of clothes at some point.
You've made a large purchase at one of the theme park gift shops but you check out tomorrow so it can't be sent to your resort
Visiting during colder months means you will need a layer of clothes during the morning and evening, but still melting during the bulk of your time at the parks.
If the reason you're renting a locker is to store purchases made in the parks, you can instead use the package pick-up service that will hold items for you at the front of the park until you're ready to leave. Be sure to ask about this at the point of purchase.
How much do these lockers cost?
The prices are the same at all the theme parks. Prices can change, but currently, the large lockers rent for $12.00 per day and the small lockers rent for $10.00 per day. Jumbo lockers (only at Epcot and Magic Kingdom) are $15.00 per day.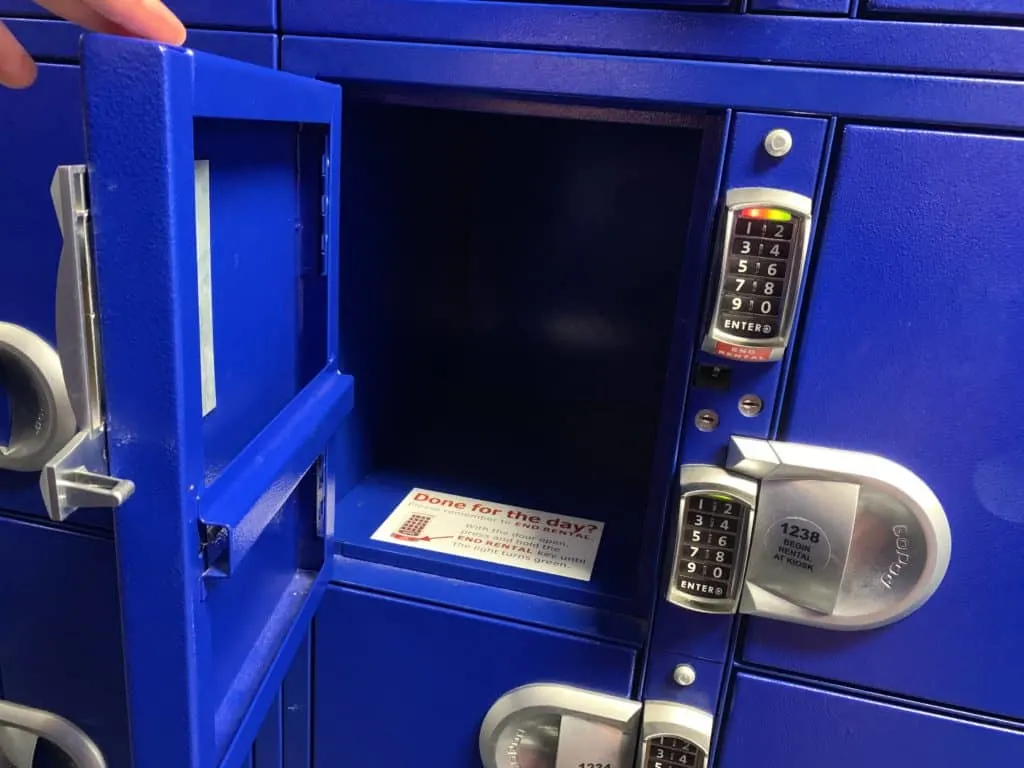 How do the lockers work?
Once you have decided to get a locker and determined where they are in each park, you will need to pay for your locker. The kiosk in the locker room can accept Credit Card and Debit Card.
If you want to pay with Magic Band or gift card, visit the Disney shop nearest the lockers and they will take payment. A payment slip will be generated and this will act as proof of purchase when the machine asks for payment.
Start by selecting your preferred size locker. After you've paid, you're prompted to create a 4-digit access code that will be the combination for your locker. The kiosk screen will then tell you which locker is yours.
Make sure you choose a locker combination you'll remember. And take a picture of your locker number. After a long day of touring, it is easy to forget your locker number or where you placed your locker slip.
Then walk over to the locker you've been assigned, use the keypad to input the code you selected, and the locker will open.
What happens if I'm visiting more than one park per day?
Back when Disney had key-operated lockers, you were able to take your receipt and exchange for a free locker in the next park. Alas, those were the days and Disney no longer offers this option.
Should you choose to rent a locker at your second park, you are looking at a second rental. Good news, though. Your rental is still valid at your first so you are welcome to hope back and forth between the two parks all day.
No, you can not leave items in your locker overnight. They are cleaned out and any leftover items are placed in Lost and Found.
Did you know? Kali River Rapids at the Animal Kingdom has complimentary lockers
A long-time ago, Kai River rapids rafts used to have plastic-covered bins on the rafts that were supposed to keep your belongings dry. They didn't always work and guests were rightly frustrated. Disney has since installed smaller lockers for this purpose only.
The small lockers are free for up to two hours of use. The large lockers are $4 for up to two hours of use.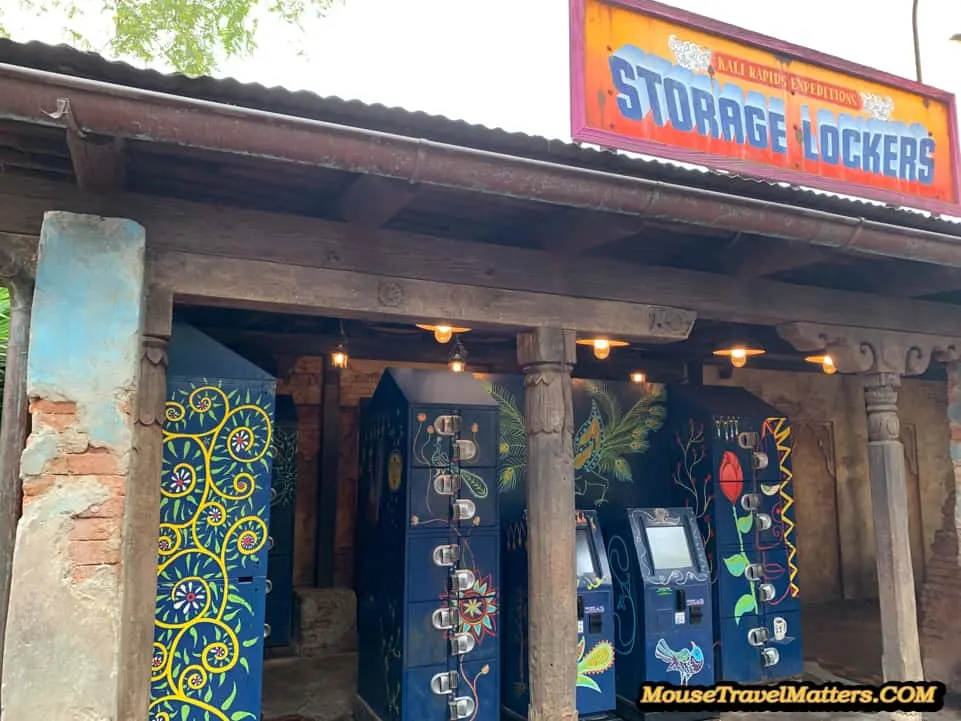 Your Thoughts...
Please share your thoughts in the comments or reach out on social media...We would love to hear from you.
Follow Mouse Travel Matters for Disney Parks news, the latest info and park insights, follow MTM on Twitter, Facebook, and Instagram.
You May Also Like…