Last Updated on April 30, 2020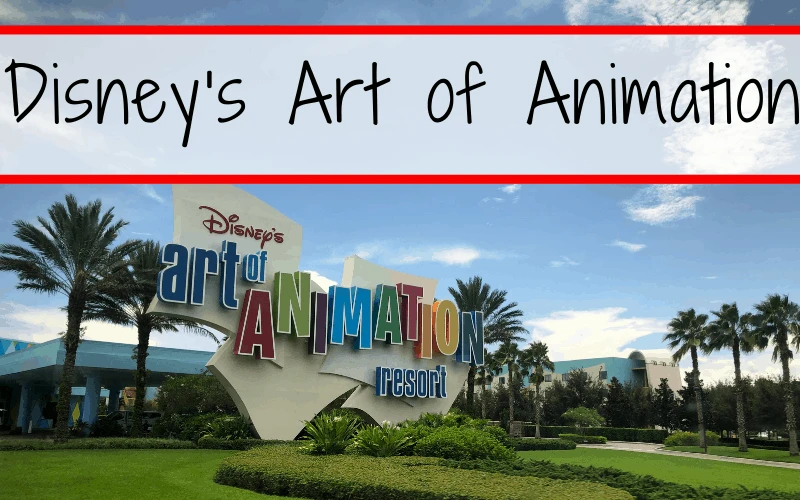 Planning a family vacation to Disney World involves trade-offs and difficult decisions. And the more often you visit, the more you want to save on each holiday.
However, once you start doing the research, you will find plenty of reasons to stay at an official Disney World property. Enter Disney's Art of Animation Resort. It may be just the compromise you're looking for if you want a true Disney experience without the price tag.
This post may contain affiliate links.
To which I earn a small commission, at zero cost to you!
Find more info in our
Privacy Policy
.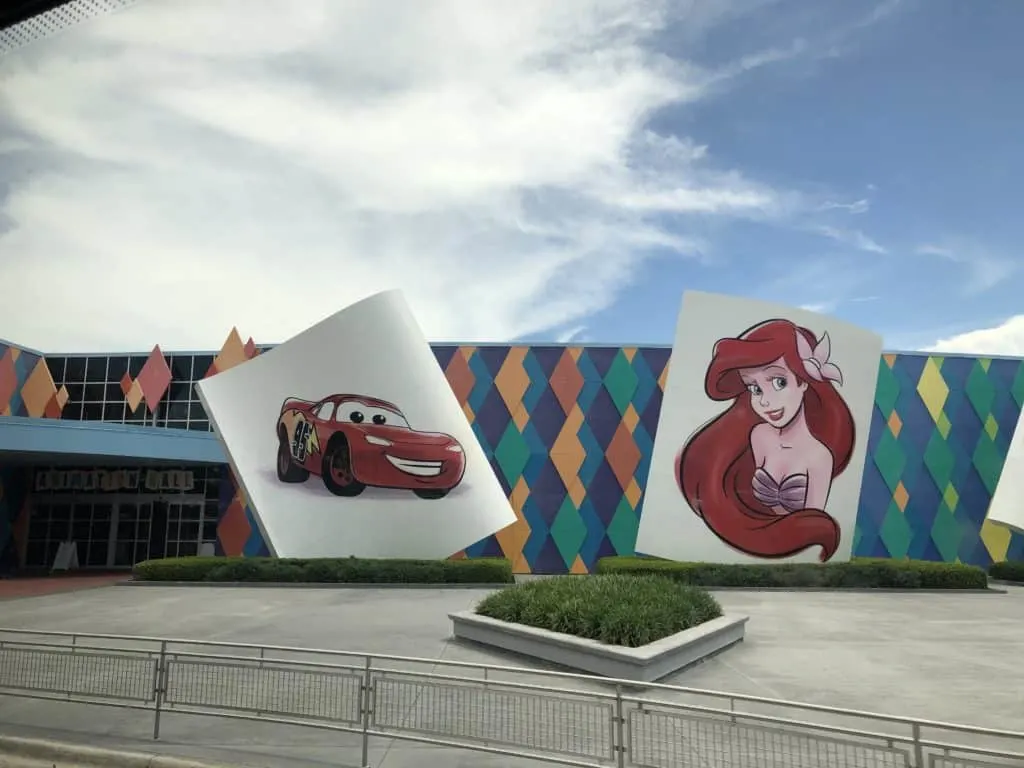 Art of Animation is one of the more recent additions to the Disney World family. Built in 2012, it is almost 20 years newer than Disney's All-Star Resort. The intensity of the theming and the layout of the resort makes its age apparent.
Why a Value Resort?
Choosing your Disney accommodation is number 1 in planning your Walt Disney World vacation. Your accommodations will eat up a huge part of your budget so it is important to get it right the first time.
And unlike other holidays, your Disney resort is more than just a place to sleep. The kids will want to come back to the hotel for a swim, you will need to eat between 1-2 meals per day here, every day, if not more, and the Cast Members are the key to starting your holiday off on the right foot.
While I know it's more than just a room to sleep, I can't justify spending too much money on a resort with little ones. Maybe if we were going just the two of us, or as a large extended family but right now, I know my kids won't appreciate the theming and location of the Polynesian or Grand Floridian. A Value resort is all they need to keep them happy and therefore, it is all I need to keep myself sane.
All Value resorts are not created equal, however. We have stayed at All-Star Movies as well as All-Star Sports and Art of Animation is far superior. Whether it's the theming, the layout or age, Disney's Art of Animation resort feels like a much more expensive hotel than it actually is.
Art of Animation resort Map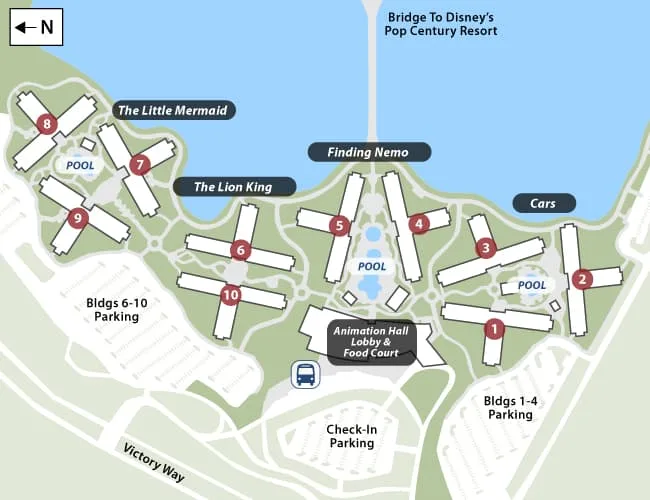 The resort features 1,120 family suites themed around such Disney animated classics as Finding Nemo, Cars and The Lion King. The Little Mermaid building houses an additional 864 standard guest rooms. The Little Mermaid section was originally planned as an extension to Disney's Pop Century resort (which sits adjacent to Art of Animation), but those plans were abandoned in early 2002. As part of those plans, a bridge was built spanning Hour Glass Lake connecting the two resorts
Check-in procedures in Animation Hall
Once you have parked or disembarked from the Magical Express, you will want to check-in to your hotel and off-load all your luggage. This is also a great time to ask all your questions and fill up on park maps.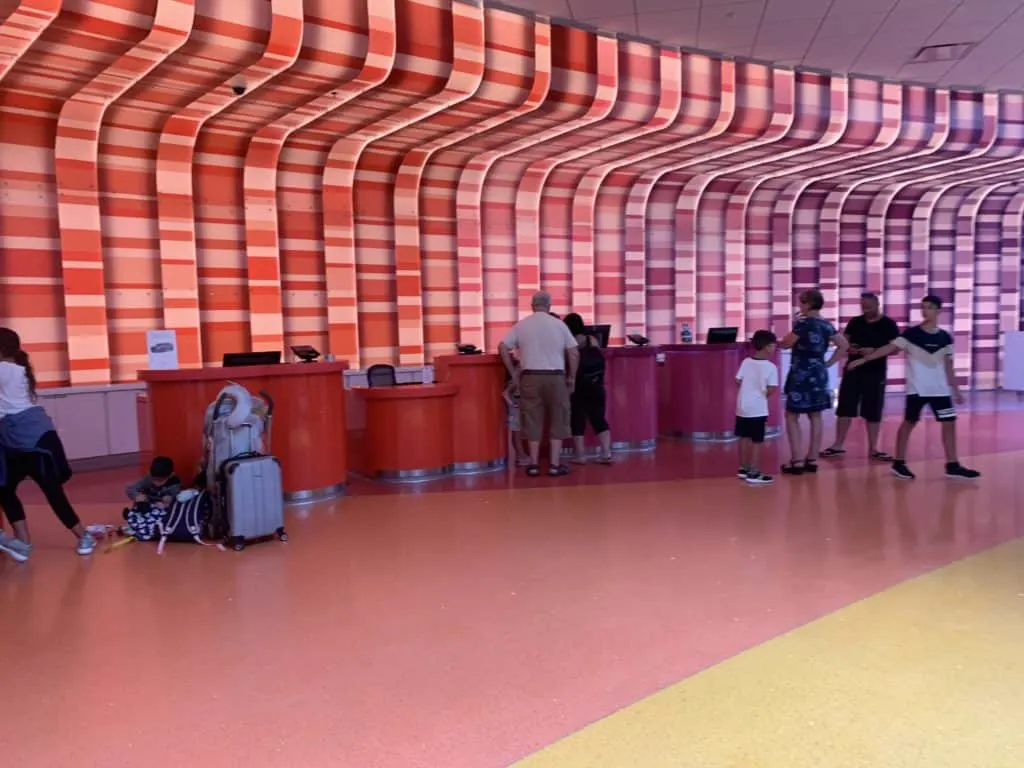 To minimize waiting, make sure to complete online check-in before you arrive if it is an option for you. As a traveler from Canada, we aren't able to check-in online if we have ordered new Magic Bands (they can't be mailed to our address).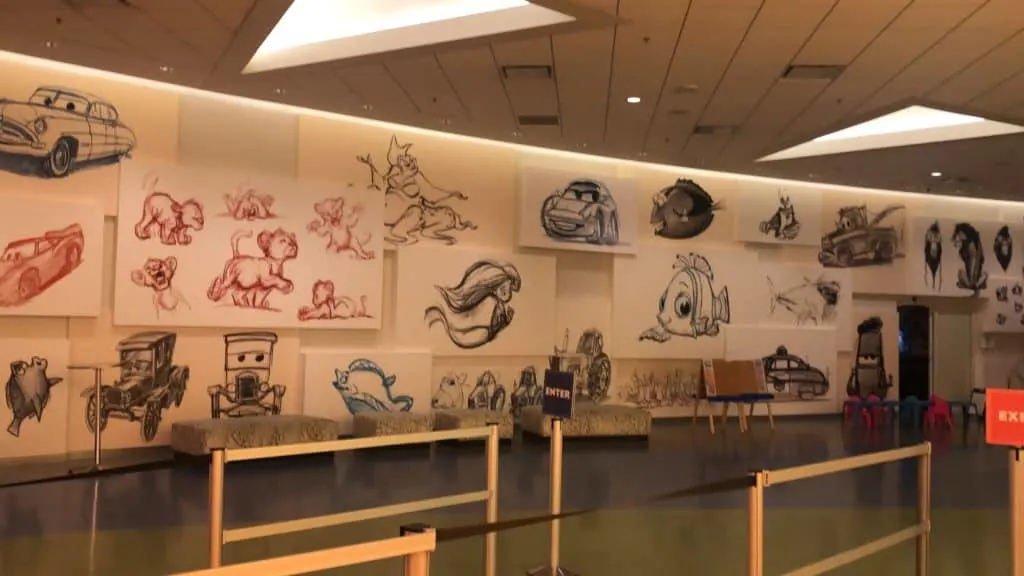 There was a kid's TV area within clear view of the check-in desks to keep your little ones occupied while you took care of the paperwork.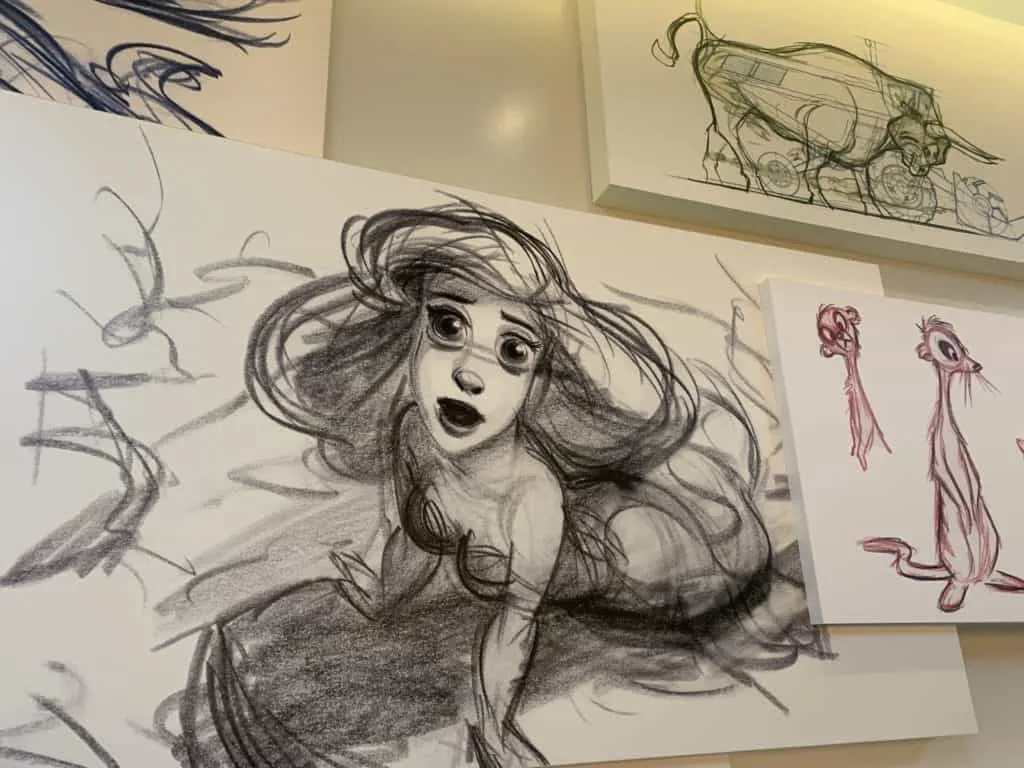 Now that you are on the property, check out your Disney Play app. There are a few games that will also keep the kids occupied while you check-in – or getting ready to check out. You will need to be in visual range of the many pieces of artwork on the lobby walls to play.
Pool area
Disney's Art of Animation resort has 3 pools for guests enjoyment.
The Big Blue Pool
The Big Blue Pool is the main pool area. It has a bar, laundry facilities and home to Movies Under The Stars. It is much bigger and much more crowded than the other pools.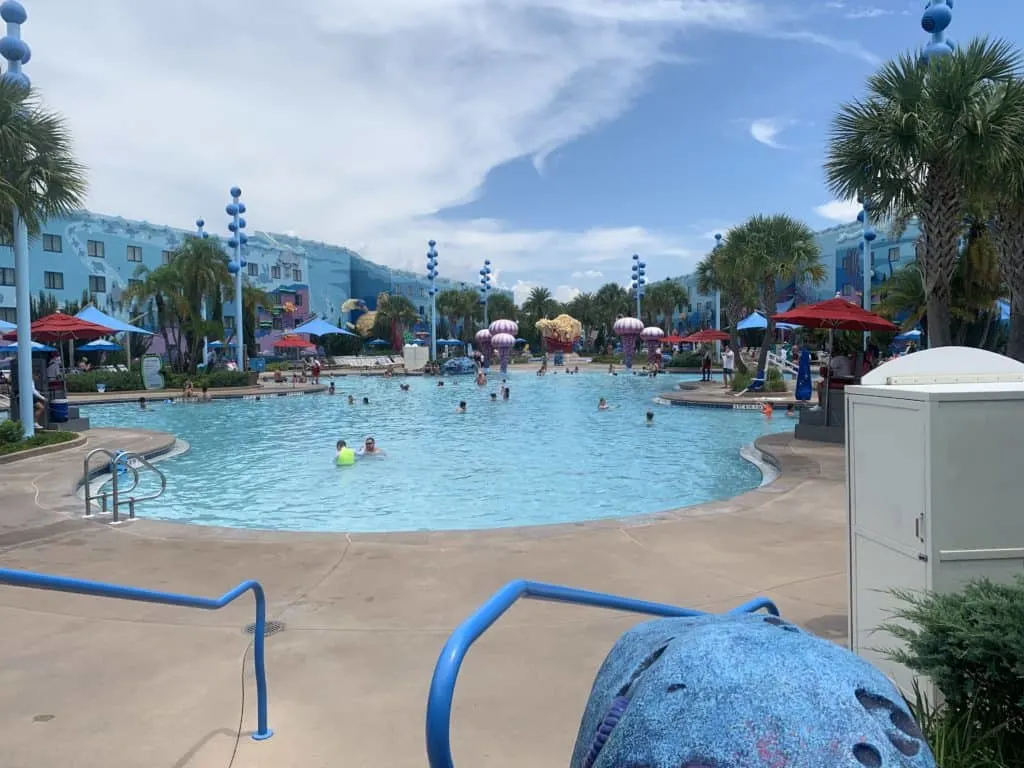 The Drop Off Poolside spot with specialty drinks and a full bar. A limited selection of snacks and cold sandwiches.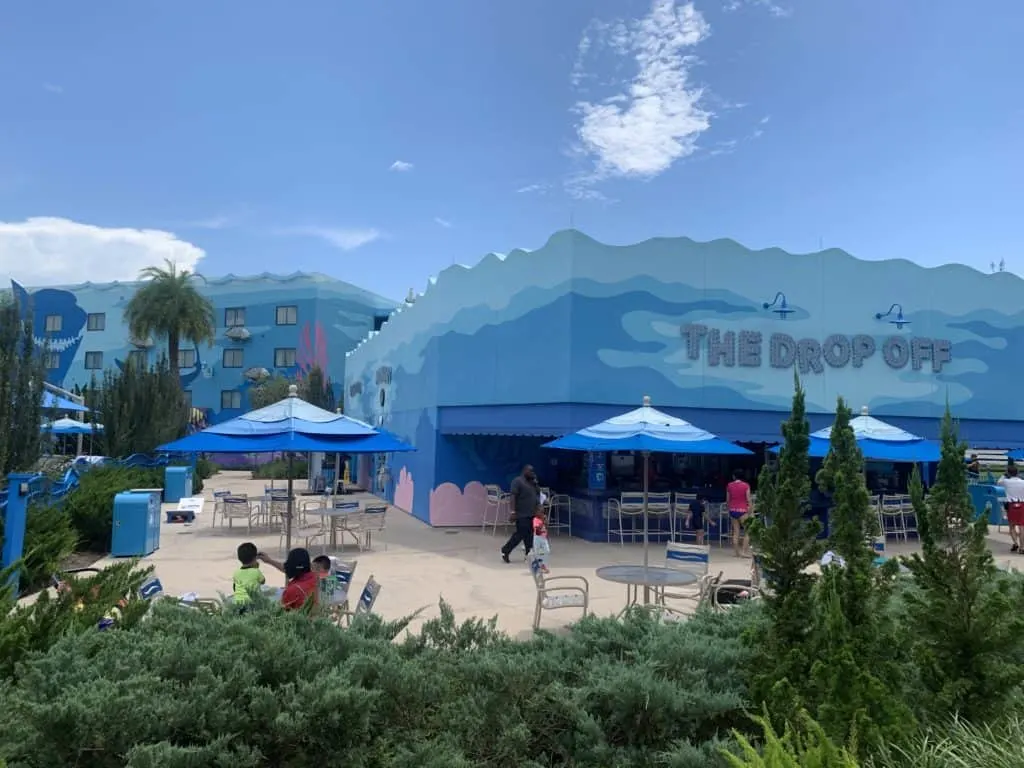 There is even a splash pad behind the pool for those children that are not yet potty trained. It isn't an official rule, as you will see many small children enjoying the pool, but not everyone remembers to pack those swim diapers.
As a refresher, the pools at Walt Disney World resorts have general rules and will be clearly posted at each pool. Rules will include:
-Children under 12 must have adult supervision
-Diaper age children must wear plastic pants or swim diapers
-Pools are for the exclusive use of that resort's guests
-No food or beverages in the pool
-One person at a time on pool slides (at resorts that have pool slides)
Life jackets are available, and Life Guards are on duty during posted hours.
Schoolyard Sprayground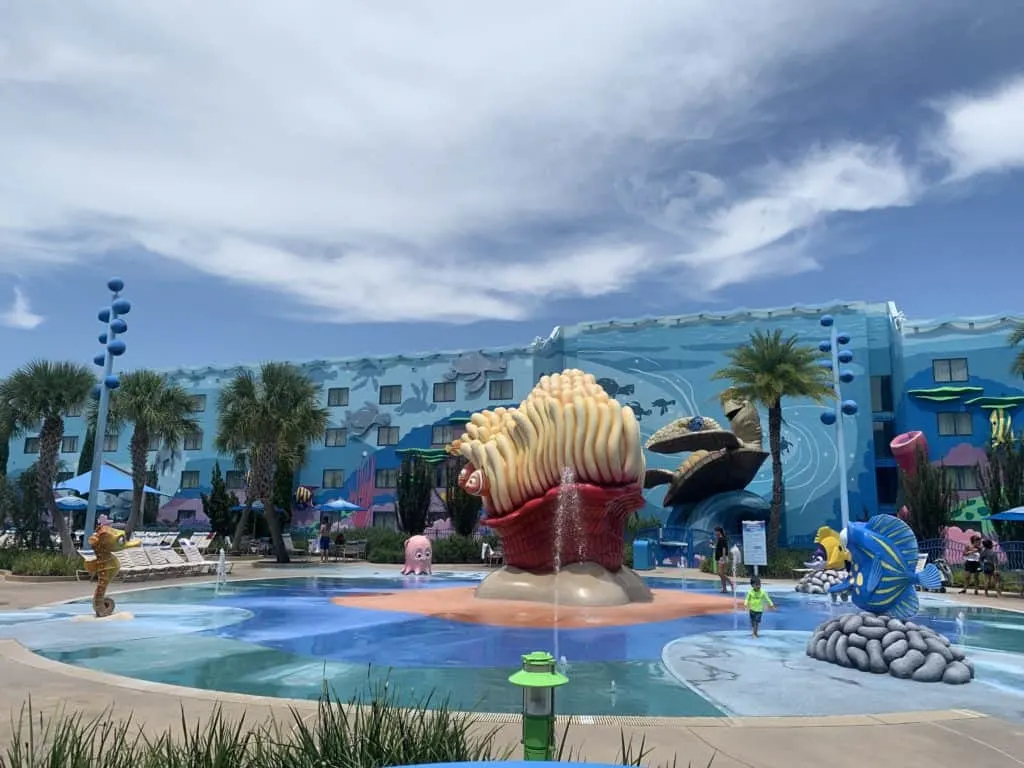 Cozy Cone Pool
The Cars themed area has its own pool as well. Nicknamed the Cozy Cone Pool, this one has it's own Cozy Cone cabanas. They are on a first come first serve basis so it may be a little tough to get one of these on hot summer days but the pool is never very full so who knows.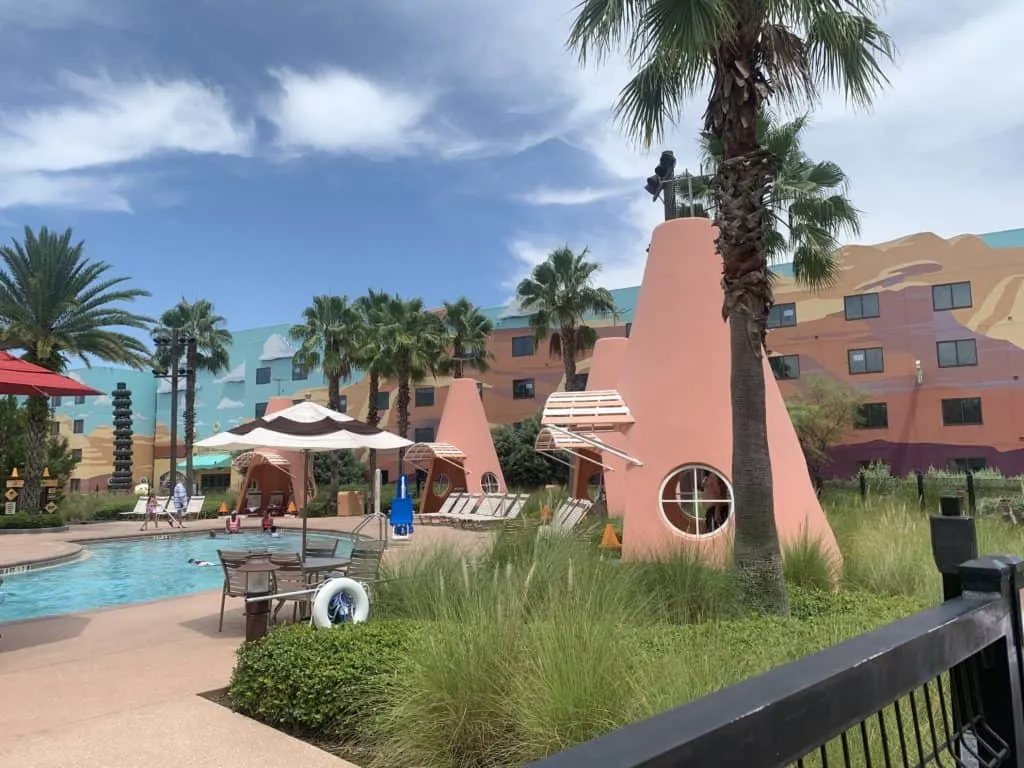 Flippin' Fins Pool
And last but not least, our pool was in the Little Mermaid area. There aren't nearly as many children here since the theming is practically none-existant. There isn't anything special about this pool other than the fact that there are so few children around – which can be a selling feature to many guests.
We enjoyed being able to walk just a few steps out of our room and walking right into the pool.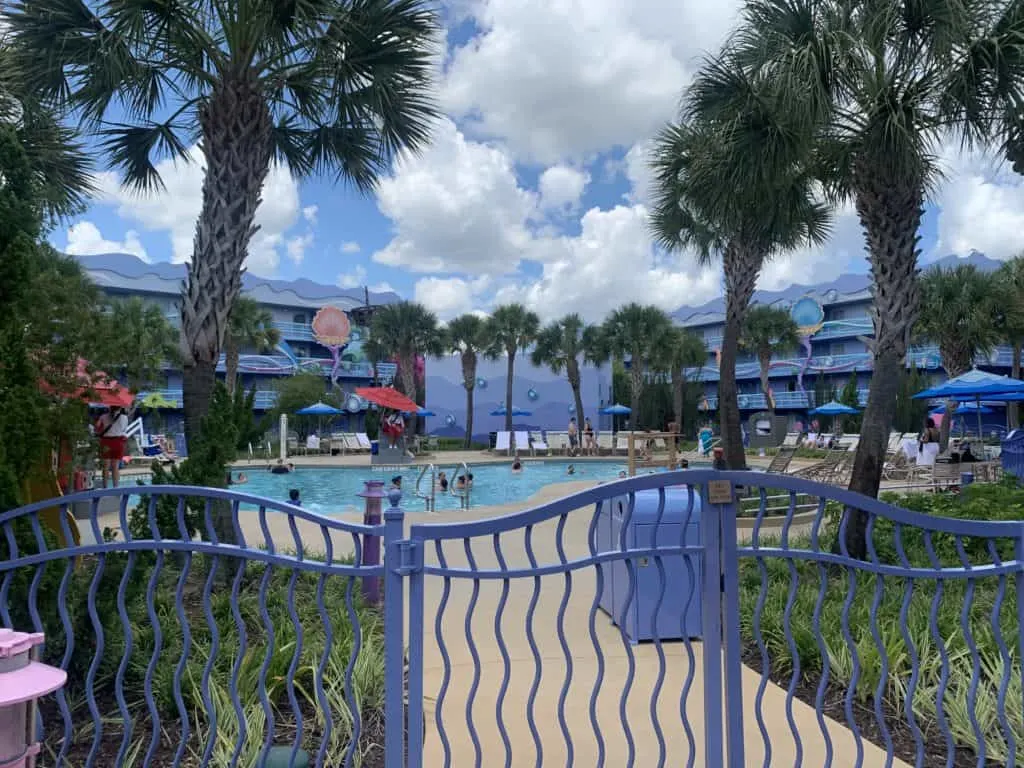 As with all Disney pools, there are plenty of beach chairs available for everyone and there are is a stack of pool towels for guests if they don't want to bring down their room towels. They are the same size, so don't expect too much in this department, but they do have a slightly different pattern so you won't mix them up.
Rooms
Disney's Art of Animation has two types of rooms: Standard Rooms and Family Suites. The standard rooms are in the Little Mermaid section of the resort. They have two double beds or one king bed. The rooms fit a family of up to four.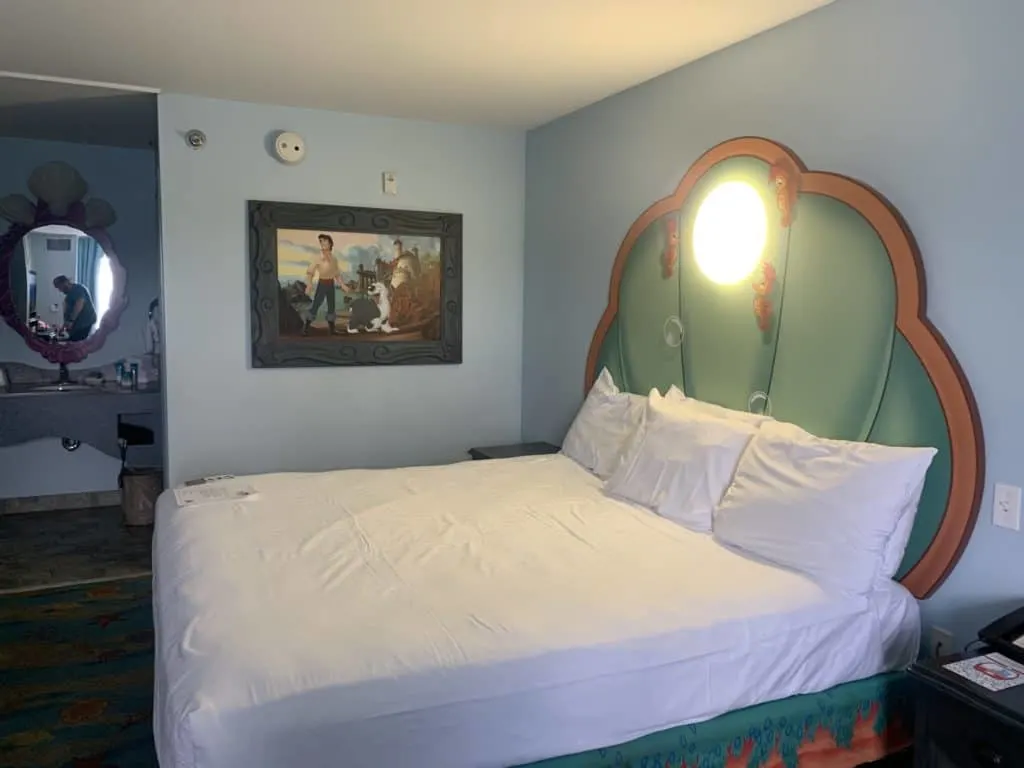 Since it was just the two of us this time, and we have become accustomed to our European bed, we asked for a King and our wish was granted.
There was still plenty of room to have a small travel cot or playpen if you have a little one with you. I personally can't see our daughter in a big bed on her own but our son would love to have his own double bed. This is when we would request the two double beds or even upgrade to the family suites if the price is right.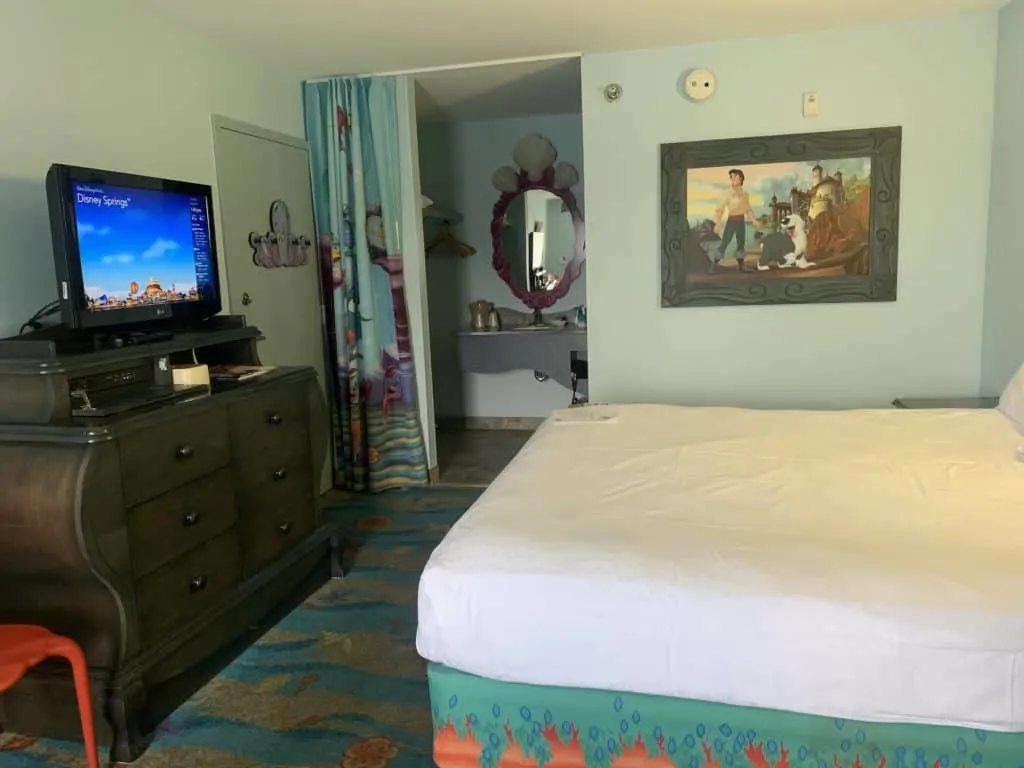 Disney's popular H20+ brand is available at most resorts for purchase but also in your rooms as travel sizes. Many of Disney's resorts are starting to make the switch to larger bottles permanently placed in the shower and refilled by Mousekeeping.
This isn't going over well with many of Disney's fans, as they love taking home some of the magic and smelling like Disney until their next holiday, but this change is a great start in helping the war on plastic.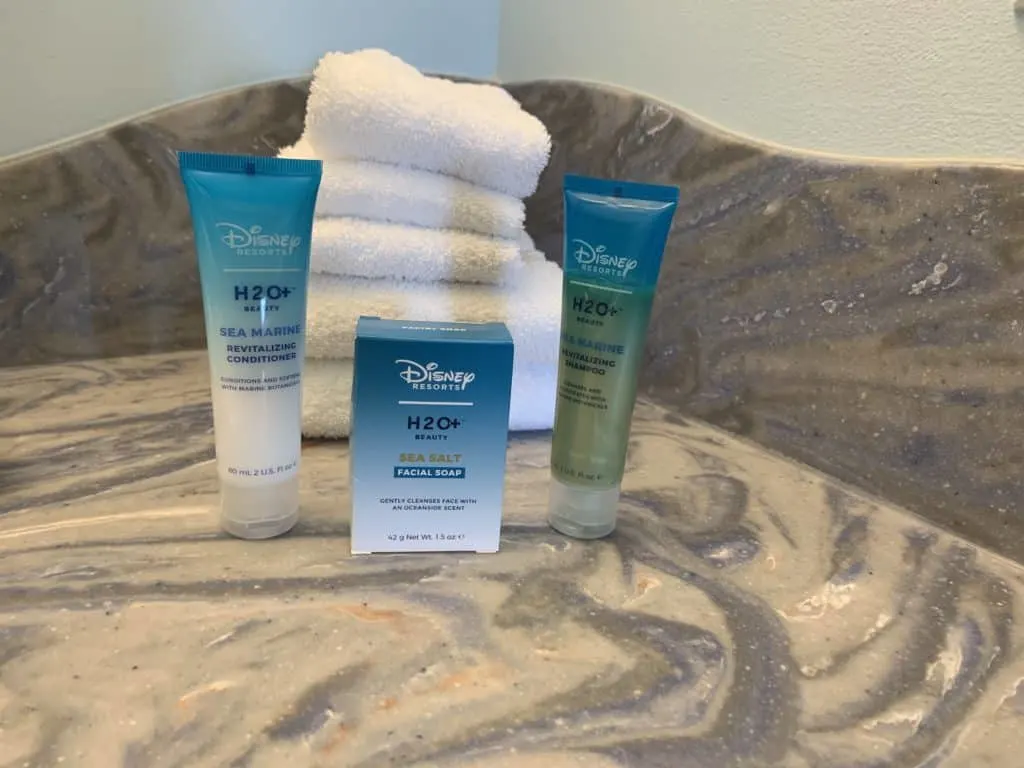 Standard Rooms at Disney's Art of Animation Resort
Slightly larger than comparable rooms at other value-level resorts, standard rooms are 277 square feet and include two double beds or, by request, one king-sized bed, a flat-panel TV, a mini-fridge, and a table and chairs. Up to four guests may be booked into a standard room.
Each Art of Animation standard room is furnished with the following:
Two double beds (some ADA-accessible rooms have 1 king bed)
Open hanging space
Dresser with drawers
Small table with 2 chairs
Nightstand with telephone
Full-length mirror (on bath door)
Wireless Internet (WiFi)
Flat-panel TV
Mini-fridge
Ironing board and iron
Hair dryer
Digital thermostat
In-room safe
H2O-brand shampoo, conditioner, body wash, and bar soap
Standard Art of Animation bathrooms are tiny but functional.
Connecting Rooms Vs. Family Suites At Disney World Value Resorts
Family Suites at Disney's Art of Animation Resort
Each Art of Animation family suite is furnished with the following:
Master bedroom with queen-sized bed
Pull-out couch
Table which pulls down to convert to a full-sized bed
Four chairs
Open hanging space
Dresser with drawers
Full-length mirror (on bath door)
Wireless Internet (WiFi)
Flat-panel TV
Mini-fridge
Microwave oven
Coffee maker and starter supply of coffee pods
Starter supply of disposable kitchenware: paper plates, bowls, and cups; plastic forks, knives, and spoons
Ironing board and iron
Hairdryer
Digital thermostat
In-room safe
H2O-brand shampoo, conditioner, body wash and bar soap
Art of Animation's family suites are 565 square feet, about what you'd get by combining two standard rooms into one suite. Each suite has a master bedroom, a living room, two full bathrooms, and a kitchenette with mini-fridge, microwave, and coffeemaker. Sleeping accommodations include a queen bed in the bedroom, a full-size sleeper sofa, and a living-room table that converts into a full-size bed. The bedroom and living room have flat-panel TVs.
Up to six guests may be booked into a suite.
Resort grounds
As I have previously mentioned, there are 4 themed areas to the Art of Animation resort.
Little Mermaid Standard Rooms
Little Mermaid is the only area for standard rooms. It is on the far side of the resort and requires a fair hike to reach. This can be daunting in the hot summer months or when you have forgotten something in your room.
Lion King Family Suites
The Lion King family suites are to the left of the main lobby and guests much pass through this area to reach their Little Mermaid rooms. This causes a lot of foot traffic on the main path.
The outside decorations are incredible and from what we have seen of the rooms themselves, The Lion King is a great choice for anyone wanting to stay in the family suites but away from a busy pool area.
Car Family Suites
To the right of the main building, tucked away from all the traffic and crowds of the resort, you will find Cars. Going from Savanna, to under the sea, to a desert land populated by talking cars is interesting but Disney Imagineers have made it work. It's nearly impossible to see the theming of other areas when you are thick in your own land and there are sounds all around to help immerse you in the experience.
Finding Nemo Family Suites
The Finding Nemo suites are right behind the main lobby and restaurant. If you were going to request a room for your next stay, I would recommend choosing Finding Nemo, regardless of what you think of the movie. It's that close.
Food and Beverage; Landscape of Flavors Food Court
While a Food court is just a food court, Disney was even able to make something special out of this space. There are 4 areas within the food court and each is lightly themed like the resorts 4 areas; Little Mermaid, Finding Nemo, Lion King, and Cars, through the art used around the space.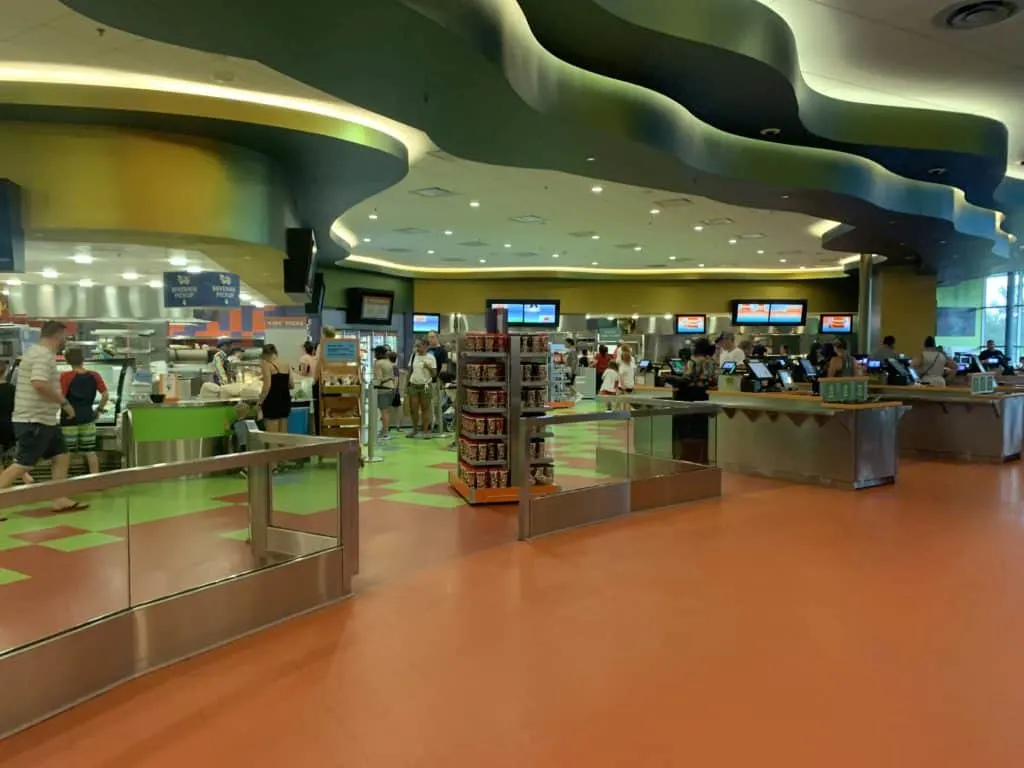 On-site dining options at Art of Animation were limited. The primary restaurant was Landscape of Flavors, a combination of quick-service and made-to-order stations arranged like a cafeteria. It had everything from salads to pizza and burgers and other hot entrees. And, of course, there were plenty of sugary-sweet options.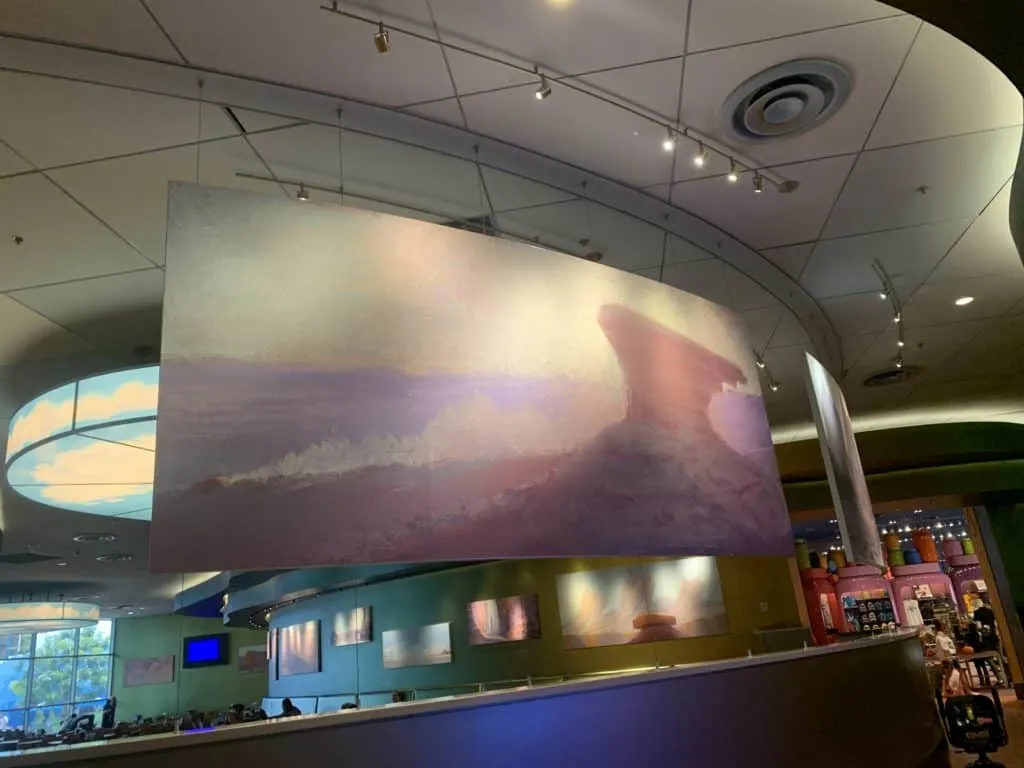 The 606-seat food court is open for breakfast, lunch, and dinner. Choose from four food stations, featuring a selection of pizza, pasta, American burgers, salads, sandwiches, and Indian cuisine. A "Grab 'n Go" market is also available. Some popular offerings at this food court are fresh smoothies, hand-scooped gelato, and Mongolian barbecue.
Highlights from the five mini restaurants include:
Soup-Salad-Sandwich Shop – create your own salad; Caprese sandwich on focaccia; Buffalo-style turkey sandwich with arugula and a blue-cheese-Buffalo sauce-mayo spread with house-made potato chips
World Flavors Shop – For breakfast, enjoy a challah French toast or veggie flatbread sandwich on naan with paneer cheese. For lunch or dinner, choose from tandoori chicken, shrimp or sausage; Mongolian beef or fish with basmati or multigrain rice
Pizza Shop – create your own pasta dish, cheese or pepperoni pizza; meatballs on ciabatta bread
Burger Shop – customize beef, vegetarian, seafood or chicken burgers; pastrami cheeseburger
The Market – wild berry, mango or strawberry-banana smoothies; iced mochas; cappuccinos; espresso; iced French vanilla coffee; desserts; gelato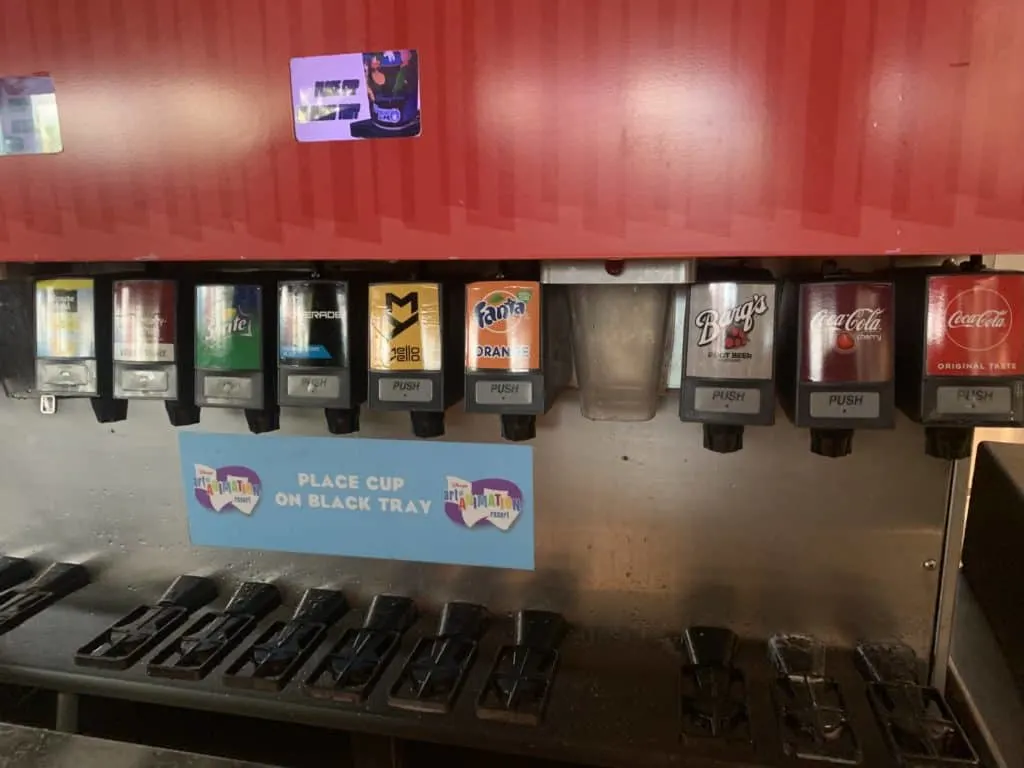 Disney Dining Plan: Food purchased at the Landscape of Flavor food court use counter service credits from the Disney Dining Plan. Most bakery items are considered snack credits.
Refill mugs
Like any other resort on Disney property, Art of Animation resort participates in the refill mug program. Simply purchase a refill mug from the food court and refill to your heart's desire.
All resort refill mugs are compatible at all Disney resorts, so you are free to bring them along with you when resort hopping. They are not, however, compatible with the refill stations within the parks themselves.
Breakfast
We spent 4 mornings having breakfast at Art of Animation, one of which was last nights pastries because we didn't want to truck our sleepy bottoms to the food court at 2:30 am while we waited for Star Wars Galaxys Edge to open.
Every other morning, however, we woke up when we were ready and made our way to the food court where we were blessed with Mickey waffles and chocolate chip pancakes. It was hard to decide what to have each morning because everything looked and smelled so good.
We did notice that the butter used was vegan and dairy-free, for those with dietary restrictions.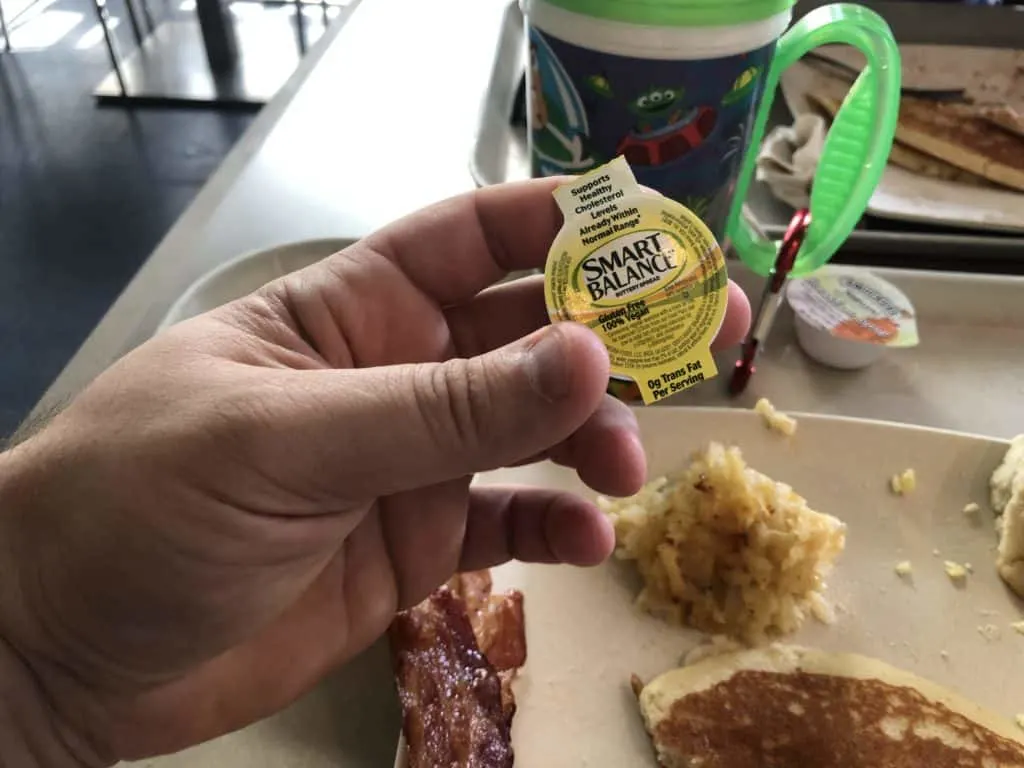 Lunch
All I have to say about this is… the slices of pizza were bigger than my face. But they were good.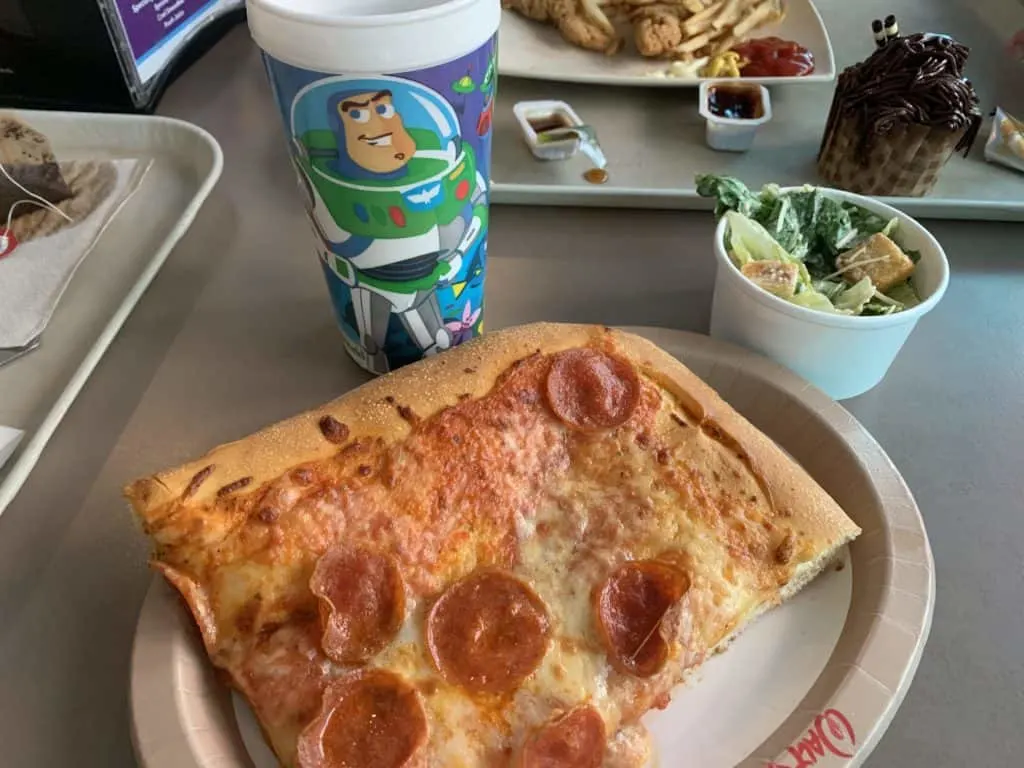 Dessert
I am not a huge dessert person. I like the idea of dessert, and I like looking at them. But for the most part, I find cupcakes and other dessert items to be too sweet for me. These were no exception.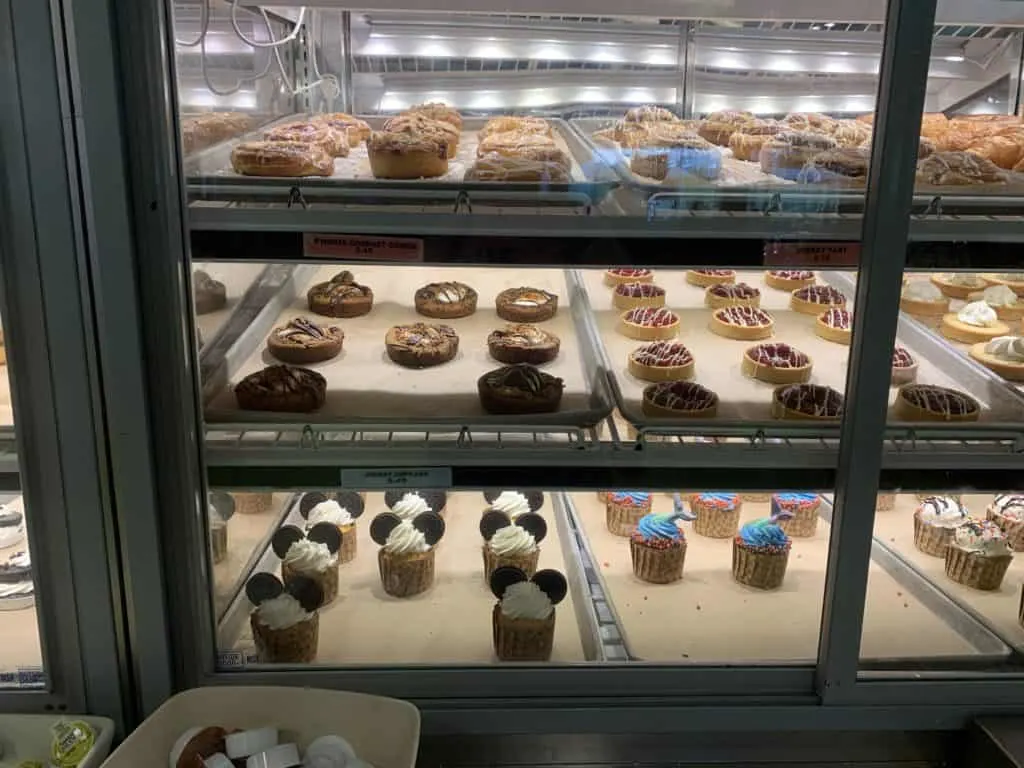 The mermaid cupcake and Chewbacca cupcake was available each day after lunch for purchase so we eventually caved and bought one each. The mermaid cupcake is white cake with pineapple custard in the middle. The frosting was very sweet and the tail is made of white chocolate.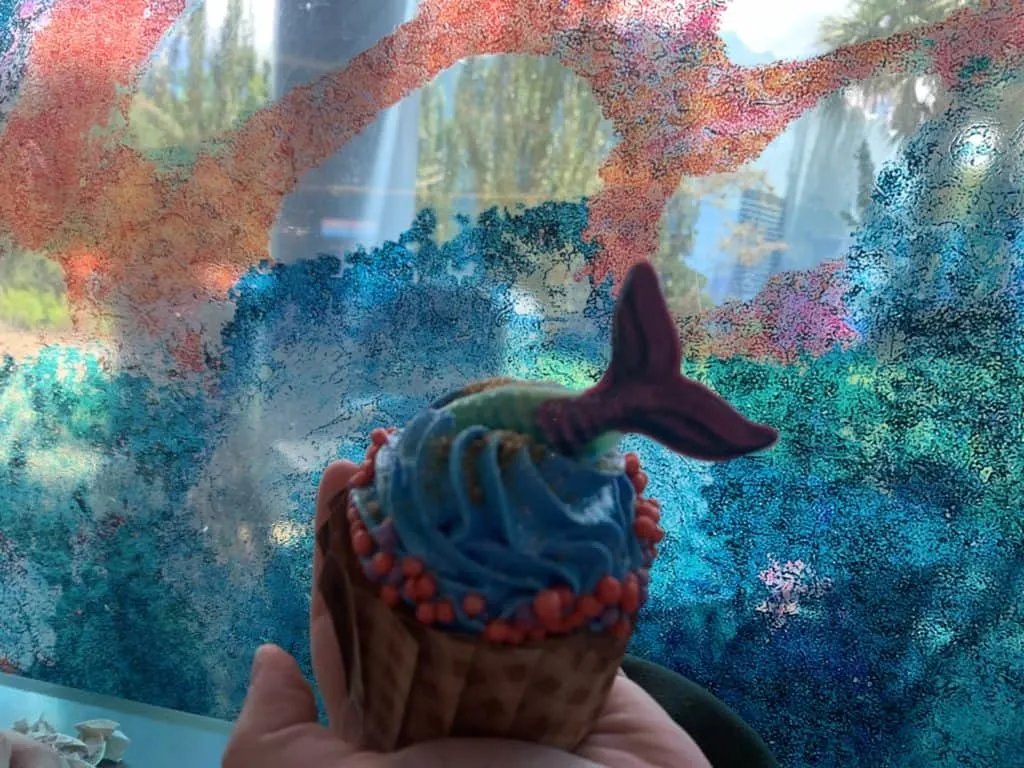 Chewbacca, on the other hand, is made of chocolate cake with standard chocolate frosting. It wasn't too sweet at first, but once I reached the center, there was a whole lot of chocolate frosting in the center and that threw me over the edge. Too much sweetness.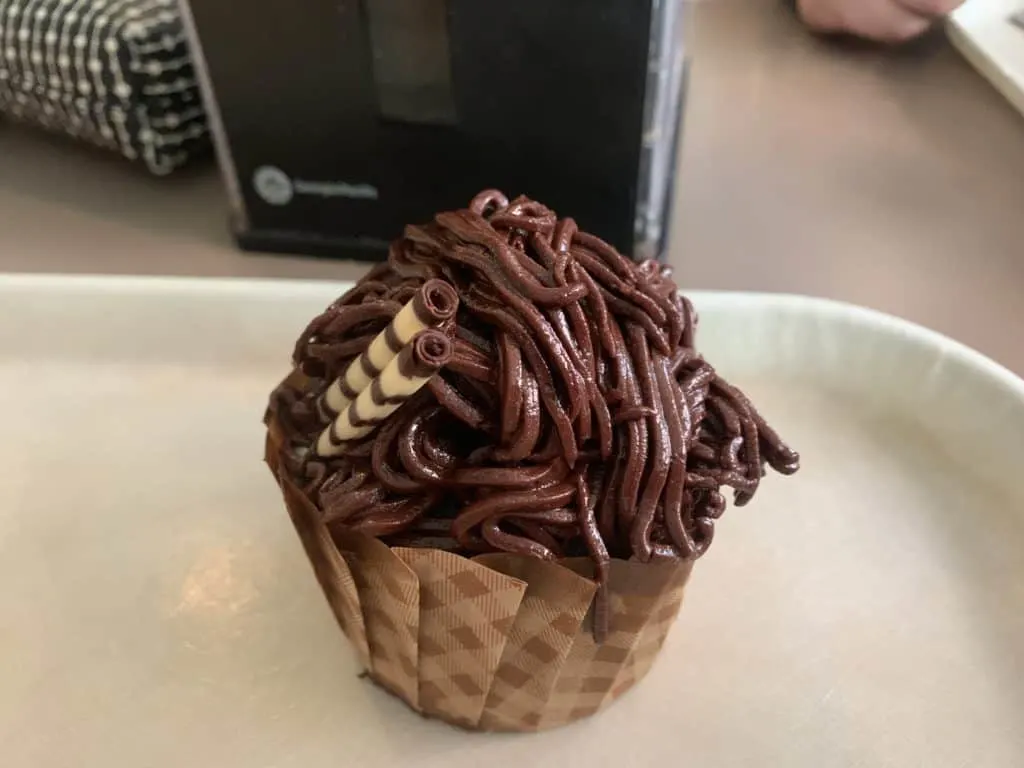 Playground
There are two playgrounds on the resort, but they aren't like your elementary school play ground. There are no play structures for climbing and hanging from, Disney still has stockholders and insurance companies to answer to.
However, there are neat tunnels and small climbing areas for the kids to play around in for a few minutes. These will not entertain for hours on end, even if the weather was on your side.
Elephant Graveyard
The Elephant Graveyard in the Lion King themed area looks exactly like we would have imagined it growing up. A couple of elephant skulls, some caves and 3 crackling hyenas to top it all off.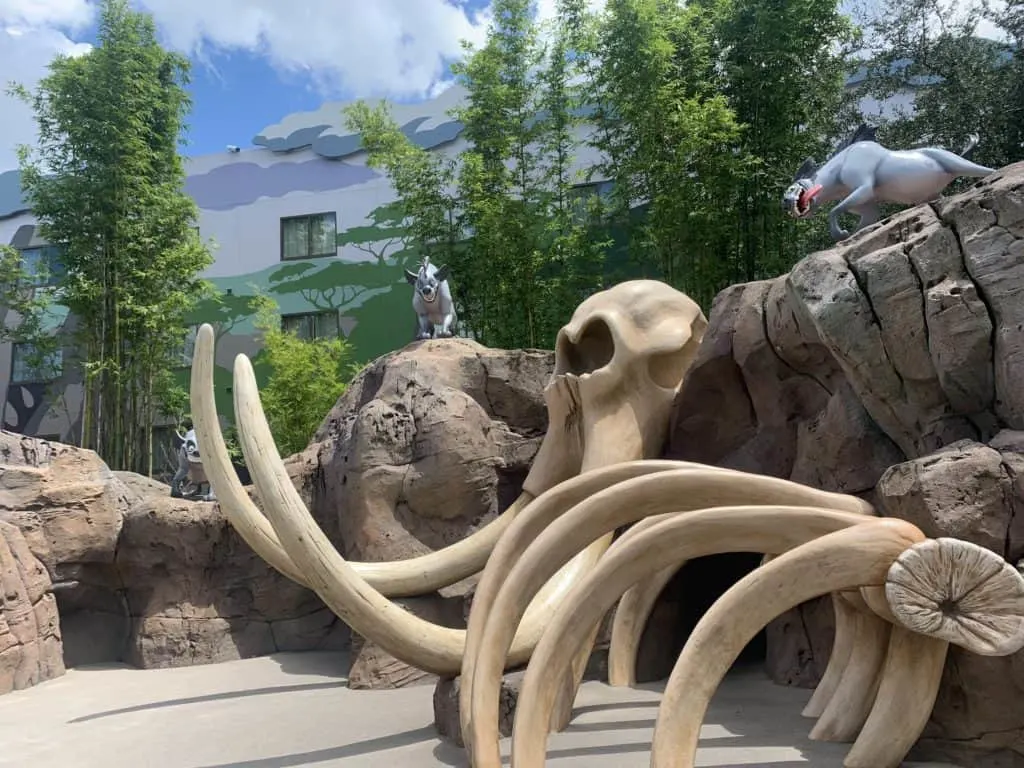 Righteous Reef Playground
This one is best for little ones. There is a slide, a small climbing structure and overall theming for young kids.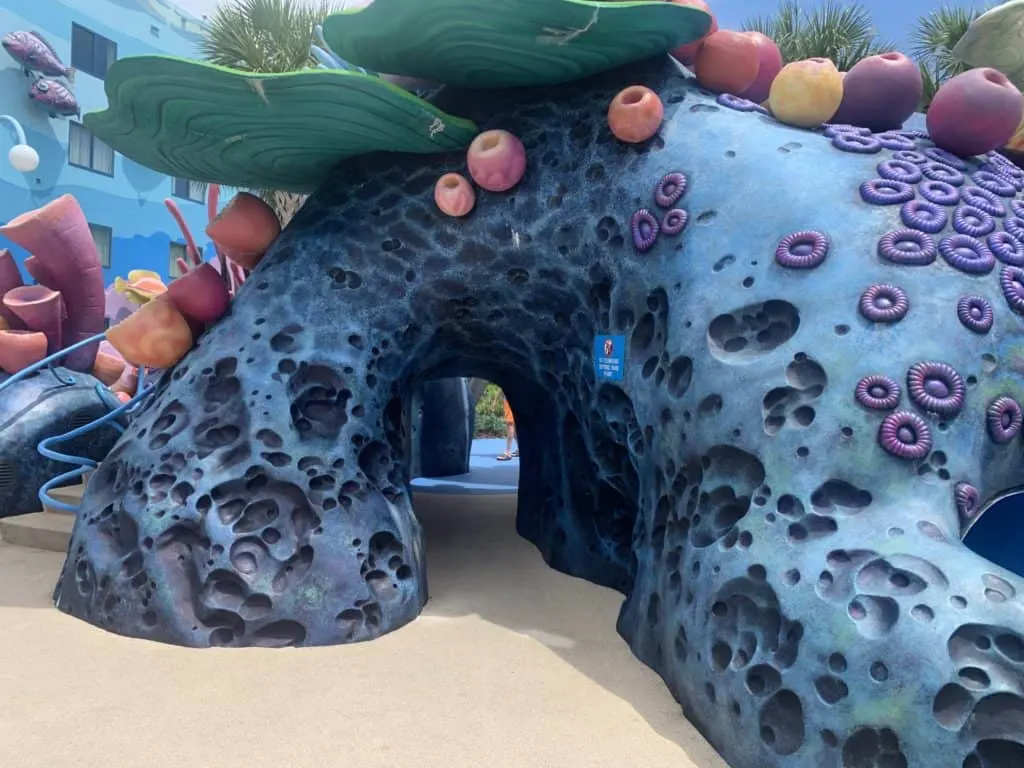 Shopping and Deliveries; Ink & Paint Shop
Art of Animation only has the one souvenir shop but it is stocked to the ceiling with Disney merchandise that one is more than enough. Between the stuffies, pins, snacks, shirts and toys, there is a little something for everyone.
Most of it is resort specific, which means you won't find it anywhere else but here. And there are a few pieces that you will find in other resorts but not the parks, like the puzzles and medicine cabinet.
Behind the counter is a full stocked liquor cabinet if you forgot to bring some from home and don't want to pay lounge prices for a nightcap after the kids have fallen asleep.
As an onsite resort, Art of Animation allows guests to have their in-park purchases shipped to the resort gift shop. These can be picked up the next day after 4 pm, so guests aren't able to have purchases forwarded on the last full day of their holiday, as it will not be at your hotel before you check out at 11 am.
Guests are also able to make outside purchases and have them delivered to the front desk. We have had Amazon and Garden Grocer delivered several times and this helps lower the cost of in-park snack purchases.

Mouse Keeping
Mousekeeping is the fun Disney name for housekeeping. They are a great group of people that work tirelessly to make your room perfect before you come back for a mid-day nap with the littles.
It is possible to decline mouse keeping for any given reason, be it privacy or not needing the towels replaced and neds made each day. For those that choose to decline mouse keeping, you will be given a $10 Disney e-gift card per day of your stay, excluding the last day. So a 5 day stay will get you a $40 gift card.
Considering the heat and often the two of us would be showering, we decided $40 wasn't worth the hassle of constantly calling down for more towels.
It should also be noted that declining mouse keeping doesn't keep Disney out of your room during your stay. Due to secure reasons, Disney will have a member of security check your room at least once per day, at an unspecified time, and take a quick look around. Even if you are in the room at the time, they will insist on being allowed in. "Room Occupied" or "Do not disturb" signs do not affect this service, only housekeeping themselves.
Bus access
Not only has Disney brought out a whole new line of buses, equipped with USB ports no less, but their service as a whole as greatly improved since the last time I intentionally paid attention to the service.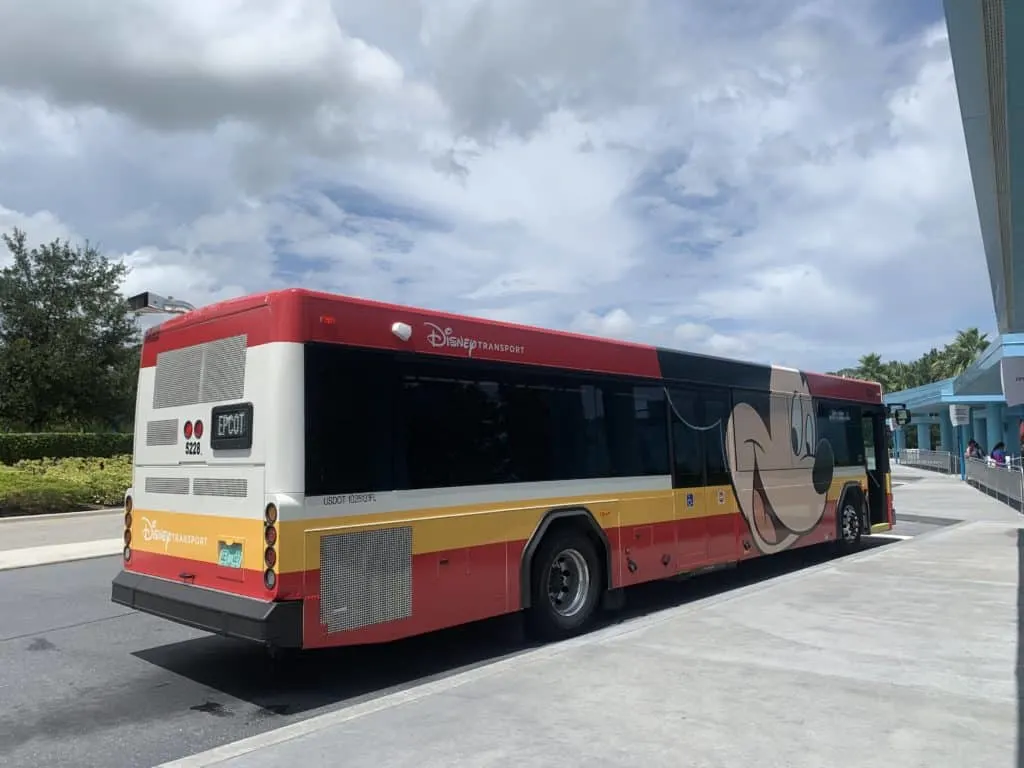 Disney has a whole set of buses set up for resort, and they only service that resort. Gone are the days of stopping at each Value resort on your way to the Magic Kingdom; the Art of Animation bus to the Magic Kingdom only services Art of Animation and will make a direct trip to the parks.
Same goes for the return trip; we no longer have share buses with other resorts or other parks.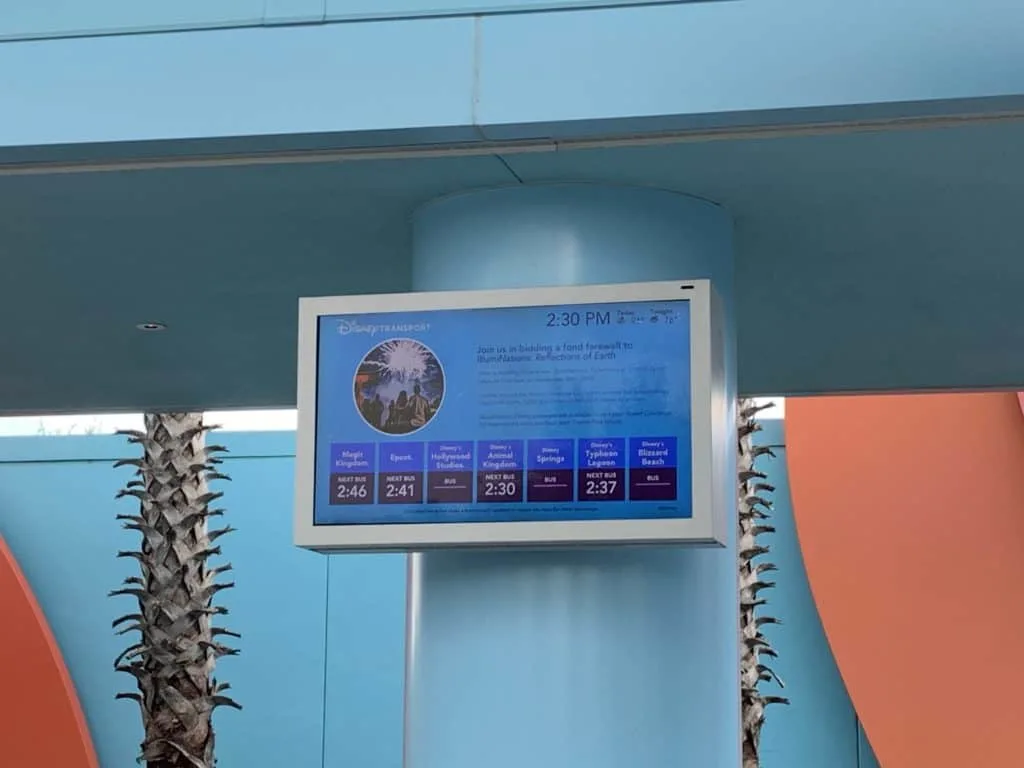 There are 2-3 displays at the Resort waiting area letting guests know when the next bus for each park will arrive. This can also be seen in your My Disney Experience App under Resort.
Cast Members have said there is no set time when they are due back, as traffic and other unforeseen circumstances can slow them down or speed them up, but they are tracked using Disney Magic so this number is accurate.
Disney's Magical Express
Arriving at the Art of Animation from the Orlando International Airport (MCO) was a little more eventful than we had planned.
Our Magical Express luggage tags never made it to the house before leaving for holiday (in fact, they weren't even waiting for us when we got back so I don't know what happened there) so we had to get our own bags from the luggage carousel and bring it to the Magical Express ourselves, 2 levels down. The agent didn't mind, just asked for our reservation number and gave me a ticket for the driver. Easy peezy.
Art of Animation was the first stop on this bus route.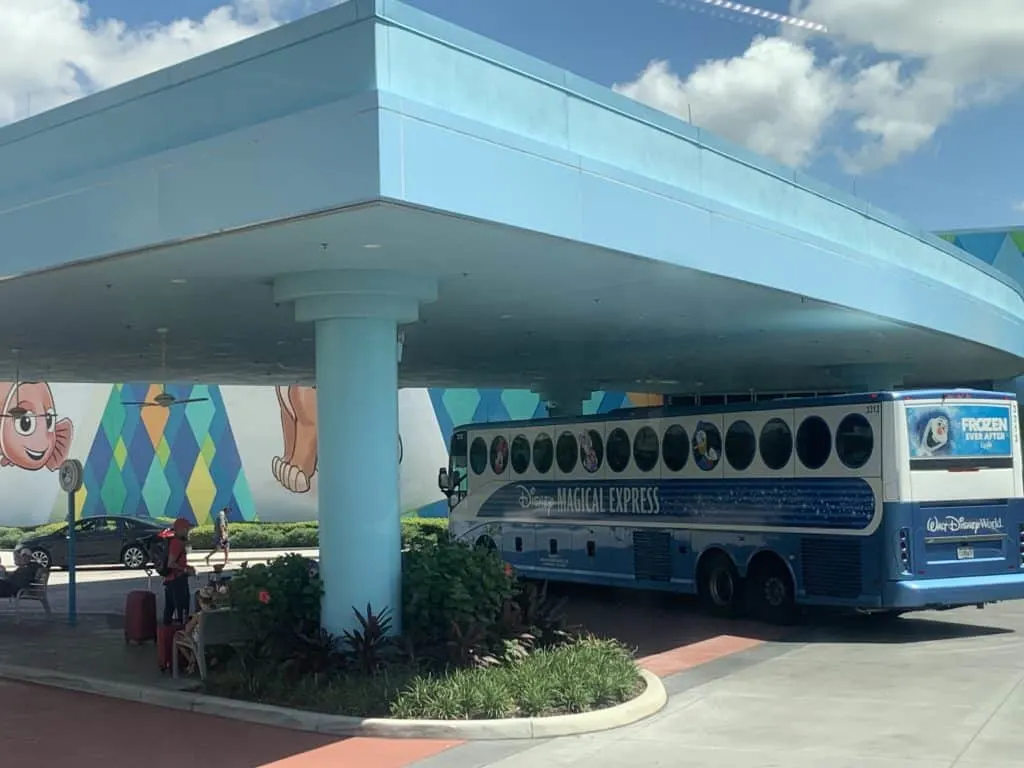 On the way back to the airport, however, it was a little more interesting. The bus before us was running late and the guests waiting ahead of us were getting antsy. Instead of a Magical Express bus, we were greeted by a Disney Cruise Line. He had a sign on his window saying that he would be doing runs to the Airport, probably because of the influx of guests leaving that day – in preparation for Hurricane Dorian.
While this lead to a little confusion before getting on the bus, we were all happy to see that Disney was doing their best to accommodate everyone trying to get home and making sure everyone was getting to the airport in plenty of time to check their luggage and pass through security without too much drama.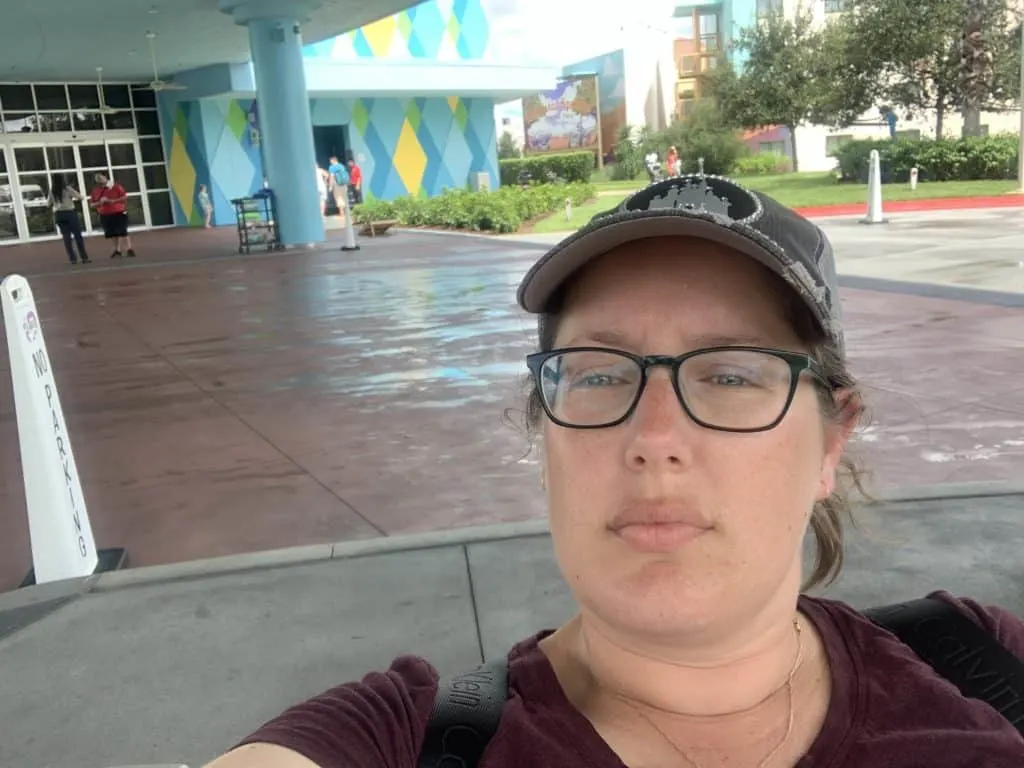 Practical Matters
Check In/Out Time: Check-in time at Art of Animation is 3:00 PM, and check-out time is 11:00 AM.
Online Check-In: Art of Animation participates in Disney's Online Check-In program, which allows you to you provide name, address, and credit card information up to 60 days before your arrival. If you've completed online check-in and have your MagicBand, you may go straight to the room bypassing the lobby altogether.
Laundry: Washers and dryers are in laundry facilities next to each pool. Cost is $3 per wash and another $3 per dry cycle. The machines take credit cards. A small selection of soap, fabric softener and dryer sheets are also sold, for around $1 each. A typical wash cycle takes 20 to 30 minutes, and a typical dry cycle takes 40 to 50.
Lost and Found : If you lose something during your stay, contact Disney's Lost and Found department by calling (407) 824-4245.
Your Thoughts...
Please share your thoughts in the comments or reach out on social media...We would love to hear from you.
Follow Mouse Travel Matters for Disney Parks news, the latest info and park insights, follow MTM on Twitter, Facebook, and Instagram.
You May Also Like