Last Updated on March 30, 2020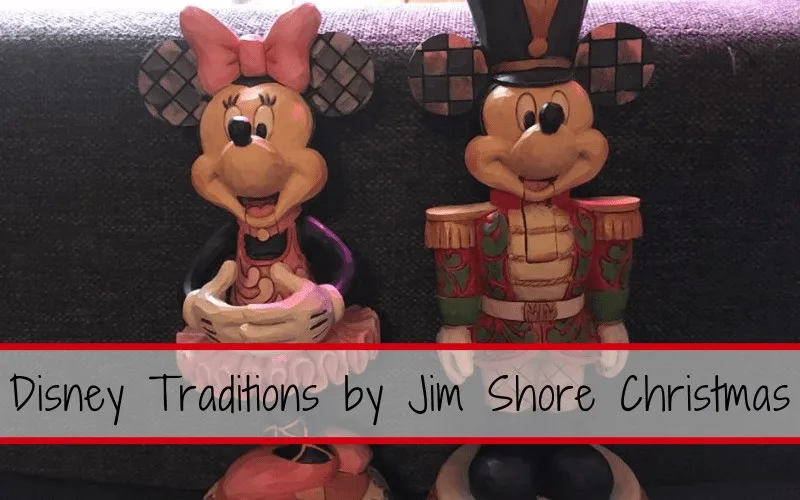 The Disney Traditions by Jim Shore Christmas Collection is an incredible set of collectible figurines designed by Jim Shore. They combine the magic of Disney with traditional motifs of handmade folk art.
This is only a fraction of the Disney Traditions by Jim Shore Christmas Collection pieces available on Amazon and Jim Shore's official website. We purchase a handful of them each year and have now dedicated an entire cabinet in our living room just to store our massive Jim Shore Disney collection.
The Collection
Jim Shore The Nightmare Before Christmas
Santa Jack Stone
This high fashion interpretation of Jack Skellington's turn as sandy claws shows him in a tailored version of the classic red coat, elegantly elongated and patterned with whimsical swirls. The fur-trimmed cap gets a festive finish from a fresh holly wreath. Eager to impress, Santa jack totes a shimmering burlap sack, chock full of toys.
Sandy Claws Stone
Sandy Claws, the ruler of Christmas Town, raises a knowing eyebrow in this list-checking scene from Disney's "The Nightmare Before Christmas."
Jim Shore Christmas Ornaments & Decor
Disney Friends
The Disney friends are decked out in their holiday best. These Jim Shore Christmas ornaments will look amazing on your tree, next to the other Disney ornaments of course.
Disney Traditions by Jim Shore Old World St. Mick Figurine
Jim Shore takes inspiration in old-world Santas with this vintage-style Mickey Mouse with his bag filled with antique toys
Disney Traditions by Jim Shore Tinker Bell Stocking Stuffer
Leave it to Tinkerbell to stuff the stockings this year. Just be sure to double-check she doesn't leave any coal in those presents. We know how she can get sometimes.
Disney Traditions by Jim Shore Christmas Mickey Mouse with Candy Cane
Mickey Mouse makes quite the entrance at his holiday party, bearing a sugar-coated candy cane as tall as he is as he waves to his guests.
Jim Shore Disney Traditions Mickey and Pluto Laugh All The Way Musical Figurine
Wind up Musical Play "Jingle Bells" and features real bells around Pluto's collar.
Disney Traditions Nutcracker
The eager mouse stands at attention, ready to take the stage as the iconic Nutcracker.
Your Thoughts...
Please share your thoughts in the comments or reach out on social media...We would love to hear from you.
Follow Mouse Travel Matters for Disney Parks news, the latest info and park insights, follow MTM on Twitter, Facebook, and Instagram.
You May Also Like…
Disney Spring's Christmas Tree Trail
Best Christmas Disney Souvenirs
DIY Disney Christmas Decorations