Last Updated on July 26, 2020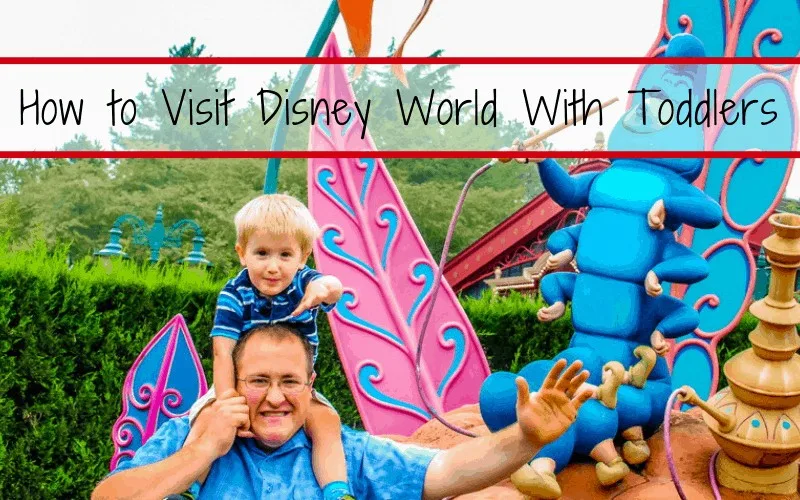 While there is no one perfect age for the first trip to Disney World, every year millions of families figure out how to visit Disney World With Toddlers. And since theme park admission is free for kids under age 3, many families try to come at least once before there child's third birthday. Disney World With Toddlers
This post may contain affiliate links.
To which I earn a small commission, at zero cost to you!
Find more info in our
Privacy Policy
.
The Definitive Guide to Visiting Disney World With Kids
Before you leave
Counting down to the trip
When to tell the kids about your Disney vacation
Depending on the level of anxiety in your house, how much time between booking and check-in date and a million other variables, a count down may or may not be a good idea.
We can't tell the kids we are going to grandma and grandpa's tomorrow but we can tell them 6 months in advance that we are visiting Disneyland Paris. We would suggest anything from 10 to 30 days in advance for little ones is a good time frame to get them excited and plan last minute arrangements, but not too long that their "is it today?" gets too annoying.
What to watch
There are a lot of things you can watch to get your toddler prepped and excited.
Older children can start watching the more "obscure" Disney films that inspired the attractions in the first place. Here is a list of the Best Movies to See Before Your Trip to Walt Disney World
If the kids are too young to have their favourite Disney movie or are stuck on watching the same two or three movies year-round, this is the time to start dusting off the Disney classics.
When to arrive
Your vacation starts from the moment you wake up to take that early morning flight out of town. If your flight is too early, you will need to wake at the crack of dawn to be at the airport 2-3 hours before boarding. This can make for a cranky group of kids and adults.
If you can't schedule something a little closer to lunchtime, (eat on the plane with a few homemade snack packs), or you have to drive a fair distance to reach the airport, we suggest spending the night at an airport hotel.
Plan on arriving between lunch and dinner time. Your room won't be available until 3 pm anyway, but there is so much to do on arrival day that you won't even want to see your room right away. Just be sure that your carry-on bag has everything that you will need for that day and leave the rest with guest services.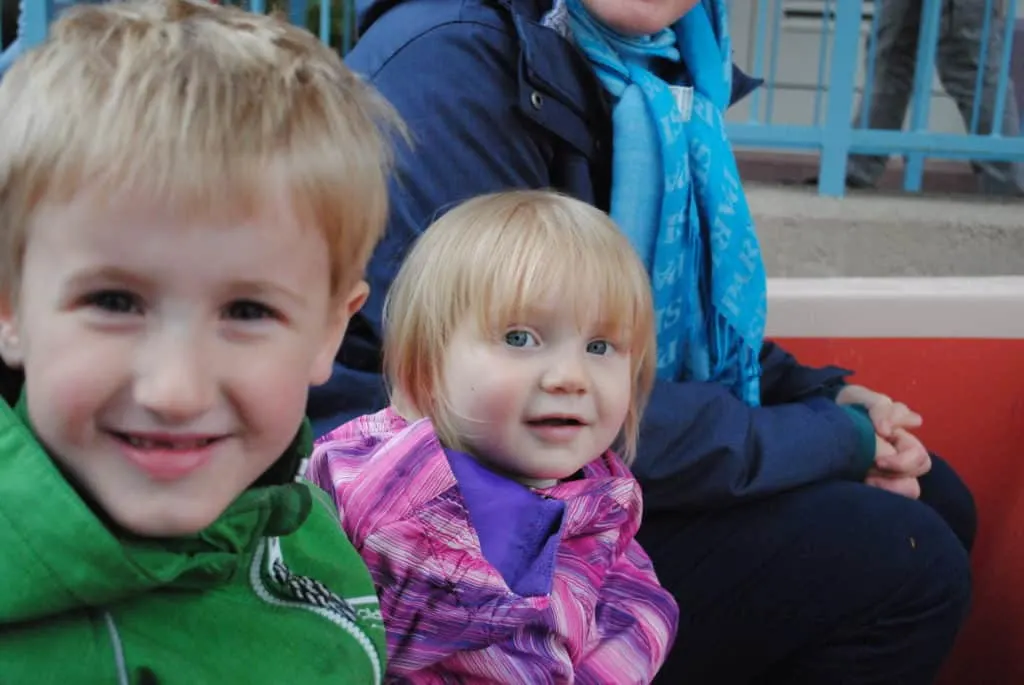 Comfy shoes
It is important that your children, and yourself, have comfortable, practical shoes while walking around Walt Disney World.
Be sure to have them properly worn in before heading out on your vacation, and bring a spare just in case a pair gets lost, wet or otherwise unwearable.
Where to stay at Disney World with toddlers
Since this is where you're likely to spend most of your theme-park time, staying near the Magic Kingdom is probably in your best interest. While this is easier said than done, here are a few more suggestions.
Best Value Resorts for toddlers
Best Moderate Resorts for toddlers
Disney's Caribbean Beach Resort
Disney's Port Orleans Riverside
Best Deluxe Resorts for toddlers
Disney's Polynesian Village Resort
Disney's Animal Kingdom Lodge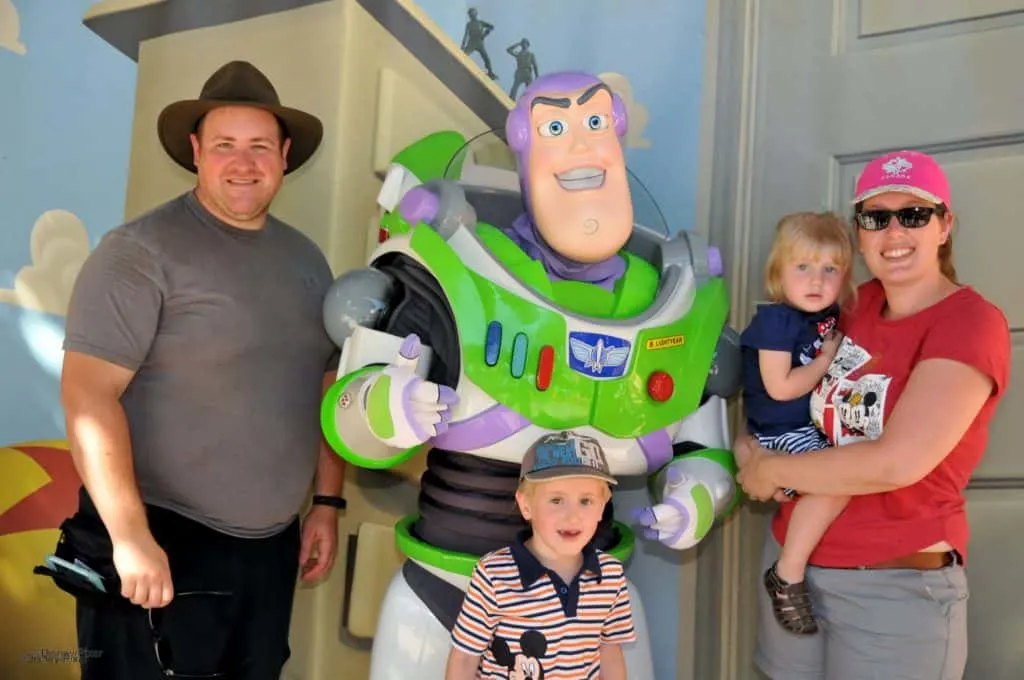 Where to eat – Best Disney Restaurants for Kids
Children under 3 years old can share meals from another person's plate, just make sure you include the child in your dining reservation count
Best Disney World Quick-Service Restaurants for kids
Les Halles Boulangerie and Patisserie: France Pavilion, Epcot
There are so many offerings at Disney Quick-Service restaurants, it's hard to pick just one. But push comes to shove if there is a single restaurant you need to check off your list while on vacation, it has to be Les Halles Boulangerie and Patisserie. With authentic French pastries, there is a little something for any time of day, any palate, any budget. You are also welcome to take your items to go and have a late-night snack in your hotel room after the kids have gone to bed.
Best Disney World Table-Service Restaurants for kids
Disney's Sanaa at Animal Kingdom Villa Resort
There are very few restaurants in the world where you can dine whilst looking out of the window to watch zebras, giraffe and other wildlife passing by. Sanaa is located at the Animal Kingdom Villas at Kidani Village.
Best Character experience
Chef Mickey's, Contemporary Resort
All of the character dining experiences revolve around a central theme or character family; Snow White, Princesses, Winnie the Pooh, Cinderella… there isn't much that will be attractive to those that don't care much for princesses and fairy tales. Chef Mickey's is great for this reason; Mickey and Friends roam around the dining hall, visiting every table, and they aren't targeted towards a specific demographic. This is sure to please everyone in your party.
Basic Tips for Taking Kids to Disney World
Safety tips
Discuss 'sticking together'. Not only do they need to be warned about the long lines and miles of ground that they will cover in a single day, children need to be warned about the dangers of wandering off. The very little ones need to sit in the stroller or hold someone's hand. Slightly older ones need to walk next to someone, but always within eyesight and never allow a stranger to come between them and their 'buddy'. As a traveling duo with two kids, we have created a buddy system. I'm with her, the son is with hubby. We are now solely responsible for the physical location of one child each. This greatly reduces the anxiety of always looking where both children are and divides the 'workload' evenly between both adults.
Have a contingency plan. If someone does get lost or wanders off, know what to do and with whom to speak with. This is when safety tattoos come in handy.
Take a photo of the family before leaving the hotel each morning. This way, you can remember what everyone wearing. Better yet, get matching t-shirts for the whole family.
How do I discipline while at Disney World?
With the heat, the crowds, sleep-inducing overstimulation, and the sheer lack of sitting, this uphill battle to keep the peace can be tedious but not impossible. Providing your kids with clear expectations and ramifications for poor behaviour can make all your trips feel a little more magical and a lot less stressful for the whole Disney loving family.
We have been several times with the kids and rules tend to be more relaxed; the amount of sugar they can eat, when they can eat it, and overall bedtime routines but poor behaviour and disrespect are not tolerated. Sure, overstimulation can lead to poor choices, but this is a clear sign that someone needs a break and center themselves.
Prevention is so important. Ideally the more you can prevent the things that cause meltdowns the more you'll be able to avoid needing to discipline
Don't overdo it.
Make sure they aren't hungry.
Allow everybody enough time to sleep.
Try to limit lines as much possible.
Prepare for the weather.
Try to stick to routines
Leave if necessary
For more detailed information on how we choose to deal with our children's behaviour at Disney and expert advice from fellow Disney parents, check out; Behaviour & Discipline With Kids at Disney
Let them have a choice (kinda)
Just like we did at Disneyland Paris on our final visit, it's a good idea to allow the children to have a SENSE of freedom and decision making during the vacation. This isn't the same thing as actually having decision making power.
Letting them pick which attraction to go to next when you have limited their choices to the 3 rides within their field of vision, is enough to make them feel like they are in control. This has a tendency of keeping them complacent when it is time for mum and dad to make choices.
Take in Some Live Shows
Disney isn't just about rides, character meetings and food, though that's a large part of it. There are so many live shows available at Walt Disney World that your children will love.
Indiana Jones Epic Stunt Spectacular
Jedi Training: Trials of the Temple
For the First Time in Forever: A Frozen Sing-Along Celebration
Beauty and the Beast – Live on Stage
Finding Nemo – The Musical
Voyage of the Little Mermaid
Festival of the Lion King
The Magic Kingdom is the best park for toddlers
The Magic Kingdom has the most child-centered rides, shops, restaurants and the most character meeting spots.
If there is one park that your child will want to visit over and over again, it will be the Magic Kingdom.
Measure Your Child
Be aware of height restrictions: There's nothing worse than waiting in line only to be turned away from a ride, so be sure to know height restrictions before making a game plan.
Before anything is set in stone, measure your child. Know what they can and can not ride today, and how much you can expect your child to grow before the big day.
Height Requirements are for your child's safety and do not condone any attempt to falsify your child's height. If you believe they would love to ride the Barnstormer, for example, they are required to be at least 35 inches tall
(the size of your average 2-year-old). Consider postponing your trip for a few months to give your child a little extra time to grow those few inches.
We would suggest most with small children wait until the youngest (above age 3) is at least 45 inches tall. Most rollercoasters and non-kiddy rides require between 38 – 42 inches tall to ride. Flight of Passage is the one hold out, which requires 44 inches tall.
Why above age 3? Because most children under age 3 will have no interest in Slinky Dog Dash or Seven Dwarfs Mine Train. 3 and over may start to get restless when they aren't included in a handful of rides that their siblings are enjoying and discussing.
Using the FastPass+ system to reduce waiting in lines
Your fast pass strategy is going to differ from adult only trips to toddler included trips. You will now have to share those coveted 3 reservations with the little one. But what to choose?
Most of the toddler-friendly rides don't offer Fast Passes. There is a handful, like Frozen Ever After and Peter Pan, and such. Those are the ones that are worth it because adults want to ride them too. It's a Small World technically offers Fast pass but the line is rarely long enough to warrant using it as part of your initial selection.
Find the toddler-friendly rides that offer Fast pass, and set that list against the most popular Disney Rides to Fast pass. Be sure to disregard anything that you have zero interest in riding, et voila. Your first-round pick for Fast Passes has been decided for. Now just to pick the timings.
If you are staying on-site, which we highly recommend with little ones, then you will have access to Early Magic Hours. Use it. Do all those rides immediately, then set your self up for the next Land during Rope Drop. Only use your fast passes after lunch, just before nap time or for yourself during nap time.
There are contradicting theories about how to plan your Fast Pass selections. The first theory is to book all of your kids favourite attractions and standby all the mommy-daddy rides if you get time to visit them. The second theory is to share your reservations; book a few for them and a few for you. Because sharing is caring.
But what does that look like?
Everyone is going to want to ride Seven Dwarfs Mine Train, so obviously we are going to make an FP+ selection for that. But of the other 2 selections, what do we do? Look at the historical wait times for your kids' favourite rides, based on time of year, and time of day, you plan on being at that Park. This information will tell you if you should be FP+ this ride or using Stand By. If you are using EMH, Fantasyland is a free for all so don't make reservations for any of those rides (if avoiding EMH, then book Peter Pan for sure); instead, maybe grab some FP+ for the mountains and do Ride Switch.
When do you book the Fastpasses? We have many more FastPass strategies listed in our specific Fast Pass FAQ article, but for the most part, you will want to book Fast Pass reservations for when the park starts to get busier, roughly around lunchtime. And for attractions that you will be near, given your rough Park Touring Plan that you have already created.
It is possible to use Rider Switch with the Fastpass system. See the next point.
Rider Switch
If the members of the first group to ride have a FastPass+ for a particular attraction, they may enter the FastPass+ line. The adult waiting with the non-rider will be issued a Rider Switch entitlement on their MagicBand, allowing them to enter the FastPass+ line with up to two Guests.
Therefore, the members of the second group to ride do not need a FastPass+ to bypass the Standby line; the Rider Switch entitlement will gain them entrance to the FastPass+ line.
For more information on Rider Switch, and a full list of rides that offer the Rider Switch service, be sure to check out our article Rider Switch at Walt Disney World.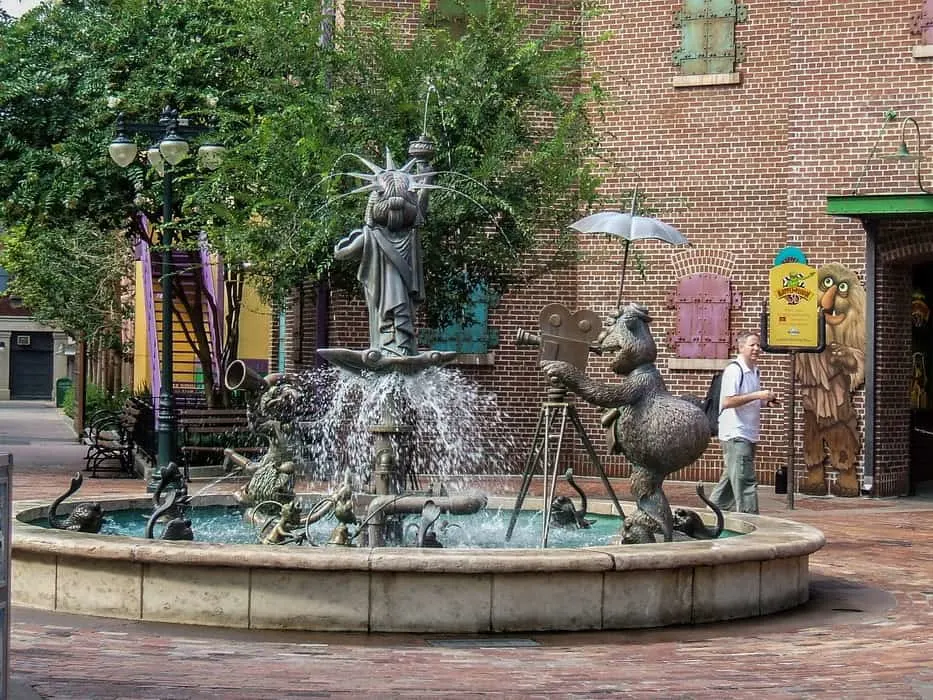 DAS pass and Rider Switch with Fastpass
If a member of your family is eligible for a DAS pass, we strongly suggest getting one and linking the family's account together. This can be used to virtual queue any attraction that has a Fastpass line, without it interfering with your Fastpass selections.
Rider switch can also be used alongside DAS pass.
Book a Sitter
Just because the kids are with you, doesn't mean you can't have a great time alone with your partner. There are a handful of non-Disney services that will babysit the children in the safety of your hotel room while you and your partner hit up Disney late at night.
How many days to spend in each park?
Having a firm grasp of which rides you plan on visiting, character interactions, shows and table service meals, you will have a general idea of how much time to spend in each park.
Generally speaking, I would give it at least 2 days in the Magic Kingdom, maybe 2 days for Epcot if they really like World Showcase. In terms of Animal Kingdom and Hollywood Studios, it really depends on how much you want to accomplish. Star Wars Galaxy's Edge will take up your entire morning, leaving only a few waking hours to accomplish the rest of the park, and Animal Kingdom's Wilderness Explorers will take at least 2 days to accomplish if you plan on experiencing the rides and shows as well.
This leaves you with a solid 8-day plan, plus any water park, mini-golf and rest days you may want to add to the plan. For more information on how to plan the perfect 8-day Walt Disney World Itinerary with kids, click here.
Many are asking right about now, how many days do I need at Disney World anyway? Well, that really depends on your budget, the reason for going and who is going with you.
For the most part, we suggest 8 days because this is when daily park tickets start to get increasingly cheaper per day; instead of visiting twice in a single year for 4 days, make it once a year for 8 days and save some money.
For a better description of how we came up with the magic 8 number, check out how many days to spend at Disney.
At the end of the day, Extra Magic Hours has a nasty of habit of working in 7-day rotations on a few of the parks and twice per week in the others. 8 days allows you to experience EMH in each of the Parks at least once.
Packing for Disney with a toddler
Having everything your toddler needs within arms reach is the best way to keep everyone happy. Packing the perfect park bag, bringing their own baby gear instead of renting it, and leaving their lovey in the hotel, is the best way to make sure they have everything they need.
I'm sorry, did you just say to leave their lovey in the hotel room?
Yes, ma'am, I did. I have seen too many stories of loveys found owner-less in the parks, or owners desperately looking for loveys before the children discovered they were missing, to think that bringing such special items into a crowded place like Disney is a good idea.
Our children have been taught from day 1 that special toys are to remain safe in the hotel room, so they can be there when they get back at the end of a long day. Sheldon (the Polar Bear) is making sure our room is safe and ready for use when we are back. Even a favourite blanket isn't safe unless it is zip-tied to the stroller with GPS geo-tracking technology sewed into. And even then, I wouldn't risk it.
Bring a change of clothes and/or bathing suit and towels…
There are misting stations and water spouts coming from the ground at Magic Kingdom, Epcot, and Animal Kingdom. Little ones can have fun getting wet and cooling off. Good luck keeping your kids away from them!
Go During the Off-Season
Going off-season can help ease the financial constraints of Disney. There is so much you want to do and see with your toddler but they all come with a hefty price tag. Off-Season tends to be the cheapest time of year to visit, and everything else (flight, car rental, accommodations…) fall in line accordingly.
The beauty of having a toddler is that they aren't constrained by a school schedule. You are welcome to vacation any time of year, work permitting. Use this freedom while you still can.
Bed rails and Pack 'n Plays
Toddlers have a nasty habit of rolling around the bed, a lot. Just because they are in a hotel, doesn't mean this habit will stop. Guests can request cribs when making reservations or upon arrival but quantities are limited. This is when Offseason really starts to look good.
If you have been told they aren't available or you don't want to risk it, check out these great guides to Travel Cribs (not disney) and Travel Portable Beds.
You can request one when you get there or, even better, you can call (407) 934-7639 to have the request added to your reservation.
Take in Some Live Shows
There is more to Disney than just attractions and food. There are a ton of shows that your little one will love, and parents will love too.
Transportation with toddlers
Some transportation options allow your little one to remain in the stroller, but most do not.
Monorails and ferries – strollers can stay open and a child can stay in them
Buses and trams – strollers must be folded up. Even if your little one is sleeping and the bus is totally empty, you'll still need to fold your stroller.
Resort launches and Friendship boats – strollers can be left open if space allows, but your child must be seated with you
Skyliner – single strollers can remain open on the skyliner, but double strollers do not fit through the door while open, so they are required to be closed in order to ride.
While traveling with a toddler, when should you drive and when should you leave the driving to Disney? This is a great question that we see often. At the end of the day, I am afraid to say, that it's up to you. If you plan on park hopping, going back to the resort for an afternoon nap or have a tight schedule, we would recommend self-driving. The Disney transportation system isn't known for its expediency. If the child falls asleep before reaching your destination, just leave them in the stroller until you get to the car.
Note that parking lot trams do require you to fold the stroller as well so you may need to walk the distance or keep the children awake long enough to get to the tram itself.
Tackling Walt Disney World with Toddlers
Magic Kingdom
The Magic Kingdom has the most ride options for smaller kids with only 6 attractions having a height requirement. That leaves 24 rides for toddlers at the Magic Kingdom! You can also meet Mickey, Minnie, Donald, Daisy, Goofy, Tinker Bell and several princesses, too! You can easily spend two really full days at the Magic Kingdom with a toddler.
Best rides at the Magic Kingdom with kids:
Buzz Lightyear's Space Ranger Spin
Dumbo the Flying Elephant
Enchanted Tales with Belle
It's A Small World
Mad Tea Party
The Many Adventures of Winnie The Pooh
Peter Pan's Flight
Pirates of the Caribbean
Prince Charming Regal Carousel
Under the Sea – Journey of the Little Mermaid
EPCOT
Epcot is the next park for small children in terms of accessibility. It has fewer rides with height limitations and even more hands-on activities for the children to experience. Epcot World Showcase doesn't have to be a bore either – just come prepared with a handful of activities and a lot of snack credits.
Best rides at Epcot with kids:
The Coral Reef Aquarium and Bruce's Shark World
Frozen Ever After
Gran Fiesta Tour Starring The Three Caballeros
Journey Into Imagination with Figment
The Seas With Nemo and Friends
Spaceship Earth
There are many character meet options, too:
You can meet Mickey, Minnie, Goofy, Daisy and other characters throughout Epcot. Check the MyDisney Experience app to find exact times and locations.
Hollywood Studios
With the addition of Toy Story Land, there is more to do for the children, as long as they reach a minimum of 32 inches for Alien Swirling Saucers and 38 inches for Slinky Dog Dash. There are a lot of shows, including Jim Henson's Muppet-Vision 3-D and Voyage of the Little Mermaid. This would be a great opportunity to use your fast passes for adult rides and use the rider swap system during nap time.
Check out our Hollywood Studios Fast pass Tiers and Strategy to find out why we don't believe in using Fast Passes for shows at Disney World.
Live show options at Hollywood Studios:
Beauty and the Beast Live On Stage – a Broadway-style production retelling this classic tale.
Disney Junior Dance Party – This new live show features Mickey, Timon, Vampirina, and Doc McStuffins with fun music and dancing. A DJ runs the show and the audience helps bring the characters from the screen to the stage.
Fantasmic! – this nighttime production uses pyrotechnics, fireworks and laser lights to tell the story of Mickey's dream being overtaken by villains and turned into a nightmare. Don't worry – Mickey conquers the nightmare and the show ends happily.
For the First Time in Forever: A Frozen Sing-Along Celebration This retelling of the Frozen story is done with comedy for everyone. I dare you to resist singing along!
Indiana Jones™ Epic Stunt Spectacular! Your kids don't need to know a thing about the movies to appreciate the fight scenes, explosions and other stunts that take place in this live show.
Voyage of The Little Mermaid – key songs and parts of the story are revisited in this live show.
You can also meet several characters at Hollywood Studios.
Animal Kingdom
With a toddler, Animal Kingdom is easily a half-day park, and spend the afternoon at the pool. There isn't a whole heck of a lot for the kids to do outside of shows, safaris and nature trails. While these are all great things to do with the little ones, children tend to want to touch everything and move around a lot, neither one of which is conducive to sitting down and keeping quiet.
Best rides at Animal Kingdom with kids:
Na'vi River Journey
Kilimanjaro Safaris
Kali River Rapids
Rafiki's Planet Watch
Live show options:
Festival of the Lion King – live Broadway-style show with acrobatic monkeys, stilt walkers, and floats revisiting songs of The Lion King.
Finding Nemo The Musical – a live retelling of Finding Nemo as a Broadway-style production.
Rivers of Light – nighttime light and laser production.
How to choose your dining reservation schedule.
This is a big question. Do you choose all quick-service restaurants or do you splurge on a few table service experiences?
For us, we like the idea of quick service because it's cheap, and as the name suggests, it's quick. In reality, however, dinner time is around the time the kids start to get fussy, especially when they are old enough to refuse naps. Having a nice, quiet dinner is a great way to recharge and get those last few drops of energy from the kids in order to make it through the evening and into the nighttime spectaculars.
Lunches are a great way to get out of the heat, cool down while resting and wait for the majority of the crowds to settle in. Emerge from the restaurant rested and cooled while everyone else is starting to crash and call it a day.
If you are going to have a table service dinner, why not make it a twofer (that's a word outside of Canada right?) and get reservations for a character dinner. This way, you can see your favourite characters while resting and eating. Character dinners are more expensive than traditional table service meals, and so we would suggest you consider the Standard Disney Dining Plan and get at least 7 Table Service experiences throughout your stay (that's 1 Table Service meal per night staying at an on-site resort, per person).
Character dining
As mentioned above, there are so many character dining opportunities available within Walt Disney World. The problem comes down to narrowing the list to a tangible amount … for this vacation.
We suggest you take into consideration which characters your children would like to see, and which restaurants are in the Park (or near) you are in that day. No sense in trekking across the World for a single meal, you will be in transit longer than eating. Keep location in mind when decided when and where to eat.
Dining packages
There are a handful of dining packages available as well, like Tusker House Rivers of Light dining package. This allows guests with dining package reservations – these aren't standard meal reservations, they cost a smidge extra and are a separate selection on the Advanced Dining Reservation drop-down menu – to have VIP seating for the nighttime spectacular Rivers of Light, later that evening.
While the dining package costs more out of pocket than a regular dining reservation, both are only 1 TS credit when using the dining plan so I would take a second look at your plans and see if this may be worth it after all.
Do I need Park Hopper tickets?
Most Disney enthusiasts would recommend you purchase Park Hopper tickets, mostly for the freedom to come and go as you please and explore other parks if your current park gets too crowded.
While this is sound advice, theory and reality don't exactly meet in this regard. Sure, if your park is crowded, leave. But to go where? Afternoons are a busy period. After spending all that time in transit, you may not be better off at another Park. And there is a fair bit of time you will spend in transit getting from one park to another; they are not as close to each other as one would have you believe.
The only time we recommend purchasing Park Hopper tickets is if your time is very limited and you intend on using EMH for each Park, then leaving for another park once the general public is allowed in. You will arrive at your second Park shortly after rope drop and continue as planned.
The other option, though we also don't suggest this one either, is visiting a new Park after you have napped/rested back in your hotel room. This would work best if you plan on visiting your second Park around dinner time and staying for the nighttime spectaculars.
Find out more about the pros and cons of Park Hopper pass here, because we do have strong opinions either-way you look at it.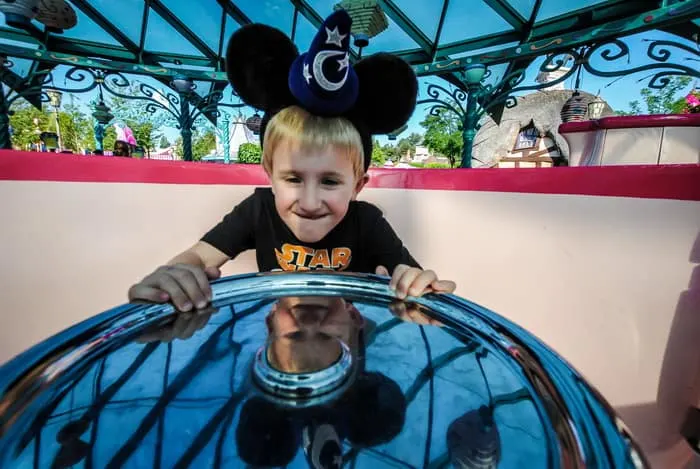 Which Disney Water Park Is Right for Your Family?
In addition to its four theme parks, Disney Springs shopping area, Boardwalk entertainment district, two mini-golf courses (and multiple "real golf" courses), and dozens of resort hotels, Walt Disney World also has two incredible water parks. Each is different, and each has raving fans of its own.
The most common question I think I've heard on this topic is simple: "Which Disney World water park is best?" Honestly, as with virtually any similar questions, the answer is a resounding, "It totally depends." Overall, Blizzard Beach is the slight winner in our opinion as there is more to do for the whole family, but the incredible wave pool at Typhoon Lagoon is worth the visit alone. Both Disney water parks are definitely worth a visit if you have the time and some good weather.
Your Thoughts...
Please share your thoughts in the comments or reach out on social media...We would love to hear from you.
Follow Mouse Travel Matters for Disney Parks news, the latest info and park insights, follow MTM on Twitter, Facebook, and Instagram.
You May Also Like…
Five Great Things to Do With Your Kids | Epcot Food and Wine Festival
Tips for Surviving Disney With Kids
How to Avoid Exhaustion at Walt Disney World
Epcot World Showcase Colouring Bundle