Last Updated on April 26, 2021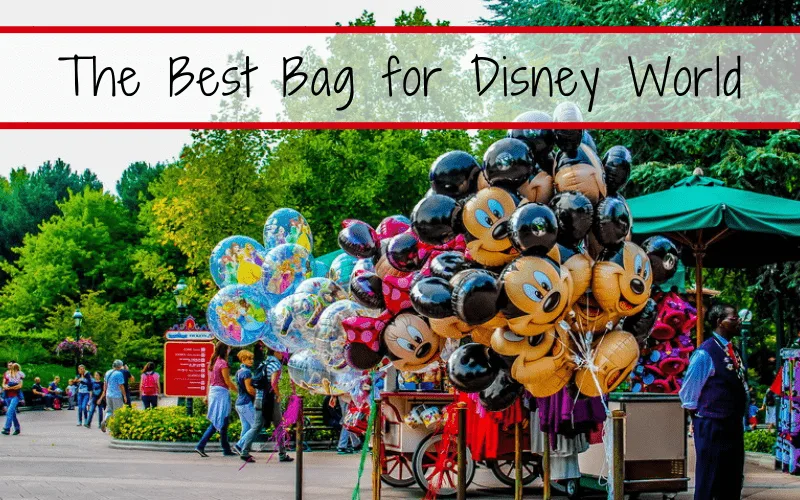 One of the most useful items you will need on your trip is a backpack for Disney World. Have you seen our Disney World Park Bag Packing List?
Choosing the Bag for You
Packing your Disney park bag
Keeping in mind that a single family only needs one bottle of sunscreen, yet a separate refillable water bottle for each member, being organized is the key to a successful park bag.
Every member that is capable of carrying their own bag, should be required to carry their personal items. Mutual items can be distributed according to whoever is in charge of rationing out the supplies, like snacks and sunscreen.
Contents for the perfect Disney Park Bag.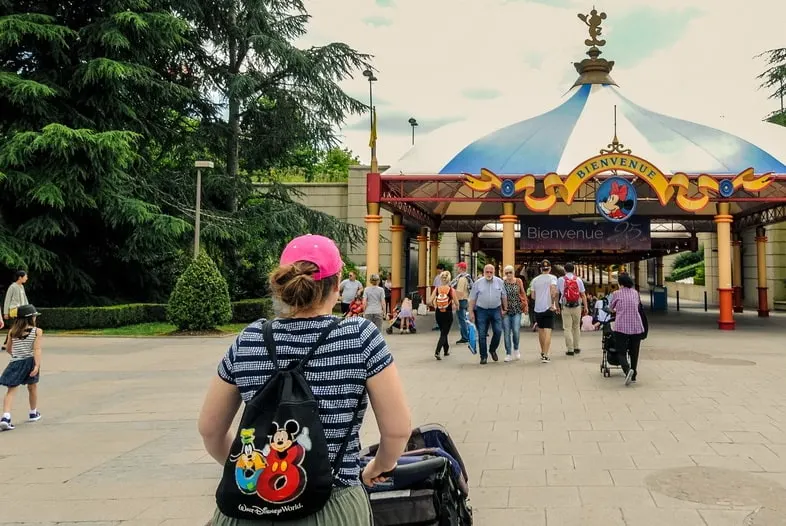 How to choose a bag for Disney World
Comfort
Test out your new purchase and see how it feels. Fill it up, walk around with it for a few hours, in the heat, and decide if this bag will hold up for the next week or give in after a day and you are forced to buy a new one in the Parks. True story.
Size & Capacity
Not that we want to over-fill our bags to the point that they are too heavy to carry, but it is also important that a bag can carry everything that we need. Start with your packing list, collect everything on said list, then test out which bags have the capacity to contain all of it.
Internal Pockets & Organization
The organization of your bag is the key to sanity. Knowing where everything is, and that it is in its rightful place for when you need it (or giving instructions on where to find it), relieves a lot of unnecessary stress.
External Pockets & Organization
Not only are inside pockets important but outside pockets too. This is usually where we carry our water bottles. I also like to have my lip gloss, sunglasses case and hand cream in a small outside pocket so it is easier to get a hold of when needed. These are things I am not too concerned about if someone were to sneak their little hands into.
Durability
Disney is rough on everything, including your bag. All that walking, sweating, taking on and off, can be rough on your bag, not to mention the load-stress of all that you are carrying.
Water Resistance
There are more than enough water rides to warrant a waterproof park bag. But rain also happens once in a while. You will want to have something that will keep your electronics safe from moisture while you seek shelter.
Price
It's all fine and good until you see the price tag. If it's out of reach, it's no good for anyone. Stay within your budget and find something that the wearer will be happy with.
This post may contain affiliate links.
To which I earn a small commission, at zero cost to you!
Find more info in our
Privacy Policy
.
Best Disney Tote & Sling Bags
It doesn't look like much, but a tote or drawstring bag is a great minimalist way to pack. We have been on countless vacations, including 7 Disney vacations (5 with kids) using only a drawstring bag.
Using the Merchandise delivery service, we do not need extra bags just to carry our purchases. This is a great way to reduce the size of the bags we are carrying around.
Best Disney Cooler Backpacks
Without a stroller to lug snacks and such around in the bottom basket, someone is going to need to carry it on their backs. These backpack coolers are a great way to save a little money on snacks and drinks within the parks, stay cool and stick to the Disney Bag Policy.
Disney Backpacks for Adults
You're not a minimalist, your kids can't or won't take their own bags and you can't help but over-prepare for a day in the parks lest you need to buy something you already have at the hotel room, a decent backpack day bag is a great way to go.
These are useful for any vacation, not just Disney and have ample room for that someone that can't leave it behind. I tend to use a backpack when I travel with the kids' sans hubby since I now have to carry my own necessities and the camera/video equipment.
Disney Backpacks for Kids
Once the kids are old enough, they should be carrying their own items in the parks. We do this for a few reasons; mostly because I don't want to carry more than I have to, but secondly, if I am carrying everything in my bag, then I am the only one that can care for them easily. Having each child carry their own snacks, change of clothes and water bottles, each parent can attend to a different child because the child will have possession of their own needs.
We can finally take turns bringing the kids to the bathroom!
Plus the kids love being responsible for their own kit. It makes them feel like big kids. Starting early means its not a fight when they are bigger. Win-win!
Girls Backpacks: Minnie Mouse & Frozen
Disney Character Bags: Princess, Minnie Mouse, Aladdin & More
This is where the function may or may not meet fashion. But who cares, it's Disney print! While these Disney-themed backpacks don't have as much storage, waterproofing or weight limit as a traditional travelling backpack, they are Disney-themed, while touring Disney, so that has to count for something.
Best Disney Diaper Bag Backpack
The dreaded diaper bag. Not a day goes by that I am not thankful that my children are old enough to no longer require a diaper bag.
Finding the perfect bag to match my vacation needs, hold everything I need for that day, move freely from stroller to basket to park attraction, is like finding a needle in a haystack. This is also on top of my own park-bag needs so everything needs to fit together into ONE bag.
These 4 have great diaper-bag space while also allowing room for the primary caregiver to hold their personal items within the same bag. They are unisex so parents can trade who is responsible for the diaper bag when not on the stroller and can probably turn into a regular bag after the baby has outgrown the need for diapers and changes of clothes.
Best Disney Crossbody bags
This is perfect for the solo traveller and amateur cameraman. You will want something small since you aren't carrying as much as families, but also large enough to hold your camera equipment.
The crossbody design allows for easy access into the body of the bag without constantly removing it. Chest pockets are great for holding cell phones and cash/cards where you can easily access them and keep an eye on them at the same time.
Dooney and Bourke Disney Bags
Stylish meets functional in these amazing Dooney and Bourke Disney themed bags. Carry your fondest dreams wherever you go in this fine fashion satchel with leather finishings by Dooney & Bourke.
Coach Disney Bags
Melding first-class quality with super-fun, playful designs, we're head over heels for the latest Coach Disney Bags.
Disney sleeping bags
If the kids aren't old enough for their own bed, but too big for a crib or playpen, we have always suggested buying the Regalo My Cot Portable Toddler Bed. We bought ours 7 years ago on the suggestion from a friend and we haven't looked back.
But, like anything in this world, it doesn't come with the extras. Grab your kids a Disney sleeping bag and head to that Disney hotel knowing all of your kids will be safe and comfortable on their amazing Disney vacation.
Disney Lunch bags
Disney Cars bags
Disney/Pixar's Cars has quickly become the star of the show. Everyone wants a piece of the Cars franchise.
Quick Tips
Can I bring a backpack into Disney World?
Yes. Disney states that bags and coolers, with or without wheels, cannot be larger than 24″ long x 15″ wide x 18″ high. The Park Rules are updated regularly, so just be sure you review them before your trip.
Can I bring food and drink into Disney World?
Yes. The Disney World website states that you may bring food and drinks into the park, including all snacks and foods that do not require heating. Be aware that balloons and plastic straws are not permitted in Disney's Animal Kingdom Park for the safety of the animals.
What about a cooler? I have a prescription medicine I need to bring. Is that a problem?
Coolers required for medication may be stored in a locker or at Guest Relations. For your convenience, lockers for storing personal items are available to rent on a daily basis throughout the Disney parks.
What do I need to know about the Disney Security check?
Disney security reserves the right to check any and all bags, parcels, and packages entering the parks. They are looking for prohibited items, including glass bottles/jars, drones, weapons, tripods and selfie sticks. Prohibited items change from time to time so be sure to check out Disney's website to keep up to date.
Why are self sticks banned at Disney?
Guests who are found with a selfie stick at bag check will be escorted directly to Guest Services where they can "check-in" their selfie stick and then pick it up as they are exiting the park.
The ban is for several reasons; Guest Experience – having a stick in your face every few feet isn't the greatest scene when trying to enjoy the theme parks. Safety – once upon a time guests were allowed to take selfie sticks into the parks but not operate them on rides. Due to mass public ignorance, these rules were rarely followed and a strict park ban ensued.
Protect the Magic – Disney parks often open up backstage routes during peak times to allow for better crowd movements within the parks. Some of these routes have a simple barrier between public access and backstage holding areas. With selfie-sticks, guests were able to peer into these backstage areas and Disney intends to preserve the magic for all guests.
What do we do with our bags on the rides? Can we bring them on?
Just about every Disney attraction will have space for self-storage while on the attraction. Be it a dedicated basket or just ample legroom, if bags conform to the above measurements and guests do not over-stuff them with souvenirs, guests will have no problem taking bags on the rides.
Soarin' is one attraction where you may find your bag won't fit in the provided space. On that ride, you are asked to store your bags under your seat, however, the storage space is kind of small.
But don't worry! If your bag won't fit the Cast Members will just ask you to leave it on the floor in front of you. After you are safely buckled in they will move your bag a few feet to the side where you can pick it up after it is over.
Your Thoughts...
Please share your thoughts in the comments or reach out on social media...We would love to hear from you.
Follow Mouse Travel Matters for Disney Parks news, the latest info and park insights, follow MTM on Twitter, Facebook, and Instagram.
You May Also Like…
How Much Does A Walt Disney World Trip Cost?
A Guide to Single Rider Lines at Walt Disney World
Can I Upgrade Or Add an Extra Day to My Park Tickets While I'm at Disney World?
Best Shoes for Disney & Theme Parks 2020 Men, Woman, & Kids
Adult Disney Themed T-shirts for the Bigger Kids