Last Updated on May 11, 2022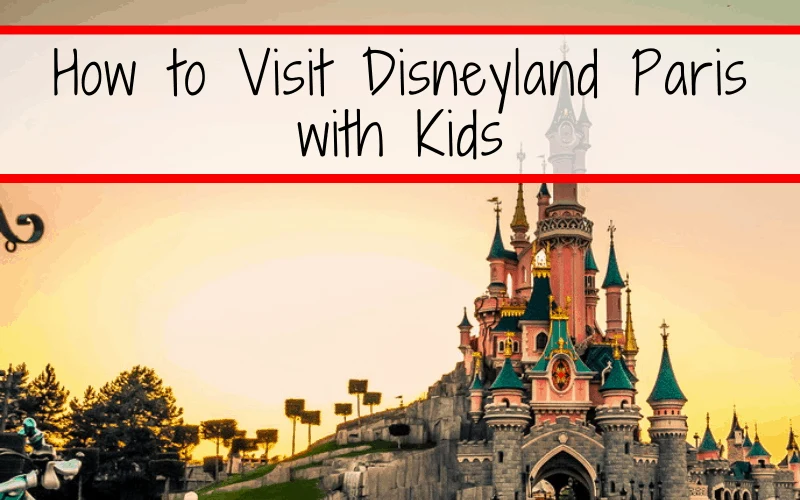 While there is no one perfect age for a first trip to Disney, every year millions of families visit with their little ones. And since theme park admission is free for kids under age 3, many families try to come at least once before there child's third birthday.
This post may contain affiliate links.
To which I earn a small commission, at zero cost to you!
Find more info in our
Privacy Policy
.
Two Disneyland Paris Theme Parks
Disneyland Paris consists of two theme parks — Disneyland Park and Walt Disney Studios Park. They are situated right next door to each other, making it easy to hop from one park to the other.
Disneyland Park in France is similar to the Magic Kingdom. Meanwhile, Walt Disney Studios Park compares to Disney's Hollywood Studios
Unique Disneyland Paris Attractions
Disneyland Paris vs Walt Disney World
There is a whole host of unique attractions at Disneyland Paris. So before you start thinking that the Walt Disney World ad on TV is going to help the kids understand what they are preparing for, think again. Get the Disneyland Paris Planning DVD and know that there are some subtle, and some not-so-subtle differences between the two parks. And I'm not referring to the language barrier – though that is a thing too.
Follow us on Instagram for realistic Disney inspiration
Before you leave
Counting down to the trip
When to tell the kids about your Disney vacation
Depending on the level of anxiety in your house, how much time between booking and check-in date and a million other variables, a count down may or may not be a good idea.
We can't tell the kids we are going to grandma and grandpa's tomorrow but we can tell them 6 months in advance that we are visiting Disneyland Paris. We would suggest anything from 10 to 30 days in advance for little ones is a good time frame to get them excited and plan last minute arrangements, but not too long that their "is it today?" gets too annoying.
What to watch
If the kids are too young to have their favorite Disney movie or are stuck on watching the same two or three movies year-round, this is the time to start dusting off the Disney classics.
Older children can start watching the more "obscure" Disney films that inspired the attractions in the first place. Here is a list of the Best Movies to See Before Your Trip to Disneyland Paris.
Pregnant
Disneyland Paris is more than just rollercoasters. There are just as many rides for little ones as there are for expecting mothers. If you are pregnant, there are a few rules that need to be followed, like no rides with lap bars or jerking stops, but that's about it.
For more detailed information on which rides you can and can not do while pregnant at Disneyland Paris, check this out.
Annual Pass
Unlike the other Disney parks, Disneyland Paris Annual Pass is pretty straight forward. If you are staying more than 4 days in a single 12 month period, the annual pass is the way to go.
They are cheaper, have extra perks, and come in 4 different tiers, all depending on your budget and vacation schedule.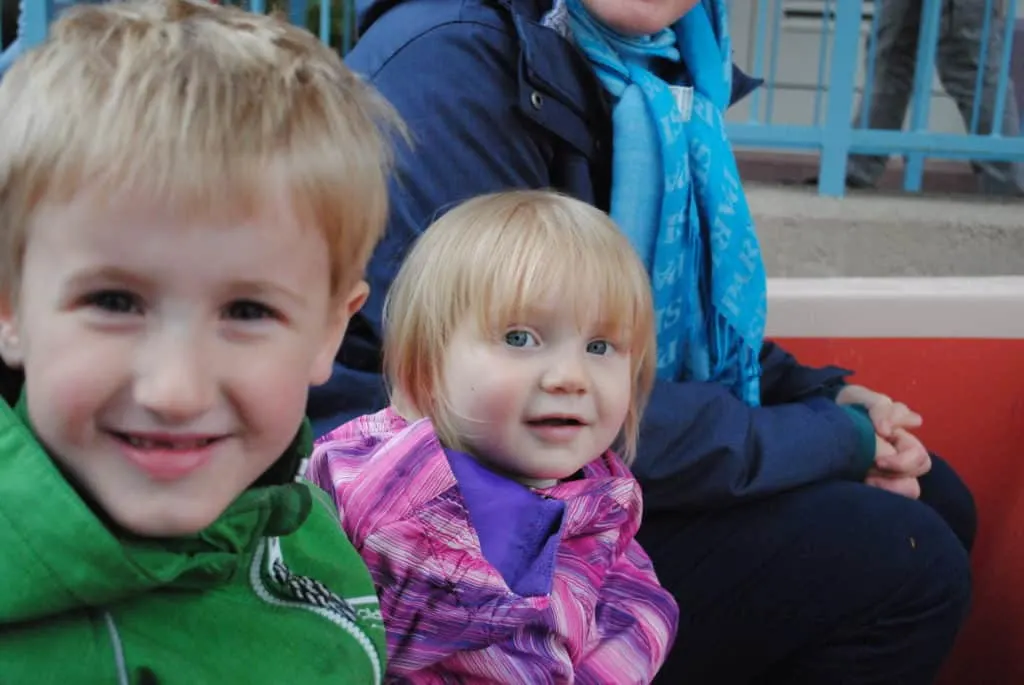 Where To Stay In Disneyland Paris With Kids
Disneyland Paris Hotels
To fully experience both theme parks, I recommend spending at least two full days at Disneyland Paris with kids. There are seven Disneyland Paris hotels to choose from, each having its own specific theme and budget.
Best Onsite Resorts for toddlers
These two hotels are Mouse Travel Matters tried and tested, and 100% approved. While they are on the moderate/deluxe side of things, they do not require a bus/shuttle, as they are completely within walking distance. They have character meet and greet in the main lobby before touring and a fully serviced buffet breakfast at your disposal.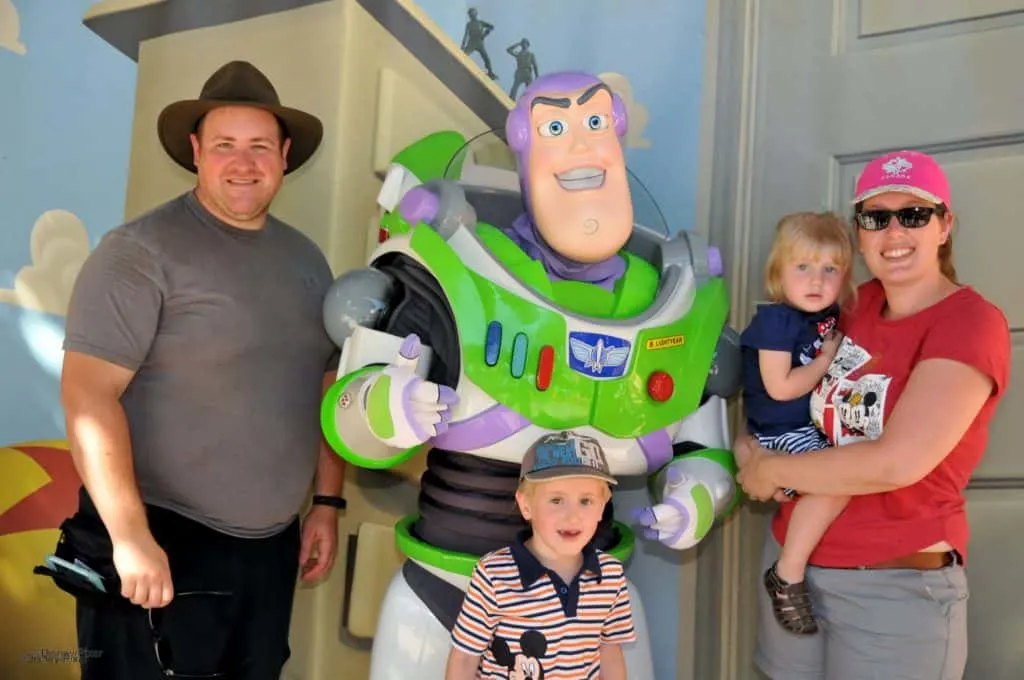 Tips for going to Disneyland Paris with Toddlers; Touring Advice
Go During the Off-Season
Going off-season can help ease the financial constraints of Disney. There is so much you want to do and see with your toddler but they all come with a hefty price tag. Off-Season tends to be the cheapest time of year to visit, and everything else (flight, car rental, accommodations…) falls in line accordingly.
Go to Disneyland Paris with kids during the off-season – especially when kids are in school. Also, make sure to go on a weekday to avoid weekend crowds. Disneyland Paris is known to be one of the most crowded Disneyland Parks.
The beauty of having a toddler is that they aren't constrained by a school schedule. You are welcome to vacation any time of year, work permitting. Use this freedom while you still can.
If you go in the autumn and winter months the evening fireworks will be at a more toddler/younger child-friendly time so it may be worth considering this if you don't mind colder weather.
Support us by liking our Facebook page
Bed rails and Pack 'n Plays
Toddlers have a nasty habit of rolling around the bed, a lot. Just because they are in a hotel, doesn't mean this habit will stop. Guests can request cribs when making reservations or upon arrival but quantities are limited. This is when Offseason really starts to look good.
If you have been told they aren't available or you don't want to risk it, check out these great guides to Travel Cribs (not Disney) and Travel Portable Beds.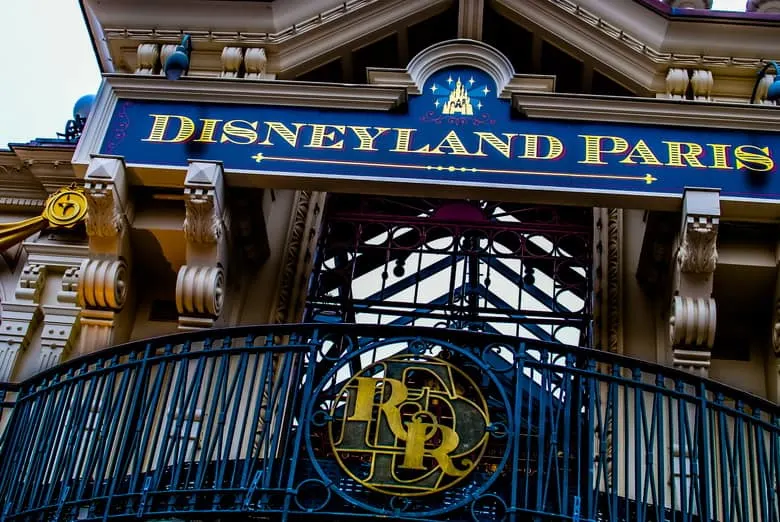 Measure Your Child
Before anything is set in stone, measure your child. Know what they can and can not ride today, and how much you can expect your child to grow before the big day.
Height Requirements are for your child's safety and do not condone any attempt to falsify your child's height. If you believe they would love to ride the Barnstormer, for example, they are required to be at least 35 inches tall
(the size of your average 2-year-old). Consider postponing your trip for a few months to give your child a little extra time to grow those few inches.
What are the height requirements for Disneyland Paris?
Knowing when the best age to bring our child to Disneyland Paris is also suggested. Everyone has a different expectation of their first Disneyland Paris holiday and it is best to know what your toddler can and can not do before making any plans, as to avoid surprises and disappointment later.
Take in Some Live Shows
There is more to Disney than just attractions and food. There are a ton of shows that your little one will love, and parents will love too.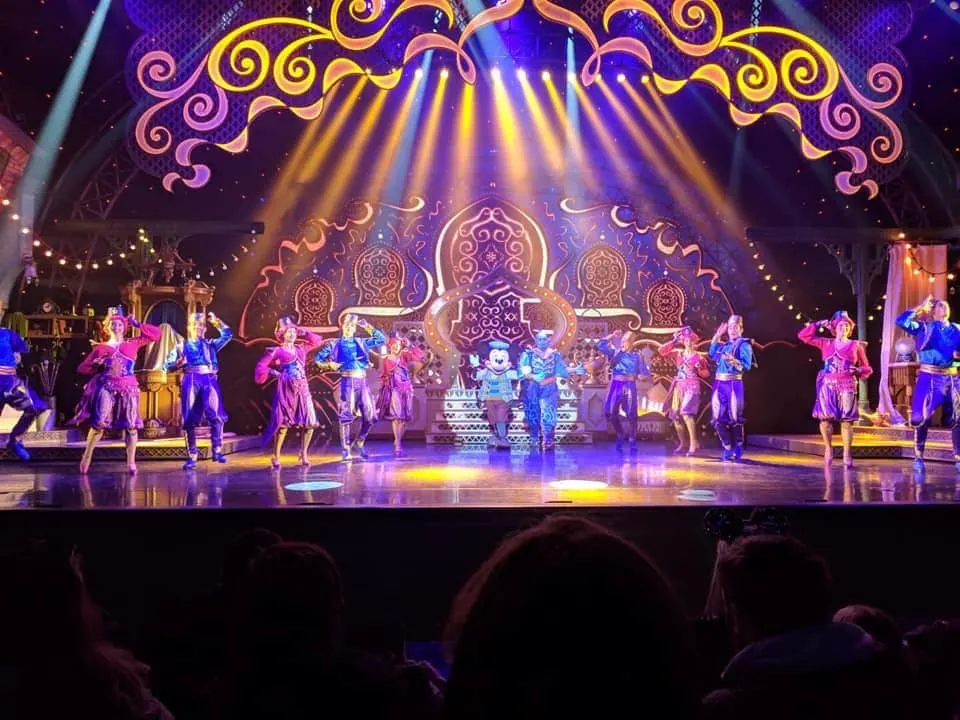 Take Advantage of Baby Centers
If your Toddler needs somewhere quiet to fall asleep or a moment to decompress before going back out in Disney World, visit a Baby Care Centre. There is one in every park, usually near the main hub, and they are chock-full of information, space, and supplies.
Ran out of diapers? No Problem. Need to heat up a bottle? Easy Peezy. Need to nurse baby to sleep without a ton of judging eyes peering at you? Never mind them, or visit a Baby Care Center and forget the drama.
Build-in Downtime
Whether it be a few minutes at the Baby Care Center, nap in the stroller, or heading back to the hotel after lunch, toddlers need a break. Not just physically, but mentally.
Toddlers, need time to process everything they have just seen and done. Without this, they are prone to overstimulation and a rough night ahead for everyone.
Follow us on Pinterest – we share the best Disney content (not just ours)
Packing with a toddler
Having everything your toddler needs within arms' reach is the best way to keep everyone happy. Packing the perfect park bag, bringing their own baby gear instead of renting it, and leaving their lovey in the hotel, is the best way to make sure they have everything they need.
I'm sorry, did you just say to leave their lovey in the hotel room?
Yes, ma'am, I did. I have seen too many stories of loveys found owner-less in the parks, or owners desperately looking for loveys before the children discovered they were missing, to think that bringing such special items into a crowded place like Disney is a good idea.
Our children have been taught from day 1 that special toys are to remain safe in the hotel room, so they can be there when they get back at the end of a long day. Sheldon (the Polar Bear) is making sure our room is safe and ready for use when we are back. Even a favorite blanket isn't safe unless it is zip-tied to the stroller with GPS geo-tracking technology sewen into it. And even then, I wouldn't risk it.
How many days to spend at Disneyland Paris?
How many days does it take to properly visit Disneyland Paris comes up a lot. For such a big park, it really doesn't take as long as you may think it does. Disneyland Paris tends to offer Buy 2 nights, get 2 nights, during their off-season promotions. Since we believe 2 nights, 3 days is the best way to experience Disneyland Paris, 2 for 4 is the best deal out there.
There are so many shows to see at Walt Disney Studios and the queues can start to get long in the afternoons, that I would say a full day is recommended. As for Disneyland Paris Park, you can easily spend 2 full days including all the parades, stage shows and character meals.

What to do about strollers?
Do you bring or rent a stroller? There is so much we can say about the pros and cons of bringing your own stroller. At the end of the day, it's about personal preference, hauling ability and budget.
Know that Disney stroller rentals are not designed for little ones. They are hard plastic, don't recline and have very little storage space.
Be sure to check out our Disney with a stroller main page
Transportation with toddlers
Using a stroller isn't nearly as difficult as it sounds. Unlike the American Parks, France does not require riders to fold strollers before entering a bus. It is courteous to do so, but not required. If you must use transit to get back to the hotel, go ahead and let your baby sleep.
This is also why we suggest staying onsite, at a hotel closer to the parks. While they technically offer transportation, the hotels are so close to the parks that there really is no reason to use them. Just walk.
What height requirements affect toddlers?
There are surprisingly very few rides, on the whole, that limit who can and can not ride. The Magic Kingdom, for example, only has 6 attractions with a height limitation.
Click here for more information on the height requirements for Disneyland Paris
How do I discipline while at Disneyland Paris?
With the heat, the crowds, sleep-inducing overstimulation, and the sheer lack of sitting, this uphill battle to keep the peace can be tedious but not impossible. Providing your kids with clear expectations and ramifications for poor behavior can make all your trips feel a little more magical and a lot less stressful for the whole Disney-loving family.
We have been several times with the kids and rules tend to be more relaxed; the amount of sugar they can eat, when they can eat it, and over all bedtime routines but poor behaviour and disrespect are not tolerated. Sure, overstimulation can lead to poor choices, but this is a clear sign that someone needs a break and center themselves.
For more detailed information on how we choose to deal with our children's behaviour at Disney and expert advice from fellow Disney parents, check out; Behaviour & Discipline With Kids at Disney
Let them have a choice (kinda)
Just like we did at Disneyland Paris on our final visit, it's a good idea to allow the children to have a SENSE of freedom and decision-making during the vacation. This isn't the same thing as actually having decision-making power.
Letting them pick which attraction to go to next when you have limited their choices to the 3 rides within their field of vision, is enough to make them feel like they are in control. This has a tendency of keeping them complacent when it is time for mum and dad to make choices.
Using Fast Pass+ with toddlers
Your fast pass strategy is going to differ from adult-only trips to toddler-included trips. But what to choose?
Most of the rides you will want to Fast Pass are going to be in Fantasyland, or thrill rides for when the kids are napping. If you have entered the Parks during Extra Magic Time, you should have completed the majority of this section by the time the general public is allowed in and this puts you far ahead of the crowd.
Check your Disneyland Paris app for Fastpass return times and send someone off to collect Fastpasses and rider switch cards for your party. Watch a parade, have a few snacks and wait patiently as your turn to ride comes along. Chances are, this is much faster than waiting in the standard queue.
It is possible to use Rider Switch with the Fastpass system. See the next point.
Rider Switch
If the members of the first group to ride have a FastPass+ for a particular attraction, they may enter the FastPass+ line. The adult waiting with the non-rider will be issued a Rider Switch entitlement card, allowing them to enter the FastPass+ line with up to two Guests.
Therefore, the members of the second group to ride do not need a FastPass+ to bypass the Standby line; the Rider Switch entitlement will gain them entrance to the FastPass+ line.
Solo rider line at Disneyland Paris
Traveling with kids doesn't exactly sound like it would be conducive to the single rider queue but I assure you that this is the perfect time to use it.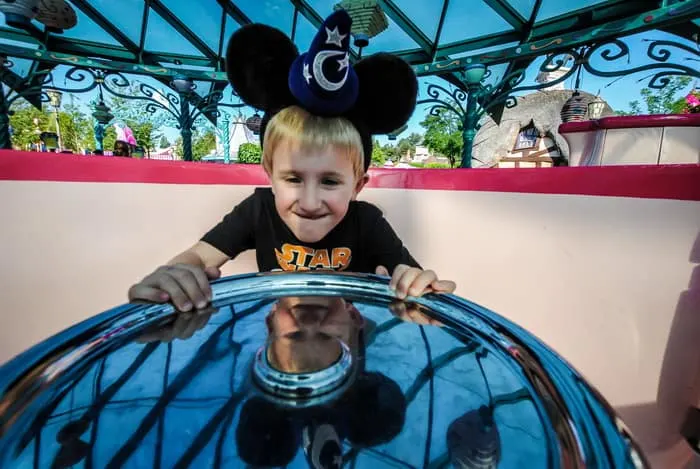 Dining at Disneyland Paris with Kids
The biggest disappointment for me at Disneyland Paris was the food. This is so ironic since the amusement park is located in the gastronomic capital of the world.
While you can't make Fastpass reservations in advance at Disneyland Paris, you can make advanced dining reservations. And we strongly advise you to. There are a handful of amazing table-service restaurants at Disneyland Paris and they do fill up quickly. When you are calling Disney directly to make your booking, ask them to book your dining reservations at the same time.
If you want to make dining reservations while at Disneyland Paris, you can stop by the restaurants. You can also pop into City Hall at Disneyland Park or Studio Services at Walt Disney Studios Park, where a cast member will let you know which restaurants have availability in the parks, hotels and Disney Village. Here are our choices for the best places to eat at Disneyland Paris;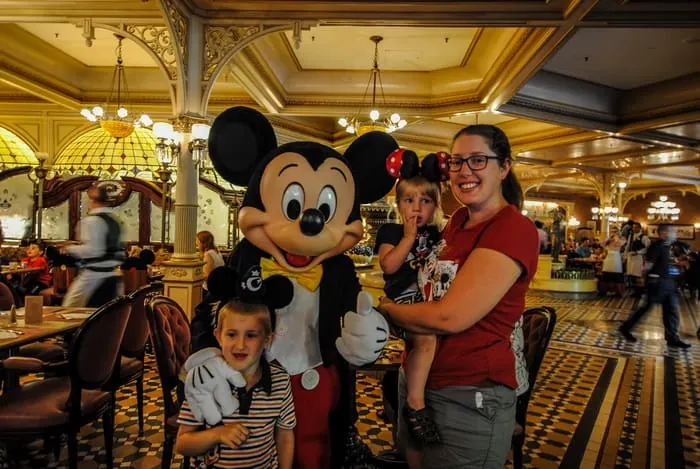 Best Disneyland Paris dining choices for toddlers
Walt Disney Studios
Restaurant en Coulisse
Bistrot Chez Rémy
Disneyland Park
Captain Jack's – Restaurant des Pirates
Pizzeria Bella Notte
Auberge de Cendrillon
Cafe Hyperion
Plaza Gardens
Cowboy Cookhouse BBQ
Disney Village
Buffalo Bills Wild West Show
Rainforest café
Best Rides At Disneyland Paris With Kids
It's easy to see the laundry list of rides that your kids can't or probably won't want to ride and think that Disneyland Paris really isn't mean for children. But, there is a lot that little ones can do so here is a shortlist of which are the best Disneyland Paris Rides for Kids
Best Rides For Young Kids in Disneyland Paris – Disney Park Rides
Fantasyland Rides for Kids
Peter Pan's Flight
It's A Small World
Les Voyages de Pinocchio
Dumbo the Flying Elephant
Mad Hatters Tea Cups
Le Carrousel de Lancelot
Casey Junior – Le Petit Train du Cirque
Alice's Labyrinth
Blanche-Neige et les Sept Nains (Snow White)
Discoveryland Rides for Kids
Buzz Lightyear Laser Blaster
Orbitron
Autopia
Adventureland and Frontierland Rides for Kid
Pirates of the Caribbean
Thunder Mesa Riverboat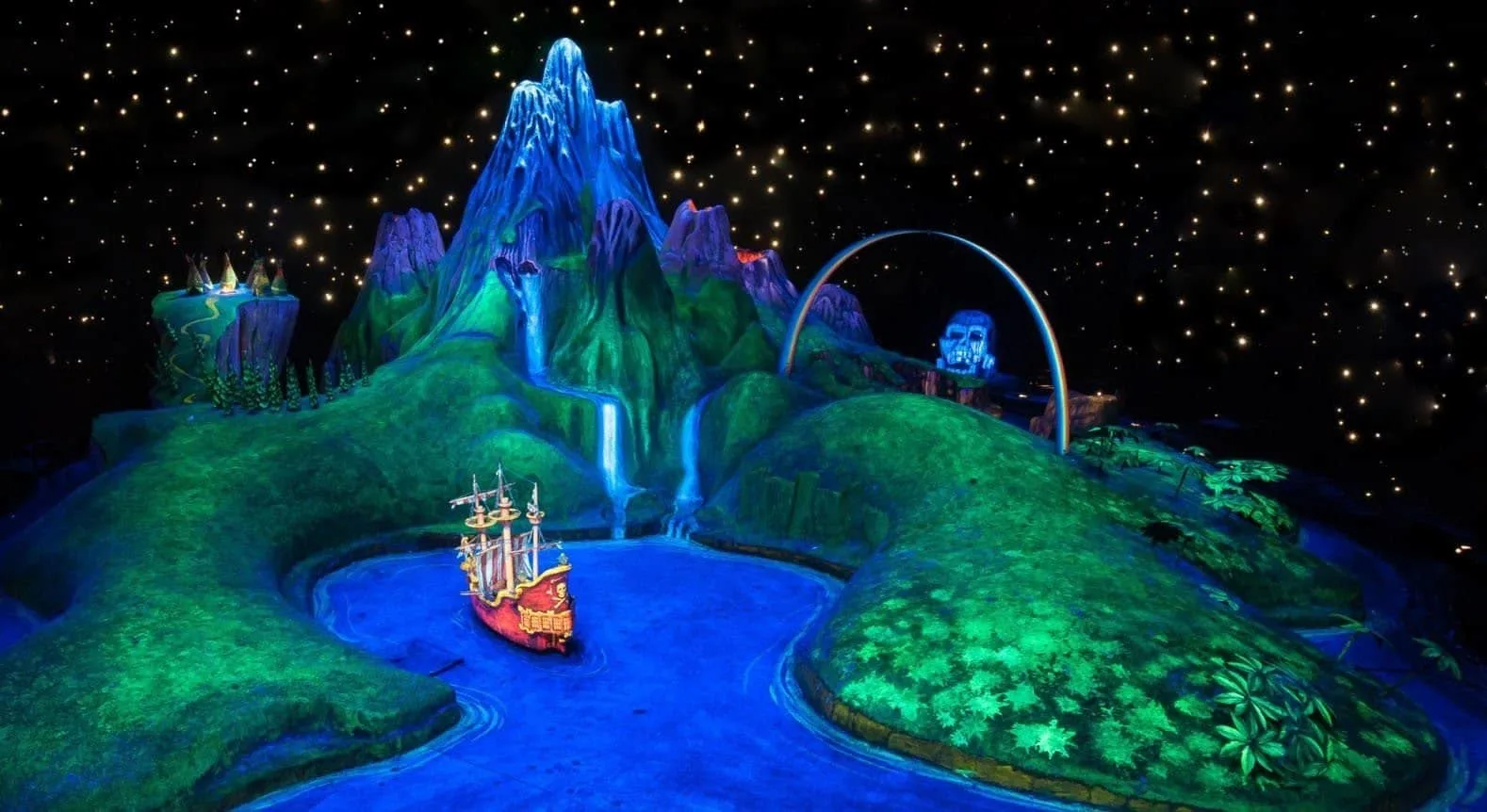 Best Rides For Young Kids in Disneyland Paris – Walt Disney Studios
Toon Studio Rides for Kids
Ratatouille: The Adventure
Cars Quartre Roues Rallye
Slinky Dog Zigzag Spin
Disneyland Paris stage shows for kids
Aside from the evening spectaculars, which are a must for any Disneyland Paris guest, there are a handful of stage shows throughout the day that are great for kids. These are terrific if the kids are getting tired, overwhelmed, too hot (or too cold), or the weather just isn't cooperating.
They are held several times per day, fast passes and reservations can't be made in advance so there will be a small queue before the show starts but it is all worth it.
Mickey's PhilharMagic
Disney Junior Live on Stage!
Mickey and the Magician
Stitch Live!
The Lion King: Rhythms of the Pride Lands
Moteurs… Action! Stunt Show Spectacular
Playgrounds for toddlers to play at Disneyland Paris, where the toddlers can run around…
And if all else fails, there is always a playground. Let the kids have a run about before nap time to really get that energy out. Waiting in queues and sitting in shows while stuffing your face with Mickey Ice Creams and popcorn will only last so long.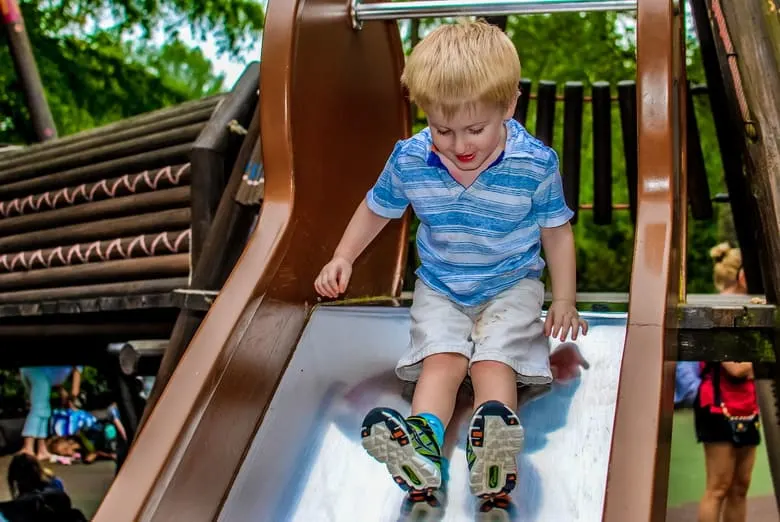 In Disneyland park
Adventure Isle
Captain Hook Boat
The Swiss Family Treehouse
Aladdin's enchanted passage
Pocahontas Indien Village
Sleeping Beauty Castle
In Walt Disney studios park
Toy Story playland
Water misters throughout the Park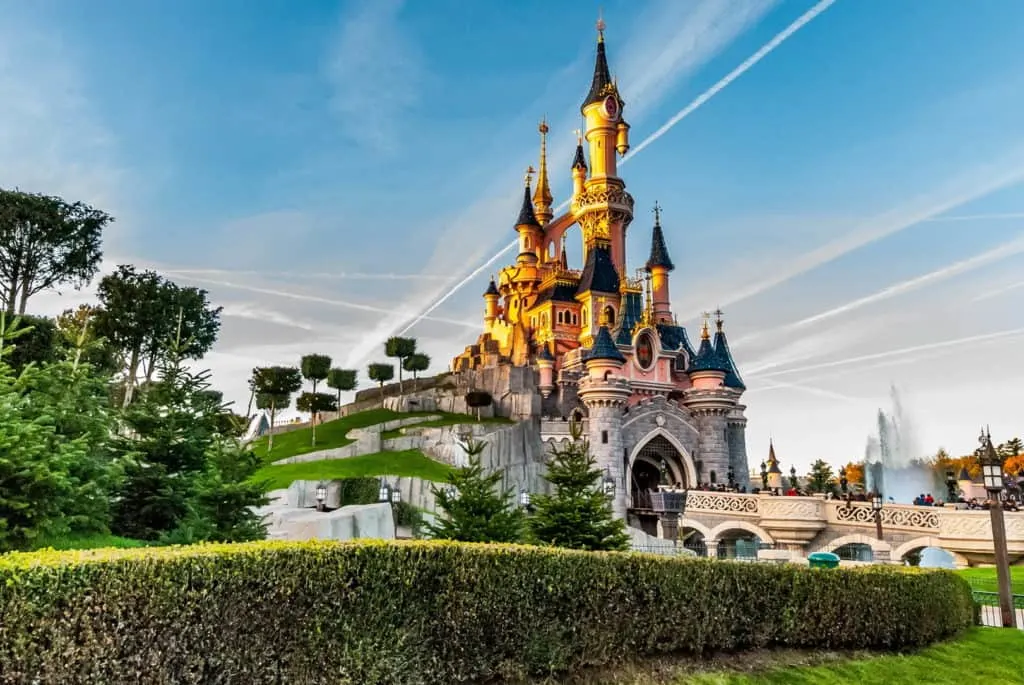 How to Get to Disneyland Paris with Kids
Disneyland Paris is located about 40 minutes outside the city in the suburbs of Paris. Thankfully, this amusement park is easily accessible by RER train.
Your Thoughts...
Please share your thoughts in the comments or reach out on social media...We would love to hear from you.
Follow Mouse Travel Matters for Disney Parks news, the latest info and park insights, follow MTM on Twitter, Facebook, and Instagram.
You May Also Like…
We'll share more Disney tips in our next posts. Subscribe to our newsletter to stay in the know.