Last Updated on May 11, 2022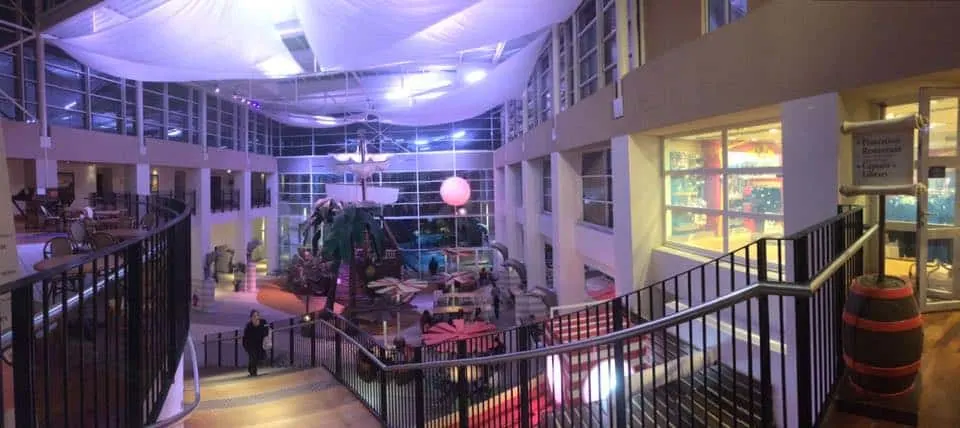 We recently stayed at the Algonquin's Explorers Hotel one of the many off-site Disneyland Paris hotels with access to free shuttle services to the parks. During last-minute plan changes to our Normandy Road trip Not Disney, we discovered our route passed directly inline with Disneyland Paris and were scheduled to spend the night just one hour on the other side of the park. We knew then and now that we had to edit our whole itinerary and stop for 2 days at the parks to experience Disneyland Paris during Halloween. Explorers Hotel was the last hotel in a string of accommodations on our 10-day adventure.
Algonquin's Explorers Hotel Review | My Experience
Check-in
While driving the 400 km from our hotel in Nantes to Disneyland Paris, we soon realized traffic was not on our side. Instead of just shy of 4 hours, it took us almost 6 hours to arrive at the Explorers Hotel. Upon check-in, we learned that many of the staff were stuck in traffic and so many rooms were not prepared for early arriving guests. Check in normally begins at 3 pm, and we were not given a key until almost 5 pm.
Room selection
Booking.com can be a bit of a pain when trying to schedule families with small children. We always click on 2 adults and 2 children. The suggestions we often get are for 2 or 3 adults, plus a baby bed. Baby Girl needs a Baby bed so that works; Munchkin needs a normal bed so being classified as an adult sort of works for us. Other times, it says no additional beds can fit in the room – either due to size or fire-safety regulations. This is just a quirk we have learned to navigate over the years. This time, we were offered a family room with a set of bunk-beds, or a double room with a pull-out couch. The photos on Booking.com were not helpful, the photos on the hotels' website also were not helpful, and their telephone service was horrific. So we went to the cheaper, smaller room. Regardless of what we got, we would make it work. This was our last-minute-budget-hotel and didn't want to pay extra for just 5 ft of extra space.
Phone Service
As I stated previously, I called to ask their advice about there room sizes, I was sure they would have the answer!
1 – I was placed on hold, then hung up on.
2 – I was allowed to ring for 5 minutes before I hung up to dial a third time.
3 – I was answered immediately, but they never said anything to me. The receiver was up, I could hear the conversations around the phone, and no one actually spoke to me. I could hear the background conversation but no please hold. Just forgotten.
There is a chance they just didn't want to hear the phone ring anymore. I yelled into the phone, I pressed numbers, nothing got their attention. After 30 minutes of the phone receiver sitting on the desk, I hung up and tried again. Their line was closed for the night.
I booked the cheaper room and made a note of my needs so they could contact me if need be. I have had to be upgraded before at another hotel when the room I booked was not large enough for the group I indicated on the reservation. This is why I make notes when booking and provide them with a phone number and email address. Even if I had to pay for the upgrade, I want to be prepared.
Room size
The double room with sofa bed was great. It even had a closet for the stroller, coats, and luggage. I had repacked our suitcases in the parking lot so we only brought in what was required for the 3 nights. Once the baby bed was placed between the double bed and the sofa bed, there wasn't much room left to run around. It took ages for someone to help us open the sofa bed; there is a hidden/secret latch that we couldn't figure out. They claimed it was because room service was finished for the night, yet no one had called to ask if I needed turn-down service or even suggested that I might need it. When they came, they said the latch was there so guests don't do it on their own. So I can't do it alone and the only people who can make my bed don't work during bedtime – makes sense!
The coffee table was also in the way, probably because it was supposed to go beside the sofa bed where the baby bed was currently placed. The gentleman refused to take the coffee table away, saying all furniture must remain in the room at all times. So we placed it in the tub. I can't imagine the look on the housekeepers face when they did our room the next morning.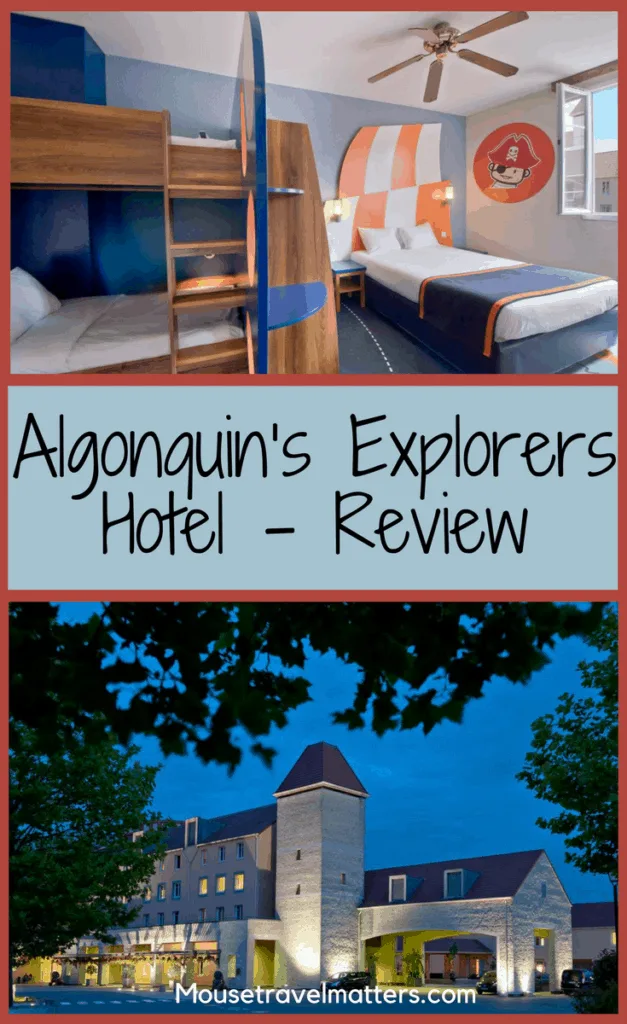 Restaurants
There are two restaurants on the lower level – next to the pool, arcade, and indoor pirate ship. They are only open from 5 pm-11 pm. This is a very inconvenient time since the parks close at 10 pm and it takes about that long to get onto the bus. We arrived at the hotel around 11:15 pm and not even the gift shop was left open for snacks.
Included in the price of the hotel, was a free breakfast. We left our room, went to the lower level, and lined up. They offered a range of cereal, bread, cold meats, cheese and yogurt, eggs, and bacon/sausage. It wasn't anything fancy but it was the traditional European breakfast buffet we had become accustomed to. The spread was always full, the employees were quick to seat us and clean up after other guests, it was a great breakfast. Until I found plate after plate of dirty dishes.
I'm not sure what was going on in the kitchen during our Disney week. We found at breakfast, lunch, and dinner that there were dirty dishes in the clean pile
Pool Policy
It was very difficult to find, even after I knew what to look for, let alone beforehand as a casual user of their site. The pool policy that I am referring to is the French public pool policy for hygiene. They are concerned that any outfit that can be worn outside of the pool area, like trunks, shorts, or a t-shirt (because we were all that body-conscious 12-year-old girl at one point), has to potential to track in dirt.
Therefore, only Lycra materials such as the ones by Speedo will be allowed into the pool. As non-French guests, we had no idea this was a rule. We were forced to buy Speedos from the vending machine at a whopping 9 euros each. Best believe those are staying in the suitcase for any future traveling mishaps – and rent the towels from the front desk. Outside towels are allowed, hotel room white towels are not – only hotel blue pool towels at 2 euro per towel (but you can keep the towel until the end of your stay).
I wasn't upset that they had the policy; that's fine. Their policy is valid. What I was upset about was the lack of knowledge. They told us like we should have known. How am I supposed to know I need to Google France pool policy swimwear – I get this great aid when I do though. When I found the pool on their website, there were no links or information squares beside it – it just said I had access to it. Same with booking.com. I have just looked and it is way at the bottom, in the Fine Print section, passed the payment options box. Maybe this is all on me, I don't know, but I rarely look that far down the page. I expect those kinds of details to be placed further up; given more priority.
Pool
Honestly, the pool is the whole reason we booked this hotel. It is a giant pirate ship with several water slides. Although, the slides and the ship say not for anyone under age 6, even with parental supervision… my son was 4.5 and we let him on the ship we were not alone in our decision. The water slides were crazy fast and steep, even hubby was surprised some of these kids were going on them. We have been spoiled with German heated pools and this was a little on the chilly side, but it was good fun nonetheless.

Bus
I would say don't take the bus but this is really the only way to the parks unless you want to drive. Parking is free, though, if the bus isn't an option. Only a select few Disney Hotels (the expensive few) are within walking distance to the parks. All others and all off-site hotels require the use of a Disney shuttle. Some shuttle rides are worst than others, like the last hotel on the route is always full before arriving at your hotel.
Algonquin's Explorers Hotel is amazingly located, in that it is the first to board and disembark. I didn't know this when booking but was a great surprise. This meant we did not have to wait for several buses to pass by before one was able to accommodate us (think Peak-times at Walt Disney World), and if the bus was jam-packed on the way home, it was only for 5/10 minutes then we were free of it. Now, this has nothing to do with the hotel itself, but the hotel is on this bus route. The Disney Shuttle is garbage. I hated every moment of it.
In Walt Disney World, they had formal queues, with ropes and lines and it was organized. Disneyland Paris bus station was a mob scene. Offensive. It didn't matter that I was holding a baby and Munchkin was passed out in the stroller, it didn't matter that we were at the head of the line. Where ever those bus doors landed, it was pushing and shoving to the point where guests were almost hit by the bus (on several occasions) because they were too impatient.
The buses were running every 5-10 minutes so it wasn't necessary to be so aggressive. We managed to get on the third bus; a set of teachers and their class were on a field trip and the teachers demanded the kids move over and allow us to enter the bus before them – but as such a large group, no one else was making it passed the human-shield either.
Younger riders refused to let me sit, even though they could see me struggling to stand with the baby in my arms. Another night, Munchkin was awake and so I sat down on the bus and a middle-aged woman pushed him out of the way to sit next to me. I speak enough French to give her a piece of my mind and shame her into moving. Munchkin sat. Then she proceeded to cuss me to her friends. I'm glad my kids don't understand French.
I have asked several other guests since our vacation, and they have all had similar experiences. In the future, if we stay at Algonquin's Explorers Hotel again, we plan on driving to the parks.
Final Thoughts
At the end of the day, we paid 300 euros for 3 nights at Algonquin's Explorers Hotel, and that included breakfast, so the price point was excellent. The location was also a plus. We clearly did not have the greatest of times. I think back sometimes and wonder if maybe I wasn't seeing clearly because we were so tired from 8 days of exploring Normandy, or had little patience because the kids were exhausted from exploring Normandy for 8 days, but then I think of why I disliked the experience and it becomes more clear that exhaustion didn't play much of a factor.
The room was too small, which could have been avoided through better customer service via the phone, unfortunately, the hotel was fully booked so we were unable to upgrade our room at the time of check-in. The Customer service was disappointing and the cleanliness issue at breakfast was not cool.
We have stayed at our fair share of hotels in the last 3 years in Europe and there are some that can get away with little mishaps (60 euro a night dives in Brussels, for example), but a hotel servicing Disneyland Paris? I expected more from Algonquin's Explorers Hotel, with its position next to Disneyland Paris.
Your Thoughts...
Please share your thoughts in the comments or reach out on social media...We would love to hear from you.
Follow Mouse Travel Matters for Disney Parks news, the latest info and park insights, follow MTM on Twitter, Facebook, and Instagram.
You May Also Like…