Last Updated on May 11, 2022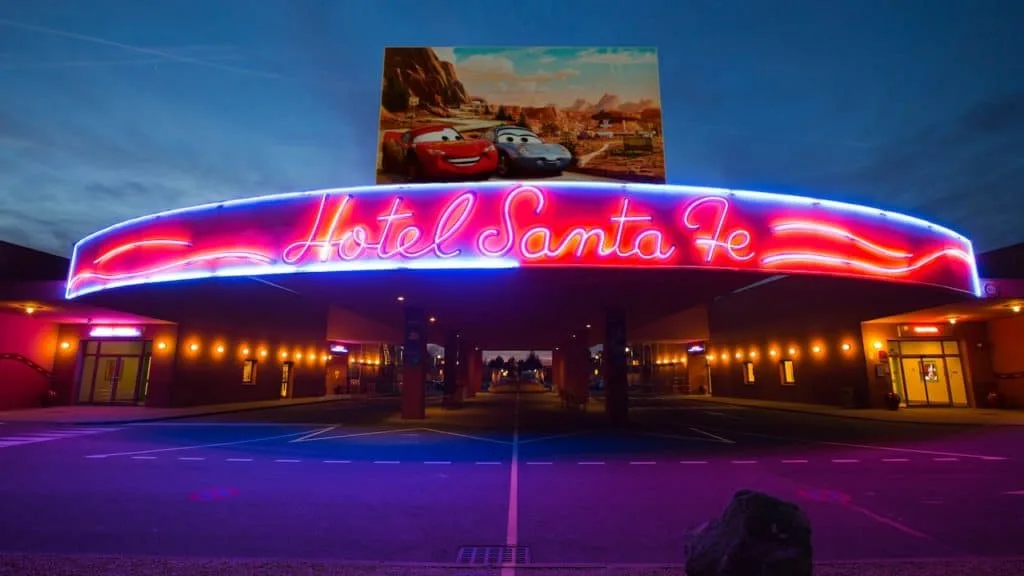 Disney's Hotel Santa Fe – Does Budget have to mean Basic?
Disney's Hotel Santa Fe is the cheapest accommodation currently available on-site at Disneyland Paris. As the cheaper of the two 2* Disney Hotels available, it is fair to say that Santa Fe is a great budget option for those still hoping to enjoy the Disney Magic.
"Discover this oasis of comfort on Route 66, where a Santa Fe-themed Hotel delivers classic Disney value and hospitality."
As a Disney Hotel guest, you are able to enjoy all of the luxuries that come with this VIP status including Extra Magic Hours, Free Complimentary Shuttle Buses to the Parks, Character Meet 'n' Greets in your Hotel foyer and Mickey toiletries supplied in your Bathroom, despite this being a value option!
We stayed at Santa Fe for four nights and five days during our recent Disneyland Paris trip; here is what we found…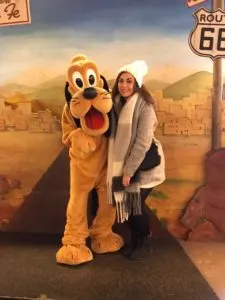 Check-In
Having stayed at some of Disneyland Paris' more luxurious offerings in the past, I was slightly concerned by the somewhat 'manic' vibe often noted with regards to the more budget-friendly Disney Hotels. Unfortunately, Check-In at Disney's Hotel Santa Fe was exactly as I had feared…
We arrived at around 11 am and were met with a very long queue of people waiting to Check-In. The Check-In process took around 20-30 minutes in total and was quite disorganized and stressful. Fortunately, once we had checked in, we were advised that despite being early, our room was ready so we could drop off our bags before entering the Parks.
Usually, you can check-in at any time but rooms may not be ready until 3 pm so this was a lovely surprise for us.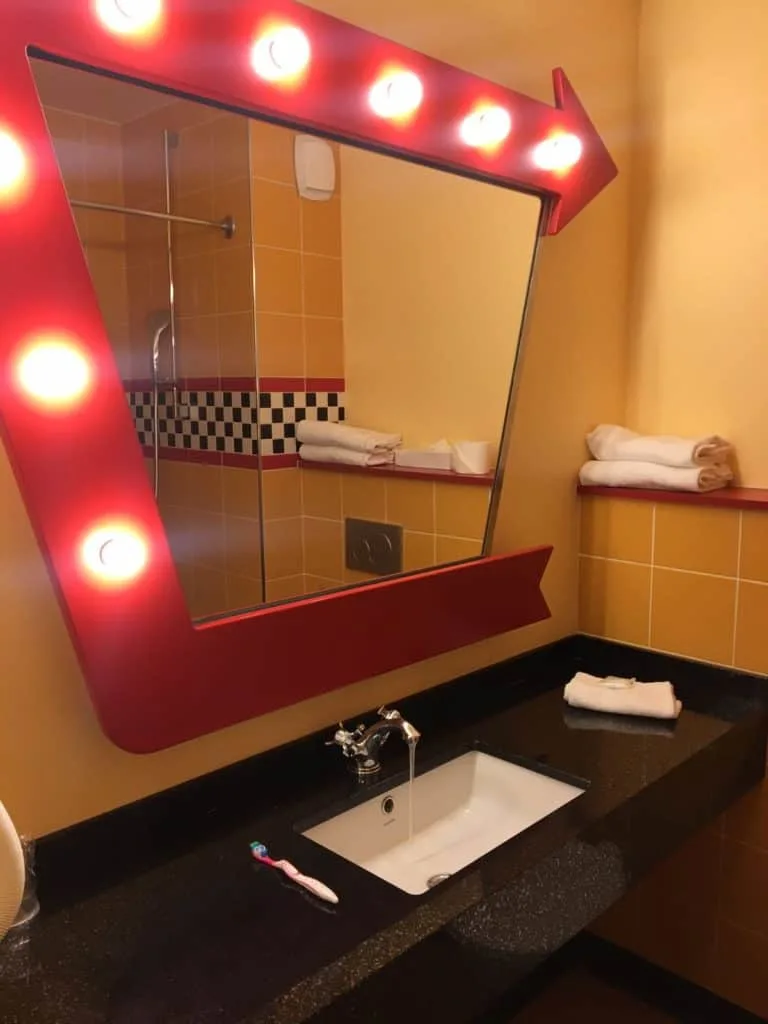 Disney's Hotel Cheyenne has recently been refurbished. What are the rooms like at Santa Fe?
From my experience, the rooms at Disney's Hotel Santa Fe are probably the most redeeming quality of the Hotel. Santa Fe was renovated in 2013 and now hosts a prominent Cars theme, in line with the Disney Pixar franchise. This is a welcome addition to the bedrooms which feature quirky nods to the popular movies in the way of featuring favorite characters and props often associated with racing.
The bedrooms are spacious and cleaned daily, with complimentary Mickey Mouse Toiletries replenished regularly also. The only negative point that I do have regarding the rooms was our shower…
I didn't think that there could be such a thing as a shower that was too powerful but I met my match in the bathroom of Room 118! The shower was very powerful and also, a little indecisive when it came to what temperature it wanted to be! I'm not sure if we got unlucky with our room or if this is the case throughout the Hotel but it is worth noting.

Was there anything that could have been improved at Santa Fe?
Despite the refurbishments five years ago, the corridors and communal areas are in need of refreshment. These areas are very dated and could do with a lick of paint! The Cars theming does lift the Hotel a little however, it feels somewhat half-baked and not fully realized as a concept.
There is no doubt about it that Disney's Hotel Santa Fe is very much a two-star, value hotel; you really do get what you pay for! But that said, if you are doing Disney on a budget, this is a perfectly acceptable place to stay whilst still incorporating some of the additional Disney benefits. Not only do you get all of the great benefits highlighted at the beginning of this post but you are also only a short 15-minute stroll to the parks so the location is great!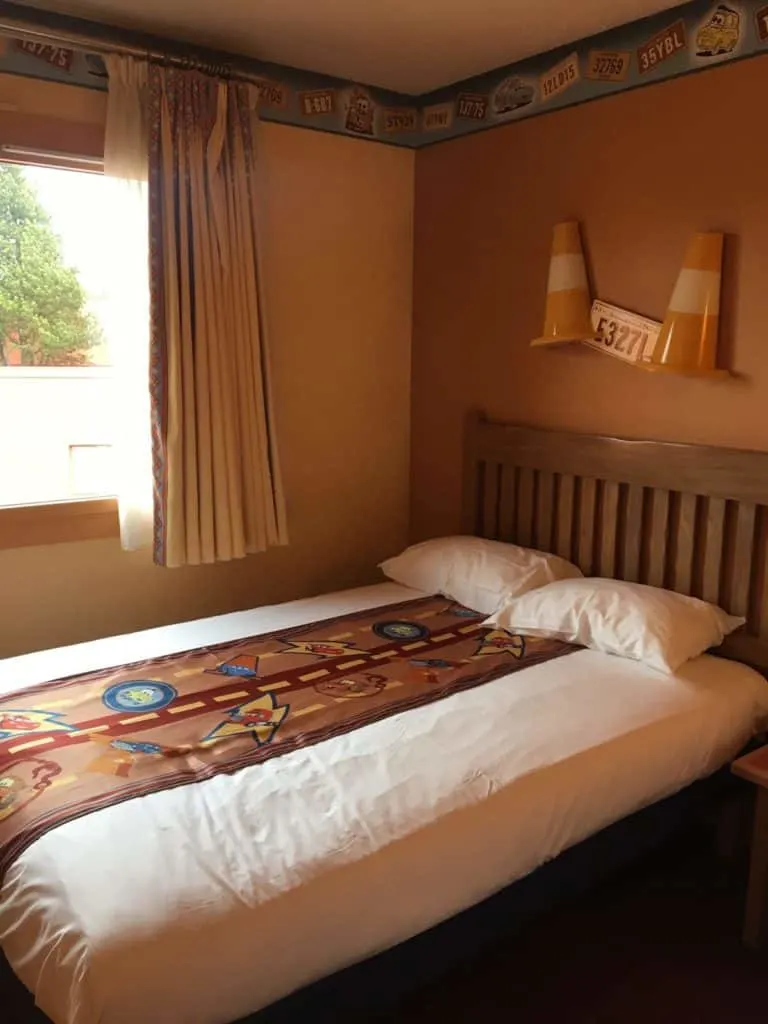 What else is included in Santa Fe? Do they charge extra for Breakfast?
Unfortunately, Disneyland Paris has now ended its free buffet breakfast options at their Hotels, changing instead to a Meal Plan system which works similarly to that in Walt Disney World.
We opted for the Half Board Plus Meal Plan during our stay which included a buffet breakfast at Santa Fe each day of our stay.
The breakfast is 'okay' however, I would not pay the on-the-door price for it. Unless you are dining as part of a Meal Plan or you have Breakfast included for free in your package, I would steer clear of the Santa Fe Breakfast. It is very basic, comprising of a limiting selection of bread, hams, cheeses, cereals, and yogurt.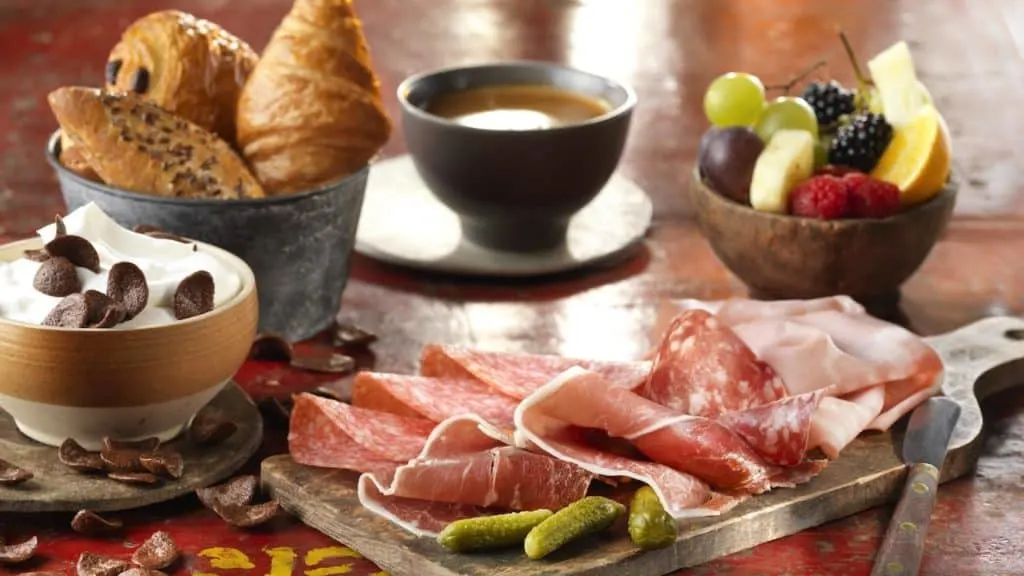 I pretty much just ate croissants with ham and cheese throughout the trip!
Overall, we did have a pleasant stay at Disney's Hotel Santa Fe however, I didn't really feel that it added any extra magic sparkle that is to be expected with a stay at a Disney Hotel, despite the complimentary benefits.
For future stays, I will be checking out off-site accommodation for budget stays as, despite this being a cheaper option, it was still far from a cheap trip!
This post was written by…
Mercedes of MyDisneyBlog.co.uk
Your Thoughts...
Please share your thoughts in the comments or reach out on social media...We would love to hear from you.
Follow Mouse Travel Matters for Disney Parks news, the latest info and park insights, follow MTM on Twitter, Facebook, and Instagram.
You May Also Like…
12 Things You Should Never do at Disney
2018 Disneyland Paris Trip Planning Guide
Algonquin's Explorers Hotel Review
How to Pack the Perfect Disney Park Bag Ever!