Last Updated on May 23, 2019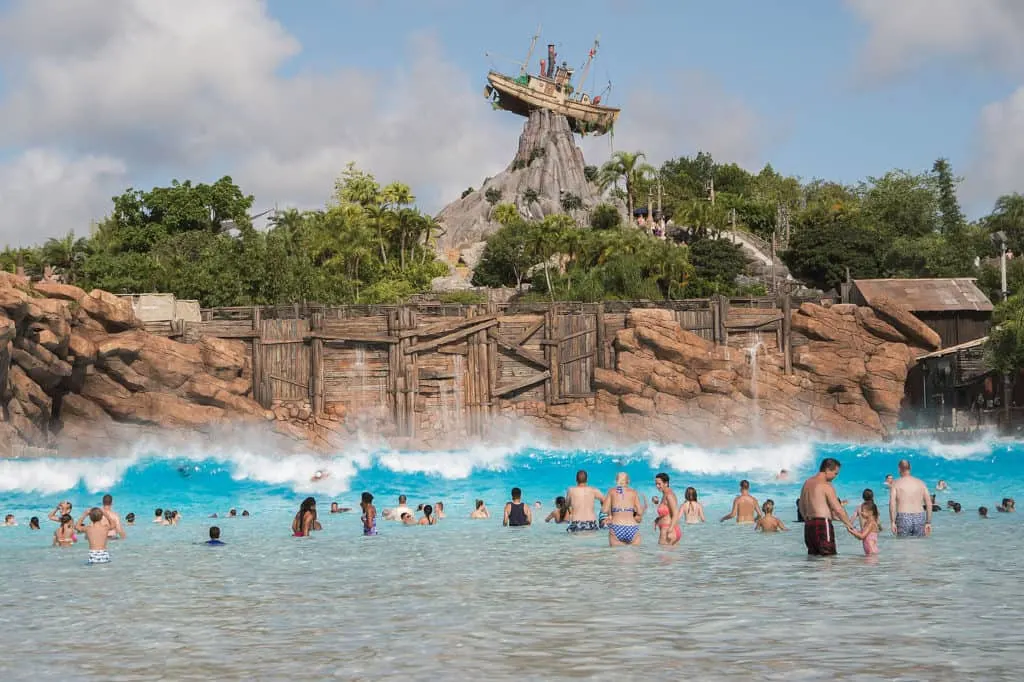 Typhoon Lagoon is one of 2 Disney-owned water parks at the Walt Disney World Resort in Florida.
But, just like the theme parks, a little advanced planning can help you minimize your waits and maximize your experience, and we have the tips and resources to help you do just that.
This post may contain affiliate links.
To which I earn a small commission, at zero cost to you!
Find more info in our
Privacy Policy
.
Typhoon Lagoon backstory
The theme of Typhoon Lagoon's 56 acres is that of a wrecked tropical paradise. A massive typhoon ripped through a tropical paradise and wreaked havoc. During the intense storm, a shrimp boat named Miss Tilly was impaled upon a huge mountain, Mount MayDay. And there she is to this day. Every half hour the mountain erupts in a 50 ft geyser of water.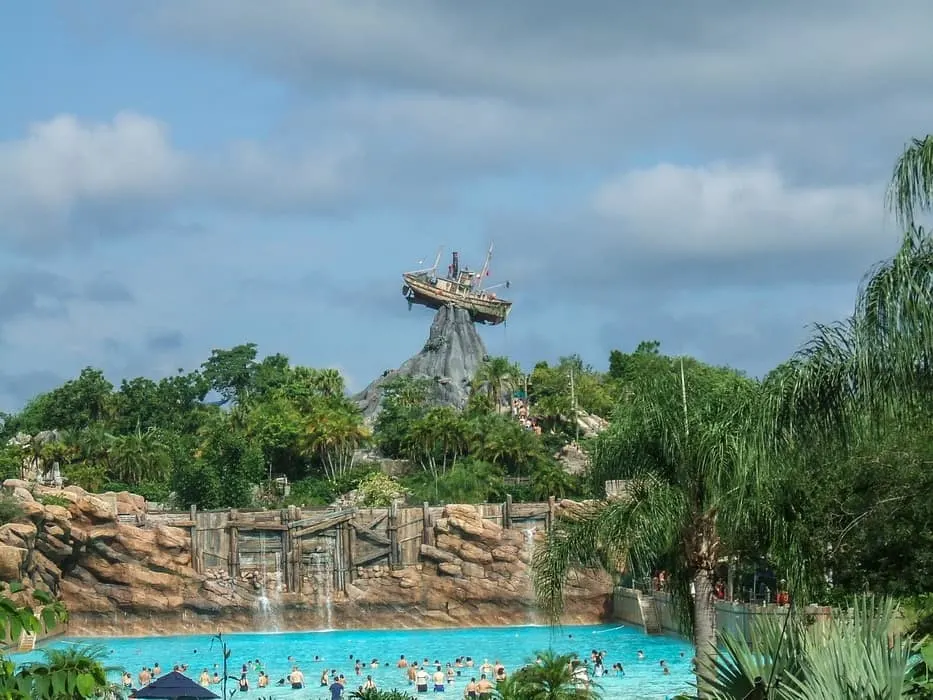 TYPHOON LAGOON MAP
Want a map you can download? Check out a PDF of the Typhoon Lagoon map.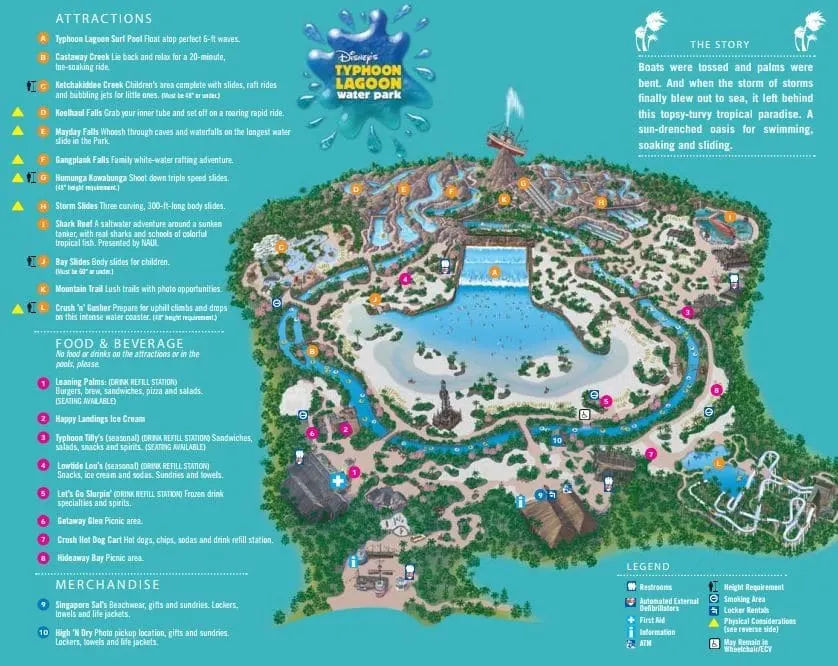 Attractions at Typhoon Lagoon
[thrive_text_block color="teal" headline=""]Note: Even though lots of the slides may not have a height requirement, it is important to know that some empty into water that can be quite deep and anybody riding a slide that requires the use of a raft must be able to hang onto their raft independently (you can't hold your child on your lap, for example). [/thrive_text_block]
Here are 11 rides for guests to beat the heat and enjoy Typhoon Lagoon.
Did you catch that one… pronounced Catch a kiddie. So clever these guys. Ketchakiddee Creek is a water playground adjacent to Mt. Mayday. Geysers, fountains, bubblers, slides, three interactive boats, and a pint-sized white-water rafting adventure cater to young children and families.
Experience the drama of 6-foot swells at North America's largest wave pool and the water park's signature attraction. At Disney's Typhoon Lagoon Surf Pool, the surf's up all day long for big kids, teens and adults. With a continuous stream of swells, you're sure to catch a gnarly wave! See the chalkboard near the edge of the beach for the day's wave schedule.
Just on the opposite side of the surfing lagoon is Crush 'n' Gusher, a water coaster thrill ride weaving among the washed-out remains of a dilapidated fruit packing plant. Three out-of-control wash spillways with streams of gushing water propel the most daring of raft riders on an extreme gravity-defying adventure that leads to the tranquil waters of Hideaway Bay.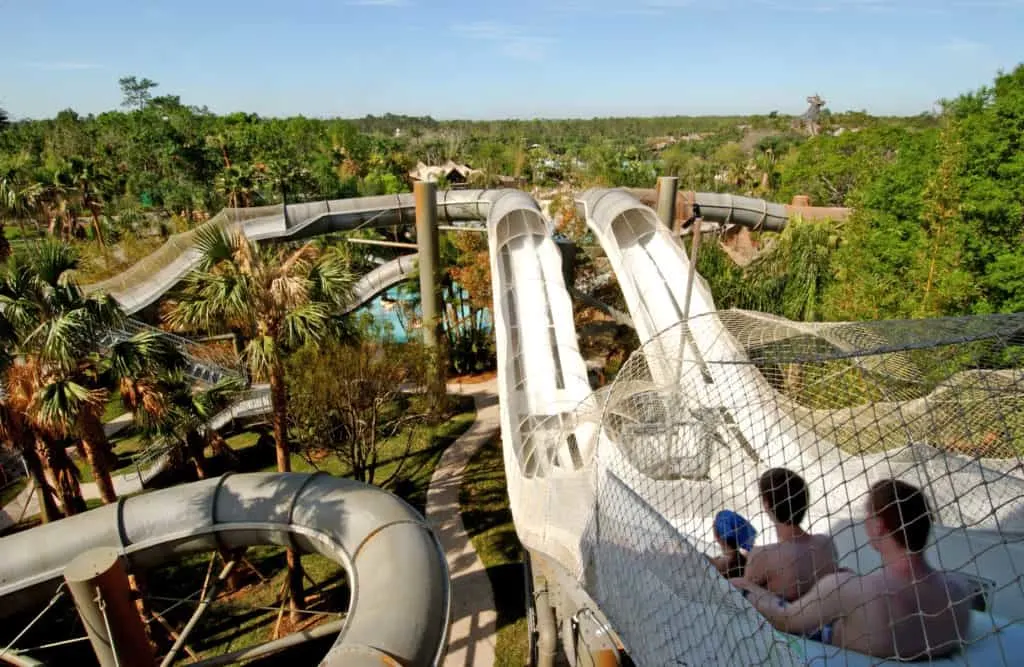 Children under 5 feet tall can join the fun on these beginner waterslides; mini versions of the thrilling Storm Slides. Even kids who aren't the most daring can get their feet wet on one of 2 pint-sized slides. Toddlers and little kids will enjoy the excitement of these gently curving downhill slopes and, of course, the final splash!
Gangplank Falls enables families to ride together on three- to five-passenger rafts. Get swept away by rushing rapids down a 300-foot-long waterslide. One of 3 Falls raft rides that include Keelhaul Falls and Mayday Falls, Gang Plank Falls is the medium-intensity ride.
Keelhaul Falls boasts a triple vortex that literally adds new "twists" to riding the rapids. Feel the force of whitewater rapids as you rush along a course lined with boulders and palm trees.
Storm Slides, consisting of three curving body slides called Rudder Buster, Stern Burner and Jib Jammer, takes guests past assorted nautical flotsam before depositing them into a pool at the bottom of the mountain.
Circling the lagoon is Castaway Creek, a meandering, 2,100-foot stream. Guests of all ages hop onto inner tubes for a relaxing tour that takes them through a misty rain forest and a hidden grotto, providing a spectacular view of Typhoon Lagoon and its many activities.
Miss Adventure Falls is a new family raft attraction taking guests of all ages a fast-paced waterslide journey at Disney's Typhoon Lagoon Water Park.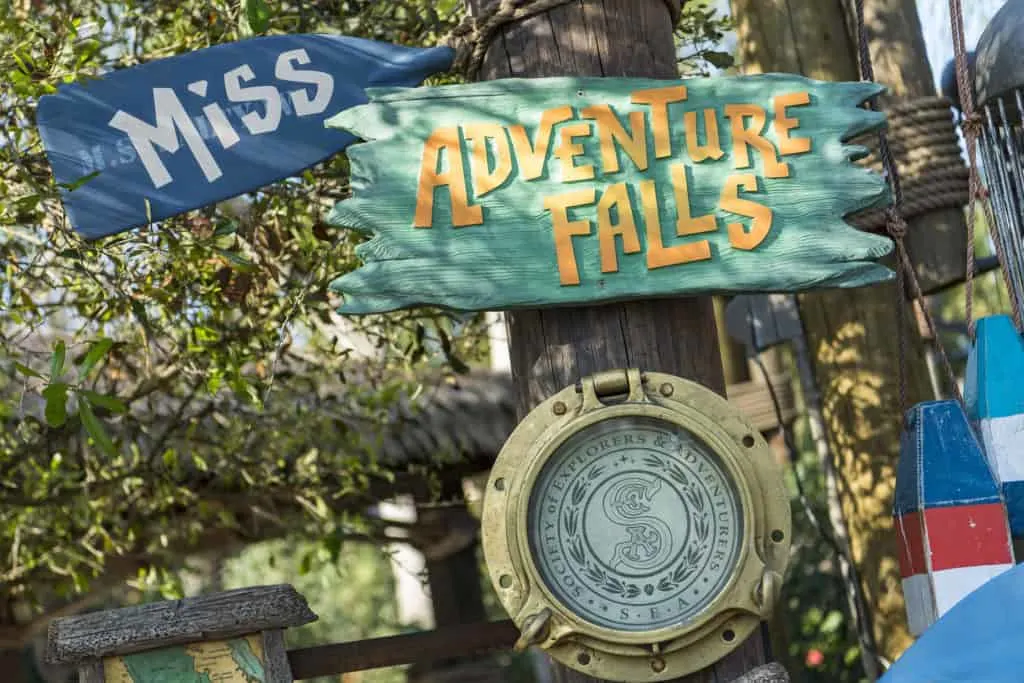 Plummet down Mount Mayday for a near-vertical, 5-story drop—in the dark! Humunga Kowabunga's three water slides drop guests down the mountain and through rocky caverns at speeds up to 30 mph.
Mayday Falls provides guests with a white-water experience. Swerve through caves, under bridges and past thundering waterfalls—this one's a rush!
Don't forget to eat at Leaning Palm, and grab an ice cream pail at Happy Landings.
Typhoon Lagoon Attraction Height Requirements
There are a few attractions at Typhoon Lagoon that require the rider to reach a certain height limit in order to access. There are others, however, that require guests to be small enough. The children's areas are specially meant for little ones and their parents to play, without being crowded by overzealous big kids.
Bay Slides – Must Be Under 60″
Ketchakiddee Creek – Must Be Under 48″ (122cm)
Crush 'n' Gusher – 48″ (122cm)
Humunga Kowabunga – 48″ (122cm)
Keel Haul Falls – 48″ (122cm)
Mayday Falls – 48″ (122cm)
Storm Slides – 48″ (122cm)
Typhoon Lagoon Eateries and Restaurants
Note: Not all restaurants or huts accept Dining Plan credits. Check online or ask before ordering just to be sure.
Drift by for root beer floats, sundaes and other treats at this hut tucked beside Castaway Creek. Or grab a "shovel" and dig into a Sand Pail—2 kinds of soft-serve topped with a waffle cone and cookie pieces, hot fudge, sprinkles and more!
Leaning toward a quick bite and a beer? Look no further than Leaning Palms. Their assorted menu carries Angus burgers, chicken nuggets, pizza, hot dogs, sandwiches, salads and wraps! Grab a few beverages while you are there, including a featured ale and wine.
This bar on the beach is the place to be to relax and unwind. Try their signature drinks, the rum-based Miss Tilly or the strawberry margarita, made with Herradura Reposado Tequila.
Grab a quick snack at this seasonal food hut; a selection of wraps and sandwiches, each served with chips. The bar is also open, with everyone's favourite beer, wine and frozen cocktails.
After making waves in the Typhoon Lagoon Surf Pool, hang 10 over to this walk-up window for some on-the-go grub—like sandwiches, salads and more—or tasty sweets and ice cream treats. Adults can even chill out with a frozen alcoholic beverage!
Typhoon Tilly's (seasonal)
Steer your crew toward this shipwreck-inspired eatery to find featured items like fried shrimp, fish baskets, BBQ pork sandwiches and chicken wraps.
Typhoon Lagoon Lounge Area
Find a shady spot early; rent a "Beachcomber Shacks" cabana. The cabanas are located by the wave pool, towards the middle.
Reservations are only taken for future days at 407-WDW-PLAY. Payment is made at the time of reservation, but it may be cancelled without penalty up to the time of Park opening on the day it is reserved for. Cabanas can be reserved 6 months in advance. Without a reservation, cabanas (and umbrella stations) are on a first-come, first serve basis only. Reservations cannot be made on the day of use as the cabanas are prepaid; they will be held during the entire day if the renter does not show up.
Infants (children under three) do not count against the limits. A few additional guests (usually children) will be allowed but there is a charge of $25 each which must be paid for the special wristbands. This charge adds additional water, refillable mugs, towels, etc. Normally the number of additional guests cannot exceed four people.
If you have a cabana (as opposed to special umbrella) there is an attendant who will refill your mugs and purchase food for you, but you have to pay for the food (this only means you don't have to stand in line).
Getaway Glen Umbrellas
While renting an umbrella and a couple of lounge chairs doesn't sound as much fun as being waited on all day in a cabana, the price is right when it comes to securing some shade and a relaxing place to leave your gear.
2 lounge chairs
2 beach chairs (half the size of the lounge chairs)
a small table
a beach umbrella in a reserved section
4 towel rentals
The current price for a Typhoon Lagoon Beachcomber Shack is $345.06, and Getaway Glen Umbrellas are $58.58 (prices include tax).
The Cost to Rent Towels at Typhoon Lagoon
On-site Disney Resort guests: Free for resort guests
Offsite guests: $2 per towel
Does Typhoon Lagoon have lockers?
YES! Putting your valuables in a locker is the only way to guarantee they won't walk away while you're out having a good time on the slides.
Locker rentals at Typhoon Lagoon are good for the entire day.
COST TO RENT A LOCKER AT TYPHOON LAGOON:
Regular (12.5″ x 10″ x 17″) – $10 per day
Large: (15.5″ x 13″ x 17″) – $15 per day
Swimwear for Typhoon Lagoon
Water slides can be brutal on swimsuits, so if you're planning on tackling any of them make sure your wearing a suit that will stay in place. Also, suits with any exposed metal of any kind (including rivets) or buckles are not allowed on the slides.
Swim Diapers
As with all pools at Walt Disney World, if your child is still in diapers they must wear either plastic pants or swim diapers in the pool area.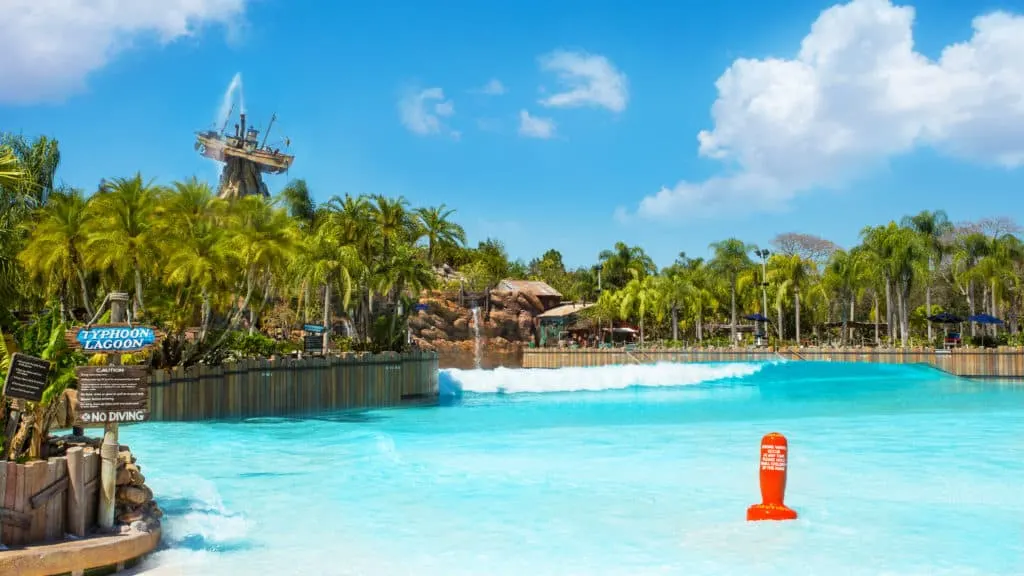 Disney Resort Refillable Mugs and water parks
Your Resort mug on its own will not work at the refillable stations within Typhoon Lagoon. You can either purchase a new mug or a sticker (for roughly $6) for your current mug. This sticker lasts one day and will get you free refills at any of the stations.
Don't forget about Photopass
If you're going to Typhoon Lagoon, Memory Maker also has more value because these photographers are positioned in a lot of fun locations where you probably couldn't get your own photo.
Photographers will give you a photo pass card on an elastic band to scan and then you can link it to your Memory Maker.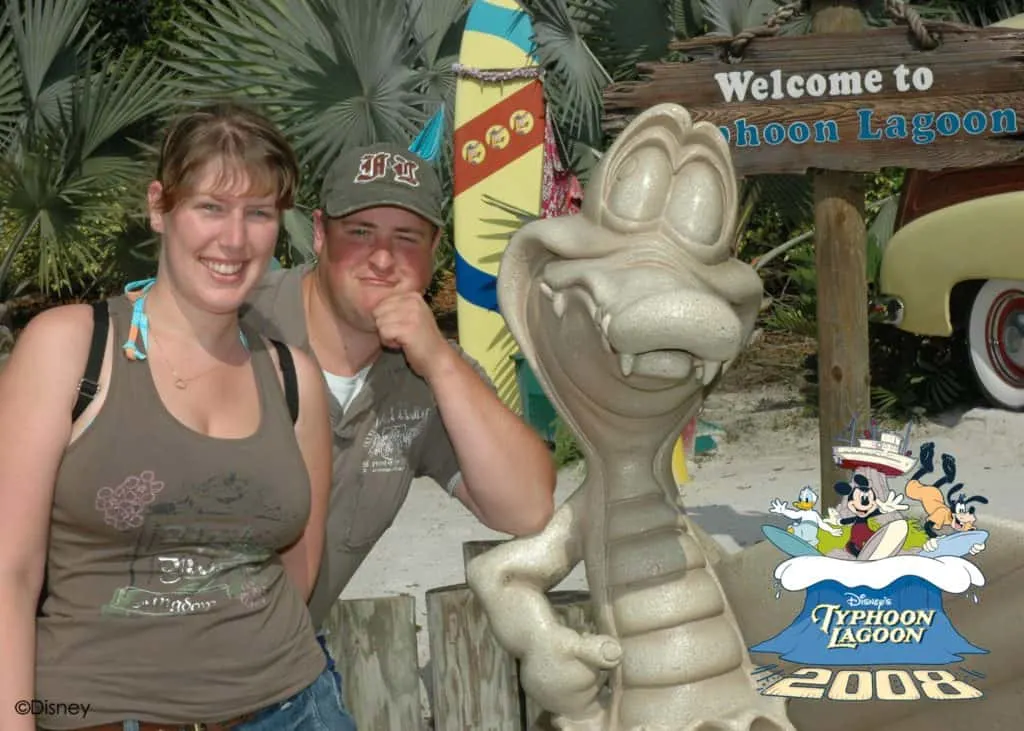 Surfing at Typhoon Lagoon
Typhoon Lagoon offers surfing lessons on select days before the park opens. This is a great opportunity in a controlled environment to learn the basics for surfing.
Surf lessons are $165 each and can be booked by calling (407) WDW-PLAY.
Typhoon Lagoon Shops
High 'n Dry – souvenirs and sundries; premium space, umbrella, locker and towel rentals; complimentary life jackets
Singapore Sal's – Disney's Water Park merchandise, towels, bathing suits, shirts, sandals, sunglasses, plastic waterproof cases, Mickey Mouse-themed shovels, castle-shaped sand sculpting moulds, disposable underwater cameras, sunscreen, sundries and more; locker and towel rentals
Should I visit Typhoon Lagoon or Blizzard Beach?
Can't decide between the 2 parks? We've pitted them against each other in the ultimate Disney Decisions: Typhoon Lagoon or Blizzard Beach to help you decide which is the best option for your family.
Your Thoughts...
Please share your thoughts in the comments or reach out on social media...We would love to hear from you.
Follow Mouse Travel Matters for Disney Parks news, the latest info and park insights, follow MTM on Twitter, Facebook, and Instagram.
You May Also Like…