Last Updated on September 2, 2019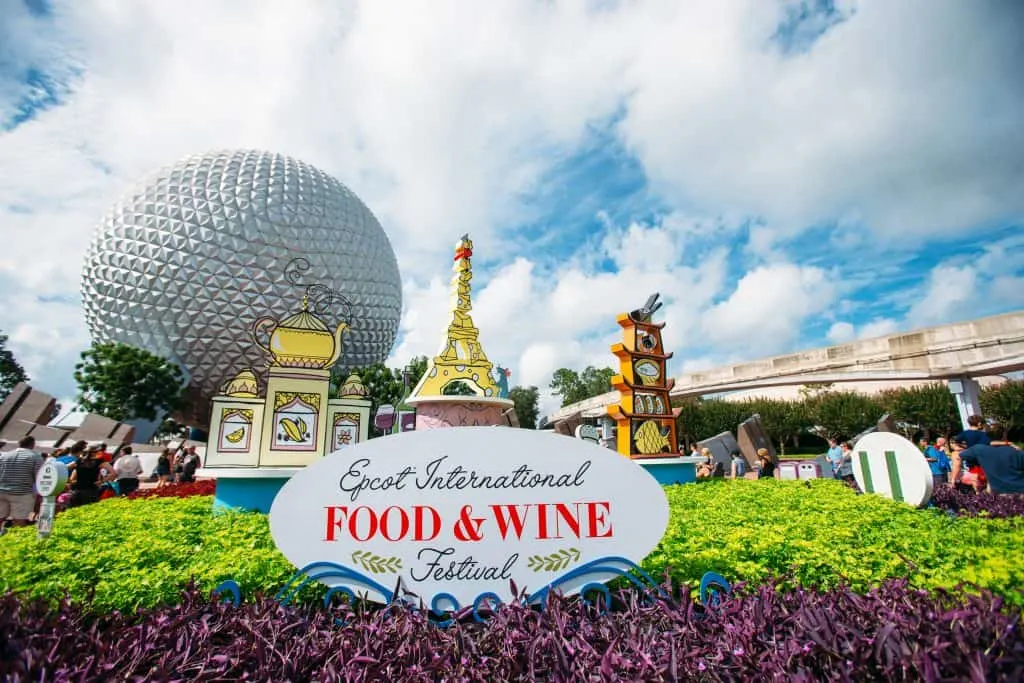 This ultimate guide to the 2019 Epcot International Food & Wine Festival provides tips, recommendations, and our thoughts about the annual Walt Disney World foodie event!
This year, Epcot's Food & Wine Festival runs August 29 until November 23, 2019, starting on the exact same date that Star Wars: Galaxy's Edge opens and ending right before the start of Christmas season.
This post may contain affiliate links.
To which I earn a small commission, at zero cost to you!
Find more info in our
Privacy Policy
.
2019 Epcot Food and Wine Festival Index
2019 International Food and Wine Festival, Epcot: The Best Low Cost and Free Events
2019 – Five New Things to Do at Epcot International Food and Wine Festival
2019 – Ultimate Kid's Guide to Epcot Food and Wine Festival
2019 – Epcot Food & Wine Festival Gluten-Free Offerings
Epcot Food and Wine Festival Booths, Menus, and FOOD PHOTOS
2019 Epcot Food and Wine Merchandise
2019 Epcot Food and Wine Festival Coverage
For the most part, kiosk food prices usually run between $4 and $9, with beverages varying from $3 to $10.
There is an additional charge for some of the talks, demonstrations and premium events. Reservations are strongly recommended for those experiences. There are plenty of free things to do, though, including book and bottle signings, meet-and-greets and more. You'll find more about that at the Festival Welcome Center, which also offers plenty of foodie merchandise and delicious wines!
Special dining events can be booked now by calling (407) WDW-FEST. All bookings are non-transferable and non-refundable.
International Food and Wine Festival; the Best low cost and free events.
Free with Epcot Admission
Free with Epcot admission are the Festival Center Back to Basics series, special book signings, Eat to the Beat concerts, cultural adventures, Marketplace Discovery Passport, and all attractions and park entertainment. Festival hours could again extend to 10 pm on weekends!
Epcot Food and Wine Festival World Showcase Booths
Over 30 marketplace booths will be set up on the promenade around Epcot's World Showcase Lagoon as well as Future World (with two new booths inside the Festival Center)! Check them ALL out on our 2019 Food and Wine Festival Booth Index Page!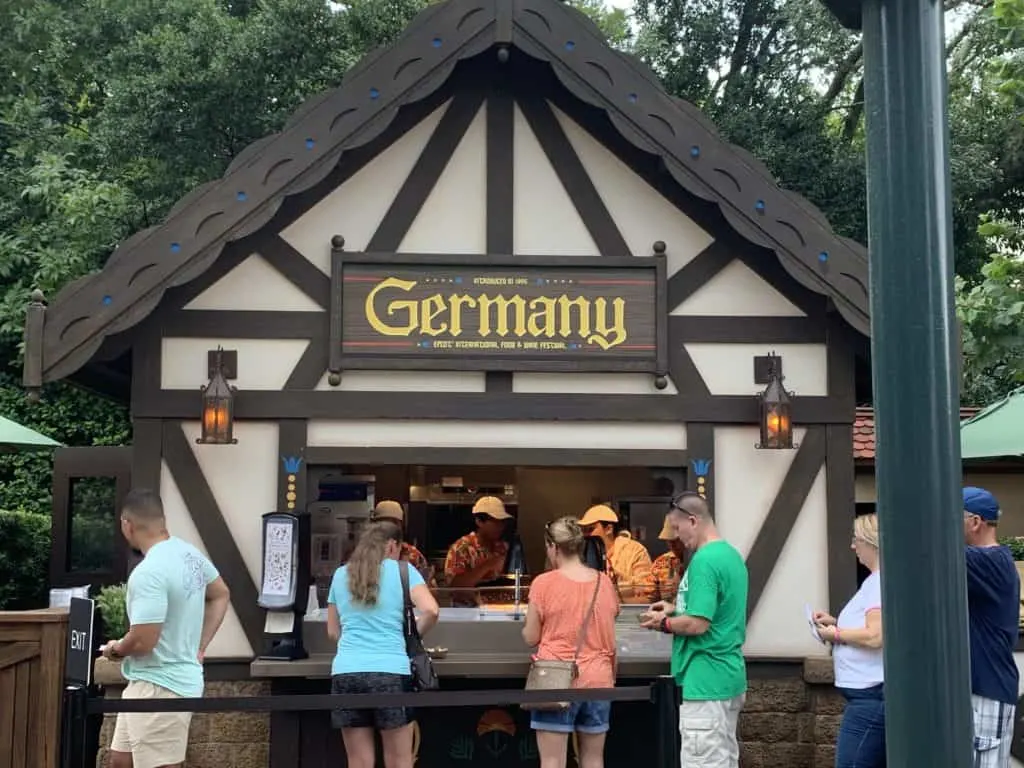 here's a quick list of the Food & Wine Festival Marketplace booths:
Islands of the Caribbean
Chocolate Studio
Wine & Dine Studio
Africa
Australia
Belgium
Brazil
Brewer's Collection
Canada
China
Craft Beers
Desserts & Champagne
Farm Fresh
France
Germany
Greece
Hawaii
Hops & Barley
Ireland
Italy
India
Japan
Mexico
Morocco
New Zealand
Spain
Active Eats
Almond Orchard
Cheese Studio
Coastal Eats
Earth Eats
Flavors from Fire
India
Light Lab
Thailand
In addition to these main booths, there will also be other spots to get exclusive F&WF treats, including Intermission Cafe, Hops & Barley, and Refreshment Outpost.
Tip: Purchase a Food & Wine Festival [Disney] gift card to pay your way around the Festival. It's much easier than trying to dig for cash or credit cards as you go from location to location
Free Marketplace Discovery Passports have become a tradition and a favorite way to keep track of all the must-have dishes on your list. In recent years, gluten-free and vegetarian items have also been noted! Look for kid-friendly items to be designated as well!
Disney announced that new this year, families can enjoy Emile's Fromage Montage to sample a variety of cheeses. Purchase any five cheese dishes from the official Global Marketplaces, and collect a stamp in your Festival Passport for each cheese dish. Once you have all five stamps, bring your passport to Simmering Sips for a complimentary specialty cheesecake.
ID Requirements to Purchase Alcoholic Beverages
Learn which type of identification you should bring to the 2019 Epcot International Food & Wine Festival.
Guests must be 21 years of age or older to purchase alcoholic beverages at any establishment in the state of Florida—including Walt Disney World Resort and Disney's Vero Beach Resort. Alcohol will not be served to anyone who does not present valid identification upon request. The following forms of ID will be accepted as proof of age:
U.S. state driver's license (includes U.S. territories*)
U.S. state ID (includes U.S. territories*)
U.S. military ID
Original passport
Copy of passport (either on paper or captured on a mobile device), along with a government-issued photo ID** that verifies the person and birth date shown on the copy
NEXUS card issued by U.S. Customs and Border Patrol (Canadian Guests only)
Please note: visitors from outside the United States are required to present both a valid passport and another form of government-issued photo identification from their country of origin.
Epcot Food and Wine Festival 2019 Talks, Demonstrations & More!
Food & Beverage Pairings
Learn how to perfectly pair your food and beverage with some of the top Chefs during a 45-minute session at the 2019 Epcot Food and Wine Festival.
Location: World ShowPlace Events Pavilion
Days: Select Sundays, Mondays, Thursdays, Fridays and Saturdays at 2:30 PM
Price: $29 per Guest, plus tax
NEW Tailgate Tasting hosted by ESPN's Monday Night Football
Football fans who enjoy a good tailgate party might be glad to know that they will be able to combine their love of the game with some newly added fun at this year's Festival.
The 45-minute program will pair "gridiron grub" with a beverage tasting that will be inspired by the cities of pro teams playing each Monday night
Event Schedule
Sunday, September 8, 2019
Denver Broncos vs Oakland Raiders
Sunday, September 15, 2019
Cleveland Browns vs New York Jets
Sunday, September 22, 2019
Chicago Bears vs Washington Redskins
Sunday, September 29, 2019
Cincinnati Bengals vs Pittsburgh Steelers
Sunday, October 6, 2019
Cleveland Browns vs San Francisco 49ers
Sunday, October 13, 2019
Detroit Lions vs Green Bay Packers
Sunday, October 20, 2019
New England Patriots vs New York Jets
Sunday, October 27, 2019
Miami Dolphins vs Pittsburgh Steelers
Sunday, November 3, 2019
Dallas Cowboys vs New York Giants
Sunday, November 10, 2019
Seattle Seahawks vs San Francisco 49ers
Sunday, November 17, 2019
Kansas City Chiefs vs Los Angeles Chargers
Mix It, Make It, Celebrate It! Hands-On Workshops
Working side-by-side with chefs, beverage experts and other kitchen wizards, attendees can roll up their sleeves for a hands-on lesson that teaches one of many different culinary and beverage skills. Each guided, interactive experience offers a multi-sensory smorgasbord — from whipping up sweet treats and savory sensations to exploring cocktails, spirits and wines.
The price for each Mix It, Make It, Celebrate It! Hands-On Workshop is $45 per person. All appearances, presentations, and events are subject to change without notice.
All Mix It, Make It, Celebrate It! Hands-On Workshops will take place at the World Showplace Events Pavilion. Workshops take place on select Mondays and Thursdays at 12:00 PM.
Sunday Brunch with the Chef
Sunday Brunch with the Chef will take place on select Sundays through Nov. 17 at the World ShowPlace Events Pavilion. Epcot admission is required in addition to the cost of the brunch, which is $139 per guest. You can check out the dates and corresponding guests of honor for the 2019 festival below:
September 1: Jamie Deen (co-owner of The Lady and Sons restaurant in Savannah, Georgia)
September 8: Carla Hall (Celebrity Chef & author of Carla Hall's Soul Food)
September 15: Fabio Viviani (Fabio Viviani Hospitality Group, Celebrity Chef & Restauranteur)
September 22: Richard Blais (Chef & Entrepreneur)
September 29: Robert Irvine (Food Network's Restaurant: Impossible)
October 6: Buddy Valastro (Celebrity Chef)
October 13: David Burtka (Celebrity Chef & author of Life is a Party)
October 20: Andrew Zimmern (Chef, Writer & TV Personality)
October 27: Cat Cora (Corlich Enterprises & Cat Cora, INC.)
November 10: Graham Elliot (Coast restaurant at MGM Cotai in Macau)
November 17: Aarti Sequeria (Cookbook Author & Food Network Personality)
Cheese Seminars
If you're a cheese connoisseur, you'll definitely have to consider attending one of these seminars on select Saturdays! During each 90-minute seminar at the World ShowPlace Events Pavilion, a notable cheese expert (how can I become one?!) will explain the aromas, textures and flavors of popular cheeses around the world. Guests will be able to sample the cheese selections with complementary wine or craft beer selections.
September 14: New World Cheeses and Old World Wines hosted by Max McCalman
September 28: Mediterranean Cheeses and Wines hosted by Tonda Corrente
October 5: Great British Cheeses and Ales hosted by Max McCalman
October 12: Italian Cheeses and Wines hosted by Erin Hedley
October 19: French Cheeses and Wines hosted by Max McCalman
October 26: The Great Cheeses and Wines of the Western United States hosted by Max McCalman
November 9: Season's Best Cheeses and Wines hosted by Max McCalman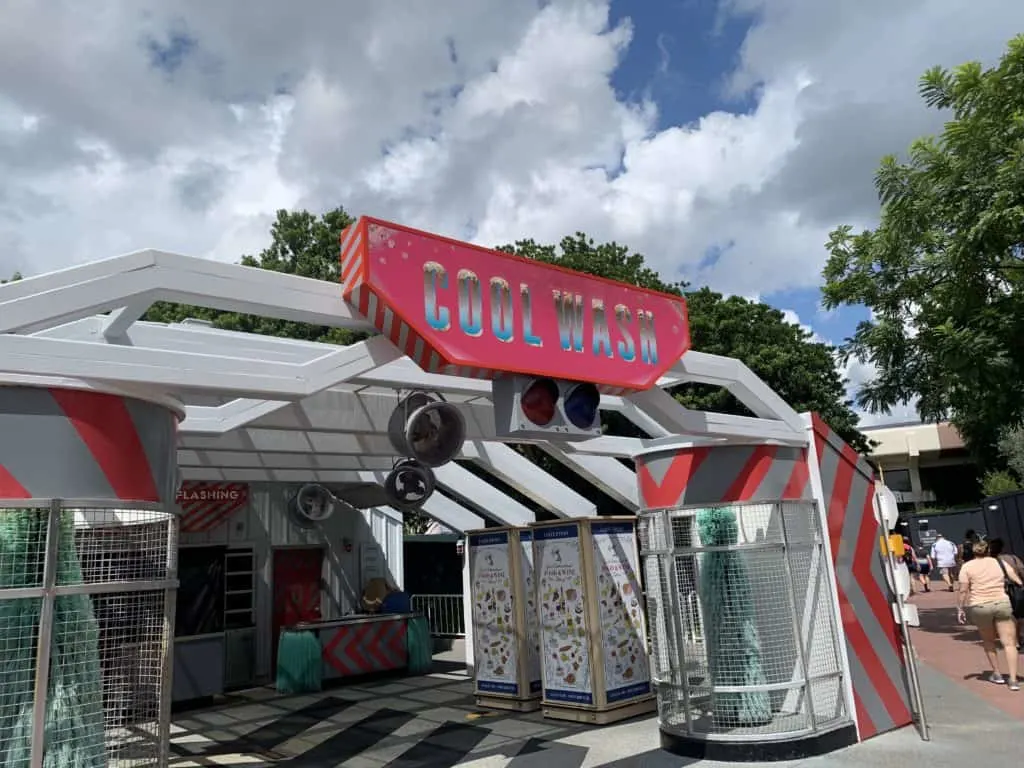 Epcot Food and Wine Festival Special Events
Celebrity Chefs
Celebrity Chefs bring extra excitement to the Epcot Food and Wine Festival. Epcot's Food & Wine Festival attracts celebrated chefs from all over the country, and they bring their expertise, personal stories, and great food to Festival fans. If you know where to go and what to do, you can meet your favorite celebrity chef! Many chefs will participate in meet-and-greets after their presentations, and in years past, you haven't even needed to attend the event to get access to the meet-and-greet.
Eat to the Beat Concerts
As with all Disney events, themed entertainment is part of the festivities. Visitors to the Food and Wine Festival can "Eat to the Beat!"
The following line-up of performers is scheduled for the 2019 "Eat to the Beat" Concert Series:
08/29 – 08/31 – Plain White T's
09/01 – 09/02 – Sawyer Brown New!
09/03 – 09/04 – MercyMe
09/05 – 09/06 – Grace Kelly New!
09/07 – 09/08 – Zach Williams New!
09/09 – 09/10 – Lauren Daigle New!
09/11 – 09/12 – Jimmie Allen New!
09/13 – 09/15 – Tiffany
09/16 – 09/17 – The Allman Betts Band
09/18 – 09/19 – Everclear
09/20 – 09/22 – STARSHIP w/Mickey Thomas
09/23 – 09/24 – Post Modern Jukebox
09/25 – 09/26 – Blue October
09/27 – 09/29 – Mark Wills
09/30 – 10/02 – Sugar Ray
10/03 – 10/04 – Taylor Dayne
10/05 – 10/06 – India New!
10/07 – 10/09 – 98°
10/10 – 10/11 – Boyce Avenue New!
10/12 – 10/13 – Southern Avenue New!
10/14 – 10/15 – Kenny G
10/16 – 10/17 – 38 Special
10/18 – 10/20 – Baha Men
10/21 – 10/22 – Billy Ocean
10/23 – 10/25 – Sheila E
10/26 – 10/27 – High Valley
10/28 – 10/30 – Hanson
10/31 – 11/01 – Sheena Easton
11/02 – 11/03 – Kris Allen New!
11/04 – 11/06 – Boyz II Men
11/07 – 11/08 – The Hooters
11/09 – 11/11 – Big Bad Voodoo Daddy
11/12 – 11/14 – TBD
11/15 – 11/16 – BBMAK New!
11/17-11/18-Spanish Harlem Orchestra New!
11/19 – D'Capella New!
General Event Details
Where: America Gardens Theatre at World Showcase, Epcot
When: Daily from August 29 through November 19, 2019
Showtimes – Sundays to Thursdays: 5:30 PM, 6:45 PM and 8:00 PM
Showtimes – Fridays and Saturdays: 6:30 PM, 7:45 PM and 9:00 PM
Eat to the Beat Concert Series and Dining Packages
Dining packages are available and will guarantee you reserved seating for the concerts. Breakfast, Lunch, and Dinner packages are offered and there are 14 different restaurants participating for 2019. Prices do vary by restaurant and meal service but start at $46.00 for lunch (includes appetizer, entree, dessert, and drink). Dining reservation start times must be at least 2.5 hours prior to the Eat to the Beat concert showtime.
These were the restaurants available for dining packages in 2019:
Akershus Royal Banquet Hall
Biergarten Restaurant
Chefs de France
Coral Reef Restaurant
The Garden Grill Restaurant
La Hacienda de San Angel (dinner only)
Nine Dragons
Restaurant Marrakesh
Rose & Crown Pub & Dining Room
San Angel Inn Restaurante
Spice Road Table
Teppan Edo
Tokyo Dining
Tutto Italia Ristorante
Via Napoli Ristorante e Pizzeria
Booking for Eat to the Beat Dining Packages will be open on MAY 15, 2019. You can make reservations online or by calling (407) WDW-DINE or (407) 939-3378. Early booking for Disney World Annual Passholders and Disney Vacation Club Members will open on May 14th at 9:00 AM EST.
Eat to the Beat Reserved Seating Area
The same-day reserved seating for the concert will be in an uncovered area, located in the second section in the middle of the theater. If guests are in need of accessible seating, it should be noted when making the reservation.
Are the Eat to the Beat Concerts Really Free?
Other than your Epcot admission, which you need to get into the park, the concerts are totally free!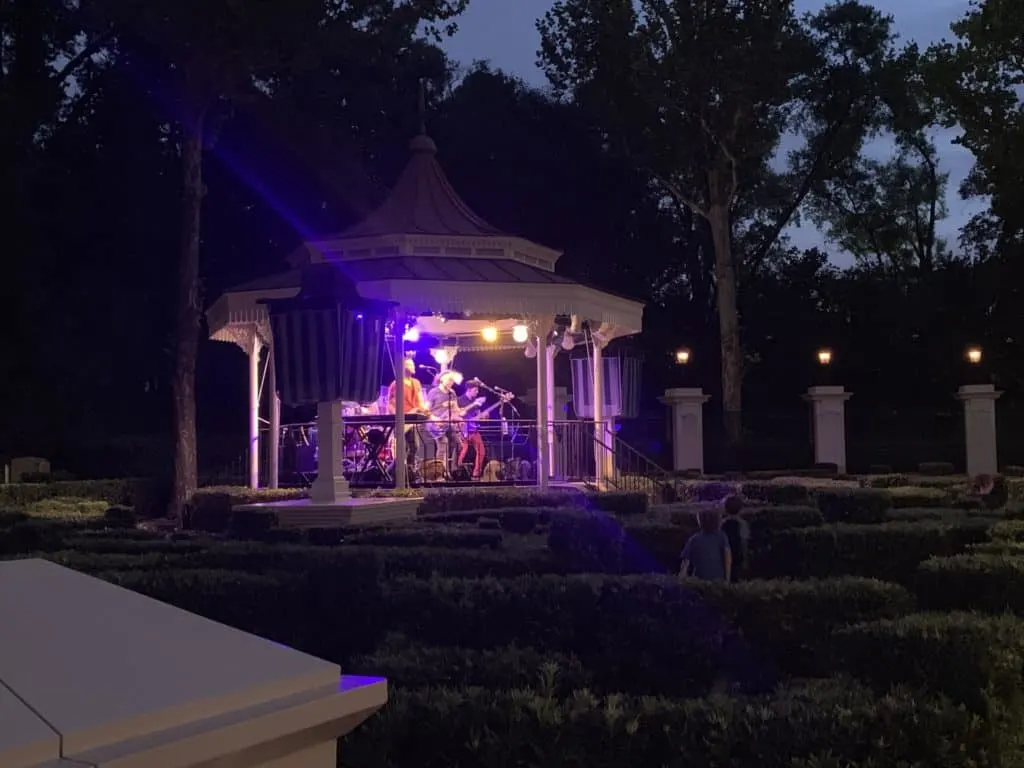 Epcot Food and Wine Festival 2019 Kids' Activities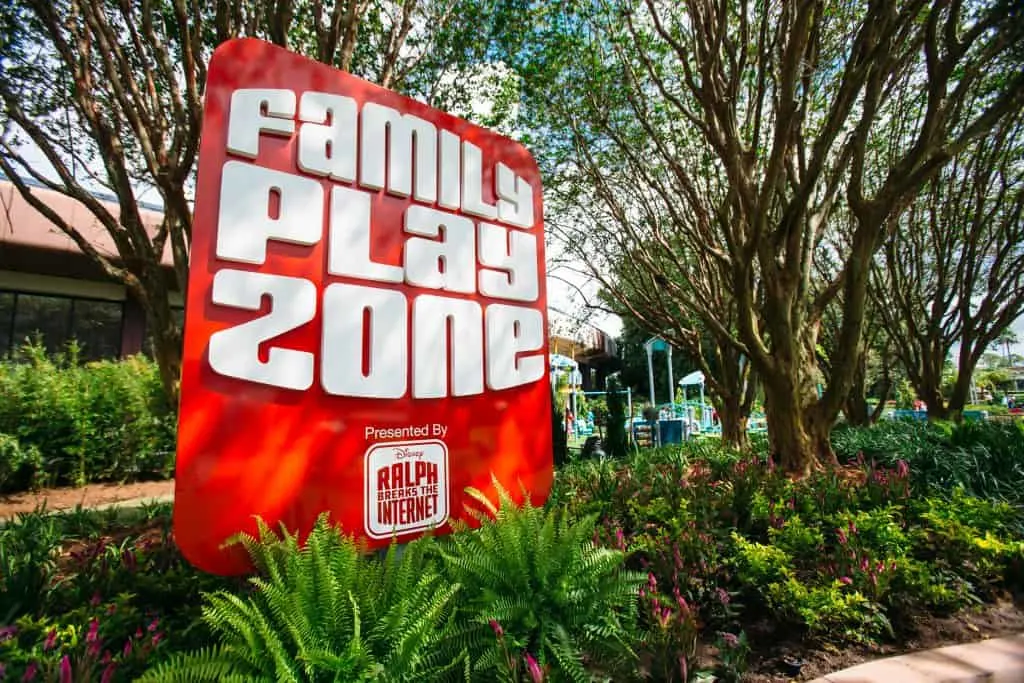 Disney Du Jour Dance Party
At the Disney Du Jour Dance Party, kids can look forward to dancin' with a "rotating menu" of Disney Characters, including Remy and Emile from Ratatouille, along with weekend Radio Disney artist appearances!
Check out all of the appearances below:
August 30 to 31: Meg Donnelly
September 13 to 14: Jenna Raine
October 11 to 12: Sky Katz
October 18 to 19: JAGMAC
The Chocolate Experience:
From Bean to the Bar hosted by Ghirardelli Chocolate Company will be back in 2019 and for the first time, will be located at the entrance of the Harvest Theater in The Land pavilion. Ghirardelli has all the scoop on chocolate and will be preparing chocolate sundae treats that will be available for purchase at Sunshine Seasons.
Fun Zone playground
The Fun Zone playground will give the kiddos a spot created with them in mind. Look for it right next to Taste Track in Future World, which will be a Food Booth this year.
Candy Sushi
Hosted by Adventures by Disney. The class is located at Sunshine Seasons in The Land pavilion and will be offered two times daily at 3:30 p.m. and 5:30 p.m. There is a small fee of $10 per person for this experience which will pair families with a Disney chef for a chance to roll sweet sushi treats.
Remy's Ratatouille Hide & Squeak Scavenger Hunt
Remy's Ratatouille Hide & Squeak scavenger hunt will return for 2019. Kids can search for 15 little Remy statuettes with maps and stickers available for purchase at Port of Entry, Pin Central, and World Traveler at International Gateway. Completed maps can be shown at Disney Traders to choose a prize for your efforts, courtesy of Chef Remy, of course.
Epcot Food and Wine 2019 Merchandise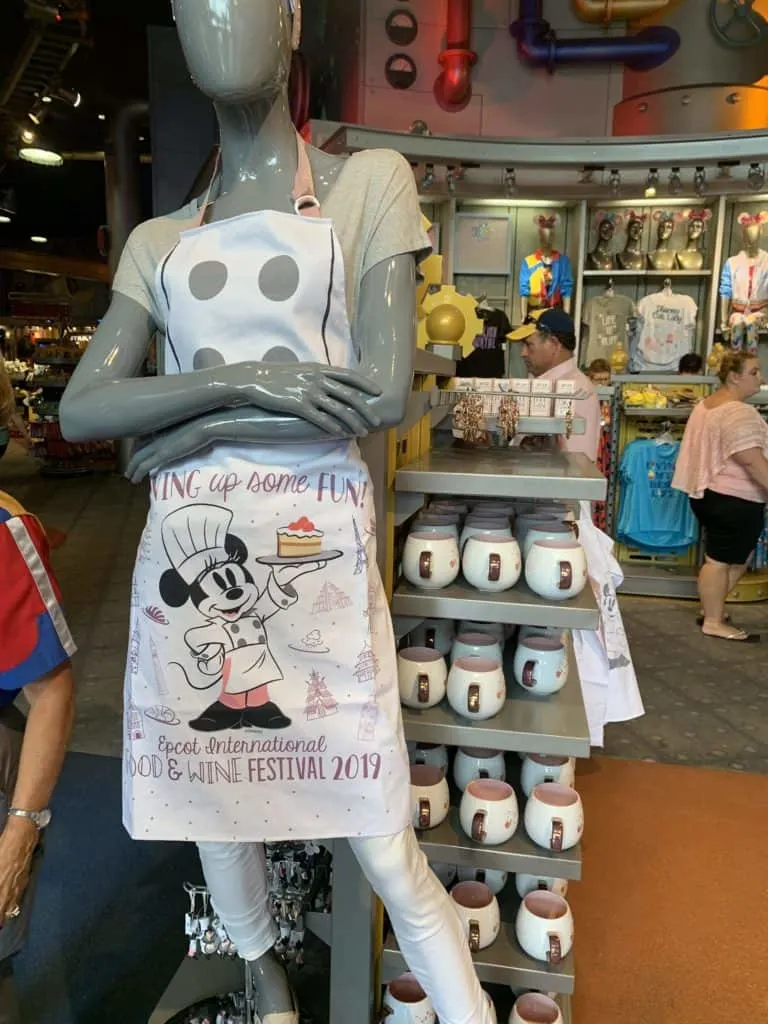 Here's a peek at the 2019 themes and collections:
Chef Minnie and Mickey
Chef Remy
Taste Your Way Around the World
Brews Around the World
Recipe for a Figment
Annual Passholder Merchandise and More
This year's festival will once again feature special commemorative items for Annual Passholders including magnets and a Dooney & Bourke handbag!
The first Passholder magnet features Chef Minnie and will be available from August 29th through October 14th.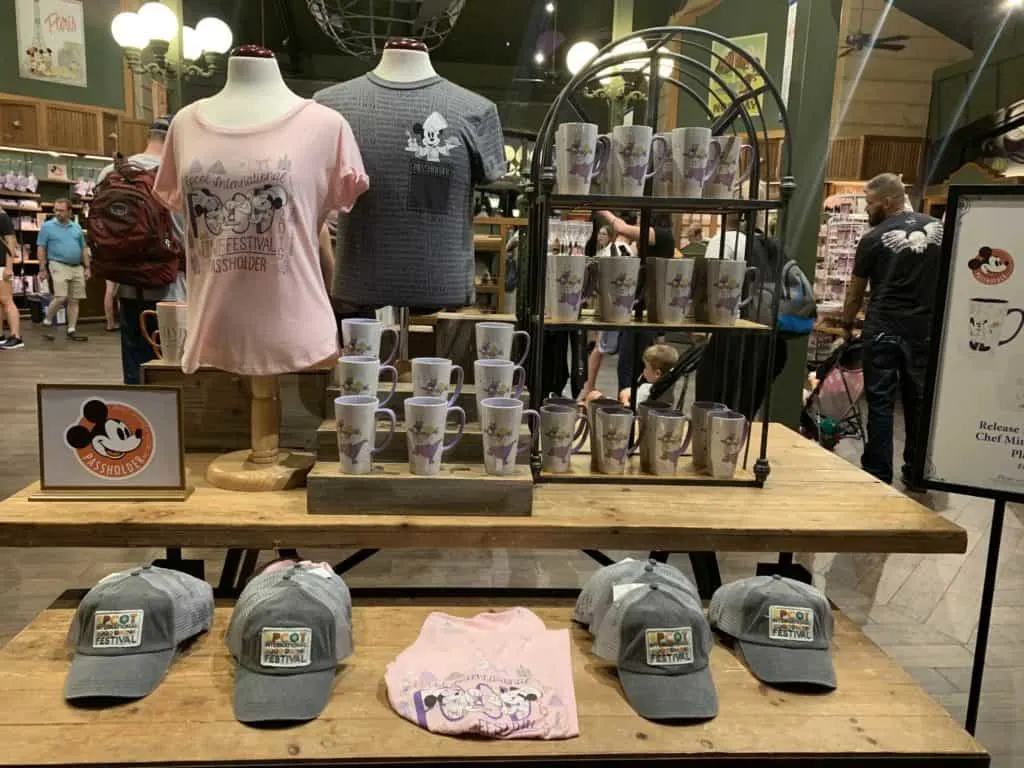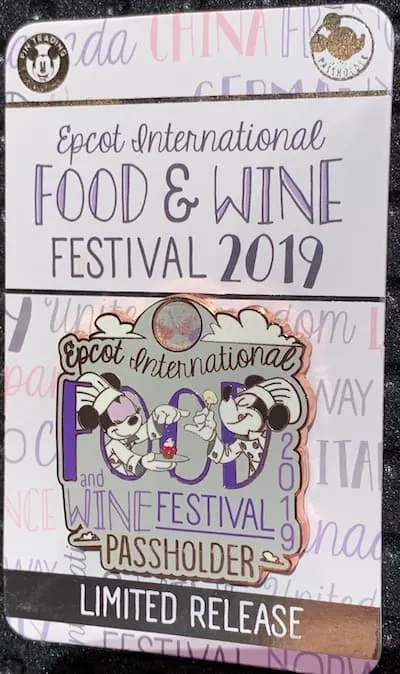 For more great pictures of the NEW 2019 Epcot Food and Wine Festival Merchandise click here
Epcot Food and Wine Festival 2019 Tips
Go on a weekday
The crowds get three times as heavy on evenings and weekend during the festival as it does during the week
Go early in the day
The crowds start to increase after lunch when guests have "finished" the other parks or slept in for the day. Mostly, it's because many guests don't believe you can have tiny portions of main course meals and alcoholic beverages before noon.
Make a plan before heading out
"if you fail to prepare you are preparing to fail"
Always have a plan. This can be anywhere from knowing exactly which dish you want at each kiosk, to a general idea of how to you want to explore the festival. As long as you aren't meandering around and wasting time, any plan is better than no plan at all.
Use your Disney Dining Plan to the fullest
If you're on the Disney Dining Plan during your Food and Wine visit, be sure to save up those snack credits to use at the Festival's food booths!
That's right: most food booth items are snack credit eligible(with the notable exception of alcoholic beverages!), and because those booth items can be a little pricey, spending your snack credits at food booths is often a good value on Disney Dining Plan.
Note that you can convert a single Quick Service dining credit into 3 snack credits as long as they are used in the same transaction – which, in this case, means at the same booth.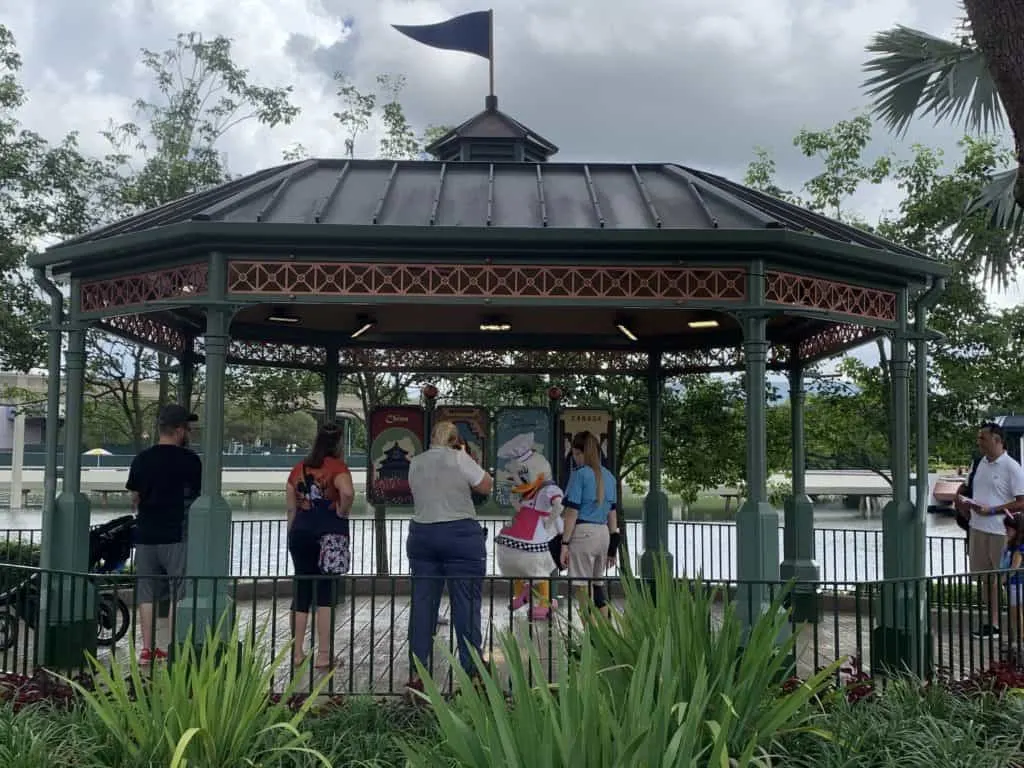 Have a budget and stick to it
At $4 per snack and $7 per drink, it's easy to see how many guests can leave the festival having dropped a mortgage payment. Have a budget, preferably locked into your Festival wearable gift card, and stick to it.
This includes snacks, drinks, and merchandise. No cheating.
Wearable Epcot Food and Wine Festival gift cards
The wearable Gift Card is a great way to budget yourself. You can always add more money later (though that kinda defeats the purpose of a budget) and you can use the cards throughout Walt Disney World if you haven't spent it all at the festival. Your money is not lost if you don't spend it all in one day.
Pace yourself
Slow and steady. There is a lot to see, do and eat. Epcot is big, so take your time.
Visit the Festival Center
Florida summers can be brutal and August is no exception. If you find yourself getting too hot, take a break inside one of the pavilions or even take a visit to the Festival Center for a little A/C.
Try everything
Disney releases the menus with food, drink, vegetarian, gluten-free and kid-friendly items for each country each summer ahead of the festival. If you're anything like us you want to start thinking about the food early and have something to look forward to. Be sure to check out the menus here, for a full list of what you can find in each country of the World Showcase.
Annual Passholders — get your goods!
There are usually quite a few Passholder-exclusive merchandise items available only in the Festival Center, such as pins, tumblers and shirts.
Keep an eye out for photo-ops
There are so many colourful and picturesque scenes at the Food and Wine Festival, keep your eyes out for photo opportunities with you and your friends.
[call to action]