Last Updated on April 1, 2020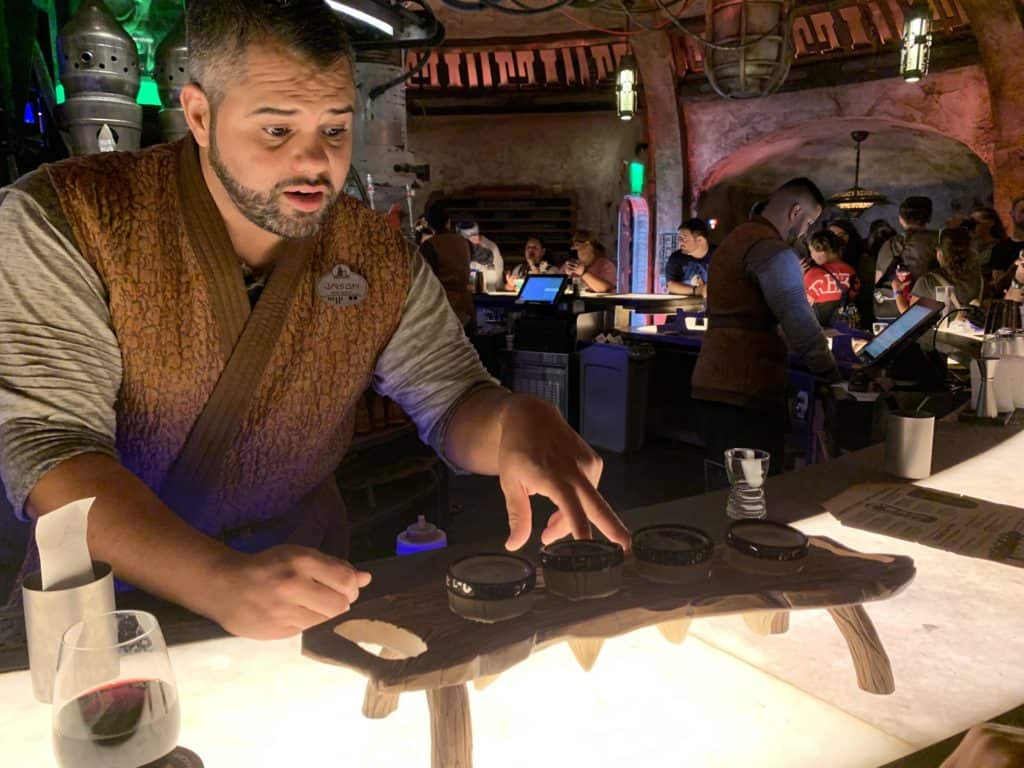 Oga's Cantina in Star Wars: Galaxy's Edge is open now at Disneyland in California, and will open in Disney's Hollywood Studios on August 29, 2019!
Things You Need to Know: Oga's Cantina
This remote planet of Batuu isn't just serving up ration packs (portions). No modern 'civilized' outer rim outpost would work without a cantina. In fact, the Cantina has a reputation as a safe haven for smugglers and others hoping to avoid the galactic authorities.
Naturally, the First Orders Stormtroopers and hidden rebels (as well as "other familiar faces") will be around to keep an eye on things.
Who's that Now? Oga Garra and DJ R-3X
Oga Garra
Oga Garra is the proprietor of Oga's Cantina… and since Black Spire Outpost is on a smuggler's planet, Oga is accustomed to keeping "unruly patrons in check." All this well cultivating a customer base of some of the most interesting and disreputable scoundrels in the galaxy.
This post may contain affiliate links.
To which I earn a small commission, at zero cost to you!
Find more info in our
Privacy Policy
.
DJ R-3X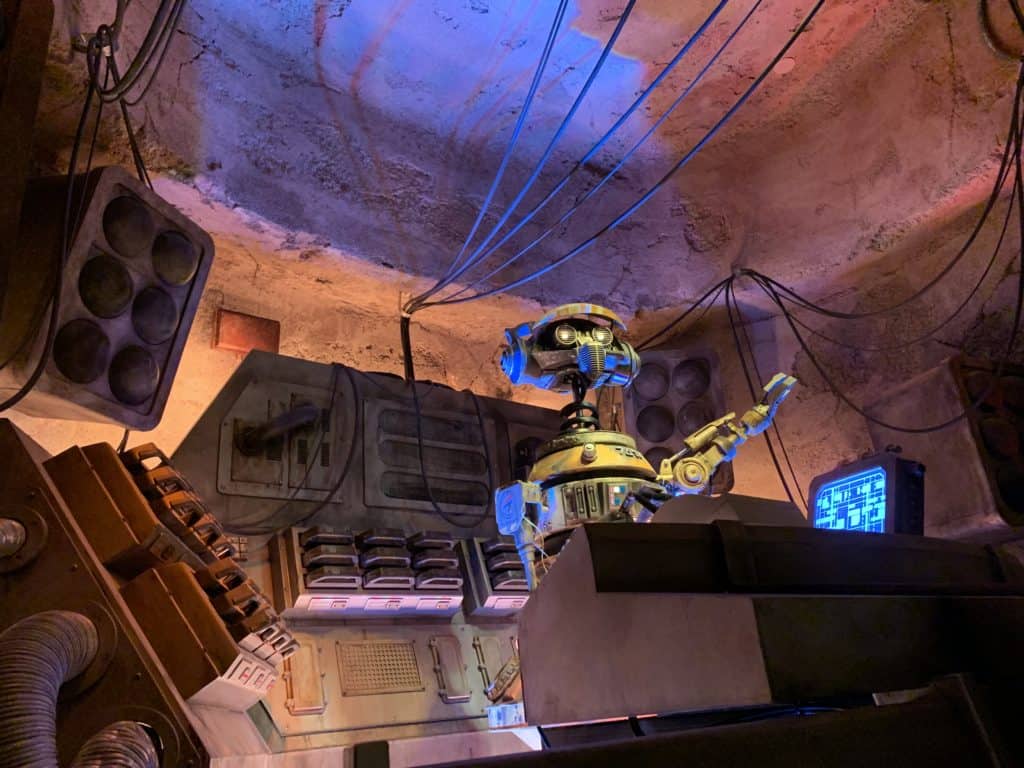 DJ R-3X, DJ Rex to the locals provides patrons with galactic beats from the galaxy and some old galactic favourites. This retired StarSpeeder 3000 pilot, for Star Tours, seems to have a few quirks from his days in the trenches at his former employer.
So playing the hits at your cantina DJ! R-3X
Where in the Outpost: Oga's Cantina
Oga's Cantina is conveniently located near the fastest hunk of junk in the galaxy. That's right just next to Millenium Falcon: Smugglers Run.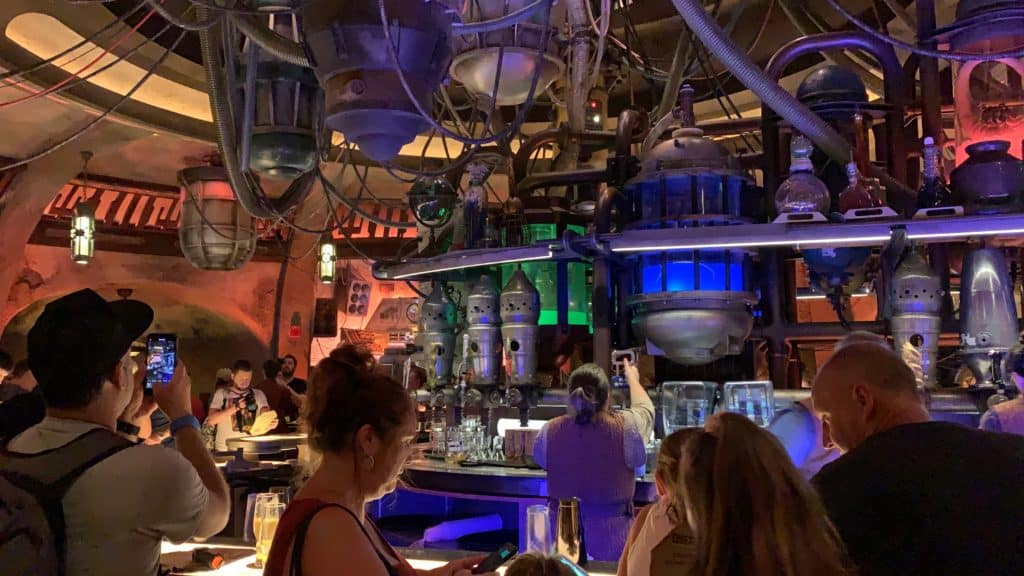 What to Drink: Alcoholic and Non-Alcoholic Beverages
Oga's Cantina is famous for its concoctions — which will be available with choices for kids and adults both — that feature "exotic ingredients using otherworldly methods, served in unique vessels." The menu includes themed cocktails, non-alcoholic specialty drinks, and "proprietary beer and wine options."
Menu
Drink
Morning Specialties
Concoctions with Alcohol
Spiran Caf – Peru Alto Mayo Organic Joffrey's Coffee, orange marmalade, rum, vanilla whipped cream, and citrus zest. 16.00
Bloody Rancor – vodka, chile liqueur, spicy Bloody Mary mix, and rancor bone. 17.00
Concoctions without Alcohol
Black Spire Brew – Cold Brew Joffrey's Coffee, honey, falernum, passion fruit, and citrus. 7.00
Moogan Tea – Gold Peak Unsweetened Tea, chocolate milk, vanilla, and cinnamon. 7.00
Tarine Tea – Gold Peak Unsweetened Tea, peach, huckleberry, and mint. 6.50
Blue Bantha – Blue Milk served chilled with a bantha-inspired vanilla-butter sugar cookie. 13.00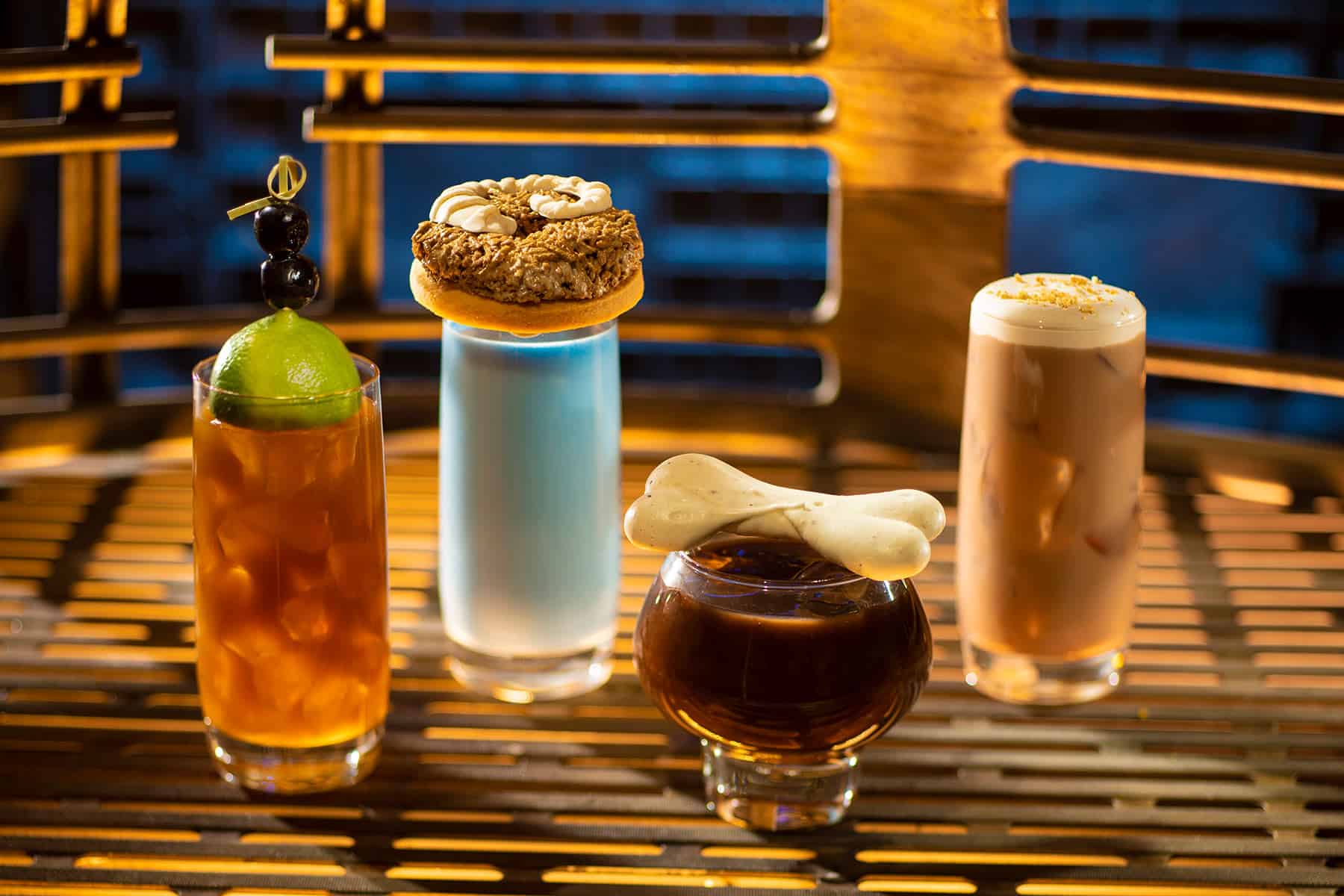 Double Espresso – $4.00
Cappuccino – $5.00
Café Latte – $5.00
Orange Juice – $5.00
Apple Juice – $5.00
Afternoon and Evening Specialties
Showcasing a combination of beverages found throughout the galaxy which yield vibrant colours along with sweet, tangy, or savoury taste and fruity or spicy flavours.
Concoctions with Alcohol
Fuzzy Tauntaun – peach vodka, peach schnapps, orange juice with tangerine, pure cane sugar, and "buzzz" foam. 15.00
Jedi Mind Trick – grapefruit and rose vodka, falernum, blue curaçao, white grape juice, lime juice, and grapefruit bitters. 14.00
The Outer Rim – silver tequila, açaí liqueur, lime juice, pure cane sugar, black salt, and exotic fruit purée. 16.00
T-16 Skyhopper – vodka, melon liqueur, kiwi, and half & half. 15.00
Dagobah Slug Slinger – reposado tequila, blue curaçao, citrus juices, ginger, herbs, and bitters. 15.00
Jet Juice – bourbon, chile liqueur, açaí liqueur, white grape juice, and lemon juice. 14.00
Yub Nub – pineapple rum, spiced rum, citrus juices, and passion fruit. 42.00
Bespin Fizz – rum, yuzu purée, pomegranate juice, white cranberry juice, and cloud swirl. 17.00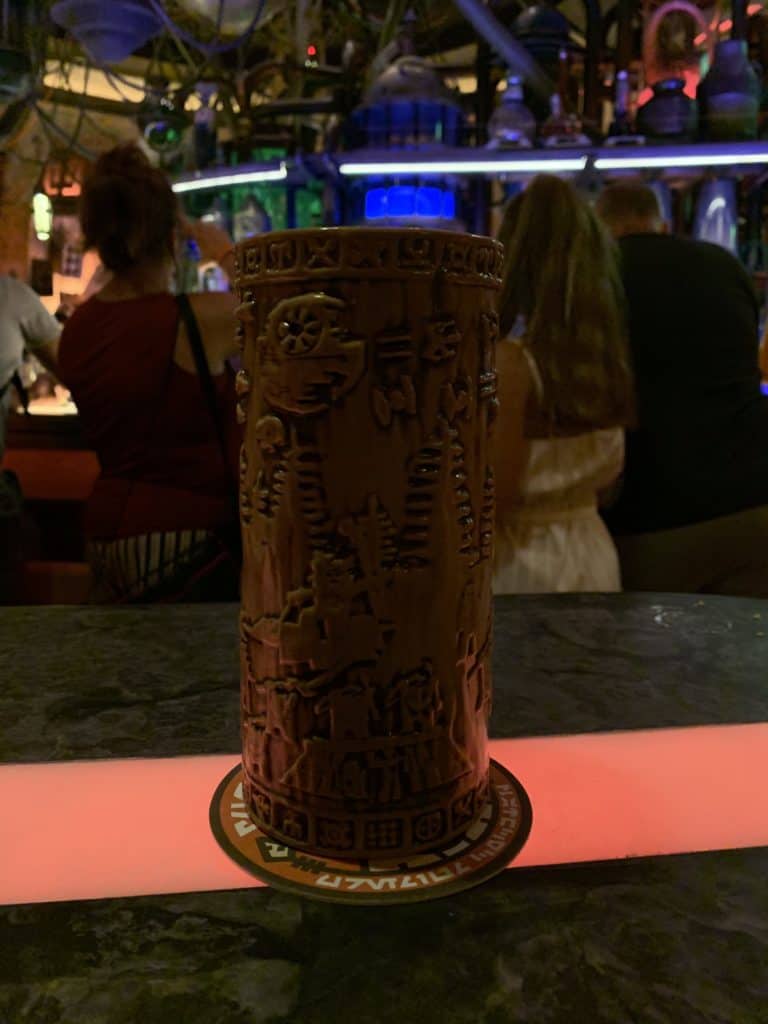 Beers on Tap
Gold Squadron Lager. 12.00
White Wampa Ale 13.00
Gamorrean Ale 12.00
Rancor Beer Flight Souvenir Board with Four Teeth. 75.00
Bad Motivator IPA 12.00
Cider on Tap
Spice Runner Hard Cider. 11.00
Wine on Tap
Toniray. 13.00
Imperial Guard 16.00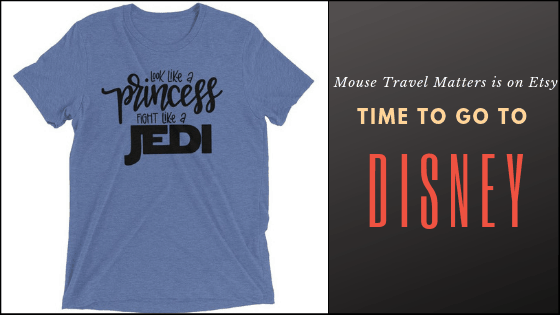 Concoctions without Alcohol
Cliff Dweller – citrus juices, coconut, hibiscus-grenadine, and Seagram's Ginger Ale. 32.00
Hyperdrive (Punch It!) – Powerade Mountain Berry Blast, white cranberry juice, black cherry purée, and Sprite. 6.00
Jabba Juice – Simply Orange with pineapple, kiwi, cantaloupe, and blueberry popping pearls. 6.50
Blue Bantha – Blue Milk served chilled with a bantha-inspired vanilla-butter sugar cookie. 13.00
Blurrgfire – lemonade, pomegranate juice, and habanero-lime. 7.00
Carbon Freeze – Powerade Lemon Lime, wild strawberry, blueberry, and green apple popping pears. 7.50
What to Eat
Breakfast Eats
Rising Moons Overnight Oats – Oats, Dragon Fruit, Yogurt, Seasonal Fruit – $7.00
Mustafarian Lava Roll – $6.00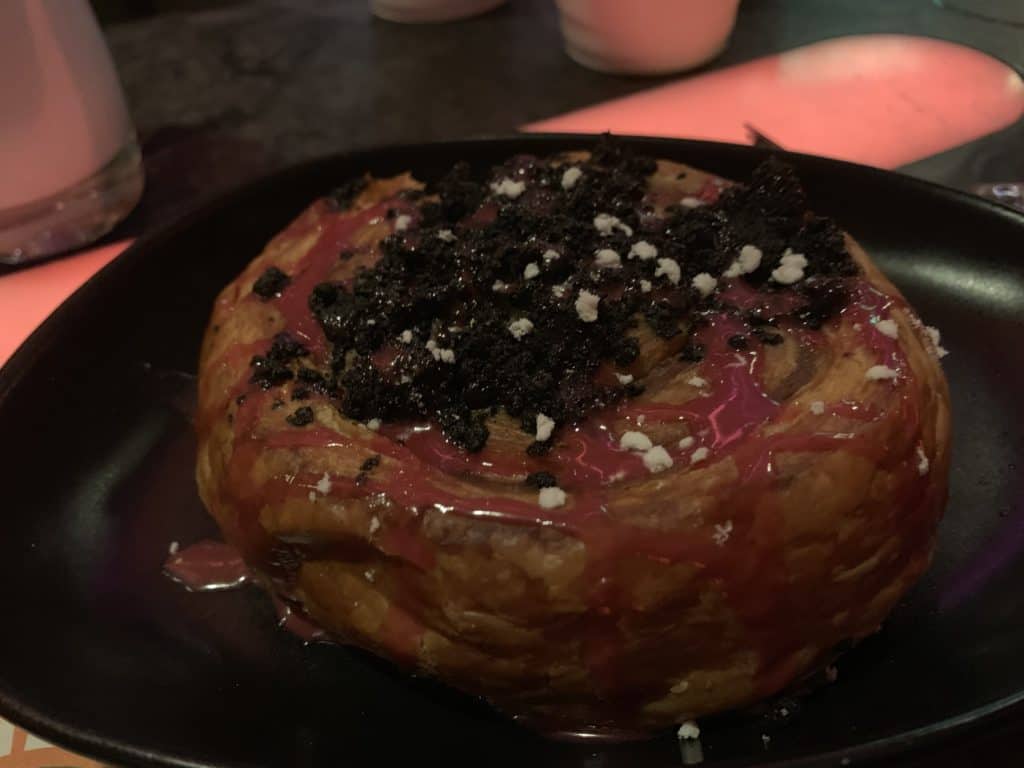 Provision
Oga's Obsession – lemonade, cotton candy flavour, and blueberry popping pearls with a bursting dried fruit mixture. 7.50
Snack from Oga's Cantina Bar
Batuu Bits – A light, Crisp Snack Mix from the Galaxy – 8.00
Oga's Cantina Coasters
Coaster Art
Check out the cantina coasters – seriously – they look great and are fast becoming a popular free takeaway for Oga's Cantina.
How many coasters are there?
Users on twitter have been showing off there Oga's Cantina coasters from Star Wars: Galaxy's Edge. Let us know what you think.
We asked if we can get the 2 that we were missing. Our server smiled… then said no. You get what you get.
Black Spire Outpost Cookbook
Star Wars: Galaxy's Edge: The Official Black Spire Outpost Cookbook is available for pre-order right now on Amazon. Also they have revealed the cover art for this cookbook. Its release date is November 5, 2019.
Stay Tuned for more of our Black Spire Gazette posts.
Statistics
Service: Lounge
Type of Food: "Otherworldly Concoctions"
Location: Star Wars: Galaxy's Edge, Disney's Hollywood Studios
Disney Dining Plan: No
Tables in Wonderland: No
Mobile Ordering: Yes
Your Thoughts...
Please share your thoughts in the comments or reach out on social media...We would love to hear from you.
Follow Mouse Travel Matters for Disney Parks news, the latest info and park insights, follow MTM on Twitter, Facebook, and Instagram.
You May Also Like…
Breakfast at Star Wars: Galaxy's Edge
Full Menu for Every Star Wars: Galaxy's Edge restaurant
Know Before your go to Star Wars: Galaxy's Edge
Star Wars Rise of the Resistance Height Requirements