Last Updated on October 1, 2021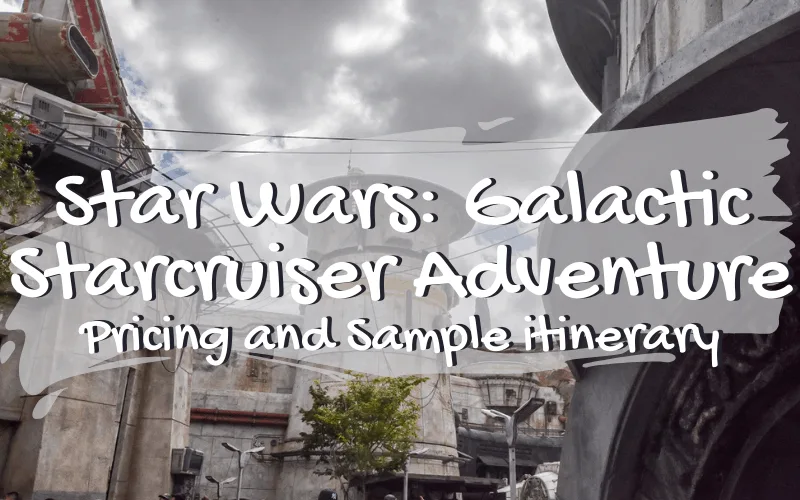 Disney has updated its Star Wars: Galactic Starcruiser experience website giving us the first confirmation of pricing and exactly what is included in the package.
Start planning your 2-night voyage through the Star Wars galaxy on your Star Wars: Galactic Starcruiser adventure—voyages begin spring 2022.
What is included on Star Wars Galactic Starcuiser and what does it cost?
Your Star Wars: Galactic Starcruiser vacation package includes:
2-night stay in a cabin or suite
Ongoing, immersive and interactive entertainment, where choices determine your experience*
Food and beverages on the Starcruiser (excluding alcoholic and specialty beverages) and a quick-service meal at Docking Bay 7 Food and Cargo or other select locations at Disney's Hollywood Studios**
Admission to Disney's Hollywood Studios for your planetary excursion to Star Wars: Galaxy's Edge
Valet parking
Exclusive Star Wars: Galactic Starcruiser databand (known on your home planet as a MagicBand)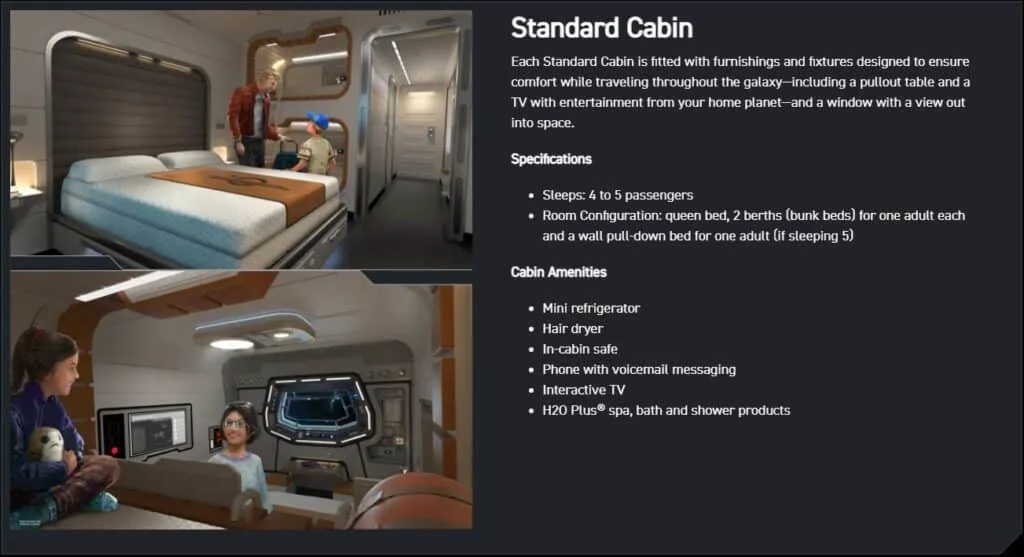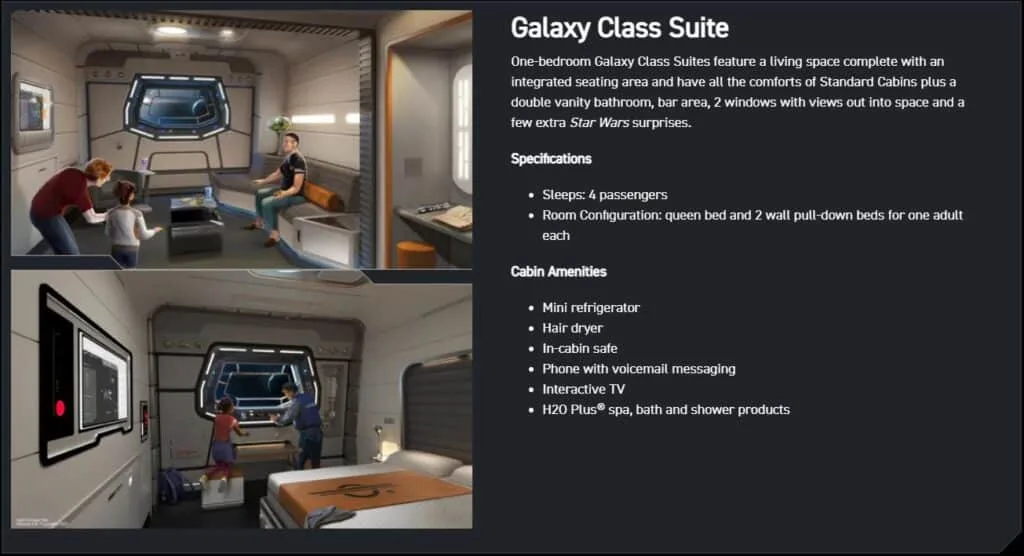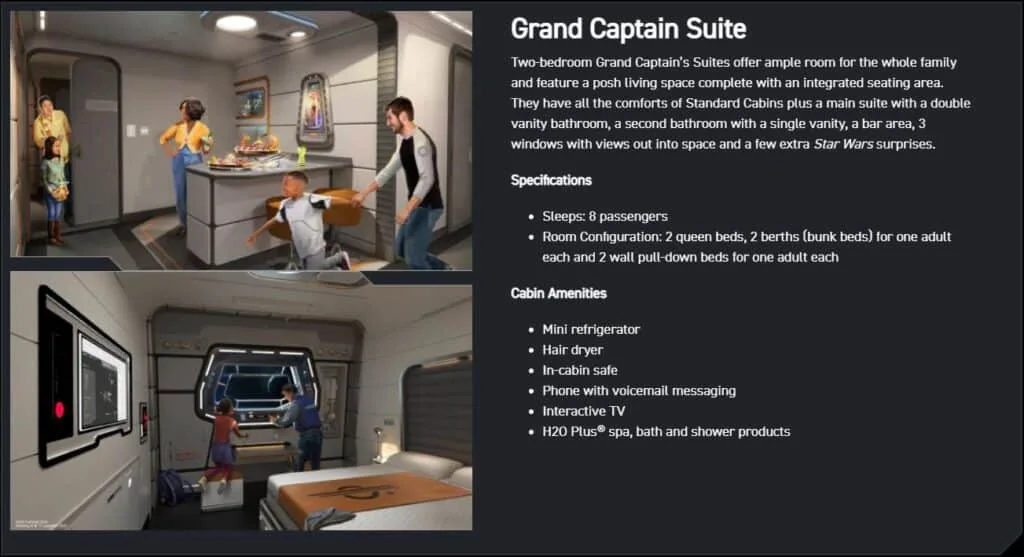 Walt Disney World is saying there are 100 cabins in the Star Wars: Galactic Starcruiser.
This post may contain affiliate links.
To which I earn a small commission, at zero cost to you!
Find more info in our
Privacy Policy
.
Sample Cabin Rates
Disney has gone ahead and given guests a sample view of what this type of experience would cost. Keep in mind that an adult is any guest over the age of 10 years old, and the child is between 3-9 years old. Children under the age of 3 are free to stay and don't require a ticket to enter the parks.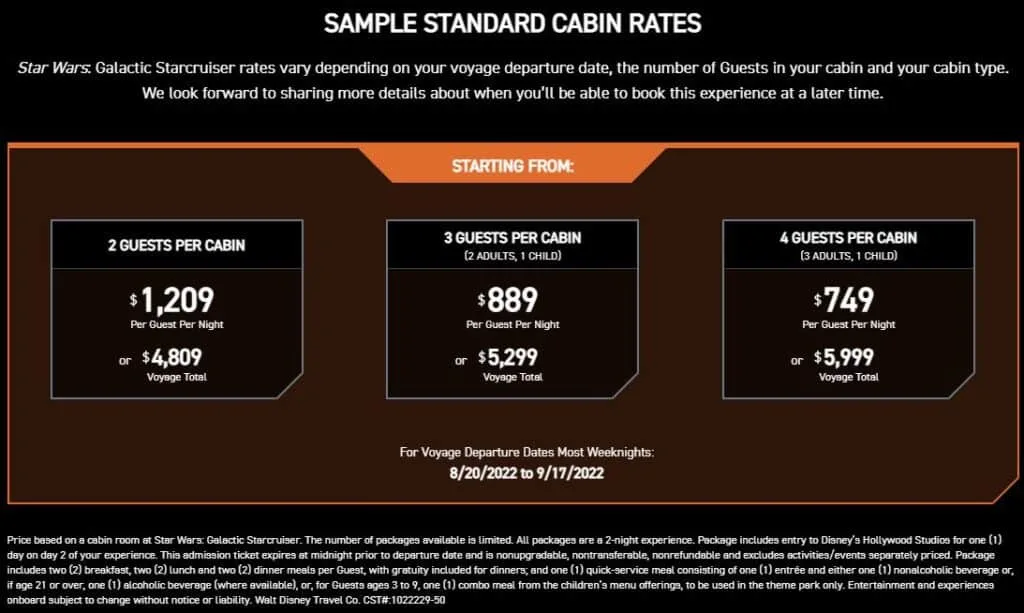 Planning Your Voyage
As you are planning your voyage, please keep these questions in mind:
What voyage dates—including alternates, as availability may be limited—do you prefer?
How many people are in your party?
Do you prefer a first or second dinner seating?
Are you interested in any additional activities?
Would you like to stay at a Disney Resort hotel before or after your Star Wars: Galactic Starcruiser voyage?
What does the Star Wars Galactic Starcruiser itinerary look like?
Disney has also provided a sample itinerary, to help guests better understand what it is that they are paying for.
While the specifics of your voyage will be unique to your story, the choices you make—and the unexpected surprises that you encounter—will determine your personal Star Wars adventure.
As part of the interactive immersive theatre that unfolds throughout your journey, unexpected Story Moments will pop up with Characters and special invitations that move your story forward in exciting new directions. Some Story Moments are called out in the sample itinerary, while others will develop from onboard activities that don't always go exactly as planned.
Here is an example of a Starcruiser itinerary: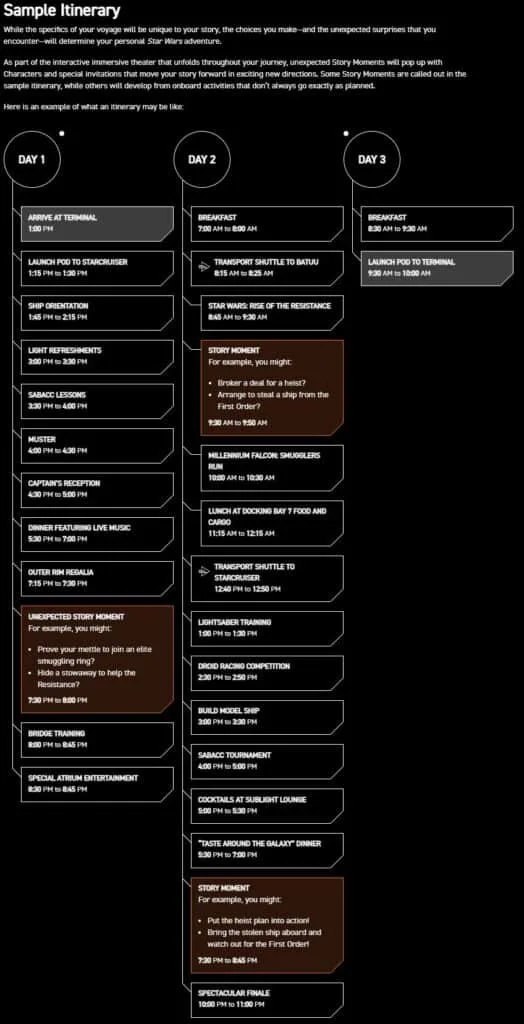 As you can see, there are several times when the itinerary takes guests into Star Wars; Galaxies Edge, including a timed ride on 'Rise of the Resistance' and lunch at Docking Bay 7 Food and Cargo. It is unknown, at the moment, how regular park guests will be affected by the influx of these resort-based timed activities but we know that seating will undoubtedly be reserved for their experiences and preferential treatment will be given at many locations. At this price, I wouldn't expect anything less.
For details about your personal itinerary, please check Star Wars: Datapad in the Play Disney Parks app 30 days before your voyage departure date. Experiences are subject to change without notice.
Costumes and Gala
It doesn't appear as though Star Wars: Galactic Starcruiser will be providing guests with costumes or props outside of the training areas, so we strongly recommend you arrive or make arrangements for story-appropriate apparel to be made available during this experience. Disney mentions that Star Wars; Galaxies Edge, the Star Wars: Galactic Starcruiser itself as well as ShopDisney are currently the only official places to purchase authentic Star Wars costumes for adults and children.
Remember, adult guests are not permitted to wear costumes that appear to impersonate an actual Star Wars Character, like Luke Skywalker or Princess Leigh. Guests are permitted, however, to dress in a way that suggests they are also from the Star Wars Universe in some shape or form. Be mindful of this when choosing costume pieces and accessories.
Your Thoughts...
Please share your thoughts in the comments or reach out on social media...We would love to hear from you.
Follow Mouse Travel Matters for Disney Parks news, the latest info and park insights, follow MTM on Twitter, Facebook, and Instagram.
You May Also Like…