Last Updated on April 1, 2020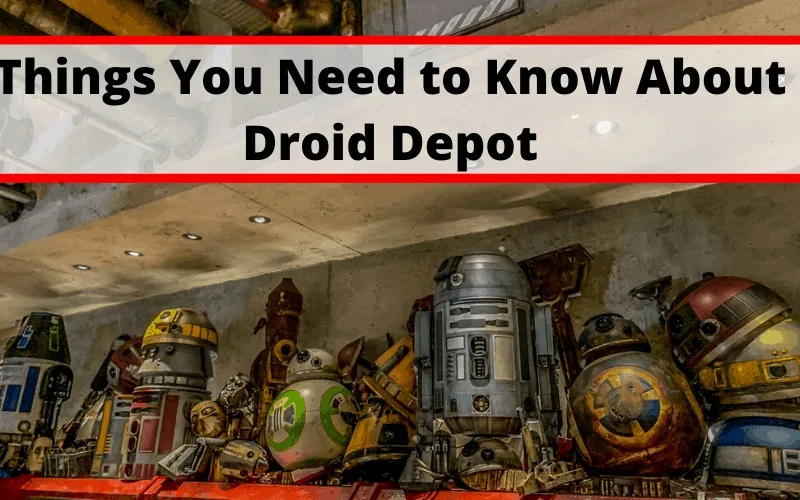 Droid Depot for all your Astromechs, the things you need to know. There's no shortage of things to do in the new Star Wars-centric land, but if Astromech droids are your style, then you'll want to head over to the Droid Depot.
For folks who are willing to shell out a few (or a lot) more dollars, Galaxy's Edge has some incredible opportunities to take home one-of-a-kind Star Wars merchandise. We already gave you the rundown on how to get your hands on a custom lightsaber at Savi's Workshop, here is our lowdown on Astromech droids at the Droid Depot.
Droid Depot Location
Since all of the signage will be in Aurebesh, the language of Batuu, it is hard to know when you have reached a particular destination.
The Droid Depot, if coming from Toy Story Land, will be the first building you reach before going under the bridge and continuing to First Order Cargo. Take a left, since that door is the exit, and walk around to the front. If you hit Savi's Workshop, you've gone too far.
Do I Need A Reservation For Droid Depot?
While a reservation isn't needed to get into Star Wars; Galaxy's Edge, Droid Depot does require a reservation to build a droid of your own.
This is because there is limit space within the Depot and only 6 activation stations. While the whole process is less than 20 minutes, Disney can not allow too many people into the building without sacrificing experience.
Walk-ins are known to happen, on a limited basis, when available. So if you or children have their heart set on building a custom droid, we recommend getting a reservation.
Galaxy's Edge Droid Depot Building Experience
Building a custom droid and Droid Dept is not as complicated as is seems. Everything is provided for you, including work tools. All you need to bring is your imagination (and wallet)
Buy The Droid
Pick Out Your Droid Parts
Build Your Custom Droid
Have a Cast Member Activate Your Custom Droid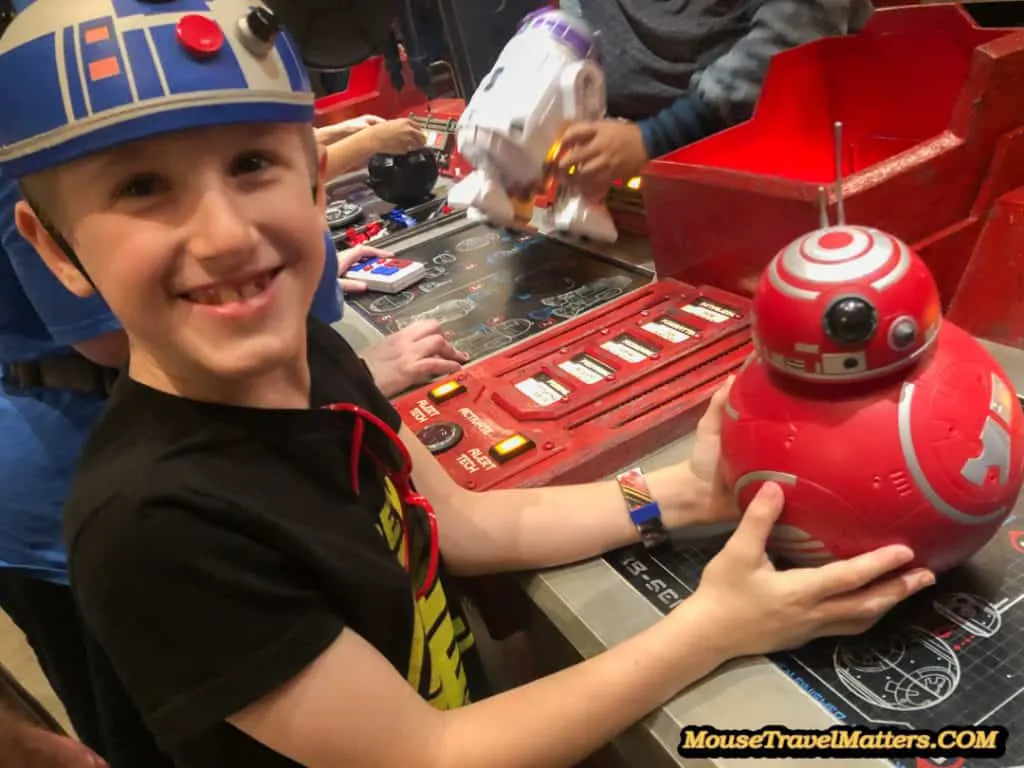 Galaxy's Edge Droid Depot Personality Chips
A Droid Personality Chip is not a necessary purchase, by any means. It changes the sounds that your droid makes and his loyalties, based on the chip you buy.
Besides changing their "voices," the personality chips affect droids' behavior when they are within the Black Spire Outpost. For example, a droid with a "Resistance" personality may act excited and happy when nearby the Resistance encampment. But it may appear anxious and perhaps a little nervous when taken near the area of Star Wars: Galaxy's Edge that is dominated by the First Order.
These chips can be used in both the R-Series and BB-Series droids and cost $12.95 each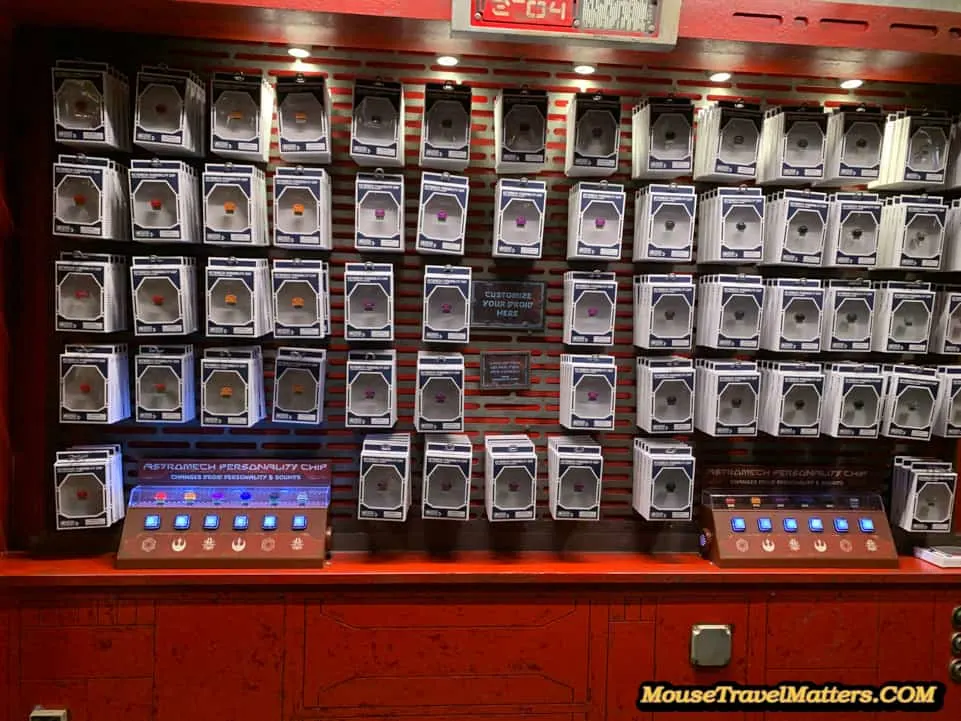 Bluetooth® Technology
These droids use Bluetooth technology to communicate with other astromech droid units as well as certain other elements and objects on Batuu and at Disney Parks and Resorts.
How much does Droid Depot cost?
A handbuilt droid costs $99.99, plus tax, a price that includes a carrying box and instructions (but doesn't include any of the add-ons, such as personality chips).
Droid Depot does sell Canvas Bags to carry your droid around the parks in style. These can be purchased for an additional $39.99
Annual Pass discount does not apply to the droid itself, but it can be used in purchasing the canvas bag and any additional items you buy.
Note – your lightsaber and/or droid can be sent to your Disney resort or at a designated location near the Disney's Hollywood Studios Main Entrance for convenient pick-up as you exit the park.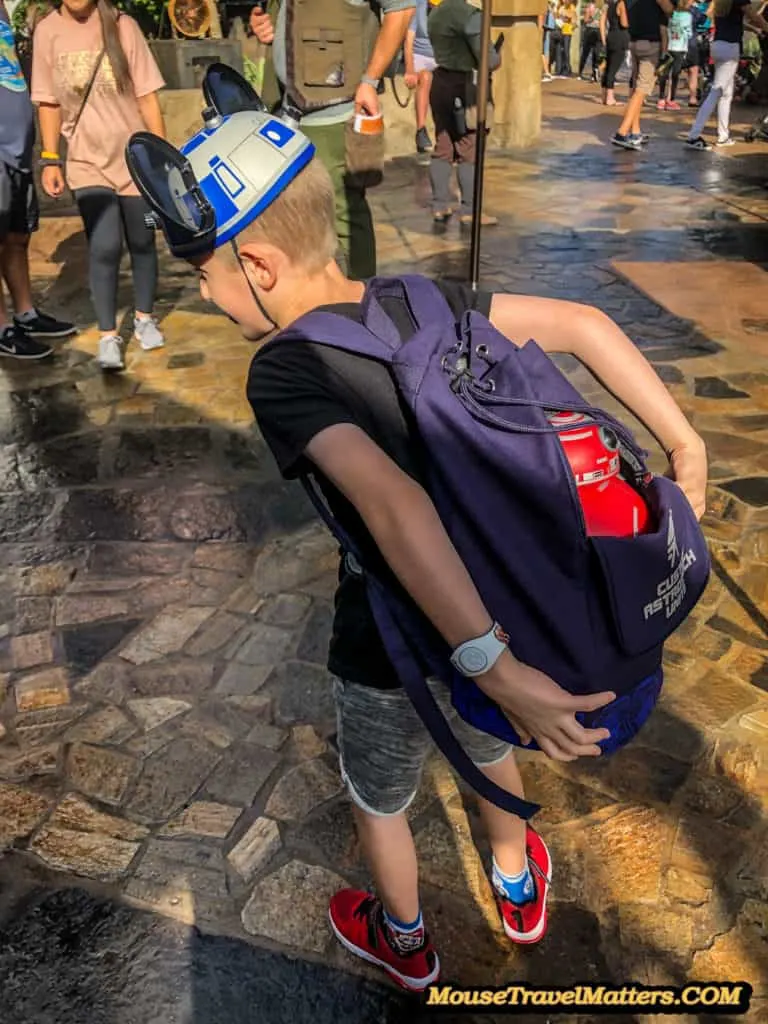 Using Your Custom Droid In Galaxy's Edge
Droid Depot custom droids cannot roll through Galaxy's Edge. Droids must be inside the carrying box provided, the special Droid Depot backpack available for purchase, or otherwise secured.
There is a fun little area next to the exit of Droid Depot, however, where children have been known to play with their droids. This appears to be the only place allowed.
R series or BB series?
Here's a YouTube video of our Droid Depot experience:
Your Thoughts...
Please share your thoughts in the comments or reach out on social media...We would love to hear from you.
Follow Mouse Travel Matters for Disney Parks news, the latest info and park insights, follow MTM on Twitter, Facebook, and Instagram.
You May Also Like…
Batuuan Spire Star Wars: Galaxy's Edge exclusive metal coin Disney Gift Card
Procedure for getting on the ride: Rise of the Resistance
Things to know about Savi's Workshop – Handbuilt Lightsabers
Things you need to know about Docking Bay 7 Food and Cargo
Things you need to know about Millenium Falcon: Smugglers Run
Things you need to know about Oga's Cantina