Last Updated on May 15, 2021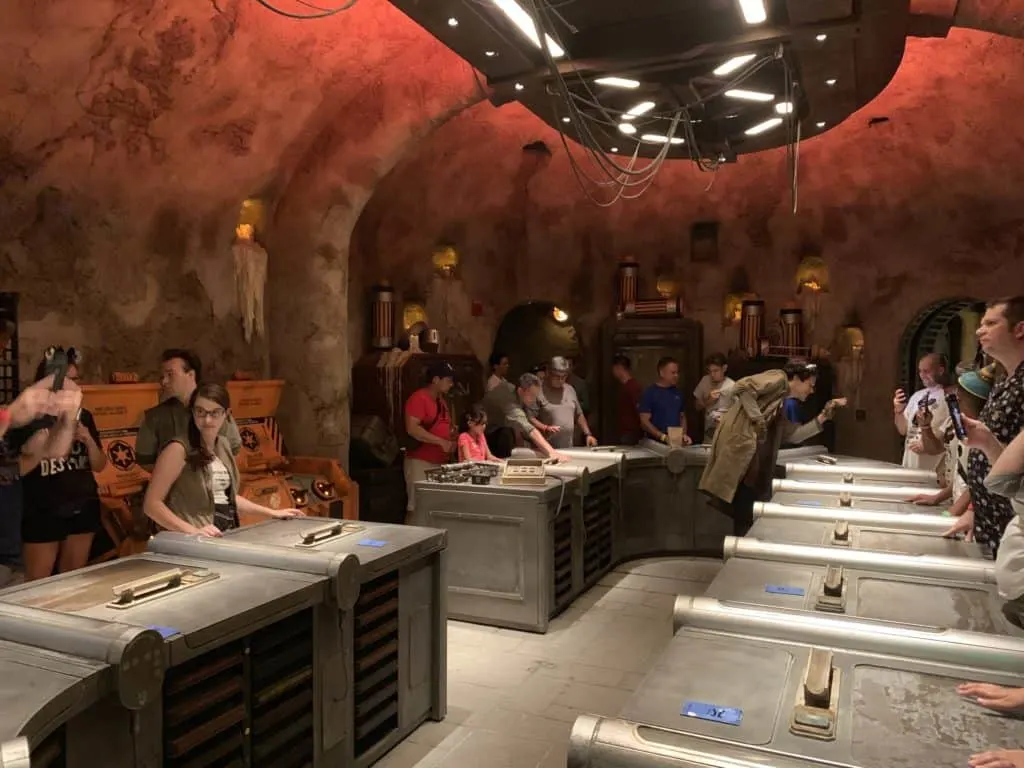 Black Spire Gazette visits Savi's Workshop – Handbuilt Lightsaber Experience. Here are the things you need to know about Savi's Workshop at Star Wars: Galaxy's Edge.
Do I Need A Reservation For Savi's Workshop?
We had such a special experience at Savi's Workshop. A couple things to note; You will need a reservation in advance.
Currently, Disney is allowing reservations through their official website. You can now make a reservation up to 60 days in advance. .
The lightsabers will cost you $199 plus tax and you prepay before entering the experience. It includes a carrying case and the experience lasts about 20 minutes. A reservation is needed for the person building the lightsaber and they are allowed to bring one guest to view the experience.
Be sure to check in at Savi's Workshop no earlier than 15 minutes before your reservation.
Same day cancelations are not allowed, however, modifications or correcting mistakes are allowed; we accidentally booked 2 people because I wanted to watch him build, not reading the fine print that we are only to book for the builder. We simply asked the Cast Member to modify the reservation and they easily deleted me and kept hubby.
See our Ultimate Guide to Star Wars: Galaxy's Edge!
Things You Need to Know: Savi's Workshop – Handbuilt Lightsabers
This covert outpost of the "Gatherers" is well hidden among the hustle and bustle of Black Spire Outpost. It is especially important for those who are one with the Force. Savi's Workshop may just have "the parts you're looking for".
Who: the "Gatherers"
The Gatherers are a clan of men and women working hard to maintain and pass on knowledge of the Force and the ways of the ancient Jedi order and its Lore of hope. These collectors of rare and unusual parts from throughout the galaxy must remain hidden from the gaze of the First Order.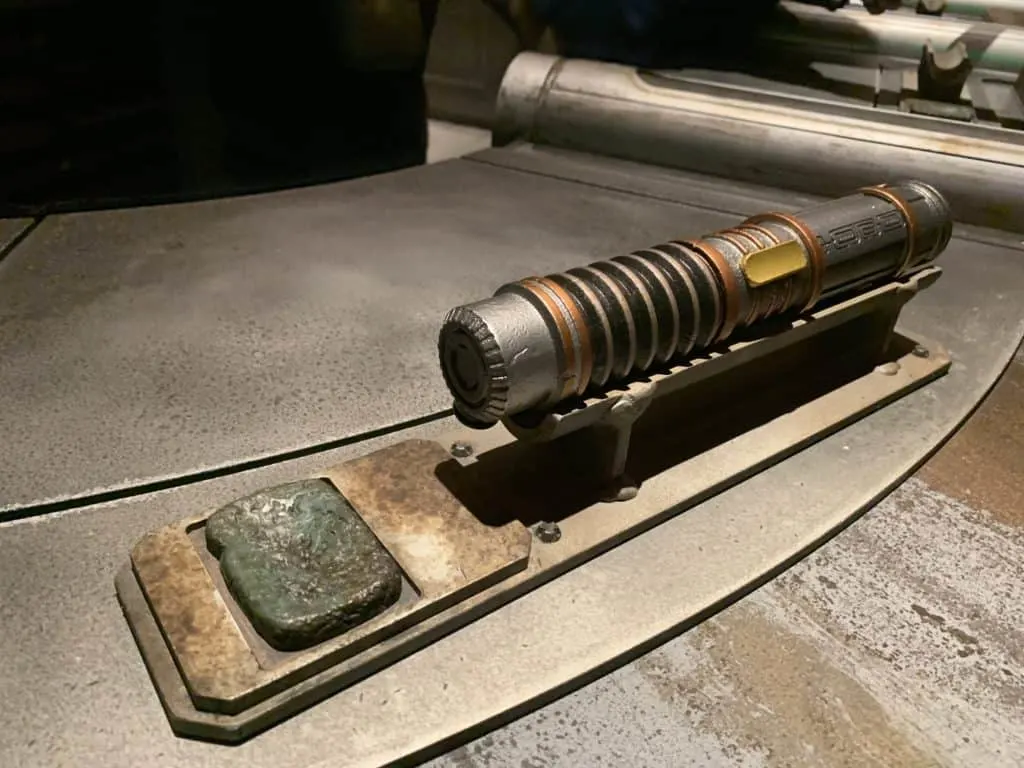 Savi
Savi was one of the original Gatherers seen briefly in "Star Wars: The Force Awakens". He created a salvage business to hide his clandestine mission of maintaining the legacy of the Jedi.
"Keepers of the Force"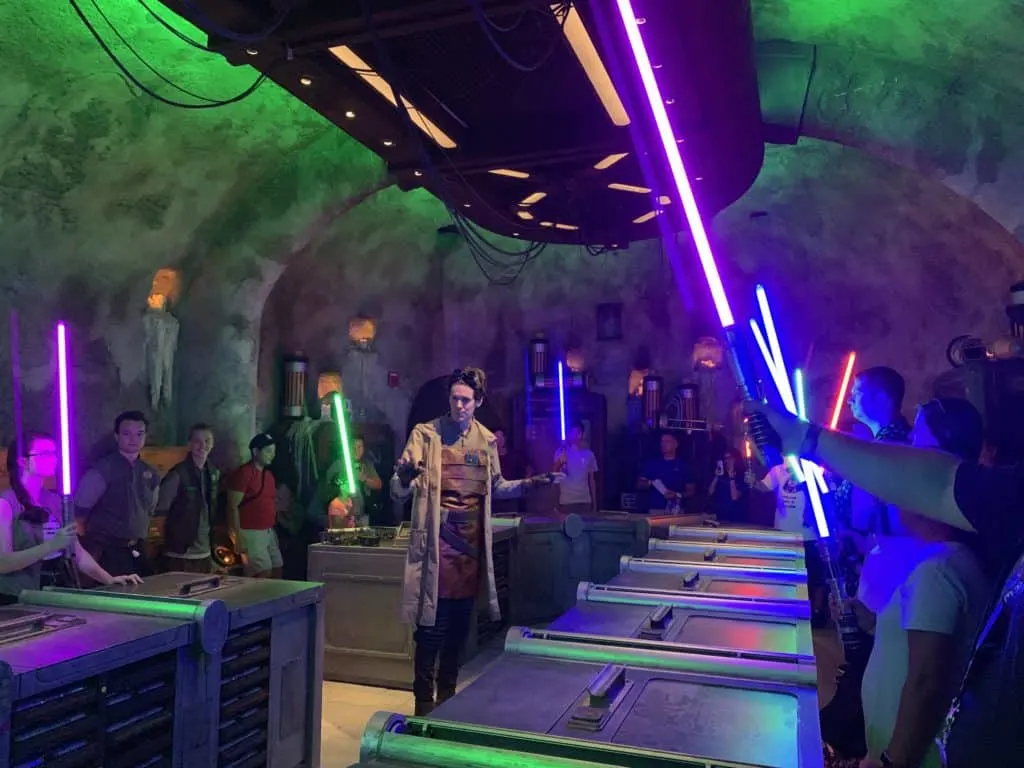 How to Build Your Own Lightsaber in Savi's Workshop
At the moment, Savi's is taking reservations to guarantee your spot. There is a standby queue for anyone that doesn't show up or modifies their reservation but they are few and far between.
For those that miss their reservation, or cancel after midnight, there is a full charge of 199$ to your account. So it is in your party's best interest to make that timing or cancel early.
On a similar note, it is possible to modify your reservation at the check-in desk. Guests that don't read the fine print, like me, one can easily forget to one make reservations for those that plan on building and therefore buying a lightsaber. Each builder is able to bring one partner.
If you have accidentally made a reservation for 2 but only want to build 1, like us, simply ask Savi's check-in desk to modify and they will happily change it for you. They can't, however, add more people to your reservation if the group is already full.

Where in the Market: Savi's Workshop – Handbuilt Lightsabers
Since lightsaber-building is a covert operation, Savi's Workshop is unmarked. So unless you're looking at the map online or using the Disney Play app, aka your datapad, you may have a little trouble finding it.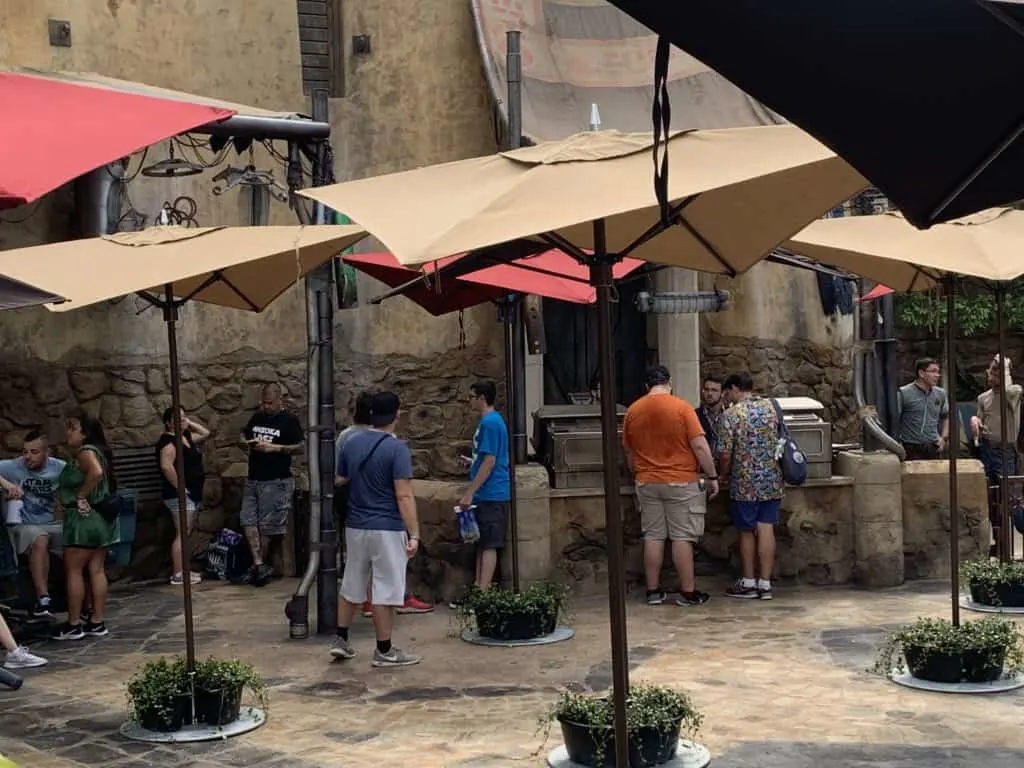 What: Handbuilt Lightsabers Made from Salvage
Kyber Crystals | Parts
Kyber Crystals are the foundation of the ancient relics of the Jedi Order and as such the Gatherers have amassed an impressive collection them, and of course many unique lightsaber parts.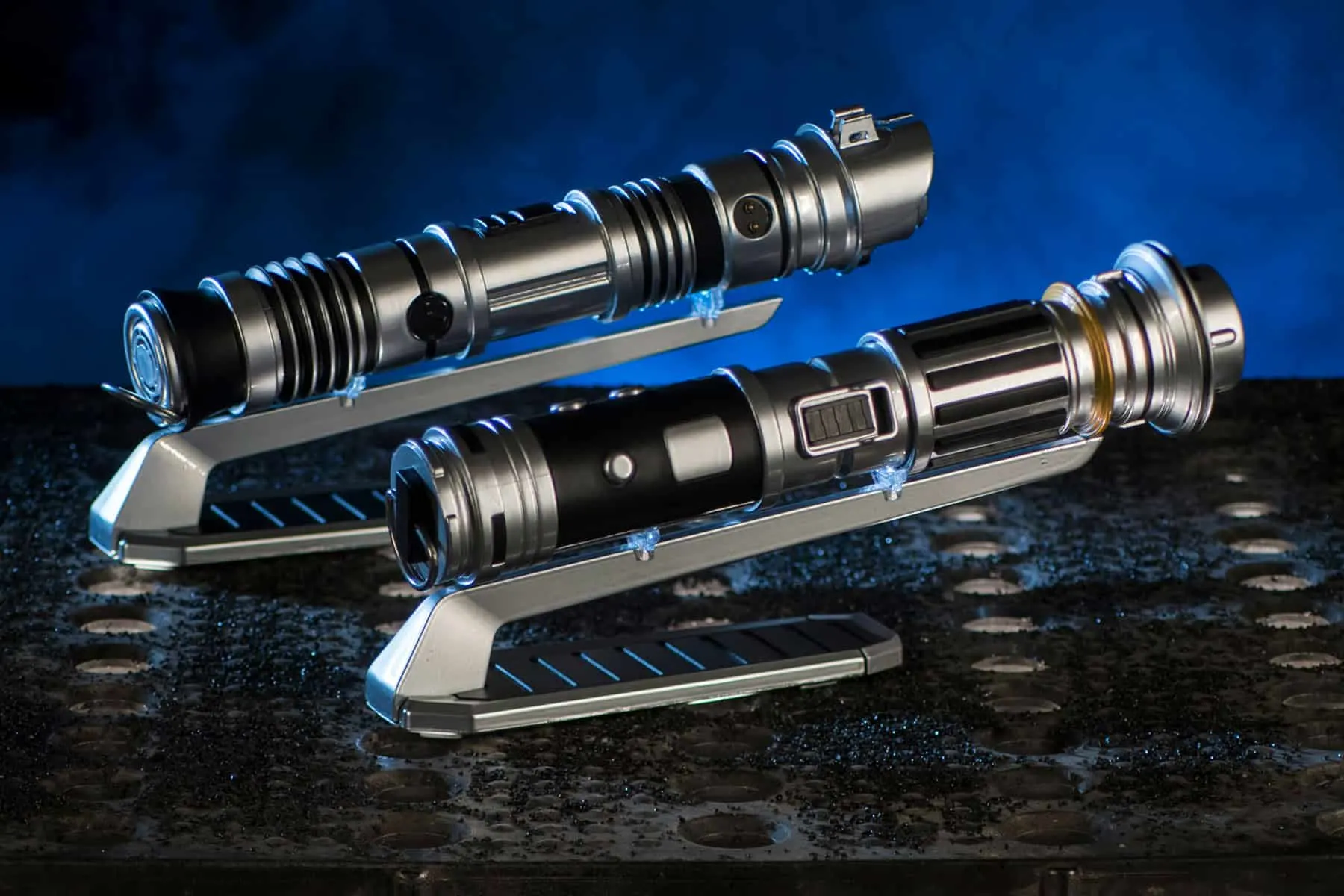 Lightsaber Hilt Themed Options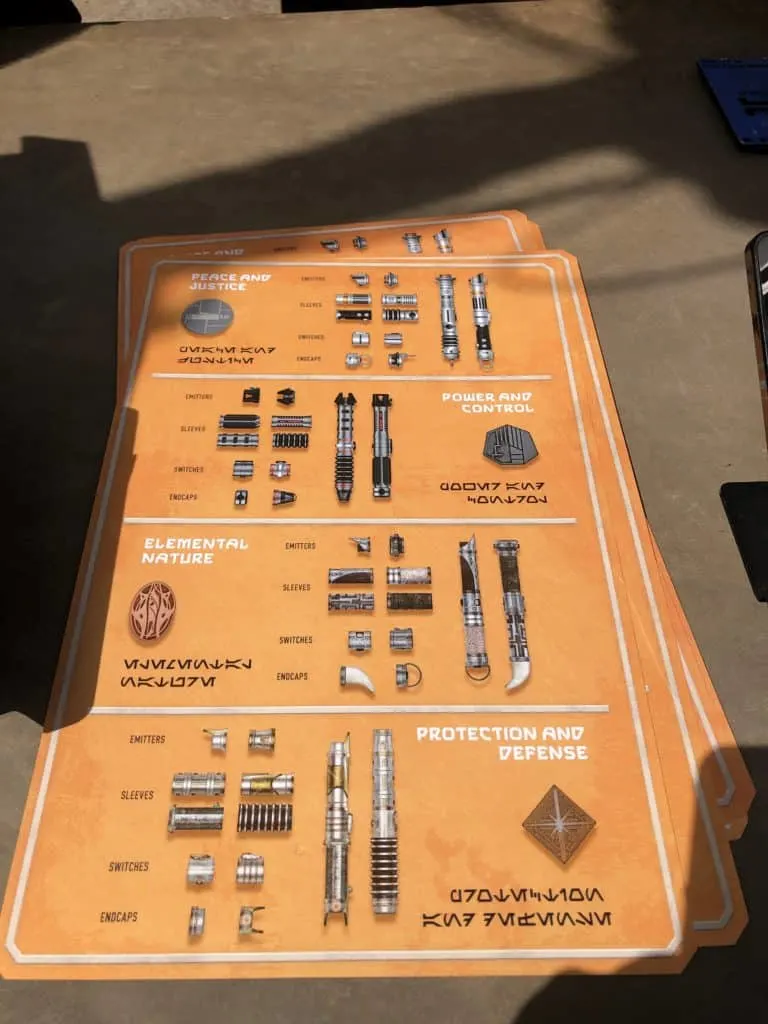 Elemental Nature
This theme embodies the Force—an energy created by all living things, like Brylark trees, Cartusion whale bones and Rancor teeth.
Protection and Defense
Hilt materials bear mysterious motifs and inscriptions that reconnect users with the ancient wellspring of the Force.
Peace and Justice
Salvaged scraps from fallen Jedi temples and crashed starships in these Republic-era designs honor the galaxy's former guardians.
Power and Control
Originally forged by dark side warriors, this style features rumored remnants from the Sith homeworld and abandoned temples.
The Gatherers will now help you select the heart of your lightsaber—the kyber crystal, which is available in red, blue, green or violet.
Next, begin assembling your hilt—parts will be provided based on your theme and cloisonné pin. Each box of parts includes:
1 hilt
4 sleeves (pick 2)
2 emitters (pick 1)
2 pommel caps (pick 1)
2 sets of activation plates and switches (pick 1 set)
Upon hilt completion, the unused parts will be collected by the Gatherers and returned to Savi's inventory. These are not included with your lightsaber package.
Finally, the Gatherers will masterfully connect your hilt to a 31" lightsaber blade so you're ready for anything the galaxy puts in your path!
Savi's Workshop Pricing and Logistics
Let's rip off the Band-Aid. At $199.99 $219.99 plus tax (Updated: 19 Apr 2021), this experience is an investment. You're paying to build your own lightsaber out of one of four different handle, or hilt, styles, then adding customizable options under the tutelage of the shadowy scrap-metal "Gatherers" in their secret workshop. Watch out for the Storm troopers outside after the experience.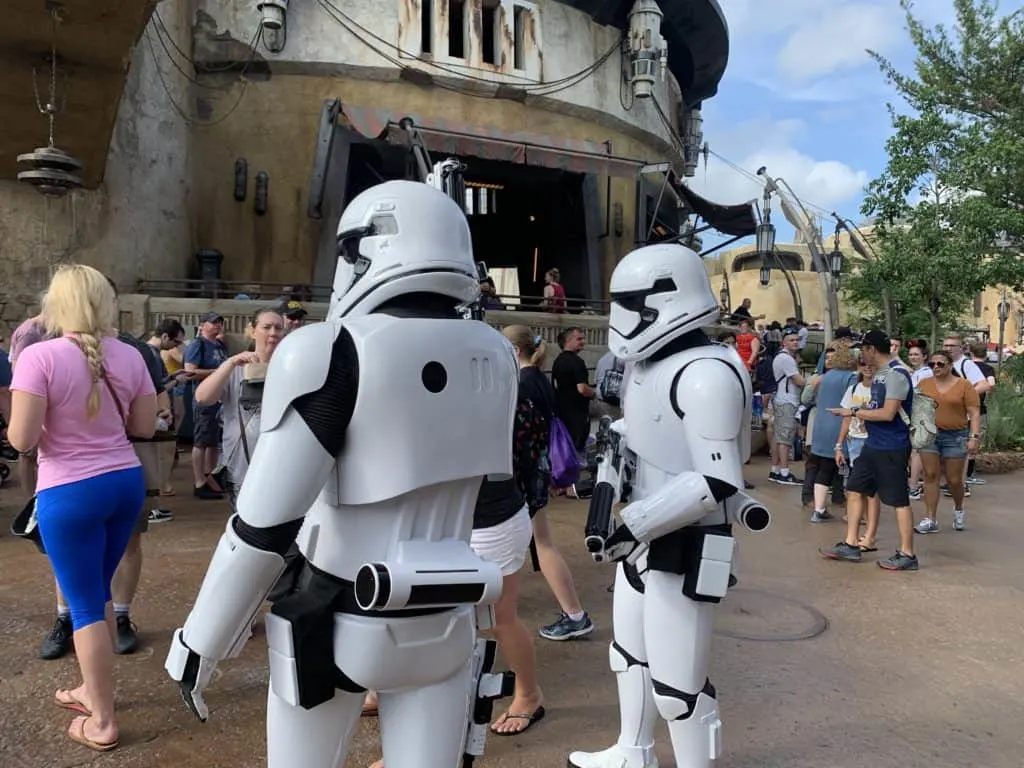 While these lightsabers are beefy, well-made items, you're largly paying for the experience of building the lightsaber in the workshop, and it is totally awesome!
You will be blown away by just how moving this 20-minute experience at Savi's Workshop, will worth the pricing for such an immersive experience.
Something important to consider is that two guests can attend the experience with the builder, this is a logistic you'll want to work out ahead of time, for a young padawan.
Know Before You Go
Payment will be due upon arrival at the location
One lightsaber per builder per experience
Carrying case included
Additional customization items can be purchased at Dok-Ondar's Den of Antiquities
Age Recommendation: 5 years or older
The experience area is limited to the builder and one Guest—at least one person in the party must be age 14 or older
Guest of the builder may not build a lightsaber when accompanying the builder
Custom lightsabers are nonrefundable and are not eligible for Annual Passholder or other discounts
The whole experience from start to finish was about 20 minutes. It did feel a bit longer than that, but it's good to know how much time you'll be spending beforehand. I didn't feel like it was too short or that they rushed us out. It was a good overall experience.
Video
calltoaction
You May Also Like…
How to use Mobile Ordering at Walt Disney World
5 Reasons Not To Get The Disney Dining Plan
Star Wars: Galaxy's Edge Complete Guide