Last Updated on April 13, 2020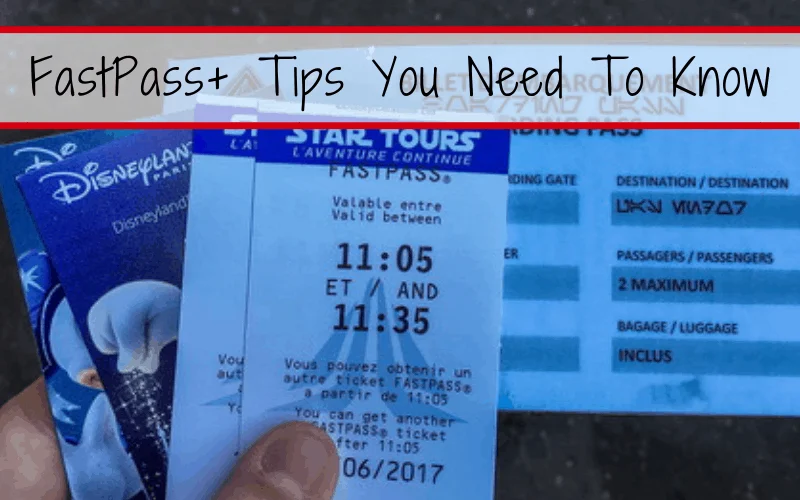 For those of you planning your first trip to Walt Disney World or your first trip since FastPass+ launched, there are a few tips and tricks to make the most of it.
Knowing how to create Fast Pass+ reservations is only the tip of the iceberg. The power lays in knowing when and where to make those FastPass + reservations in the first place.
As a reminder, guests staying at a Walt Disney World Resort hotel can make FastPass+ reservations up to 60 days in advance of check-in for their entire length of stay (up to 10 days), while guests staying offsite can make reservations up to 30 days in advance of each day of their theme park visit. The system allows guests to make advance reservations to skip the regular lines at three rides or attractions of their choice inside one park for every day of their visit.
Check out
Make Your FastPass+ Selections As Early As You Can Before Your Vacation
Know when your Fast Pass selection window opens and book that morning off from work. Hire a sitter, keep the hubby home in the morning, do what needs to be done because this is the time to make your selections.
This is also why having a Travel Agent make your initial Disney purchase is a good idea; they are literally paid to set up your holiday, including but not limited to Fastpass selections.
Check out this Planning Calendar to see when it is your turn to make those selections and definitely mark it on the family calendar.
What To Do If The Ride You Want Isn't Available
If your favorite rides are not available when you first make your FastPass reservations, keep checking back between the first day you can make your reservations and your vacation.
I would even go as far as saying to check on the day you are in the parks. When guests enter the Fast Pass queue, after scanning their Magic Bands, it is the typical pro-star procedure to then modify their next Fast Pass selection. Guests can see what has opened up and move their fast pass window accordingly.
Furthermore, if they can see that a standby queue isn't very long, they may opt to change their selection altogether to another ride that just became available. There are so any different types of Fast Pass strategies before and during ones vacation that it never hurts to keep checking.
Don't Make FastPass+ Reservations Right When The Park Opens Up
Rope drop tends to have the shortest lines. There are two schools of thought, when it comes to timing your fast pass selections;
1 – Make your first reservation for 90 minutes after park opening, especially on EMH days. This is when everyone has access and you will start to see the lines grow. You will also be able to push through your 3 selections that much faster, and have access to additional selections earlier than others
2 – Wait to use your Fastpasses until after lunch. This is when people are at their most grumpy, and lines are at their peak.
When Park Hopping, Consider Skipping Morning FastPasses Altogether
Since you will be at rope drop for your first location, and you can't book Fastpasses for two parks in a single day (during your initial selection), skip fast passes at the first park and schedule them all for your second park of the day.
This coincides with Fast Pass thought process #2 mentioned above – schedule Fast Passes for after lunch, shortly after arriving.
Don't Crowd Your Passes
Leave a little time between the FastPasses or you'll end up just running from one pass to another. Just because you have one hour to use your ticket, doesn't mean you will be out of the queue and off the ride in one hour. This is the hope, but not necessarily the reality.
Things happen, and booking too close together can leave you with little room to actually make it to your next attraction before your window closes. Having all 3 back to back to back is definitely not the way you want to book your fast passes. Leave at least one hour between your second and your third to allow for catch up, rest period and bathroom breaks.
However, you can be a little late or a little early to your reservation and still get in. The FastPass+ reservation has a one-hour window that shows up in the app, but it's really an hour and 20 minutes. You can arrive 5 minutes early or up to 15 minutes late, and currently, the system will still signal you as on time. If you are more than 15 minutes late, the Mickey light will shine blue instead of green, and it is up to the cast member whether you will be allowed in.
Don't forget about the Shows
There are a few shows, namely Animal Kingdom's Festival of the Lion Kingdom as well as Beauty and Beast Live on Stage, that offer fast pass selections for priority seating. On top of that, the nighttime spectaculars Fantasmic! and Rivers of Light also offer Fast Pass.
With this in mind, it is good to know which show/spectacular that is on your bucket list, how do they rank amongst the other priority attractions within the same park and how do you plan on seeing these shows?
Keep in mind that there are Dining Packages available for the nighttime shows, at an additional cost of course, so Fast pass isn't your only option for the best seats in the theatre but it is the cheapest.
Your Thoughts...
Please share your thoughts in the comments or reach out on social media...We would love to hear from you.
Follow Mouse Travel Matters for Disney Parks news, the latest info and park insights, follow MTM on Twitter, Facebook, and Instagram.
You May Also Like