Last Updated on September 15, 2019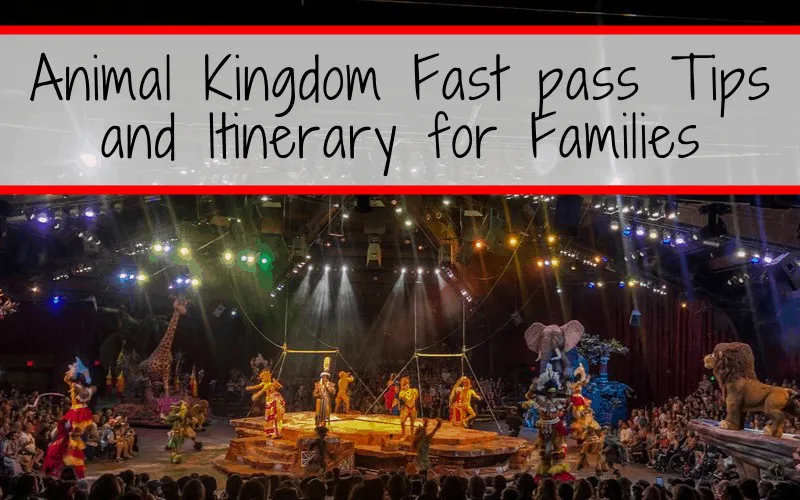 Are you looking for the perfect 1-Day Animal Kingdom itinerary to beat the crowds and get the most out of your day? Need help with Fastpasses+ selections, rope drop tips, and on how to plan your day in the park to maximize efficiency and prevent meltdowns?
Our 1-day Animal Kingdom itinerary answers all of these questions and offers a step-by step-plan for an ideal day at Animal Kingdom! For an absolutely perfect day at Disney, be sure to utilize these practical tips and customize your ride choices based on what your family desires.
1-Day at Animal Kingdom Itinerary: The Perfect Family Touring Plan
Within Disney's Animal Kingdom you'll find the following lands: Africa, Asia, Discovery Island and the Tree of Life, DinoLand USA, and Pandora. Each area is very different and offers unique experiences, including surprising character meet & greets and dance party. The park is centered around the Tree of Life, so if at any time you feel lost or confused, just find the tree and you'll be good to go.
This post may contain affiliate links.
To which I earn a small commission, at zero cost to you!
Find more info in our
Privacy Policy
.
Best Rides to Book a FastPass for in the Animal Kingdom
Avatar Flight of Passage
Na'vi River Journey
Kilimanjaro Safari
Keep in mind, Expedition Everest has a single rider line. If you can't or don't want to get a FastPass for Expedition Everest, all is not lost. Get into the single rider line and don't be too surprised if your group is broken up, or grab a Rider Switch if you have little ones in your group.
Try for Kali River Rapids but keep in mind the height restriction of 38″. All three of these attractions tend to generate long queues later in the day.
Rides/Shows to Avoid
Avoid getting fast passes for shows unless you are dead set on sitting in the front row.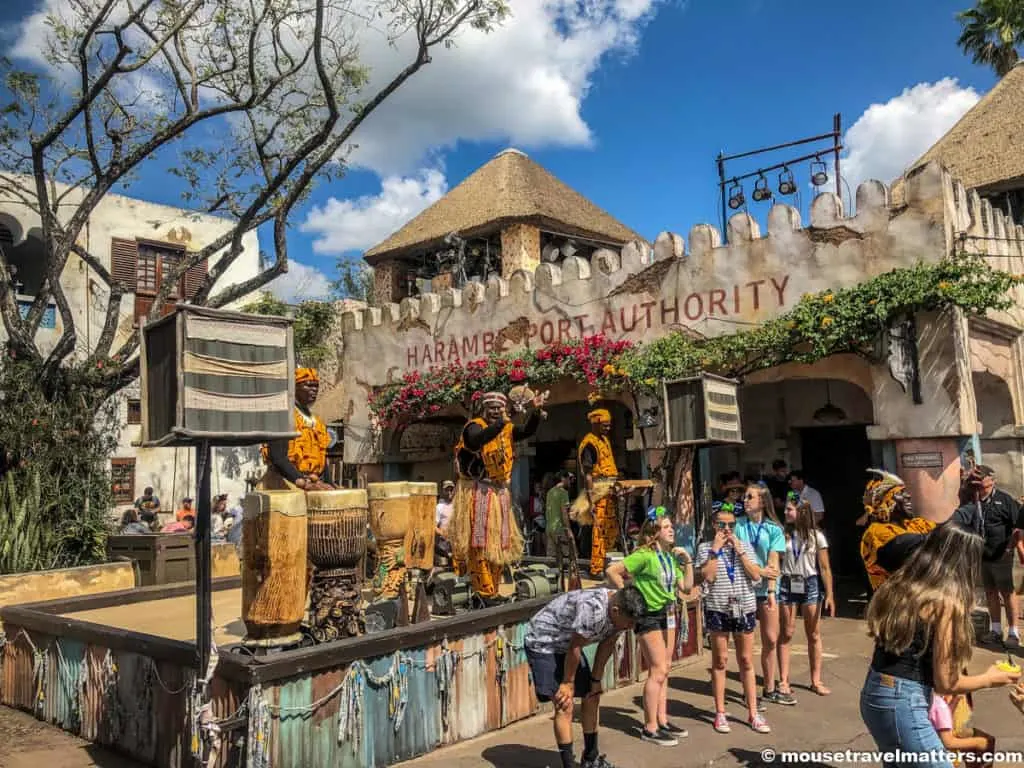 Where Are the Animal Kingdom FastPass+ Kiosks?
You can make additional FastPass+ reservations using the My Disney Experience mobile app, or with the FastPass+ kiosks located throughout the park:
Discovery Island: Near the Island Mercantile store
Asia: Near the entrance to Kali River Rapids
Africa: Near Dawa Bar and Tusker House restaurant
Things to Know for Making Animal Kingdom FastPass Reservations
Animal Kingdom is one of the largest Walt Disney World theme parks and is part animal experiences and part attractions and shows.
You can book 3 FastPass attractions per day in advance. Once you have used these 3 pre-selected FastPasses, you can then make additional FastPass+ reservations, one at a time, while you are at Walt Disney World, through your smartphone app or at an available Kiosk. After you use all 3 FastPass you can book a 4th, use it, book a 5th, use it, etc.
You may arrive at a ride that you have a FastPass for and find a short wait. If the wait is 20 minutes or under, ride in the regular line and change your Fastpass while you wait. You can do this on the My Disney Experience app.
Read this article for more Disney World FastPass Tips.
There is no fee to use FP+ — it's available to everyone and free with park admission.
Guests staying at Disney resort – otherwise known as 'on-site' – are able to make their Fastpass reservations up to 60 days in advance of their check-in date. Off-site guests, those staying at an outside hotel, are able to make their reservations at 30 days before check-in.
Most FP+ ride reservations specify a one-hour window during which you may enter the attraction.
In my opinion, FastPass+ selections, timing, and physical location of the rides in relation to one another, make all the difference in a successful touring plan with minimized wait times.
When you arrive at an attraction with your FP+, you'll be directed to a separate, shorter "FastPass+ Return" line. To enter the line, you must validate your reservation by touching your MagicBand or RFID ticket to a reader at the FP+ Return entrance.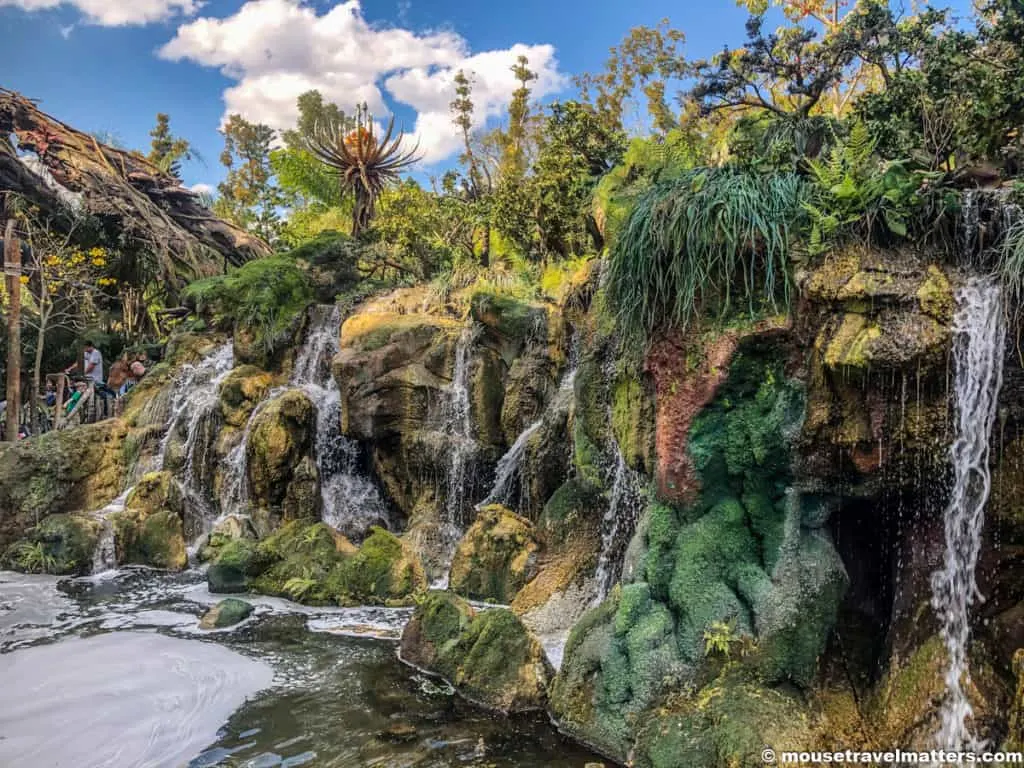 What are the Animal Kingdom rides that take FastPass?
Animal Kingdom Fastpass Tier 1 Attractions
Avatar Flight of Passage
Na'vi River Journey
Animal Kingdom Fastpass Tier 2 Attractions
Kilimanjaro Safaris
Expedition Everest
DINOSAUR
Kali River Rapids
Primeval Whirl
Rivers of Light
It's Tough to Be A Bug
Festival of the Lion King
Finding Nemo Musical
Adventurers Outpost Character Greeting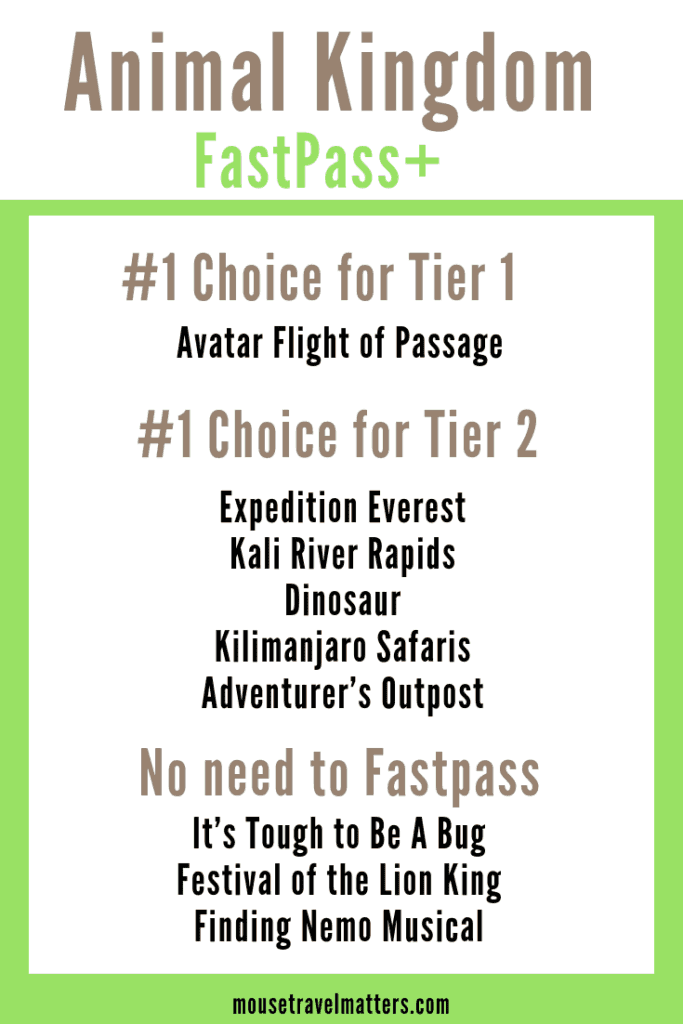 Animal Kingdom Itinerary for Families
I'm not usually one to promote rope-dropping with little ones, because waking them up in the morning can be dangerous to everyone's sanity. But, with so many incredible attractions, most of whom are 20+ minutes long, and being so spread apart, it is important to get in early and avoid those long ride queues.
Option 1
Flight of Passage (FP 9:00-10:00 am)
Gorilla Falls Explorations Trail
Kilimanjaro Safari (FP 10:30-11:30 am)
Lunch- Tusker House Character dining – Rivers of Light dining package
Rafiki's Planet Watch
Maharajah Jungle Trek
Kali River Rapids (FP 3:30-4:30 pm)
Dinosaur
Boneyard
Dinner Satu'li
Rivers of Light
Option 2
Gorilla Falls Explorations Trail
Snack at Harambe
Festival of the Lion King
Kilimanjaro Safari (FP 11-12 pm)
Lunch- Tusker House Character dining – Rivers of Light dining package
Rafiki's Planet Watch
Maharajah Jungle Trek
Kali River Rapids (FP 2-3 pm)
Dinosaur
Boneyard
Flight of Passage (FP 5:30-6:30 pm)
Dinner Satu'li
Rivers of Light
I don't have any characters on this list but you can meet some really fun ones like Flik from Bugs Life, Russel and Dug from Up, and Donald and friends at the Dino-Bash. You can do this alongside the Boneyard, or instead of, depending on how much energy the children have left to burn.
If you are skipping some of the more intense attractions take your time exploring the park, play in The Boneyard playground, or become a Wilderness Explorer.

Animal Kingdom; Africa in the Morning
In theory, you will have scored some fast passes for Flight of Passage for later in the day. I say later, because there is so much to do during the day, that we like to schedule anything that can be done later, to a later time.
Fastpass Kilimanjaro Safaris
Unless you arrive at the very start of the day before anybody else has lined up, you can expect a long queue for the Kilimanjaro Safari. We recommend getting a FastPass for the safari if you're able to.
We recommend doing the Kilimanjaro Safari as early in the day as possible as it'll be cooler and the animals will be more active.
Festival of The Lion King
While I don't recommend getting a Fastpass for Festival of The Lion King, it is a must-see attraction and should definitely make it into your itinerary.
Character dining at Tusker House
When we first arrived at Disney World we didn't have any plans to set aside time for character dining. Tusker House is a great way to see those lovable characters in their Safaris costumes, without waiting in line. You and the kids will need a break and what better way to relax than to eat an amazing buffet and have Disney characters come to you.
Rafiki's Planet Watch
Rafiki's Planet Watch can be a bit much, especially if you signed your kids up for Wilderness Explorers. Between the Wildlife Express Train, which takes about 7 minutes each way, and the Conservation Station, there is a lot to see here. Thankfully, all 5 Wilderness badges are in the same spot so if you don't want to stay too long, you don't have to.
Animal Kingdom; Asia in the Afternoon
Right next to Africa, is Asia. If you have the time, we suggest the UP! A Great Bird Adventure. There are set timings and doesn't always fit into everyone's schedule but if you can, it's a real treat for the kids.
Fastpass Kali River Rapids
Be mindful of the height restrictions on this one, but we think your kids will have a great time riding the rapids.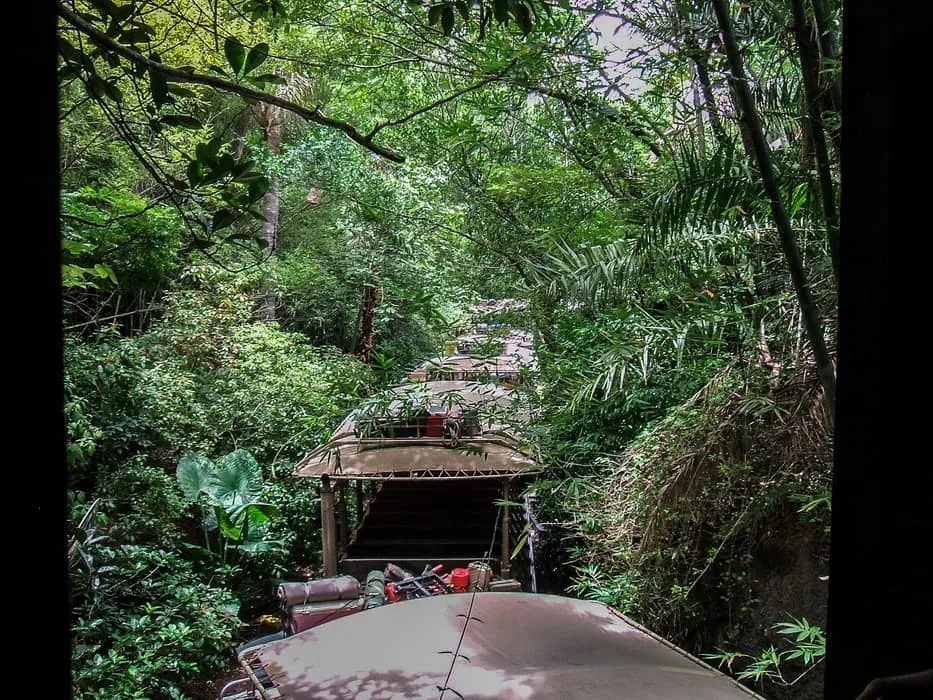 Downtime in Dino Land
After you have explored what you wanted to do and allowed the kids to have a show or two, they will be asking for a park or play area of some kind. Not that we paid to go to Disney so they can play at the park, but they are still kids after all. Even if they have been depleted of all their energy, there is a hidden reserve just for parks.
Donald's Dino-Bash!
From 4pm-8pm on Fridays and Saturdays, DinoLand U.S.A turns into a giant dance party with characters and entertainers alike. Even if you can't stay long, take a few minutes to soak up the fun.
Animal Kingdom; Pandor in the Evening
Since both Na'vi River Journey and Avatar Flight of Passage are indoor rides, it doesn't exactly matter what time of day you physically board the ride. And considering the Animal Kingdom shows end around 4 pm, it's best to wait it out for these guys.
Again, assuming you have evening Fastpasses. If you don't, then it is best to wait until near park closure, after the Rivers of Light show has finished, or arrive 1 hour before park opens and be among the first to ride.
Rivers of Light
Having a dining plan really helps with the budget constraints for table service restaurants. In this case, when paying out of pocket for Tusker house, one needs to pay extra for the Rivers of Light preferred seating package. But on the dining plan, one simply needs to select the appropriate dining reservation and the preferred seating package is covered by the 1 TS credit.
This is a great way to guarantee a great seat for Rivers of Light, without using one of your fast passes, and not having to wait over an hour in line.
More Walt Disney World Planning Tips:
Your Thoughts...
Please share your thoughts in the comments or reach out on social media...We would love to hear from you.
Follow Mouse Travel Matters for Disney Parks news, the latest info and park insights, follow MTM on Twitter, Facebook, and Instagram.