Last Updated on January 19, 2020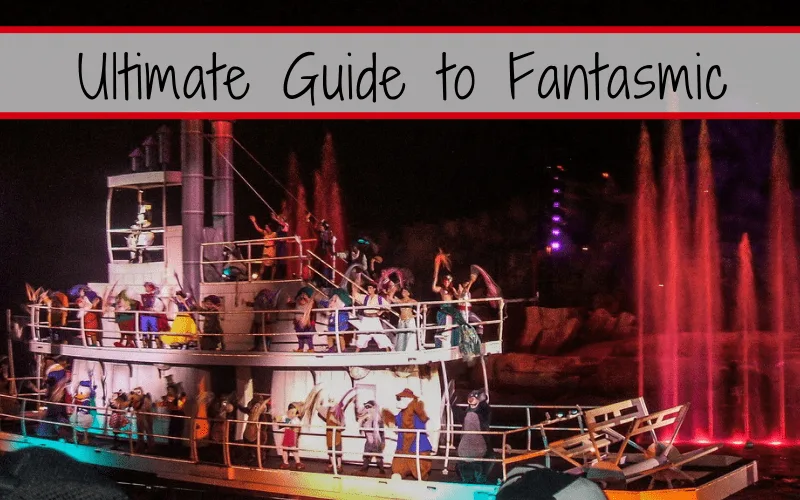 Each of Walt Disney World's 4 theme Parks has their own evening spectacular. Fantasmic is Hollywood Studio's Nighttime show. Based on the 1940 film Fantasia and hosted by Sorcerer Mickey, Fantasmic brings countless Disney movies to life in a unique and fascinating way.
There are 4 different ways to enjoy Fantasmic on any given night; Fantasmic Dining Package (FDP), Desert and VIP viewing experience, Fastpass tickets and standard queues. Each of these options comes with their own set of seats, expectations and preparation tips.
This is our guide to all things Fantasmic. Be sure to watch until the end to view a DIY Fantasmic project to further enhance your experience.
How do I prepare for Fantasmic?
There can be long lines waiting for the show doors to open. Guests must be seated 15 minutes before the show starts. The Hollywood Hills Amphitheater has bench seating with no backs or padding.
The Hollywood Hills Amphitheater opens 90 minutes before show time for seating, and food is allowed inside. Get in line at least 45 minutes before the show time. This 30-minute show is usually performed two nights a week except during holidays and peak season when it's held more frequently with two showings each night. During the holidays and peak season, take advantage of the second showing of Fantasmic!
To get a little perspective, Hollywood Studios has a max capacity of roughly 75,000 people. Fantasmic can fit 11,000 people.
This post may contain affiliate links.
To which I earn a small commission, at zero cost to you!
Find more info in our
Privacy Policy
.
Fantasmic Dinner Package
The Fantasmic Dining Package is a set dining reservation at Hollywood Studios before the show, in which you receive a VIP seating voucher. While this sounds amazing and why wouldn't everyone be on this immediately, there are a few cons to counter the pros.
Dinner won't cost extra, if you are on the Disney Dining Plan. 1 credit is 1 credit, regardless of perks. This does mean, however, that those paying out of pocket for their meals are looking at an extra cost for VIP seating. Naturally. However, reservation timings are off-peak. To the point of absurdity; 3 pm dinners?
Here's the rundown of the FDP restaurant options.
Hollywood Brown Derby
Available for lunch or dinner
Package includes an entree, dessert, drink and seating voucher
$62.99 for adults; $21.99 for children
Costs 2 Table Service credits on the Disney Dining Plan
Mama Melrose's Ristorante Italiano
Available for lunch or dinner
Package includes an entree, dessert, drink and seating voucher
$44.99 for adults; $17.99 for children
Costs 1 Table Service credit on the Disney Dining Plan
Hollywood & Vine
Available for dinner
Package includes an all-you-can-eat buffet and seating voucher. Minnie and pals are at dinner.
$53.99 for adults; $32.99 for children
Costs 1 Table Service credit on the Disney Dining Plan
The package, which includes the Fantasmic! seating pass, MUST be guaranteed at the time of booking with a credit card, and a $10 cancellation fee applies if not cancelled at least 48 hours beforehand.
Fantasmic Dining Package cancelation policy
You will be given guaranteed seating within 5 days. To attend on another night, valid theme park admission is required.
Per the website: In the event of a show cancelation due to inclement weather, guaranteed seating will be made available for an alternative performance within 5 days of the date you were originally scheduled to attend. Valid theme park admission is required. Please note that your dining experience will still take place, even in the event that your entertainment experience is canceled.
If you plan to visit more than one park in the same day, you will need to have the Park Hopper option, so plan accordingly when purchasing your tickets. This feature can also be added to your theme park tickets during your stay, so stop by any ticket window if you need to upgrade your current tickets.
FDP know before you go
Entrance tickets are required
Arrive at least 25 minutes before the show to take your seat.
Seats are not assigned. There is such a thing as better or worse VIP seats
The entrance is on Sunset blvd next to Beauty and the Beast.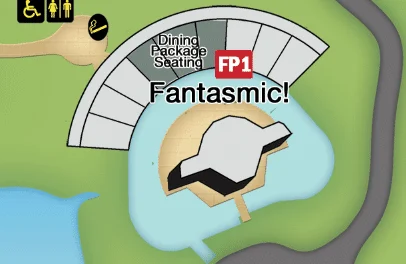 How do I book the Fantasmic! Dining Experience?
You can book the package now for dates up to 180 days in advance by calling 1-407-WDW-DINE, or online at Disneyworld.com
This is not the same as booking ADR through the app. You need to select the package. If you already have the dining reservation selected, be sure to call and book the Fantasmic dining package, then remove the separate dining reservation from your My Disney Experience.
Fantasmic Dessert and VIP viewing experience
Unlike the dessert parties at the Magic Kingdom or Epcot, Fantasmic Dessert and VIP viewing guests are given a box of Fantasmic themed sweet and savory desserts, a bottle of water and a drink (alcoholic or non-alcoholic), and a VIP seating pass.
This costs $39 per adult and $19 per child and will be seated in the same VIP section as Fantasmic Dining Package guests. This is not covered by the Disney Dining Plan.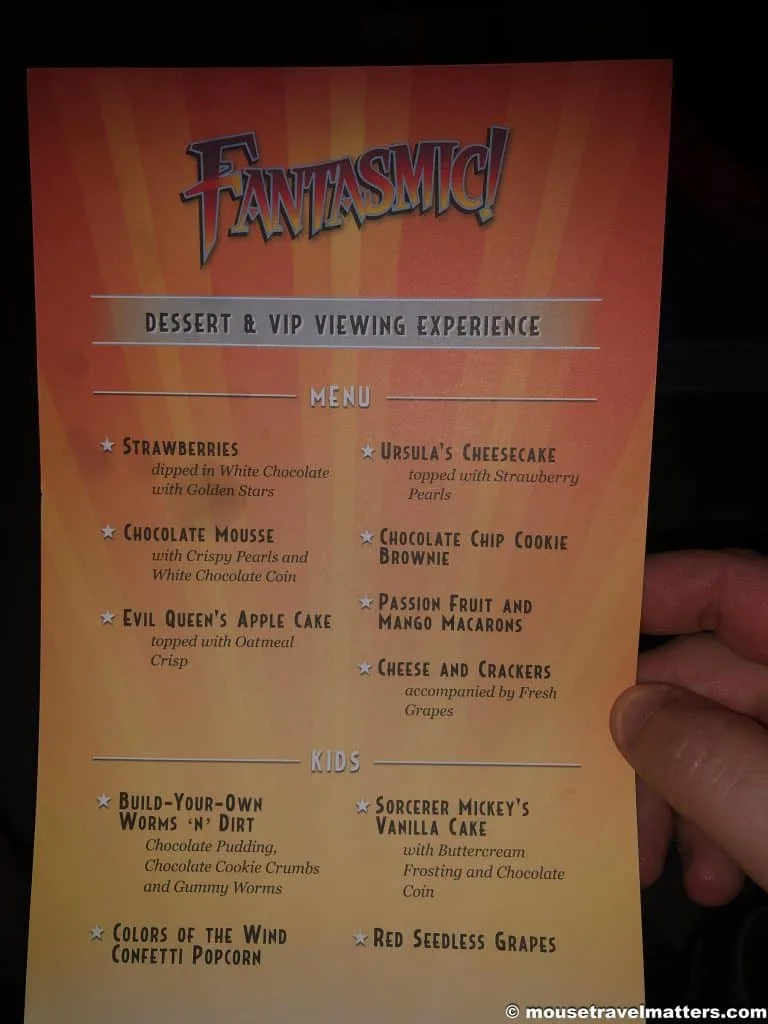 Fantasmic Fast pass+
Fantasmic also offers FP+ tickets for those not interested in the dining or desert package. These are not recommended as your first round of fast pass selection since they will not be used until park closure, which means no more selections throughout the day.
However, once you have used your initial, feel free to FP+ Fantasmic closer to the end of the evening.
Where to sit
As any amphitheater, there are no 'bad' seats. There are, however, best and better seats. Get as close to the middle as possible, and half way back. Getting too close to the front row means you run the risk of getting wet, but you will take amazing photos of the passing boats.
Also, it tends to get hot in the front row during the pyrotechnics.
Glow with the show
Disney has come up with some amazing technology over the years and now they have created these amazing EARS!!
Choose from 5 Made with Magic items, including:
3.0 Connected Ear Hat – Glow with the flow with this new hat that lights up and interacts with select Disney in-park and home entertainment experiences.
Minnie Mouse Headband
Sorcerer Mickey Wand
Rivers of Light Totem Glow Wand
All Made with Magic accessories are programmed to light up at key moments, matching the colors and flashing to the beat throughout a variety of popular evening shows, including:
Park Experiences
Fantasmic! at Disney's Hollywood Studios
Happily Ever After fireworks show at Magic Kingdom
Once Upon A Time at Magic Kingdom
Rivers of Light at Disney's Animal Kingdom
Select concerts at the America Gardens Theatre in the American Adventure Pavilion at Epcot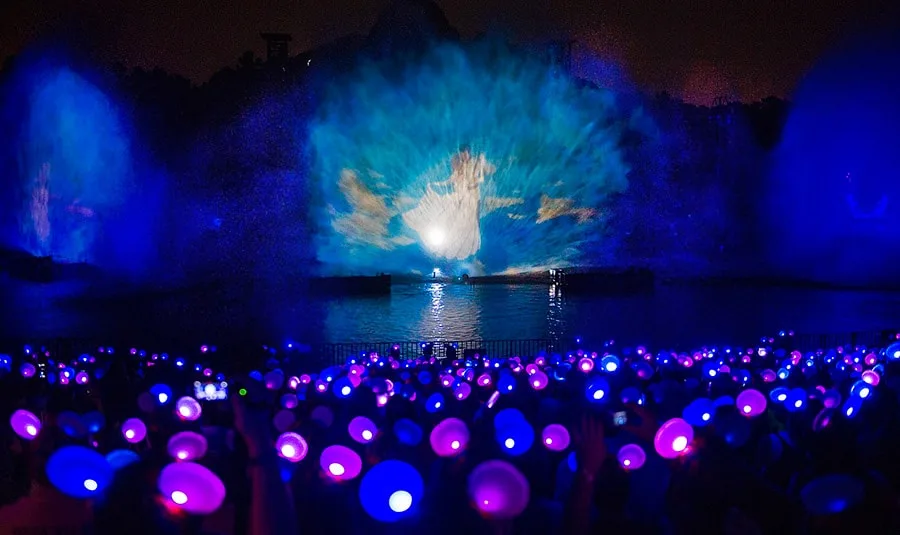 World Showcase at Epcot
Stroll along World Showcase promenade and watch with wonder as your Made with Magic items light up with the colors of each country's flag.
The glow must go on! Guests can now use Bluetooth functionality and the in-app Color Remote from the Shop Disney Parks app to adjust the colors and speed of the strobe on their Made with Magic: 3.0 Connected Ear Hats, as well as others
Want To Make Your Backpack Magically Glow Along With Disney's Light Shows?
As with all things Disney, I have once again fallen down the rabbit whole while researching Fantasmic and came across this wonderful piece of information.
YouTuber "Estefannie Explains It All" was able to convert her Minnie Magically Glow Along ears into a glowing backpack with a little engineering know-how. Making things even cooler, she had Mickey's Sorcerer Wand (also part of the Made with Magic product line) which enabled her to control the bag's LEDs while walking around. Take a look.
Fun Facts
In the grand finale, 26 Disney characters cruise across the moat aboard a replica of the "Steamboat Willie" boat. At 80 feet long, it's larger than Christopher Columbus' Nina, Pinta and Santa Maria.
To create a surface on which animation can be projected, water screens pump 2,400 gallons of water into the air every minute
Your Thoughts...
Please share your thoughts in the comments or reach out on social media...We would love to hear from you.
Follow Mouse Travel Matters for Disney Parks news, the latest info and park insights, follow MTM on Twitter, Facebook, and Instagram.
You May Also Like