Last Updated on August 21, 2023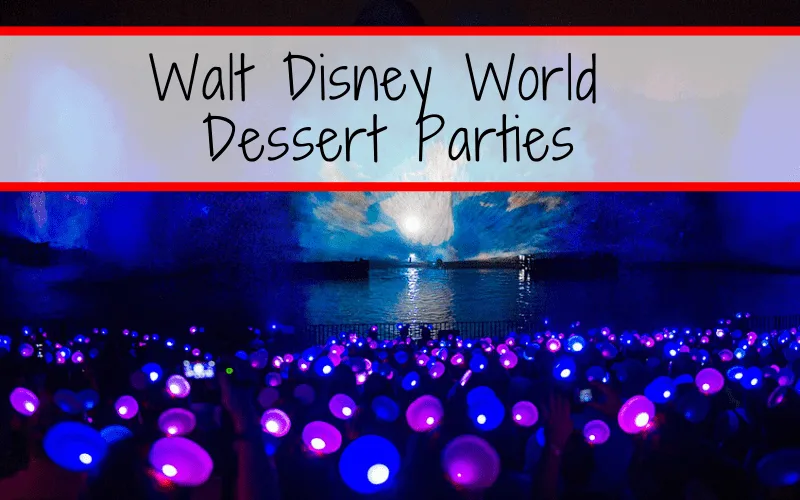 As I am researching the best places to sit for nighttime spectaculars in each of the Parks, the first and most prominent advice seems to be "attend a Dessert party".
There are a whopping 10 Dessert parties to choose from (2 of which are seasonal) amongst the 4 Disney Parks and they all look amazing. But what are they, how much do they cost and what exactly am I getting for all that cash?
Have you attended a Disney Dessert Party? Share a picture on Facebook or Twitter and tell us what you think.
What is a Disney Dessert Party?
As the name would suggest, a Disney Dessert Party is simply a hard-ticket event (which also requires valid theme-park tickets) that gives out all-you-can-eat desserts and drinks about 90 minutes before the actual nighttime spectacular is scheduled to start. Some of these parties have an added bonus of character meetings or exclusive ride access, but they all have one major thing in common; VIP seating! At these prices, I better have the best seat in the house.
Fireworks Dessert Parties in Disney World's Magic Kingdom
There are two versions of the Fireworks Dessert Party at the Magic Kingdom. (Please note: there is also an After-Fireworks Dessert Party.)
The Fireworks Dessert Party at Tomorrowland Terrace starts with a dessert buffet at Tomorrowland Terrace prior to the Magic Kingdom Fireworks spectacular, Happily Ever After. Guests stay at Tomorrowland Terrace to enjoy a prime viewing spot with seating during the show. The cost is $85 for adults and $50 for children
The Fireworks Dessert Party with Plaza Garden Viewing likewise begins with the same dessert buffet at Tomorrowland Terrace. Guests are escorted to a reserved standing area in the Magic Kingdom hub to view the fireworks. This is a standing/sitting on the ground area as no actual chairs will be provided on the Hub grass.
Guests should report to Tomorrowland Terrace Restaurant 75 minutes prior to the evening's designated Fireworks time.
Fantasmic! Dessert & VIP Viewing Experience
This Dessert & VIP Viewing Experience includes a selection of pre-prepared sweet and savory snacks and an alcoholic or non-alcoholic beverage in a souvenir cup, as well as reserved VIP viewing for Fantasmic! at Disney's Hollywood Studios. Unlike other Dessert Parties, the food is not all-you-care-to-enjoy and you are instead given a box of food to bring with you and eat while you watch the show. Prices are $39 for adults and $19 for children.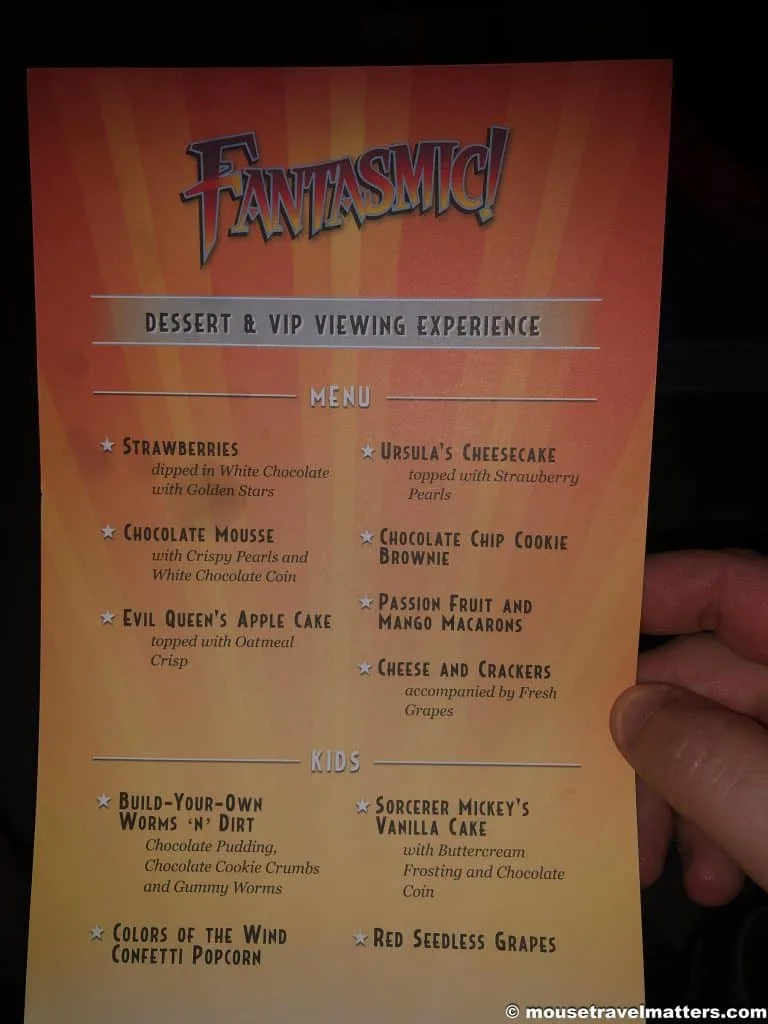 Frozen Ever After Dessert Party
Guests of the Frozen Ever After Dessert Party at Epcot will once again receive all-you-care-to-enjoy desserts and VIP viewing for IllumiNations. After the fireworks, you will be escorted to the Norway Pavilion for a ride on the Frozen Ever After attraction. This is $79 for adults and $49 for children. Disclaimer: this is not a character meet-and-greet event.
Rivers of Light Dessert Party
This Dessert Party includes all-you-care-to-enjoy desserts, snacks, and beverages prior to a showing of Rivers of Light at Disney's Animal Kingdom, as well as reserved seating for the performance. The prices are $79 for adults and $47 for children.
Star Wars: A Galactic Spectacular Dessert Party
The Dessert Party offers guests "Star Wars"-themed desserts, and specialty beverages prior to a VIP viewing of the Star Wars: A Galactic Spectacular fireworks show. The buffet is all-you-care-to-enjoy. This costs $79 for adults and $45 for children.
We have a full review here.
Jingle Bell, Jingle BAM! Dessert Party
During the holidays, Disney's Hollywood Studios offers a Dessert Party with VIP viewing of the Jingle Bell, Jingle BAM! nighttime show. Prices vary depending on the dates you plan to go, but you can expect anywhere between $79 and $89 for adults and $45 to $49 for children.
Lesser known dessert parties
Pirates and Pals Fireworks Voyage – Disney's Contemporary Resort
This fireworks cruise/dessert party definitely has kid appeal. This party is hosted at Disney's Contemporary Resort and guests are treated to pirate goodies including, cake, ice cream, candy, and hot and cold beverages. Soon after, guests will be able to meet the host of the part; Captain Hook and Mr. Smee. Guests eventually make their way to a boat that takes them out to Seven Seas Lagoon to view the Happily Ever After fireworks. The cruise costs $72 for adults and $43 per child.
Ferrytale Fireworks: A Sparkling Dessert Party – Departs from Transportation and Ticket Center
Another great party at sea, this one start at the Transportation and Ticket Center. Once you cast off, you are offered an amazing selection of signature treats and specialty drinks—with or without alcohol. There's even an ultraviolet scavenger hunt for the kids. Admission is $99 for adults and $69 for children ages 3 to 9 (tax and gratuity included), and even includes a special take-away surprise.
Your Thoughts...
Please share your thoughts in the comments or reach out on social media...We would love to hear from you.
Follow Mouse Travel Matters for Disney Parks news, the latest info and park insights, follow MTM on Twitter, Facebook, and Instagram.
You May Also Like…