Last Updated on February 23, 2022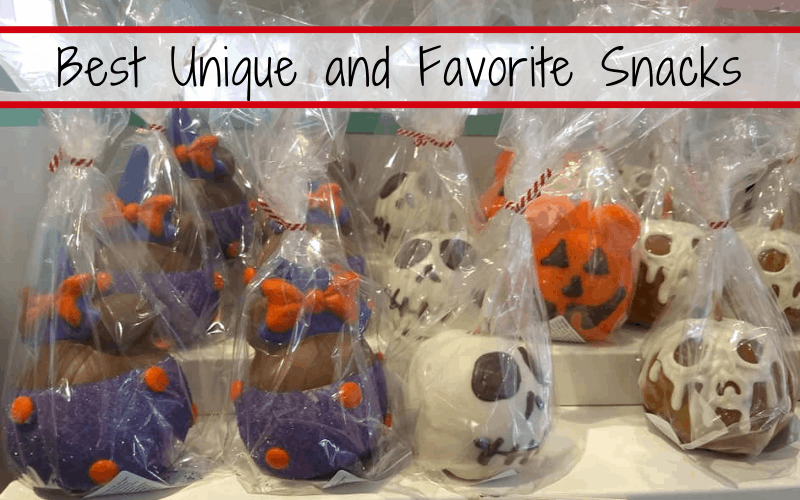 Nothing comes cheap when you visit Disney; even the water is priced high (which is why we suggest bringing your own refillable water bottle and getting free refills). For this reason, we like to research the different types of snacks, where they are, and roughly how much they cost.
This post may contain affiliate links.
To which I earn a small commission, at zero cost to you!
Find more info in our
Privacy Policy
.
By researching, I can pick and choose in advance where I want to spend my money or snack credits. Even better, I get a general idea of which treats are unique and "iconic" and which are just pretty versions of regular snacks from home. Sure, Mickey Krispie treats are awesome but I can easily make them at home with a decent Mickey Cookie Cutter.
Turkey Leg
According to Disney World's media site, the parks sell 1.8 million pounds of turkey legs annually. They have been going for $12.50 at the parks. There are a surprising number of places you can get a Giant Smoked Turkey Leg;
Magic Kingdom Park – Prince Eric Village Market in Fantasyland, Turkey Leg Cart in Frontierland, and Liberty Square Market
Epcot – Fife and Drum Tavern in World Showcase's American Adventure
Disney's Animal Kingdom Park – Yak & Yeti Quality Beverages (found just to the right of Yak & Yeti Local Food Cafes Quick Service)
Disney Springs – The Smokehouse at House of Blues (this one is a little different than others served in the parks, but it is really good!)
Disney's Blizzard Beach Water Park – Arctic Expeditions
A New York Times article stated the jumbo turkey legs have 720 calories and 36 grams of fat. But there's a good chance you'll walk enough at the park to burn that many calories. Giant Smoked Turkey Legs are also not part of the Disney Dining Plan.
Candy Apple
Candy Apples can be found at Goofy Candy Co., Main Street Confectionery, and Big Top Treats, which is in Storybook Circus at the Magic Kingdom
Despite constantly adding new variations to their designs, there is always one thing in common; the ears. Each variant has its iconic Mickey Ears. But no matter how fancy the outside of the apples maybe, the inside starts with the simple caramel apple, which is then dipped in either dark, milk, or white chocolate
They will also happily cut the apple for you. That makes it way easier to eat and share on the go.
Assorted Character Inspired Caramel Apples (Mickey, Minnie, Goofy, etc) – $10.99
Specialty Apples with Assorted Toppings – $10.99
Carmel or Chocolate Dipped Apple – $5.79
Carmel or Chocolate Dipped Apple with Nuts – $6.29
Nutella and Fruit Waffle
The first thing you notice is that this thing is big…VERY BIG! I mean it's a snack option, but you could easily split it with someone else. It makes a great mid-afternoon snack after lunch, especially if you have a later dinner cause this thing could really hold you over!
They go for $8.29 at Sleepy Hollow in the Magic Kingdom.
Goody's Glacier
Goofy's Glaciers is Goofy's Candy Company in Downtown Disney and
Big Top Treats in the Magic Kingdom's New Fantasyland.
There are many, many Goofy flavors to try, as well as combine flavors to make your own special glacier. The price for a standard cup is $4.79. They also offer glaciers in souvenir cups for $8.79 and$9.79
BeachClub Monstrous Milkshakes
There are 3 new options at Beaches and Cream Soda Shop at Disney's Beach Club Resort; Mickey Confetti Vanilla Shake, Chocolate Brownie Shake, and the Strawberry Minnie Shake. Each costly a whopping $14, this is not for the faint of heart. Separate the two fast enough and save the cupcake for a little later because you won't be hungry any time soon after this.
Kid-Friendly Snacks at Disney World You Won't Believe Cost $5 or Less
Snacking will keep everyone moving and happy through the long park days, which is essential when you have little ones. Now that we have explored a few of the unique and fan-favorite expensive snacks, let us take a peek at the inexpensive snacks that Walt Disney World has to offer.
Maple Bacon Woopie Pie
The maple bacon Woopie pie from Sweet Spells in Hollywood Studios.
They sell for $4.99 each, making it our first snack at Disney World that won't break the bank. But look at it! I would eat that up regardless.
Mermaid Donuts
Prince Eric's Village Market – The market is right across from
Under The Sea: Journey of the Little Mermaid in Fantasyland at the Magic Kingdom for $4.99. It's a soft, fluffy donut below a layer of icing dotted with purple sprinkles and a few white chocolate shells.
Popcorn
You can never go wrong with popcorn. While this isn't a very unique snack, it certainly is inexpensive! Buy the bucket and get refills for $1.75. That's it! That's insane.
There are so many locations around the parks that it would be impossible to list them all here… so we made an entire page dedicated to locations. Check it out >> Refillable Popcorn Buckets at Walt Disney World
If you have a favorite snack that is missing from the list, give us a comment or reach out on Facebook. We will happily add it to the list.
Your Thoughts...
Please share your thoughts in the comments or reach out on social media...We would love to hear from you.
Follow Mouse Travel Matters for Disney Parks news, the latest info and park insights, follow MTM on Twitter, Facebook, and Instagram.
You May Also Like…