Last Updated on February 24, 2022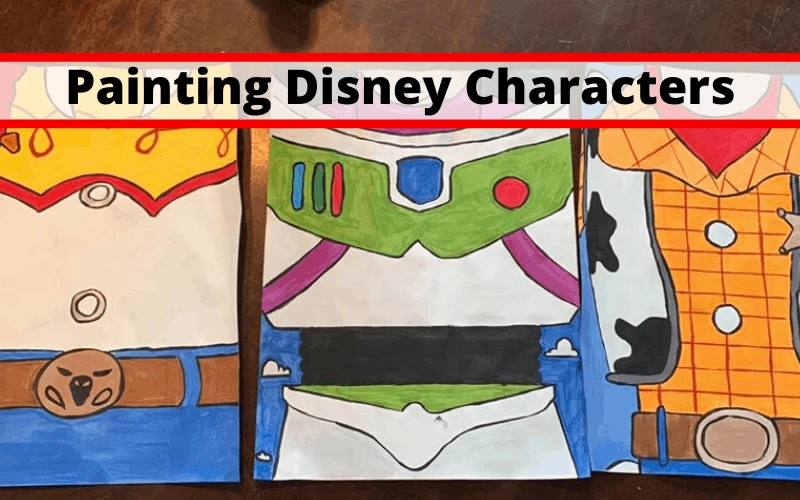 In an effort to keep the Disney magic alive between holidays, we have recently started the art of painting Disney characters.
Neither of us is particularly artistic but we do enjoy a good challenge. One day last month I was feeling artsy and I bought half the paint supply aisle at the local dollar store; paints, brushes, sketch paper and canvas. We all did our own thing and it was a great 3 hours well wasted as a family.
Fast forward to April 2020 and it has turned into daily art and craft lessons around the kitchen table while we patiently await for schools to reopen.
As a non-artistic person, I initially found this challenging; what was I going to do during arts and crafts to keep the kids busy for a few hours per day? I am a trained high school history teacher for a reason – I don't like arts and crafts.
To start, I will be showing you how I found designs to paint, then how they turned out. Don't hold your breath, however. Nothing you will see today is particularly ground-breaking, but we enjoyed ourselves. And that's all that matters.
Pinterest to the rescue
Doing a light Pinterest search and I was feeling a little better about our situation.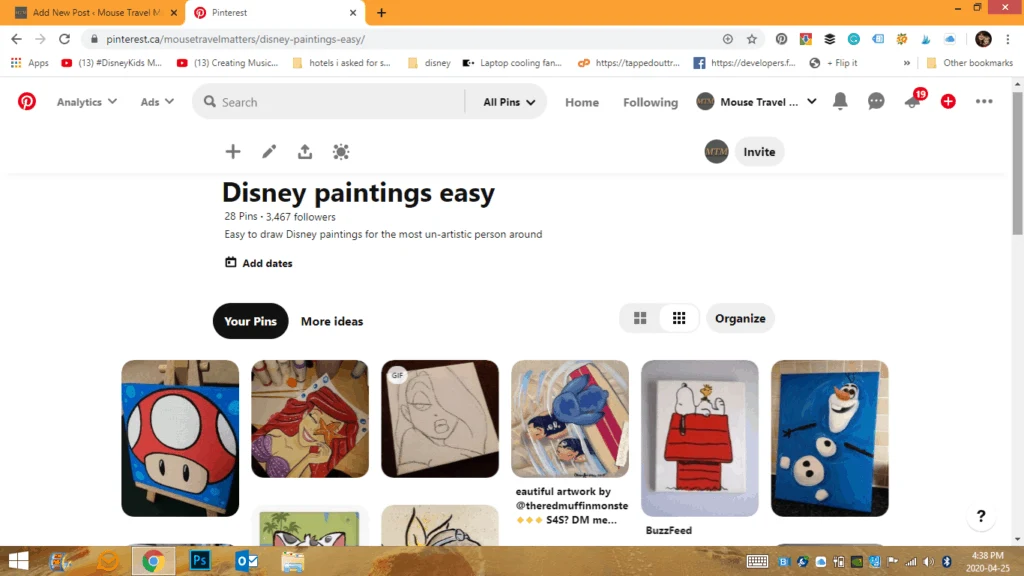 I've saved a handful of inspirational pieces to Pinterest, as shown/linked above. While they may seem hard at first, I found Snoopy and Olaf to be the easiest to start.
Using my kid's school supplies, I was able to make fairly decent copies of my favourite Disney paintings found on the internet, onto my sketch paper. I made photocopies with my scanner/printer so the kids could paint along with me.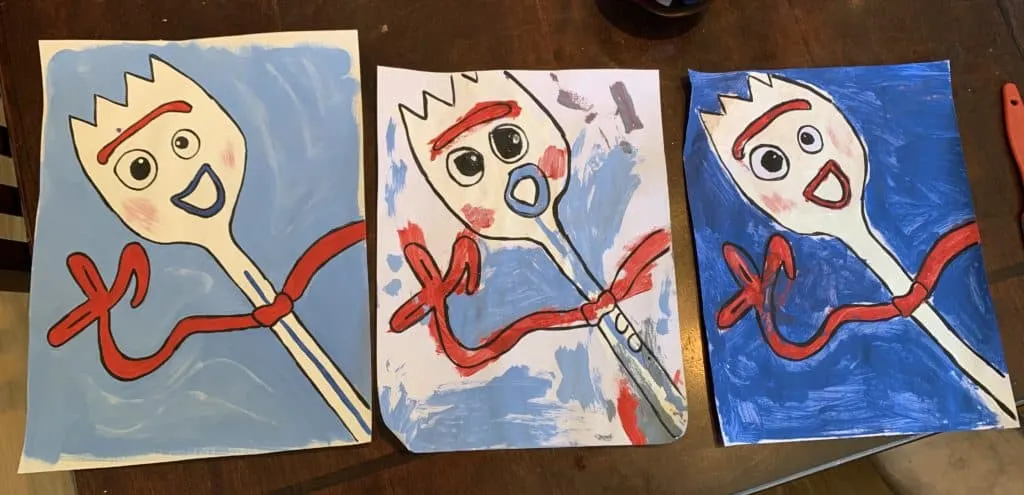 As you can see, 1 straightforward picture of forky turned into 3 very unique interpretations.
As mentioned in learn-to-draw Disney characters, there are a handful of incredible websites that help kids learn how to draw their own classic Disney characters.
When they aren't interested in colouring the amazing drawings you have created, you can have them create their own to paint instead.
Personally, I found it easier to do my drawing after dinner when the kids are in bed and the house is fairly quiet.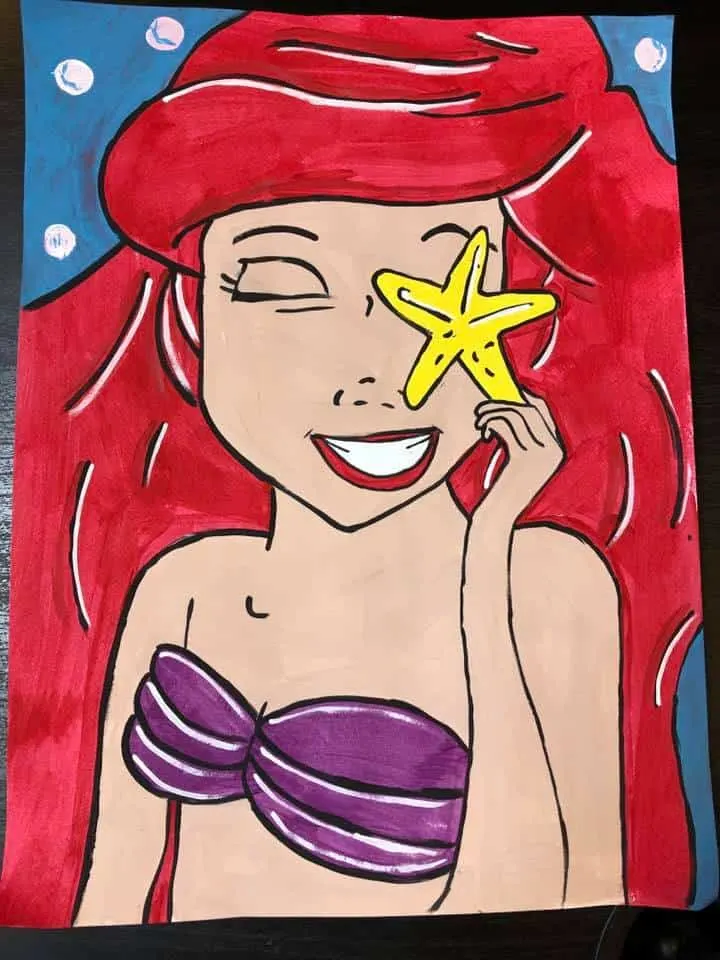 Storing your Disney paintings
Considering how many paintings we have generated in the last 26 days, and how many more we plan on creating before self-isolation is over, it is important to have a safe place to store everything.
We quickly switched from canvas to sketch pad when we realized we would be making more than just a handful of paintings. Be mindful of the type of sketch pad you buy; the dollar store has a few packs for painting and some for crayons. I found the sketch pads at Walmart, in the kids' toys aisle, to be the most sturdy once painted on.
They sell two types; Paint and sketch. I bought myself paint and the kids' sketch since theirs is cheaper.
Also, just to make things more interesting, sketch pads come in 9 x 12 size and the standard page protector is 8 1/2 x 11, so unless you are painting on printer paper or plan on cutting the sheets down to size before making your creations, you will need a specific kind of project gallery.
I recently bought myself a presentation book and the kids a simple frame to hold their best artwork. Due to increased demand for other products, Amazon and similar companies have reduced their availability of non-essential products. These galleries, for example, are scheduled to arrive 30 days after placing our order. If you plan on making a lot of art, we suggest buying more than you currently need, considering it will take so long to get replenished.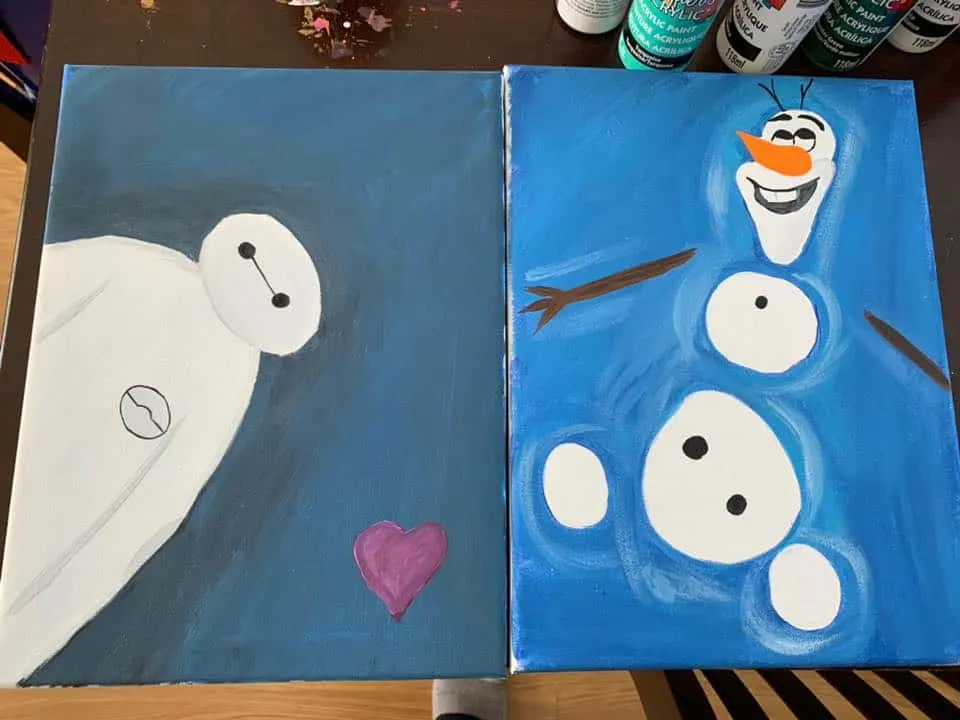 Paint Supplies
Like my dad always said, "get good, then get fast". This was meant for my driving lessons when I was 16 but the meaning is still there; start with cheap dollar store quality materials and slowly work your way to Michaels/Joanna $5 bottle paints.
Since the dollar store paints are thinner, they will dry much faster than traditional acrylic paints. Because they are thin, however, it makes it that much easier to see your lines under the paint. I like this, simply because I tend to draw my accent lines while I am sketching.
These paints do mix well together, which is great because they don't sell a lot of the tones that Disney is known for. The colour also comes out matte, instead of glossy or satin. Not a deal-breaker but your paintings will come out noticeably different than your inspiration for this fact alone.
Regardless, we are having a great time painting Disney characters, despite our lack of skills, and we hope this post acted as a bit of encouragement; If I can paint half-decent pictures, there is hope for your family.
We will be sharing more of our incredible creations. Join our Disney Facebook group and share some of your creations.
Your Thoughts...
Please share your thoughts in the comments or reach out on social media...We would love to hear from you.
Follow Mouse Travel Matters for Disney Parks news, the latest info and park insights, follow MTM on Twitter, Facebook, and Instagram.
You May Also Like…