Last Updated on February 27, 2020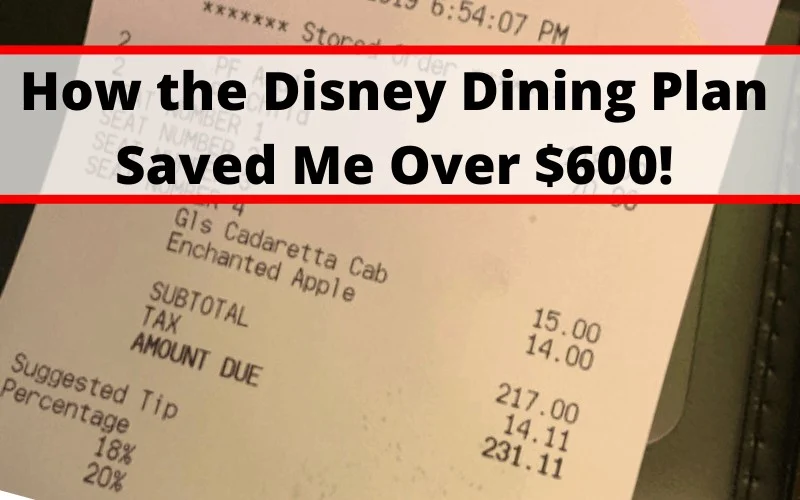 Many guests love to add the Disney Dining Plan to their Walt Disney World Resort vacation. It has tremendous advantages – everything is pre-paid so no worrying about keeping to a budget when you're busy enjoying the magic, order anything you want off the menu without paying attention to the price, ability to try lots of fabulous table service restaurants (and even meet some characters!) and not focus on feeling like you're spending a fortune.
While it's often debated as to whether or not it's a good value, by at least knowing the pricing and by comparing that to menus and seeing if the menu items you are looking at potentially enjoy equal up to around what you'd pay for the dining plan, you have a better idea of if it's going to be a good value for you.
Disney offers three types of dining plans for guests staying at a Walt Disney World Resort hotel.
Disney Quick-Service Dining Plan offers each guest two quick-service meals and two snacks for each night of your stay plus a refillable resort drink mug.
Disney Dining Plan offers each guest one quick-service meal, one table-service meal, and two snacks for each night of your stay plus a refillable resort drink mug.
Disney Deluxe Dining Plan offers each guest three meals (quick-service OR table-service) and two snacks for each night of your stay plus a refillable resort drink mug.
Although we love the convenience of "prepaid", we don't normally purchase the dining plan. We seldom are able to take advantage of the "free dining" promotions; and as Annual Passholders, we ordinarily book a "room only" reservation rather than a room/ticket/dining package.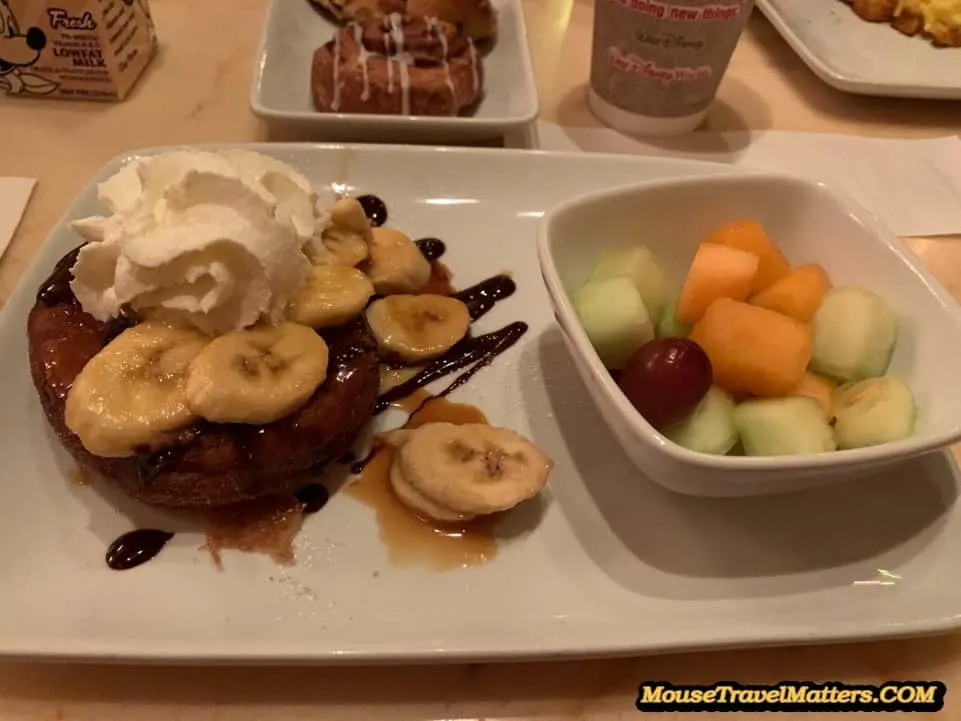 That being said, we wanted this Christmas vacation to be the motherload of holidays, considering it had been a while since we took the kids to Disney and at would be a while before we went back again. We wanted to cover as many character meals and table service restaurants as our schedule would allow, while also having as many snacks and treats as the kids would ask for – and they ask often.
In December 2019, we paid $78 per adult and $30.50 per child (3-9 years old) per night of our holiday. $217/night X 7 nights = $1519 for the Standard Dining Plan.
This may seem like a lot, but let's look at where we went.
Storybook Dining at Artist Pointe
Be Our Guest Breakfast
Jungle Navigation Co. Ltd. Skipper Canteen
Hollywood and Vine
50's Prime Time Dinner
Tusker House lunch
Minnie's Beach Bash
Garden Grill lunch
Ohana breakfast
These Table service restaurants (and 1 very expensive Quick Service breakfast) would have cost us $1427 (tip not included) out of pocket. That leaves $92 for 4 people, over 7 days, to have 2 snacks and 1 QS meal before we break even.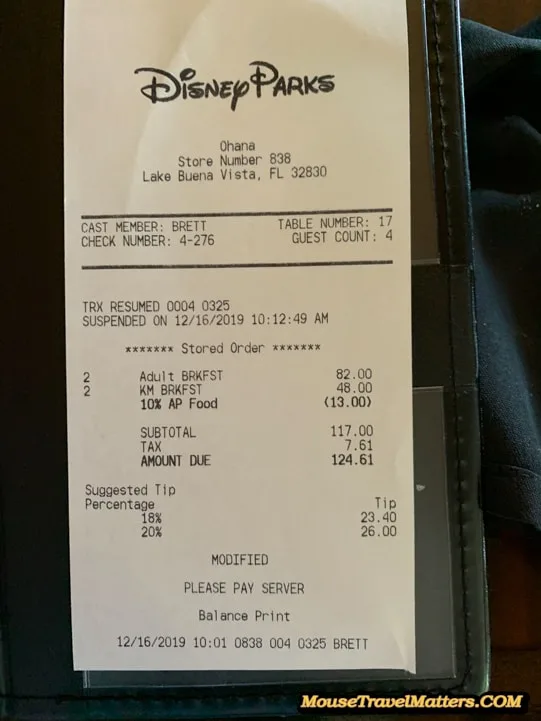 We averaged $420 on Quick service meals over the course of 7 days and $280 worth of snacks. Plus, we received 4 refill mugs valued at $19.99 each. While the kids didn't make great use of them, since we had to go back to the main building for hot chocolate, hubby and I loved having a rapid refill station around the corner from our hotel room. This also meant I could refill everyone's mugs with fresh ice water before heading out to the parks.
Had we booked this holiday out of pocket, we are looking at a grand total of $2207 spent on just meals and snacks. We spent less on our souvenirs.
The Disney Dining Plan saved us $688!
Is the Disney Dining Plan worth it?
While the math easily says yes, the Disney Dining Plan is 100% worth it, our dining schedule isn't exactly average. Most families that want to visit Disney on a budget don't tend to visit 8 Table service restaurants on a 7-night vacation. We choose these restaurants because we were on the dining plan.
We did manage to book a Character Meal with Minnie Mouse, then stepped into the park and the kids demanded to see Minnie again because she was wearing a different outfit – I mean, they have a point. So I can't exactly say that we avoided waiting in line for characters simply by dining at Character Meals, I was able to say No a lot more often when the lines for in-park characters were too long. Because we had just seen them, and they won't be signing our autograph books again, we were able to move on without a fuss.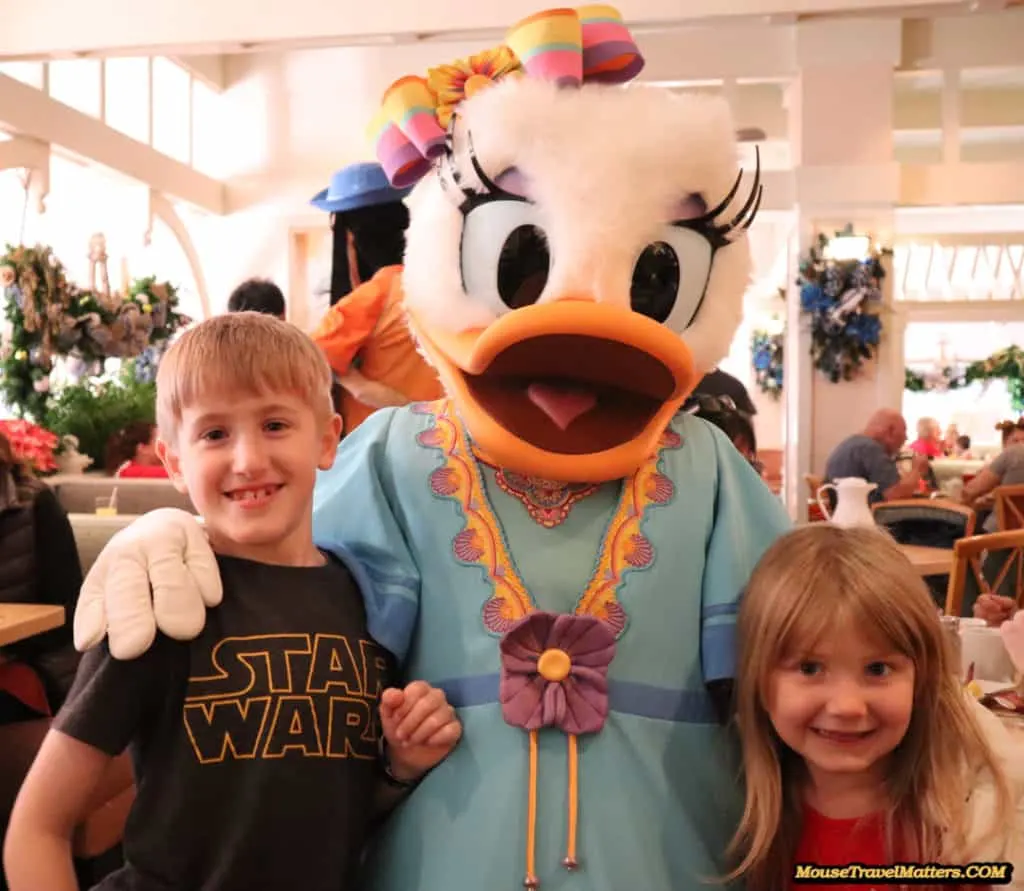 Why the Quick Service Dining Plan isn't worth it
At the cost of $162/night for the Quick Service plan, we could have settled for less and simply paid $1134 for our meals. We would have avoided Table Service and Character meals altogether.
Looking at how much we spent ($1200) in QS meals, plus the snacks and refill mugs, the Quick Service Disney Dining Plan would have saved just over $60. At that price, I would have paid for the whole thing out of pocket and simply purchase a refill mug for my husband.
Disney Plan Hacking
The Disney Dining Plan has changed a lot in January 2020. Disney is no longer allowed children's dining plan credits to be used for Adult menu items. This means sharing plates and conserving credits will be a little harder, but not impossible.
All credits are still pooled as a family, but using those credits to share meals will mean a little more math and lot more ingenuity, but it can be done.
For example, a family of 4, staying for at least 4 nights, can easily share meals but simply ordering 2 adult meals and 1 child's meal for 2 days, and 1 adult meal and 2 child's meal for 2 days. At the end, you now have 2 adult and 2 children's QS credits saved for a "free" Quick Service meal.
Don't worry, the portions are large enough that most people can share a plate and still not be hungry. And even if you are, you have 8 snack credits between the 4 of you, that's a lot of popcorn and ice cream bars. Some snacks can even double as meals, but that's an article for another day.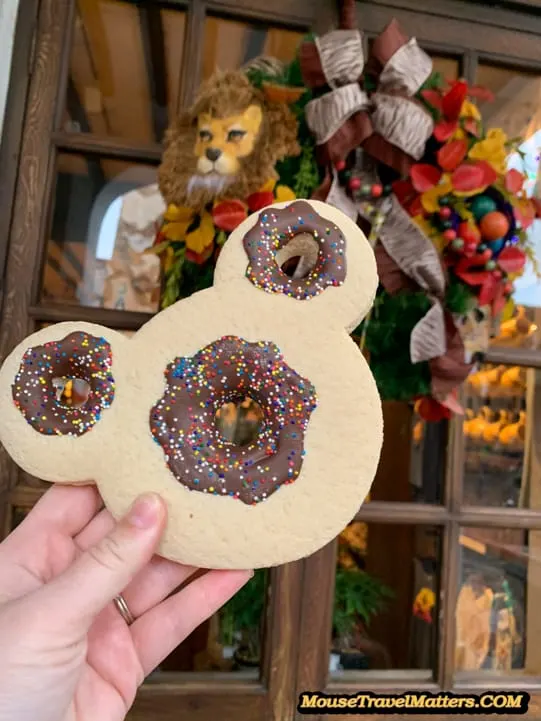 Dining Plan Packages
Another great way to make sure you save the most with your dining plan is to take advantage of the Dining Packages. Both Rivers of Light and Fantasmic offer VIP seating at no extra charge, when you book your Advance Dining Reservation as a Dining Package on the Disney Dining Plan.
This meant that we didn't have to use one of our Fastpass selections, nor did we need to queue 1-2 hours in advance to get good seats. While we saved a ton of money on the Dining Plan, we also saved a lot of time that was better used elsewhere; rides, meals, swimming at the pool.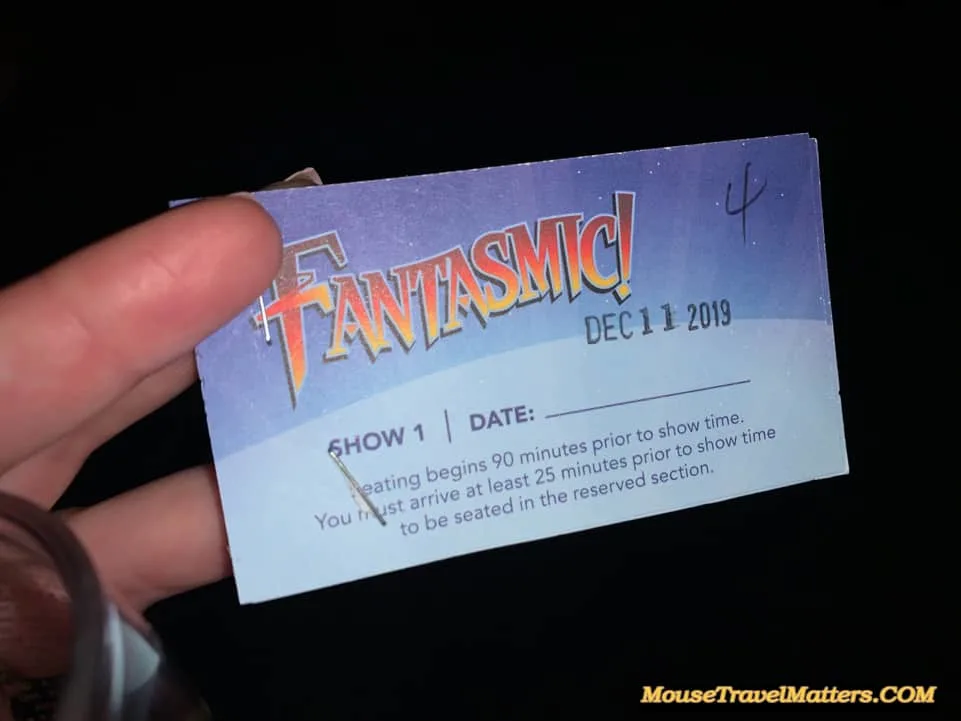 How much work does it take to make sure I get the most value from my Dining Plan credits?
I'm gonna be honest here, it doesn't take that much effort. When we were touring the parks, I was thinking of all the yummy treats that were snack credits, and all the treats that weren't worth the snack credits but were covered under the dining plan.
At the end of the day, if I am paying for snack credits, then buy snacks out of pocket because they "aren't worth it", and have 10 credits left at the end of my vacation, those snacks were definitely worth it. I have zero intention of paying out of pocket for anything I don't have to. And we still had 3 snack credits left when we checked out.
The same goes for Quick Service and Table Service meals. Most of our character meals were fixed price, so having a steak or chicken nuggets would cost the same out of pocket. Many would demand their party to choose the expensive items anyway, to get their money's worth, but we reserved these character meals for the experience.
Stressing out about which item you order on the menu isn't not my idea of a fun vacation. We ate what we wanted, the bill came, and we didn't have to pay for it. That's what matters to us. And considering the Disney Dining Plan saved us $688 without too much thought put into it, I say the hassle of Disney-math isn't worth the trouble.
Epcot Festivals and Snack credits
The only exception to my "don't stress" rule is festival snacks. Those are almost always worth snack credits and cost considerably more than traditional snacks throughout the parks.
So if you plan on visiting a festival in Epcot while on the Disney Dining Plan, we do suggest you hang to a healthy amount of credits for that touring day. Maybe book Epcot near the beginning of your trip (you want to avoid Epcot on the weekends during Festivals anyway).
You May Also Like…