Last Updated on February 10, 2020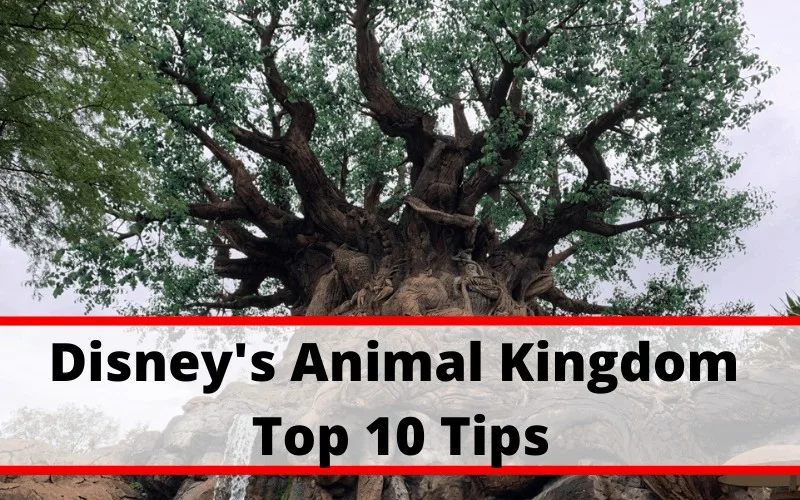 Disney's Animal Kingdom at Walt Disney World showcases nature, animals, and adventure. While it's nearly impossible to see all the attractions at Disney's Animal Kingdom in one day, you'll want to make sure your plans include at least one or more of the following top 10 Animal Kingdom tips.
BEST TIPS FOR VISITING DISNEY ANIMAL KINGDOM
1.) Get an animal viewing guide
There are over 2,000 animals from 300 different species and they are not limited to Kilimanjaro safaris. The best way to see them is through the animal trails in Africa, Asia, and Discovery Island.
This pamphlet highlights the parks most popular animals and where to find them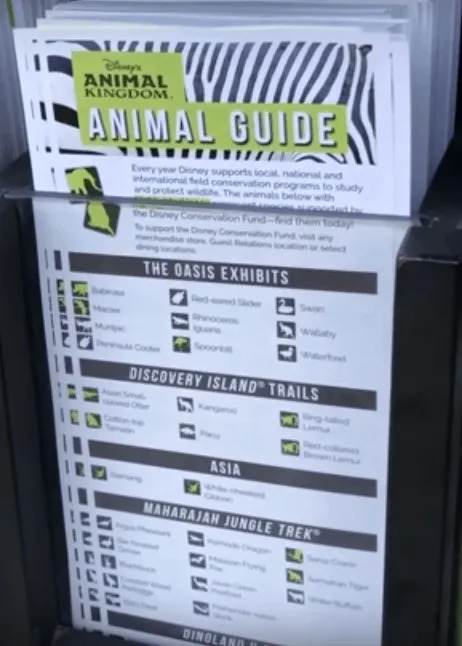 2.) Do an early morning Animal Trail walk
The animals are more active in the morning because it's feeding time. This is a great way to start your day calmly, relaxed and without much rush. The crowds will also be at their lowest here since everyone will probably be rope dropping Kilimanjaro Safari or Flight of Passage
Be sure to double-check the animal trail opening times as they aren't always the same as official park hours.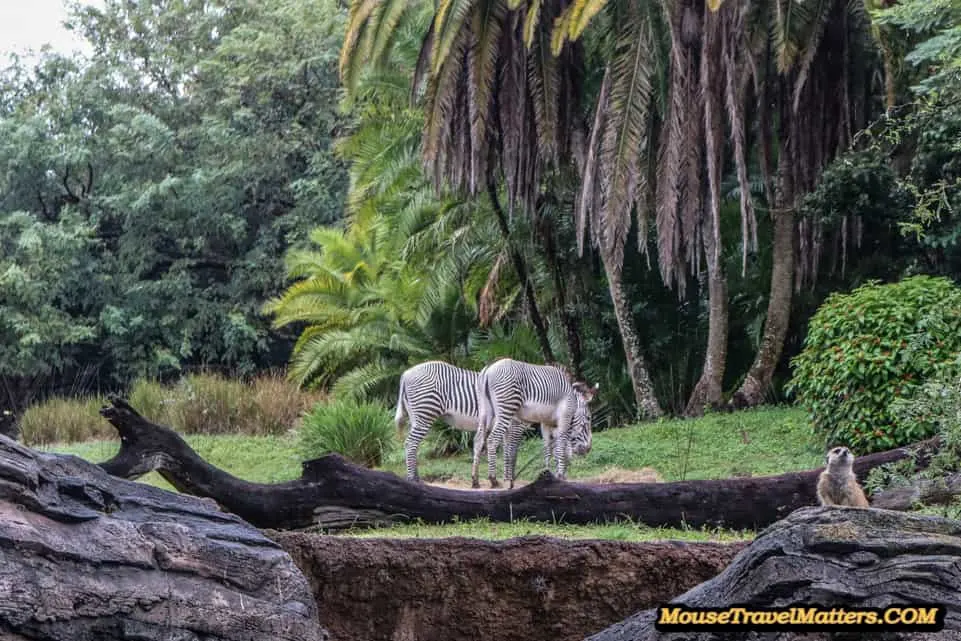 3.) FP+ Kali River Rapids & Standby Expedition Everest
Choosing between the tier 2 fast passes can be hard, but alas you only get 2; Kilimanjaro safaris, kali river rapids or Expedition Everest.
As someone that loves animals, I will always choose the safaris as my first choice tier 2 Fastpass. You can always use the single rider line on Expedition Everest.
In the summer months, kali river rapids can easily have a wait time of 1+hours on really hot days and it doesn't offer single rider lines.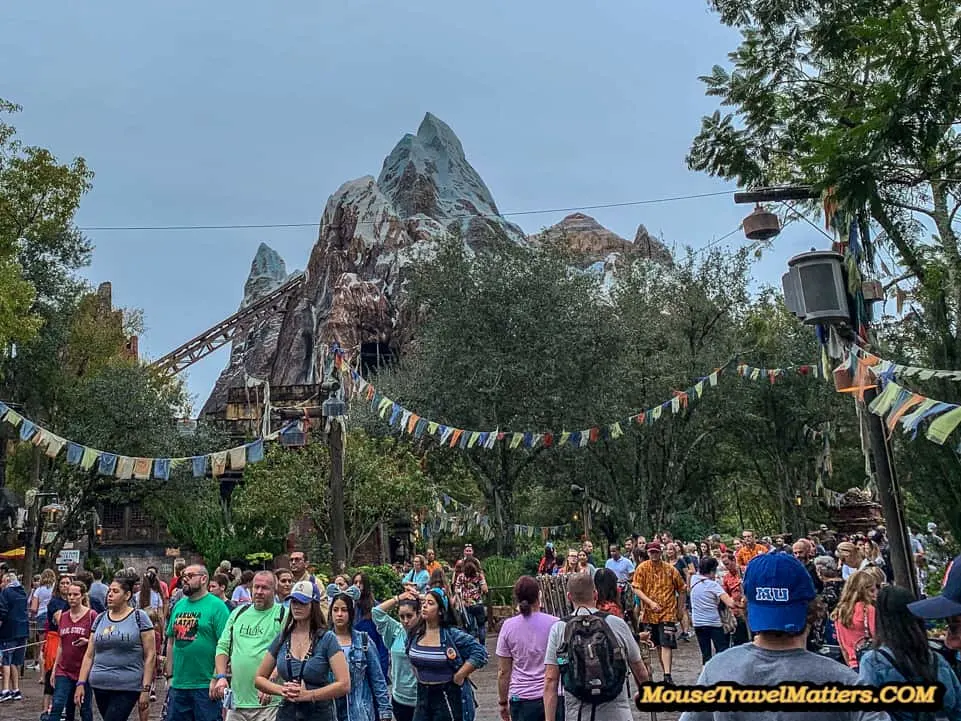 4.) Utilize Kali River Rapids FREE lockers
Kali River Rapids offers free 2-hour locker rentals to the left of the attraction entrance, near the restrooms. Stash your belongings, jump in the queue and don't forget to bring your poncho. You will get wet.
Rafts in Kali river rapids no longer have containers in the middle for your park bags. I think the compartments went away right around 2016. They weren't quite waterproof to begin with, so I think Disney decided it was better not to give people false hope that their belongings would stay dry.
NOTE; You are NOT allowed to take your shoes off at Kali. A better idea is to change into flip flops before entering the queue and store your socks and sneakers.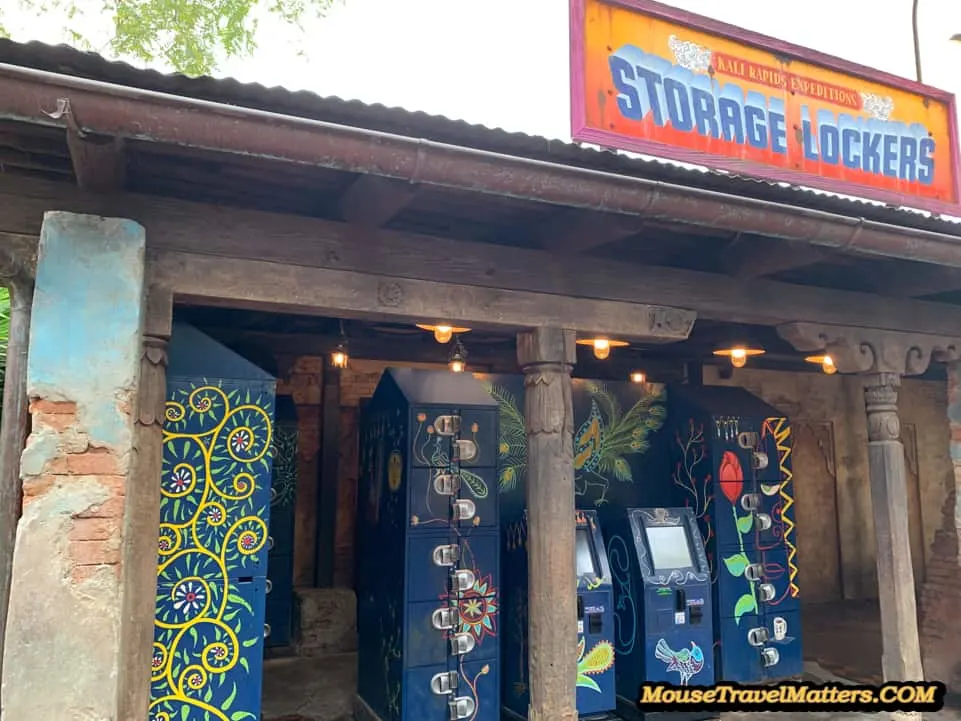 5.) Visit Donald's Dino-Bash for characters
Dinoland USA is an interesting section of Animal Kingdom. It looks busy and looks like it has a lot of rides, but the carnival games require tokens that cost extra. The Boneyard and DINOSAUR! is pretty cool too, but it's not for everyone.
That being said, there is a little something extra for the kids in the evening. Dino-riffic Dance Party usually runs 4 pm – 8 pm every night and you will find some amazing Disney characters join you on the floor.
During the day, however, from 10am – 6 pm, Donald, daisy, chip and dale, plus 2 rare characters; Launchpad Mcquack and Scrooge McDuck, are available for character meet and greets.
Note – during the holidays, feel free to skip Scrooge at Mickey's Very Merry Christmas Party and see him here at the Animal Kingdom, where the wait is significantly shorter.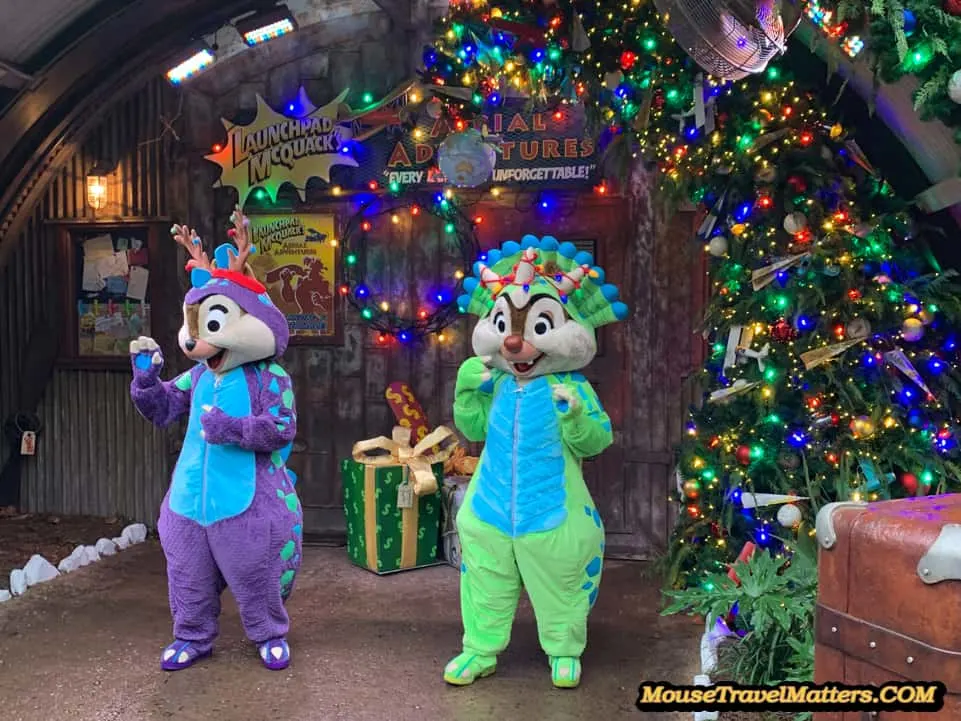 6.) Meet Mickey & Minnie at the Adventurer's Outpost
Adventurer's Outpost is the only place in Disney World to see both Mickey and Minnie in the same photo opportunity. There is usually a short wait time since they are available Fastpass.
We found that visiting after it gets dark when everyone is getting ready to eat or waiting in line for Rivers of Light, the queue is at its shortest.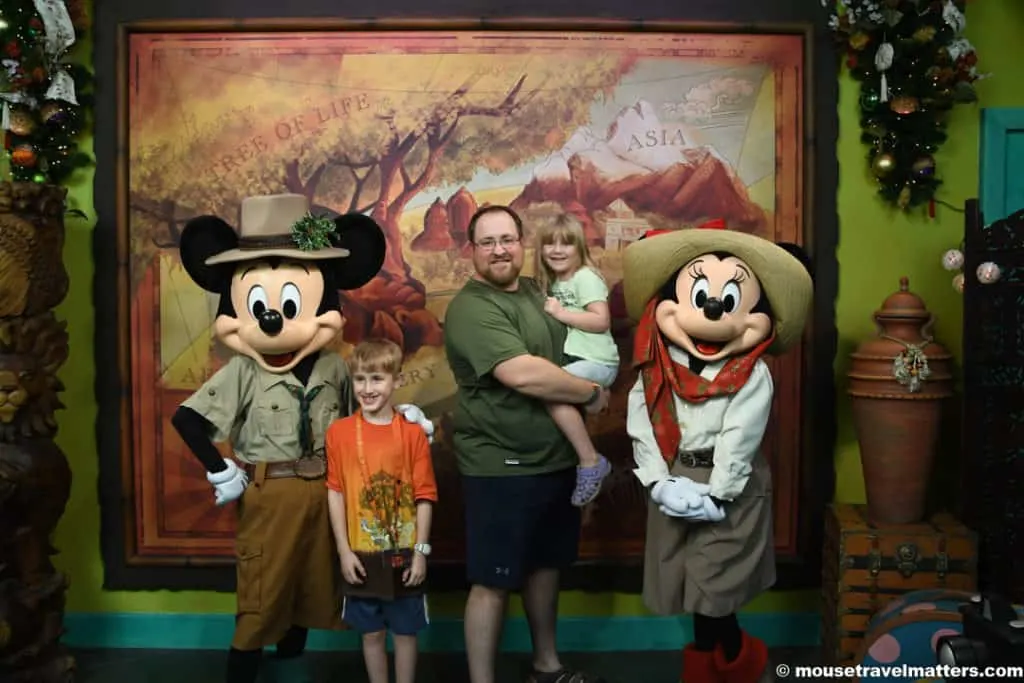 7.) Ride Kilimanjaro Safaris at sunset
Taking a ride on Kilimanjaro Safaris at sunset is magical. The animals are active because it's not too hot, and the nighttime animals are starting to come out.
Book your Fastpass for 1 hour before official sunset time and you are gold.
8.) Experience Pandora at night
During the daytime hours, you can see the floating mountains, the gorgeous scenery, and grab pics in front of the moss wall. BUT, you haven't seen anything until you've seen this place lit up at night. Yes! It actually glows.
With crowds during the day time being pretty high and waits for the Flight of Passage at almost 3 hours, the crowds tend to fade as the sunsets. This seems to be true for most things, as children start to get sleepy, and adults start to get hungry.
With plants that light up, lights behind waterfalls and light coming up through the threads in the ground, the place almost doesn't even need artificial lighting. The Bioluminescent Forest is magical at night and won't see during the day.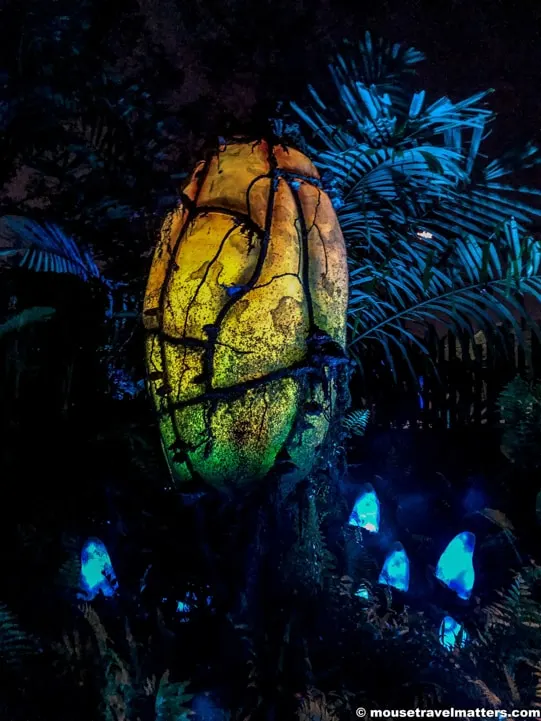 9.) Ride Flight of Passage at the end of the night
Rope dropping Pandora is stressful and uncomfortable. The main reason is that you need to make sure that you are as far ahead of the pack as possible, to make it truly count. Arriving too close to park open and you will find yourself at the end of the line and still waiting 1-2 hours to ride.
The real irony is that you are still waiting 1-2 hours to ride this attraction – just moving your waiting period from during park hours to before park hours.
Arrive at Flight of Passage entrance at least 1 hour before park closing. This will give you plenty of time to get into the line before they start shutting it down. Once you are in line, they can't take you out – even if that means experiencing Flight of Passage after the Animal Kingdom officially closes.
Experiencing Pandora at night is a great way to finish off your day at the Animal Kingdom.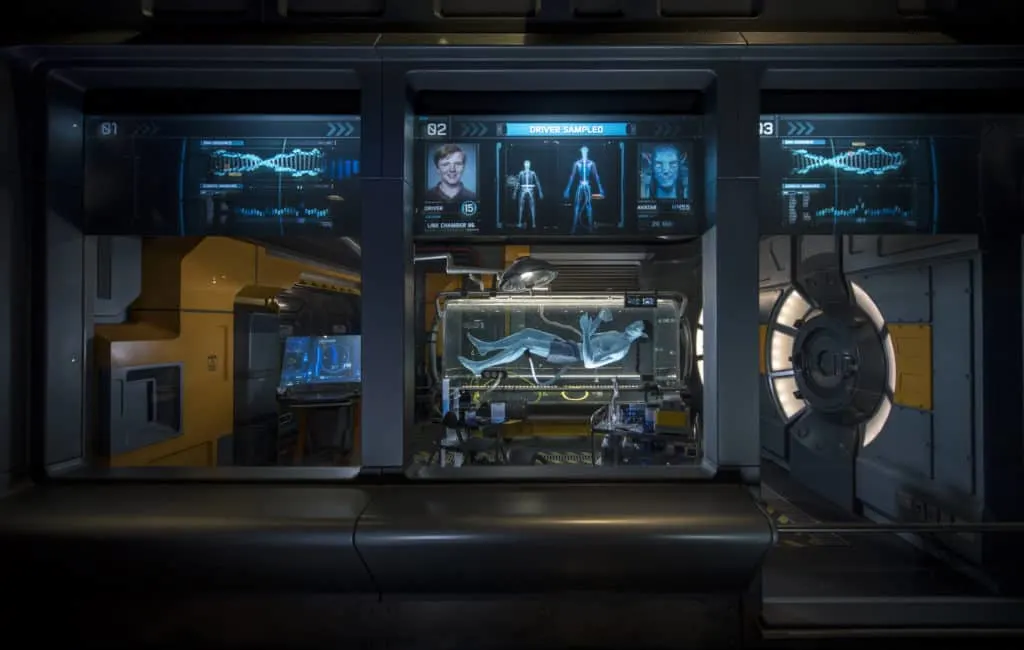 10.) Do Rivers of Light Dining Package over FP+
If a table service meal during your Animal Kingdom day isn't in the touring plan, there is the Rivers of Light dessert party. This event looks incredible, with VIP seating, free snacks and drinks, and 1.5 hours of relaxing before the show, but it can be expensive. We suggest the party in our Wilderness Explorers touring plan as well. The dessert party costs $79 for adults and $47 for kids
We did take advantage of the Rivers of Light dining package on our latest trip to Disney, however, when we stopped at Tusker House for lunch. The food was incredible, the characters were amazing and we scored reserved seats to the first showing of Rivers of Light for that evening. This meant we could continue touring until 30minutes before the show, instead of waiting in line 1-2 hours before the show just to secure seats off to the side of the theatre.
If you are already planning on eating at Tusker House or Tiffins, definitely take advantage of the dining packages. they are included in the cost when using the Disney Dining plan, so there is nothing to lose and everything to gain.
If paying out of pocket, the small upcharge makes freeing up a Fastpass well worth it. The cheapest option for this is the breakfast package, $39 for adults and $24 for kids (regular $34 adults and $20 kids). On top of sparing a Fastpass, you will also get to meet characters such as Mickey and Donald.
If you are lucky and schedule your animal kingdom day on a night where they show Rivers of Light twice, we suggest booking your dining package for the 1st showing and still head to Pandora for the end of the night.
You May Also Like…