Last Updated on May 25, 2020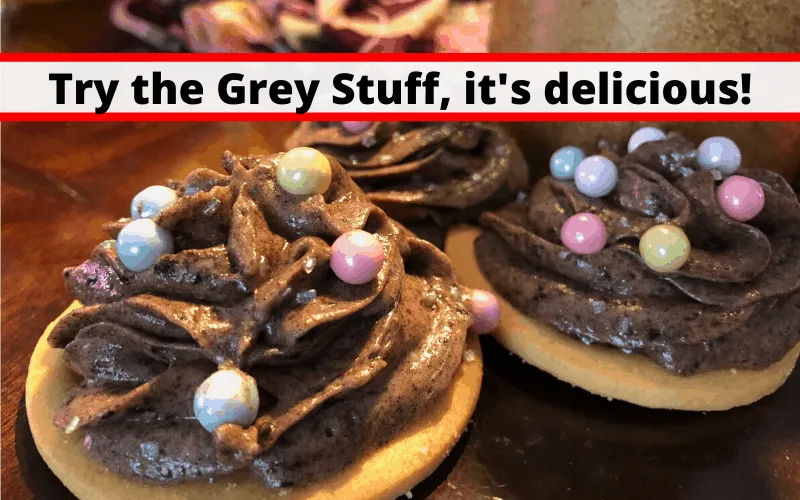 Disney is continuing to share recipes of their famous snacks to make at home (from Churro bites to Tonga Toast) and the latest one sure is sweet.
The Disney Parks Blog just shared a recipe that's just like the Grey Stuff you'll get when you dine at the Be Our Guest Restaurant in Disney World's Magic Kingdom or at Red Rose Taverne in Disneyland. It turns out Grey Stuff is a lot like a cookies and cream pudding…who knew?!
If you've ever visited a Disney park or simply listened obsessively to the Beauty & The Beast soundtrack, you're probably at least a little familiar with the concept of Grey Stuff.
BEAUTY & THE BEAST'S "GREY STUFF"
The dish is served at the Be Our Guest restaurant at Disney World and the Red Rose Taverne at Disneyland
In case you're wondering, what grey stuff means, remember the lyrics to "Be Our Guest" from the classic film.
Be our guest
Be our guest
Put our service to the test
Tie your napkin 'round your neck, cherie
And we provide the rest
Soup du jour
Hot hors d'oeuvres
Why, we only live to serve
Try the grey stuff, it's delicious
Don't believe me? Ask the dishes
HOW TO MAKE THE GREY STUFF
The recipe really is straight forward and easy to follow. I found the hardest part was having the patience to allow the mixture to set in the fridge between stages.
If you are wondering how to describe the taste, I would go as far as saying it tastes just like an Oreo crusted chocolate pudding pie with whipped cream. Just like the ones we serve at Christmas, this recipe literally has everything we would include in a pie; Oreo crumb crust, pudding, whipped topping. But instead of making it in layers, like a normal pie, we have mixed it all together and pipped it onto a cookie for texture.
RECIPE NOTES:
Don't remove the filling from the Oreos. While it is tempting, the filling mixes well into the crumbs.
Do not make the pudding according to the box, you will only be using the pudding powder.
Dream Whip comes in slightly larger packaging here and came to roughly 500 ml (16 oz). Instead of being wasteful, I used it all. This didn't change the overall flavour of The Grey Stuff but it did mean I had more than 12 cookies worth of topping
Don't add Grey Stuff to Arrow Root crackers too far in advance of consumption. They are baby cookies after all. The moisture from the Grey Stuff will start to make the Arrow Root soggy.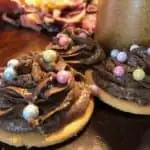 Print Recipe
The Grey Stuff
Ingredients
1

cup

Milk

1

pck

Vanilla Pudding mix

15

Oreos

Kinnickinnik Kinnitoos are a great Gluten Free alternative

8

oz

Cool Whip

3

tbsp

Chocolate Pudding mix

12

Arrow Root or Sugar Cookies

Edible Sugar Pearls
Instructions
Pour milk into large mixing bowl. Add instant vanilla pudding mix and whisk for 2 minutes until smooth and slightly thickened. Place in the refrigerator for 1-2 hours, until firm.

Place chocolate sandwich cookies in food processor and pulse until puréed.

Fold puréed cookies into pudding mix. Stir until fully mixed.

Add whipped topping and instant chocolate pudding. Stir until fully mixed.

Place in refrigerator and chill for one hour.

Spoon grey stuff into piping bag fitted with desired tip. Pipe grey stuff onto cookies. Top with sugar pearls.
My Mistake
With every recipe, there is a fool that just can't follow basic instructions. Today, this was me.
Since Disney can't name brands when publishing recipes and Canadians tend to call things by their brand name vs what they actually are (ie Fridge instead of Refrigerator, or Ski-Doo instead of snowmobile), when Disney posted "Whipped Topping", I had no idea what this was. Technically, a "sandwich cookie" kinda threw me off for a few minutes. I had the bright idea of looking in the baking section of our local grocery store and found "Whipped Icing".
Nope. That is not what they meant. What I ended up making was ok, but not what I intended to make. A textured, pudding flavoured cake frosting is what I made. And wow was it sweet.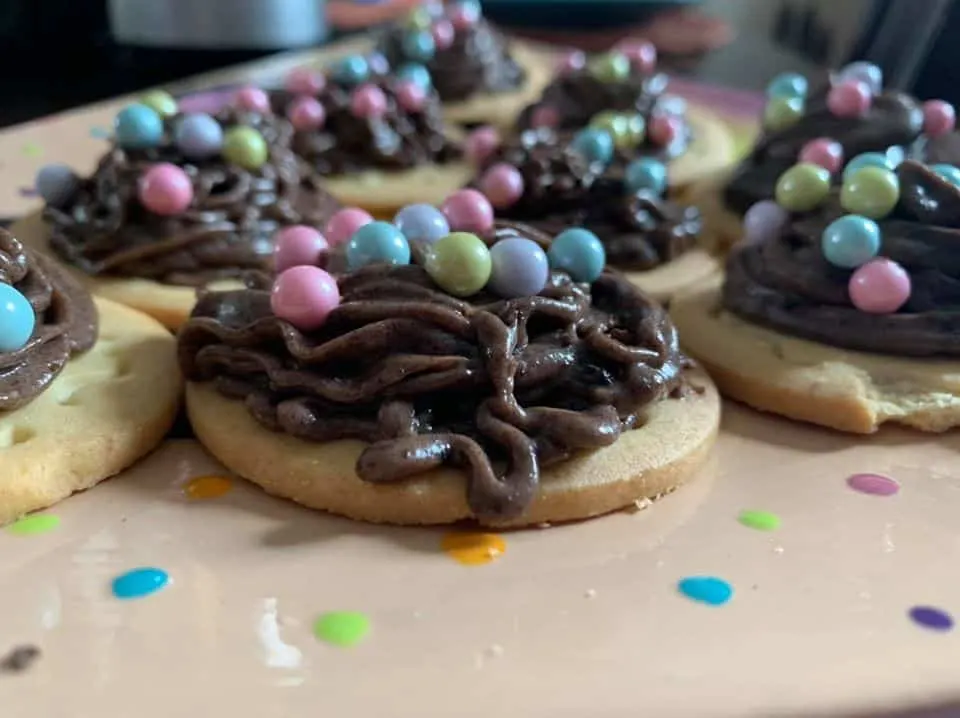 As you can see, my Grey Stuff was more like Brown-Stuff. A very sweet, very flat, and very anti-climactic Brown Stuff.
You May Also Like…
Save Money by Visiting Walt Disney World Before Your Children Turn 3 or 10 years old!
Home Made Soft Pretzels from 'Pretzels und bier' Cart EPCOT
Overview of Disney's Disability Access Service (DAS) Card
Best Places to Eat in Disneyland Paris; Top 10 Best Disneyland Paris Restaurants