Last Updated on September 6, 2019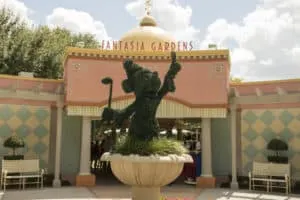 Miniature Golf at Disney's Fantasia Gardens
On a hot August afternoon, we went to Fantasia Mini Golf near to Disney's Boardwalk at Walt Disney World. This is the first time we had been to this golf course having visited the Winter Summerland golf course a few days previously. The car parking was free and adjacent to the entrance to the mini golf. The ticket area included a limited choice of snacks and drinks and outside seating with outdoor games to play plus those all-important scorecards and pencils.
This post may contain affiliate links.
To which I earn a small commission, at zero cost to you!
Find more info in our
Privacy Policy
.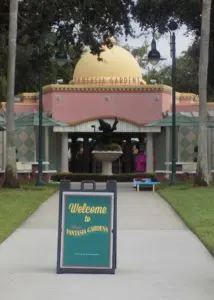 There were two 18 hole courses in the complex, Disney Fairways was laid out like a little proper golf course with added sand and water traps so we chose the Fantasia Gardens course which was more themed with the sculptures. The course itself was laid out with each hole represented by a different piece of music from the Fantasia film score, complete with musical notation and a quote related to the film. After booking in, we only had to wait a couple of minutes before starting our game.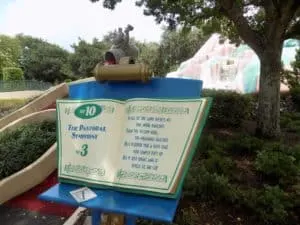 The holes were each decorated with a statue or other decoration relating to the particular piece of music. The use of a blues and grey color scheme gave a very classical feel to the course. Fantasia Gardens is in many ways timeless but it was clear that this was the older of the two courses at Walt Disney World with a far simpler decor and technology; the course opened in 1996.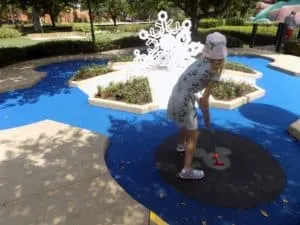 The theming around the course included statues of dancing hippos and topiary in the shape of dancing birds. On the whole, the course was well presented but a couple of parts looked a little tired. For example, the part which goes through the mountain looked as if at least one element wasn't working correctly anymore- possibly some water?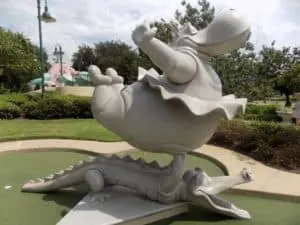 My son really enjoyed the added water elements towards the end of the course which worked very effectively with water tumbling from the buckets every so often and fountains to represent the scenes from the Sorcerer's Apprentice. These were very refreshing on a hot day!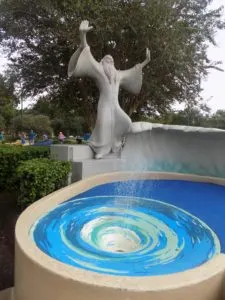 We enjoyed this course and it was a very welcome change from the hustle and bustle of the parks. It took about an hour to complete the course before we went on to Disney Springs for some early dinner.
I think it would have been more pleasant if we had gone later in the day as there is no shade around the course however mini golf was included before 4 p.m. as part of our UK Ultimate Disney World tickets and we wanted to take advantage of that. Fantasia Gardens is very close to the Swan and Dolphin hotel and the Disney Boardwalk area with its hotels and restaurants.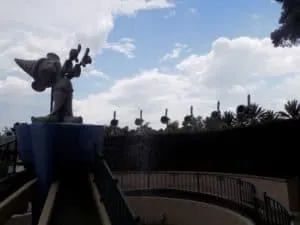 Location
1205 Epcot Resorts Blvd, Orlando, FL 32836, USA
Open 10 a.m. – 11 p.m.
Price
Prices for play are $14 for adults (over 10 years) and $12 for children (3-9 years).
For assistance with your Walt Disney World visit, please call (407) 939-5277.
Know before you go
Now accepting in-person reservations at time of payment. Telephone reservations are not accepted. The tee-time issued will be equal to the normal waiting time to play. Guests may also choose to reserve a tee time for later in the day

This course is based on Disney's classic animated film "Fantasia" and features 18-holes of interactive obstacles from the film's most famous scenes. It's open 10 am until 11 pm, seven days a week.
How to get to Fantasia Gardens Miniature Golf Course?
From any park or resort, simply find your way to the Swan and Dolphin resort.
Keep in mind that there are no Walt Disney World buses to the Swan and Dolphin resort from either Hollywood Studios or Epcot. You could take a boat or walk from Hollywood Studios.
NOTE: Prices and inclusions are subject to change. Please visit the Disney's Fantasia Gardens Miniature Golf Course Page to confirm information prior to booking.
Be sure to join our MTM Newsletter to stay on top of Mouse Travel Matters!
[thrive_text_block color="blue" headline=""]
[content_container max_width='600′ align="]
This post was written by…
Clare of Added Pixie Dust
[/content_container]
[/thrive_text_block]
Your Thoughts...
Please share your thoughts in the comments or reach out on social media...We would love to hear from you.
Follow Mouse Travel Matters for Disney Parks news, the latest info and park insights, follow MTM on Twitter, Facebook, and Instagram.
You May Also Like
Is Early Morning Magic worth the extra expense? – The Trip Report
In-Park Fireworks Dessert Party Review
Hotel Rooms that Sleep 6 Guests: Walt Disney World
The Definitive Guide to Typhoon Lagoon Water Park at Walt Disney World