Last Updated on February 24, 2022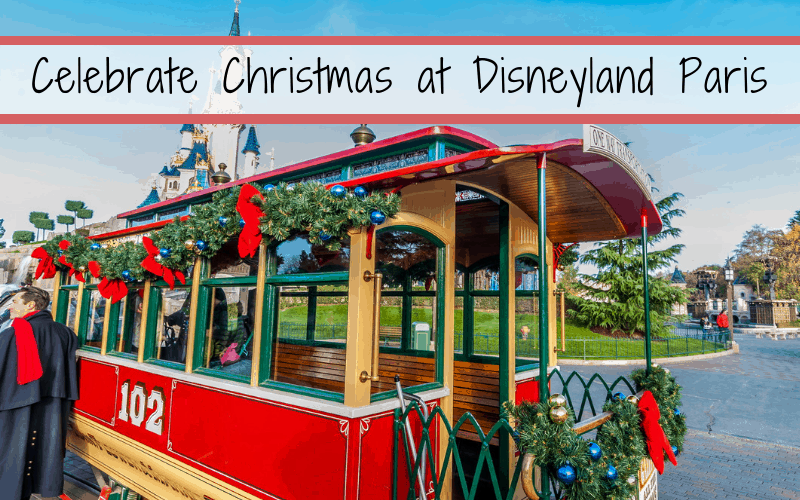 Why Christmas is the best time to visit Disneyland Paris
Christmas is just around the corner (well kind of!) and we're already feeling festive. If you want to add a little extra sparkle to your celebrations, Disneyland Paris is the perfect place to go. Starting from 10th November 2018 to 6th January 2019, both parks will be welcoming guests into a dazzling Christmas wonderland, hosting the spectacular Disney's Enchanted Christmas: A Very Merry ChrisMouse celebrations.
I have visited Disneyland Paris at different times of the year, but nothing compares to visiting during the Christmas season. Whether you have never been to Disneyland Paris, or you simply haven't been during this season, here is why you should definitely visit during the Christmas period.
This post may contain affiliate links.
To which I earn a small commission, at zero cost to you!
Find more info in our
Privacy Policy
.
Here's our guide to the Christmas highlights at Disneyland Paris…
Mickey's Magical Christmas Lights
Disneyland Paris has spared no expense to convert Main Street USA into a winter wonderland. Keep an ear out for the bells and music along the streets during the day. "Snow" falls every hour for a magical experience with the family.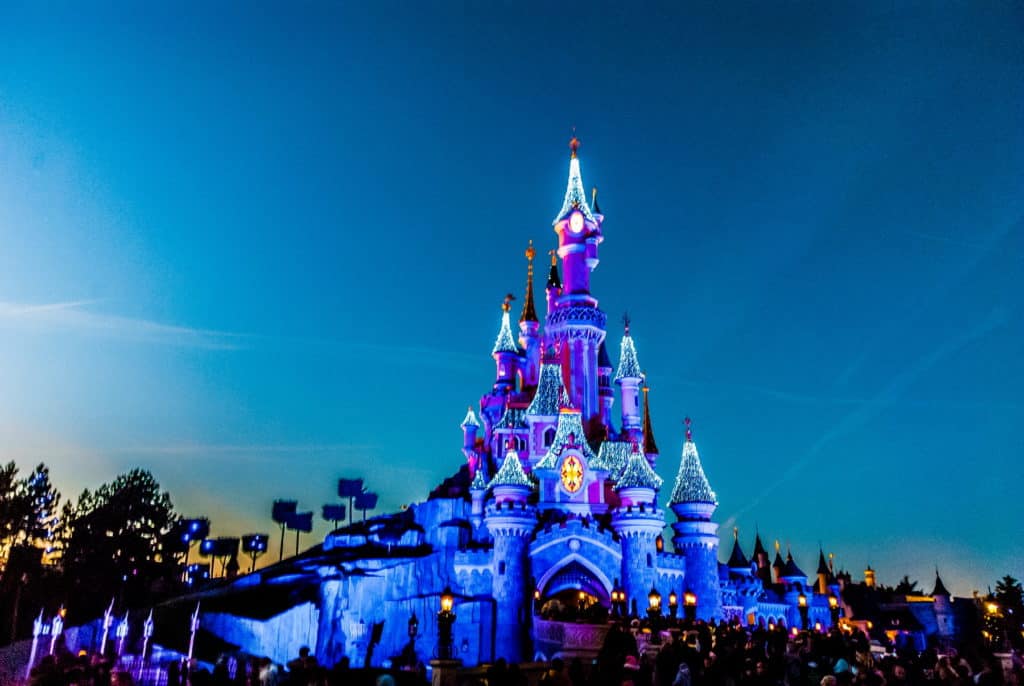 Disney's Christmas Parade
There are two parades during the Christmas season; Disney Stars On Parade (typically at 5:30 pm) and Disney's Christmas Parade (twice, at 12.15 pm and 2 pm)
Jump for joy as dancing sugar canes, gingerbread men and other sweet Yuletide surprises whip up a wonderful winter atmosphere.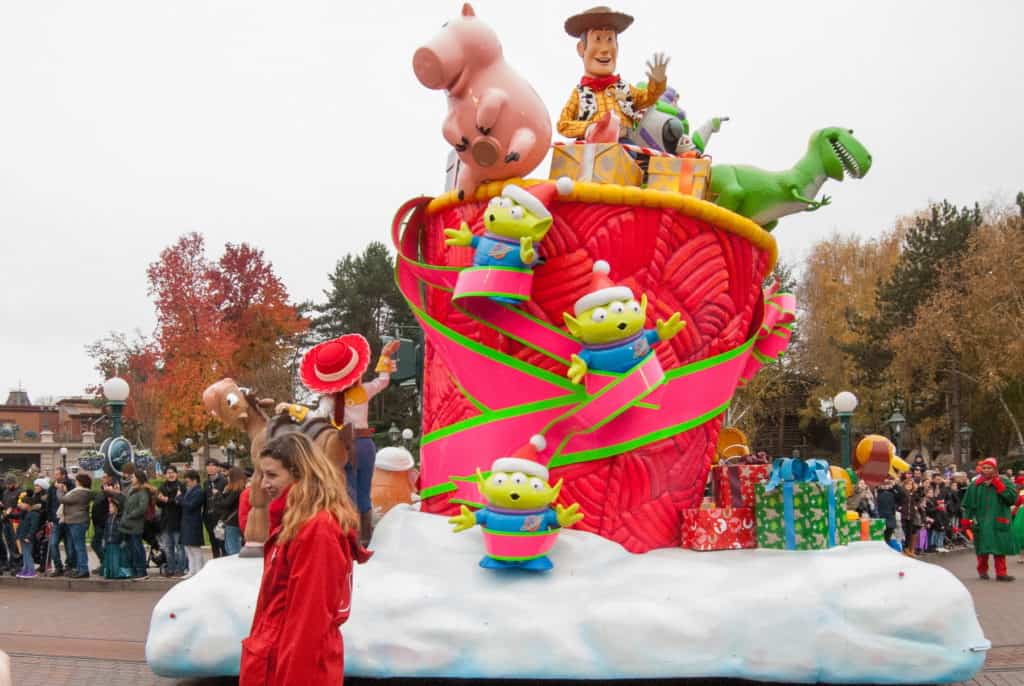 Sing Me a Merry Christmas
This is a stage show in front of Tower Terror taking place a couple of times a day. it does help spread some much needed seasonal cheer around the park. It invites to sing along to some Christmas songs with a group of singers and dancers as well as Mickey, Minnie and Goofy.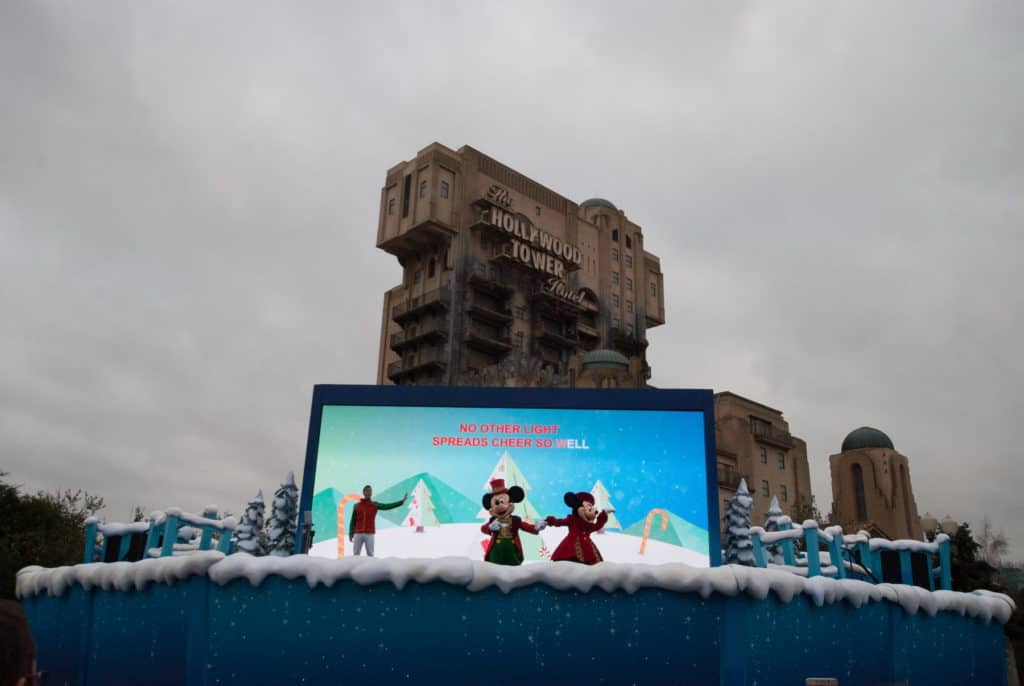 Goofy's Incredible Christmas
Make your way to Walt Disney Studios Park after dark, and you'll see a Character-filled extravaganza illuminating Hollywood Tower Hotel with classic Christmas tales. This is a beautiful Christmas number that combines projections over the Tower of Terror with fireworks and a stage show led by Goofy. There are also lights and projections around the whole Production Courtyard area.
This incredible show starts a few minutes before park closing. You can fit both the Tower of Terror show and the Castle Illuminations in one night. Since the Walt Disney Studios closes at 6 pm and the Disneyland Park close at 7 pm, you need to exit the Studios quickly when the show on Tower Of Terror ends and get to the Disneyland Park to get in before they close the turnstiles.
We did it once (do not attempt with a stroller); it was tight and we didn't get the greatest views – as opposed to the nights where we waited the hour in advance for a more up-close view – but we saw it and it was great. So it can be done.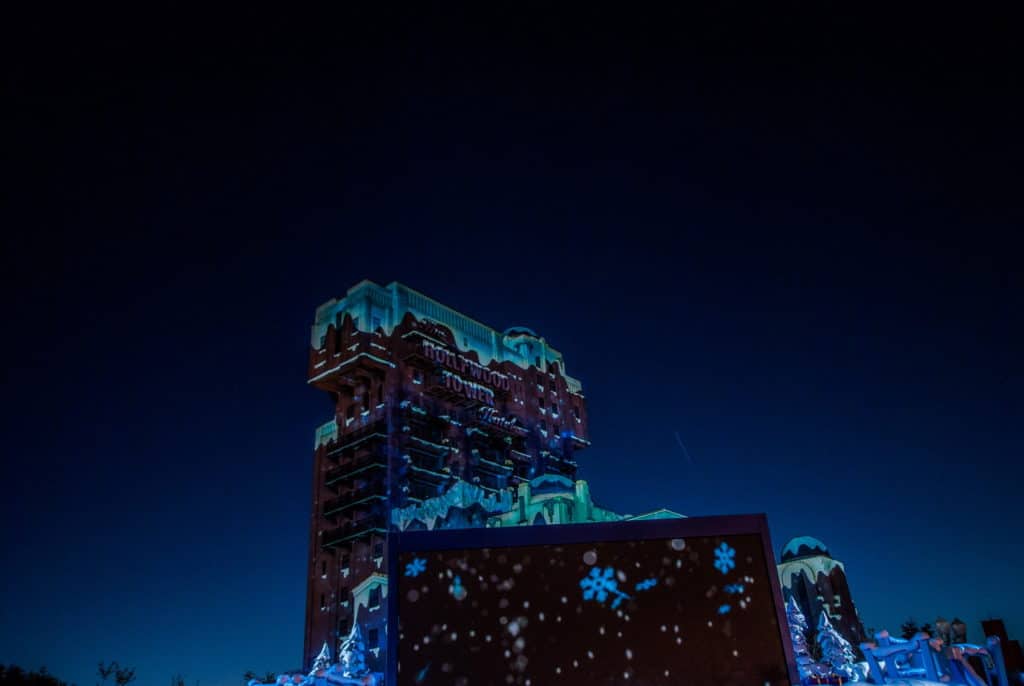 Mickey's Christmas Big Band
You can sing along to some classic carols at this cracking Broadway tap dancing show. Goofy with the Jingle Bell Boys band in Videopolis Theatre in Discoveryland performing 5 times from 2 pm, but not on Monday or Tuesday.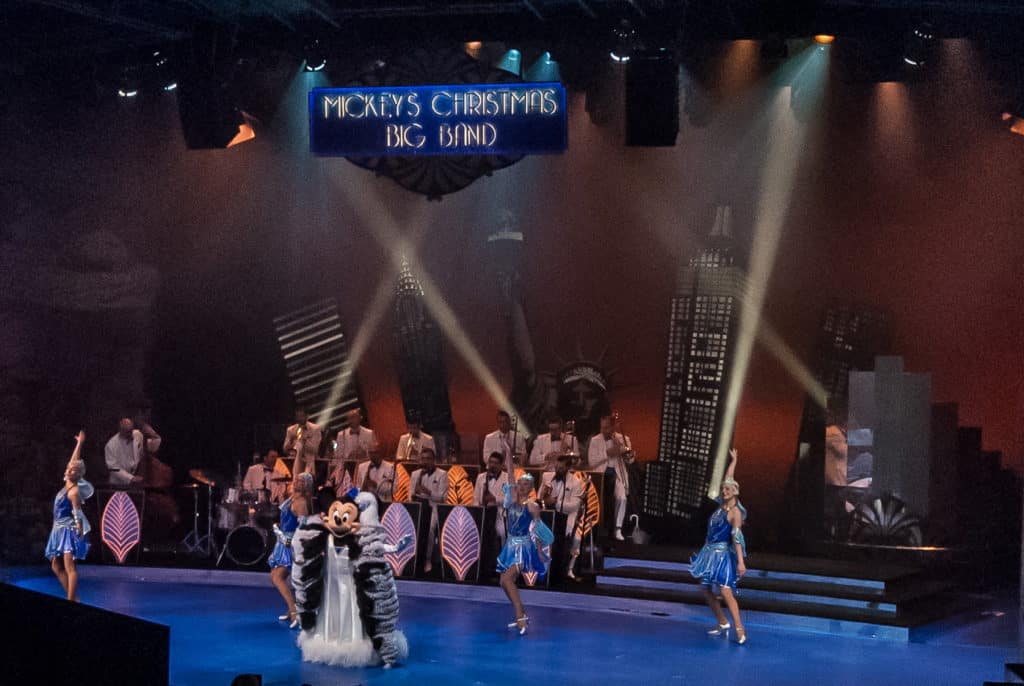 Meet Santa and Disney Christmas Characters
Of course, it wouldn't be Christmas without Santa Claus and at Disneyland Paris, you'll be able to meet him yourself! You will find him around the outside of the Meet Mickey Mouse building – there will be signs and a roped off area. Get there early before the lines get too long.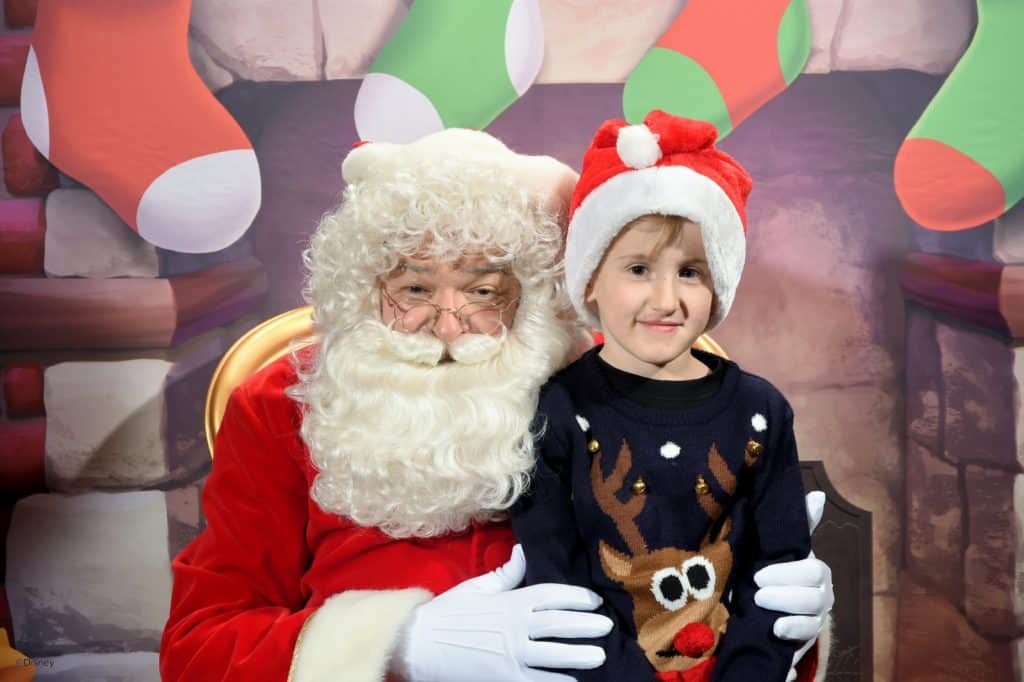 You'll also be able to see all your favourite characters dressed in their finest Christmas attire. Snap a photo with Mickey & Minnie or even Goofy.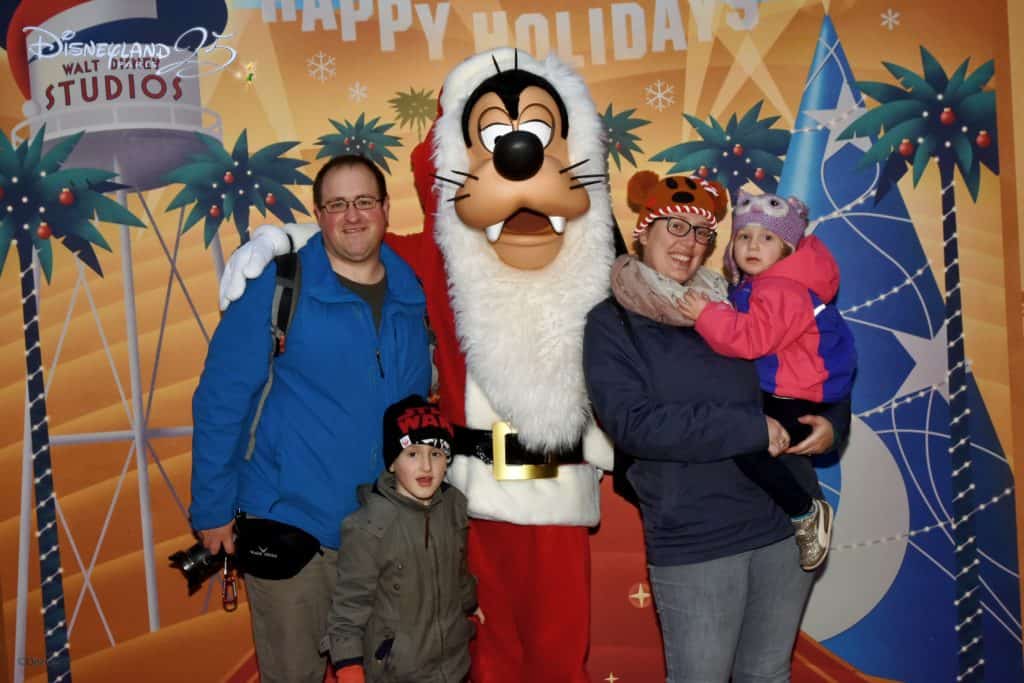 it's a Small World goes carolling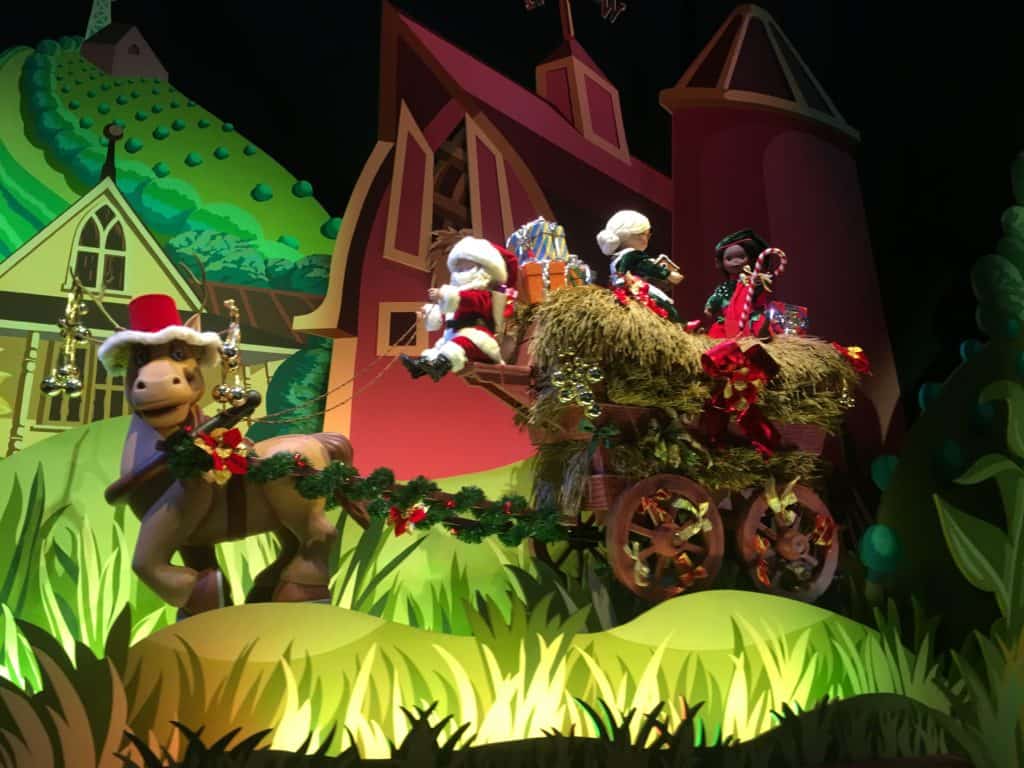 Closed for a week between the Halloween and Christmas season, it's a Small World adds a touch of Christmas Magic to the children of the world. You can even hear them singing Christmas carols in their native language.
Take pictures
If the Main Street decorations weren't enough to fill your SD card, then take a walk around the rest of the park and see what Christmas additions you can find throughout. The minute you walk through the gates, particularly at night, it is a complete feast of Christmas decorations wherever you look. Every little corner, particularly in the Main Street leading up to the Castle, has been taken care of. Not only that but inside of restaurants, shops and even the Disney hotels decorations have been put up all around.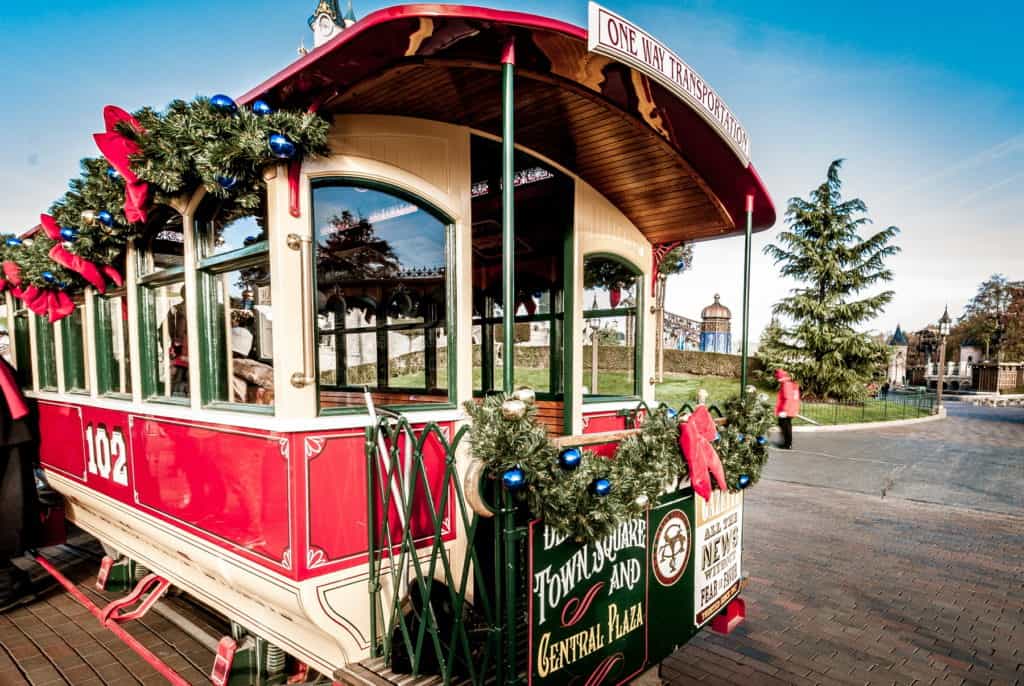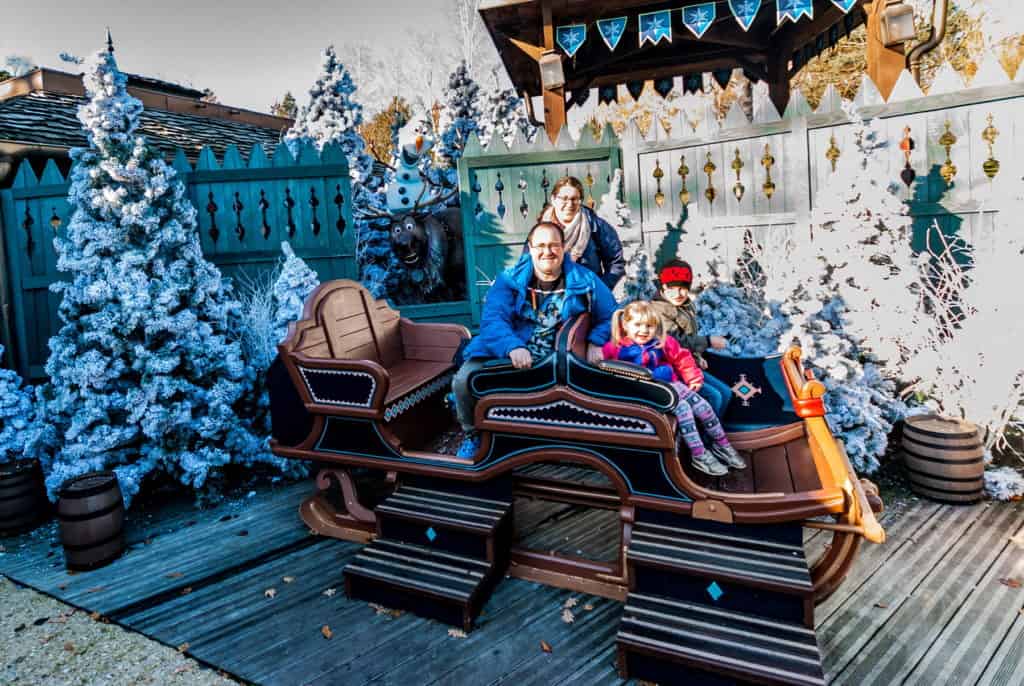 The Enchanted Advent Calendar
Every day from 1st to 25th December, when the Disneyland Park opens, the mayor of Main Street, U.S.A. and his assistant will pick a lucky child to open one of the calendar's windows using a crank handle. This is located in front of Sleeping Beauty Castle, Disneyland Park
Behind each window is a Golden Ticket which the child can swap for an enchanted surprise. New treats are revealed and available in the Parks, for a limited time only.
Decorate your room
Make your stay a Christmas you'll never ever forget with a Disney Hotel room glowing with festive decoration, a twinkling tree, and Disney gifts.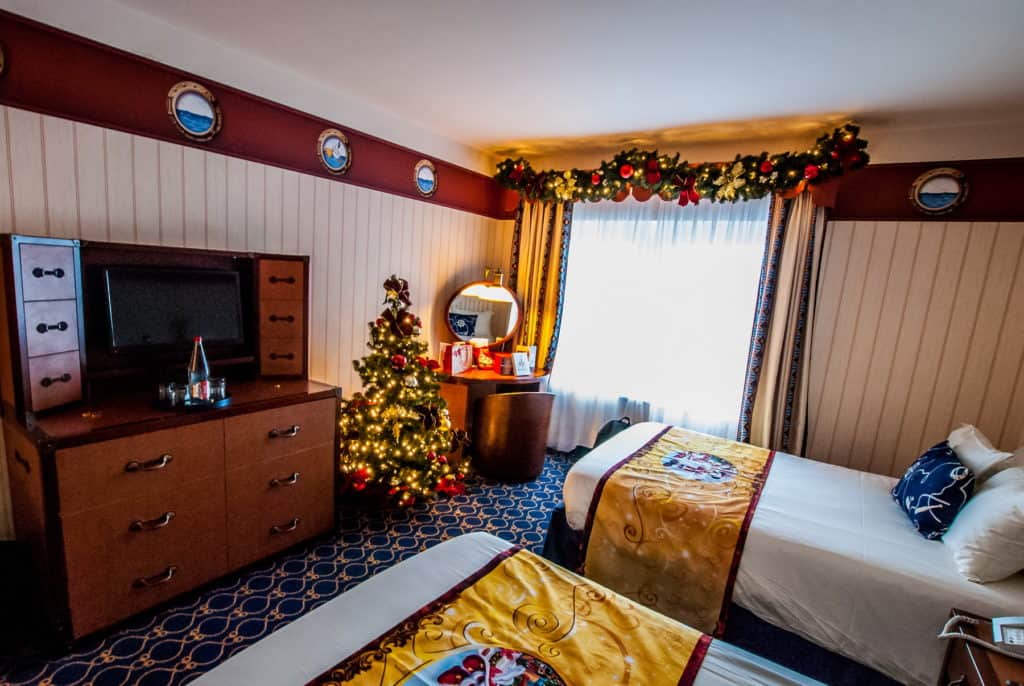 This is an upgrade from the standard room reservation but it was well worth it. The tree and extra decorations helped ring in the holiday spirit for the family. The extra goodies didn't hurt either. Check out our Newport Bay Club hotel review during our latest holiday vacation.
Don't forget to see our check-in video. Excuse the shaking – the kids insisted on helping us film. Such great little helpers they are.
The Snacks
There are so many Christmas snacks available in the parks and around Disney Village. Baby Girl and I are particular about our crepes; Strawberry jelly and Nutella. It's amazing but we got a lot of strange looks from the vendors. Don't knock it 'til you've tried it!
Other snacks were had, but they were consumed before I had a chance to snap a photo.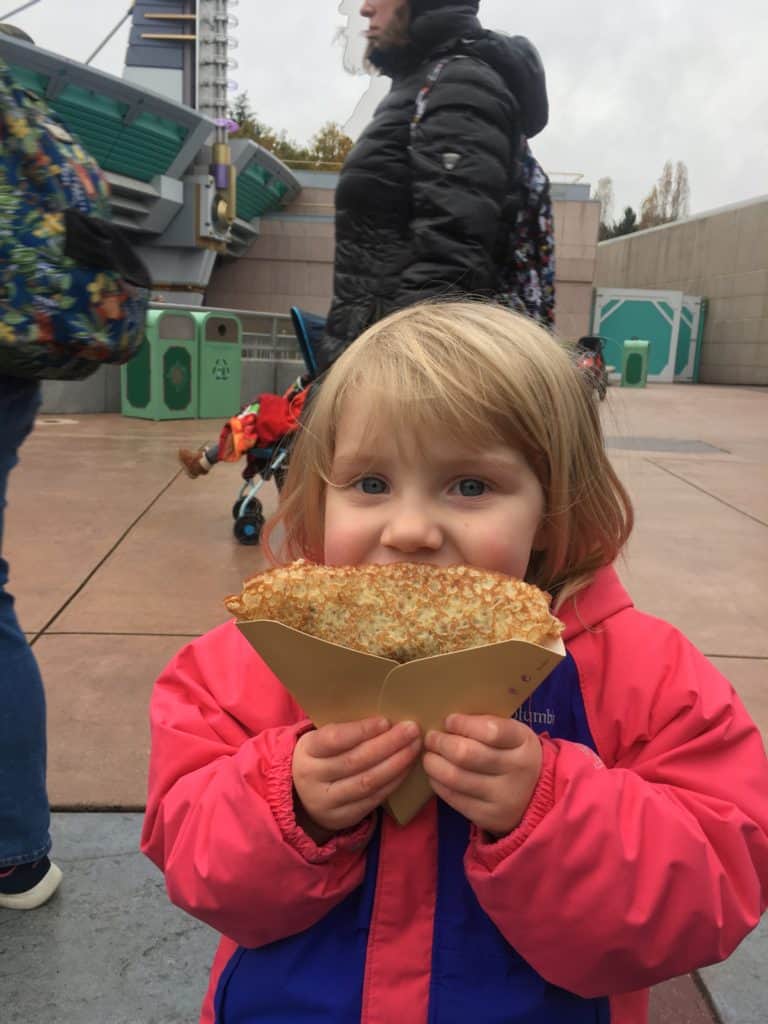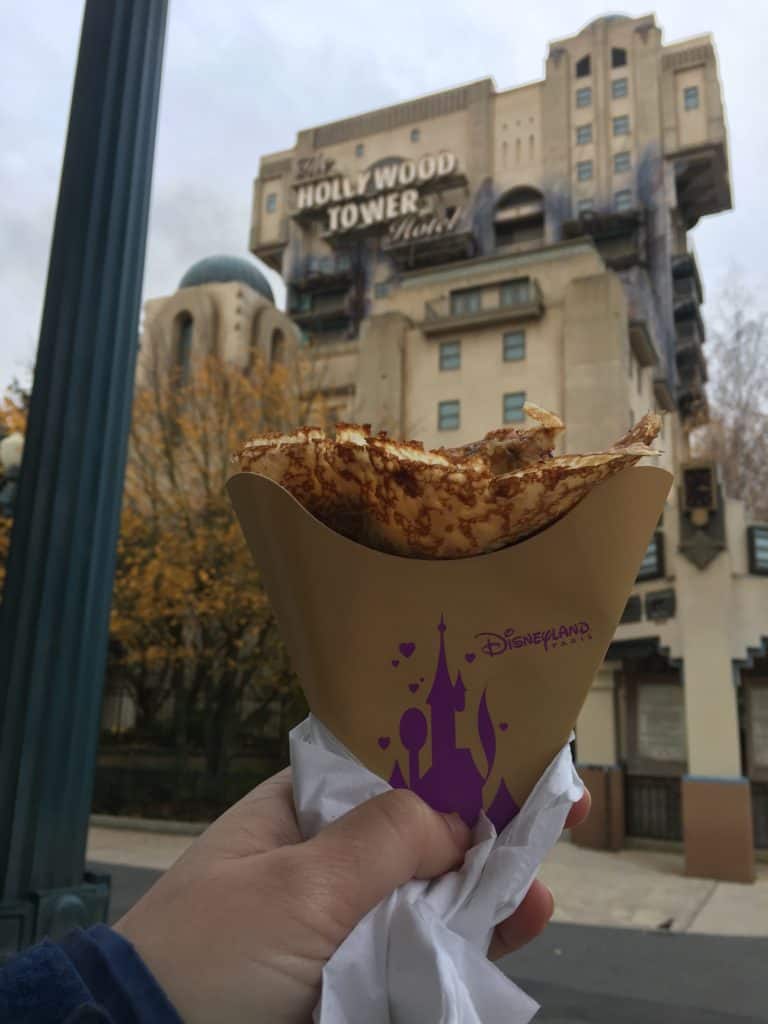 Go Shopping
While using the Rider Swap during baby's nap time, I had a chance to go shopping. There is so much available for Christmas; trains, decorations, costumes, gift ideas and everything else you can think of.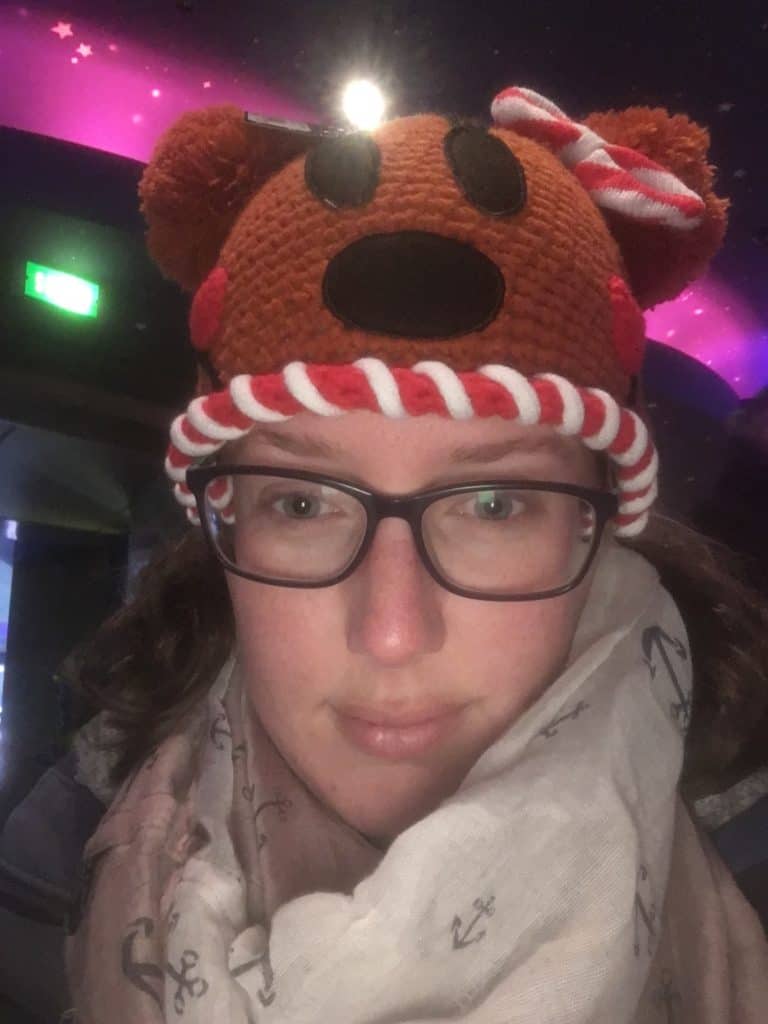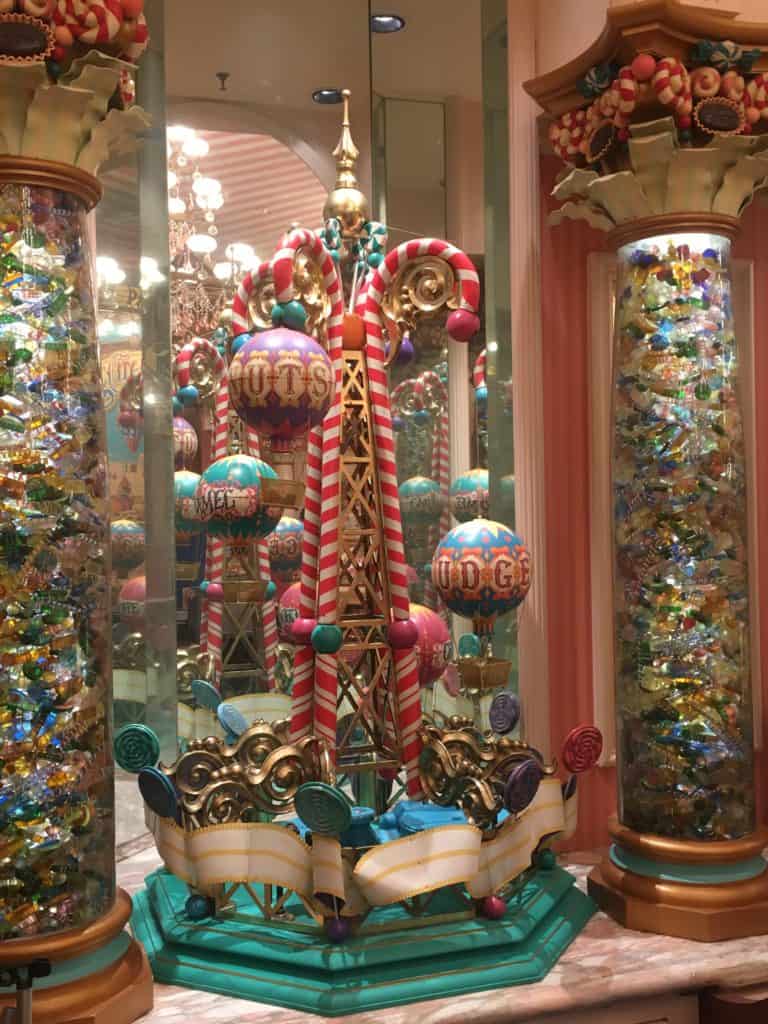 Christmas at Disney Village
Within the Disney Village, there is a traditional Christmas Market! Mulled wine (or Gluhwein) stall included!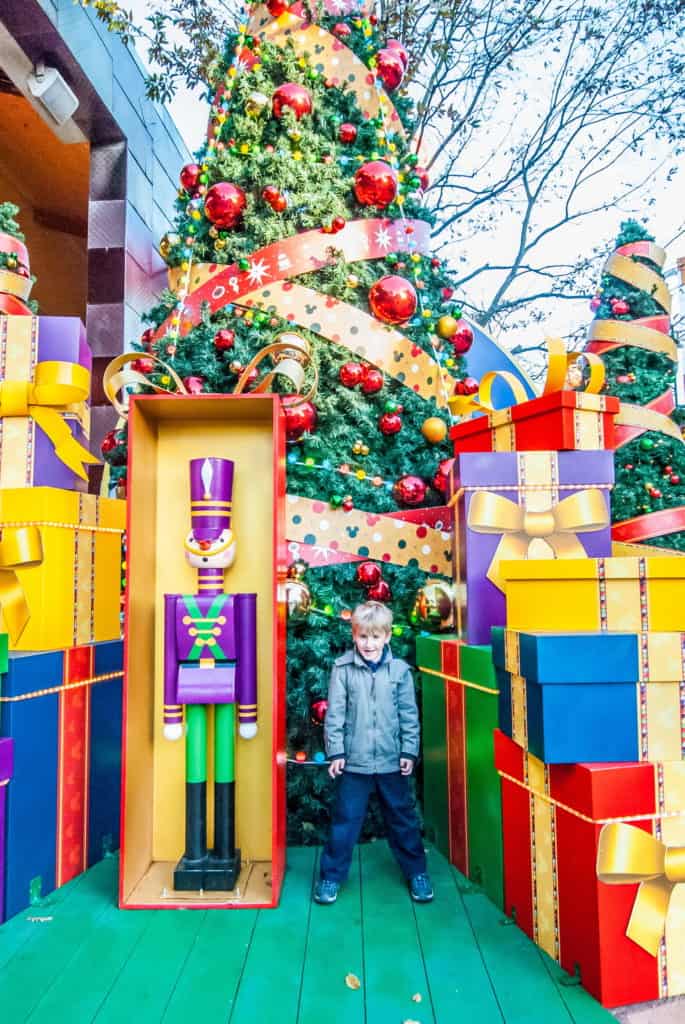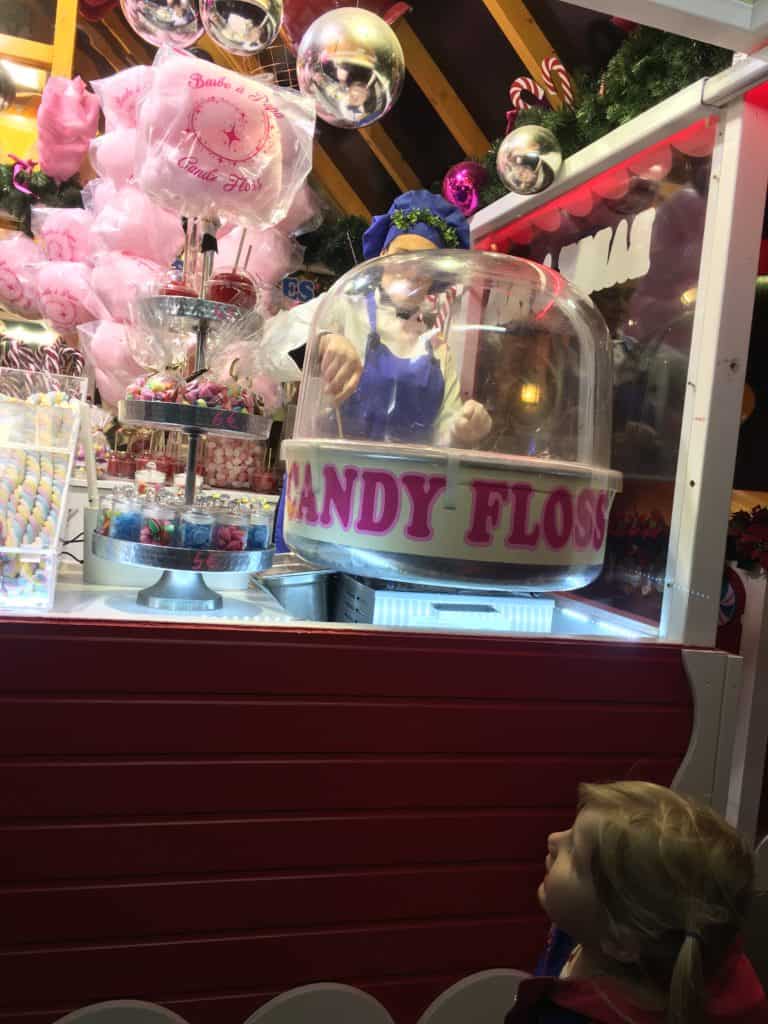 Since we were staying onsite, we have the pleasure of walking through Disney Village each morning to get to the parks. We shot this video one morning, the smells were incredible and we went back often for treats.
#NOELSUPERSTAR
With #NoelSuperStar, you can share your most festive pictures on Twitter and Instagram or get inspired by what other Guests are getting up to in Walt Disney Studios Park. They will be displayed on the Big Screen in Walt Disney Studios throughout the day.
Your Thoughts...
Please share your thoughts in the comments or reach out on social media...We would love to hear from you.
Follow Mouse Travel Matters for Disney Parks news, the latest info and park insights, follow MTM on Twitter, Facebook, and Instagram.
You May Also Like…