Last Updated on March 30, 2020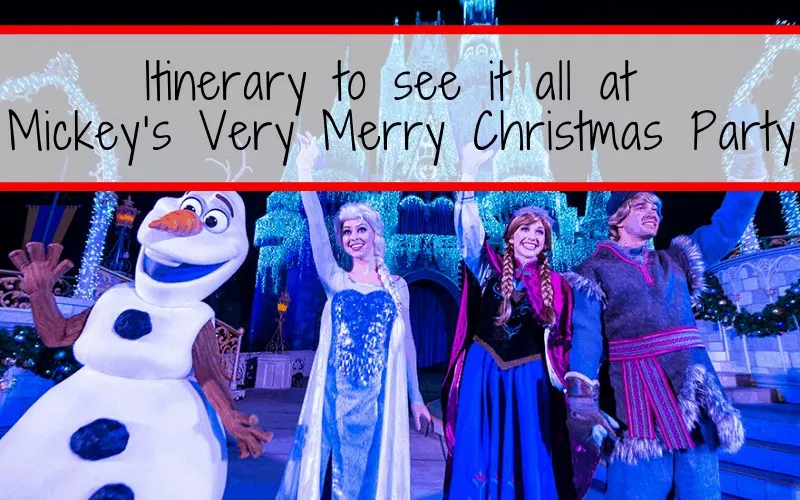 Mickey's Very Merry Christmas Party itinerary planning for Disney World. Countdown to Christmas! But you need a good plan and itinerary to have a glorious time! Get all the tips and tricks you need.
We are headed to Mickey's Very Merry Christmas Party for the first time and the thought of scheduling this exclusive event has been the stuff of nightmares. How are we going to see all the shows and Character Meet-and-Greets?
Scheduling Options
There are so many scheduling options for each activity, everything is spread apart throughout the Magic Kingdom and we want to do EVERYTHING in just 8 short hours. Did I mention that we will have been in the Magic Kingdom all day, with our 2 kids?
While I don't actively encourage guests to spend the day in the parks on the same day as a party, we had already made Fastpass and Dining reservations when we decided to attend the party. This also means that we won't have the need to ride all the attractions during the party, as we have already done that during the day.
Because we haven't been there yet, we weren't sure what was the best way to tour Mickey's Very Merry Christmas Party with kids, so we did research. A lot of research. After canvasing the internets, social media and the brains of every Disney blogger I know personally, we have been able to put a very child-friendly, relaxed itinerary that hit all of the attractions and entertainment available, while leaving room for Character meet and greets.
Here is the itinerary we have put together
See it all at Mickey's Very Merry Christmas Party
Arrive at 4 pm when Ticket holders are allowed to enter the parks without a day-ticket
6:30 pm: Pick one top character priority. Character's do not typically start seeing guests until 7 pm. This means the rare characters will have queues starting as early at 5: 30 pm after guests have arrived early and eaten. If you have the time to spare, please line up early before the party starts, so you aren't wasting precious party time on character queues.
Note that free treats aren't offered until 7 pm
7:30-7:55 pm: Visit some treat stations and/or a couple of rides with shorter lines. Club Tinsel is also a great option to start off the Party and get the kids in the holiday spirit.
There are 3 stage performances, 2 dance party's, and 1 Christmas parade throughout the entire party. The kids will have trouble leaving one event in the promise of another, but giving them a specific deadline and maybe watching review videos on Youtube will help encourage them to leave when asked.
7:55-8:30 pm: Start heading over to Cinderella Castle's stage to watch "A Frozen Holiday Wish", where you can watch Elsa light up the castle. You'll have the best view further back from the stage, ideally in the Hub area just in front of the Partners statue
8:30-9:40 pm: Go on one or two E-ticket rides, such as Snow White and the Seven Dwarfs Mine Train, Space Mountain (which has a holiday overlay), or Jingle Cruise (Jungle Cruise's holiday overlay). You can also get some treats at this time too as you're making your way in between rides!
This is also a great time to check out Storybook Circus Disney Junior Jingle Jam
9:40-10:10 pm: Head over to Cinderella Castle to get a spot to watch Minnie's Wonderful Christmastime Fireworks show will be happening at 10 pm! You'll want to get a spot center close to the stage so you can see the castle projections, and so you can get a great view of the show at 10:30 pm.
10:10-10:50 pm: Sit tight in your fireworks spot to watch the 10:30 pm performance of my favourite show: Mickey's Most Merriest Celebration! This is a 25-minute stage show.
10:50-11:20 pm: Stay near Cinderella Castle, but make your way closer to the street so you can get a great view of Mickey's Once Upon a Christmastime Parade. The parade itself takes about 13 minutes to complete, but the route is 21 minutes long start to finish.
11:20-11:50: Make your way to Tomorrowland to see the stage show A Totally Tomorrowland Christmas. This show is just under 18 minutes long and scheduled to start at 11:35 pm. At 11:10 pm The Edge Effect will be performing a small concert. If you get their early enough you might be able to catch a glimpse.
11:50-Midnight: Make your way over to a nearby attraction for one more ride before the park closes!
Checking out the 11:55 pm Mickey's Most Merriest Celebration show is always a possibility as well if you are too tired to ride or really want to get that Instagram picture.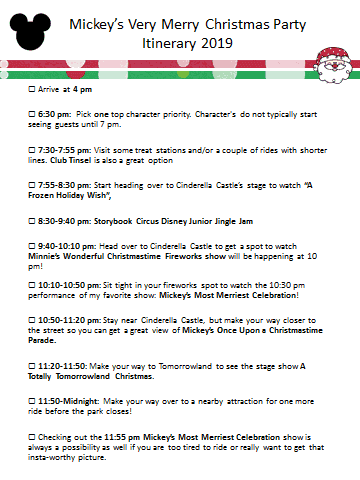 Your Thoughts...
Please share your thoughts in the comments or reach out on social media...We would love to hear from you.
Follow Mouse Travel Matters for Disney Parks news, the latest info and park insights, follow MTM on Twitter, Facebook, and Instagram.
You May Also Like…
Disney World Christmas Tips and Tricks
Mickey's Very Merry Christmas Party a Guide
Map Released for Mickey's Very Merry Christmas Party 2019 at the Magic Kingdom
The Ultimate Guide Disney On Ice | Tips for Parents