Last Updated on January 23, 2020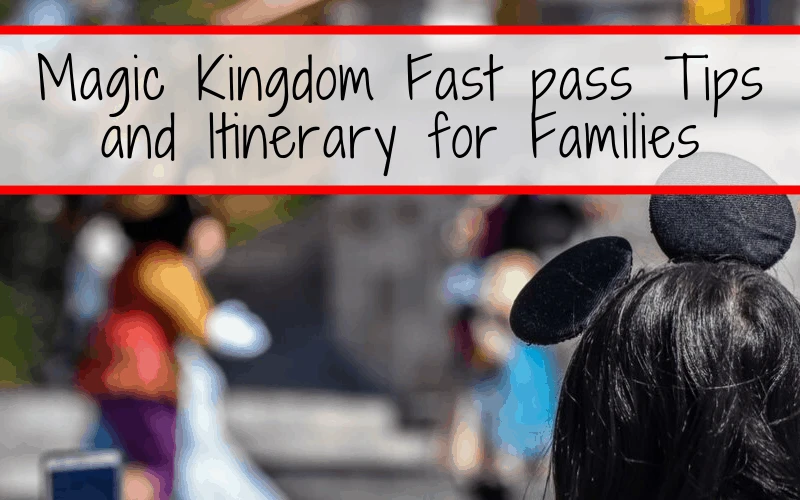 Not everyone has the luxury of spending 10+ days at Walt Disney World, so their itinerary is going to be limited to one day per park. This is more than enough time to experience everything you children will want to experience, plus a little something for yourself. This post is going to cover which magic Kingdom rides have fast passes available, which ones you should reserve and what your general itinerary should look like for your young family.
This page accompanies our What to FastPass+ at Walt Disney World Theme Parks
Disney's Magic Kingdom Maximized 1-Day Itinerary
First off, let's start with the rides at the Magic Kingdom that use Fastpass
Magic Kingdom FastPass Choices
Tomorrowland

Space Mountain (44 inches)
Buzz Lightyear's Space Ranger Spin
Monster Inc. Laugh Floor
Tomorrowland Speedway (32 inches)

Fantasyland

Ariel's Grotto- Meet Ariel as a Mermaid
The Barnstormer (36 inches)- Small Roller Coaster
Dumbo
Enchanted Tales with Belle- Interactive story and meet & greet.
It's A Small World
Mad Tea Party-Tea cups
The Many Adventures of Winnie the Pooh
Mickey's PhilharMagic
Peter Pan's Flight
Meet Cinderella and Elena at Princess Fairytale Hall
Meet Rapunzel and Tiana at Princess Fairytale Hall
Seven Dwarfs Mine Train (36 inches)
Under the Sea: Journey of the Little Mermaid

Frontierland

Big Thunder Mountain Railrod (40 inches)
Splash Mountain (40 inches)

Liberty Square
Adventureland

Jungle Cruise- Boat ride with Animatronic Animals
The Magic Carpets of Aladdin- Similar to Dumbo but Aladdin themed
Pirates of the Caribbean

Main Street U.S.A

Meet Mickey Mouse
Meet Tinker Bell
Best Fastpasses for the Magic Kingdom
We highly suggest FastPass reservations for the following:
Peter Pan's Flight
Seven Dwarf Mine Train
Enchanted Tales with Belle
Splash Mountain
Space Mountain
Big Thunder Mountain
Meet & Greets-If there is a character your kids want to meet try to reserve a FastPass for it.
Magic Kingdom Fastpass Tips
The longest lines in the Magic Kingdom tend to be Peter Pan's Flight and Seven Dwarfs Mine Train, so both of these are great choices for a FastPass. However, since it is still a new ride, Seven Dwarfs Mine Train (7DMT) tends to attract a long queue starting at rope drop. The height requirement is 38 inches, but it's packed full of thrills for all ages. If we had to choose one major ride to book FP+ with, Seven Dwarfs Mine Train would be it.
Other Priority Fastpass Choices: The 3 mountains (Big Thunder, Splash and Space) are also high on our list of priorities. If you are a wimp like me, on the other hand, I would aim for Jungle Cruise, Character Meet and Greets, and Buzz Lightyear Ranger Spin and Under the Sea ~ Journey of the Little Mermaid.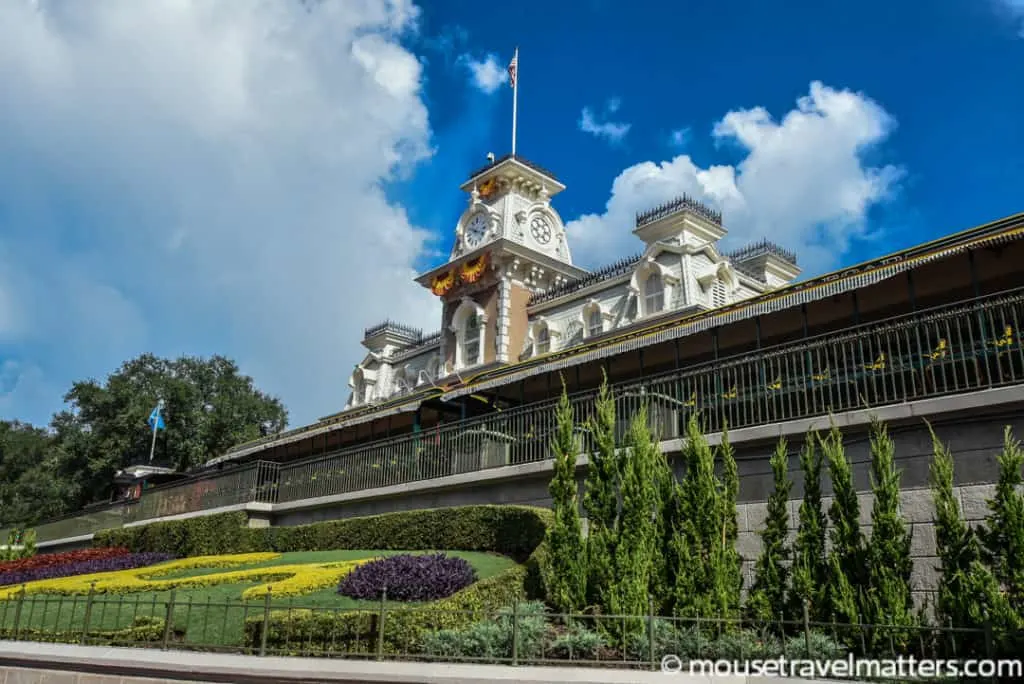 What to Avoid Booking
While all of these rides are amazing, some do not necessarily warrant a Fastpass selection. Their queues are so short (less than 30 minutes) or the waiting area is so entertaining, that you will not want to skip the lines. When you only have 3 choices – it is important to make the right choice.
We would avoid fast passing Dumbo, only because they have a great play area while you wait. Monsters, Inc. Laugh Floor, Mickey's PhilharMagic and it's a Small World also tend to have the shortest lines – or fastest moving lines.
Magic Kingdom Fastpass Tips
There is no fee to use FastPass+ — it's available to everyone and free with park admission.
Guests staying at Disney resort – otherwise known as 'on-site' – are able to make their Fastpass reservations up to 60 days in advance of their check-in date. Off-site guests, those staying at an outside hotel, are able to make their reservations at 30 days before check-in.
Before heading to Walt Disney World, guests are able to make an initial 3 reservations. Once you have used these 3 pre-selected FastPasses, you can then make additional FastPass+ reservations, one at a time, while you are at Walt Disney World, through your smartphone app or at an available Kiosk.
Most FP+ ride reservations specify a one-hour window during which you may enter the attraction.
When you arrive at an attraction with your FP+, you'll be directed to a separate, shorter "FastPass+ Return" line. To enter the line, you must validate your reservation by touching your MagicBand or RFID ticket to a reader at the FP+ Return entrance.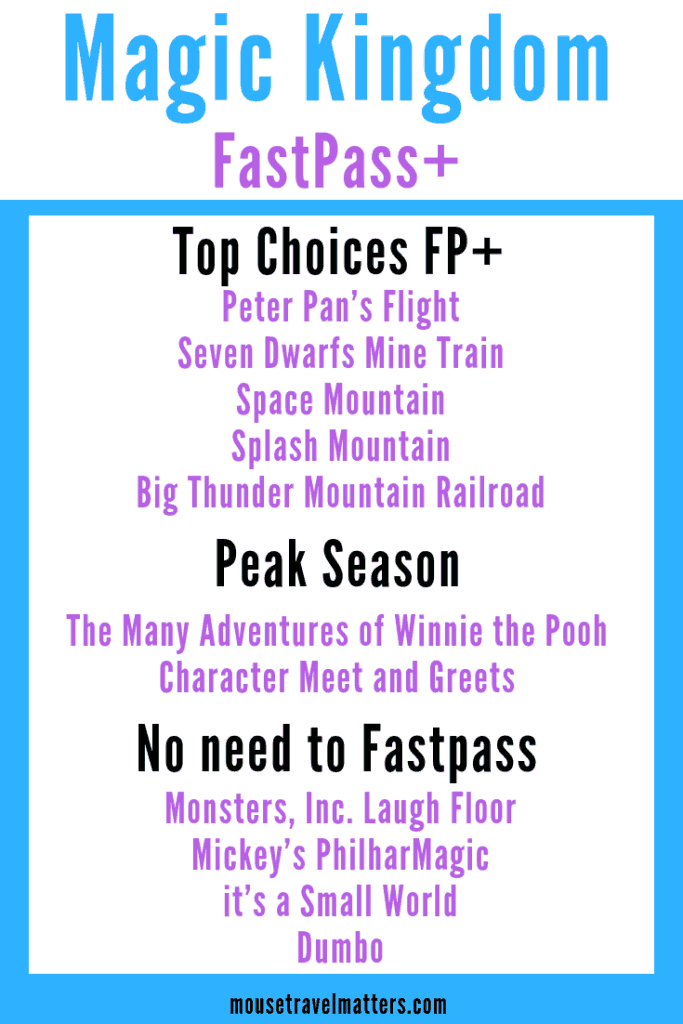 Magic Kingdom Itinerary for Families
Breakfast at your resort or pack something to be eating while waiting in line for rope drop. The key to a good start is avoiding wasting time at meals during park hours.
If, however, you can manage to get a BOG or CRT at 8 am on a day that doesn't have EMH, which means they will open between 9 and 9:30 am, then, by all means, schedule that meal and be in the park before anyone else is even out of bed.
Don't forget, Magic Kingdom also has a fun little morning special called Early Morning Magic, on select mornings. If you can't see yourself being at the parks for EMH, then try your hand at EMM.
Breakfast at Be Our Guest before park open
Wait in line and be the first to ride Seven Dwarfs Mine Train
Under the Sea: Journey of the Little Mermaid
Dumbo
The Barnstormer
Casey Jr Splash 'n' Soak station
The Many Adventures of Winnie the Pooh FP
Prince Charmings Regal Carrousel
Mickey's Philharmagic
It's A Small World
Lunch; Pinocchio Haus
Tomorrowland Transit Authority
Carousel of Progress
Monsters Inc Laugh floor
Buzz Lightyear FP
Pirates of the Caribean
Enchanted Tiki Room
Country Bears Jamboree
Festival of Fantasy Parade at 2:00 pm watch from Adventureland, it passes just in front of the Country Bears Jamboree. Find a spot 45-30 minutes before. This is a good time to grab a snack to enjoy while you wait. Use Mobile Ordering to order and save time. Read more -> Why We Always Use Mobile Ordering + How It Saves Us Time at the Disney Parks
Jungle Cruise FP
Dinner at Jungle Navigation Co. Ltd. Skipper Canteen or Liberty Tree Tavern – Reservations are required up to 180 days in advance
Any Attractions we missed or wanted to ride again
Nighttime spectacular
This Magic Kingdom itinerary is mostly attraction based and not character-based. If you are interested in meeting characters schedule your day around them as well.

The majority of visitors will be following the clockwise pattern so it is important to get your fast passes in order as well as make wise break-time choices. We scheduled lunch a little earlier than the norm, only because the crowds will start to die down around noon when they all start finding lunch spots.
Having an early lunch and minimizing your morning breaks maximizes your chances of getting to where you want to be for the parade. I hate doubling back, for any reason, so I want to plan my day that I am near Main street (crossing into Adventureland) around 1:30 pm when I will be waiting for the parade.
Magic Kingdom Snacks
While you're there, don't forget to indulge in the snacks. There are so many quick-service snack options available at the Magic Kingdom that it would be hard-pressed to ignore them all.
Your Thoughts...
Please share your thoughts in the comments or reach out on social media...We would love to hear from you.
Follow Mouse Travel Matters for Disney Parks news, the latest info and park insights, follow MTM on Twitter, Facebook, and Instagram.
You May Also Like