Last Updated on October 21, 2021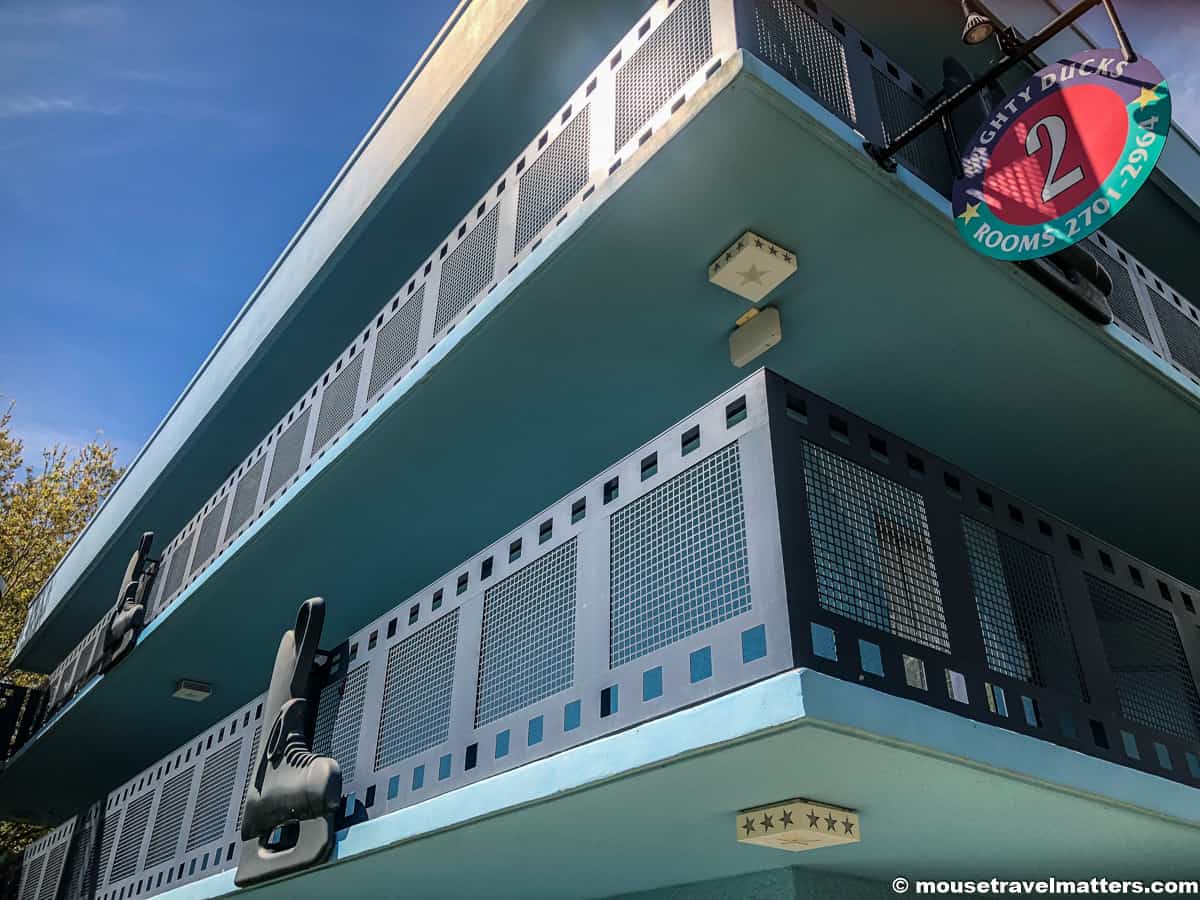 Having visited Walt Disney World and Disneyland Paris a total of 8 times in the last 10 years, we have had our fair share of Resort exploration. Each level of resort has its own unique quirks and amenities, just as much as each resort within a level.
For our latest Mouse Travel Matters trip, an adult's only trip for Flower and Garden Festival, we decided that a Value resort would be the best bang for our buck.
Why a Value Resort?
Any good planner can tell you that the majority of your vacation costs will come from accommodations and food. Since we can't stop eating for a week, choice of resorts is the only way to reduce your spending costs.
A Disney Value Resort gives guests all the perks that come with staying on-site, without the added expense of a Moderate or Deluxe resort.
If you're going to spend all of your time in the parks and just want a clean place to rest your head, a pool to splash in, and some fast food, you may find the Value resorts satisfy your needs. Basically, the only reason to choose these resorts is the cost. If you can afford a little more, we feel the Moderates offer a lot more for your money.

Check in procedures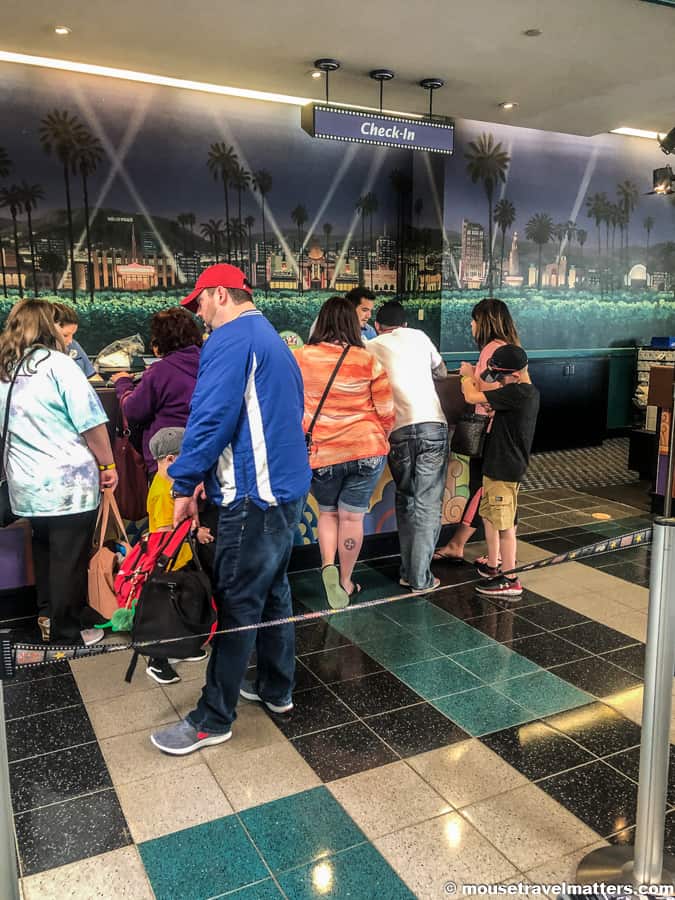 With so many people checking in and out every single day, at any given time of the day, it is important to note that check in procedures do take time.
At most, you will be with the Cast Member for 10 minutes while they talk you through your room reservation, Magic Band Activation, Credit Card information and so on.
The wait time to actually speak with a Cast Member, however, can take a bit longer. Because of this well known fact, and that kids hate standing in line when there is nothing in it for them on the other side, Disney has aptly provided children's entertainment while parents wait patiently.
You still need to keep an eye on your kids, as this is not a supervised area, there are plenty of seats for everyone to enjoy a movie in peace.
For the adults, you will need your confirmation information, proof of residency if you have booked with a qualifying discount, and credit card information. Locals and non-discounted reservations will be asked for Proof of Identity as well.
Don't forget about the new Credit Card Hold Policy.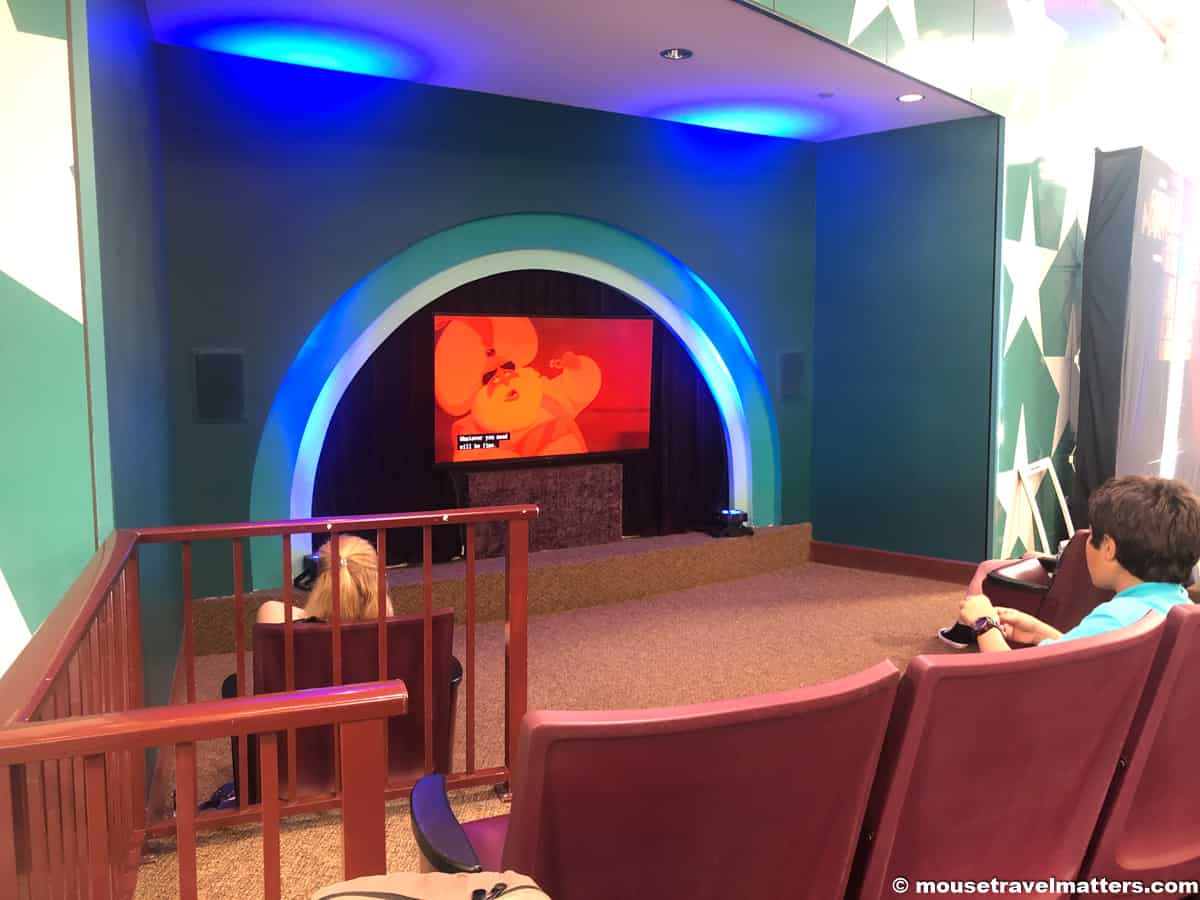 Resort grounds
The Value resort buildings are big, brightly-painted concrete buildings with some theming overlays. All four resorts have motel-style exterior corridors, meaning the door and window of your room face outward onto an open walkway. These resorts frequently host large youth groups. Some rooms face into courtyards that contain pools. Due to these factors, noise can be a significant issue at the Value resorts.
The Value resorts are pretty spread out, so there can be a lot of walking, particularly if you don't have a car. Wait times for the buses can be long. Also, it's not at all convenient to eat at another resort, go to Disney Springs, or attend special meals such as the Polynesian Luau or Hoop-Dee-Doo Revue unless you have a car or ride-share.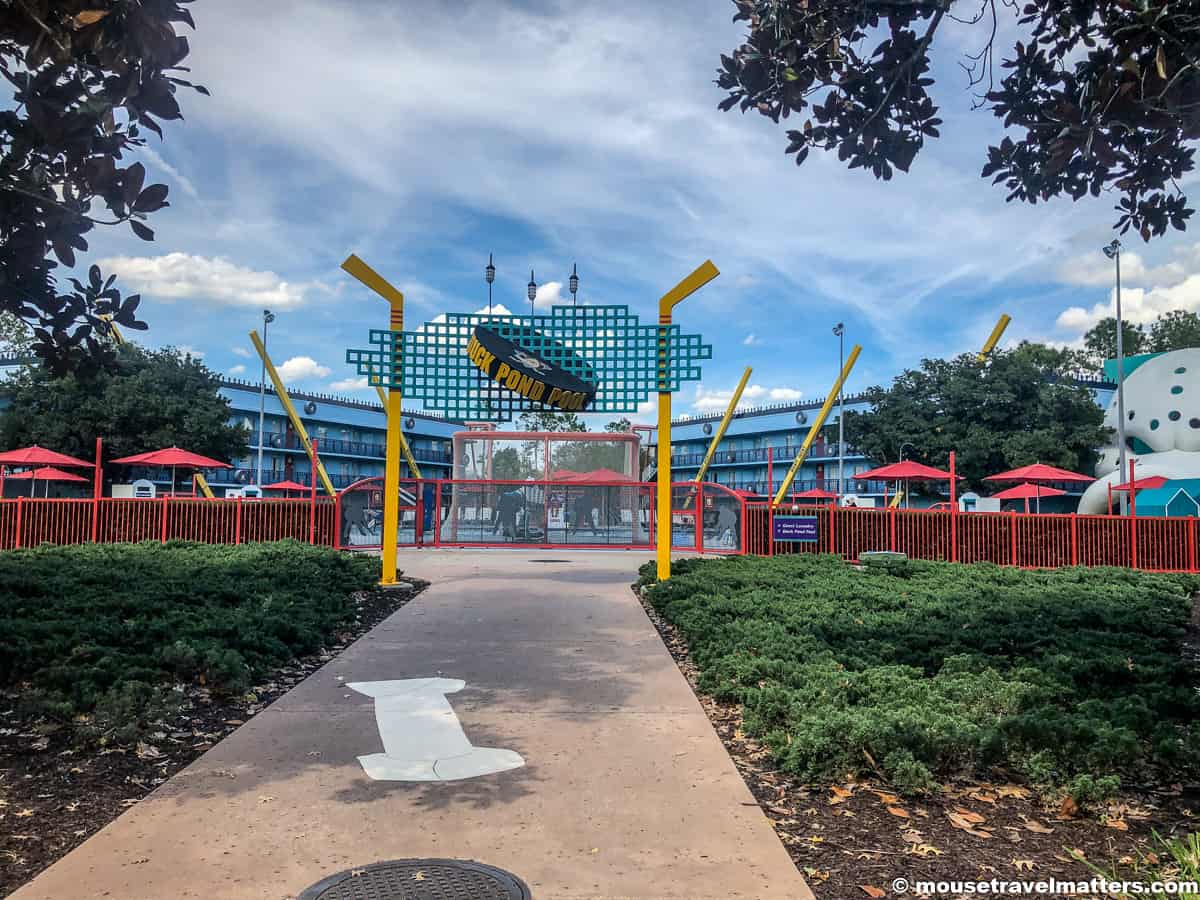 The grounds are broken into eleven buildings and two pools. The main building is "Cinema Hall." That's where you'll find reception, the concierge, the Reel Fun Arcade, Donald's Double Feature Gift Shop, the World Premiere Food Court, and the Silver Screen Spirits pool bar.
There's no denying that the Movies theming comes off as more "Disney" than the theming at Music or Sports. Obviously this is because Disney can surround you at all times with reminders of their movies, from Toy Story buildings to posters in the food court.
The 10 buildings are themed as follows; 1 and 4 (the 101 Dalmatians rooms); 2 and 3 (the Mighty Ducks rooms); 6 and 7 (the Love Bug rooms); 5 and 8 (the Fantasia rooms); 9 and 10 (the Toy Story rooms)—form the outer border of the grounds.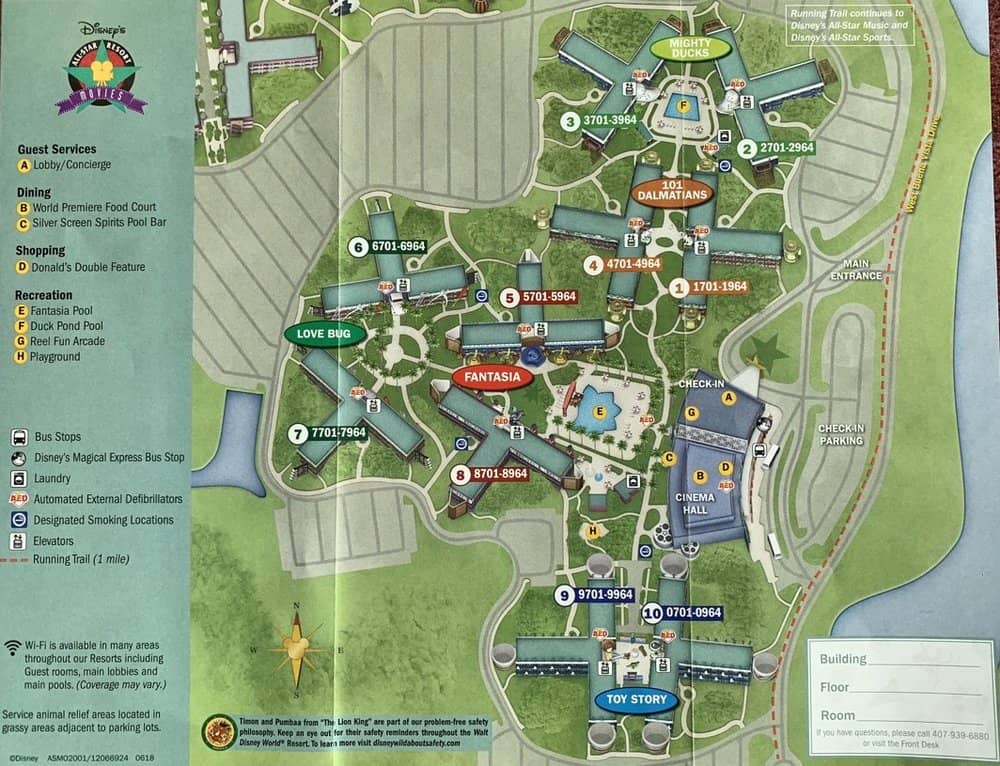 Pool area
The pools are somewhat themed but do not have water slides. The All-Star resorts have two pools each. Pop Century has three pools.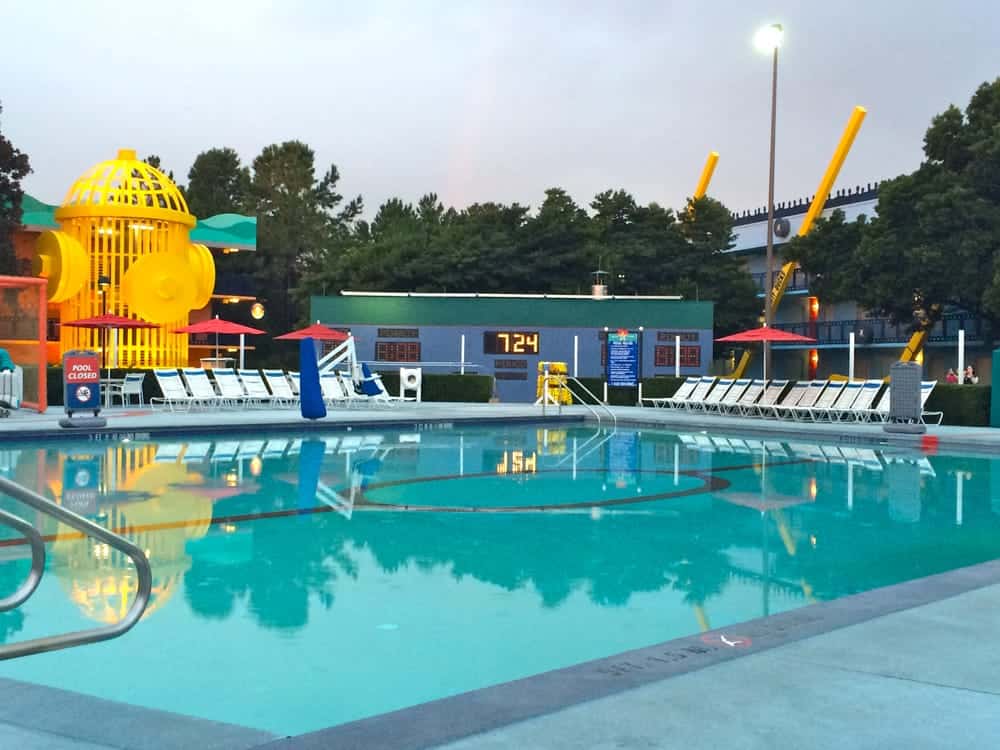 Be sure to visit our store to purchase Disney: Who Said It? game
Rooms
The standard rooms at the Value resorts are 260 square feet and include two double beds or one King bed, for a maximum occupancy of 4 people (plus one baby under age 3 in a crib).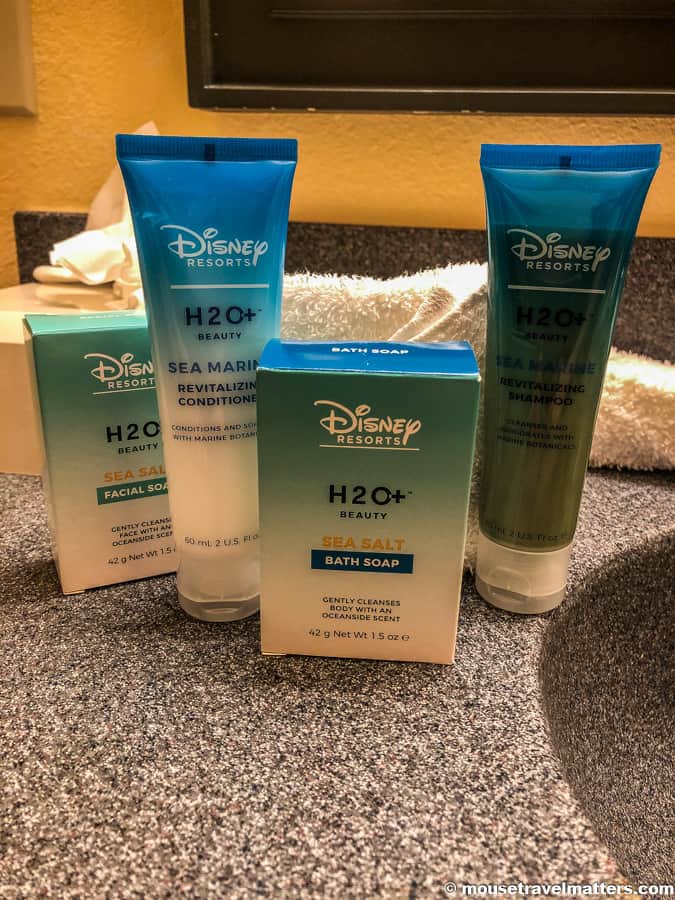 The Value resorts offer complimentary wireless Internet (Wi-Fi) access in the rooms and select public areas. All rooms have mini-fridges.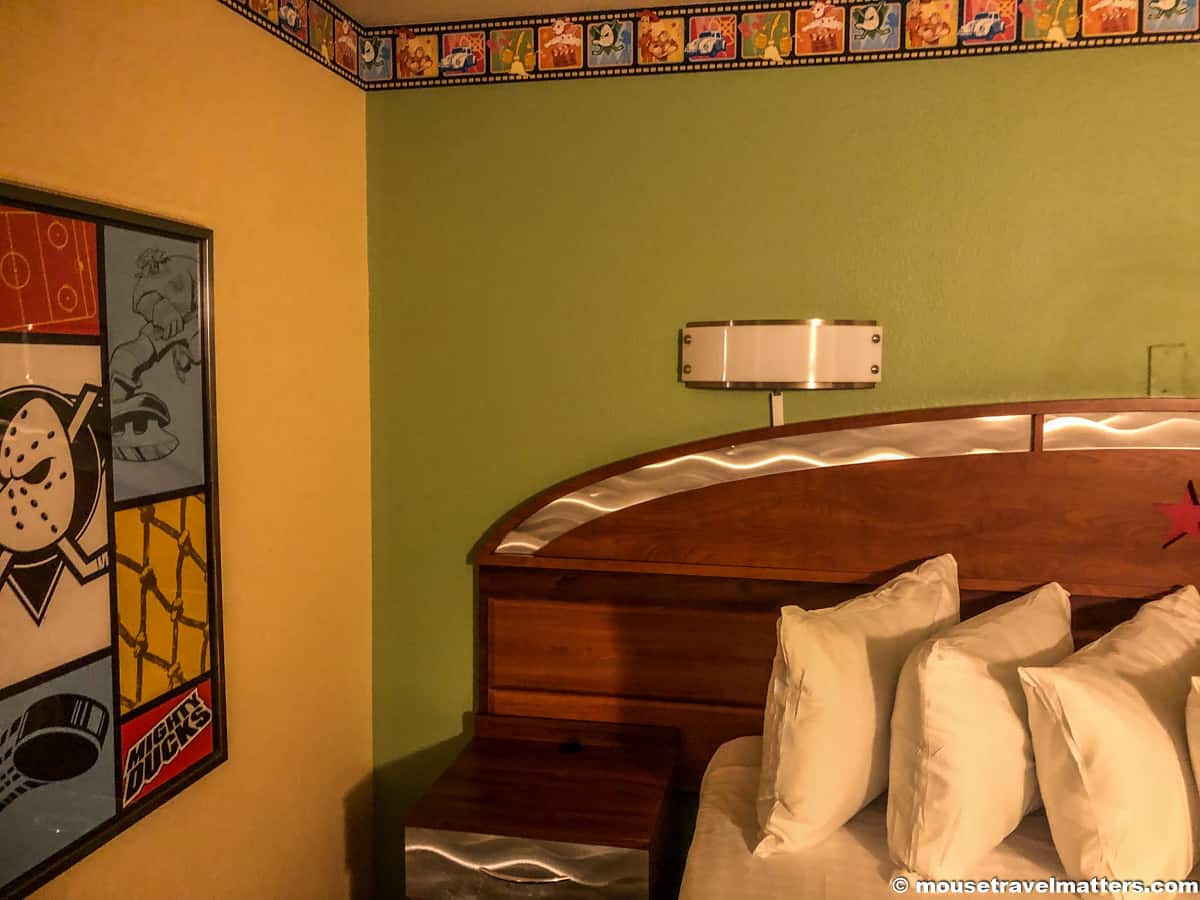 Food Court
The Value resorts have basic amenities such as a food court, pool bar, video game room and gift shop. They do not offer table-service dining, an indoor bar/lounge, room service (except pizza delivery), on-site recreation such as boating, health club or valet parking.
Considering that the All-Star Resorts (Disney's All-Star Music and Disney's All-Star Sports included) cater to the masses when it comes to food options, and considering that the primary guest demographic includes families with young kids, as well as kids and teens on school trips, those menu items include pizza, hot dogs, burgers, and fries.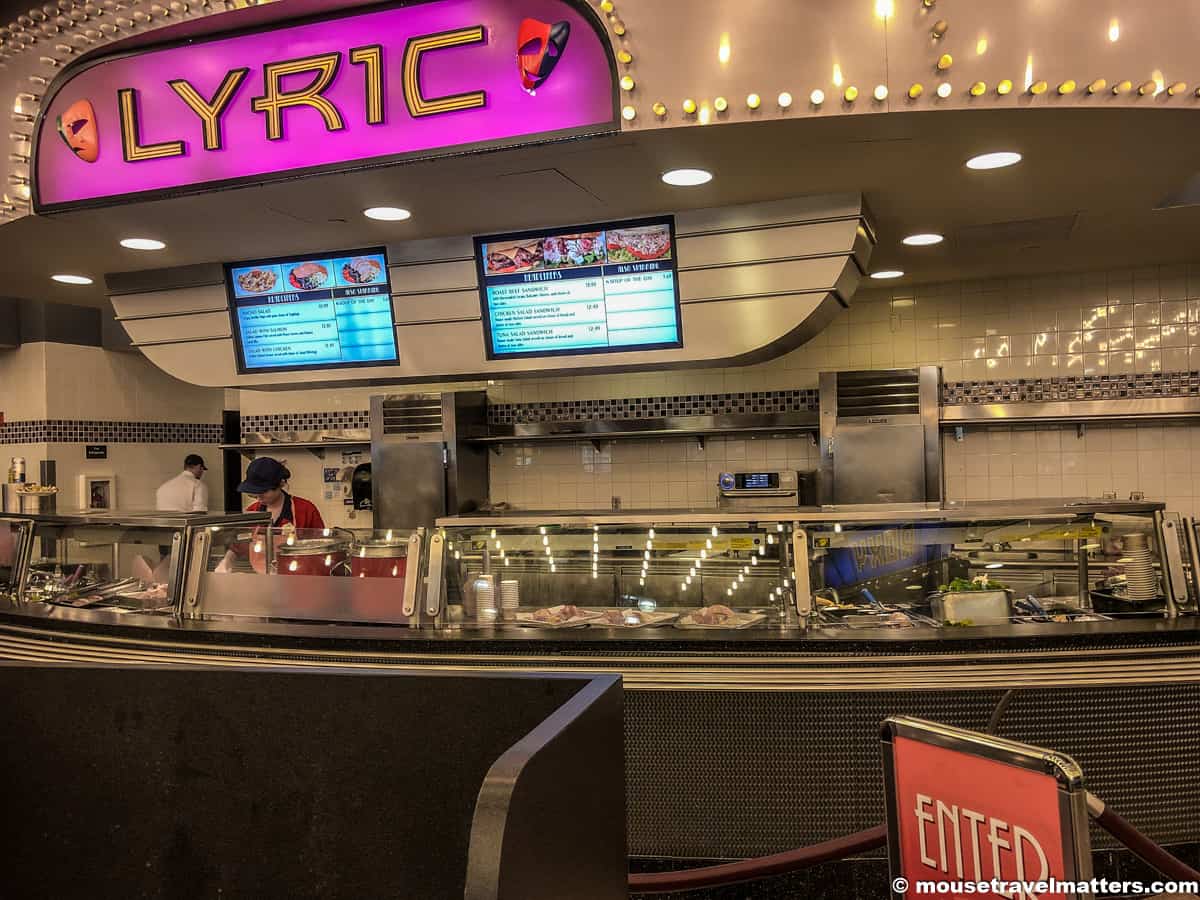 The food court itself is pretty amazing. Everything is available from 6:30 am to midnight.
Despite it's name, the refillable Resort Mug is not unlimited. We have witnessed first hand a resort mug being denied at the machines, noting that they had reached their daily usage. When one refills their mug 6-7 times within 1 -2 hours, I imagine that Disney suspects something's up.
A Resort mug is, however, a great way to save on coffee, soft drinks or any other beverage available within the Resort itself, and makes for a great refillable water bottle when exploring the parks. Simply pack this bad-boy into your Park Bag and ask for free Ice Water at any Quick Service location. It is free after all!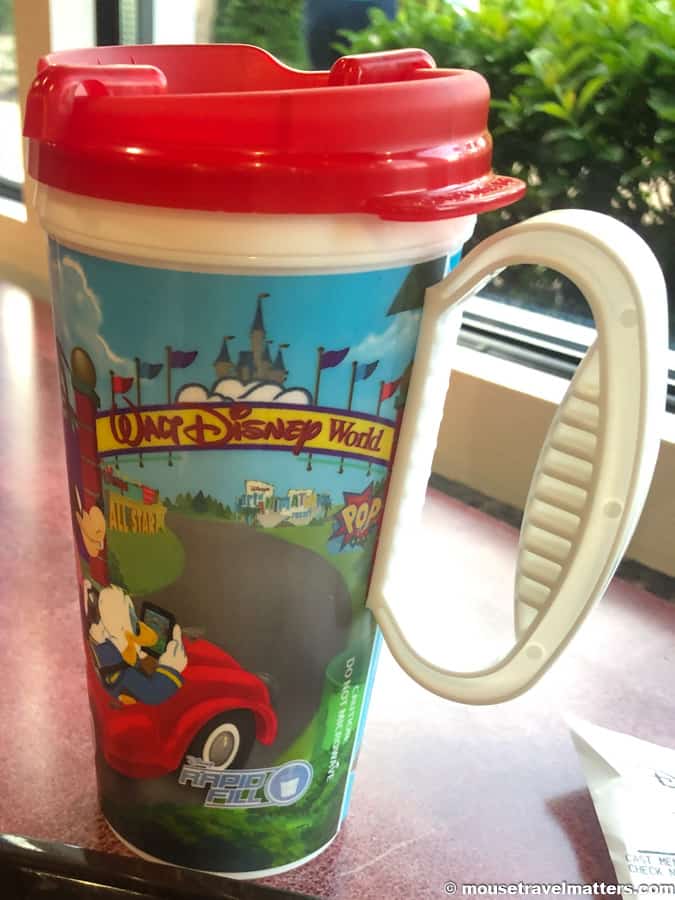 All-Star Movies Secret Menu
Disney's All-Star Movies now offers a secret menu with some pretty "sweet" secret items.

If you want to know about the secret menu, you'll have to head to the Roxy Counter and ask a Cast Member about it. They will – no joke – bring out a briefcase and open it in front of you. Inside you'll find several old-school viewfinders.
The Secret Menu Items are:
Poutine with Gravy and Cheese Curds,
Bacon Mac and Cheese Dog,
Cinnamon Bun and Candied Bacon Cheeseburger
We asked the Cast Member how many times a guest has asked for the Secret Menu, and they said not super often.
Then we asked how many times after someone orders from the secret menu, that onlookers just stare and ask "What just happened?" They said this happens a lot more often. That's the beauty of a secret menu, right. That it's secret!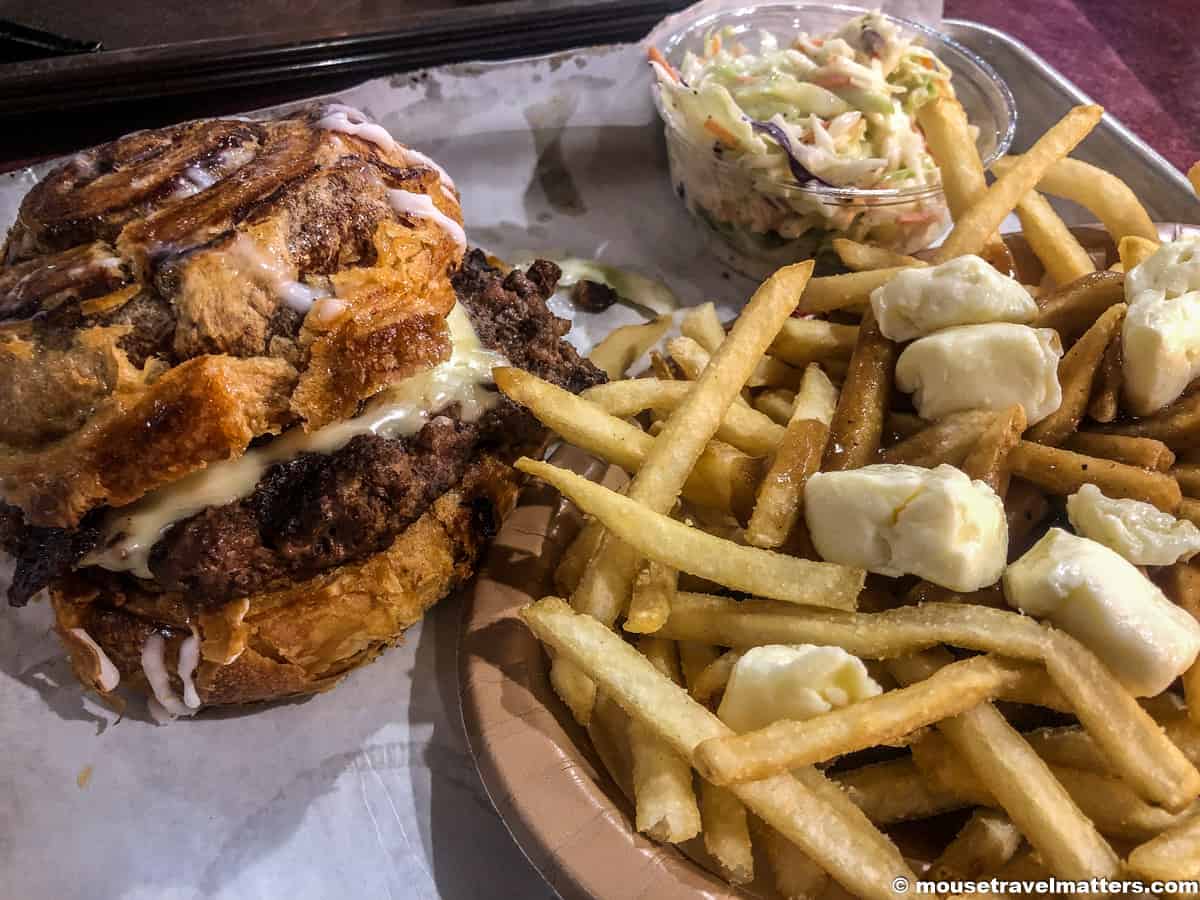 Shopping and Deliveries
As with any Disney Resort, the first thing you want to do is check out the Merchandise. At Donald's Double Feature, you will have a truck load of Resort specific merchandise, as well as a large number of items you can find throughout Disney World. Make note, or even purchase before heading into the parks, so you don't have to spend precious park time purchasing something you could have done at your resort.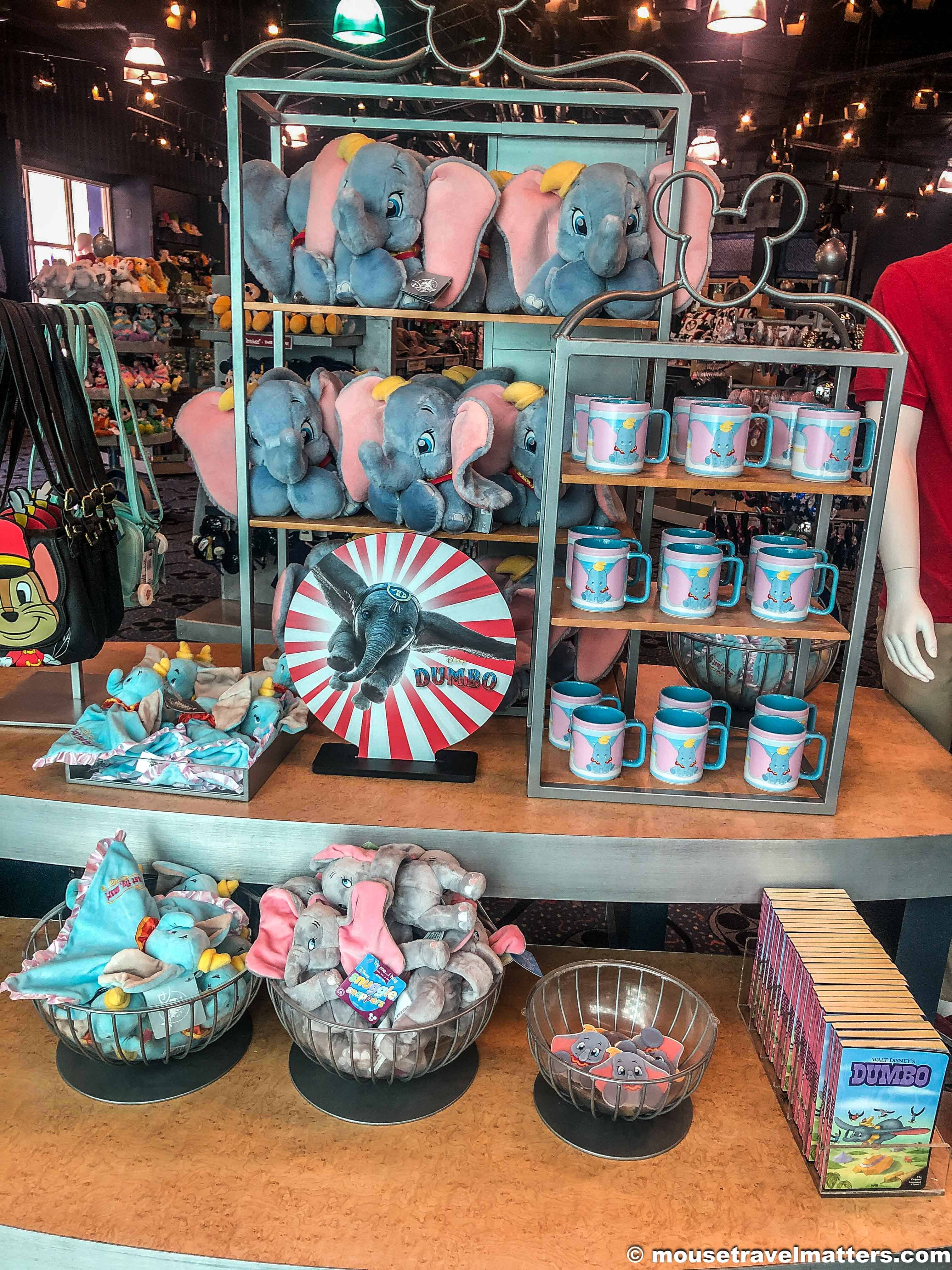 And just like any other Disney resort, you are able to have your In-Park purchases sent to your resort for pick up the next day. This means you can not have anything delivered if you are checking out tomorrow but until then, the sky is the limit.
All items will be tagged with your information and you must hold on to your copy in order to pick up your shopping. Everything will be made available to your in the Resort Gift shop the next day, they are open 8:00 AM to 11:30 PM so there is plenty of time before and after the Parks to pick up your purchases.
Bell Services
Checking your carry-on bags isn't the only thing that happens at Bell Services. Any off-park purchases that are being delivered to you at the Resort will first go through Bell Services. This includes personal packages, and groceries. There is a special room for valuables if you ask them to store it separate from the general public's checked bags, as well as a fridge for any refrigerated items that arrive before you have a chance to collect them.
More details on off-park purchase delivery, please read our guide to Getting Your Groceries Delivered to your Disney Resort
ATM and tipping
As far as we could tell, there was only the 1 ATM machine in the whole resort. It's in the lobby, across from the entrance to the Cafeteria, beside the Arcade.
Since the Food Court is self serve and there are no Table Service restaurants at All-Star Movies, you won't have to worry about tipping the wait-staff. But there is the still Bell Services, Room Services (Pizza) and Mouse keeping to think about. These fine folks can be tipped via your Magic Band if all else fails but it is customary to tip in cash. Be sure to read more about Tipping at Disney, especially is Tipping Culture is not a "requirement" in your home nation.
Mouse Keeping
Speaking of Mouse Keeping, there are ways to earn a few dollars while on vacation, as long as you are willing to work for it.
According to Disney themselves, they are over stretched and under staffed when it comes to House Keeping at their resorts. In order to ease the burden, they have come up with a great way to reduce the work load on their staff. Decline Mousekeeping!
Daily housekeeping is one of the perks of staying in a hotel but there are lots of reasons people may choose to decline it: privacy, security, or maybe you just like taking care of things yourself.
Now Disney is giving you another reason to opt-out of housekeeping: a Disney gift card. Guests staying longer than 1 night and not booked a part of a group are eligible for a $10 gift card per night they are staying if they decline to have their room serviced. This means so vacuuming, bed making, or Towel Animals. This gift card will be emailed to you and can not be transfered to a plastic gift card – it must be used in the Parks by showing the Cashier your email and attached codes.
You can, however, call down and request more towels and bathroom supplies.
This does not mean you will gain uninterrupted privacy. Based on a number of recent and not so recent events, a member of the Disney staff must enter your room at least once per 24 hours and do a Wellness Check.
If Mousekeeping is declined, this responsibility moves to the Security Department. Many have mentioned that they tend to knock rather discreetly and may even enter unannounced in the middle of the day (while most are in the parks, but possibly during Baby's nap time). Keep this in mind when putting up your "Do Not Disturb" signs, which have been changed to "Room Occupied", to reflect this new policy.
Bus access
Transportation from the Value resorts to all other areas of Walt Disney World is primarily by bus.
Lines for the All-Star buses can get long, especially as buses are less frequent midday. Keep in mind that the All-Star resorts often share buses, too, and All-Star Movies is usually last for pickup and drop-off.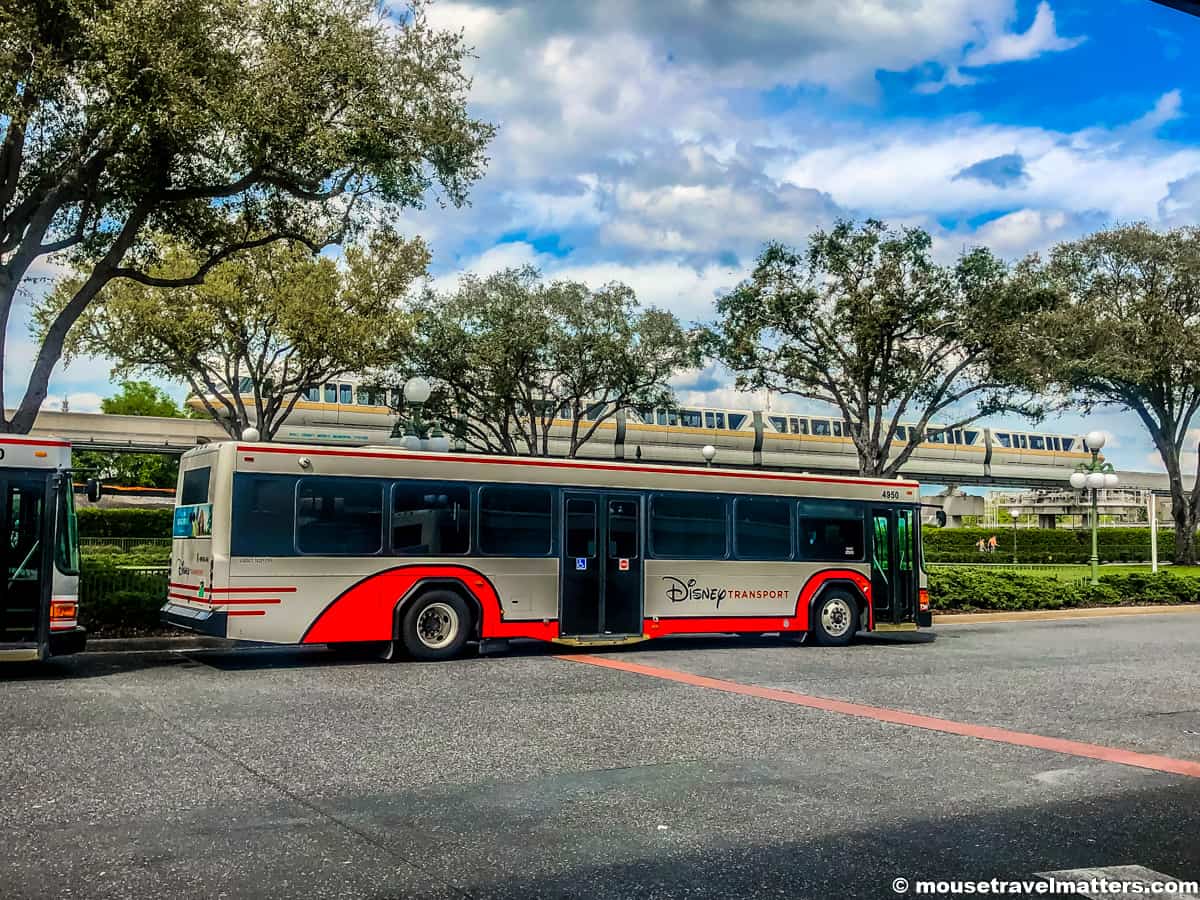 Depending on your Resort building, check the map to truely see which Entrance is closer. We were sent to Mighty Ducks building, which meant the All Star Music lobby, Food Court and Bus station are much closer than the All Star Movies lobby.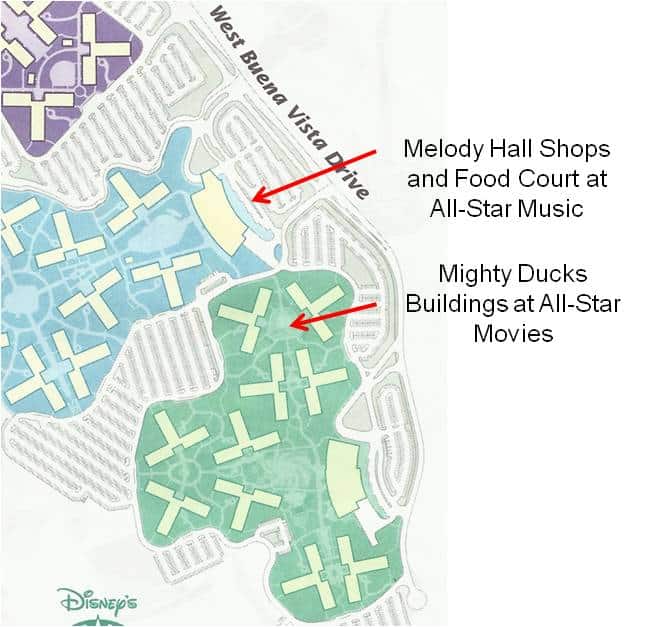 Parking
The Value resorts charge $13/night for self parking in their lot overnight. Day guests coming to visit or to eat in a restaurant can park for free.
Readers have mentioned that guests arriving to Disney Resorts on their own, and not with Disney's Magical Express, have been charged this parking fee, even if they didn't arrive with a vehicle. Considering there is a myriad of ways one can arrive to Walt Disney World without the use of a personal vehicle or Disney Magical Express, this appears to be a quirk in their system and we recommend all guests review their room-charges carefully before checking out.
Disney's Magical Express
Disney's Magical Express stops at a handful of Resorts before finally arriving at All-Star Movies. This is to be expected of any Disney Magical Express journey to any other resort, it really just depends on the variety of guests taking the Express at that particular time.
Between making your way to the Disney Magical Express loading area, getting situated and driving the journey to Disney, we expect this process to take at least 2 hours or more. If you need to check any bags at Bell Services or Check-in to get your Magic Bands, even more time is needed. We don't suggest making any plans immediately after arriving to your Resort, and the Magical Express cannot drop you off at the Parks; they only make stops at the Resorts based on passenger information.
For more information, be sure to click here for our suggested Arrival Day planning strategy, as well as more detailed information regarding Disney's Magical Express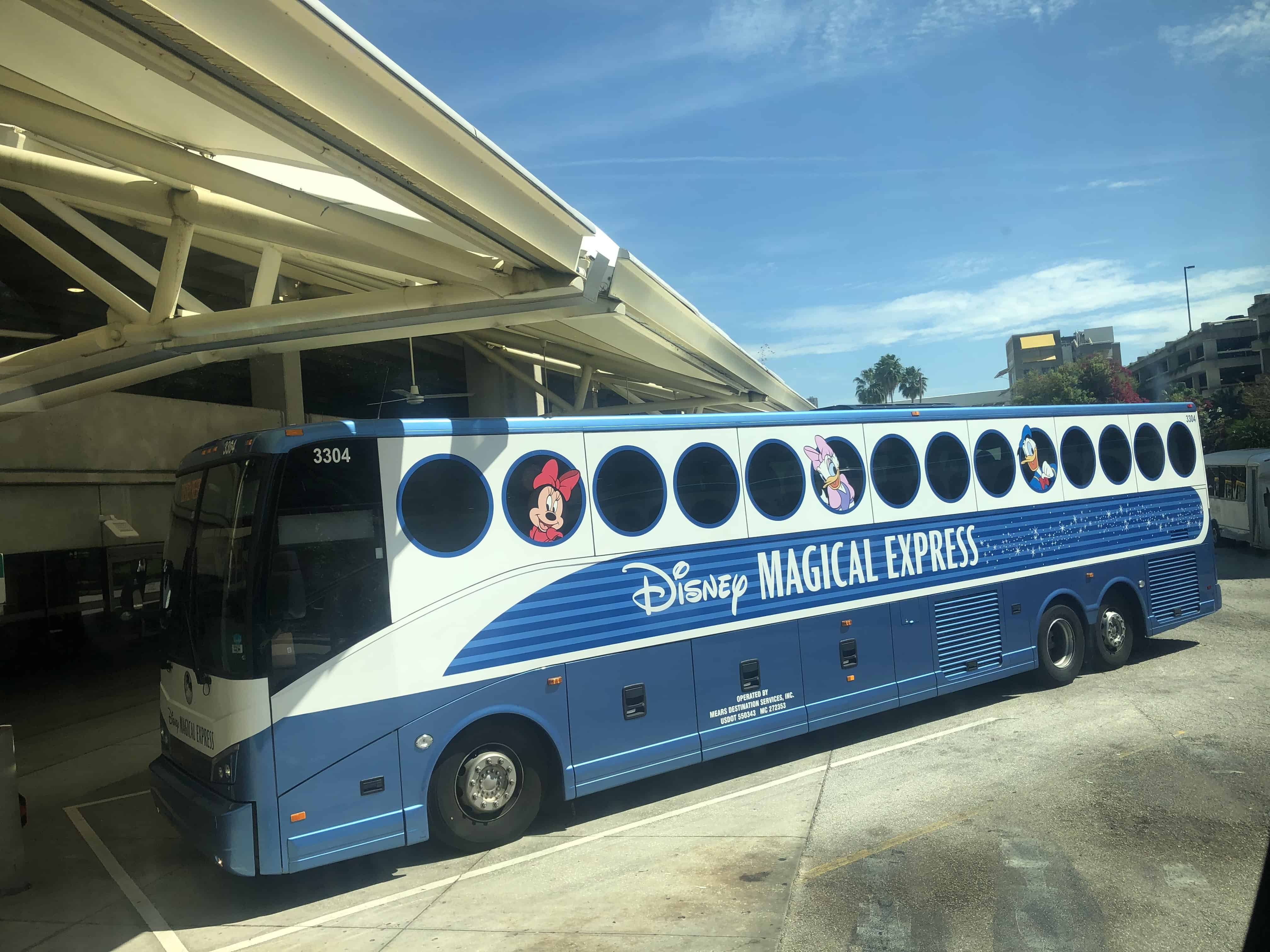 Silver Screen Spirits Pool Bar
Discuss your favorite flicks over drinks at the bar or head to the Fantasia Pool with a cup to go. Turn a refreshing matinee into a tantalizing double feature by choosing from featured draft beers, specialty cocktails, sangria, and wine.
Check out Silver Screen Spirits full menu here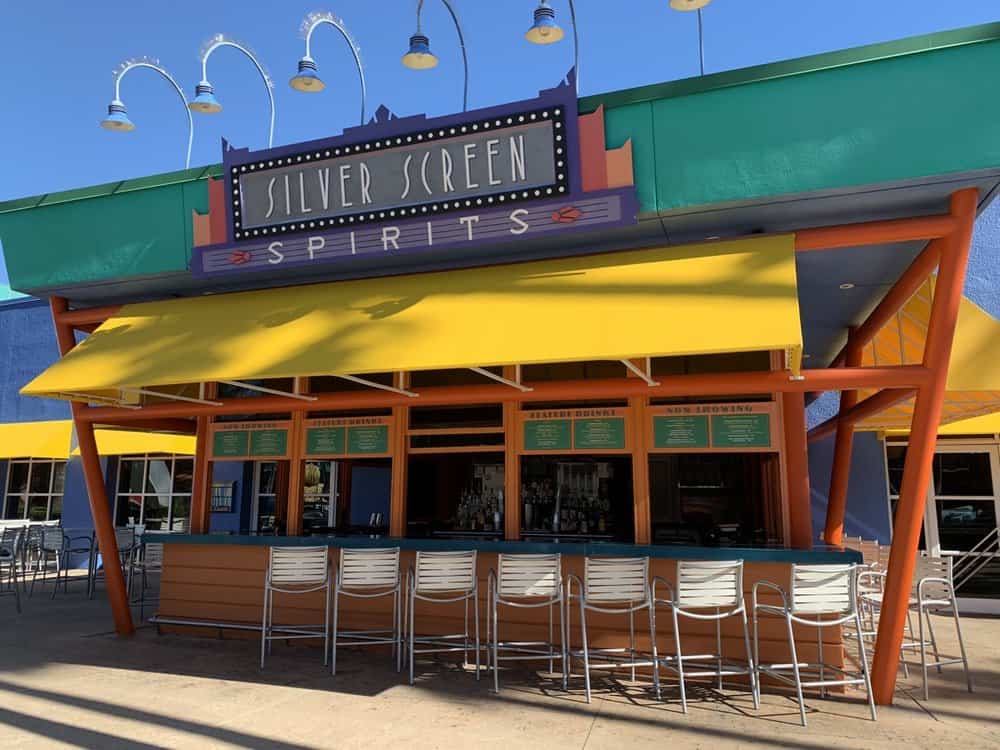 Reel Fun Arcade
Play video and pinball games at this arcade in the Cinema Hall building, near the food court.
Kids Play zone
Let your little ones burn off their excess energy at fun playgrounds designed with them in mind.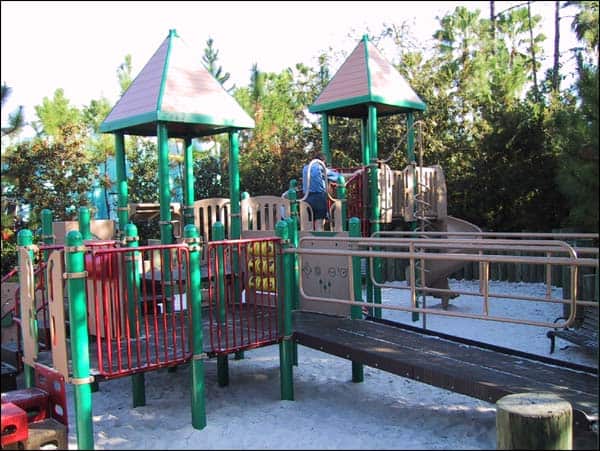 Your Thoughts...
Please share your thoughts in the comments or reach out on social media...We would love to hear from you.
Follow Mouse Travel Matters for Disney Parks news, the latest info and park insights, follow MTM on Twitter, Facebook, and Instagram.
You May Also Like
Guide to Walt Disney World on a dime
20 Obscure Disney Movie Quotes Everyone Should Know
The Ultimate Guide to Epcot's Flower and Garden Festival
Ultimate Guide to Fantasmic, Walt Disney World