Last Updated on July 13, 2019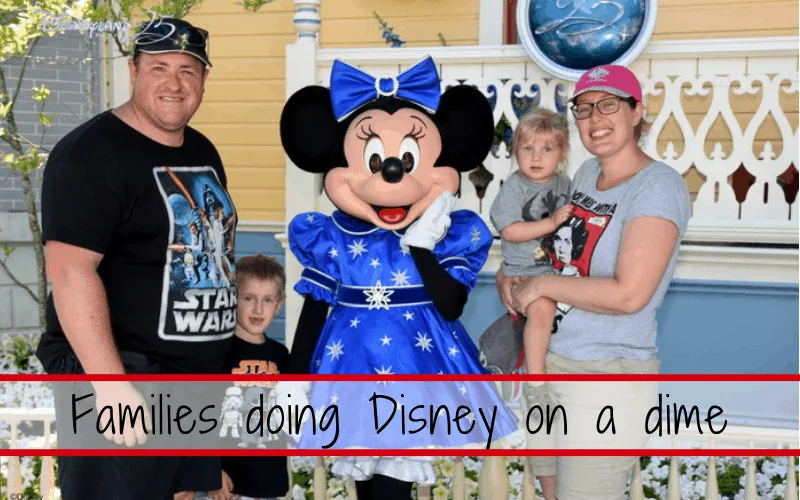 The green eyed monster makes her appearance every time I hear about someone visiting Disney for the 4th time this year! It drives me even crazier when I come to learn they leave near me, which means I know exactly how much it costs to visit. Or at least, I think I know.
There are a few tricks to getting to Disney on the cheap. And it doesn't involve leaving the family behind and going solo for the week. Though that is an option too. This is how families can do Disney on a dime.
Be flexible when you fly
Not having a specific date in mind is the best way to find a cheap flight. If you want to see a special event, like Christmas decorations or Epcot Food and Wine, limit your range to those dates but be flexible within that range.
While driving sounds like the cheaper option, and it gives you the freedom to come and go as you please, there are a lot of factors to consider; wear and tear of the car, hotels, food while traveling, gas… and your time. You have limited time off from work, don't spend it all in the car.
If you need to fly, use the Magical Express instead of renting a car. You can always call an uber or get something delivered. Chances are, it won't add up to $500 in 7 days.
Go During Off-Peak Periods
This could potentially mean taking the kids out of school for a week, but look at the cost savings and speak to their teacher about missing that much school. Maybe there is a way to make Disney educational? My dad went to Disney for the first time when he was 15 and his guardians made him do homework in the evening after touring. Harda$$? Yes. Effective? Also yes.
On a side note, if you want a little education for the little ones, as well as distracting them during travel or at dinner, check out our Mouse Travel Matters shop and find some incredible Country Study booklets that we created for exploring the Epcot World Showcase pavilions with the kids. You will be surprised how much information they retain when they are having fun.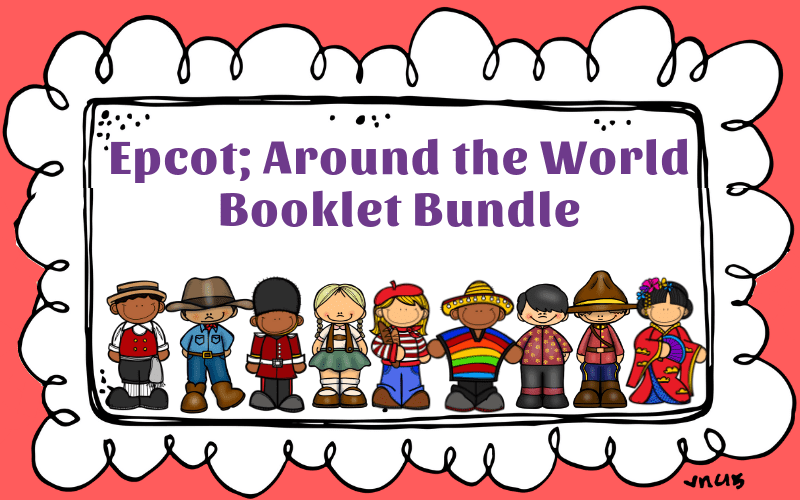 Think ahead. Waaaaay ahead
In order to get the most bang for your buck, you need to think way ahead. Disney lets you reserve a room up to 1.5 years in advance. Secure a spot, put down a deposit, and keep an eye on the discounts that creep up during the year.
Non-discounted Room rates are also cheaper the further out you book, which means the rooms will only get more expensive as time goes by. Another great point; you are locked into any price that you reserve at. If you book tickets just before the annual increase, no problem. You get to keep the lower price, as long as the tickets don't expire before you arrive.
Traveling to Disney World from Canada – for Canadian resident discounts and more tips for our friends in the North
Use a Travel Agent
Using a Disney certified Travel Agent means having someone on your side, to make all the hard decisions, research and reservations. They are especially handy at knowing all of the hidden discounts and combinations to reach max cost-savings.
What's better, is a reputable travel agent receives a commission from the sale of the vacation. This means you aren't paying them, Disney is.
Join Walt Disney World Forums
Joining Disney Facebook groups and following fan pages all over social media is a great way to learn about discounts and offers.
Sign Up for Disney Emails
Getting emails straight from Disney is getting the information straight from the horses mouth. They will be able to tell you if something is being renovated, overcrowded or preparing to open.
Stay On-Site
There are so many reasons to stay onsite, despite the added upfront costs. While we won't go into every single perk, you can find those here, the top perks include access to the Magical Express, advanced selection on Fastpasses and free transportation to the parks.
…Or Off-Site
A bit of a contradiction here but bare with me. Staying off site has a few perks as well. There is the upfront savings, larger accommodations and most hotels near Disney will offer some sort of transportation to the parks – though their timings are a little limited so take that into consideration as well.
Check out all of our pros and cons for off-site here before making a reservation.
Eat smart
Did you know that you can turn 1 QS credit into 3 snack credits? That is a lot of cupcakes and pretzels. Many guests have been known to use their snack credits for breakfast options, and keep that QS credit for another time.
Also, buffet dining is a great way to fill your appetite, without paying extra. If you aren't required to dine at specific times, try a later snack/breakfast and late buffet lunch. This is a great way to keep up the calories needed to survive (the parks) and have dinner at your hotel after you are done touring. No need to skip a meal just to save money – just organize your meals better.
Lunches also cost less than dinner, even though they serve the exact same food – and sometimes in the exact same portions. Be sure you are checked in and seated at your restaurant of choice during their lunch times.
Eat at Quick Service Restaurants
Ok so if skipping a meal or eating at a buffet isn't your cup of tea, then just stick to the Quick Service restaurants. They are significantly cheaper than table service restaurants and take half the time to order and eat.
Did you know you can do Mobile Ordering now? Make your choices from the attraction queue and having everything waiting for you when you are ready. Because why not.
Forget the Disney Dining Plan
There are many variations to the Disney Dining Plan; Quick Service, Regular and Deluxe. On top of that, Disney also offers a free dining plan each year for onsite guests– generally in the off-season between September and early December (also when flights are cheaper and crowds are low).
If you planned on getting all the bells and whistles anyway, getting the free Dining Plan is literally free food so of course it's a great deal. But other than that, the cost of Dining rarely evens out in your favour. Why would they offer something that eats into their bottom line (pun not intended)?
Generally speaking, the mid-range plans are of decent value, but you need to understand the value of your credits and choose your dining options accordingly. Also, most of the best value dining plan restaurants tend to be at different Disney resort properties so to maximize the value of your dining plan, you do need to travel around.
Paying for the Dining Plan may seem like a great way of budgeting your meals, paying in advance and overall Grade A organization, but that is A LOT of food from one person. We have seen too many guests coming home with an entire suitcase of Disney snacks because they just had too many credits left over at the end of their trip.
Look at your planned restaurants, make a sample menu selection and find out how much you plan on spending during your trip.
Get Groceries Delivered to Your Hotel
Even if your hotel room doesn't have kitchen, you can still have a mini fridge brought to your room. Have anything and everything delivered and bring your own food into the parks. Make your own breakfast, pack a lunch and come home to a late night snack. Every little bit counts.
Snacks on the cheap
Bring snacks will cut the costs of in-park purchases and help quell those hunger pangs.
There are also a great handful of cheap snacks within Disney; Rice Krispie squares, Ice cream sandwich, Pretzels, and popcorn. But don't forget to get the refillable bucket – those refills are a steal after the initial investment.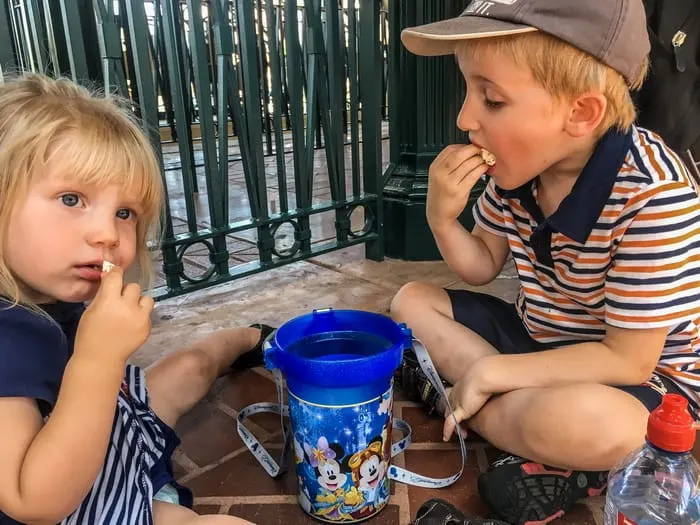 Consider Refillable Resort Mugs and Popcorn Buckets
I love the refillable popcorn buckets. They are a onetime investment and mean you are able to get refills for just $1.75. That's insane. We get at least two refills per day, everyday, between the 4 of us, while in the parks. They are a great snack to have regardless of the weather, and they store really well.
A refillable resort mug doesn't translate into a whole lot of savings within the parks, but they do make for free refills while at the resort; fill it up before heading for bus. It's better than no refills.
Bring Your Own Water Bottle
Since your resort mug doesn't get you much in the parks, other than a refillable water bottle, bring your own collapsable water bottle or wash your resort mug after your morning coffee and refill with water during the day.
Either way, the parks offer free and unlimited ice water at any restaurant.
Open a Disney Chase Visa Card
New card members get a $250 statement credit when they spend $500 in the first 3 months (Premier Visa) or $100 statement credit after the first purchase (Visa). There is also a statement credit reward of 2% and 1 % respectively on all eligable purchases.
Disney Visa Card holders also have in park discounts on merchandise, Memory Maker and dining locations.
Sadly, these offers are only available for U.S citizens
Use a no foreign transaction fee credit card
For us Canadians, the odds are that your credit card charges you a 2.5% fee whenever you make a purchase in a foreign currency. Fortunately, there are credit cards that have no foreign transaction fees so sign up for one before you leave.
Check out some other tips on traveling to Disney World from Canada.
Buy Disney Gift Cards at Target
If you are an American, or live near the border, you have the luxury of visit your local Target store and purchase discounted Disney Gift Cards.
I don't even understand how the math works but it is in our favour so I will just take it as it is. Pay $145 for a Gift Card with face value of $150. Use your rewards Credit Card to make the gift card purchases, then call in to Disney to have the gift cards applied to your account.
Be sure to hang on to all cards, even once they have been used. In the case of a refund, they will be issued to the Gift Card, not your credit card.
Consider Becoming an Annual Passholder or Disney Vacation Club Member
Again, this is another initial investment reaps big rewards type of savings. If you and your family plan on visiting often, or you have a large family, the costs can start to add up. Not sure? Don't worry. You can always upgrade your tickets after you've checked in.
By purchasing an Annual Pass, for at least one member of the group, you are now eligible for dining and merchandise discounts, and a few freebies – depending on the Annual Pass level purchased.
Renting Disney Vacation points, or purchasing a membership, can help save big when looking for a larger family suite or deluxe experience.
Buy Tickets From Reputable, Discount Sellers
There are many, many ways to purchase Disney tickets. But not all of them are authorized by Disney. Plain and simple, this means that you may be purchasing counterfeit tickets, expired or otherwise invalid park tickets. These are also rarely covered by your travel insurance.
Undercover Tourist seems to be the best authorized discount seller on the market – while their prices are the same as other authorized sellers, they appear to have a better customer service experience and therefore are our top pick. For now.
You will be given an e-ticket after purchase, and this is what you use to link your tickets to your My Disney Experience app. Hang on to the email just in case there is an issue, though there rarely is.
Check Whether You're Eligible for Discounted Tickets From Disney
While Undercover Tourist is great at providing discounts on regular tickets, Disney does offer discounts for certain groups of people.
For example, there are Canadian residence discounts, Florida residence discounts, and Military discounts. This is when a Travel Agent will be able to let you know if and when you are eligible and booking so far in advance gives you plenty of time to find and purchase these tickets during their purchase window. Being flexible with the dates is also a great way to be able to use said discounted tickets – as they are not always valid throughout the year.
Buy Multi-Day Tickets
The more you purchase, the cheaper each day becomes.
The way that the Disney World ticket system works, is that the more days you add to your Magic Your Way tickets the cheaper the day-to-day rates are on the overall ticket price. So for those visiting the parks that wish they had more time and want to tack on an extra days worth of park tickets at the end, it is possible to get it at the cheaper rate. All you need to do is stop by the ticket windows at your theme park, the Guest Relations building or your lobby concierge to add on the additional dates.
You are able to add more days to your existing ticket as long as there are days left on the ticket. If it is within 14 days of a theme park ticket's first use and the ticket has remaining admissions, you are able to upgrade the ticket
Skip Park Hoppers
Here's the deal, Disney knows it's cheaper to use two park tickets on the same day than to purchase the Park Hopper option, so if you have entered one park on a One-Park-per-day ticket, you will be denied entrance to another park. They will then school you on the benefits of a Park Hopper and hope you prefer to make the upgrade vs turning around.
That being said, Park Hopper tickets are notoriously expensive. It is great for maximizing your time at Walt Disney World – since you can hop around to another park when you are done touring the first, transportation between parks is brutal and extremely time consuming; transferring at a hotel or the transportation and ticket center.
Fastpass selections, Dining reservations and operating hours of the parks themselves can make the purchase of a Park Hopper pass alluring but if you are trying to stay on a budget, it is best to skip this option and plan accordingly.
Skip the rental car
Instead of renting a car, you can use the free shuttle servicebetween all the Disney Parks, Disney Springs, and Disney resorts. Buses come roughly every 20mins so you never need to wait long. Guest parking is $20 USD a day, but that adds up when you factor in the cost of your rental car. If you want to go off-site, Uber is available on Disney property, but they can only pick you up and drop you off at certain locations.
Budget Your Time Well
Plan your activities and excursions ahead of time. Booking FastPasses for the attractions you want to hit is an essential step for your Disney planning. They are free, and avoiding lineups is a sure-fire way to convince even reluctant travelers that the cost of the whole trip was worth it. Who wants to pay $5000 to wait in line for 300 minutes? Not I. And certainly not the kids.
40 Things to do Near Walt Disney World Without Visiting a Theme Park
There are tours available through Disney that come with a personal guide, extra fastpasses and more, to "expedite the fun".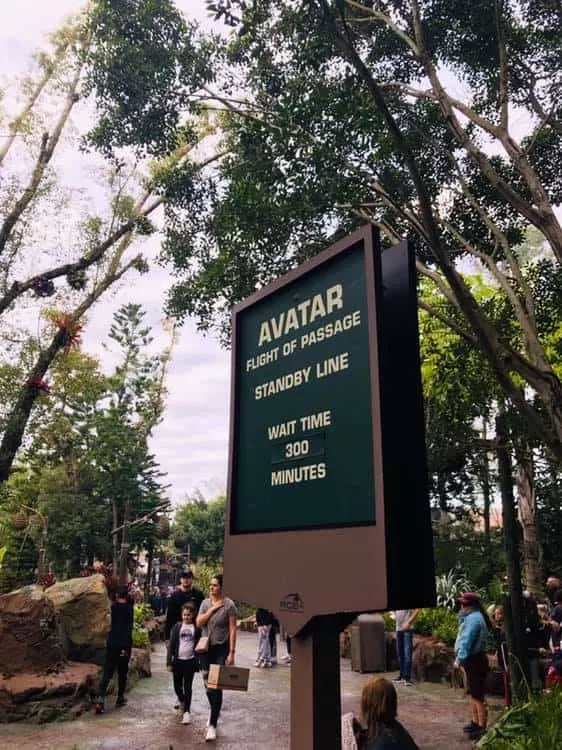 Have fun, but be firm
To keep impulse buys to a minimum, put a number on your spending money before you make your trip. Have gift cards assigned to each child and don't let them spend more.
Couponing and side-hustles
There are many ways to make a few dollars online. Ebates, Swagbucks, Airmiles and PC points are a great way to earn money from home or while going about your regular business. There is a learning curve and can take some time to see real results but consistency and dedication have helped many guests score discounted or "free" tickets and flights to Disney.
Use this referal code to start your Swagbucks adventure and earn 300sb for yourself in the process.
Go Before Your Children Turn 3
Disney doesn't charge room rates, entrance tickets or Table Service meals for children under the age of 3. This means if you are really strapped for cash, going with a toddler can save you hundreds vs visiting a few years later.
Furthermore, airlines allow children under the age of 2 to fly for practically free (typically 25% of the seat price) when they sit on your lap. This doesn't sound like the most comfortable way to travel, but having done this a few times on shorter flights, it is worth the cost savings. And if there is a free seat near you, you are allowed to place your child on the seat, as long as you aren't upgrading.
Bring Your Own Strollers and Scooters
Disney and surrounding areas do offer strollers and scooters for rent, but they aren't the most comfortable pieces of equipment. The costs do start to add up when you consider you need to rent them for so long.
You already have the equipment, you've already made the investment, why not use it.
Check out the wealth of information we have compiled regarding strollers and Disney.
Make Your Own Autograph Book
There is so much to make from home that we are in the process of creating an article surrounding the idea of DIY Disney. In the mean time, there are plenty of DIY options to cut down on costs; Autograph books, Mouse Ears, and Disney t-shirts.
I recently saw a tutorial on how a family turned their sons artwork into a custom shirt with only their inkjet printer and transfer paper. You bet we will be trying this out and reporting on it's success (or failure) in the near future.
Buy Souvenirs Before You Go
Outside of making it yourself, there are plenty of Disney souvenirs on Amazon, Etsy and Disney outlets just outside of Orlando. Considering what you want to buy, and where you can get it for less. There is no point in going broke just to say you bought that item at the Magic Kingdom when it cost half the price next door.
Ditch Memory Maker
This is my least favourite money-saving tip. At $199, it would be negligent of me not to mention it, but the photos that come out of having Photopass photographers using my camera haven't always turned out. We tried just having them take the pictures and comparing them to see if we really wanted to buy it (after the fact) and it awful.
They do seem to do an incredible job with cellphone pictures, mostly because the phone does all the work.
Your Thoughts...
Please share your thoughts in the comments or reach out on social media...We would love to hear from you.
Follow Mouse Travel Matters for Disney Parks news, the latest info and park insights, follow MTM on Twitter, Facebook, and Instagram.
You May Also Like