Last Updated on April 27, 2021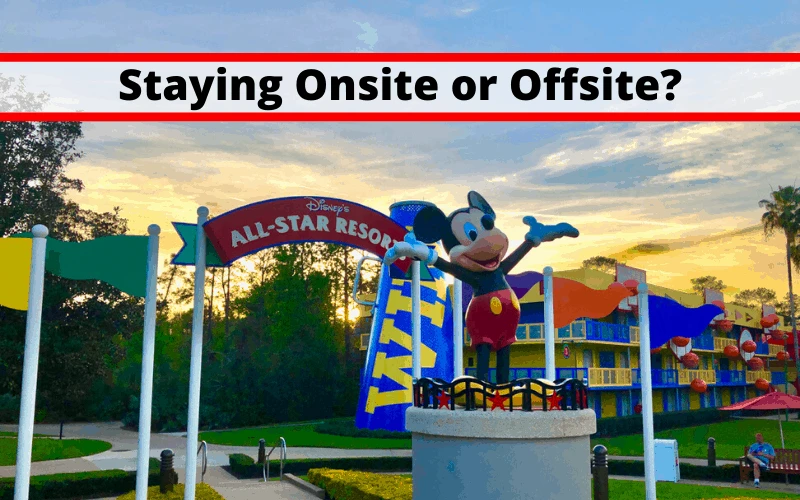 While being in the middle of the magic at Walt Disney World is amazing, it comes at a price. One of the most difficult decisions when planning for a Walt Disney World vacations can be whether you should stay on-site or off-site. Here's a quick guide we hope you find helpful in making that first decision; Pros and Cons of staying on-site.
Should you stay onsite or offsite at Walt Disney World? There are a few things to keep in mind when deciding:
Things to consider for your Disney vacation
What's Your Budget?
Depending on your bottom line, there are several options available to you. When looking at affordable accommodations, be sure to look at the hidden and not so hidden fees; Parking, transportation, meals and time to/from the parks.
Ease Of Access
How easy do you want to be able to jump on a bus and get to the Disney parks? There are several options for off-site hotels that offer paid or complementary transportation but they may take a little longer or be a little harder to access.
Young Children
Young children generally end up deciding how vacation plans go. If your kids require mid-naps at the hotel, ease of access as well as shorter transportation times (on your own schedule, not someone elses) are usually the better way to go.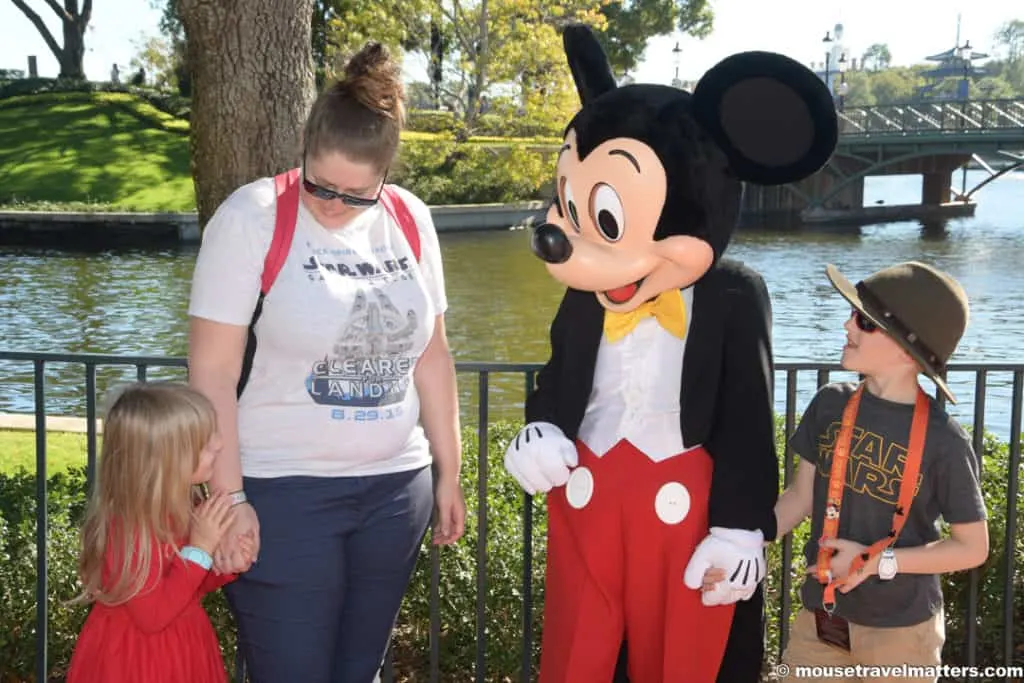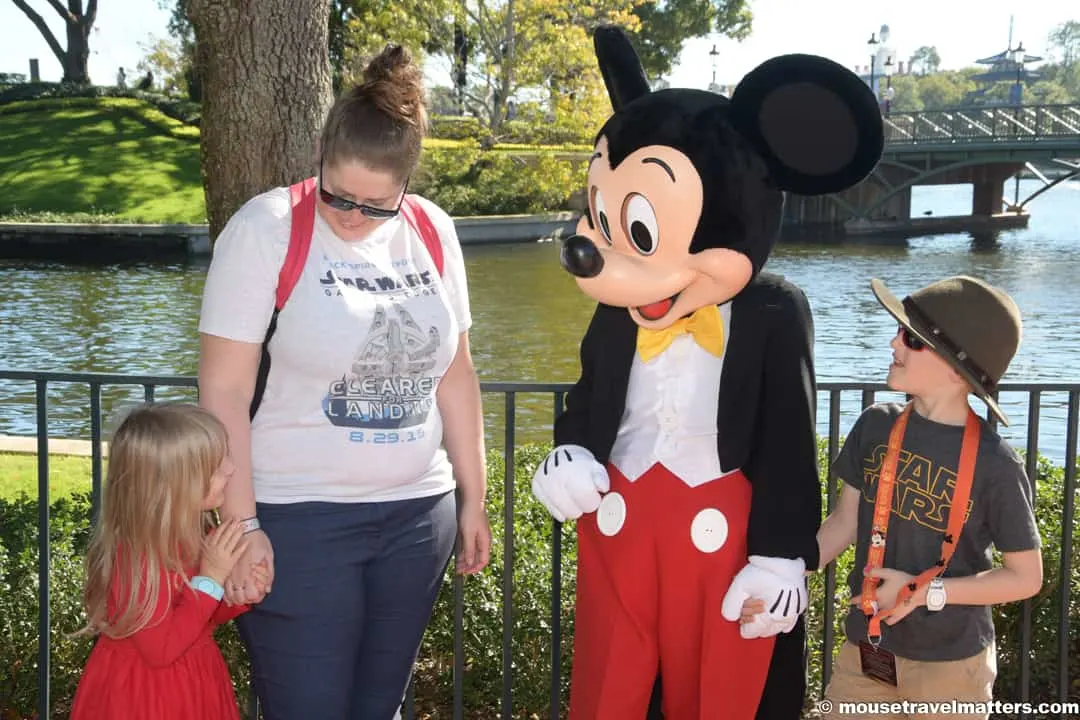 The Food Question
A big benefit of staying offsite is that you can easily find accommodations that have a kitchen.
Sometimes, you may even get lucky and find a room with a kitchenette. This does cost a little more than your standard room but you can now self-cater all your in-room meals and have space to prepare snacks and lunches.
Disney does offer rooms with a kitchenette, but just like off site, they come at a premium. If a kitchen is the only reason to stay away from a Disney hotel, be sure to check out Disney's All Star Music Resort and Disney's Art of Animation Resort family suites, featuring a kitchenette. The Cabins at Disney's Fort Wilderness Resort have full kitchens and all of the rooms at Deluxe Villa properties feature either a kitchenette or a full kitchen.
Park Perks
Guests who stay on Disney property enjoy privileges and amenities unavailable to those staying outside the World. Though some of these perks are advertising gimmicks, others are real and potentially valuable;
Free Transportation To and From the Airport
Merchandise pickup and resort delivery
Complimentary transportation and parking at Parks, Water parks, and Disney spring.
Disney Dining Plan
Early Access to FastPass+ and Dining Reservations
Extra Magic Hours At The Theme Parks
Complimentary Magic Bands
Priority Theme-Park Admissions
Free Parking at Theme Parks
Other Plans?
If your group does plan to venture outside of the Parks and explore the rest of Orlando (What! There is more to Orlando than Disney World?!), why spend all that money on site when you aren't even using their perks?
Off-site hotels are also that much closer to your next attraction and may have a deal with a shuttle bus to get to one or both locations without driving yourself.
On the other hand, there is the option of hotel hopping; stay at Disney while exploring Disney, then changing hotels when visiting a non-Disney location. It's a little more work but Universal Studios also offers some great on-site perks that you will not want to miss out on either.
Transportation
While resort guests get free and frequent transportation to and from their hotel, off-site guests are at the mercy of their hotel's transportation system. Some only head to the parks a few times per day. If you miss your bus or the timings are not conducive to your scheduling, you are looking self-driving or calling an Uber.
Since the Magical Express is an exclusive perk for onsite guests, off-property guests must find their own way to their hotel. More than likely, there is a way to get there via the hotel's private shuttle service, but you are still required to find your own bags from the carousel and take them to your room on your own. Not a deal-breaker, for sure, but still not the same experience.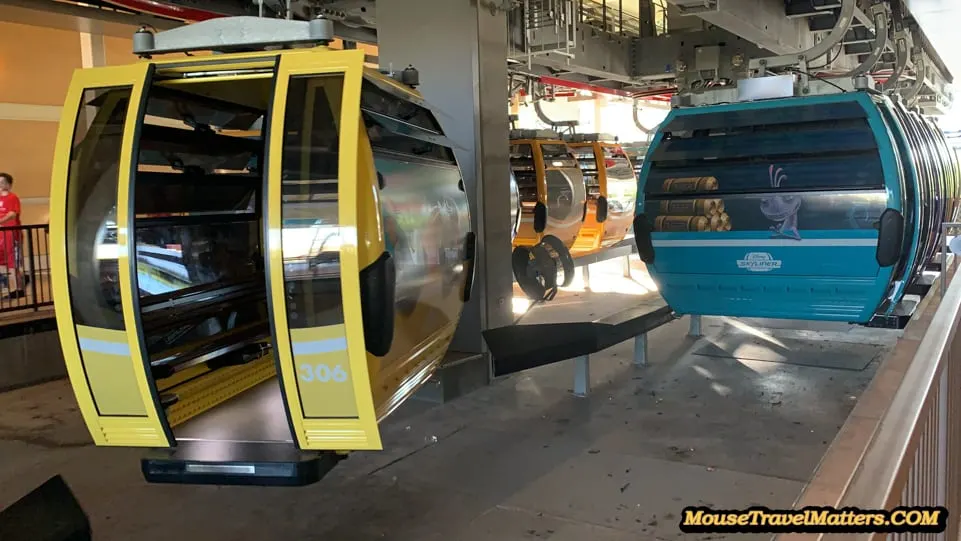 Save money by staying off-site
Just like any other tourist attraction, you can save a TON of money by staying off-site. We use Booking.com for everything non-Disney and they can save us a large amount of cash in comparison to booking directly with the hotel.
What type of accommodations are you looking for, how important is the location and theme of the hotel to you? Is it "just a hotel" or will you be spending a lot of time in your hotel room?
Space to Move Around
Oh, space sweet space. Depending on how many of you there are and how long you plan on spending in the room each day, space within the room is also a factor when booking a hotel.
Traditionally, we look at hotels as a place to sleep and hold our luggage. We don't need an excessive amount of space within the room, as long as it can comfortably sleep us all and hold our luggage without being a tripping hazard.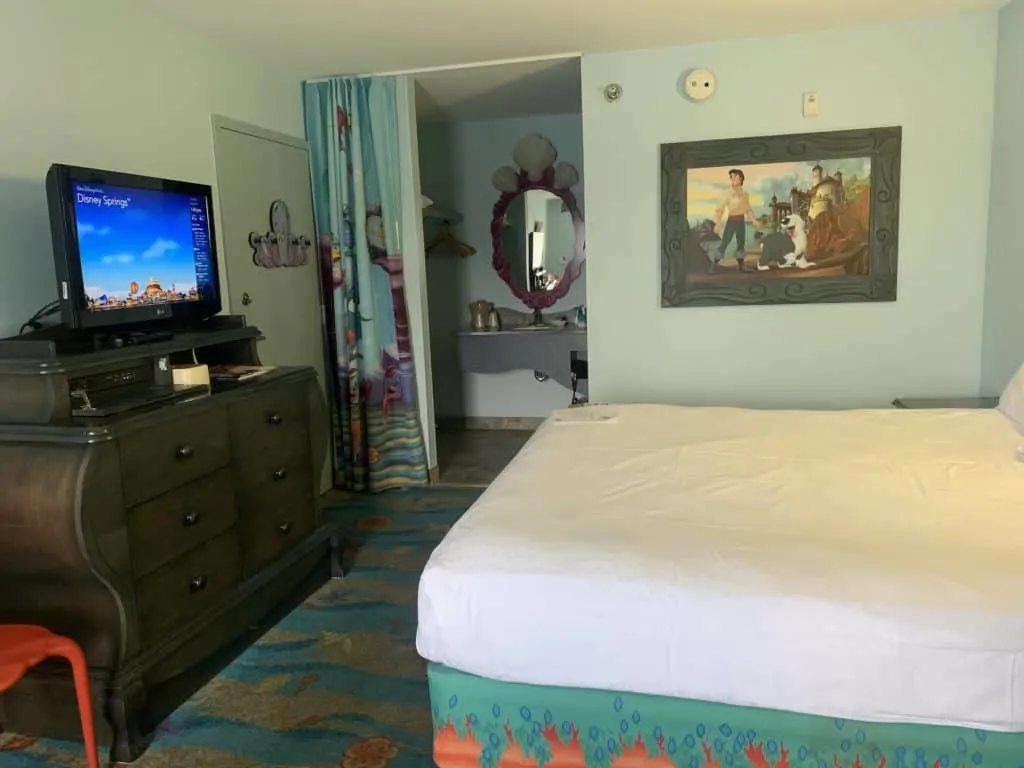 Large Family Trips
Like many have mentioned before, most hotels are made for the nuclear family; two adults and 2 kids. There is a hand full of on-site hotels that offer rooms for families of 5, but 6+ and you will want two rooms. That can get expensive, and even the rooms for 5 are highly sought after.
By staying off-site, you get more selection, are competing with fewer guests for coveted rooms and booking two rooms (preferably adjoining) just became that much more affordable. At the end of the day, if booking the rooms breaks the bank, there isn't much left for tickets and overall holiday fun, now is there.
Your Thoughts...
Please share your thoughts in the comments or reach out on social media...We would love to hear from you.
Follow Mouse Travel Matters for Disney Parks news, the latest info and park insights, follow MTM on Twitter, Facebook, and Instagram.
You May Also Like…
Pros and Cons of the Disney Dining Plan
Walt Disney World PhotoPass Complete Guide
26 Tips for Walt Disney World First-Timers
How to Pack the Perfect Disney Park Bag Ever!
OpenTable Now Capable of Making Reservations at Select Walt Disney World Restaurants