Last Updated on April 29, 2020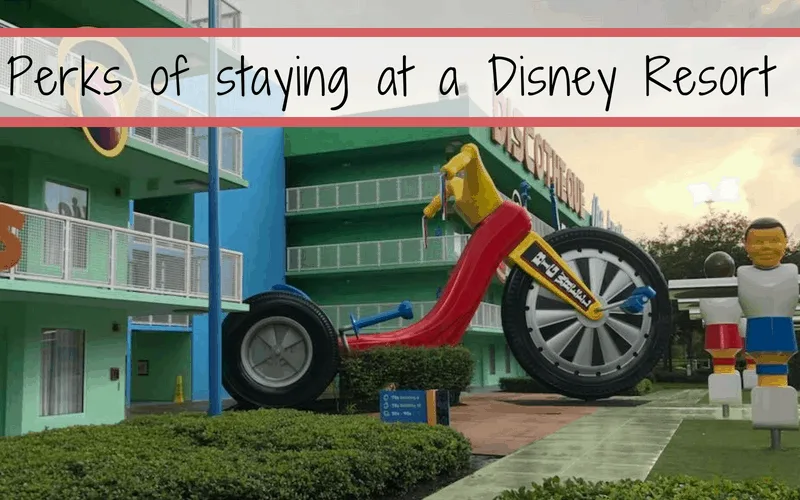 Guests who stay on Disney property enjoy privileges and amenities unavailable to those staying outside the World. Though some of these perks are advertising gimmicks, others are real and potentially valuable.
This post may contain affiliate links.
To which I earn a small commission, at zero cost to you!
Find more info in our
Privacy Policy
.
Before we get into what is so great about Staying on property at Walt Disney World, I would like to remind you of the sheer variety of resorts available. They are divided into three categories, based on price point; Value, Moderate, and Deluxe.
Value Resorts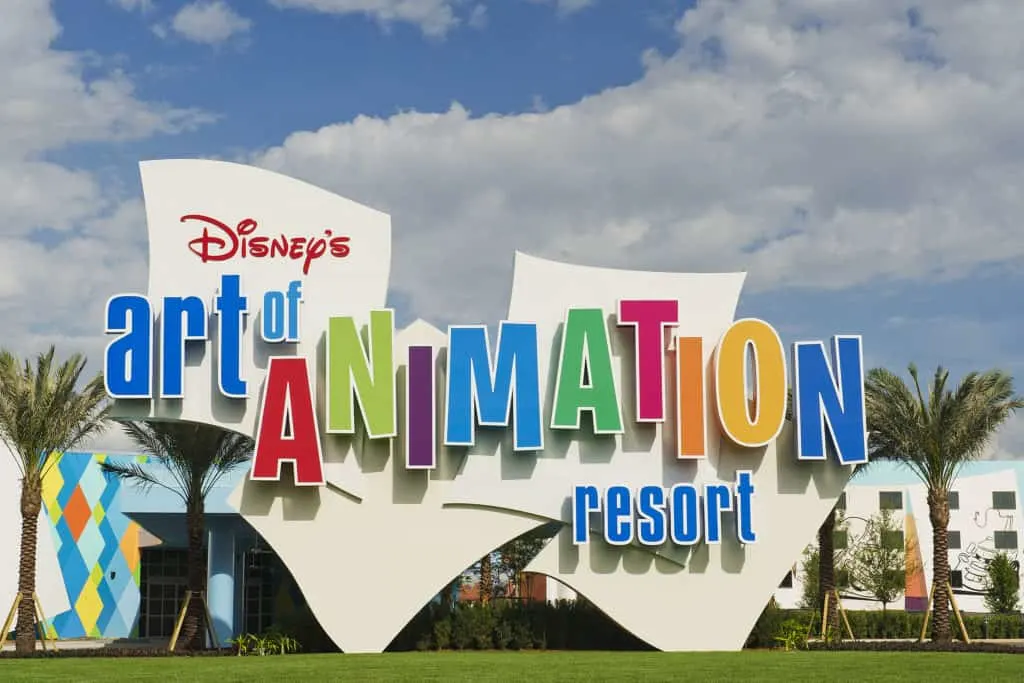 The first level of Disney resorts is the Value Resorts. And as the name suggests, these resorts are a great value and the lowest price per night of the resorts. Here is a list of the current value resorts.
Disney's All-Star Music Resort
Disney's All-Star Sports Resort
Disney's Pop Century Resort
The Campsites at Disney's Fort Wilderness Resort
Moderate Resorts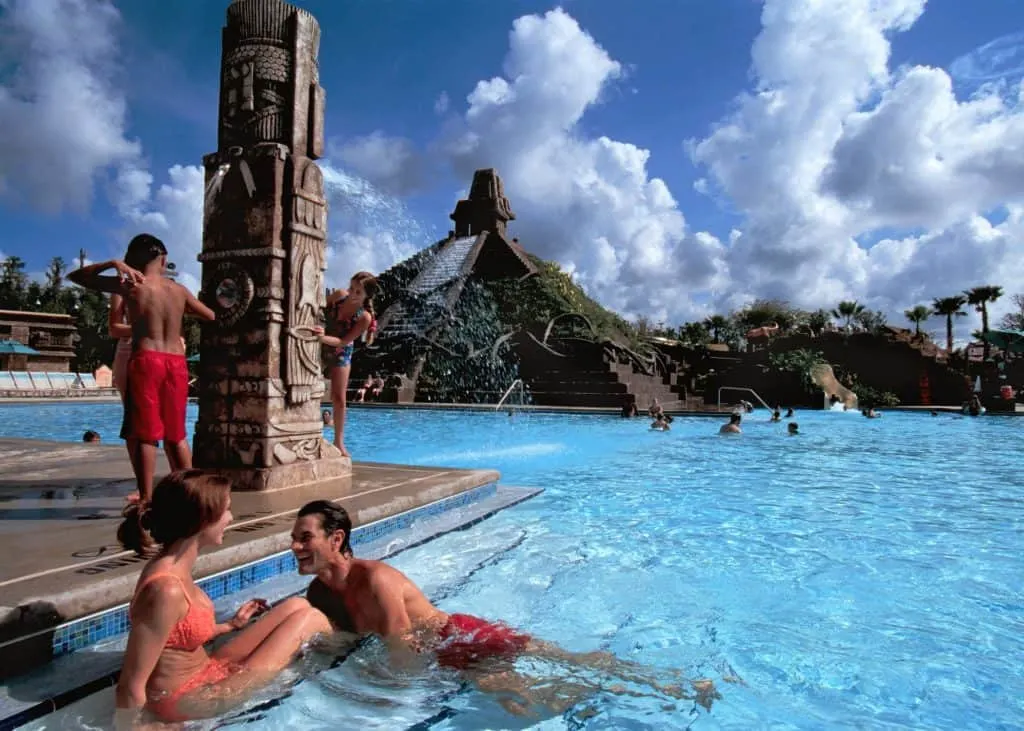 The second level of Disney resorts is the Moderate Resorts. These resorts are 'moderately priced' (in Disney terms). Here is a current list of the resorts.
Disney's Port Orleans Resort – French Quarter
Disney's Port Orleans Resort – Riverside
The Cabins at Disney's Fort Wilderness Resort
Deluxe Resorts and Deluxe Villas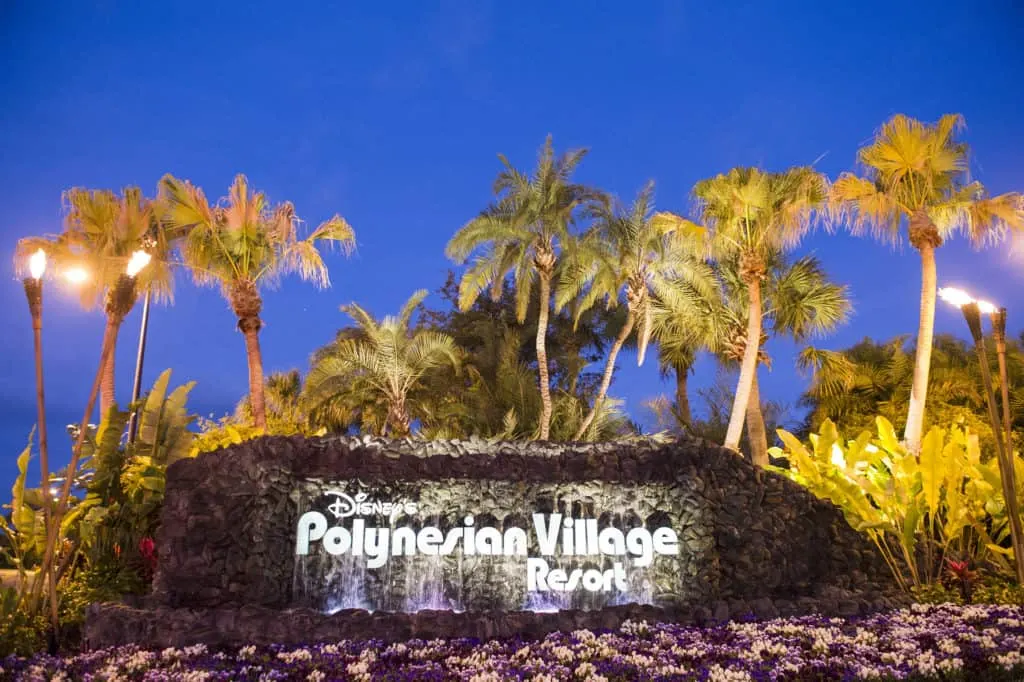 The last level of resorts is the Deluxe Resorts and Deluxe Villas. These resorts are on the higher end of the price range per night for the resorts. Here is a list of the current resorts.
Disney's Animal Kingdom Lodge
Disney's Beach Club Resort
Disney's Boardwalk Inn
Disney's Contemporary Resort
Disney's Grand Floridian Resort & Spa
Disney's Polynesian Village Resort
Disney's Wilderness Lodge
Disney's Yacht Club Resort
Disney's Saratoga Springs Resort & Spa
Disney's Old Key West Resort

Perks of Staying at A Disney Resort
Wow! That is a lot to think about when decided what is best for your holiday. Now, today isn't about picking the specific hotel, that's a whole other can of worms for another article. Today is about convincing your partner to let you stay on-site. As the Disney planner in the family, you already KNOW where you want to stay, but it's finding the words to convince others to join you that is often the problem.
*Swan, Four Seasons, and Disney Springs resort area hotels also benefit without being considered "onsite"
Leave the Park, Maintain the Magic
Themeing and customer service aren't just in the parks. They translate into the type of service you can expect from your resort Guest Services, MouseKeeping, Bus drivers and everyone in between.
All resorts have a theme and hidden Disney magic. Grand Floridian or Contemporary may not be obvious, but there is a Disney feeling to the hotel. And of course, the Value Resorts look like all of the Disney movies just threw up (this is a good thing). They all have a Disney theme in some form and it's incredible what they are able to accomplish.
Discounts
When booking a package, the cost of each item dramatically drops, and they offer you perks that aren't available to outside guests. There are also voucher booklets given to you upon check-in that can be used during your stay.
Location
Being smack in the center of the action does come at a price but it is one that many would pay time and time again. There is something to be said for beating the traffic and arriving at the Parks that much sooner than the rest. Deluxe Resorts (with the exception of Animal Kingdom Lodge) are within walking distance or a quick Water Taxi/Monorail ride away from the Magic Kingdom and Epcot.
Free amenities
Not everything comes with a 'fee'. The pools and recreation facilities within the Resorts are amazing and complimentary. A handful of resorts offer childcare while parents wine and dine alone for the evening. Others still have free culinary tours or complimentary safaris access.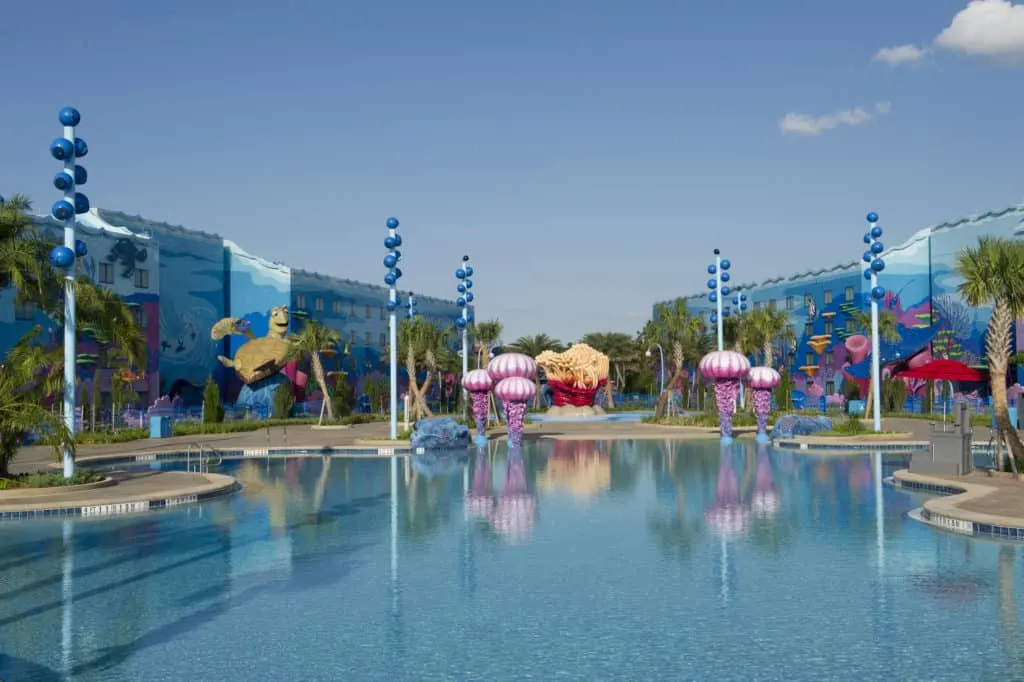 Free Transportation To and From the Airport
The Magical Express is a great little Disney shuttle, but it is also so much more. Not only with they get your bags from the luggage carousel for you (so make sure your day bag or carry on is fully stocked) but they will place it in your room, free of charge. Isn't that amazing!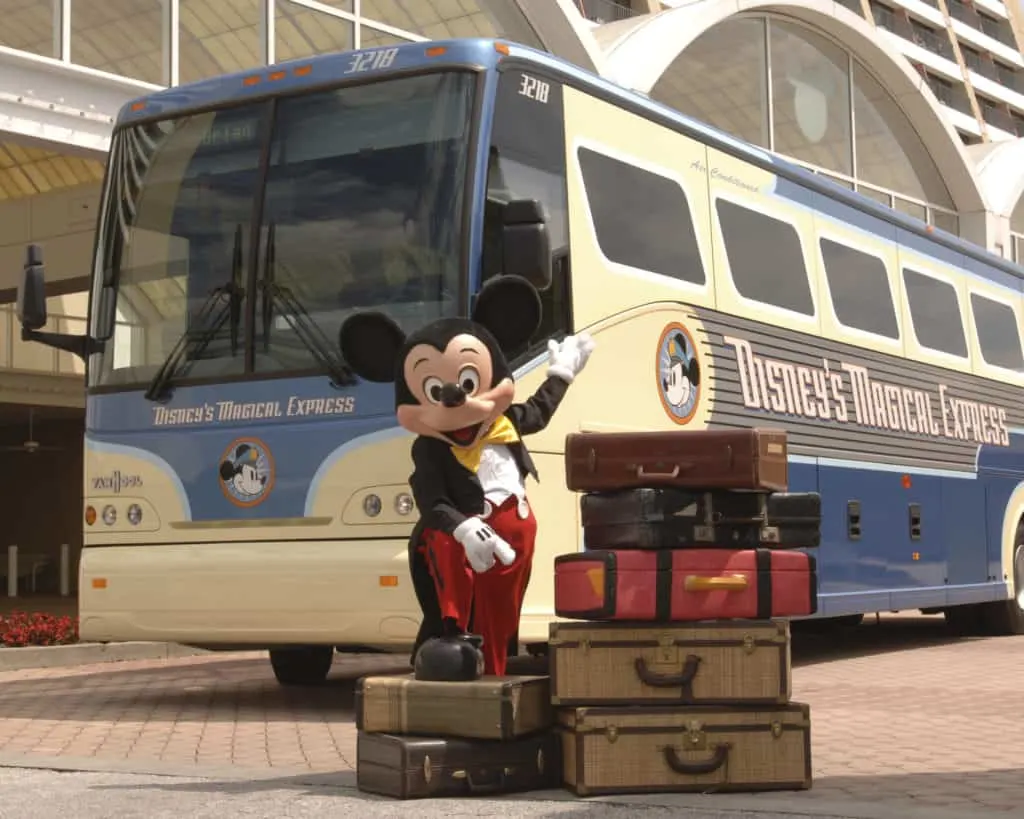 Merchandise pickup and resort delivery
This one kills me. Buy souvenirs to your heart's content, all day long, and have it sent to your hotel. Again, free of charge. All you have to do is keep that slip of paper and return to the hotel's gift shop tomorrow afternoon to pick it up.
Why is this amazing? Many suggest waiting until the end to shop so you aren't lugging around all those bags, and truthfully, you don't want to leave anything in the stroller while on a ride anyway. But this also means you are fighting with every other person waiting until the end to shop, killing time while they wait for the lines at the bus stop to cool down. Shopping early and often means there are shorter lines, and the shelves are freshly stocked.
Complimentary transportation and parking at Parks, Water parks, and Disney spring.
So while onsite guests no longer get free overnight parking at the hotels, we still get free parking at the parks. If you are so inclined as to drive yourself everywhere, which is probably best if you have little ones or plan on Park Hopping a lot, you are now more than welcome to do so at no extra charge.
Furthermore, buses will pick guests up at their resorts for free. The monorail and Water Taxi is also free of charge for those staying at the Moderate or Deluxe resorts, or want to Resort Hop.
Disney Dining Plan
The Disney Dining Plan allows for flexibility and convenience in your dining choices. Funny thing to say when describing a system that starts reservations at 180 days before arrival. But, that is Advanced Dining Reservations, not the Disney Dining Plan itself.
The Disney Dining Plan is a system of pre-paying for your meal vouchers, then using them wherever and whenever you want during your stay. These can be used to pay for your Advanced Dining Reservations, or at Quick Service restaurants. Sadly, only onsite guests have access to this voucher system. If planned properly, this system can save a family a large amount of money. Used incorrectly, and it is a colossal waste of time and money. The debate is still open on it's worth, free or paid for.
A wide variety of hotel options
The themed resorts have rooms that make dreams come true! They are so incredibly detailed, it would make my year to get into the head of one of Disney Imagineers responsible for their design. Having said that, there is a themed resort for every style and taste imaginable. And if there isn't, they are building it or trying to build it. That is how much Disney wants you to stay on-property.
There are options for families of 5, and Villas can comfortably fit even larger groups, so don't use your large group size as a reason to stay away from Disney Resorts. They may be few and far between but they exist.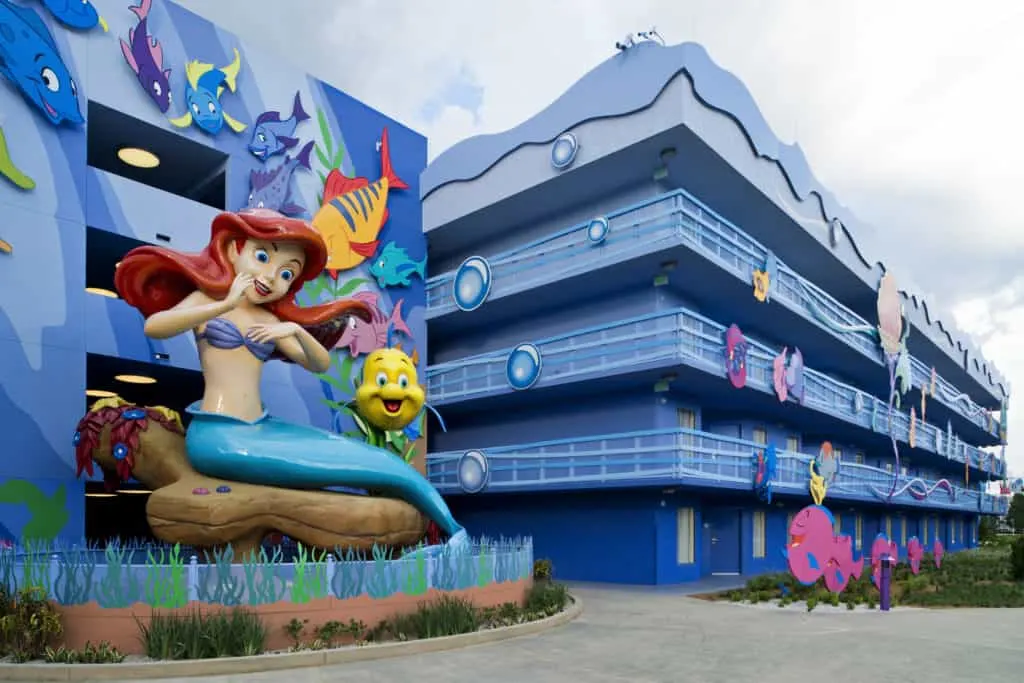 Early Access to FastPass+ and Dining Reservations
If you thought to book your dining 180 days in advance was crazy, FastPass+ selections are at 60 days for on-site guests. This means you get a full 30 days of selection above your fellow guests staying off-site.
This is just enough time to book everything that you want and change things around as guests cancel their selections for something else or simply cancel their reservations in their entirety.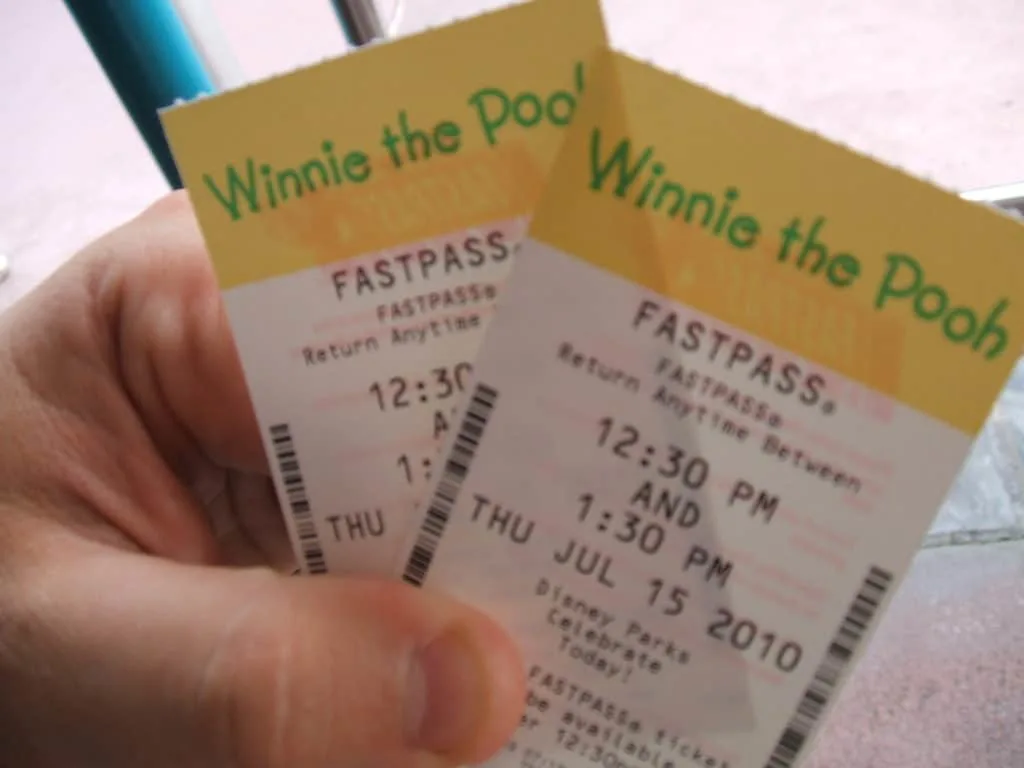 Making Advanced Dining Reservations is the stuff that nightmares are made of. Onsite guests get access to the system 180 days for 10 days vs 1 day at a time for off-site guests. Depending on the family members and purpose for their Disney vacation, these can make or break a person's vacation.
Staying onsite secures your position just a little ahead of the rest. I read an article recently that suggested that roughly 35% of the total visitors are staying in a Walt Disney World resort.
Extra Magic Hours At The Theme Parks
While many would praise onsite perks for their Early Magic Hours, there is such a thing as Evening Magic Hours. This is when Magic Bands are scanned to see who is onsite and who is offsite and offsite guests are no longer allowed to access rides.
Early Magic Hours is just as brilliant. Instead of fighting EVERYONE during rope drop, simply arrive at a park with EMH and experience their rides before everyone else.
Complimentary Magic Bands
You thought your cell phone could do everything. Your iPhone has nothing on Magic Bands.
Ok, that's a lie, your iPhone is still pretty amazing and will do you wonders while on vacation, but Disney isn't handing them out for free. They are, however, handing out Magic Bands to onsite guests when they make a hotel reservation. This fancy piece of technology can unlock your hotel room, be used to charge food and souvenir purchases, store Photo Pass, access your FP+ selections and enter the theme park. And like I said, it's free.
Off-site guests are able to purchase their own from Disney and link them to their Disney Experience Account or use the same bands from the last time they stayed on-site, so all is not lost.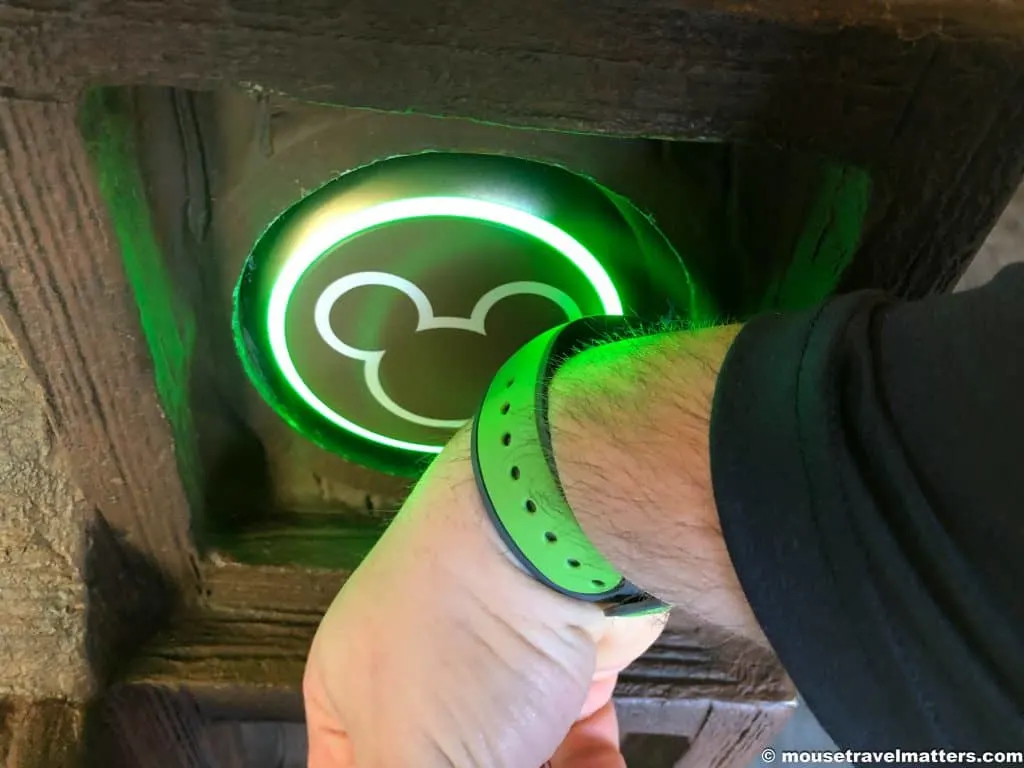 Priority Theme-Park Admissions
On days of unusually heavy attendance, Disney may restrict admission into the theme parks for all customers. When deciding whom to admit to the parks, priority is given to guests staying at Disney resorts.
Free Parking at Theme Parks
Disney Resort guests with cars pay nothing to park in theme park lots. Others pay at least $25 per day.
Your Thoughts...
Please share your thoughts in the comments or reach out on social media...We would love to hear from you.
Follow Mouse Travel Matters for Disney Parks news, the latest info and park insights, follow MTM on Twitter, Facebook, and Instagram.
You May Also Like…