Last Updated on April 30, 2020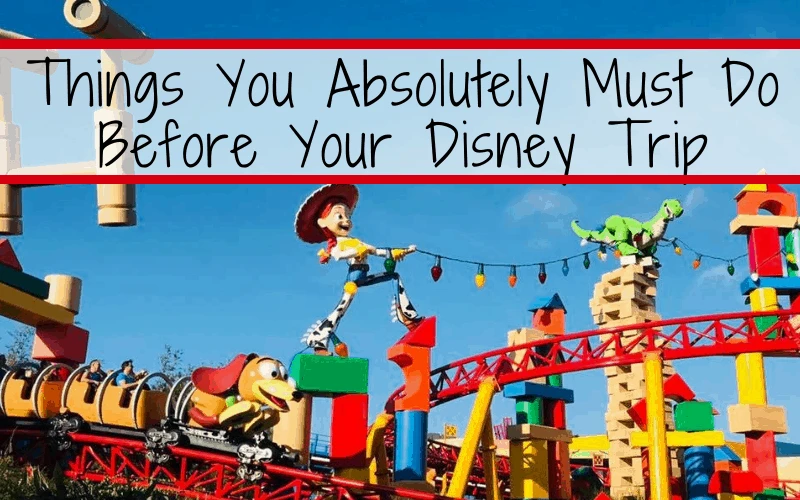 If you are in the process of planning a Disney World vacation, there is a good chance you are feeling pretty overwhelmed. After all, this is one vacation destination that does not skimp on anything, and this can feel pretty hard to sift through for anyone who doesn't visit on a regular basis.
By following these 10 simple steps, you can head into your trip feeling confident, well-prepared, and ready to take on the most magical place in the world.
To know exactly when you need to do all of these, based on your vacation date, check out our vacation calculator.
This post may contain affiliate links.
To which I earn a small commission, at zero cost to you!
Find more info in our
Privacy Policy
.
Order a Planning DVD
Disney changes so often. Unless you live next door and visit on a near constant basis, your Disney vacation requires a lot of research. Order the Planning DVD and review your favourite blog (like this one) for the latest changes.
What kind of changes? Adding the Gondolas, date-based ticket fees, and Star Wars updates.
Pick a date
This is one of the most important parts of your Disney vacation planning. The dates should be somewhere in the off-peak and shoulder season. Disney during the holidays and school breaks are crazy busy and can make the planning process very difficult. This will also drive up prices for almost everything involved in your Disney vacation.
Research various crowd calendars. I say various because they each differ in how they interpret the data provided. By comparing the results of many crowd calendars, you will start to get an idea of which parks are busy on which day, and how your overall vacation is going to look like.
Rule of thumb – Parks with Early Magic Hours tend to be the busiest in the morning.
Set budget
Before anything can be booked, it is important to know how much you are willing to spend during your vacation (souvenirs and non-essentials) and in order to have your vacation (hotels, flights, tickets and dining options).
The average budget, for the average Disney vacationer, is around $1000 per day for a family of 4. This includes Magic Your Way Tickets, budget on-site hotel, out of pocket dining, and flights, during non-peak times.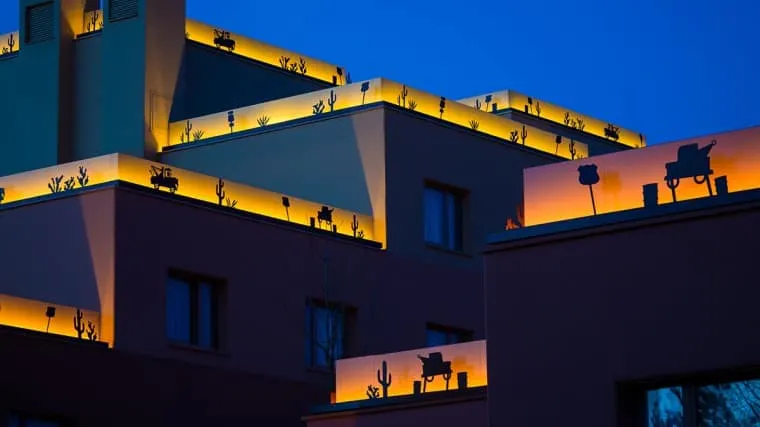 Research hotel options and purchase tickets
Once a budget has been determined, you will be able to see if you afford on-site or off-site, budget hotel or deluxe, out of pocket dining or Disney Dining Plan. All of these can be selected (or deselected) while booking your Disney package.
With the information you gathered in your research stage, you will have a general idea of which Park you will want to spend the most of your time in and how often you will be returning to it. Look at the hotels that are closest to that park and check out their package options. This usually works out for Moderate level spending budgets.
The other option is Hotel-hoping. While it sounds like resort-hopping, the act of hopping around the resorts and checking them out, it is quite different. Hotel-hoping is when you stay a few nights in one hotel, then jump over to another for the rest of your vacation. There are many pros and cons of Hotel-hoping, notably your Dining Plan. Don't worry about your luggage; Disney will move it all for you.
If you haven't purchased tickets as part of the hotel package, this is the time to buy your park tickets. There are many reasons why you would purchase separately; buying with Air Miles points, Military Discount or planning on purchasing an Annual Pass. Whatever the reason, you will need to purchase your tickets in order to make Fastpass choices.
Be sure to download the "My Disney Experience" App and link your tickets. This is the only way to make the FP.

Schedule Flights and Magical Express
Your dates are cemented, your hotel is reserved. Before we reach the 'no refunds' stage of our planning, we need to secure transportation. If you are driving, be sure to have the car checked over for such a long trip and give yourself enough time to repair any problems in time for the trek.
If you are flying, you will want to book something between 6-4 months in advance. This is the time where you may want to get a Travel Agent involved. I don't traditionally promote Travel Agents, but when money and tight schedules are involved, they can be a great asset. We heard once that a client's plane was delayed at the point of Origin and they had missed their connecting ground transport. Because they didn't land the night before (a topic for another day), they were on schedule to miss their cruise. The Travel Agent was able to make contact with the cruise, and schedule a private vehicle to bring them directly to the Port. None of this could have been done from 30,000 feet in the air.
So. Book your flights, book the Magical Express (if you are staying onsite) and get the extra travel insurance. This will also come in handy if your flights are cancelled, you get sick just before vacation time and anything else in between.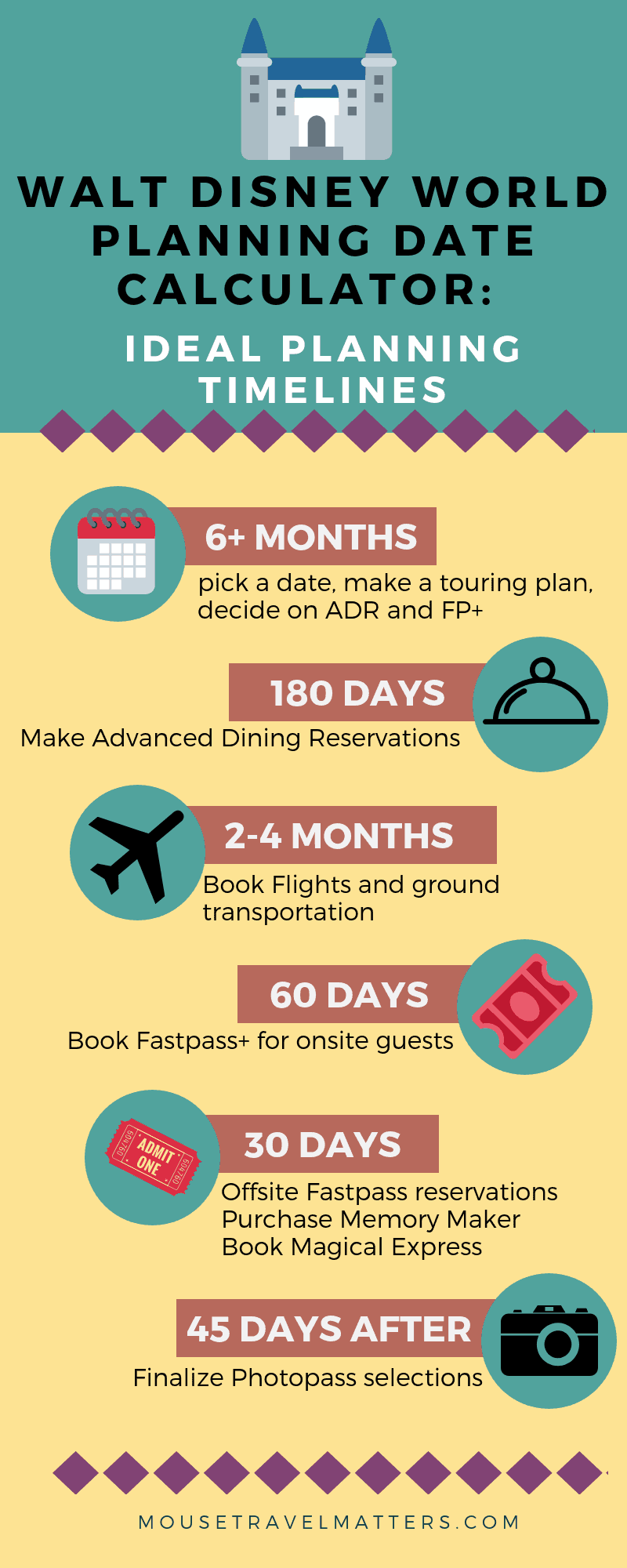 Create a Touring Plan
You have tickets, you have a hotel, and you know roughly when you will land… now what?
Making reservations with either restaurants or FastPass hinges on your touring plan. What park will you visit that day, and wherein the park will you be, come meal time? Make a rough touring plan with your bucket list items, what you want to Fastpass and which restaurants are a must. Have a Plan B just in case, but know that just because you didn't book on the first try doesn't mean an opening won't come up eventually.
Make Advanced Dining Reservations
Making sure that everyone in your party is attached to your My Disney Experience account, start looking at which restaurants you want to eat at, what time, and which date. This is the start of Solidifying your Touring Plan.
Again, just because you didn't book it on the first day, doesn't mean it won't happen. There are a number of reasons why someone would book then cancel; found a better timing, better date, trip was cancelled/postponed, and so on. The day after your last payment is due will see a large number of reservations open up for dining, fast passes, and hotels.
Here are some helpful links on Advanced Dining Reservations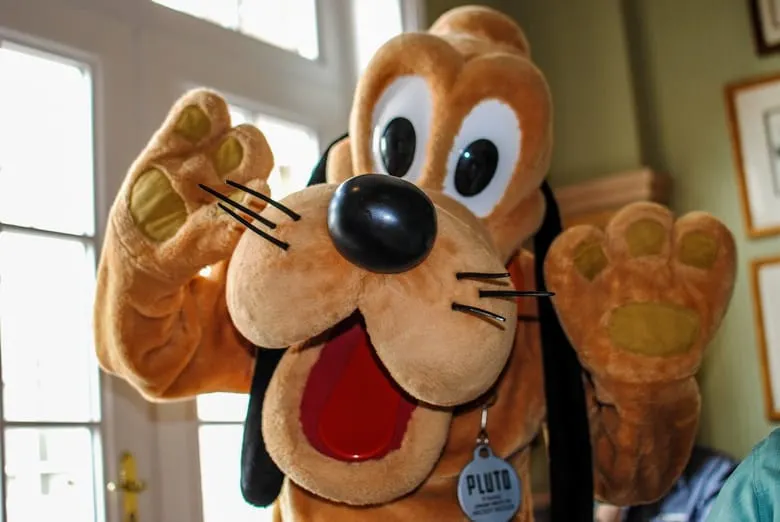 Choose FastPasses
With your touring plan and dining reservations in mind, it is time to pick your fast passes. You already know which attractions and at which time you WANT to have them. Be flexible. Know that there are thousands of people booking at the same time as you and there have been 10 days worth of visitors booking for that day before you even had access to it. Some attractions show as being completely sold out before you have even made a selection.
It's ok. Make a time for something near what you want, and keep checking back. You will get what you want, you just need to be persistent.
Here are some helpful links on FastPass+
Memory Maker
At least 3 days before arriving at the parks, be sure to purchase Memory Maker.
Now, this is a little confusing. When you buy in advance, there is an option for an advance discount. It also says it will take 3 days to activate and that any photos taken between purchase and activation will not be covered by the Memory Maker program and will be to be purchased separately.
This is only for the discounted version!
You are able to purchase the immediate version, at regular price, upon check-in and you will have it activated immediately. You can then roam around the Parks and have them scan your Magic Band to capture your pictures.
Make a packing list and purchase any special items
Making a packing list for Disney is a little different than visiting a big city or vacation at the beach. While everything is available for purchase at the resorts or nearby, they will be extremely expensive. This is also a high-intensity vacation; lots of walking and probably not enough drinking water.
Here are a few things you will want to remember to bring;
Your Thoughts...
Please share your thoughts in the comments or reach out on social media...We would love to hear from you.
Follow Mouse Travel Matters for Disney Parks news, the latest info and park insights, follow MTM on Twitter, Facebook, and Instagram.