Last Updated on May 15, 2021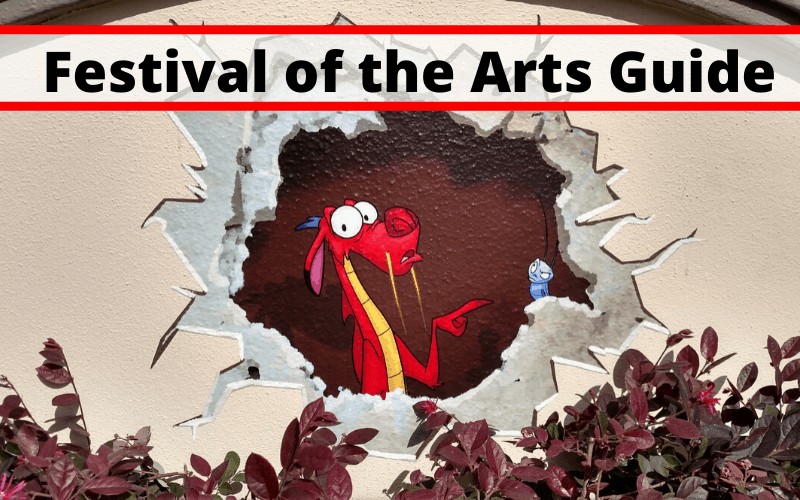 This Epcot Festival made its debut in 2017, celebrating three artistic disciplines: Culinary, Visual, and Performing Arts. The 2021 Epcot International Festival of the Arts dates are January 8 through February 22, 2021. #ArtfulEpcot
This post may contain affiliate links.
To which I earn a small commission, at zero cost to you!
Find more info in our
Privacy Policy
.
Before we delve into the Festival of the Arts offerings, it's worth noting that Epcot will be debuting a host of new rides and restaurants in 2021. Technically they were scheduled for a 2020 debut but Covid got in the way of that. Rescheduled are Remy's Ratatouille Adventure and Space 220. Other construction projects were completed during the closure and Epcot should start to feel a little more like home as we get closer to the 50th Anniversary, wheneevr they decide to announce that.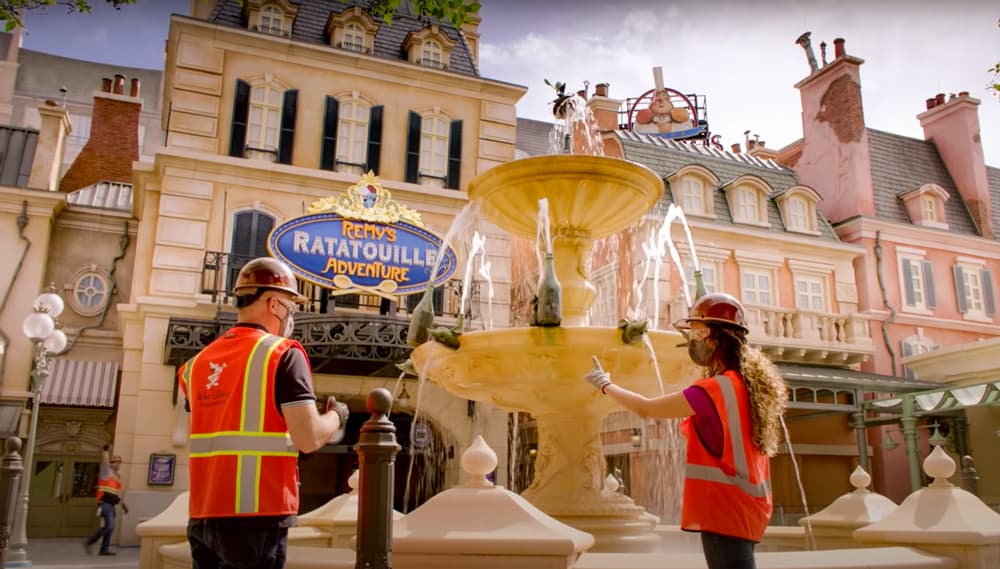 Also, you will want to dedicate 2+ solid days just for touring the festival booths and offerings. Attempting to do it all in a single day, or touring the Epcot attractions as well as the festival is almost impossible.
What Is The Epcot Festival Of The Arts?
Here are some things you will get to experience at the Epcot Festival Of The Arts:
Artful photo booths
Artist And Animator appearances
Chalk Art along the walkways
Community arts musical showcase
Cute merchandise
Culinary Arts Food booths
Destinations Discovered Tour
Disney on Broadway Concerts
Figment's Brush with the Masters Scavenger Hunt
Gallery exhibits
Interactive mural
Living statues
Workshops and seminars
Culinary Arts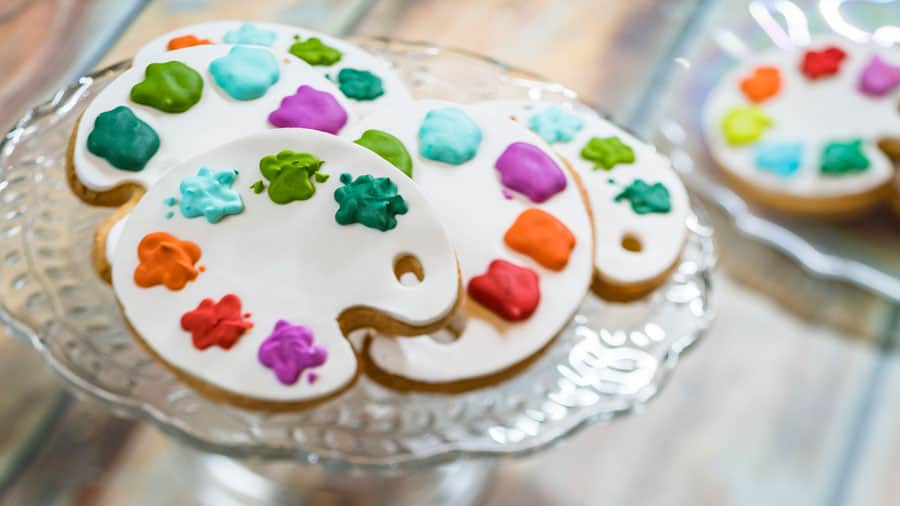 Food Studios
The Festival of the Arts features Food Studios located around Epcot's World Showcase! Much like the Marketplace Booths for the Epcot Food and Wine Festival, the Food Studios bring enhanced food offerings to Festival guests.
While the food is very good and some portions are generous, it's also on the expensive side. This makes it a tough sell if you're paying out of pocket–especially since this event does not revolve around food.
Conversely, if you're on the Disney Dining Plan, you can really clean up at Festival of the Arts by using your snack credits. With several items at around $10 each, these snacks are instantly some of the best uses of Disney Dining Plan credits in all of Walt Disney World.
Performing Arts
Voices of Liberty – The Disney Songbook: New for 2021, Voices of Liberty will take to the stage at America Gardens Theatre with a brand-new showcase—the Disney Songbook. From "When You Wish Upon a Star" to "Let It Go," the Voices of Liberty will perform favorite Disney songs and celebrate the artistry of Disney composers and lyricists.
Art Defying Gravity (7-day offering): Enjoy the spectacle of thrilling strength acts defying gravity and imagination at World Showplace.
Epcot Pianist (7-day offering): Tap your toes to a variety of show tunes performed by a talented entertainer at World Showplace.
JAMMitors (7-day offering): Listen to the soothing sounds produced this fun group of musicians at the Mill Stage in the Canada Pavilion.
Visual Art in Performance (4-day offering, Thursday – Sunday): Behold a high-energy, on-stage performance by a guest visual artist painting favorite Disney characters within World Showplace. In just minutes, colorful Disney images magically appear before your eyes.
Chalk Art – Future World East: Discover the work of imaginative chalk artists, then help create a chalk art masterpiece!
Community Arts Showcase
Epcot International Festival of the Arts is chock-full of professional artists — painters, singers and more are around every corner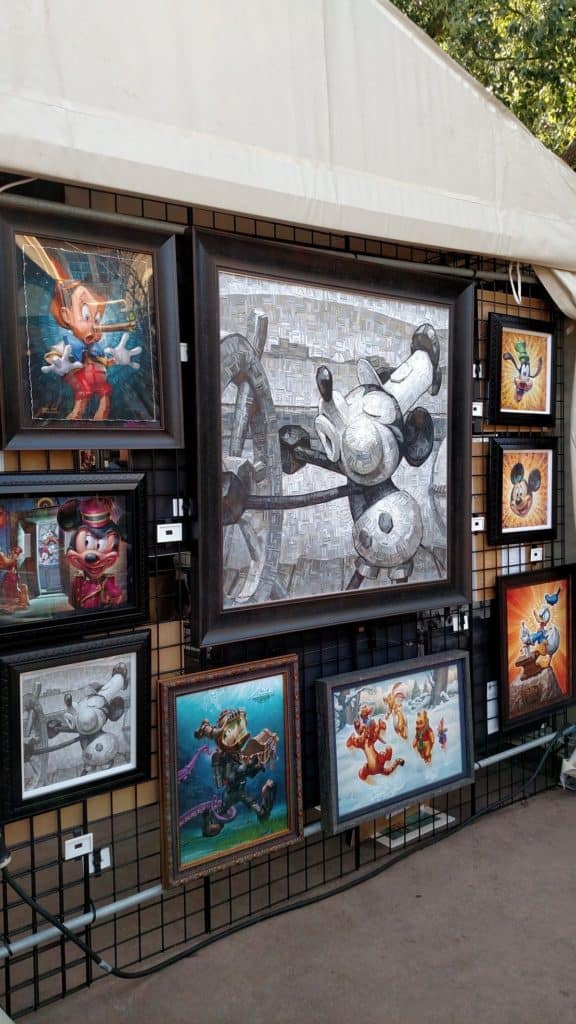 Art in Performance
Enjoy seeing the creative process live through Art in Performance, from chalk artists to living art statues and more, all over the park! Performance days and times will vary, so be sure to check the Times Guide or Festival Passport (both available at the park's entrances) during your visit.
Visual Arts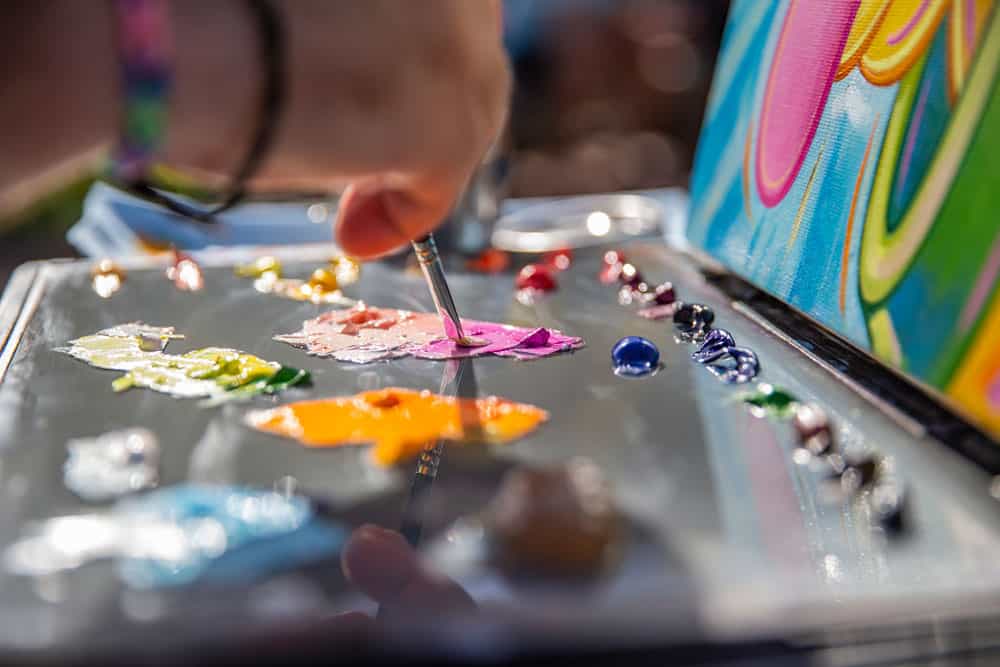 The Visual Arts are celebrated throughout Epcot in a myriad of Exhibits, Seminars, and hands-on experiences, along with a few more artistic touches along the way! Be sure to pick up and refer to the Festival of the Arts Passport at Epcot during your specific visit.
Pavilions around Epcot showcase displays and galleries reflecting various themes. Pavilion exhibits include:
Mexico Folk Art Gallery: Check out 'Remember Me!' La Celebración del Día de Muertos, a spirited salute to Mexican artistry and traditions.
The American Heritage Gallery in American Adventure: Explore generations of ingenuity at the featured exhibit: "Creating Tradition: Innovation and Change in American Indian Art."
The Gallery of Arts and History in Morocco: See unique designs of time-honored crafts when you visit "Moroccan Style, The Art of Personal Adornment."
The House of the Whispering Willows in China: Get a glimpse at how Walt Disney Imagineers helped bring Shanghai Disney Resort to life.
The Stave Church Gallery in Norway: Learn about Norse mythology at "Gods of the Vikings," an exhibit celebrating legendary gods goddesses and featuring authentic Viking artifacts.
Bijutsu-kan Gallery in Japan: Delve into the origin and evolution of kawaii, Japan's cute culture.
Interactive Wall Mural
Leave your own artistic mark on Epcot! A large mural is set up for guests of all ages to "paint by numbers" and help complete the work of art
Photo Opportunities
"Picture yourself" in famous works of art at special Photo Op locations throughout Epcot!
"Step into" some of the most-admired artwork from around the world. Ready for your close-up? Strike a pose for masterpiece pics taken by Disney PhotoPass "paparazzi"—or capture the moments with your own camera.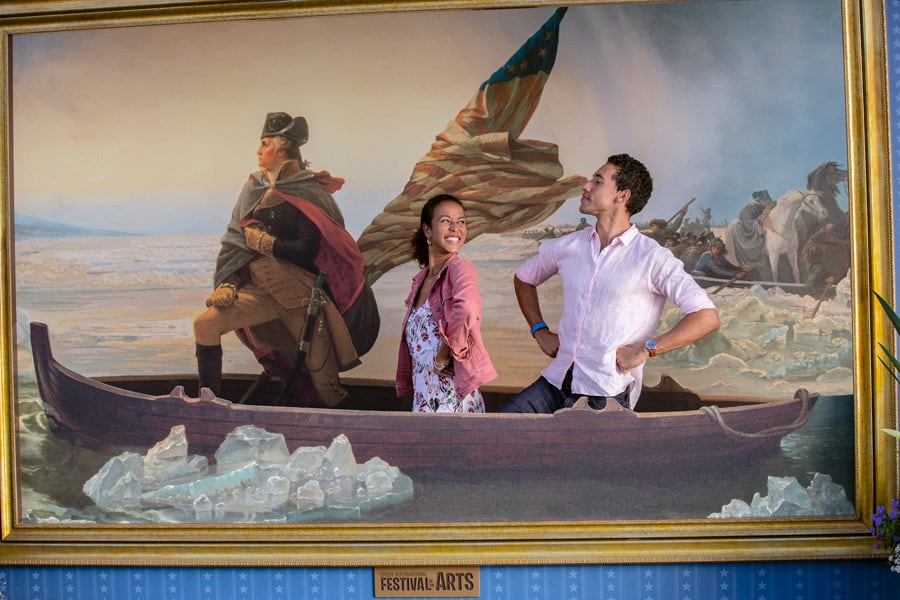 Photo Op Stops
Mexico Pavilion
An homage to Frida Kahlo
Italy Pavilion
Mona Lisa – Leonardo da Vinci and The Scream – Edvard Munch
American Adventure Pavilion
Washington Crossing the Delaware – Emanuel Gottlieb Leutze
France Pavilion
Luncheon of the Boating Party – Pierre-Auguste Renoir
United Kingdom Pavilion
Peter Pan Storybook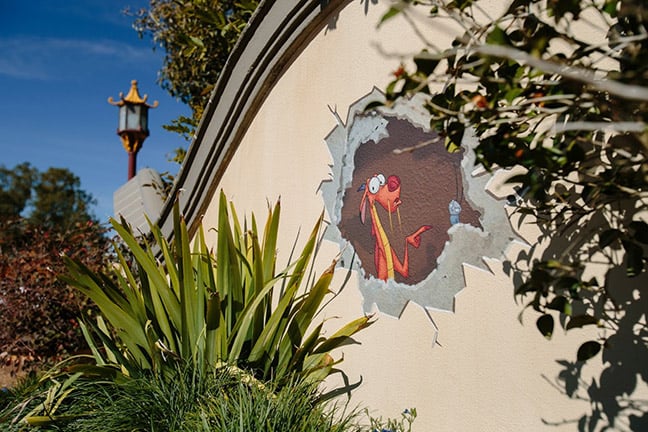 Workshops
Each session gives Festival Guests a unique opportunity to create original art and walk away with an enhanced skillset or new understanding of various techniques. Topics include character sketching, ink & paint, 3D paper crafting and everything in between!
Interactive Workshops
Interactive Workshops are hands-on, interactive experiences that allow guests the opportunity to create their own work of art to take home. Workshops run from 1:30 p.m. – 2:45 p.m. and are offered Friday – Monday for a $39 (plus tax) fee. The workshops are available to book by calling (407) WDW-TOUR.
Annual Passholders and Disney Vacation Club Members will receive a 15% discount.
Workshop Schedules
See the variety of workshops available that will bring out your inner artiste!
SCHEDULE
Don't miss out on these exciting opportunities to flex your creative muscles.
Ink & Paint Animation
Presented by Lynn Rippberger, Disney Animation Ink and Paint Artist
Many of Disney's animated features were created with 2D Cel Animation. Learn about the history of 2D Cel Animation and paint your very own Ink & Paint Cel with one of Disney's Ink & Paint artists!
Each week, you'll paint a different Disney character:
Saturday, January 18, 2020 – Mickey Mouse
Saturday, January 25, 2020 – Minnie Mouse
Saturday, February 1, 2020 – Donald Duck
Saturday, February 8, 2020 – Pluto
Saturday, February 15, 2020 – Goofy
Saturday, February 22, 2020 – Mickey Mouse
Disney 3D Paper Crafting
Presented by Dave Avanzino, Dave Avanzino Designs, Inc.
Sunday, January 19, 2020 at 10:00 AM
You will create your own dimensional paper artwork. Learn techniques to cut, fold and add spacers to your work to create 3D Disney shadowbox art. You will have the opportunity to make your own framed magical masterpiece!
Gesture Drawing Basics: "Story Telling Drawings"
Presented by Todd Bright, Bright Animation
Sunday, January 26, 2020 at 10:00 AM
Sunday, February 16, 2020 at 10:00 AM and 10:30 AM
Come learn the art of quick sketching from a former Disney animator whose credits include The Hunchback of Notre Dame, Mulan, Tarzan, Lilo & Stitch and Brother Bear. During this workshop you will create your own sketch to take home. Gesture drawing of people is a foundational practice for animators, story board artists and directors. A single drawing can tell a story.
Animation 101: Flip Book Fundamentals
Presented by Todd Bright, Bright Animation
Sunday, February 2, 2020 at 10:00 AM
Sunday, February 23, 2020 at 10:00 AM
Create your own moving magic and watch your drawings come to life during this animated workshop! Learn the fundamental principles of animation with a former Disney animator whose credits include The Hunchback of Notre Dame, Mulan, Tarzan, Lilo & Stitch and Brother Bear. Tools to complete your creation will be provided!
Doodling with Viz
Presented by Gregg "Viz" Visintainer, Owner of Viz Art Ink and WonderGround Artist
Sunday, Feburary 9, 2020 at 10:00 AM
Experience doodling to the next level. Learn, watch and draw your own doodle with hidden pictures and words to create a Viz Art Ink masterpiece.
PRICE
$45 per person, plus tax
Kid-Centric Fun
Discover entertaining activities with an artistic twist! Kids of all ages can check out these specially selected events—from opportunities to stretch their creative muscles to embarking on a scavenger hunt and more.
Animation Academy
Experience the magic of Disney animation at this fun and informative drawing class taught by actual Disney artists daily at 12:30 PM and 1:30 PM in America Garden Theatre.
Figment's Brush with the Masters Scavenger Hunt
The popular Figment's Brush with the Masters returns this year, as well, inviting you to help Figment learn about art on a scavenger hunt around World Showcase; you will be able to purchase a map and stickers for the family-friendly hunt at a variety of merchandise locations.
Help Figment learn about art on this scavenger hunt around World Showcase! To get started, purchase your map and stickers. Then, search for Figment hiding inside famous works of art at each World Showcase pavilion—just look for the Figment-themed picture frame. Every time you find Figment, add the corresponding sticker for the pavilion on your map. Once your journey is complete, return your map for an artful surprise!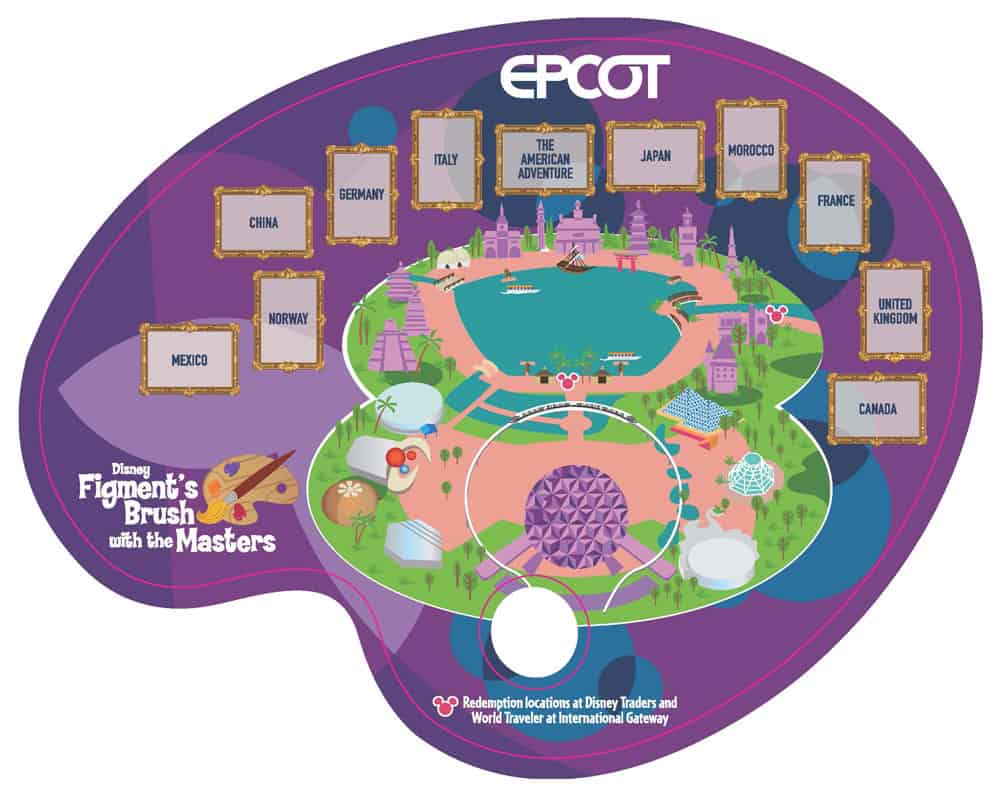 Chalk Full of Character (NEW)
Go on the hunt for some Festival fun! Charming chalk drawings of Disney characters—from Abu to Jiminy Cricket—are waiting to be discovered in tucked-away corners throughout World Showcase. How many can you find?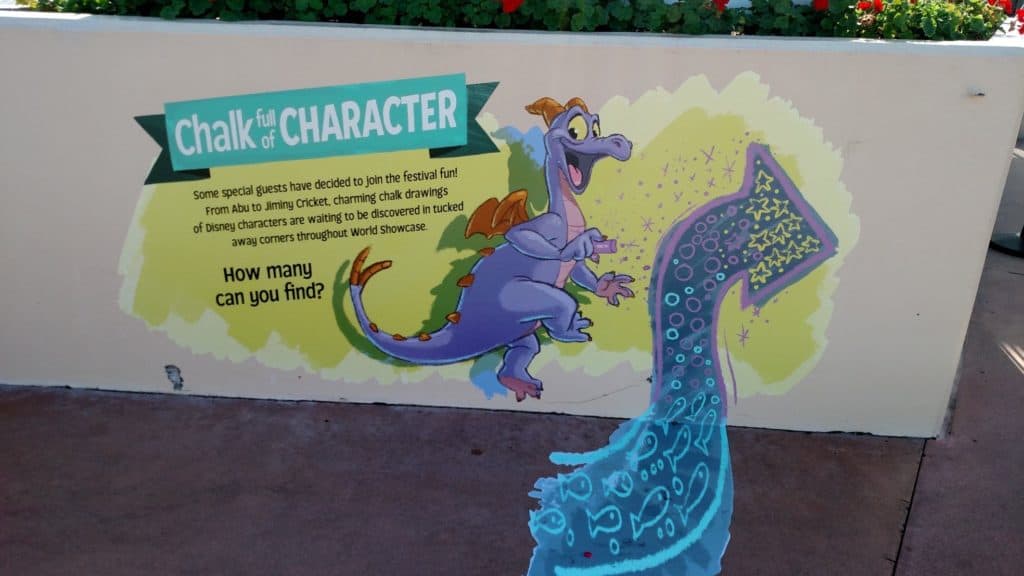 Expression Section: A Paint-by-Number Mural
Watch creativity come alive in the collaborative creation of a giant mural—or grab a paintbrush and join the fun daily in Future World from 11:00 AM to 5:00 PM.
Green Landing Family Play Zone
Venture into an out-of-this-world playground with Wall-E and Eve to let your imagination run free.
Kids' Chalk Art
Create your very own chalk masterpiece in Future World West, offered daily from 10:00 AM to 4:00 PM.
Fun Family Films
Travel the world and enter cherished stories with the Disney & Pixar Short Film Festival, the new "Beauty and the Beast Sing-Along" will debut in January 2020 in the France pavilion in addition to Impressions de France. This new sing-along adventure is directed by Don Hahn, producer of both the animated and live-action versions of this tale as old as time.
"Canada Far and Wide in Circle-Vision 360" will debut in January 2020 in the Canada pavilion with new scenes and a new story. The Land pavilion will welcome a new film, "Awesome Planet," in January 2020 showcasing the beauty, diversity and dynamic story of the planet.
A creative masterpiece is brought to life before your very eyes, using your hand and fingers as the base! You choose which color, animal, and theme you are interested in.
Event Merchandise
Be on the lookout for Festival of the Arts merchandise both in major shopping spots (such as Mouse Gear and Art of Disney) as well as pop-up Event merchandise kiosks.
Festival of the Arts Disney Gift Card
Helping guests stay on budget, these free gift cards are available at most locations throughout Epcot. They can be loaded up with as little as $15 and used at any location at World Showcase, as well throughout Walt Disney World.
Then, after the festival, keep it as a souvenir or reload the card with any amount up to $1,000
Festival of the Arts Merchandise
FESTIVAL MERCHANDISE LOCATIONS
Art of Disney – American Adventure Pavilion
Mouse Gear
Festival Markets – throughout World Showcase and Future World
Featured Disney Art
Visiting Artists and Studios
House of Blues
Annual Passholders Exclusives at the Epcot International Festival of the Arts
The Epcot International Festival of the Arts will return on January 17-February 24, and today we have an exciting update on special offers planned exclusively for Annual Passholders.
Passholder Merchandise
Festival of the Arts Passport
Featured art, entertainment, workshops, seminars, and activities will change throughout the duration of the Festival! Be sure to pick up and refer to the Festival of the Arts Passport available at Epcot during your visit to learn about all the offerings.
You May Also Like…