Last Updated on July 26, 2020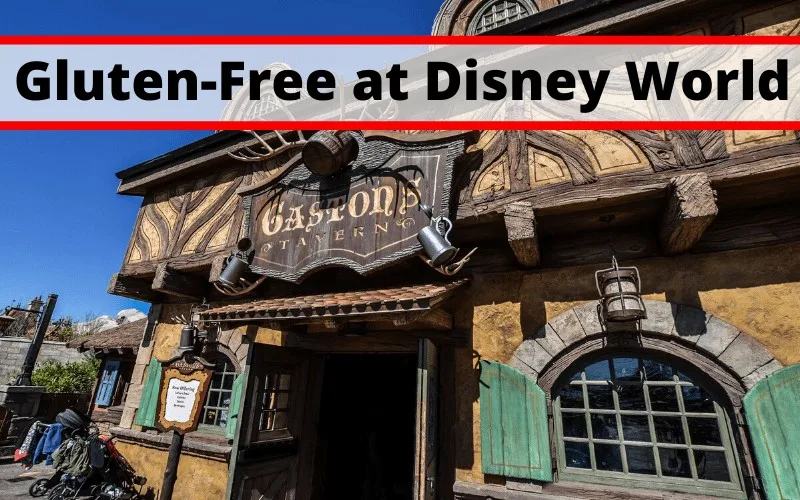 Traveling with a child who has to eat gluten-free can be stressful! Especially when visiting a theme park! From researching the perfect restaurant to searching scoring the internet for updated menus and reviews, to hoping and praying that there is something in the park that your picky child will eat…it's enough to make you pull your hair out. Check out these tips on how to eat gluten-free at Disney world safely.
This post may contain affiliate links.
To which I earn a small commission, at zero cost to you!
Find more info in our
Privacy Policy
.
There are special menus and choices at most of the restaurants in the parks and resorts. When preparing to eat gluten-free at Disney World, all you need is research, patience and a little time and your visit can be relatively stress-free.
Deciding where you'll eat on vacation months ahead of time may kill the spontaneity, but having celiac disease or non-celiac gluten sensitivity and worrying about eating gluten-free tend to do that anyway
Before Your Visit
Read Disney's Special Dietary Requests Page, found here, and learn about Walt Disney World Resort is committed to offering a wide range of culinary and dietary options for its Guests.
Do Your Research – read blogs and check allergy-friendly menus when available.
Make Reservations/Plans 180 days in advance. Since you can't eat just anywhere, it is important that you get reservations at the locations that you are able to be accommodated properly, with food that you actually enjoy.
Contact Disney's Special Diets Department at least 14 days in advance with any final questions or concerns [email protected]
Be Prepared for accidents and cross-contamination.
When you Get to the Park
Pack snacks.
Check ingredients binder at all snack kiosks. This will tell you exactly what is in everything and where it is sourced from.
Ask to speak to the manager or chef at all quick service and table service dining locations. This isn't an imposition or going over someone's head, they want you to ask for them so they can be sure to have your order right without issue.
Table Service Restaurants
Most, if not all Table Service restaurants at Disney provide gluten-free menus and alternative meal options
Most have the same basic procedure: when you make a reservation for a restaurant, you will see the Special Dietary Requests section. When seated, the server will give you a special allergy menu and ask if you are comfortable ordering or if you need the Chef to come out
Disney World Buffets
When you arrive, ask to speak to the chef. If you have made reservations beforehand, your server should know that you need to eat gluten-free and they will automatically notify the chef that you have arrived.
A chef will come out and actually take you around the buffet line to show you what you can and cannot eat. They are also happy to bring a plate out from the back if you are really concerned with cross-contamination.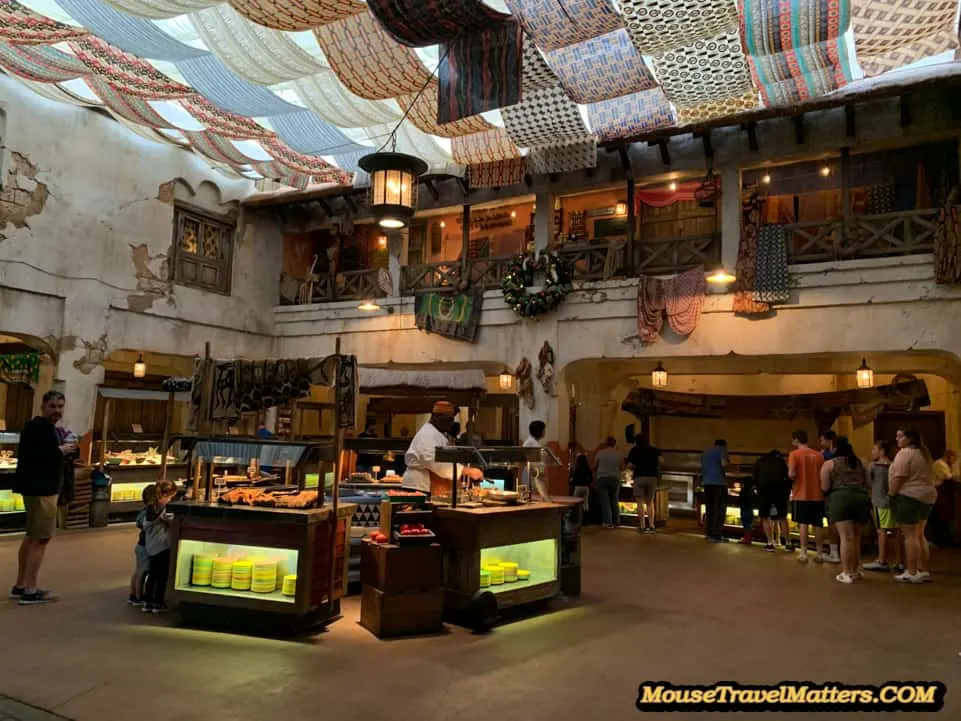 Quick Service at Disney World
Instead of alerting the server, you would tell the cashier that you need a gluten-free meal and they get a manager or coordinator to walk you through what is safe to eat. A lot of quick-service restaurants do have full gluten-free menus and will make your meal using special ingredients products and dedicated equipment, so don't be afraid to ask!
How do I order my food? When you arrive at a quick-service restaurant in Disney World, you should request an allergy-friendly menu. When you order, be sure to specify that you are ordering from the allergy-friendly menu and tell them which allergen you're avoiding. The cashier will stamp your receipt with a red allergy warning. Your food will be prepared in a separate area of the kitchen (including dedicated fryers if fried items are listed on the allergy-friendly menu) and a manager will oversee the preparations. When you order from the allergy-friendly menu, it does usually take longer for the food to come out since everything is made fresh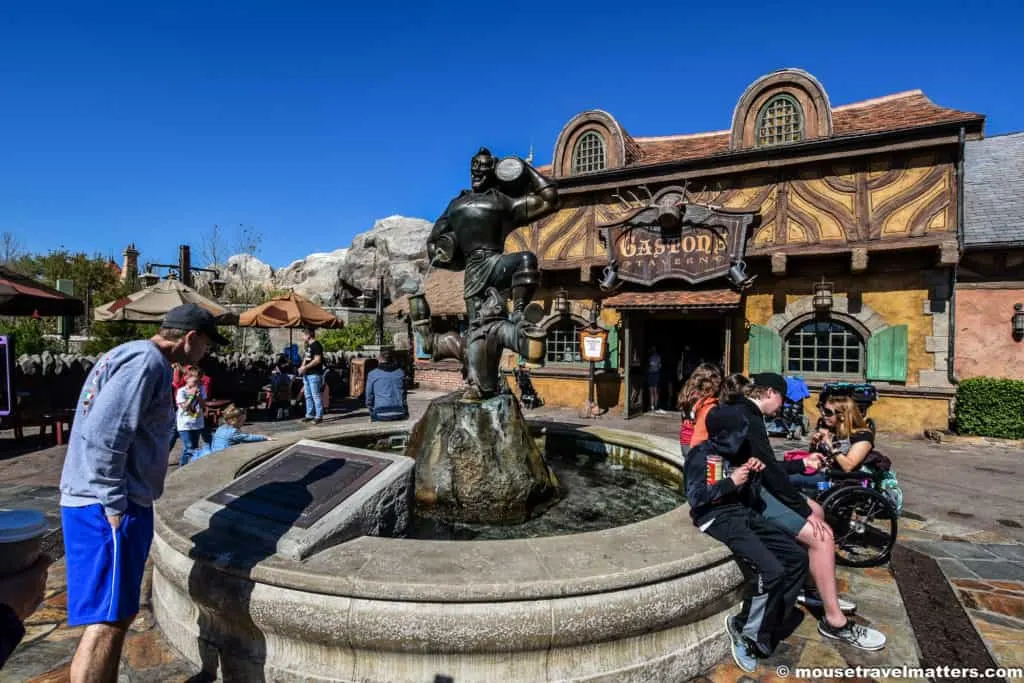 Best Gluten-Free Snacks in the Park
Dole Whip – locations available here
Soft Serve Ice Cream – As long as you don't get a cone, it's perfectly fine for gluten-free visitors.
Popcorn
Mickey Ice Cream Bar
Churros – only available at Nomad Lounge in Animal Kingdom
Whole Fruit and Vegetable Snacks
Slushies
Cakes and Cupcakes – Besides the gluten-free baked goods at the Gardens Kiosk at Animal Kingdom, you can also enjoy vegan gluten-free cupcakes at Erin McKenna's Bakery NYC in Disney Springs.
Beignets – Sassagoula Floatworks & Food Factory – Disney's Port Orleans, French Quarter Resort
Chocolate Chip Cookies from Zuri's Sweets Shop (AK) and Prairie Outpost & Supply (MK)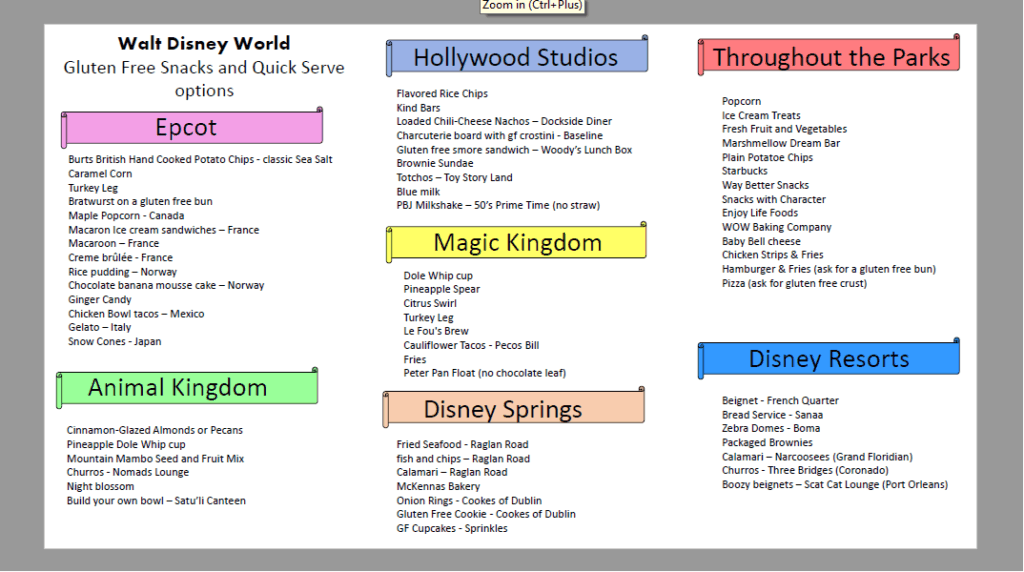 Best Restaurants for Eating Gluten-Free at Disney World
Since we can't live off snacks all day (I wish), it's important to know which restaurant is available to you. While all restaurants are capable of making modifications and accommodations to their menu, it isn't any good to anyone if you don't like the menu options to begin with.
Here are our picks for best gluten-free Table Service and Quick service restaurants at Walt Disney World.
Best Gluten-Free at Disney Table Service Restaurants
Jungle Navigation Co. Ltd. Skipper Canteen
Tiffins
Coral Reef
Boma
Mama Melrose's Ristorante Italiano
50's Prime Time Cafe
Sci-Fi Dine-In
Rose & Crown
Nomad Lounge
Biergarten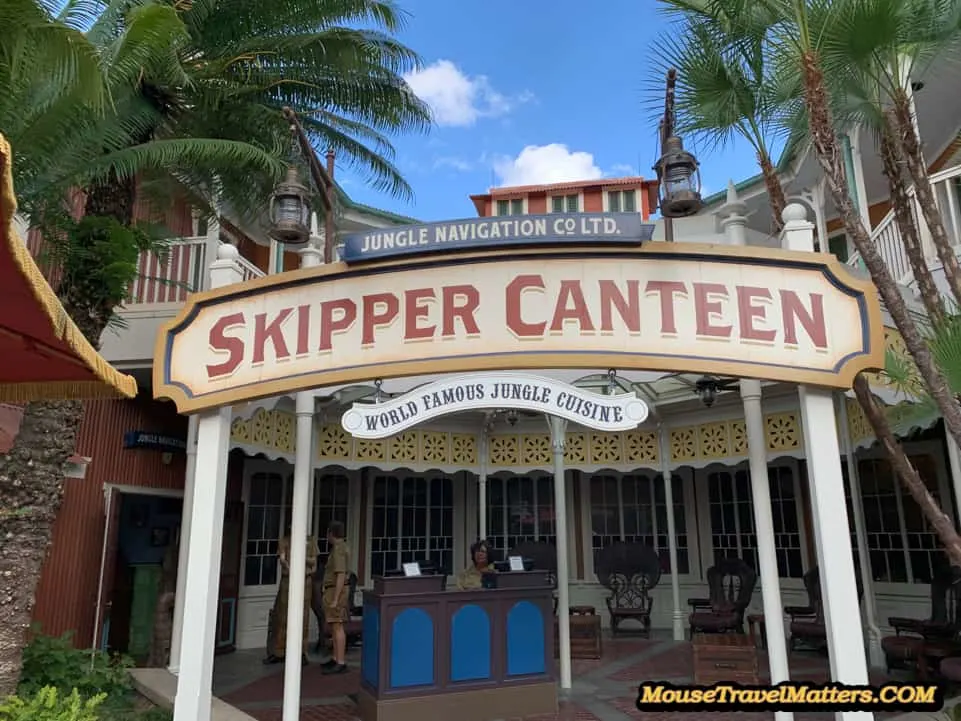 Fun for kids gluten-free restaurants
These restaurants are great with kids; the atmosphere, the characters, the theming. And they will love the menu options available for gluten-free kids.
Whispering canyon
Be our guest
Yak and yeti
1900 park fare
Cape May
Trattoria al Forno
Cinderella's royal table
Garden Grill
Tusker House
Akershus
Best Gluten-Free at Disney Quick Service Restaurants
These are our picks for best Disney Quick-Service restaurants that offer an amazing gluten-free menu.
Sunshine Seasons
Flame Tree Barbecue
Satu'li Canteen
Cosmic Ray's Starlight Cafe
Pecos Bill Tall Tale Inn & Cafe
Columbia Harbour House
Liberty Tree Tavern
ABC Commissary
Restaurantosaurus
Pizza at Pinocchio's Haus, PizzeRizzo and Pizzafari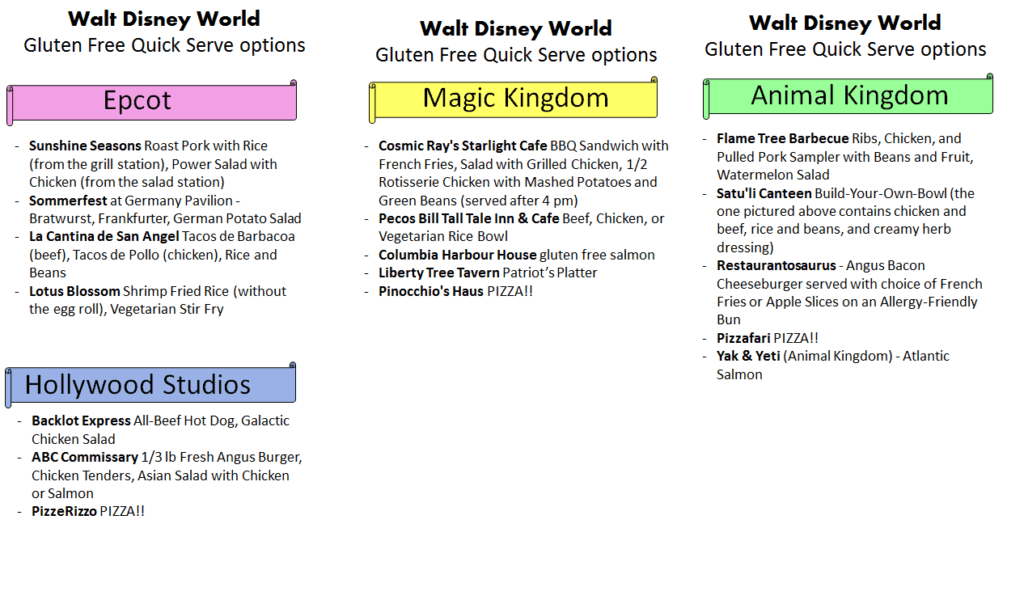 Gluten-Free Dedicated Fryers in Disney World
It's not enough that the fries are gluten-free, they have to have a separate fryer. Some places believe that the temperature of the oil is enough to neutralize any contamination but this is false.
In many of Disney World's restaurants, there are fryers that are dedicated to cooking foods that are allergen and gluten-free. This is great news for many people, but if you're sensitive, you'll want to do research at each location you're dining at.
Fryers are a natural source of cross-contamination, and even if they're separated for different foods, sometimes the fryers may be close to each other. So you might have the fryer for French fries right next to fryers for foods with batter coating such as chicken nuggets. Check with your server, manager or chef when you order if this is a concern for you.
There is a non-Disney webpage dedicated to alerting readers if a certain restaurant has a dedicated fryer. Check it out.
Info on the purity of the oil in the Disney World allergy dedicated fryers:
Recently within the Disney Facebook community, there's been some question about the purity and safety of the oil in the dedicated fryers in the parks and resorts. We've gotten some clarification through Sarah at Gluten Free Dairy Free WDW who was able to contact the head of Disney's Special Diets Department, Gary Jones. Here's what Sarah said:
"There's been a lot of rumours going around lately about the allergy-friendly fryers at Walt Disney World recycling oil every night and contaminating the allergy-friendly fryer oil. Disney's Special Diets Department has also sent out some pretty unsettling emails that indicated that this might be true. I reached out to the head of Disney's Special Diets Department Gary Jones for some clarification. It took a while why he investigated, but today he followed up with some updates. Here's what he said about the allergy-friendly fryers and oil…
'All locations at Walt Disney World Resort follow procedures to provide allergy-friendly meals for our Guests. Our fryers reserved for allergy-friendly meals are cleaned daily and refilled with fresh oil. Some locations have fryers with self-contained filtering mechanisms. In these cases, the allergy-friendly fryer is cleaned separately and refilled with fresh oil. Some locations with multiple fryers—one of which is reserved for allergy-friendly orders —may require a portable filtering machine. In these locations, filtered oil is only used to top off the non-allergy specific fryers. New oil is always used in the clean allergy-friendly specific fryer.'
You May Not Be Aware
No separated kitchen areas
One thing that you need to know about Disney World restaurants is the fact that there are no separated kitchen areas dedicated to food allergy separation. The only thing they offer is dedicated equipment (in a shared kitchen) as well as dedicated products for your special dietary needs.
So if you're scared of cross-contamination, just note that it's not always going to be 100% safe. But in all honesty, no place is, unless you're dining at a 100% gluten-free restaurant.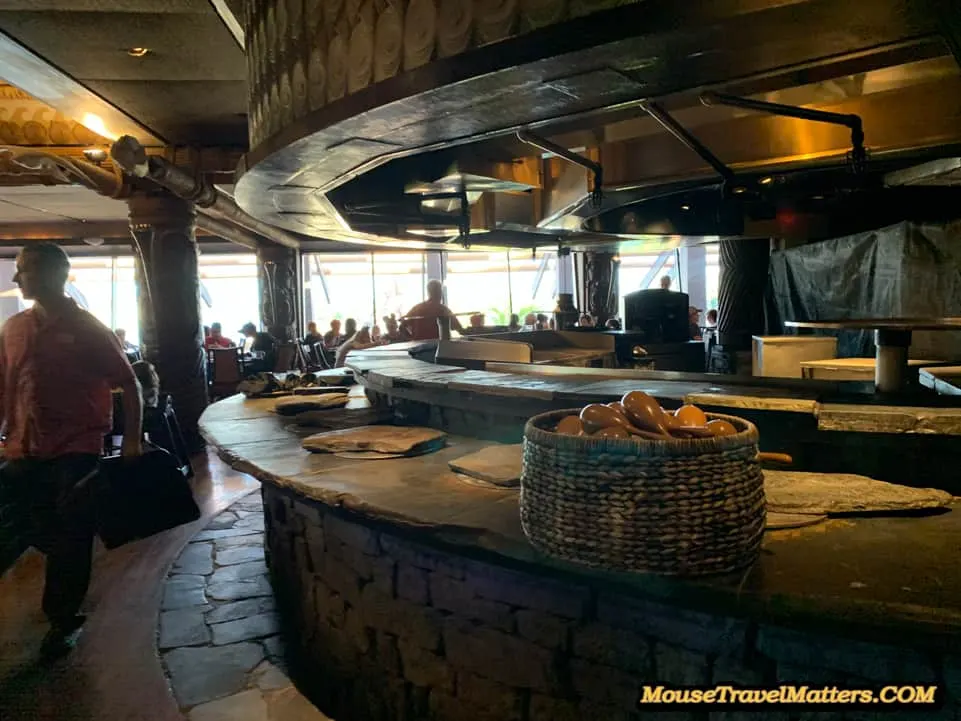 Paper straws are (sometimes) gluten-free
According to Disney, these are 100% paper-based and do not contain gluten. The new straws at Disney owned and operated locations are Aardvark Straws that are 100% paper.
The majority of restaurants in the Parks and Resorts are owned and operated by the Walt Disney World Company. However, many of the restaurants at Epcot and Disney Springs are Operating Participants, meaning that they may have a different management company, such as Patina Restaurant Group.
Although the Operating Participant restaurants uphold Disney's standards, they may source their straws from other companies, so be sure to ask a Chef or a Manager for information.
You May Also Like…
Disney Dining Plan Ultimate Guide
Canadian Residency Discount or Free Disney Dining. Which saves you the most money?
The Best Disney World Printables from Etsy
Best 8-day Itinerary at Walt Disney World for Families