Last Updated on February 23, 2022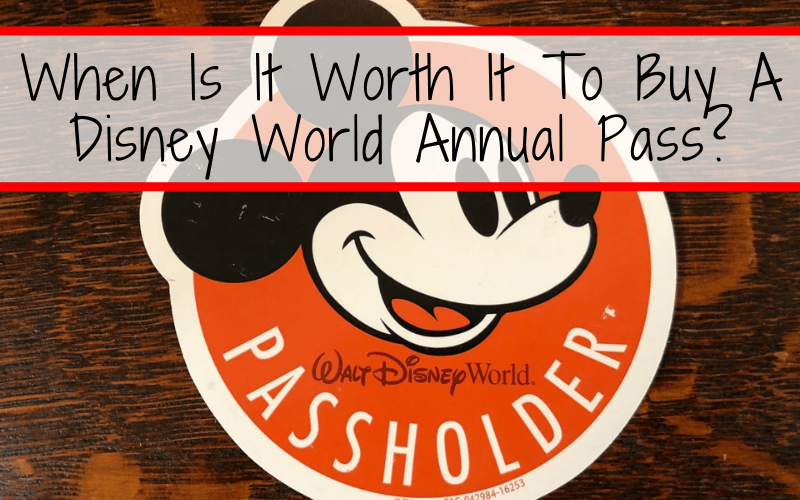 It's easy enough to say that you want to purchase the cheapest tickets and plan one vacation at a time. The hard truth of it is, Disney is additive. And they know it.
They know that you will be back. And want to go back often. They also know that money talks. This means if they can find a way to make their Annual Pass just within reach, you will want it. But is it worth pre-paying for a years' worth of entrance tickets? How do you know if this is the best investment for your family and how much are you really saving anyway.
Today's article will dive into the nitty-gritty of Disney World's Annual Pass. What is included in the Annual Pass, how many days do you need per year in order to make the purchase financially worth it, and what other factors does one need to consider when making this kind of decision.
This post may contain affiliate links.
To which I earn a small commission, at zero cost to you!
Find more info in our
Privacy Policy
.
Disney World Annual Pass Cost
As of today, there are 3 Annual Pass options; Disney Platinum Plus Pass, Disney Platinum Pass, and Water Parks Annual Pass.
Water Parks Annual Pass is pretty self-explanatory; you get unlimited access throughout the year to both Typhoon Lagoon and Blizzard Beach. This costs $139.
Disney Platinum Plus Pass allows for admission for a year to all 4 theme parks, 2 Disney water parks, ESPN Wide World of Sports Complex and Disney's Oak Trail Golf Course with no block-out dates.
The Disney Platinum Plus Pass costs $1,219.00 (includes tax) for adults and children. You can purchase all the Walt Disney World annual passes at Guest Services or online at Walt Disney World's website.
Disney Platinum Pass, on the other hand, is strictly admission for a year to all 4 theme parks. The Disney Platinum Pass costs $1,119.00 (includes tax) for adults and children.
There is no distinction between children and adults in Annual Pass prices.
Value of Disney World Annual Pass Benefits
Here's the quick version of what you'll get with a Disney Platinum Pass:
Admission for a year to all 4 theme parks (No blockout dates)
Visit all 4 theme parks on the same day
Includes Disney PhotoPass downloads*
Up to 20% off on select dining
Up to 20% off select merchandise in-store or online at Shop Disney Parks
Standard theme park parking
Free MagicBand
Tip to know before you buy: apart from park admission, only one member of your traveling party needs to have an AP to reap the benefits.
There is a lot to consider when deciding what the real value of an Annual Pass is. Sure, there is pre-purchasing your Disney entrance tickets, which in and of itself can be a huge saving. But there are a handful of other perks that come along with Disney World Annual Passes that sweeten the pot and make it that much harder to refuse.
It is worth mentioning that Annual Pass holders do not have access to early Fastpass selections.
Follow us on Instagram for realistic Disney inspiration
Resort Discounts
Unbeknownst to many, Annual Pass holders actually have access to room discounts. This isn't always available, however. There are special Annual Passholder specials that appear throughout the year so don't discount the Bounceback offers or the Seasonal sales, but when all else fails, take a look at Annual Pass Room discounts.
These sales are resort specific, and for a limited number of dates but they start at 30% Value Resorts so it isn't nothing either.
Disney World Annual Pass Dining Discounts
Disney also offers 10-20% off select Table Service restaurants with the Annual Pass. For a complete list of these select restaurants, click here, or check out Disney's website.
In most instances, you are looking at 10%, but this is still amazing. Don't forget though, alcohol and gratuities are not included.
Disney World Annual Pass Merchandise Discounts
Passholders are eligible to receive 20% off select merchandise purchased at Walt Disney World Resort-owned-and-operated merchandise locations. That last little bit can be hard to recognize; which shops are Disney owned and which are Disney participant?
According to their Annual Pass booklet, the Annual Pass "discount does not apply to Walt Disney World Resort Operating Participant locations, including but not limited to: China, Japan and Morocco Pavilions at World Showcase in Epcot ®, Arribas Brothers, Basin, Basin White, Curl ® by Sammy Duvall, Ghirardelli® Ice Cream & Chocolate Shop, House of Blues®, The LEGO® Store, Orlando Harley-Davidson®, Pop Gallery, Rainforest Cafe®, Rubio Balloon Arts, Sosa Family Cigars, Something Silver®, Splitsville Luxury Lanes™, Sunglass Icon®, Surrey bike rentals, T-REX™, Wyland Galleries, The Disney Store, Disney's Character Premiere, Disney's Character Warehouse, Cast Connection and any other locations or kiosks that are not owned and operated by the owners of Walt Disney World Resort. "
And the vast majority of Disney Springs only offers 10% instead of the standard 20% in the Parks. Check out the official Disney website for specific locations and discount rates.
Disney World Annual Pass Parking Discount
Disney World Annual Passholders with a vehicle get free parking at their resort. That is a savings of $25/day.
Free Disney World Annual Pass PhotoPass
Disney World Annual Pass holders also receive a complimentary Photo pass subscription for the length of their annual pass. That is a savings of $199 – each time you visit!
Support us by liking our Facebook page
Disney World Annual Pass Tour Discounts
Disney World Annual Pass holders can see 10-15% discount on the various tours that Disney offers within the Parks, like Backstage Magic, Keys to the Kingdom Tour, and Epcot Seas Adventures – Dolphins in Depth.
Access to Tables in Wonderland Membership
Tables in Wonderland is $150.00 for an Annual/Seasonal Passholder and Disney Vacation Club members. Florida Residents who are not an Annual/Seasonal Passholder pay $175.00.
This membership offers 20% off of all food and beverage purchases at participating Disney restaurants. It is a membership program and each card is good for up to 10 guests. Essentially, you are paying $150 to upgrade your restaurant discounts from 10% to 20%, and include beverages in your discount.
Access to Exclusive Annual Pass Merchandise
Every once in a while, Disney likes to bring out the big guns and offers exclusive merchandise, just for Annual Pass holders. This is anywhere from pins and magnets, to t-shirts, sippers, mugs and more.
---
And don't forget to check out this exhaustive list of other great extras that Disney offers is Annual Pass holders.
How to purchase a Disney World Annual Pass
Follow us on Pinterest – we share the best Disney content (not just ours)
In Person
Simply visit a Guest Relations or ticket location at Walt Disney World and ask to make the purchase. You will receive an activated Magic Band and Annual Pass watch strap.
Upgrade
When upgrading your current Magic Your Way tickets to Annual Pass, there are a few things to note.
Firstly, you must have entitlements left on your ticket in order to have your current purchase price credited towards the Annual Pass price. This means you can not use your last ticket, then head to Guest Relations to upgrade – you can, however, upgrade before entering the Park on your last ticket, it just can't be after you have scanned your ticket.
Secondly, if you have purchased Park Hopper Plus, you have a choice to make. You can use your Plus option (ie visit a Water Park) and therefore be required to upgrade your ticket to the Disney Platinum Plus Pass (since it includes Water Parks) or upgrade before visiting a Water Park and upgrading to the Disney Platinum Pass and buying your Water Park tickets separately. For $100 difference, however, it may be best to get the more expensive Annual Pass, considering a single Water Park entrance ticket is $74.
There is a $16 discount on Water Park tickets for Annual Pass holders – if that didn't just mess up all of your calculations. This discount is good for the Pass holder and 3 members of their party.
Online
When purchasing online or over the phone, you will be sent an email with all of your details. Once you receive your pass certificate, you must exchange it for a valid pass prior to first use at one of the following locations: any Walt Disney World theme park or water park ticket window, or any Guest Relations location. You will need to show a valid photo ID to pick up your pass.
You can still link this voucher to your MDE and make all of your necessary FastPass reservations, but you can't physically enter the Parks until you have redeemed your voucher and activated your Pass.
It is worth mentioning that you can not redeem your voucher at Resort check-in. If you have used your voucher to make a Annual Pass resort discounted reservation, you will be asked to show your activated Annual Pass in order to check-in. Be sure to visit Guest Relations or a Ticket Center at the TTC before checking-in to your resort.

How many times do I need to visit in order for a Disney World Annual Pass to be worth it?
At the end of the day, it's all about numbers. You want to make sure that you are taking the Big Picture into consideration when deciding on Annual Pass's worth to your family.
Did you plan on buying photo pass? Now it's free, add that to your savings. How much shopping did you plan on doing? Knock off 20% and add that to your savings. Self-driving? Now you have free parking.
For us, only visiting twice this year, for a total of 7 Park days, is enough to warrant purchasing an Annual Pass. Our August 2-day ticket will cost $224, plus another 5 days in December is $445. We already wanted to purchase the Memory Maker and already $868 is spent.
The net out of pocket cost is a small $28, which we will recover in merchandise discounts and out of pocket Table Service dining. This is enough to say that we will be purchasing a single Annual Pass for myself. The benefits of the Annual Pass discount extend to 3 members of our party, and since we are a 4-member family, is perfect.
If, however, we were staying for 5+5 days in the next 12 months, or adding a third 2-day vacation, then we would upgrade the entire family to Annual Passes but this is not the case. Not yet anyway.
If you have any more questions regarding the Disney Annual Pass program, feel free to comment below, ask like-minded individuals in our Facebook Group or check out this handy Annual Pass pamphlet from Disney.
We'll share more Disney tips in our next posts. Subscribe to our newsletter to stay in the know.
You May Also like…