Last Updated on March 10, 2022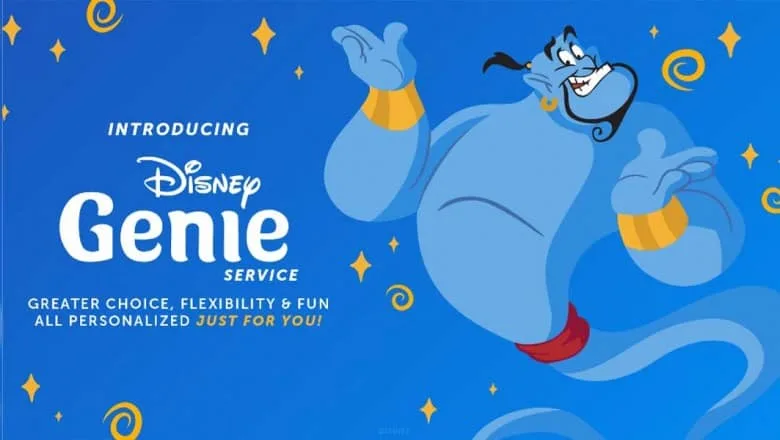 Disney has recently announced 3 new systems that will seamlessly integrate into the existing My Disney Experience App; Disney Genie – a Complinetary in-app service; Disney Genie + Service including priority access to 40 Walt Disney World Attractions, and Individual Attraction selections – an a la carte purchasing system for top tier Disney World Attractions.
While this all seems like a little much for a single night, all 3 systems lend themselves to a specific goal; get guests out of the queues and into the shops. It's no secret that Disney isn't making as much money as they were pre-COVID. Not only are the parks limiting the number of people allowed in per day (rightly so, if you ask me), but Guests aren't spending as much money in the parks as they used to, and Theatres are no longer bringing in the big bucks to make up for the difference. Disney needs guests to pay more while receiving the same (or cheaper) experience.
Because of this, Disney has decided to end all free Fastpass services, starting with Disneyland Paris last month and continuing on with Disneyland and Walt Disney World. While Disneyland did have MaxPass, it offered access to more rides for the same price.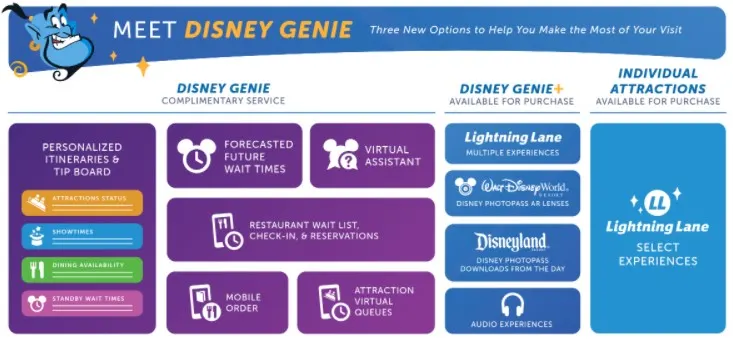 What is Disney Genie?
Disney Genie will be available for download this fall. Thus far, we know that it intends to be your eyes and ears in the Parks while making suggestions for your Park Plan, a handy map for reference, and live standby wait times. Accessing Virtual queues, mobile orders and restaurant check-ins will be available through the app as well.
Simply input your priorities and Disney Genie will create a Park Plan custom to your family's needs and constantly update the plan according to new and updated information, including wait times and dining reservations.
Disney Genie+
Disney Genie+ is where guests can purchase the Lightning Lane (formerly known as Fastpass+) tickets. This will cost $15 per ticket per day. This verbiage was a little confusing at first, but Disney is not charging for Lightning Lane tickets to guests that do not require Park tickets – such as children under the age of 3.
There are 40 Walt Disney World attractions that will be available for purchase. All rides will still have a Standby line for guests that are not interested in the upgrades. The specific list of available attractions has yet to be published.
Each attraction can only be booked on the same day. This means no more 60-days in advance Fastpass reservations. Experiences and Products Chairman Josh D'Amaro explains that guests were looking for more simplicity and spontaneity in their Disney vacation.
Onsite Disney guests will have a slight advantage, however, as they will be able to make their first selection as early as 7 am, as opposed to when the Park opens for off-site guests. Selections can be made for multiple parks in a single day, perfect for those guests that like to Park Hop.
Lightning Lane Individual Attraction
Attractions listed under the Disney Genie + program will not appear in the Lightning Lane Individual Attraction list, and vice versa. These attractions are Disney's top-tier attractions, including Star Wars; Rise of the Resistance, and Remy's Ratatouille Adventure. The extensive list of available attractions for individual purchase has yet to be published and prices are also unavailable.
Disney has made it clear, however, that a standby line for these rides will still be made available. Guest choices are Lightning Lane Individual Attraction purchases or Virtual Queues/Standby line, the same as per Genie+ selections.
How is DAS affected by Disney Genie?
According to Disney, guests that require DAS pass to effectively enjoy the parks will be able to make their request via the app ahead of time instead of at Guest Services. DAS return times can also be selected through the app instead of physically visiting the ride in question.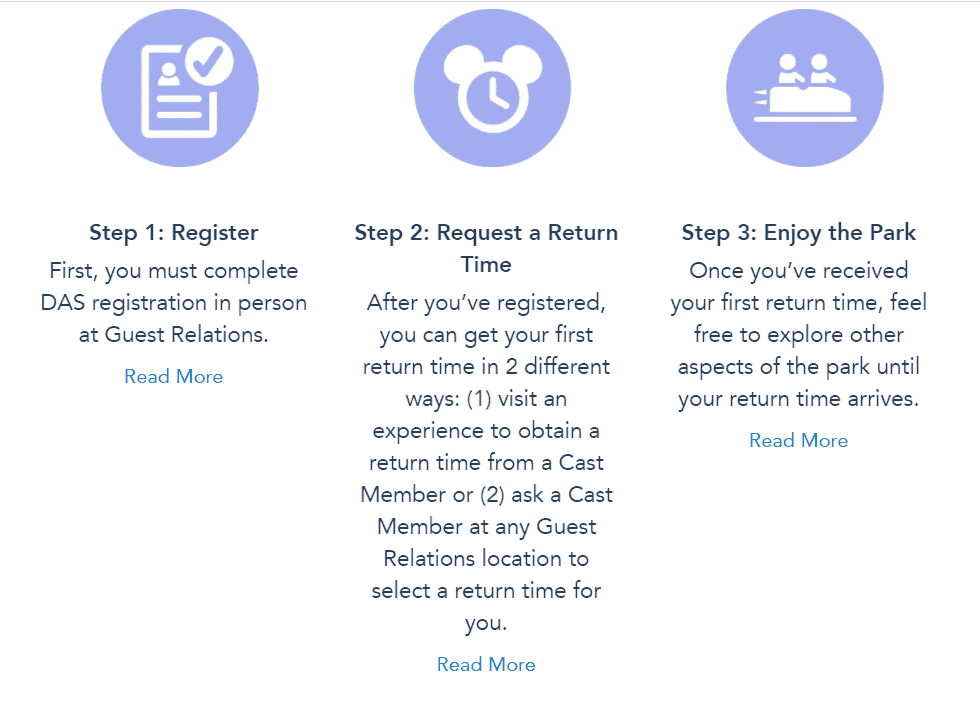 Your Thoughts...
Please share your thoughts in the comments or reach out on social media...We would love to hear from you.
Follow Mouse Travel Matters for Disney Parks news, the latest info and park insights, follow MTM on Twitter, Facebook, and Instagram.
You May Also Like…