Last Updated on August 10, 2022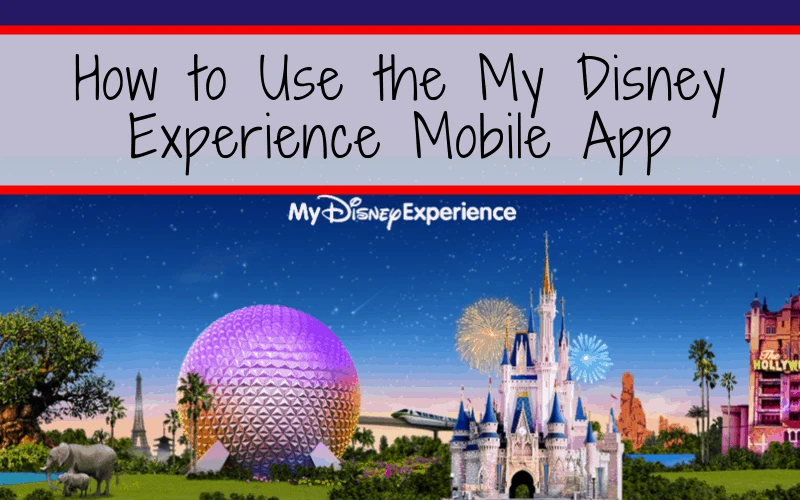 There is only so much planning you can do from home before you have to admit that something needs to be within the parks. Be it checking the map, mobile ordering your meal or adjusting your fastpass because the queues are shorter than you expected. Today we are going to look at how to use My Disney Experience to its fullest and get the most out of your holiday.
This post may contain affiliate links.
To which I earn a small commission, at zero cost to you!
Find more info in our
Privacy Policy
.
What is My Disney Experience?
My Disney Experience is the Disney App to end all apps. Everything you will ever need from Disney is available through My Disney Experience (MDE); Fastpass, Photopass, Dining reservations, room charge information, ticket information, and much more.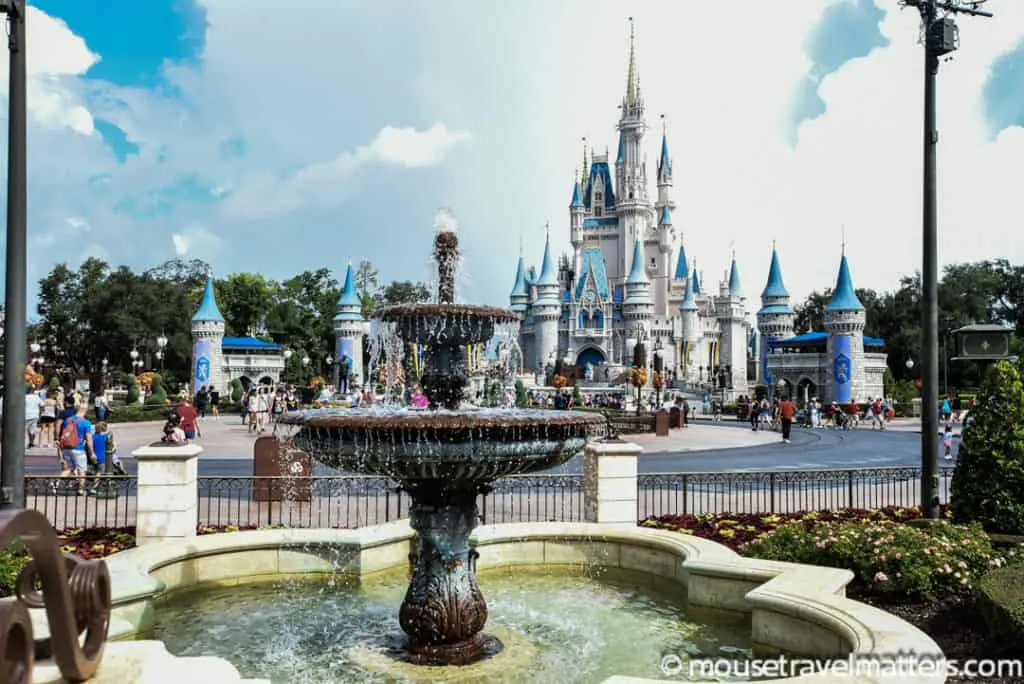 My Disney Experience functions
Here we are going to break down exactly what is in the My Disney Experience App, feature by feature, then discuss how you use these features to plan and execute the perfect Disney vacation.
Park Hours & Information
The park information including the regular park hours, the extra magic hours, and which attractions and shows are under refurbishment.
This is great if you are making initial touring plans or want to play it by ear once you have reached Orlando.
My Tickets
In the My Tickets section of the My Disney Experience App, you'll find all the tickets that are attached to your account. Each ticket will include important information like when it expires and which days that ticket is valid.
You will be able to buy tickets, as well as event passes such as party tickets, from this section.
Get FastPass+
Whether you prefer to use your PC or your mobile phone, you will be able to check out the Fastpass+ selections and further cement your touring plans. Don't forget to mention how many people in your party and to update the party names.
MobileOrder Food
Mobile Ordering is a fairly new system to MDE and it is terrific. Not only can you take your time and study the menu from the comfort of a ride queue, but you can also actually place your order and make substitutions right from the app.
Once you are in the restaurant and ready to eat, update your app and wait for the push notification that your meal is ready.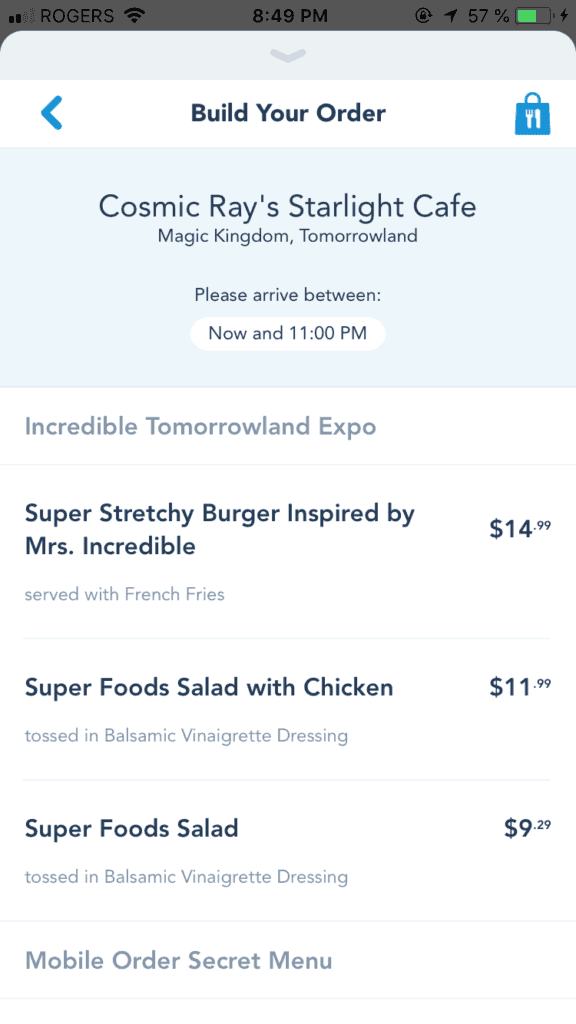 Dining Reservations
There are three ways to make dining reservations with Walt Disney World; Calling the reservation helpline, going to the website and searching each restaurant on each day of your holiday, or plugging in your dates and party members and allowing the app to generate a list of available restaurants and times for you.
No more endless searching, simply choose from the restaurants available or keep checking back for what you want.
Advanced Dining Reservations is practically the only way guests can access table service restaurants so it is important that you make your selections before leaving the house.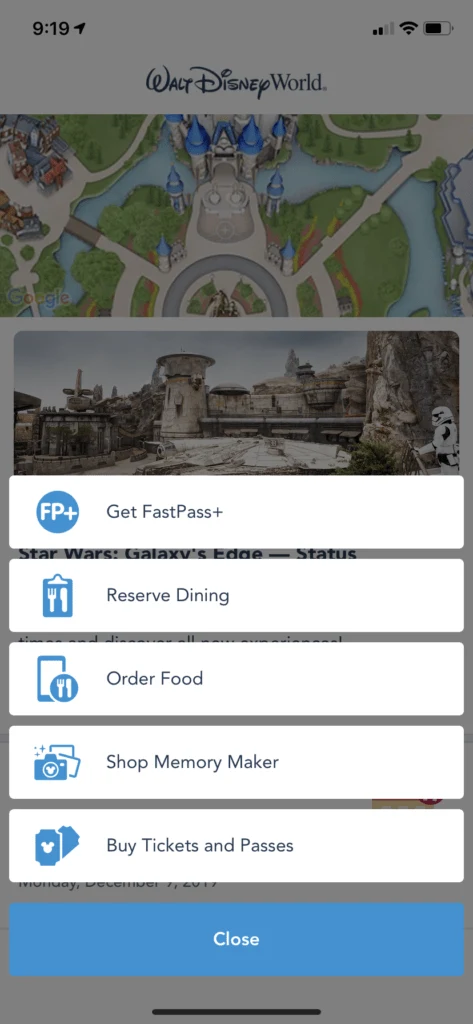 Link Hotel
If you have already called to make a hotel reservation, take the email confirmation information and plug it into your app. This is where you will be able to link your reservation to your tickets and other reservations.
The same goes for tickets purchased from a licensed third-party vendor. They can't be added automatically so you will need to link those tickets to your account manually, in the MDE app.
Shop Disney Parks
If there is a product that is out of stock or not the right size at any of the Disney souvenir shops you visit, you are able to search for in the Shop Disney Parks function of your My Disney Experience.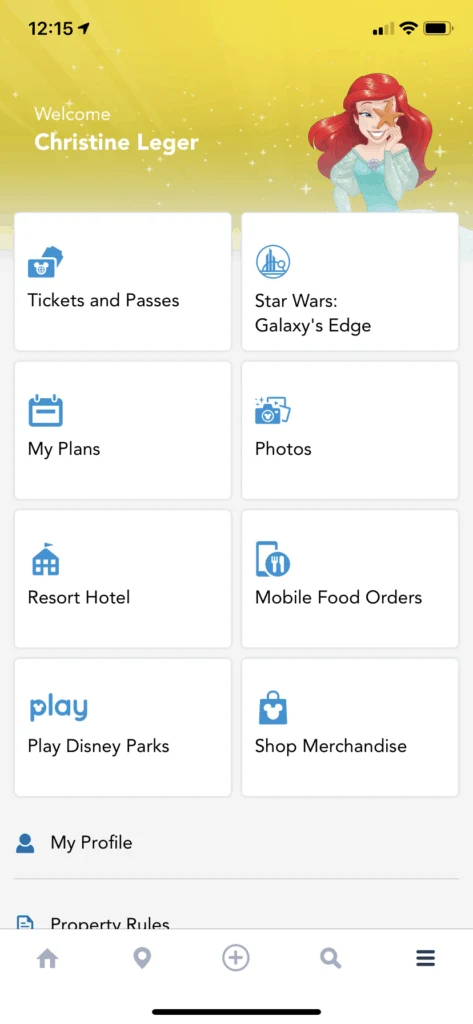 The app will ask you to search the product, showing you visual options if your description wasn't 100% accurate, then offer you colour and size options. It will also mention if the product is available for purchase online or in-store only.
From here, MDE Shop Disney Parks will show you, on a map, of which stores throughout Walt Disney World, have this product in stock.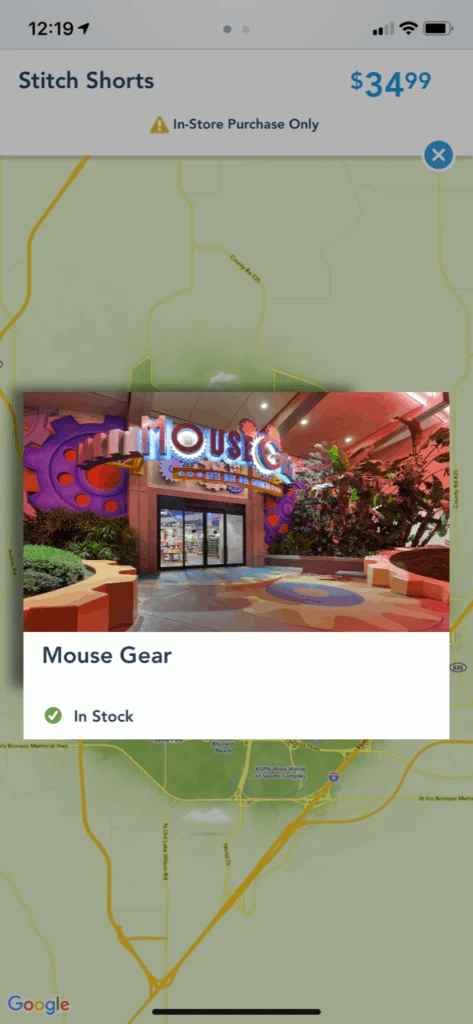 My Photos
The My Disney Experience app catalogs all the PhotoPass photos that have been taken of you and your family throughout your vacation; that even includes ride photos!
It's a little creepy but the rides are able to detect the RFID chip on your Magic Band and automatically upload your rides images to your photo pass account. Ok, less creepy and more along the lines of "it was designed to do that" but still, no more searching for your family on the board of 10 other pictures, just waiting until your number showed up.
Did we mention, you don't need to have a Memory Maker purchase to receive these photos. You are able to get as many ride photos and photo pass images uploaded to your Magic Band as you want. You can't download any of them and they all have Disney's watermark on them but you can see this. This is how they convince you to buy Memory Maker halfway through your vacation when you see how many amazing photos there are of your family, just waiting to be printed.
Buy Memory Maker
In order to enjoy your PhotoPass photos without a watermark, you'll have to purchase Memory Maker which includes downloads of all the pictures and videos that were taken of you and your family. The current price of Memory Maker is $199, but that is subject to change at any time.
Find Photographer
PhotoPass cast members can be found throughout Walt Disney World property, but if you have trouble finding someone, the "Find Photographer" tool will show you directly on a map where they are located.
Customizing the MagicBands.
Once you have successfully linked your resort room reservation, you can customize MagicBands for each of the members in your party, choosing the color of the band, and the name to be printed on the inside. After you have customized the Bands, they will be queued up for shipment to you (we received ours in the mail in about two days).
Star Wars Galaxy's Edge – Status and Access
Now that Star Wars Galaxy's Edge has officially opened at Walt Disney World, Disney needed a way to make sure guests weren't waiting 5 hours in line just to access the land.
They creating boarding groups, where guests can place their names in a digital queue and get a push notification when their group was ready to access Galaxy's Edge.
Guests will need to have scanned their Magic Bands into Hollywood Studios in order to access the "Join Boarding Group" feature.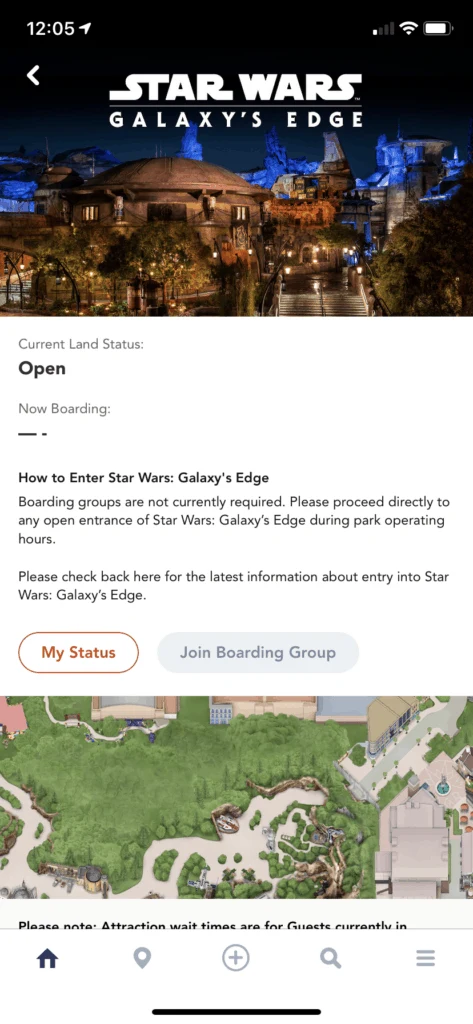 From here, you can also see details like Smugglers Run wait times and height restrictions, and book reservations for Oga's Cantina, Savi's Workshop and Droid Depot.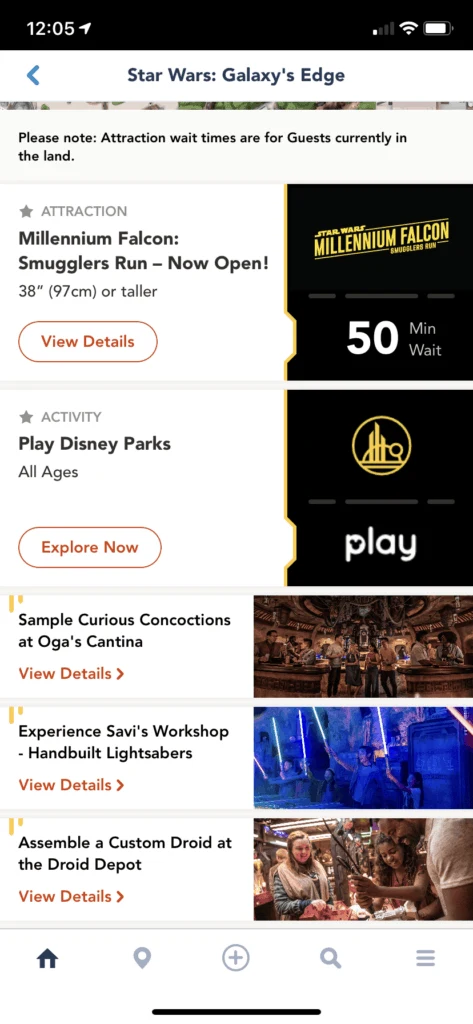 Set Up Your My Disney Experience Account
The My Disney Experience website allows you to set up your account and download the free My Disney Experience mobile app (available for iPhone, iPad, and Android devices).
Once you're signed in, just enter your reservation info. Each family member can choose a different colored MagicBand—cards are also available—and have it personalized with a first name. Disney will send your MagicBands to your home (though they don't ship to all countries), and in the meantime, you can start planning.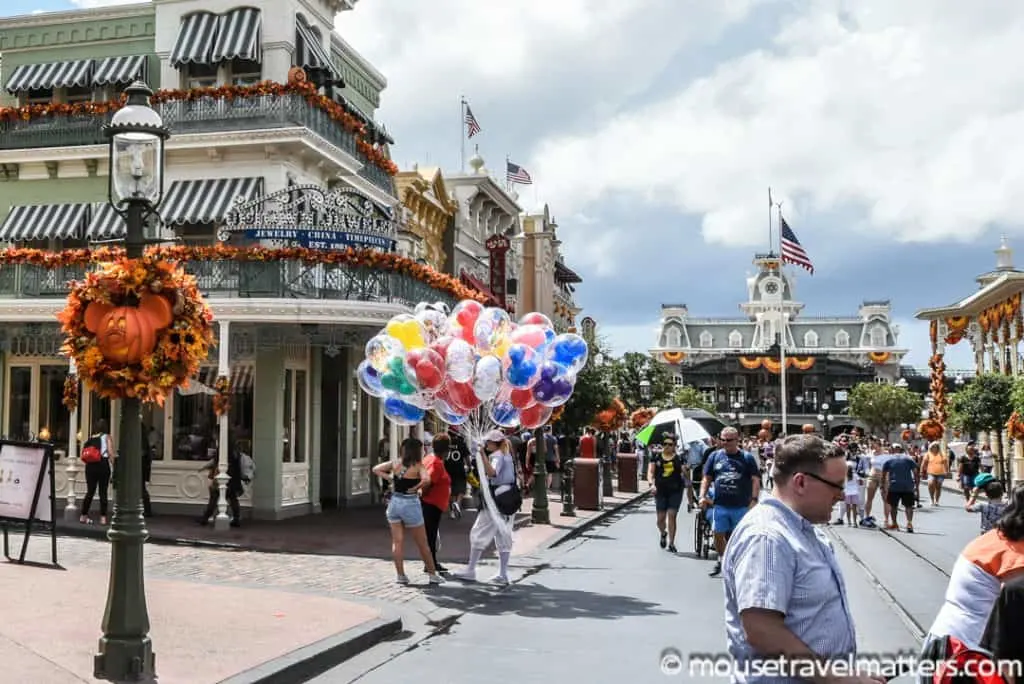 Once you are in the parks
Check Into Your Hotel
You can do this a few weeks before leaving the house, but especially after you have landed and on the Disney Magical Express. Fill out some missing information and be on your way, skipping the check-in desk altogether.
Enter Turnstile-Free Theme Parks
Because your tickets are linked to your My Disney Experience, as are your Magic Bands, they act as your entrance tickets into the parks. You no longer need to carry your physical tickets with you, they are all electronic and on your Magic Band.
Make Purchases
If you are staying at a Walt Disney owned resort, your Magic Band will also be linked to your hotel reservation. Using the credit card on file, your Magic Band will be able to make purchases in the parks and charge them directly to your room. There are a few rules and credit holds that the hotels Cast Member will review with you, but for the most part, have fun.
And while you are checked into the hotel, your MDE app is able to tell you how much as been charged to your account and where.
Check Wait Times
While you are touring the parks and looking for your next attraction to ride, don't forget to check the wait times functions on MDE. This will let you know if it is worth your time to cross the park and ride your favorite attraction or wait a little bit and try again when it's quieter.
Today's Showtimes
Here you'll find all the showtimes for the parades, fireworks, and nighttime spectaculars, and of course, shows!
Check the map
Not only is the My Disney Experience map able to show guests current wait times for attractions, but the interactive map is also able to filter out things like character meet and greet locations, dining and restroom locations, and photo pass locations.
Bus times
While the buses can't guarantee when they will arrive at the parks to take you back to your resort, though they aim for every 15 minutes, the MDE app does show you when your bus is expected to arrive at the resort.
Once you have checked into your resort, a new feature will appear until the My Reservation section of your Resort Details. It will tell you when each bus is scheduled to arrive at your resort and where it is headed to.
While there are monitors at the bus stop to give you this information as well, this is great when planning your day from the comforts of your hotel room or the resort eatery.
Your Thoughts...
Please share your thoughts in the comments or reach out on social media...We would love to hear from you.
Follow Mouse Travel Matters for Disney Parks news, the latest info and park insights, follow MTM on Twitter, Facebook, and Instagram.
You May Also Like