Last Updated on July 13, 2019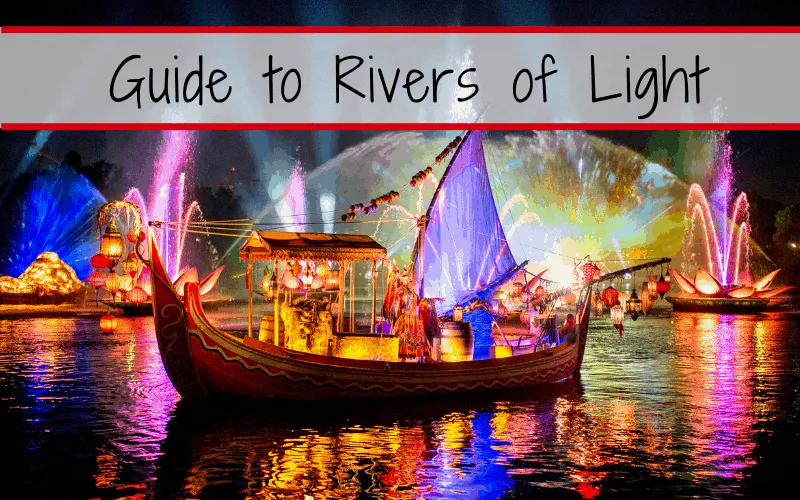 Our ultimate guide to Rivers of Light is has some great info and tips for a successful evening in Disney's Animal Kingdom.
How do I prepare for Rivers of Light?
Rivers of light is approximately 15 minutes long, with a 15 minute preshow, so your total entertainment time is roughly 30 minutes. Fast Passes and Dining packages are available for Rivers of Light and they will grant you access to priority seating, as well as avoiding the queues.
Showtimes
Showtimes for February are at 7:15 pm. The show will move to a later time with Daylight Savings, eventually into 2 shows before summer starts.
This post may contain affiliate links.
To which I earn a small commission, at zero cost to you!
Find more info in our
Privacy Policy
.
Rivers of Light Know Before You Go
There are two main entrances into the theater, one in Asia, near Expedition Everest, and the other in DinoLand U.S.A. The Asia entrance is FastPass+ only. The DinoLand entrance is standby and dining package seating.
Rivers of Light does not perform every night. Check the schedule often when creating your touring plans.
Restrooms are located to the left of Expedition Everest, a bit of a walk from the Asian entrance to the theater and also near the Finding Nemo Musical Theater. We recommend visiting the restroom before entering the theater.
Expect delays. As there are so many moving parts, expect that something can and will go wrong and these things take time to fix. The majority of readers have experienced anywhere from 5-15 minutes of delays.
You can take food and beverages into the amphitheater, but they do not sell them inside. There are some cute Lotus Flower light-up food and beverage items sold at nearby stands. Look for a Glowing Lotus Blossom Bucket served with flavored chips; a Glowing Stein or Lantern served with a fountain beverage; and a Lotus Flower Glow Cube for drinks.
Stroller parking is available for Rivers of Light. Speak to a Cast Member before entering the amphitheater and they will either take the stroller and park it for you or point you in the right direction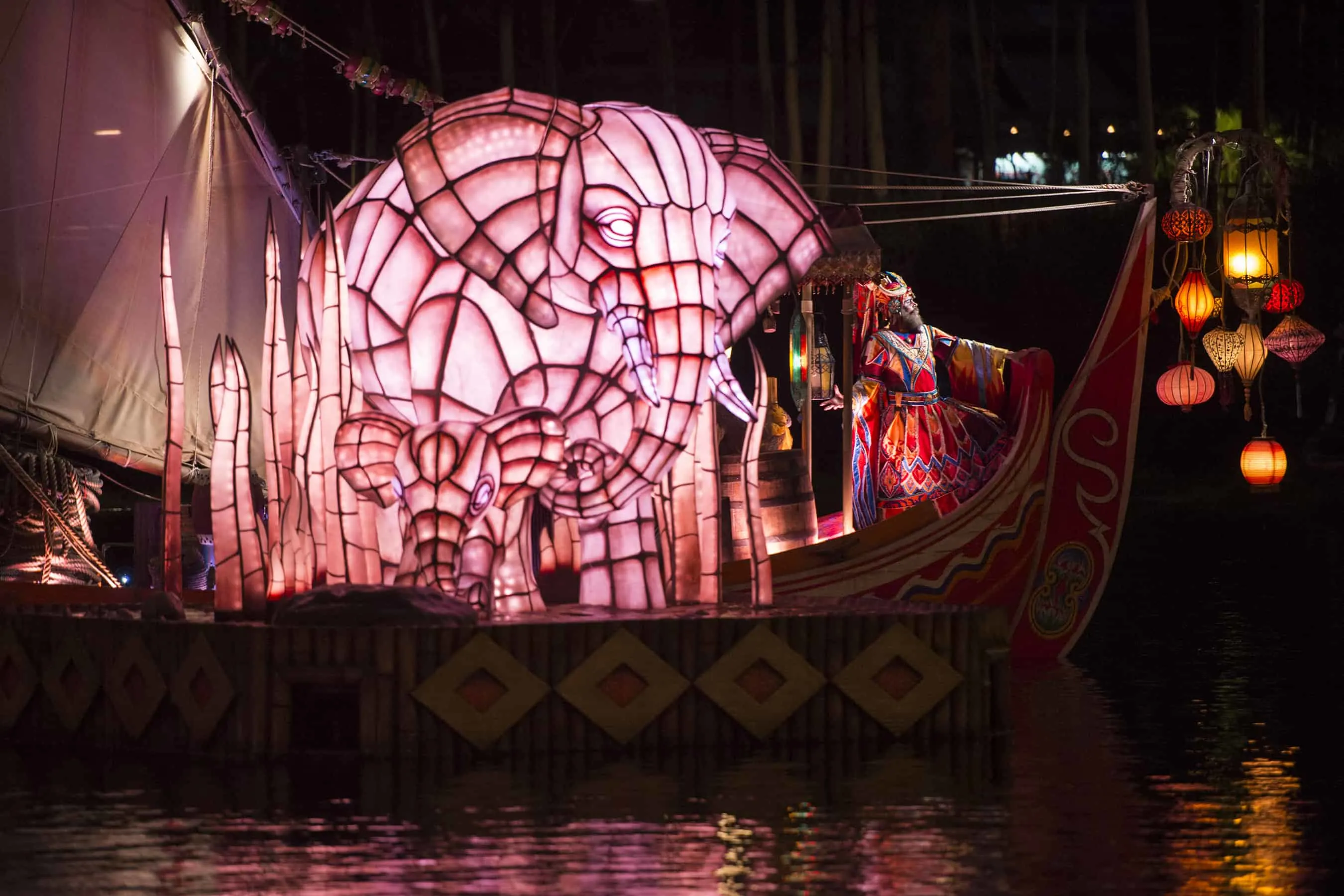 What is the seating like?
The seating is done amphitheater style, similar to Fantasmic! The theater holds nearly 5,000 people. The theater is divided into two sections that are accessed from slightly different areas in the parks. The Asia entrance is reserved for those with FastPasses and the DinoLand U.S.A entrance is for standby guests as well as those who have purchased the Rivers of Light Dining Package
Rivers of Light Dinner Package
There are two restaurants available for Rivers of Light Dinner Package; Tiffins and Tusker House. Having the dining package allows guests special access to seating at Rivers of Light.
Showtimes may not be determined until approximately 3 three months prior to the date, and booking for the Dining Packages is not typically open until showtimes are determined.
For those on the Dining Plan, the Dining Package costs the same one credit at Tusker House and two credits at Tiffins tha the meal would cost otherwise. It's a slam dunk for those eligible, particularly because you'll get the appetizer and the reserved seat at Tiffins, which increases the value of the credits substantially.
For more information, check out review of Rivers of Light Dining Package
Tiffins Dining Package (2 Dining Credits)
You must be seated for your meal no less than 3 hours before the show is scheduled to start. It is dining plan eligible and Lunch/Dinner costs $67 for adults and $26 for children.
Tusker House Dining Package (1 Dining Credit)
You must be seated for your meal no less than 2.5 hours before the show is scheduled to start. It is dining plan eligible and Lunch/Dinner costs $52 for adults and $32 for children. Breakfast is available dining package as well, and that goes for $39 per adult and $23 per child.
Booking the Dining Package would allow you to use your FastPass+ experiences earlier in the day and then book additional selections as they become available throughout the afternoon and evening.
For more information on Tusker House, check out our review here.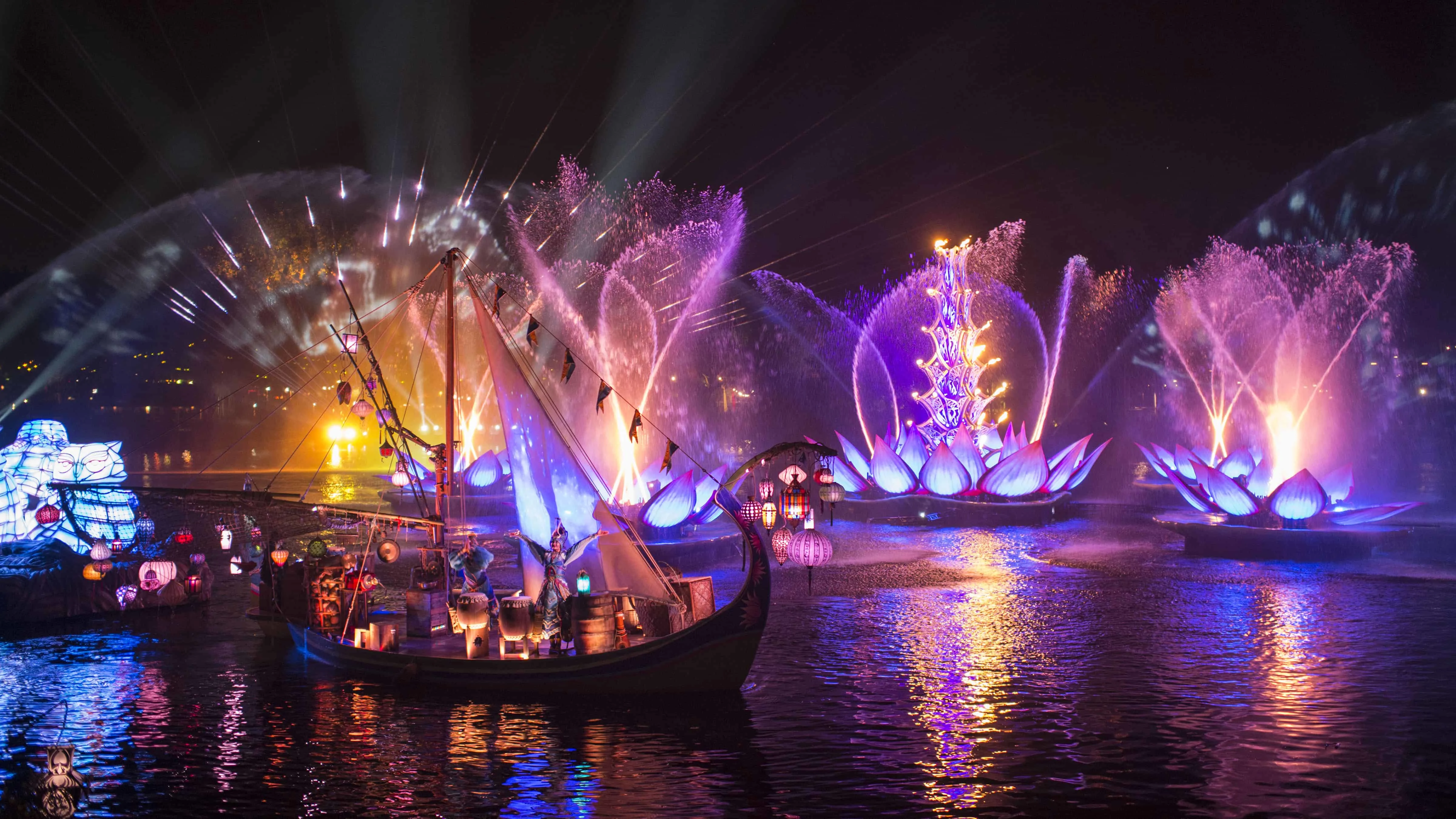 Rivers of Light Dining Package cancellation policy
Seating is outdoors and shows are not always canceled because of rain. In the case of lightning and heavy prolonged rain, the show may be canceled or delayed, even after being admitted to the theater. Cancellation decisions are often made based on the latest weather information and is done at the very last minute. Bring a poncho when weather is in doubt.
In the case of FastPasses, it is being reported that Disney will issue you with a replacement FastPass that can be used on any attraction at any park on the following day. In the case of dining packages, Disney will allow you to return to the Animal Kingdom up to five days after the cancellation to see the performance. All of this is contingent on guests having valid entrance tickets in order to access said replacement passes.
How do I book the Rivers of Light Dining Experience?
Just as you would your regular Dining reservations, Rivers of Light Dining Package can be booked over the phone or through your My Disney Experience app. Be sure to select the Dining Package when making your selection, because only so many vouchers will be given on a single day and the two reservations are not interchangeable.
While there is no additional charge beyond buying your meal for the package, you must guarantee it with a credit card when reserving. Your card is not charged at the time of reserving, but a $10 cancellation fee will be applied to your card if the package is not canceled at least 48 hours prior to restaurant seating time.
You are given a voucher for the show at your meal. You then show your voucher at the show entrance closest to Dinoland U.S.A. about 15-35 minutes prior to show to grab your premium seating area. I highly recommend reservations, which can be made up to 180 days prior to your visit.
Rivers of Light Fast pass+
My Disney Experience will recommend arriving at the Discovery River Amphitheater no sooner than 25 minutes before showtime. If you are not picky about which seats you get in your section, then this is more than enough time.
If, on the other hand, you want to sit down in front, then 1 hour ahead of time may be recommended, depending on park crowds for the day. Also, know that that about 15 minutes before the show begins, there are lighting and sound effects you will not want to miss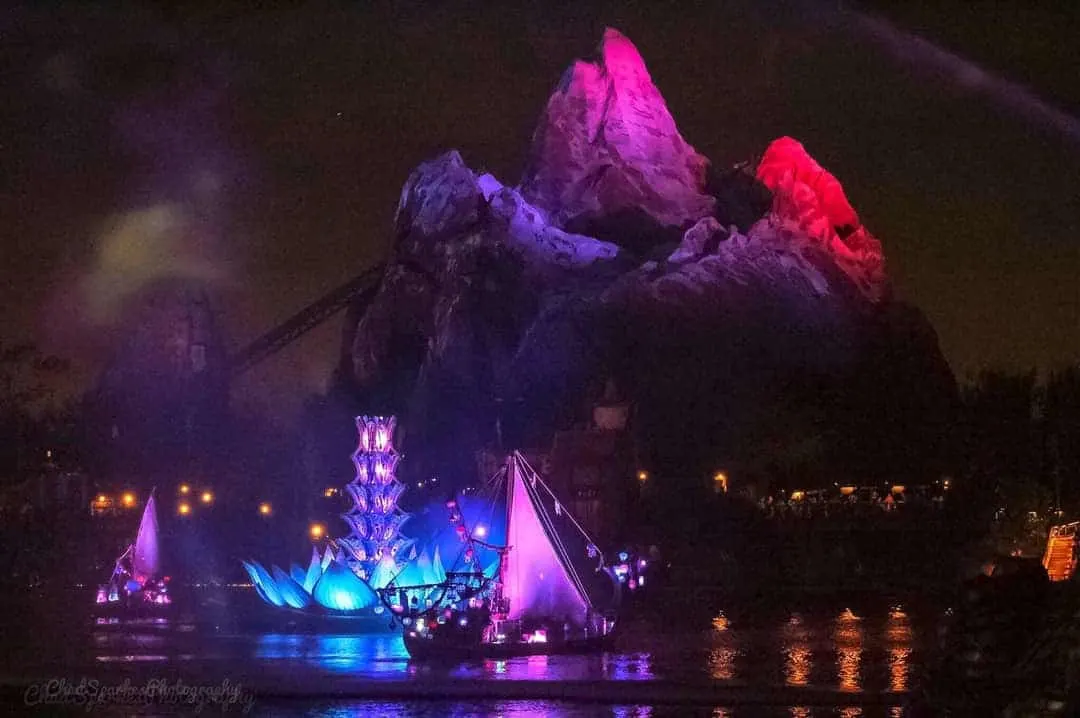 Rivers of Light Standby line
Because there are only two seated areas, Dinoland and Asia, seating is very limited. On top of this, Asia is reserved for Fast pass guests only and Dinoland must be shared between Dining Package guests and standby line guests.
It's been very consistent since Rivers of Light opened that if you don't have a FP+ or a dining package, you don't get into the theater area to see Rivers of Light easily. Guests who do go "stand by" are having to arrive hours early to stand in line.
Now that Pandora is open, it is possible to still schedule Rivers of Light later on in the day. Use your initial selection to book your top 3 must-haves, including Flights of Passage. After you have used your 3, while in line and after you have scanned your Magic Band, add Rivers of Light as your next fast pass selection. This is especially true during low and shoulder seasons.
If Rivers of Light is on your must list, then we suggest making Rivers of Light Fast Pass in your initial selection. Your next best bet may be to purchase a dining package for either Tiffins or Tusker House.
Rivers of Light Dessert Party
The Rivers of Light Dessert Party offers a dessert buffet paired with a reserved viewing area for Animal Kingdom's nighttime spectacular, Rivers of Light!
The dessert buffet — hosted on the Rivers of Light Viewing Area terrace — offers an array of Animal Kingdom and Rivers of Light-themed desserts. Non-alcoholic specialty beverages are available, and alcoholic beverages are also part of the selections for of-age guests.
Prior to the start of the show, guests will be escorted to a reserved viewing area for Rivers of Light! We suggest lining up at least 30 minutes before the dessert party if you want your pick of the tables available, should you decide to watch from there. The event itself starts 1 hour and 15 minutes before a Rivers of Light show. You can stay at the tables during the show, or move down as the first several rows of the lower viewing are reserved for dessert party attendees. Cast Members will tell you 15 minutes before the show that you must find your seats or stay put, as the low light levels make it dangerous to move about.
Admission is $79 per adult and $47 per child (ages 3 to 9) including tax; gratuity not included or required. Separate Disney's Animal Kingdom park admission is also required. Book online or call (407) WDW-DINE or (407) 939-3463
For more information, check out our quick guide to Rivers of Light Dessert Party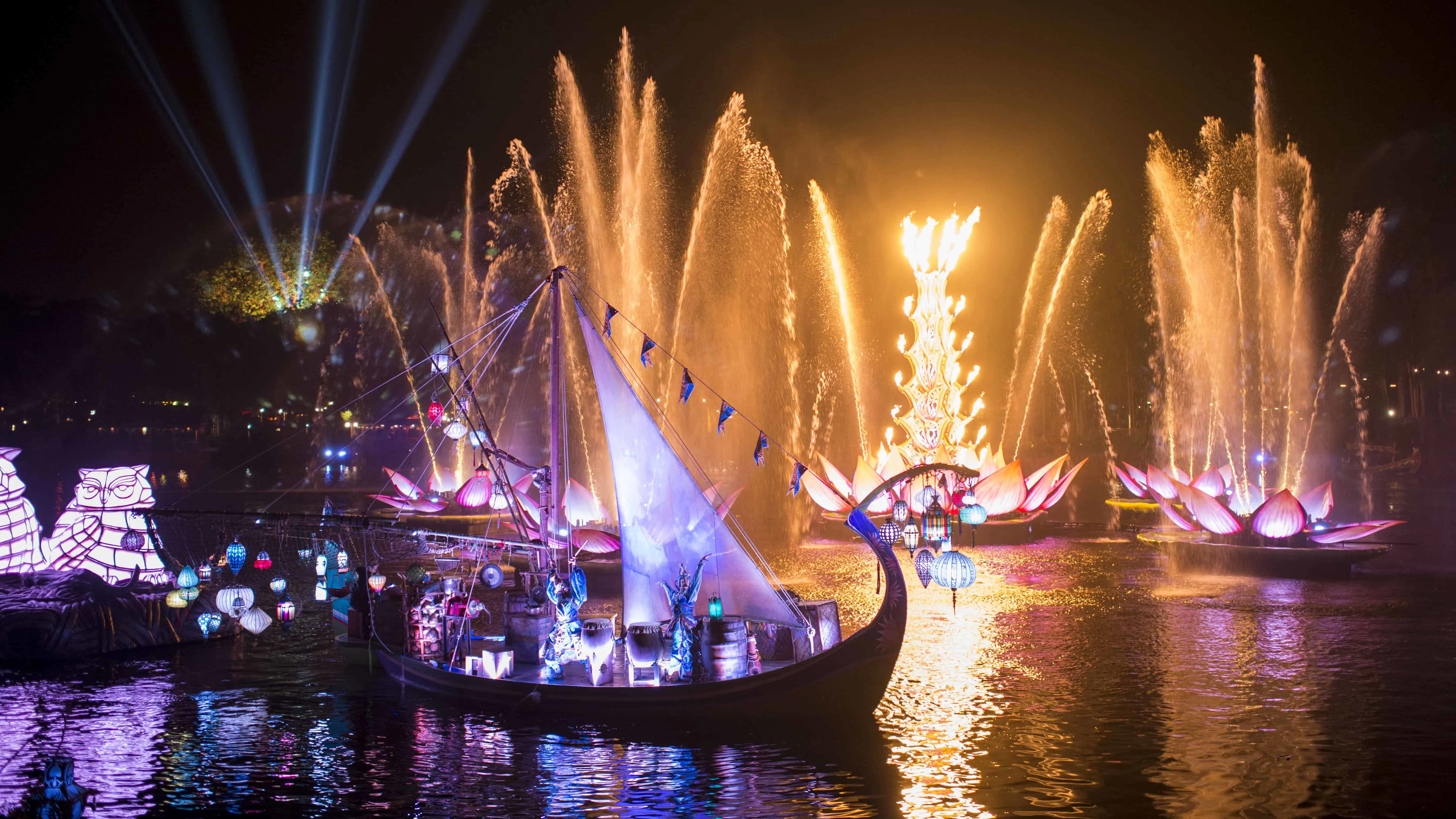 Where to sit?
The best seating is going to be in the middle section (not the sides) for the best views of the Floats. The front left of the middle section we believe is the absolutely best section to sit because this is where your family can see the floats enter the theater.
One of the perks of sitting near the bottom is that a PhotoPass photographer will walk around and hand a Rivers of Light prop to guests within reach who wants to have their photos taken.
Is Rivers of Light child friendly?
They simply don't have much to work with in this show, because they can't have loud music, or fireworks, or noises, or anything which would disturb the animals in the park.
While the show itself is relatively tame, the waiting around can be a little much for the kids. Be sure to bring something for them to do while they wait; be sure to check our suggestions of things to do while waiting in line, as well as our own shop of printables and educational colouring books.
Alternative viewing spaces
Because Rivers of Light plays to the theater, it has a forward facing direction. If you are not in the theater, you'll still be able to see the show, but the music and effects are not directed at you. The quality of the sound and effects will be diminished if you are not in the theater.
A few alternatives to the theater are the bridge between Expedition Everest and DinoLand, the bridge from Discovery Island to DinoLand, and along the walkway between Yaki and Yeti Restaurant and Expedition Everest. You'll still need to be in these areas well before show time, and the walkways are subject to being kept clear by Cast Members.
Made with Magic
Disney has come up with some amazing technology over the years and now they have created these amazing EARS!!
Choose from 5 Made with Magic items, including:
3.0 Connected Ear Hat – Glow with the flow with this new hat that lights up and interacts with select Disney in-park and home entertainment experiences.
Minnie Mouse Headband
Sorcerer Mickey Wand
Rivers of Light Totem Glow Wand
All Made with Magic accessories are programmed to light up at key moments, matching the colors and flashing to the beat throughout a variety of popular evening shows, including:
Park Experiences
Happily Ever After fireworks show at Magic Kingdom
Once Upon A Time at Magic Kingdom
Rivers of Light at Disney's Animal Kingdom
Select concerts at the America Gardens Theatre in the American Adventure Pavilion at Epcot.
The posts and pages of Mouse Travel Matters
do contain affiliate links that we earn a small commission for,
they come at no extra cost to you!
Your Thoughts...
Please share your thoughts in the comments or reach out on social media...We would love to hear from you.
Follow Mouse Travel Matters for Disney Parks news, the latest info and park insights, follow MTM on Twitter, Facebook, and Instagram.
You May Also Like…
Disney's Animal Kingdom FastPass Tiers & Strategy
Jiko and Boma Culinary Tour at Disney's Animal Kingdom
A Guide to Single Rider Lines at Walt Disney World
Everything you need to know about planning a trip to Walt Disney World