Last Updated on March 30, 2020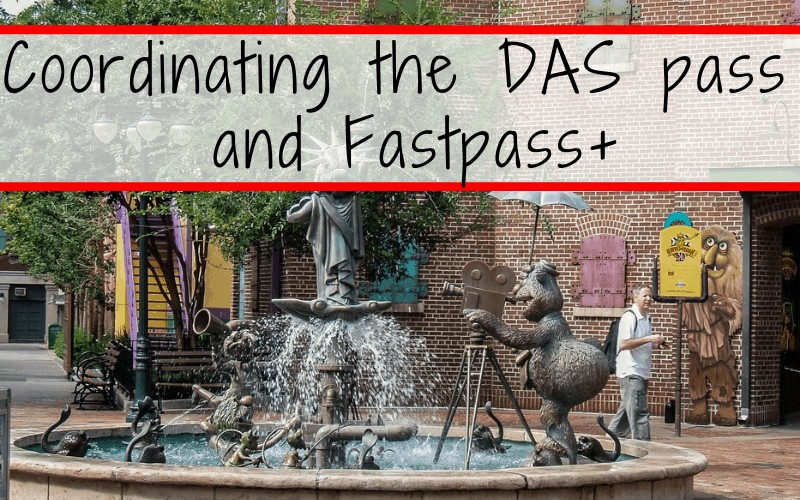 The Disney Disability Access Service pass (DAS) was designed to allow guests with disabilities (including non-apparent disabilities) at Disney World to receive a return time for attractions based on the current wait times.
Where to Get the Disney Disability Access Service (DAS) Pass
You will need to go in person to your Walt Disney World park of choice and visit Guest Relations. Here you will speak to a Cast Member and let them know you require a DAS pass.
Guest Relations is located at the following locations within Walt Disney World Resort:
Animal Kingdom:
Before you enter the park, just outside the park entrance, on the left-hand side.
Just after you enter the park, to the left.
Magic Kingdom:
Outside the park, there's a window just before the park entrance on the right side.
Inside the park, in the City Hall lobby, to the left of the park entrance.
Hollywood Studios:
Outside the park, there's a window just outside the park entrance, on the left.
Inside the park, near the park entrance, in the Guest Relations lobby near the turnstiles on the far left.
Epcot:
Outside the front of the park to the far right of the main entrance.
Near Spaceship Earth on the left side after entering the park.
Outside the park, at the entrance to the International Gateway – World Showcase entrance.
This post may contain affiliate links.
To which I earn a small commission, at zero cost to you!
Find more info in our
Privacy Policy
.
Can You Request DAS at Disney Springs Guest Relations?
You can only request a DAS from Guest Relations at one of the four major theme parks. It may be possible to get it from an outside window, without needing to enter the parks.
If your first morning is too tight to enter the parks before opening (ie have pre-park breakfast reservations), guest relations outside of the Park may be able to issue a DAS pass. This depends on how busy/crowded they are, considering their goal is to sell entrance tickets.
DAS Prep. on Your Disney World Arrival Day
Visit Guest Relations outside of a Disney theme park on the day you arrive, in the evening. Since we don't suggest scheduling anything on you Disney World Arrival Day, especially going into the parks, you shouldn't have much planned for that day anyway. Annual Passholders excluded of course.
Take a few minutes, ride the buses and activate your DAS pass. Just remember, everyone in your party that plans on accompanying the DAS pass holding guest must be present.
Who Can Request DAS Pass Return Times?
Any member of the party can request a return time for an attraction. The Cast Member will ask who in the party will be visiting the attraction and add them to the request.
Your DAS Pass Doesn't Connect With FastPass+ Reservations
Your DAS return times have no connection with your FastPass+ reservations. You can still reserve your three initial FastPass+ attractions and receive a return time for DAS pass attractions.
We have created a great resource here >> detailing how FastPass+ works.
Does Rider Switch with the DAS Pass
It certainly does. If little sister isn't tall enough to ride the Tower of Terror, and big brother is, but big brother is the one with the DAS pass, no problem. The two can be combined to allow mom to stay behind with sister, dad and brother return during their DAS window, then mom and brother jump right back the attraction using their rider switch ticket.
Coordinate the Disability Access Service Pass and FastPass+ at Walt Disney World
With the help of fellow DAS-using blogger Autism in the Parks, there are many ways to use both your FastPass+ reservations and DAS return times together and have a great Disney vacation experience.
Firstly, they suggest taking time between all Fastpass reservations to obtain a DAS return time for other popular attractions. For example, leave roughly 1-2 hours between all Fastpass reservations, in order to give your party time to rest between attractions, travel to and experience another attraction using the DAS return time, before setting out on another Fastpass timing.
Magic Kingdom
Suggested FP+/DAS Plan: Fantasyland Fan
FP+1: The Many Adventures of Winnie the Pooh – DAS: Seven Dwarfs Mine Train
FP+2: Peter Pan's Flight – DAS: It's a Small World
FP+3: Dumbo – DAS: Goofy's Barnstormer
*FP+ 4: (if available) Mad Tea Party – DAS Under the Sea, Journey of the Little Mermaid
Epcot
Try scheduling the following three FP+:
FP+ 1: Test Track
FP+2: Living with the Land
FP+3: Spaceship Earth or Mission Space​
Use the DAS for any of the remaining attractions including:
DAS: Soarin'
DAS: Living with the Land
DAS: Frozen Ever After
DAS: ​Journey into Imagination with Figment
Hollywood Studios
FP+1 (Tier 1): either Toy Story Midway Mania or Slinky Dog Dash. Then use the DAS for the other two rides in Toy Story Land (including Alien Swirling Saucers).
FP+2 (Tier 2): Star Tours–DAS Millenium Falcon: Smuggler's Run.
FP+3: (Tier 2): Muppet Vision 3D-DAS For the First Time in Forever Frozen Sing-Along
Animal Kingdom
Suggested FP+/DAS Plan:
FP+1: Avatar-Flight of Passage – DAS Na'vi River Journey
FP+2: Kilimanjaro Safaris – DAS Festival of the Lion King
FP+3: Expedition Everest – DAS Finding Nemo the Musical
Can You Use DAS for Smugglers Run at Star Wars: Galaxy's Edge?
Remember Smuggler's Run does not have a Fastpass reservation system, but it does offer DAS return times. It works just like all other DAS passes, just have the DAS guest scan their magic band and then have each accompanying guest scan after. You will then be sent up a secondary line which will most likely be the future FastPass+ lane.
Does the DAS Pass Work at Character Meet and Greets?
One of the biggest questions we see on Facebook forums regarding their DAS family member is; "Does the new DAS card work at character meet & greets?" Cast Members at these locations have an estimated wait time and are able to issue DAS Return Times. Once you reach your DAS return time, go back to the FP+ entrance to enter.
To be clear, the DAS can be used at attractions, shows, and character Meet and Greets that have a FastPass+ entrance. The DAS cannot be used for character meets that do not have a FastPass+ option.
Disney World DAS Pass for Shows at Walt Disney World
Someone in your group still goes to the show entrance to get a DAS Return Time, but in our experience, they will ask you what show time you want to view and assign your DAS Return Time based on that. When you return for the show, you will enter through the Fastpass line.
For more information from Disney, check out Disney Parks Disability Access Service Card Fact Sheet and Guide for Guests with Cognitive Disabilities
Guides for Guests with Disabilities
Available at Guest Relations, these guides can also be downloaded in a printable format for each theme park:
The Disney World DAS pass is an important guest service for those how need it and demystifying the process has been very important for our family and friends.
Your Thoughts...
Please share your thoughts in the comments or reach out on social media...We would love to hear from you.
Follow Mouse Travel Matters for Disney Parks news, the latest info and park insights, follow MTM on Twitter, Facebook, and Instagram.
You May Also Like…
Overview of DAS (Disney Access Service)
What's in My Camera Bag for Disney World and Theme Parks?
Tips on Managing Disney World Holiday Crowds
6 FastPass+ Tips You Need To Know
10 Things You Absolutely Must Do Before Your Walt Disney World Vacation
Which Disney World character meet and greets offer Fastpass